Spooky Halloween Mysteries with Scooby-Doo and PLAYMOBIL. www.playmobil.co.uk
This Halloween the Mystery Inc gang are going to be solving a new and imaginative mysteries in Playmobil form. After the launch of the 70286 SCOOBY-DOO! Mystery Machine and Scooby and Shaggy toys in May, Playmobil are back with new Scooby-Doo playsets. The perfect gift for the spookiest time of the year this October 31st!
The SCOOBY-DOO! play theme from PLAYMOBIL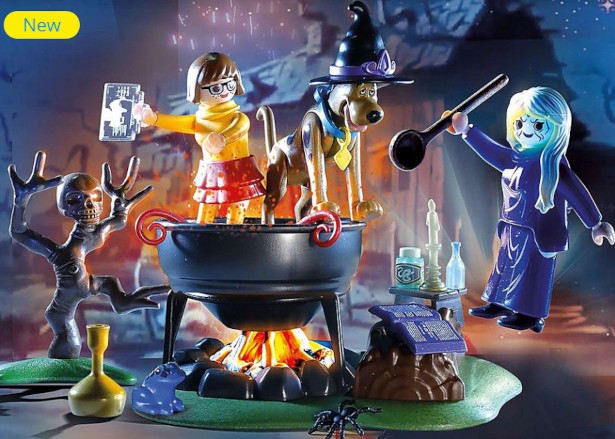 Six new sets have joined the Scooby-Doo family. Each set includes a Scooby-Doo with unique hat to collect, and do not forget the spooky ghost cards which can be combined with the Mystery Machine to project and identify all of the ghosts!
Playmobil 70361 Scooby Doo! Mystery Mansion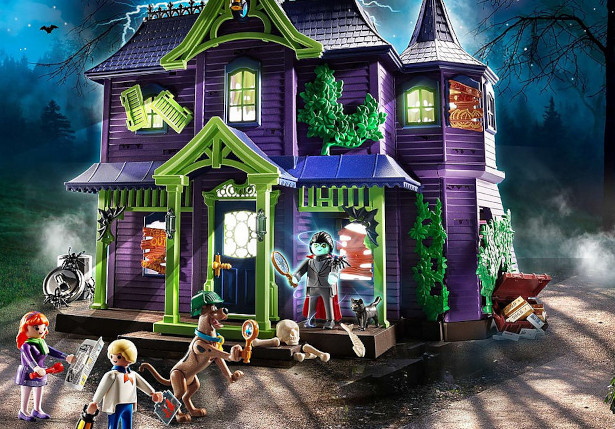 Includes Scooby, Fred and Daphne. Some spooky surprises await, such as a trap door, a falling chandelier, stairs turning into a slide, hideouts and a revolving door. This set also includes a coffin with 8 different spooky sounds and a projector. The vampire can be unmasked to reveal a dastardly villain. The ghost cards can also be inserted in the device in front of the monitor in the Mystery Machine (70286). Includes Scooby in a detective's outfit to collect!
And with five more adventures for Scooby and the gang to solve, there is so much for young fans (and adult ones) to enjoy!
Playmobil 70362 Scooby Doo! Adventure on the Cemetery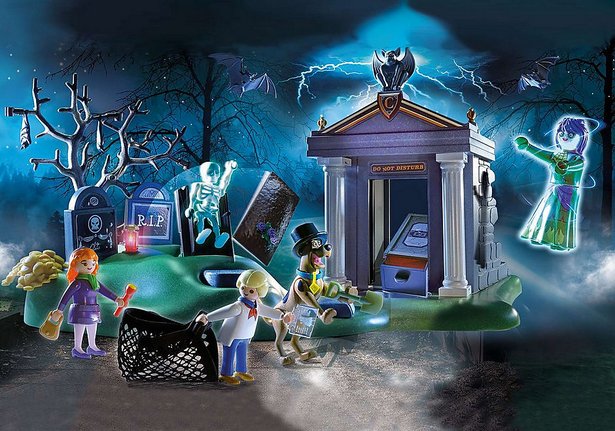 Playmobil 70363 Scooby Doo! Dinner with Scooby and Shaggy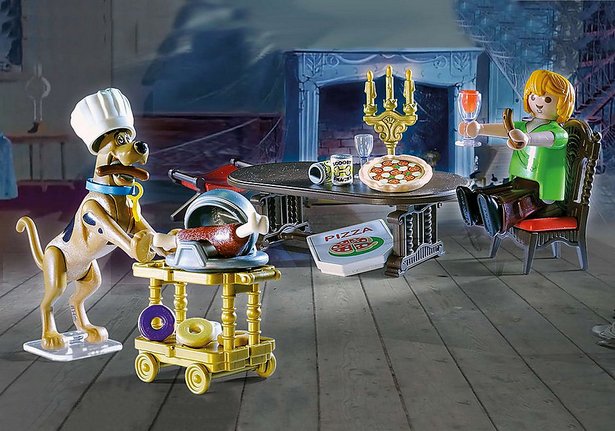 Playmobil 70364 Scooby Doo! Adventure in the Wild West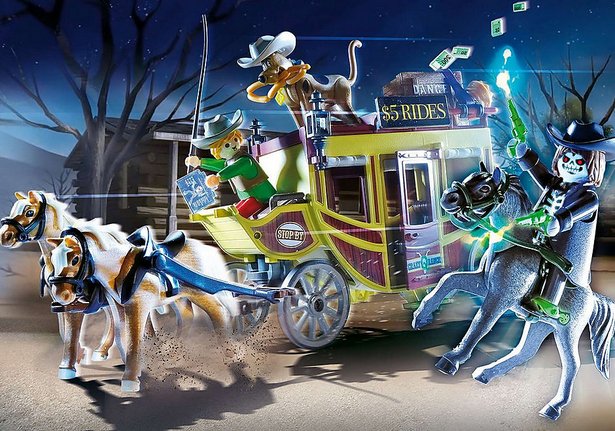 Playmobil 70365 Scooby Doo! Adventure in Egypt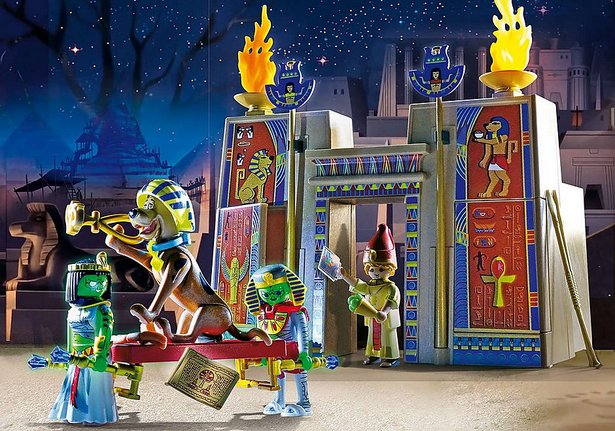 Playmobil 70366 Scooby Doo! Adventure in the Witch's Cauldron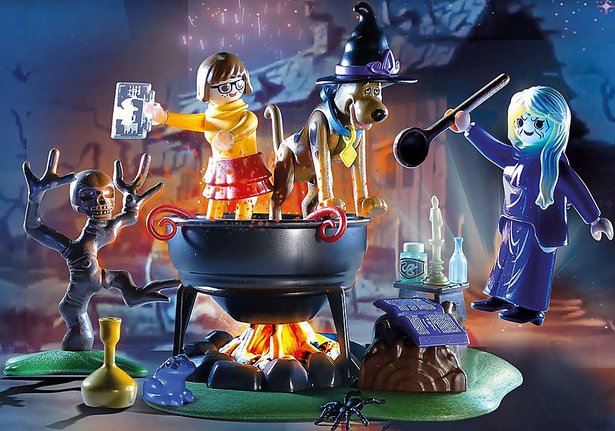 Mystery Inc. solves every riddle
The series is popular not least because it gives children an important insight: At the end of each adventure, the gang joins forces to uncover that there is nothing to fear from ghosts and creepy riddles – after all, there is usually a quite logical explanation behind them.
To find out more about the range please visit:
www.playmobil.co.uk/onlineshop/products/scooby-doo%21
Playmobil Scooby Doo TV Ad
BRING YOUR NIGHTMARES TO LIFE WITH NIGHTMARE HORROR ADVENTURES
EXPERIENCE THE CHILLS AND THRILLS OF THE CLASSIC HAUNTED HOUSE STORY 16+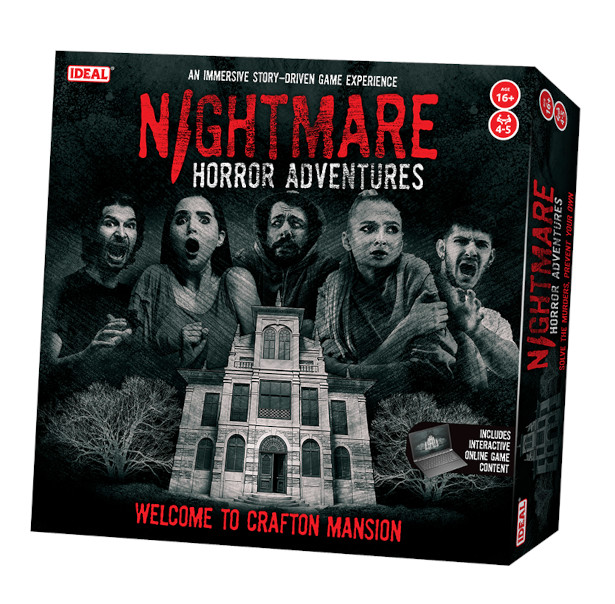 Welcome to Crafton Manor… Experience the haunted house story come to life in NIGHTMARE HORROR ADVENTURES, the scariest experiential board game ever made – perfect for lockdown living this autumn. You and your friends step into the roles of the five Crafton children, whose parents were killed in a grisly murder fifteen years ago. Revisiting your childhood home for the first time, work as a team to explore forgotten rooms, discover repressed memories and uncover the truth step by step.
Nothing is what it seems… time is running out… you have this one chance to find the murderer… or die in the attempt…
Ideal for horror fans, gamers, mystery lovers and fans of role-playing games, NIGHTMARE HORROR ADVENTURES promises to entertain and terrify in equal measure. Perfect for those chilly autumn evenings, this engaging and immersive game will provide hours of entertainment with genuine tension, scares and jumps – this is not a game for children or those of a fragile disposition! Following online instructions on your laptop or device, players are led through the story and plunged into tense darkness to reveal long forgotten secrets.
Board games have never been more popular as 'social bubbles' seek new ways to pass the time at home, with fewer opportunities to socialise. With Hallowe'en, Bonfire Night, Friday 13th November and Christmas all approaching, NIGHTMARE HORROR ADVENTURES is also an ideal seasonal gift.
A SPAMTASTIC™ SPOOKY TIME THIS HALLOWEEN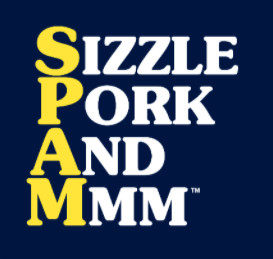 Get planning the spookiest family party in your street, with some fun ideas from iconic meat SPAM® Chopped Pork and Ham. It's time to get the can out of the cupboard and the fritters out of the freezer!
Open a can and get slicing and sizzling with tasty SPAM® Chopped Pork and Ham, made from a minimum of 90% shoulder pork and leg ham. In no time at all you'll make quick and easy-to-make spooky SPAM® Snacks that will ensure you have a frightfully fun night.
SPAM® Spooks – (serves 8)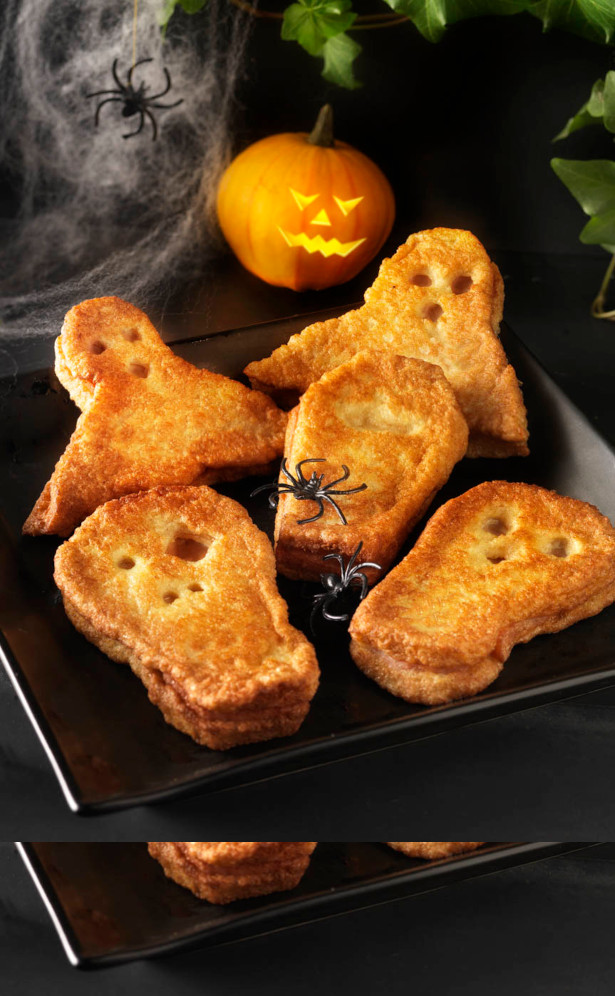 Ingredients
200g can or tub of SPAM® Chopped Pork and Ham (cut into 8/10 slices)
2 gloves of garlic minced
16 slices medium cut white or 50/50 bread from a large sliced loaf
2 extra large organic eggs, well beaten
Vegetable oil for frying
Cardboard for templates
Method
With the cardboard cut out templates of ghosts, skulls and coffins
Place a template on to a slice of bread and with kitchen scissors, cut around the template making two for each SPAM® Spook
Cut the slices of SPAM® Chopped Pork and Ham to fit into the middle of each shape and press well together
Pour the oil and minced garlic into a large frying pan to approximately 2/3 cm deep and heat until a cube of bread quickly fries to golden
Dip each SPAM® Spook into the beaten egg, coating each side and carefully place into the hot oil
Fry for approximately 1 minute until golden, carefully turn over and repeat. Carefully take out of the hot oil and drain on absorbent paper. Repeat with the other SPAM® Spooks
Serve on a warm serving plate
Or….
Using the new frozen SPAM® Fritters from Iceland or Food Warehouse (pack of four), we give you…..
The Franken-Fritter!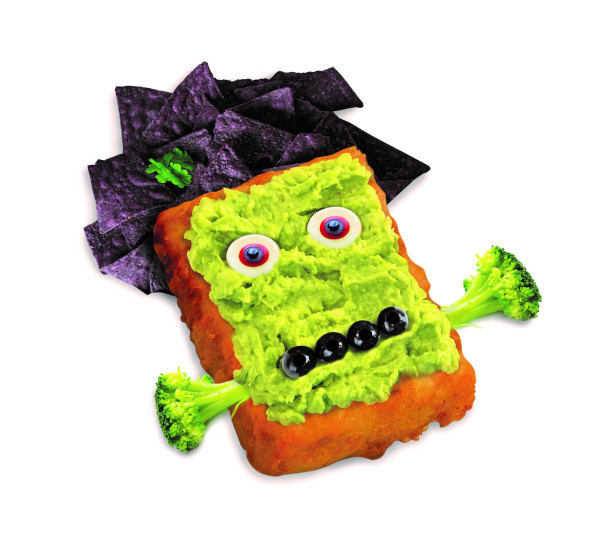 Freak up your SPAM® Fritters by spreading avocado or mash for face; broccoli for neck bolts; olives for mouth; chickpeas for eyes and red cabbage for hair. This makes a fun yet nutritious Halloween meal, that will make all the family scream with delight not terror!
200g can and tub, plus a 340g can, is available from all major UK supermarkets. A four pack of frozen SPAM® Fritters is now available from Iceland or Food Warehouse, priced around £2.
Follow SPAM® Chopped Pork and Ham on Facebook, Twitter or Instagram @OfficialSPAMUK and see further recipes at www.spam-uk.com
TRICK OR A TASTY TREAT?
FOODHUB IS OFFERING A SCARILY GOOD DEAL THIS HALLOWEEN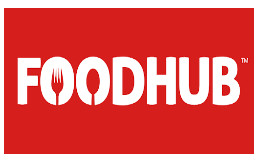 Foodhub is offering 20%* off this Halloween, so people can enjoy a spook-tacular snack!
Halloween night is usually spent out and about trick-or-treating or at a fancy dress party with your friends and family. However, the 31st this year, may be slightly different.
Spend the evening dressing up in your favourite, creepy costumes and indulge in a frighteningly good feast with Foodhub.
Families can choose from a range of local takeaway/restaurant suppliers, so if you're craving Chinese, Indian, Fish 'n' Chips or have a sweet tooth – Foodhub is the perfect recipe.
A discount of 20% will be provided to all new customers first order on Foodhub, simply input the code SPOOKY2020 at checkout and enjoy a terrifyingly tasty treat at your feet!
*offer valid NOW until the 23:59 on Sunday 1st November
Terms & Conditions
· £5 maximum redemption value
· One use per customer
· New customers only
· Full terms – foodhub.co.uk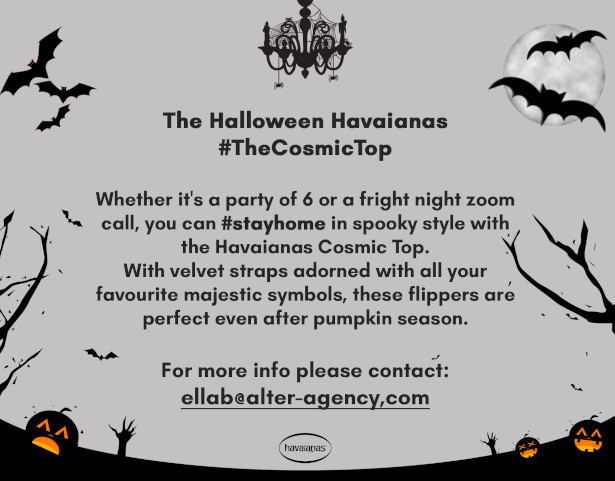 Take A Shot From A Stormtrooper.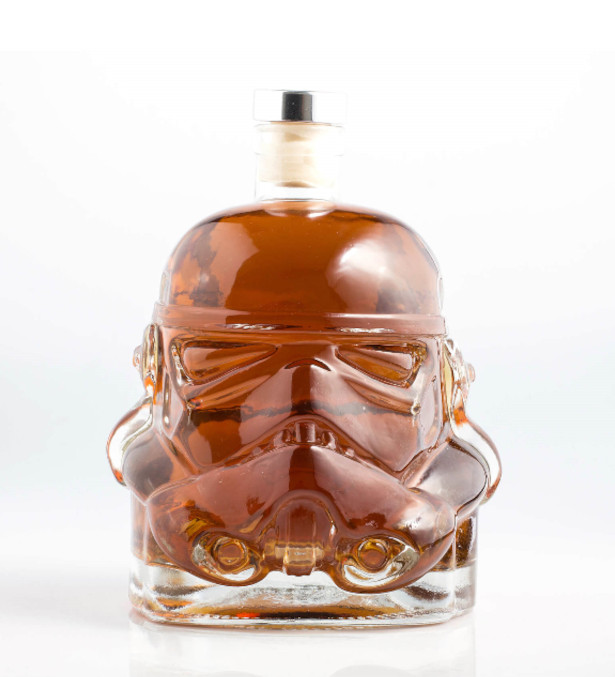 The Original Stormtrooper Decanter is a stunning accessory to a barware collection. Based on the original Stormtrooper helmets designed by Andrew Ainsworth of Shepperton studios in 1976.
The high-quality decanter, crafted from Super Flint Glass, will provide a great talking point whilst housing liqueur, whisky or wine. The decanter is sealed with a cork stopper to ensure your drinks remain fresh and will make a great gift idea for any Star Wars fan and great to have a hot from a stormtrooper. It holds 750ml of your favourite tipple.
The Original Stormtrooper Decanter costs £24.99 from IWOOT
HALLOCLEAN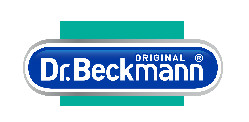 RID YOUR HOUSE OF STAINS LEFT OVER FROM THE MESSIEST NIGHT OF THE YEAR!
The scariest night of the year is almost upon us, where ghosts, witches, devils and Freddy Kruger come to life in our homes. However, the scariest part of the evening can be the cleaning aftermath that follows.
October the 31st is a day to be creative and allow yourself and your children to dress up as scary (or as cute) as possible! However, alongside Halloween comes spills and stains that are impossible to get out… or so you thought!
Cleaning and laundry experts Dr. Beckmann have identified the top ten scary stains you're bound to encounter this Halloween and how to fright back!
TOP TEN HALLOWEEN STAINS
Makeup
If you catch the stain quickly a trusty baby/make-up remover wipe may do the trick! However, if it has smeared into the carpet you'll need to tackle it with a stain remover and keep scrubbing!
Fake blood
Fake blood is the most popular Halloween item and stain scare! It can be tough to remove, so make sure the stain soaks in cold water as soon as possible, before washing in hot water. Rubbing lemon juice into the stain before washing will also help!
Hair dye/coloured hair spray
Halloween is the night to completely transform yourself and what better way than to change your hair!? However, hair dyes and coloured hair sprays leave behind extremely stubborn stains. Rub alcohol or a solution of vinegar and detergent into the stain and then leave to soak and cross your fingers!
Sweets
Halloween is a night filled with sugar rushes due to eating too many sweets, so here's a trick to get the stickiness out of clothes/costumes that is inevitable. Grab an ice cube and place it on the stain for an hour, then scrape off some sweet residue with a blunt knife. Afterwards apply a stain remover on the fabric and allow to soak.
Caramel from candy apples
Once again try scraping away the excess caramel from the carpet with a blunt knife or spoon. Do not rub or wipe with a cloth as the caramel will just sink deeper into the fabric fibres. Dab at the stain with a damp cloth and for any lasting stains, use Dr. Beckmann's Carpet Stain Remover and that should lift the remaining stain right out!
Pumpkin
The statement Halloween item can leave a permanent stain on your clothes if not treated quickly. Blot the stained fabric with a damp cloth then prepare to wash the garment. Use a stain remover to help break apart the stain.
Face paint
Another common stain of the October holiday, if the face paint is dry then try and scrape it off the fabric with a knife. Water based paints are easy to remove, just wash with hot water. Oil based paints are slightly trickier, so use Dr. Beckmann's Stain Devils Lubricant and Grease to tackle the stains in a speedy 3 minutes!
Chocolate
Trick-or-Treating may be slightly different this year, but one thing is for sure, chocolate will be there no matter what. Throughout the evening there is bound to be chocolate trodden into the carpet or spilt onto the sofa, but don't panic it can be scrubbed right out. Scrape any excess chocolate off the stain, then blot the mark with a. damp cloth. Finally apply a stain remover or detergent to the stain and scrub, scrub, scrub!
Lipstick
Requires its standalone tip, as it can be a nightmare to get out of clothing and furniture! Remove as much excess lipstick off the fabric as possible without smearing it further. Dab the stain with a warm, damp cloth, once this has been done apply a stain remover and this should do just the trick (or treat)!
Alcohol (Halloween punch)
Halloween parties may not be on the agenda this year, however that shouldn't stop you enjoying a tipple within the comfort of your own home. Be careful, as alcohol stains can be a horror to get out of your carpets and furniture, especially red wine. If you have an unfortunate spillage, make sure you blot the alcohol with a cloth until the liquid is absorbed. Then sponge with cold water. Dr. Beckmann's Stain Devils Fruit & Drink remover is great to have in the cupboard ready and waiting!
On the top tips to help everyone have a deep hallo-clean, Dr. Beckmann spokesperson, Susan Fermor said: "Getting your homes back to normal after a night as messy as Halloween is a huge task. Carpets are covered in fake blood, clothes are sticky from the caramel from candy apples and there's pumpkin everywhere! However, at Dr. Beckmann we offer a wide range of products that can help turn your house back to normal in no time."

Raisins Just Got Roarrr-Some With Fruit Bowl's New Dino Yogurt Eggs
Available at Morrisons nationwide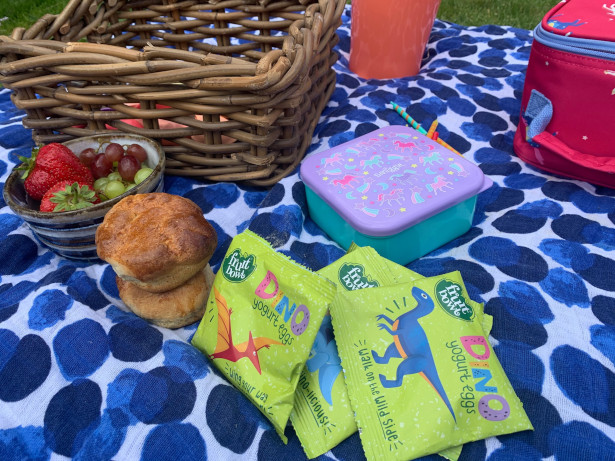 FACEBOOK | PINTEREST | INSTAGRAM | TWITTER
UK based children's snack company Fruit Bowl are adding brand new treat, Dino Yogurt Eggs, to their range of real fruit treats and snacks, continuing on their mission to make fruit fun.
Made with real fruit and excavated in Britain, the Dino Yogurt Eggs are made with roarrr-some raisins covered in a creamy yogurt shell for a cracking snack time treat with a real fruity bite. The dino-licious treats are perfect for hungry herbivores and ravenous raptors, with red, green and blue speckled yogurt dinosaur egg shells made using all natural colours.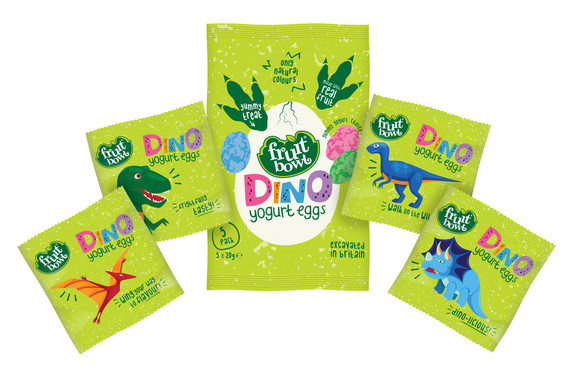 Perfect for when your mini dinosaur is peckish to prehistoric proportions, the Dino Yogurt Eggs are available in five-pack multi bags, which have frightfully fun dino designs so your little one will take a walk on the wild side for their yummy treat. The individual bags come with T-Rex, Pterodactyl, Velociraptor or Triceratops characters on the front, with the outer packaging featuring dinosaur footprints and a dinosaur egg speckle so your little one can crack their way into a pre-historic treat.
Both the individual packs and multipacks are perfectly packaged for slipping into a school lunchbox, or popping into a bag for parents on the go.
You can get your claws on the Dino Yogurt Eggs in Morrisons stores nationwide from 11th August and in Waitrose stores nationwide from 28th September, as well as on the Fruit Bowl website, (RRP £2.00, 5 pack, 20g per portion.)
The full range of Fruit Bowl products include Peelers; School Bars; Fruit Flakes, Yogurt Flakes and Yogurt-Coated Raisins. The range is also gluten-free, vegan and veggie friendly.

Unique and exclusive designs
See their latest products here www.Malabsy.co.uk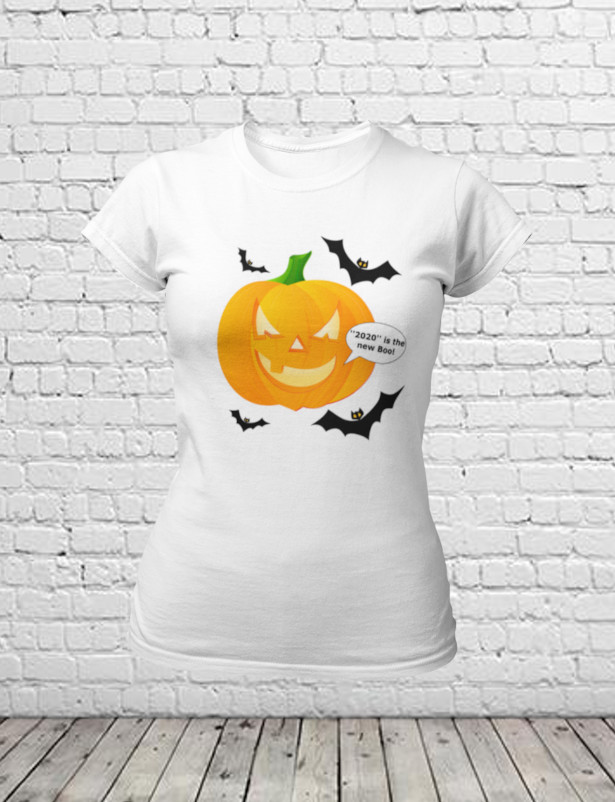 CHILDREN'S HALLOWEEN COSTUME PREDICTIONS FOR 2020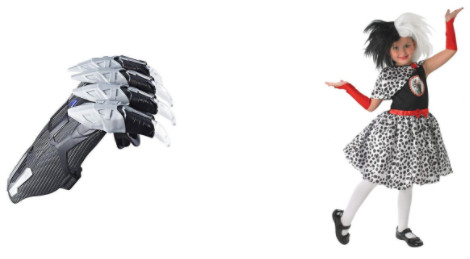 Halloween is set to look a little different this year, with social distancing measures still in place and traditional trick or treating seeming unlikely. With alternative, COVID-friendly celebrations likely still able to go ahead, dressing up will play a big part in celebrating the spooky holiday this year.
By analysing average monthly search volumes for over 2000 different halloween costume phrases over the past 12 months, Bargain Max were able to predict the outfits that have the potential to be most popular for upcoming celebrations this year.
Overall, the top 15 children's costumes predicted included:
1. Spider Man
2. Pennywise
3. Harley Quinn
4. Deadpool
5. Police
6. Batman
7. Power Ranger
8. Pirate
9. Dinosaur
10. Superhero
11. Maleficent
12. Joker
13. Vampire
14. Chucky
15. Harry Potter
Costumes inspired by TV and Film featured the most with over half of the Top 15 falling into this category (8 times), with classic costumes coming 2nd (6) and Disney also made it into the predictions (1).
A spokesperson at Bargain Max commented:
"We hope our research and predictions provide some inspiration for Halloween 2020. Dressing up is our favourite part of Halloween, and we offer a range of children's costumes, from Harry Potter, to 101 Dalmatians, to The Wizard of Oz. While trick-or-treating if off the cards in the current climate, we can still enjoy getting dressed up in our costumes and have fun celebrating the spooky holiday… Just remember to stay safe whilst doing so".
Take a look at Bargain Max's childrens costumes here: www.bargainmax.co.uk/type-of-toy/kids-homeware/costumes.html
For more information on the research, visit: www.bargainmax.co.uk/halloween-costume-predictions-for-2020
Shake up your Halloween and Celebrate with Cocktails from CUT RUM and Cazcabel Tequila
VIOLETS KILL
40ml CUT SPICED RUM
15ml Crème de Violette
25ml Lime Juice
10ml Sugar Syrup
Egg White
Dry shake and then shake again with ice – double strain into a Coupe glass and garnish with two raspberries
CUT SPICED RUM is a premium Caribbean Rum infused with real spices including, aniseed, nutmeg, ginger, black peppercorn, cinnamon, coriander seed, lemon peel and sweet vanilla pods.
CUT SPICED RUM ABV: 37.5% RRP: £22
Available from Asda, Amazon and Master of Malt
RED or DEAD
25ml CUT SMOKED RUM
3 Lime Wedges
100ml Cranberry Juice
Dash of Soda
Ice
Add the Cranberry juice to a glass with ice – layer the soda and then the CUT SMOKED RUM, add the lime wedges and serve – stir before drinking
CUT SMOKED RUM is the UK's first naturally smoked rum – a 3 year old Jamaican rum infused with Arabica coffee beans, smoked with burnt wood chips and left to rest in oak barrels. This rum is one of a kind.
CUT SMOKED RUM ABV: 40% RRP: £22
Available from Asda, Amazon and Master of Malt
Bloody Margarita
50ml Cazcabel Blanco
25ml Lime Juice
15ml Agave Syrup
50ml Red Wine Float
Shake the Cazcabel Reposado Tequila, lime and agave syrup. Strain into a Rocks glass with fresh ice. Spoon over the red wine to create a float – serve
At the heart of the Cazcabel Tequila range is Blanco. A spirit fashioned from sun-baked Blue Weber Agave from the heart of the Jalisco region. Fresh, crisp and with a rustic hit of earthy agave, this tequila is truly one to be sipped and savoured.
Cazcabel Blanco ABV: 38% RRP: £25.99
Available from Amazon, Marks & Spencer's, Proof Drinks, Master of Malt
Witch Doctor
20ml Honey Cazcabel
20ml Peated Whisky
20ml Pineapple Juice
25ml Lime Juice
15ml Orgeat Syrup
2 Dashes of Angostura Bitters
Shake all ingredients and strain into a chilled Nick and Nora glass. Garnish with a dried orange wheel and a sprig of fresh rosemary
With the fresh, earthy and dry Blanco at its heart, Cazcabel Honey adds a dose of sweet nectar to the blend. The honey used in Cazcabel Honey is made with Yucàtan honey sourced from the fields of Yucàtan in Mexico.
Cazcabel Honey ABV: 34% RRP: £24.99
Available from Amazon, Proof Drinks and Master of Malt
#SQUASHGOALS – IT'S TIME TO SPICE UP YOUR HALLOWEEN WITH A LIMITED EDITION BACARDÍ PUMPKIN PUNCH KIT
Available to purchase here. High-res images here.
[LONDON, 14TH OCTOBER] – BACARDÍ Rum has partnered with Floom to launch a limited edition BACARDÍ Pumpkin Punch Kit, that will help lift your household's spirits to the spookiest level possible this Halloween.
Available nationwide on Floom.com for just £25.00, trick-or-treat yourself with this BACARDÍ Pumpkin Punch Kit that includes one pumpkin ready to be gutted to form the perfect punch bowl serving you and three others, plus all the ingredients to create a delicious pumpkin Spiced rum punch leaving party goers cackling with glee. Let's give them pumpkin to talk about!
For those a little scared of the dark, the kit also includes BACARDÍ party cups which light up when filled with this delicious punch potion and other BACARDÍ accessories to help you Hallow-queens and kings get the party going from home this season.
The full contents of the kit can be found below:
X1 Pumpkin
70cl BACARDÍ Spiced
1L Cloudy Apple Juice
X1 Mixed Spice
X4 BACARDÍ Light Up Party Cups
X1 BACARDÍ Wooden Ladle
X4 Spooky Transferrable Tattoos
X1 String of Halloween Lights
Metinee Kongsrivilai, UK Brand Ambassador for BACARDÍ said: "As BACARDÍ is synonymous with epic parties, Halloween has always been one of our favourite times of year, but we all know this Halloween is going to be a little different from usual. That's why we've partnered with Floom to bring that classic BACARDÍ Halloween party energy right to your household's doorstep with our terrifyingly delicious pumpkin punch kit!"
The BACARDÍ Pumpkin Punch Kit can be purchased for a limited time only via Floom. The kit costs just £25.00 and is available nationwide throughout October.
GREY GOOSE LADY IN BLACK
Turn to the dark side with this indulgent, dark and delicious drink.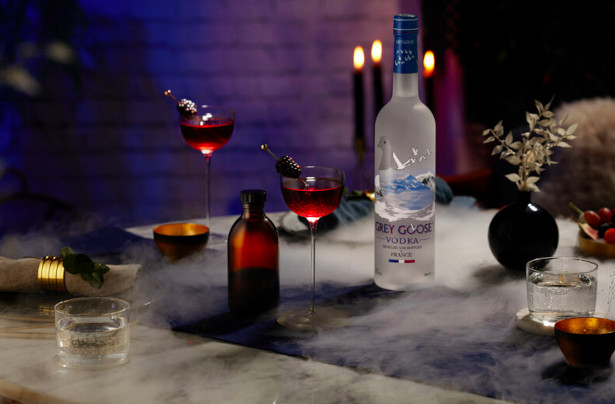 Ingredients: ​
35ml Grey Goose Original
35ml Fresh pomegranate juice​
10ml XO Cognac​
10ml Crème de cassis​
10ml clove -water​
(1 clove infused for 8 hours)​
Method:
Pre-mixed and chilled – served in a black bottle.​
Garnish: Blackberry on pick


Mummy Meagz shocks vegan chocolate fans with green Halloween crème egg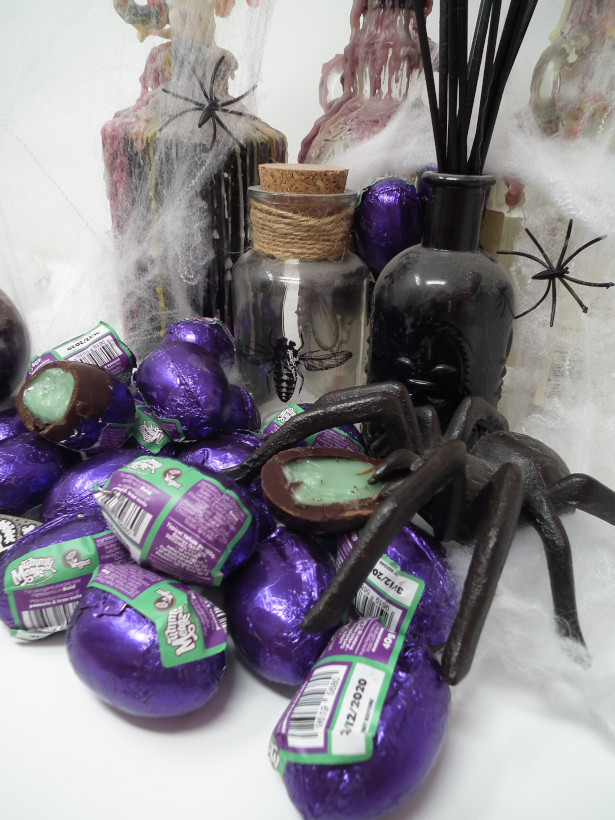 Plant-based chocolatier gives its cult-classic Chuckie Egg a Halloween twist
Following the success of her plant-based crème egg, known as the 'Chuckie Egg', Mummy Meagz has a ghoulish surprise in store for vegan chocolate fans this Halloween. Exclusive to Holland & Barrett, the classic crème egg has been given an enchanting makeover, to become the 'Boo Boo Egg'. Once the handcrafted Belgian chocolate shell is cracked open, instead of a golden yolk, it reveals a gooey green crème centre!
The Boo Boo Egg is set to stir up hair-raising excitement as a seasonal Halloween take on the Chuckie Egg – the vegan snacking craze of 2020, which sold out in stores around the country. When the Chuckie Egg launched in January, Holland & Barrett customers purchased one egg every 30 seconds, and Mummy Meagz' chocolatiers worked overtime to respond to demand.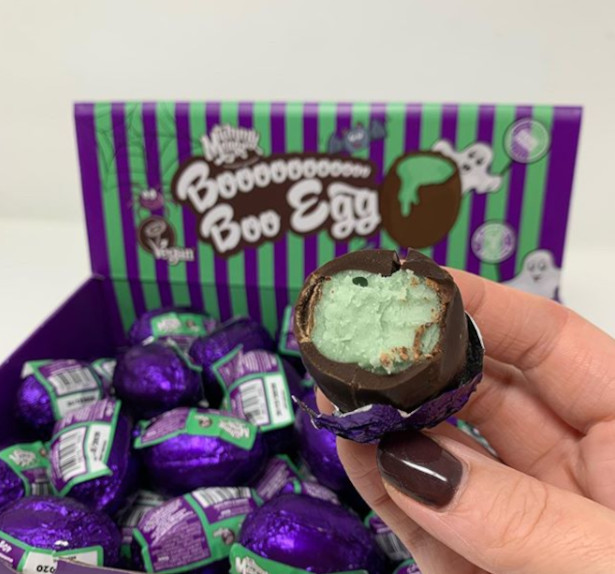 Perfect to enjoy straight from the wrapper, as part of a show-stopping Halloween chocolate brownie, or enjoying alongside a devilishly delicious green matcha latte, the Boo Boo Egg is free of nuts, dairy, gluten and animal products, meaning it can bring a smile – and perhaps even a cackle – to everyone's faces. It contains no Genetically Modified Organisms (GMOs).
Meagan Boyle, co-founder of Mummy Meagz, says: "Once chocolate lovers bite into our Boo Boo Egg and discover its frightfully green centre, they are sure to have a shock! But I've been stirring my chocolate cauldron, and while it might look mysterious, the potion for my green filling is sure to delight.
"I've known for a long time that dairy is scary, so by creating a range that's free of animal products, this Halloween can be all about treats not tricks."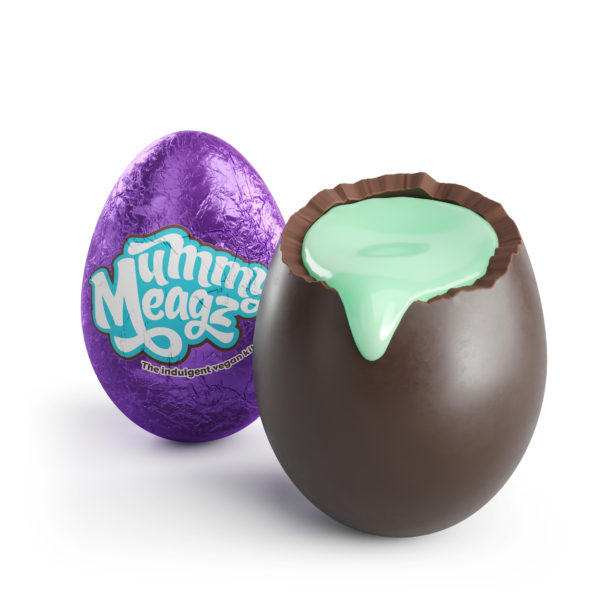 As well as conjuring up Halloween connotations, the Boo Boo Egg was named after Meagan's much-loved canine chum, Bertie (affectionately known as Bertie Boo Boo). Since his rescue from Romania, he has helped Mummy Meagz raise more than £10,000 for dog charities.
The Boo Boo Egg is the latest in a range of confectionary from Mummy Meagz. Meagan originally created her famous Rocky Roads and Chuckie Eggs so they could be sold on the counter of Blondes, the café she runs with business partner and daughter, Willow Boyle. However, as vegans and chocolate lovers alike flocked to the coffee shop, the pair realised they needed to make the products more accessible, and began to sell them online. Demand continued to outstrip supply, and a deal was struck with Holland & Barrett to sell her chocolatey products in stores nationwide and via its website.
The Boo Boo Eggs will be in Holland & Barrett stores and online from 17 September until 11th November, or while stocks last, just in time for Halloween shoppers to sink their teeth into this limited-availability treat. Each has a Recommended Retail Price (RRP) of £0.99, and weighs 40g.
Six little know spooktacular Halloween facts.
Didactics experts from leading language learning app, Babbel (www.babbel.com) shed some light on the origins of some of the most spooktacular Halloween traditions:
Samhain
The tradition of Halloween comes from Samhain, an ancient pagan festival celebrated by the Celtic people. It first took place in Britain, Ireland, and North-Western France. It was believed that as the days became darker and the harvest season came to an end, the boundary between our world and that of the dead became thinner and could be crossed by spirits. This is also where the tradition of dressing up in costume comes from – people dressed up to disguise themselves from the walking dead who might want to harm them.
Wicce
The word 'witch' comes from the Old English 'wicce', meaning 'wise woman'. At one time, these women were highly respected. According to popular belief, witches held meetings known as 'sabbaths' on All Hallows Eve.
Jack-o'-lanterns
The first jack-o'-lanterns were actually made from turnips, while the name originally comes from English folklore. The term refers to either 'foolish fire', an illusion of flickering light that occurs over swamps and peat bogs, or is so-called after a man called Stingy Jack. The story dates back hundreds of years, with the belief is that Stingy Jack tricked the devil, by making him climb up a tree, trapping him thereby surrounding said tree with crosses. As a result, he was forbidden entrance to heaven or hell, leaving him wandering the earth using his lantern to confuse people and lead them away from their path. Instead of heading to the nearest grocery store to pick up a pumpkin for carving, consider visiting the UK's largest pumpkin festival.
Animals
Black cats, spiders and bats are all Halloween symbols because of their historical ties to Wiccans. These animals were thought to be the companions of witches in the Middle Ages, and are often associated with bad luck. The association between bats and Halloween goes even deeper as, during Samhain, a ritual fire was built which was meant to drive away bats (as well as insects).
Further frightful facts from teachers around the world on Halloween from leading interactive learning platform and app, Quizlet (www.quizlet.com), state:
Soul-cakes
Dating back to medieval times, soul-cakes are a small round cake with a hole in the middle, made on All Hallows' Eve, to commemorate loved ones lost. The shape of the cake is round to signify eternity and would often be simply known as 'souls'. Given out by 'soulers', the cakes would be given to the poor, as they would go from door to door singing prayers, filling the darkened medieval streets of local villages with haunting prayer song. This practice was commonplace in England until the early 1930s, but carried on in some areas, later becoming the more traditionally know practice of, 'trick-or-treating'.
Skeletons and skulls
Since Halloween's first inception by the ancient Celt's, nearly 2,000 years ago, skeletons, skulls and human bones have been a prominent symbol of Halloween. This is said to be because they serve as a symbolic reminder of our own mortality. All saints day was originally a day to remember and celebrate those who have passed. However, it is said that the bones also serve as a reminder of the ever-present temptation of evil in our lives.
From devious decorations to spook-tacular costumes, Tesco has everything shoppers need for a hair-raising Halloween.
Plus, the Tesco F&F Halloween costume competition is back for budding young designers, who are in with a chance to see their own gloriously ghoulish design in-store next year.
This Halloween, Tesco is the one-stop spooky shop to help customers celebrate, with a huge selection of costumes, decorations and accessories starting from just 50p.
Thanks to great value prices, shoppers can turn their homes into the ultimate haunted house, without frightening their bank account. Available in-store from 14th September, get into the ghostly spirit with a Halloween tinsel wreath on the front door, or create a window display with a terrifying trio of light up pumpkins. For inside the home, Tesco has an eery range of iridescent wall and door decorations, as well as skull goblets, pitchers and shot glasses from only £2.
Sam Duffy, Halloween Buyer at Tesco said: "We know many of our shoppers will be spending more time at home this Halloween, so we've made sure to provide plenty of great options across our stores. Whether you're decorating the whole house or simply adding a spooky accessory or two, there's something for all tastes and styles at Tesco this Halloween."
What's more, on 28th September, F&F's new range of creepy clothing and costumes for children and adults will land in-store. Tesco is launching a variety of styles for all ages at prices starting from £3, including a haunted American footballer, stylish skull prom queen and a scarily cute toddler pumpkin dress. There's even matching skeleton clothing sets, so the whole family can get involved! This year, over half of the Halloween range is made from responsibly sourced Cotton (through the BCI Cotton Initiative) or made from recycled polyester.
Also available this year is the Skeleton Fairy costume designed by Lola from Lichfield, who was only 10 when she successfully spooked the judges of Tesco Halloween costume design competition in 2019, and will now see her winning creation available in stores nationwide this year.
Diane Epps, F&F Head of Kidswear Design at Tesco said: "We're so excited to debut the winning design from the 2019 Halloween costume competition. Lola's Skeleton Fairy costume will be sold for £12 in 339 Tesco stores nationwide and will inspire all young creators to have a go themselves and enter this year's challenge! We're always amazed at the creativity, ideas and wonderful designs that are submitted. My three top tips for entrants are- anything goes, be adventurous with your design. Secondly, we love bright colours and glow in the dark elements to make a costume stand out! Lastly, think about what you and your friends would like in a costume- it can be silly or funny but spooky too."
However you celebrate Halloween this year, Tesco have everything under one roof that you need to enjoy the day, at ghoulishly good prices.
Dreadfully Good Decorations
Iridescent Happy Halloween Doorway Curtain, £4
Kit out the home with the Tesco iridescent Halloween collection, which includes this shimmering "Happy Halloween" black doorway curtain to adorn the entrance to the spookiest lair.
Large Iridescent Hanging Skull, £2
Creep it real by decorating the house with this spooky black and iridescent hanging skull.
Iridescent Halloween Letter Garland, £2
Get into the Halloween spirit by hanging up this shimmering iridescent "Happy Halloween" garland – spook-tacular!
Black Iridescent Pitcher, £4
Have some skele-fun and freak out your family by serving drinks from this wickedly cool black, iridescent skull pitcher.
Black Iridescent Goblet, £2
Embody the ultimate Halloween king/queen with a drink from this spookily glimmering iridescent skull shaped goblet.
Black Iridescent Shot Glasses 4-pack, £2
Trick or tequila? Drink to the scariest night of the year with these four eerie iridescent shot glasses shaped like skulls.
Tesco Assorted Mini Light Up Pumpkin, £3
A trio of devilishly cool mini light up pumpkins in purple, green and orange. These ornaments add a touch of terror to any Halloween display.
Light Up BOO Purple, £8
Scare your household with this light up BOO sign. With a black outer case, purple interior and light up bulbs, it's great to place in the window to spook the neighbours as well.
Tinsel Wreath, £3
A lightweight frame completely covered in orange and black tinsel with gold foil circles. A spooky yet stylish addition to the front door this Halloween season.
Children's Costumes Ages 1 – 13 to 14
Skeleton Fairy, £12
Created by ten-year-old Lola from Lichfield, winner of the 2019 Tesco Halloween Costume. This bright and colourful skeleton fairy jumpsuit features a rainbow tutu and wings, complete with a colourful skeleton design.
image004
Skull Prom Queen Dressing Up Dress, £12
Be the belle of the (beastly) ball with this pink prom queen dress decorated with skulls and flowers, complete with black "Miss Halloween" sash.
American Footballer, £12
Dare to be dreadful with this haunted zombie American footballer's outfit with red "Team 13" colours, fabric helmet and ripped edge detail.
Comic Frankenstein, £12
This creepy but classic comic Frankenstein outfit features a ripped purple shirt with green trousers, and comes with a scary Frankenstein mask.
Scary Grey Bride, £12
Become a boo-tiful bride in this white, grey and black bride-style dress decorated with white skulls, complete with a white veil.
Pink Star Witch, £8
Cast a spell in this brightly coloured purple, pink and orange witches dress with a glittery star belt.
Techy Skeleton, £8
Dress to impress in this futuristic, technology-themed skeleton costume. Decorated with vivid neon colours, funky patterns and a pair of headphones – this outfit is sure to turn heads.
Costumes for babies and toddlers ages 1 month- 3 to 4 years
Baby Frankenstein, £8
This frightfully cute Frankenstein costume features a purple waistcoat, green and black striped top and a little orange bow tie. Complete with adorable Frankenstein hat.
Baby Dracula, £9
Have a fearsomely fun time dressing your little one as Dracula in this classically coloured red, white and black costume complete with a cape and bow tie.
Toddler Pumpkin Dress, £7
This charming pumpkin dress adorned with orange mesh sleeves and shimmering gold pumpkin faces will have your little one screaming with delight!
Matching Family Outfits
Get the whole family together in this spooky skeleton clothing. With kids, men's and ladies' options, shoppers can mix and match to be the spookiest family in the neighbourhood.
Baby Skeleton Onesie and Hat, £6 (Up to 1 month to 18-24 months)
Children's Skeleton T-shirt and Joggers, £3 and £4 each (18 months to age 13-14)
Menswear Skeleton Long-Sleeve T-Shirt and Joggers, £6 and £8 each (size S to 3XL)
Womenswear Skeleton Short-Sleeve T-Shirt and Leggings, £6 and £8 each (size 8 to 22)
Spooky Accessories
Pumpkin Carving Kit Purple, 90p
Get creative this Halloween with this frightfully fun pumpkin carving kit. Contains everything needed to create the spookiest pumpkin on the street.
Halloween Boppers Headband Assorted, £2 each
Choose from a selection of fun Halloween bopper headbands in a variety of styles, including bats and pumpkins.
Character Loot Pot, 50p
This loot bucket decorated with Halloween characters is ideal for collecting all your treats.
Plush Loot Bag Assortment, £3 each
A selection of soft-touch loot bags in a variety of scary styles. Choose from designs including a bat or pumpkin to safely store Halloween goodies.
Sparkly Gold Web Witch Hat, £1
Add a touch of gold with the Sparkly Gold Web Witches Hat. Gold, webbed details paired with a black trim, makes this a stylish witchy accessory for those looking for Halloween glamour.
Bat Wings, £4
Black velour bats wings which can be paired with an all-black outfit to make a quick vampire/bat costume – fang-tastic!
Vampire Frappuccino brings a frightfully fun treat this Halloween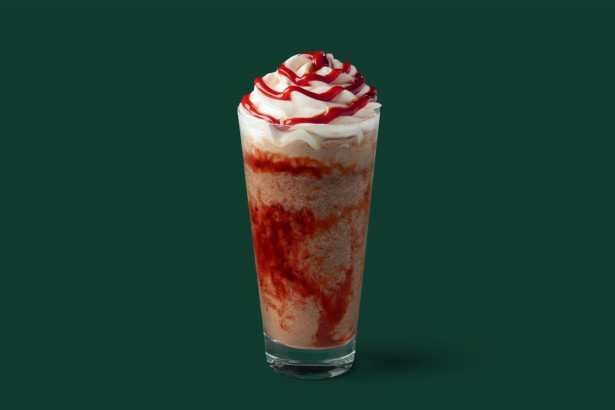 Trick or treat takes on new meaning this year, thanks to Starbucks' frightfully fun limited-edition Vampire Frappuccino. It's all treat, with a little trick up its spooky sleeve.
For the first time since 2001, this Halloween falls on a full moon, making it an extra scary occasion and all the more reason to indulge in the chocolatey decadence of the Vampire Frappuccino. Famous for its holiday-themed beverages, Starbucks is unleashing their chocolate créme Frappuccino between 26 and 31 October. Look out for the dash of bloody fun in the strawberry sauce drizzle!
Be sure to get to your closest Starbucks store early on these bewitching dates – last year the Phantom Frappuccino sold out before you could say "BOO".
Halloween recipe from Author, Presenter and Ayurvedic and Plant Based Expert Keith Squires.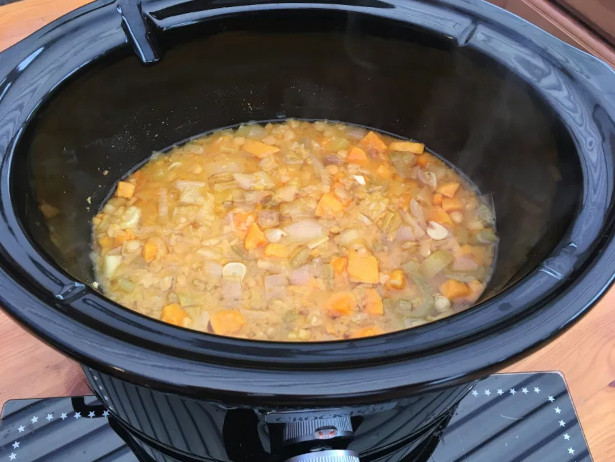 Keith combines his background in nutrition, Ayurveda, herbalism and cookery teaching in workshops, retreats and courses around the world. 
His events are hugely entertaining as well-being full of practical knowledge on how to live a healthy and fulfilling lifestyle.
"Pumpkins, a type of squash, have been cultivated in the Americas since ancient times. The pumpkin seed, like the hemp seed, is high in good-quality protein. Both are also high in iron, zinc, magnesium and omega-3 essential fatty acids. Herbal medicine regards pumpkin seeds as an important parasitic worm remedy. Pumpkin seeds also have a balancing effect on the prostate gland"
Pumpkin Soup
1 tbsp coconut oil
1 leek (washed and sliced)
1 tsp black mustard seeds
1 tsp cumin seeds
1 tsp turmeric
1 bay leaf
500 g Pumpkin or Butternut squash (peeled and chopped)
500 g sweet potato (washed and chopped)
1 litre water
1 tsp grated ginger
4 tsp bouillon powder
Half cinnamon stick
Method
Heat the oil in a pan and add the mustard seeds. Allow them to pop for a few seconds.
Add the other spices and leeks. Sauté for a few minutes.
Add the veg, ginger and water and simmer for 35 minutes.
Remove the cinnamon and bay leaf. Then liquidise.
Season with bouillon powder.
Dress your dog in a personalised Howl-o-ween bandana to match your face mask this spooky season 🎃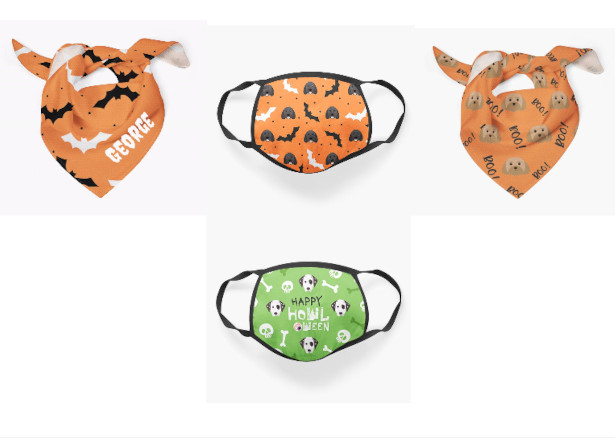 With spooky season around the corner, you can now buy a face mask and dog bandana for a cute matchy-matchy look with your pooch this Halloween.*
Available from yappy.com the co-ordinating accessories feature your terrifyingly cute dog's icon and name in four Howl-o-ween print variations including Boo, Pumpkins, Bats and Bones designs – with six colour options including spiced pumpkin, blood red, snot green and mystical mint.
A batty way to get into the spirit of Howl-o-ween, each spooky face mask is available in two sizes and can be teamed with a matching bandana that's available in small, medium and large. The products can be personalised with a unique icon for over 300 dog breeds at Yappy.com.
Product information:
*Face masks – for humans!
Made from breathable polyester fabric
Machine washable – pawfect to wash and reuse
Stand out from the pack with a stylish dog design
Black edge loops ensure a soft and gentle fit around the ears
Choice of sizes for a comfortable, secure fit – see here for a size guide
Complete with a PM 2.5 filter
Priced £12.99
Bandanas – for dogs!
Lovingly made in the UK
Machine washable at 30°
Made from high-quality, durable fabrics
Wickedly cute dog design
Easy to fit, adjustable and comfortable for your dog
Size options ensure the best fit
Choice of spooktacular colours to suit your dog
Price – £6.99 – £12.99
See the entire Howl-o-ween range including trick or treat dog toys, cards and gifts here and get ready to spook!
The waiting of theHalloween season is coming to end. It is an event for people of all ages.

And has many surprises when it comes to the audience who love sports and fashion.And for that, we at Top Vouchers Code website provide deals and discounts on avariety of amazing stores of ample categories from where they can fetch anyitem at the lowest rates using our amazing offers. Become a supreme golferthrough Golfino, a fetching cheerleader through NFL Shop and NBA Store or getthe trendy shoes from Supra. There is a lot more on the website > www.topvoucherscode.co.uk
My Supplement Store
Smart Sweets Halloween Gummy Worms. 80% less sugar than traditional gummy candies plus 9 grams of fiber and vegan and vegetarian friendly.
www.bestpricenutrition.com/products/smart-sweets-gummy-bears-12-box-1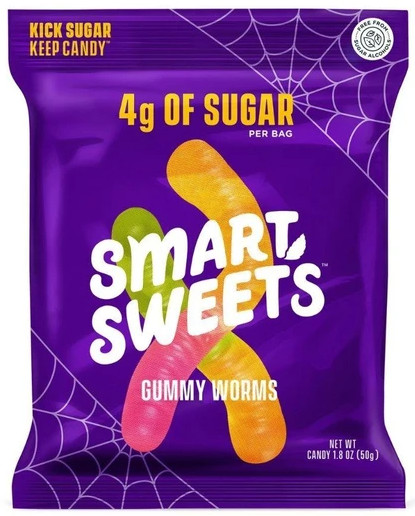 CraftStirs:

You may not be trick-or-treating this Halloween, but you can still celebrate virtually with your friends! To enjoy Halloween candy in the most adult way possible, why not pair it with some delicious, easy cocktails that deliver bar quality taste from Craftstirs Cocktail Mixes (SRP: $9.99 for one box of 8 sachets; available nationwide at CraftStirs.com).
Now, it's simpler than ever to recreate your favorite cocktails at home with limited ingredients and time needed. All you need is your favorite spirit, CraftStirs sachet, water, ice and the below three steps:
1. POUR a CraftStirs sachet, 3-4 ounces of water and add one-shot (or more) of your favorite spirit into a glass.
2. MIX all ingredients in your cocktail glass and add ice.
3. ENJOY your delicious premium cocktail!
Below are three fun cocktail and candy pairing options to help you celebrate Halloween in the most delicious way:
Tropical Margarita and Sour Patch Kids: The sweet and sour flavors in this candy complement the echoing flavors found in the Tropical Margarita
Melon Cooler and Jolly Ranchers: The fruit forward Jolly Ranchers are an ideal pairing with our refreshingly sweet Melon Cooler
Pomegranate Mojito and York Peppermint Patties: The cool from the Pattie's mint flavors gives your Pomegranate Mojito an even sharper taste
US Ghost Adventures, a nation-wide ghost tour operator with walking ghost tours in over 28 different historic, well-traveled cities – Most of which have successfully reopened with precautions in place.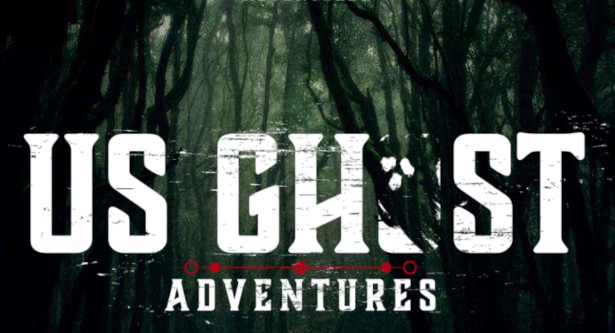 With Halloween right around the corner, US Ghost Adventures has new, exciting ways to enjoy Halloween at-home and have reopened their ghostly adventures to the public.
Ghostflix, allows you to watch ghost tours LIVE- Stream from home! It's been a huge success this season and we are now offering them both live and on-demand.
To view the GhostFlix trailer – click here: youtu.be/rBNLjhNAWxY
"Stranger Things inspired Halloween"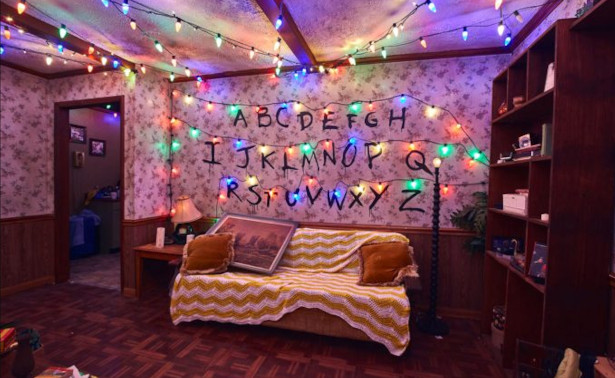 Who said Halloween needs to be extravagant to be memorable and fun? You can have a Do-it-Yourself Halloween setting, inspired by one of the biggest horror TV shows on Netflix, Stranger Things. For the decorations and setup, you only need Christmas lights (a lot of them) and a wall with the alphabets written on it. Hang the Christmas lights above the written alphabets and on the ceiling to imitate the setting on Stranger Things where Joyce is talking to his son Will through the Christmas lights (like an Ouija concept).
To spice things up, you can dress (or one of your friends) as the horrid Demogorgon to boost the eerie vibe in the room. For only $25, you can find a Demogorgon costume here that will bring the nasty monster into life. If you want to embrace the whole concept, you can dress yourselves and imitate each character in the series which can be more fun and exciting.
Halloween & Pet Obesity Awareness Month with Johnna Devereaux, C.P.N from Bow Wow Labs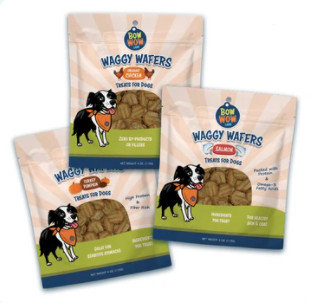 Novato, CA – October 2, 2020 – Not only have we entered the season of overindulging on sweets and treats, but October is a reminder to keep our pets healthy and fit. It's Pet Obesity Awareness Month, and with Halloween just around the corner, now is a great time to make our pet's health and safety a top priority!
Sadly, obesity is being called the new epidemic among dogs. According to the recent annual Veterinary Emerging Topics (VET) report, more than half of the dog population is considered overweight or obese.
"Research shows that pets are more likely to gain unwanted pounds during this holiday period than any other time of year," says Johnna Devereaux, Clinical Pet Nutritionist (CPN) from Bow Wow Labs, Inc. (BWL) "Often, pet owners become generous with table scraps and extra treats during the festivities. In addition, schedules become busier with less time devoted to regular exercise. Providing your dog with healthy food options while maintaining an active lifestyle is really crucial in preventing obesity."
Halloween is the kick-off event for the holiday season. Your children may be eating lots of goodies on this occasion, but that doesn't mean your dog should. Giving too many treats to your dog is just like eating fast food or candy for us. Although treats can be a beneficial tool when it comes to training and/or rewarding positive behavior, it's important to monitor their intake and of course be mindful of ingredients. Try swapping out carbohydrate-based treats, such as biscuits, with a higher protein treat or chew.
Waggy Wafers from BWL is an ideal treat option thanks to consisting of only the finest, healthiest ingredients that are naturally sourced and preserved. Your pet will especially enjoy snacking on the slow roasted Turkey Pumpkin treat this Halloween. Each mouthwatering morsel is filled with nutrient-rich turkey and fiber-rich pumpkin for a healthy snack your pet will love! Waggy Wafers also come in Organic Chicken and Salmon. All three treats are Made in the USA using only real meat and contain zero by-products, artificial flavors or fillers.. Learn more at: bowwowlabs.com/collections/treats.
Exercise is not only crucial for physical and mental health, but it's the perfect way to tire a dog out before the Halloween celebration starts. In general, a minimum of two 15-minute walks per day is recommended for most dogs, but some will need one or two more depending on their breed and size.. Getting outside and playing a game of fetch or chase is a fun way to keep your dog active and in shape. It's also a wonderful bonding experience between pet and owner.
Another way to keep your dog active and occupied is with a puzzle toy or long-lasting chew. Halloween may look and feel a bit differently this year due to the pandemic, but giving your dog something to do while you celebrate at home is a must! Together, the Bully Buddy and its highly nutritious Safe Fit™ Bully Sticks from BWL, is a great option because they keep dogs busy, all while giving you the peace of mind you deserve thanks to their health and safety features.
Bully Buddy is a durable, easy-to-use, veterinarian-vetted, and dog-approved device that tightly secures bully sticks, preventing dogs from choking on the tail-end of the treat. BWL's Safe Fit™ Bully Sticks are low-odor and are sustainably sourced from free-range, grass-fed cattle that are 100% hormone free and never treated with chemicals. They are a great alternative to rawhide of manufactured chews thanks to being a premium single-ingredient treat.
As we enter the month of October, remember that keeping your dog active and providing wholesome and nutritious treat options are great solutions for conquering pet obesity and the upcoming holiday season!
About Bow Wow Labs, Inc.
The team at Bow Wow Labs is made up of a diverse group of men and women who are on a mission to keep dogs healthy, happy and safe with products and services that make life easier and fun for dogs and their owners. They offer innovative products that build lasting bonds and do it all in the name of creating happier dogs with empowered owners, maximizing the enjoyment of having a dog while minimizing many of the risks dogs encounter in everyday life.
Learn more at: bowwowlabs.com/.
Facebook: www.facebook.com/bowwowlabs/.
Instagram: @bowwowlabs www.instagram.com/bowwowlabs/).
Twitter: twitter.com/bowwowlabs/.
Calme Kids Co.
Halloween themed self-care for kids
Printable Halloween themed positive affirmation cards
@ www.etsy.com/uk/listing/720801214/halloween-lunch-box-cards-printable-back?ref=shop_home_active_8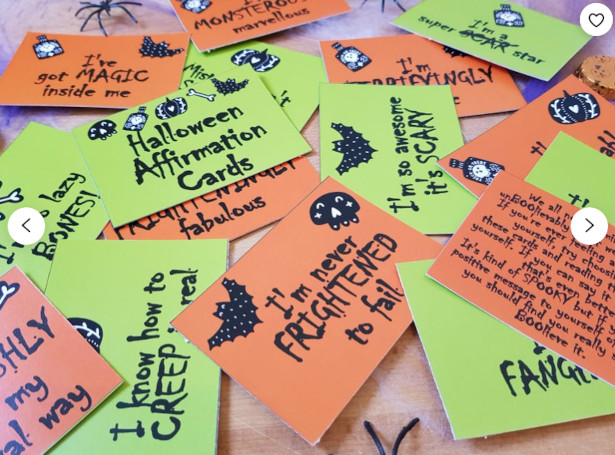 This set of printable cards can be used in all kinds of fun and positive ways and are a brilliant self-care resource for kids. Children can choose to read a card each day over the Halloween period or parents can create a game where children select a card then think up an example of why the affirmation applies to them. They make lovely themed inspirational lunch box cards or can be used as a healthy gift alternative to sweets and candy.
www.calmekidsco.com
Because of the unprecedented 2020 COVID-19 pandemic, the safestthing to do is skip Trick-or-Treating and do away with group Halloween parties. Instead, parents need to be creative and make Halloween fun and engagingfor kids while staying at home. Try some of these ideas with yourchild(ren) at home: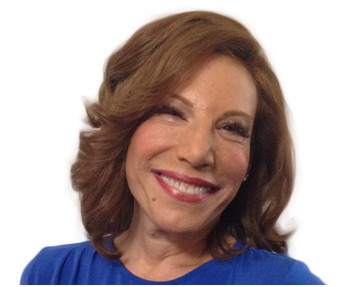 – Bake red apples. Mom cores the apples and lets the kidswash them and sprinkle the large Rome Beauty apples sprinkle with cinnamon andhoney. (Bake @350 degrees for 90-120 minutes until soft and gooey. Ittakes like the inside of apple pie but less calories and highly nutritious,rich in fiber!)
– Make s'mores. A S'more is a cracker sandwich made frommilk chocolate, graham crackers, and toasted marshmallows. Allow youryoungsters, even 3 year-olds) to layer a graham cracker square with 4rectangular pieces of Hershey's solid chocolate bars. The top thechocolate with a single marshmallow that Mom has toasted over the stove's openfire, and finally close your sandwiches with a top layer of graham crackersquare. Mommy slides the pan that the s'more are laying on into apreheated oven for just a few minutes until the chocolate squares melt. Take them out of the oven and allow to cool . Then, let the kidseat the treats they made personally!
– Help the kids plan, prepare, and cook a mock Thanksgiving Dinneras a run-through for the upcoming Holiday Celebration! They can even bakea homemade pumpkin pie with Mom and freeze it until the big November Holiday!!
If youdecide to risk going door-to-door with your kids remember my "Dr. Fran'sSafety Tips For Trick or Treaters:
– Bring a flash light and stay in well-litareas
– Cross streets at corners and obey alltraffic signs and lights
– Only eat candy/treats that are fullywrapped
– Only visit homes with porch lights on
– Don't carry lighted candles
Safetytips for motorists:
– Drive with headlights on
– Drive slowly down residential streets
Please cite me as Dr. Fran Walfish, Beverly Hills family and relationship psychotherapist, author, The Self-Aware Parent, regular expert child psychologist on The Doctors, CBS TV, and co-star on WE tv.
Please see my TODAY Show, NBC appearance about kids and electronics/social media (11/10/17) on my website drfranwalfish@gmail.com. Find my recent Entertainment Tonight, CBS appearance on their website etonline.com. This is my appearance last Thursday on Access Hollywood Live discussing couples issues http://www.accesshollywood.com/sex-box-what-really-happens-in-the-box_video_2658037
Here's the link to my appearances where I am regular child psychology expert on CBS2 News and KCAL9 News. http://losangeles.cbslocal.com/2014/11/03/actress-lena-dunham-fires-back-at-critics-who-say-she-molested-younger-sister/
Here is my CBS2 News on-camera interview on "Marriage Sabbaticals".
More Couples Turning To Marriage Sabbaticals To Overcome Relationship Hurdles
I am Dr. Fran Walfish, leading couples relationship and family psychologist and author in Beverly Hills, CA. In addition to my full private practice where I treat many celebrities and their families, I was on clinical staff in the Department of Psychiatry at Cedars-Sinai Medical Center for 15 years. I was a school psychologist and recently completed my 4 year-term as Chair of the Board of The Early Childhood Parenting Center founded at Cedars-Sinai, Los Angeles. I was trained by world-renown psychoanalyst, Saul L. Brown, M.D., Director of the Department of Psychiatry, Cedars-Sinai Medical Center.
I am a regular on-camera expert contributor to CBS2 News and FOX News in Los Angeles, NBC Nightly News with Brian Williams, The Doctors (CBS TV), CNN i-report, The Wall Street Journal, NPN national syndicated network, ABC 7 News, Turner Broadcasting Network, Ladies Home Journal, Parents magazine, People Magazine, People.com, Parents.com, The Chicago Tribune, World Entertainment News Network (WENN), Parenting magazine, Parenting.com, American Baby magazine, Family Circle magazine, Woman's Day magazine, Ladies Home Journal, Momlogic.com, Parenting Teens Resource Network, ABCNews.com, and NBCMiami.com. Please view my website at www.DrFranWalfish.com for more info. Attached below is a file containing my electronic press kit (EPK). Just click on the icon to view my bio, platform profile, book info, and picture.
Here is the link to my recent Wall Street Journal Digital Network live interview, "Shacking Up Comes With Big Savings" http://live.wsj.com/video/shacking-up-comes-with-big-savings/E3AE74A4-A098-47F2-834A-AB3CE0F1B5A7.html#!E3AE74A4-A098-47F2-834A-AB3CE0F1B5A7
I write a weekly relationship and parenting Q & A column that is published in The Beverly Hills Courier newspaper. Here is the link to several of my columns posted on the Courier's website http://bhcourier.com/?s=dr+fran+walfish (in addition to their hard newspaper). I am also one of PARENTS magazine's "Ask The Experts" for their regular monthly Q & A column.
My book, The Self-Aware Parent: Resolving Conflict and Building A Better Bond with Your Child, is represented by William Morris Endeavor Entertainment (WME) and published by Palgrave Macmillan/St. Martin's Press, launched December 7, 2010. Simon & Schuster is publishing my original chapter Why Empathy Matters in their all-star psychologists anthology book Tough Love, December, 2016. Dr. Fran and William Morris Endeavor Entertainment Agency (WME) are currently in development of her new TV Series.
I can be reached at (310) 800-0383.
Thank you and all my best,
Dr. Fran
Dr. Fran Walfish
9615 Brighton Way Suite 414
Beverly Hills, CA 90210
main 310-289-3221
direct 310-271-7979
mobile 310-800-0383
fax 310-271-7709
email franwalfish@gmail.com
web www.DrFranWalfish.com
The Self-Aware Parent, Palgrave Macmillan/St. Martin's Press
Tough Love, Simon & Schuster
Weekly Q&A, Beverly Hills Courier
On-camera psychotherapist, CBS & FOX News Los Angeles local affiliates
Virtual Photobooths.
ignite-images.co.uk/virtual-photobooth
Halloween Costumes with Henna Tattoos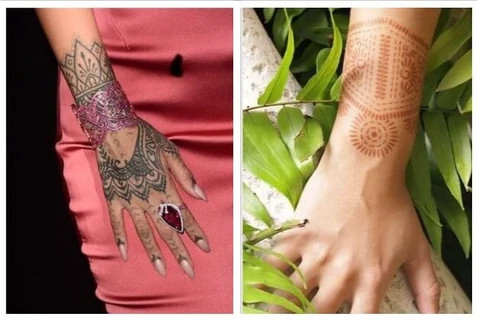 You've got the temporary tattoos you need to look exactly like your inked idol. Check out these Halloween costume ideas that pair perfectly with your favorite henna stencils.
You can know more about it here:
mihenna.com/blogs/news/halloween-costume-ideas-henna-tattoos
Family friendly podcast Unspookble is the perfect listen this Halloween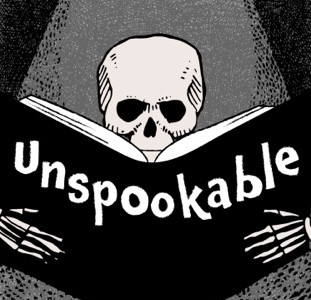 Podcast Unspookable called one of the "Best podcasts for kids of all ages" by Time Out New York.
Unspookable is a family friendly look at the history, science, and power dynamics behind urban legends and scary stories all told through a modern and feminist lens. Each week host Elise Parisian, along with our team of children contributors, discusses such topics as Bloody Mary, the Charlie Charlie challenge, and Friday the 13th to find the stories behind the scares in small bitesize episodes perfect for a morning school commute. Recommended for children ages 8+
Unspookable has been called one of the "Best podcasts for kids of all ages" by Time Out New York, one of the "18 Best Paranormal Podcasts of All Time" by The Cinemaholic, one of the "10 Best Podcasts for Children" by the Irish Examiner, appeared across Canada on CBC Radio's Podcast Playlist and on NPR station WHYY's Kid's Listening Hour, has been featured by Podcast Magazine, The AV Club, Crime Reads and more, and regularly charts in the top ten of the Apple Podcasts category Education for kids. The show is available on Apple Podcasts, Spotify, or wherever you listen to podcasts.
Eat, Drink, and be Scary – All While Being Safe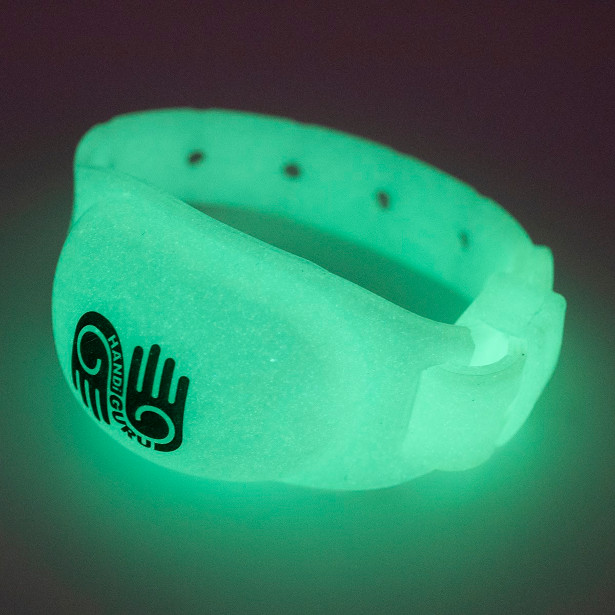 October, the month of pumpkin spice and everything nice, costumes, trick-or-treating, and gatherings, but for 2020 the uncertainty of holiday planning is weighing on many of us. No matter what you're planning, everyone should have the same goal in mind, safety; safety for ourselves and for our children. Taking preventative measures in a fun, colorful way, HandiGuruTM provides sleek, wearable protection from germs, sun, and other outdoor elements, giving families and individuals extra peace of mind when they leave home.
Though Halloween may look different for most, HandiGuru is a great accessory to add to any costume this year. The real scare this year is putting your family and friends in harm's way,
Developed by Santa Barbara-based artist and innovator Benjamin Anderson, HandiGuruTM is a lightweight, refillable wristband designed to carry a variety of gels and lotions for easy, on-the-go access. Currently available in 11 different colors, including '80s Neon' and 'Cotton Candy', HandiGuruTM has also just released a 'Glow in the Dark' version for Halloween adventures.
"In light of the Coronavirus pandemic, guarding against germs is more important than ever," explains Anderson. "With HandiGuruTM, the protection my family needs is always right at our fingertips, giving us peace of mind whenever we leave home."
To use, load any gel or lotion into HandiGuru'sTM self-sealing compartment with the help of the applicator bottle (included with purchase). When it's time to reapply, simply squeeze the silicone band to release the desired amount of product – no mess, no hassle, no worries.
Disney x Pandora has the perfect treat for you this Halloween
Halloween is around the corner, and this year we're focusing on treats and not tricks, it's time to treat someone special or yourself to the latest Halloween charm from Disney x Pandora.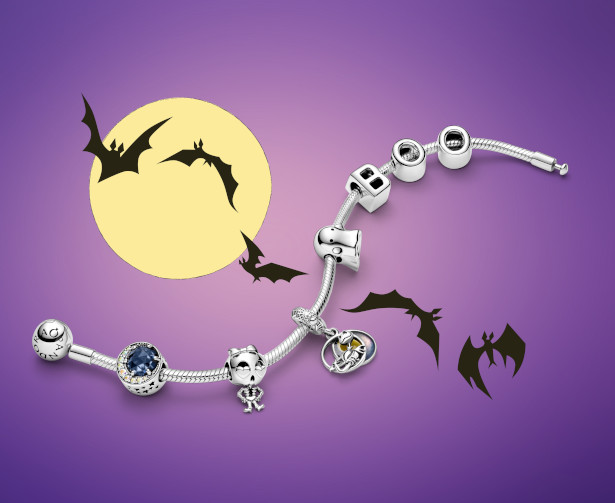 The newly launched Disney Nightmare Before Christmas Double Dangly Charm, is inspired by the iconic Tim Burton movie and depicts the hero of the movie, Jack Skellington, in 3D on a nocturnal background.
The charm is created out of 71% recycled materials and is hand finished in sterling silver, the design of the back disk features a full moon and night sky made with hand-applied transparent enamel in yellow and deep lavender.
Don't miss out on the chance to bring a little mystery to your look and add this charm to your bracelet.
Now available online at Pandora.net or instore nationwide.
ABOUT PANDORA
Pandora designs, manufactures and markets hand finished jewellery made from high-quality materials at affordable prices. Pandora jewellery is sold in more than 100 countries through 7,400 points of sale, including more than 2,700 concept stores. Headquartered in Copenhagen, Denmark, Pandora employs 28,000 people worldwide and crafts its jewellery at two LEED certified facilities in Thailand using mainly recycled silver and gold. The company plans to be carbon neutral by 2025 and has joined the Science Based Targets initiative to reduce emissions across its full value chain. Pandora is listed on the Nasdaq Copenhagen stock exchange and generated sales of DKK 21.9 billion (EUR 2.9 billion) in 2019.
Get Creative with the New Chocolate Pen!
From Skyrocket Toys.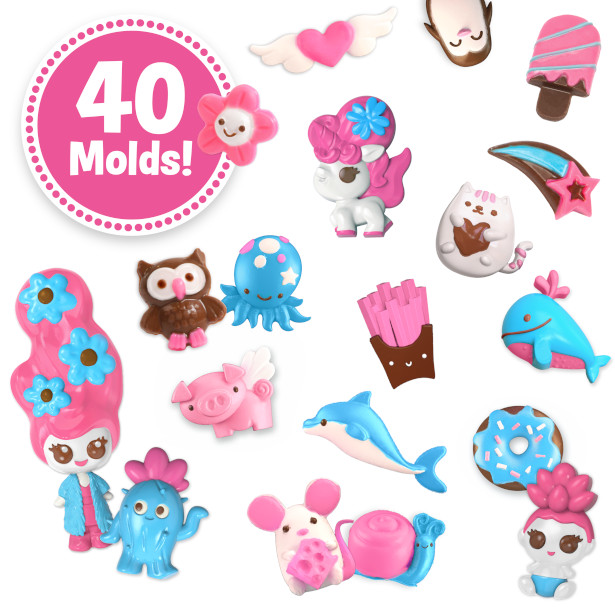 Get creative and craft tasty treats in chocolate with the Chocolate Pen from Skyrocket Toys!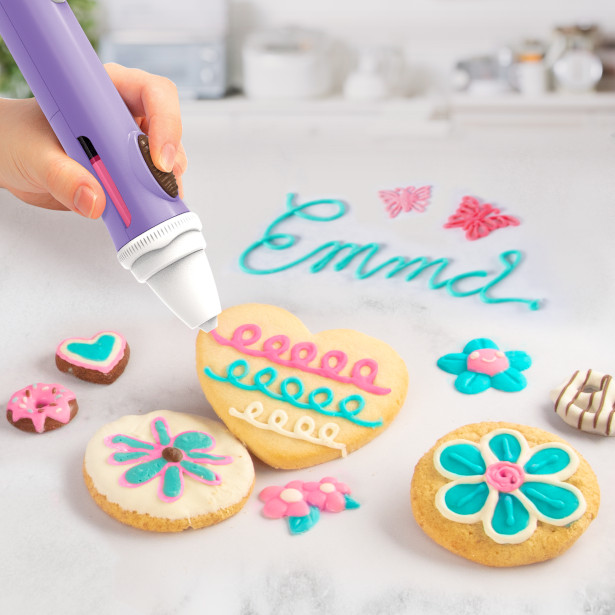 The Chocolate Pen allows you to create in delicious style with real chocolate! The kid-friendly design automatically loads the pen with melted chocolate and at the touch of a button you can write words, and draw delicious one-of-a-kind designs!
Each Chocolate Pen comes with 40 molds to make rainbows, hearts and other fun shapes, including bonus molds inspired by Blume Dolls. Simply fill the molds and watch as your DIY creations magically harden into the perfect gift for your friends and family to enjoy!
Kid chefs will love using their imagination to design their own creations whilst also adding their chocolatey touches to fruit, biscuits and cupcakes!
Each Chocolate Pen comes with 1 Chocolate Pen, drawing tip, stirring stick, 40 mold designs and is suitable for ages 6+. RRP £19.99 available from Smyths, The Entertainer and all good toy retailers.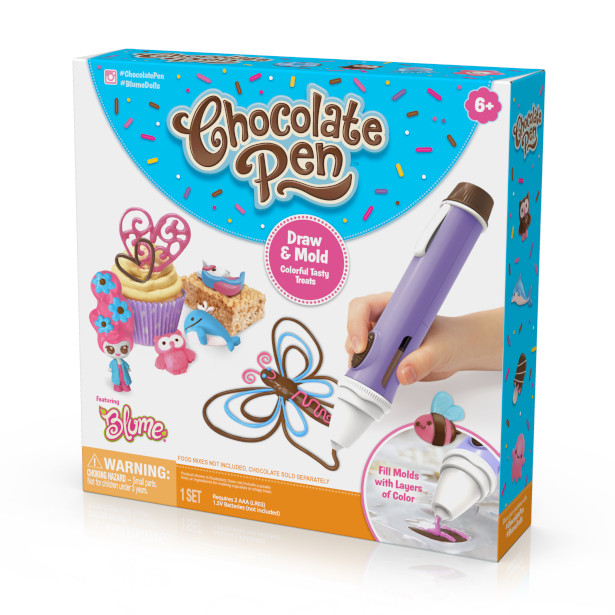 TRICK OR CHEESE – Fright up your family snacks this Halloween
The UK's top speciality cheese company brings back popular Halloween-inspired Black Cat Cheddar, which launched last year, to spook up HalloweenThe cheese company also launches a Bonfire Night Cheddar to turn up the heat this November

Halloween and Bonfire night in 2020 may not offer quite the same experiences as in previous years, but a UK cheese company is determined to put some fright and fire into your snacks so that even if you're staying in this year you'll still get into the spirit of the season.
The country's leading producer of specialty cheese, Norseland, is launching a new cheese in its Ilchester® range for Bonfire Night, which will set your tongue on fire with habanero chilli pepper and mango flavours, and its Halloween-inspired cheese, Black Cat Cheddar, which was introduced last Halloween, is also returning to supermarket shelves.
The Ilchester® Bonfire Night Cheddar will be available in Morrisons Delis across the UK from 19 October and is the perfect addition to winter warmer meals – spicing up jacket potatoes and pasta dishes. The Ilchester® Black Cat Cheddar, which is making a comeback for Halloween 2020 due to its popularity last year, is coloured with natural cocoa and carob to give a delicious malty flavour. It's particularly tasty in sandwiches and bagels and makes a very spooky looking cheese on toast (the nation's favourite comfort food). Cut into shapes for party food or add it to pizza for a ghoulishly different bite to eat!
Lisa Harrison, Senior Brand Manager for the Ilchester® Bonfire Night Cheddar and the Black Cat Cheddar, said: "We wanted to give cheese and snack lovers some fun over Bonfire Night and Halloween this year, and thought our innovative cheese products could help people get into the seasonal spirit, even if they are just at home enjoying the days with their families.
"This is the sort of nourishing, comforting, warming food that we all crave at this time of the year, but with a little themed twist!"
Halloween and half-term events in Bury St Edmunds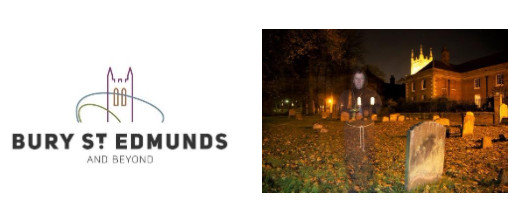 Moyse's Hall Museum Strikes Back with the 12th Sci-Fi and Action exhibition 24 October – 20 December
Moyse's Hall Museum, Bury St Edmunds strikes back with its 12th annual Sci-Fi and Action Exhibition celebrating the 40th anniversary of the second Star Wars film, The Empire Strikes Back. Running from 24 October until 20 December, it will feature a display of props and memorabilia from the movie that introduced us to Yoda, AT-AT walkers and a shocking family revelation that set the world talking.
In addition, the exhibition marks the 40th anniversary of Galactica's landing in homes across the globe. This classic series was a spin-off to 1978's Battlestar Galactica; displays will explore the franchise's impact upon popular culture. There will also be small-screen action from the Tom Baker era of Dr Who plus used screen props and a chance to meet a real Dalek! The final highlight will be a rare opportunity to come face-to-face with a used Gremlin film prop from the mid-1980s cult classic.
The intergalactic exhibition for all ages is open Monday-Saturday from 10am to 5pm and Sundays 12pm-4pm. Admission: adult £5, concessions £3; child £3 (5-16 years), family £15 (up to 5 people). Tel: 01284 758000, www.moyseshall.org. Face masks will be required and numbers limited to observe social distancing.
West Stow Anglo-Saxon Village – Spooky Saxons 24 October – 1 November
Go along to the West Stow Anglo Saxon Village, near Bury St Edmunds in Suffolk between 24 October and 1 November and you will find some half-term horrors lurking behind corners for unsuspecting visitors. Take part in the Spooky Saxons fun family activities including quizzes and stories and dare you be brave enough to cast the last rune in the Witchy Workshop?
The site of an early Anglo-Saxon village, occupied from AD 420-650, over 400 years before the Norman Conquest, West Stow is one of England's great archaeological sites. Explore the recreated Anglo-Saxon village surrounded by 125 acres of unspoilt countryside and discover more about village life some 1,500 years ago in the indoor galleries. Watch a film, dress up as an Anglo-Saxon and 'meet' the rare breed pigs and chickens.
2
West Stow will also be hosting The Real Middle-Earth Tour on Sunday, 25 October starting at 1.00pm. Find out about the links between Tolkien and the Anglo-Saxon world on a guided tour from a member of the Tolkien Society and a Middle-earth enthusiast.
Open 10am – 5pm. Admission: adult £6; child £3 (5-16 years); family £16 (up to 5 family members, maximum 2 adults). Tel 01284 728718, www.weststow.org/Anglo-Saxon-Village. Face coverings are required inside the museum, but not outdoors in the Anglo-Saxon Village. Social distancing will be observed but advance booking is not necessary.
Crafty Foxes Halloween workshops 30 and 31 October
Come and join The Crafty Foxes for a spooky Halloween workshop at The Apex in Bury St Edmunds. On Friday, 30 October children aged seven plus can paint a pumpkin using bright colours of their choice. Parents can drop and shop as space is limited, collecting their child and the decorated pumpkin after the session ends.
The next day's family Spooky Halloween workshop, Saturday, 31 October, is a fun session for children under seven accompanied by one parent or guardian. Youngsters can try their hand at making a spooky bat, ghostly treat or monster lantern.
All children will be kept apart as much as possible on separate tables, spaced according to the COVID-19 guidelines, unless coming with siblings or people in their bubble, in which case two tables can be moved together.
Tickets for both workshops are £15 per child including a cold drink and biscuit. Old clothes or Halloween fancy dress recommended. Accompanying adults on 31 October can attend for free but must book a space and wear face coverings. Book online at www.theapex.co.uk or call 01284 758000.
Ghostly and Macabre Guided Walks uncover eerie secrets from 30 October
Discover ghostly secrets and uncover spine-tingling tales about Bury St Edmunds eerie goings-on by joining the Ghostly and Macabre guided walk around the Suffolk town held on various dates on dark autumn and winter evenings between 30 October and the end of March. Lasting 90 minutes, the Bury St Edmunds Tour Guides will take you on a haunted journey with ghostly stories of murder, riots, plague, witchcraft and a mummified cat, with chills and thrills galore.
The walk starts at Moyse's Hall Museum; once a workhouse and gaol, the medieval building has been the focus of ghost tales for centuries. The oldest dates back to 1328, when a woman is recorded as saying she saw 'a most horrible devil' in the
3
building's cellar. In 1828, shrieks and apparitions were reported after the hanging of the infamous Red Barn murderer William Corder. These only stopped when Corder's skull was duly buried.
Your guide will then lead you through the darkened streets telling stories of screaming skulls, mysterious 'monk' like figures appearing in cellars, burnings and hangings and more, finishing up in the dark and deserted Great Churchyard cemetery. Book a place if you dare…
Details about the Ghostly and Macabre tour priced at £7 per person and how to book are shown at www.burystedmundstourguides.org or call 01284 758000; due to the content of the tour, participants must be aged 14 years or over. The necessity for smaller group sizes and social distancing makes it essential to book early online.
For more information about where to stay and other things to see and do visit www.burystedmundsandbeyond.co.uk.
This 31 October (and for the three nights over half term), join Wightlink and The New Carnival Company for an outdoor illuminated spectacle to celebrate the Blue Moon which falls on Halloween this year – a rare occurrence only once every 19 years!
Once in a Blue Moon will take place on the Isle of Wight at The Garlic Farm, Newchurch, and run for three nights – 29, 30 and 31st October. The illuminated trails through fields and woodland leave every five minutes and take approximately one hour. From the Big Bang itself, through constellations and star bursts, to nocturnal wildlife and even sounds of the night… expect tap dancing foxes in dustbins, moth screens and mirror installations, giant foxes and badgers, plenty of bats… but not a vampire in sight!
Tickets and Lantern Kits are available to purchase from 12 October at info@thenewcarnivalcompany.com or by calling 01983 716095. Wightlink ferry crossings cost from £77 for a car and up to 7 people – based on crossing at 08:00 on 29 October from Portsmouth to Fishbourne and returning at 19:00 on 31 October 2020. www.wightlink.co.uk
The New Carnival Company's live event takes the theme of Dark Skies, and is supporting the Isle of Wight's Area of Outstanding Natural Beauty (AONB) to get official recognition for the Island to become an International Dark Skies Area, one of only 16 registered so far in the world! The recognition would ensure protection for nature and heritage but also promote tourism, being complementary to the Island's newly designated status as a UNESCO Biosphere Reserve.
Discover East London's new 'spook-tacular' Halloween at London City Island & Goodluck Hope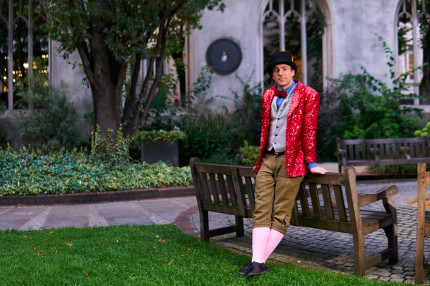 Trick or treat yo' self to carving workshops and walking ghost tours
Leamouth Peninsula, East London's leading culturally inspired island, is the place to celebrate Halloween this year. On Saturday 31 October, both riverside developments London City Island and Goodluck Hope, will have an array of spooky activities for families and adults, including pumpkin carving workshops and spooky walking tours.
London City Island
Reimagining Halloween (to fit current guidelines), London City Island will be hosting a series of virtual pumpkin carving workshops on Saturday 31 October;
• Led by the highly talented mixed media sculptor David Bradley (AKA The Curious Confectioner whose 'Briéyoncé' work – a rendering of Beyoncé in cheese – reached No.2 in Twitter rankings and was discussed by Gordon Ramsey on The Nightly Show)
• The FREE workshops are suitable for those aged 5 and over (please note an adult will need to be present with all children in attendance)
• There will be a total of 4 workshops taking place on Saturday 31 October, including; 1pm – 2pm, 2pm – 3pm, 3pm – 4pm and 4pm – 5pm
To book your digital workshop, please visit www.eventbrite.co.uk/e/122974184095
Goodluck Hope
Thrill seekers should head down to nearby Goodluck Hope for the ultimate Walking Ghost Tour. In collaboration with Bullshit London, each tour will consist of 'tongue-in-cheek' horror and stop at specific places across the island, uncovering hidden gems of London's truly spooky history.
Led by immersive actors, each tour will run for approximately 20 minutes, with a maximum of five participants each. The tours will take place on Saturday 31 October, between 6pm – 10pm. Tours from 6pm – 8pm will be family-friendly, while the 8 – 10pm tours will be more adult appropriate. Tickets cost £7p/p (includes attendance and face mask). To book your Walking Ghost Tour visit: www.eventbrite.co.uk/e/122975504043
London City Island and Goodluck Hope will be donating 20% of all ticket proceeds to support local East London charity, Caritas Anchor House.
Safety will always remain our top priority and all government guidelines will be adhered to throughout the activities. Please note workshop tickets are restricted to six people and will be socially distanced, plus all surfaces will be cleaned down and sanitized after each workshop. Guests on the walking tours will remain socially distanced and face masks will be provided.
Trick or treating may be cancelled, but it won't stop us carving pumpkins!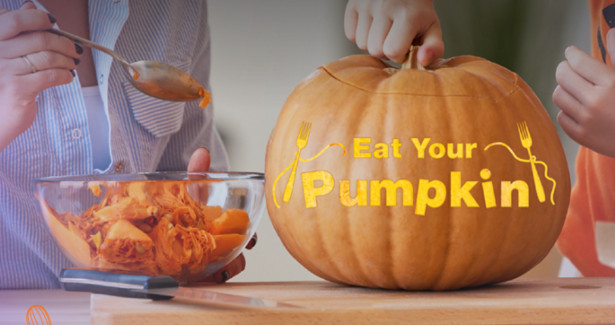 New research suggests number of households trick or treating 30% lower than last year, but a frightful 12.8 million pumpkins still set to go to waste
Trick or treating may be off the cards this Halloween, with almost only 1 in 5 (19%) households who usually celebrate the tradition saying they are happy to welcome trick or treaters on their on their doorstep this year due to the threat of Covid-19.
However according to research commissioned by environmental charity Hubbub which surveyed 3,000 UK residents, other Halloween traditions are set to continue as normal with 24 million pumpkins estimated to be carved this year. Horrifyingly over half of those1 (12.8 million) are set to get carved but not eaten – this is enough to make a bowl of pumpkin soup for everyone in Britain!
Laid end to end, the uneaten pumpkins would stretch 2,816km, which is almost exactly the same distance as travelling from John O'Groats to Land's End – and back again! (1,407km one way) 1
Hubbub today launches its annual Pumpkin Rescue campaign to help tackle a potential food waste horror-show and inspire the public to value the humble pumpkin. The new figures suggest 1 in 7 people who celebrate Halloween don't even think of pumpkin as food and only 42% (2 in 5) realise you can eat a carving pumpkin from the supermarket.
Tessa Tricks at Hubbub said "Pumpkins are a valuable source of food and are not just for decoration. Even if it's labelled a carving pumpkin, you can still eat it and it will taste delicious with spices like chilli, ginger or cumin.
"We know that over lockdown many people developed a new-found love of cooking from scratch and are generally valuing food more, so we're urging people to try a new recipe this Halloween and make the most of every part of this nutritious and versatile food. Every pumpkin eaten is a step towards tackling the 6.6 million tonnes of food and drink that is thrown away from UK homes every year3."
Chef Nena Foster who is supporting the campaign said "Pumpkin is really versatile – it goes particularly well in savoury dishes like soups, stews, chilli and risottos, as well as in sweet bakes like pies, cakes, scones and biscuits. Pumpkin is even delicious fermented. And you can use almost every part, for the skin, flesh, seeds and insides. If you're carving a pumpkin this Halloween with your children, you can also use the bits you'd usually throw away to get cooking!"
And it's not just eating the inside of the pumpkin that will make a difference. Hubbub is also urging people to compost their carved pumpkins, put them out for the birds or dispose of them in the food waste collection, as the research suggests two million pumpkins will end up in the general household bin which will produce harmful greenhouse gases if sent to landfill.
Over the coming weeks, the Pumpkin Rescue campaign will be sharing a range of Halloween-themed content including inspiration for spooky, sustainable and safe activities for Halloween; simple costume ideas; inspiring Halloween recipes; guidance on how to choose the perfect pumpkins to grow and eat and stalk-to-skin cooking for parents and children via a Facebook Live and IGTV with chefs Nena Foster, and Mark Breen. There will also be a cooking and carving competition. Visit https://www.hubbub.org.uk/eat-your-pumpkin to find out more. #EatYourPumpkin
Gorgeous Autumn leaves fairy lights that could be used as classy halloween decorations. www.sparkle.lighting/products/autumn-leaves-fairy-lights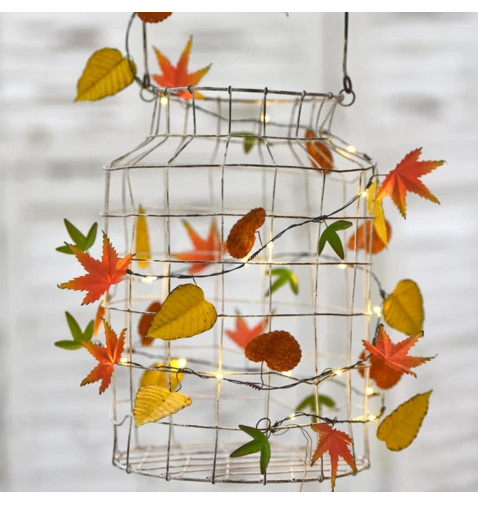 HARIBO Trick or Treat (available in 160g or 512g multipacks)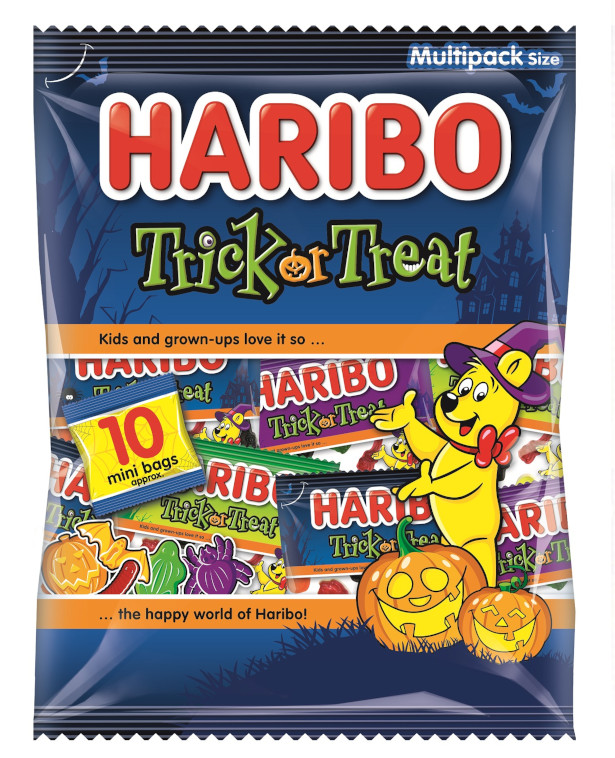 HARIBO Trick or Treat is ideal for any vampish visitors that come a-calling this Halloween. Containing a magical mix of bat, broomstick, frog and spider shaped pieces, these tasty gums and jellies have been brewed up in a choice of two suitably spooky multipacks. Containing either 10 or 32 mini bags – they're perfect, pre-portioned and petrifying!
Kids Go Batty for Bats!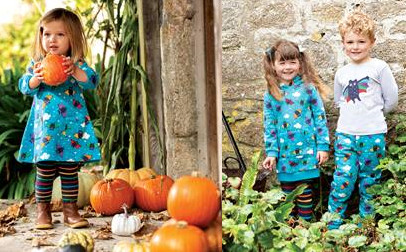 This Halloween, Frugi has the new organic cotton 'Boo' range of clothes for kids up to 10 years have an adorable bat design they will love. Available October 2nd 2020. For samples and images please let me know. Best, SD
Becky Brushback Dress £28 Harriet Hoodie Dress £33 Jude Jumper – Rainbow Bats £30
Discovery Applique Top – Bats £20 Snuggle Crawlers – Rainbow Bats £20
FROM FAIRGROUND SPOOKS TO MOVIE-NIGHT FRIGHTS: GREAT YARMOUTH GETS INTERACTIVELY GHOULISH THIS HALLOWEEN
New Halloween themed experiences for 2020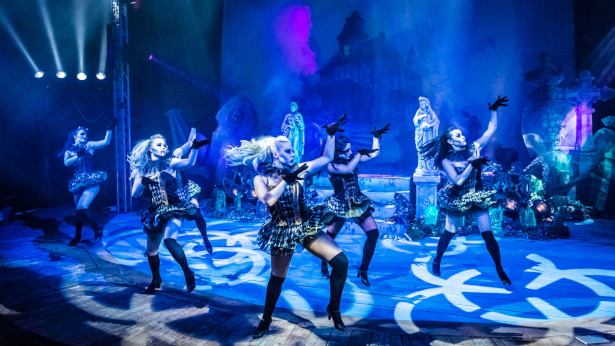 21 September 2020: Funfair fright nights, a circus Spooktacular and a Halloween themed movie drive-in are all part of Great Yarmouth's Halloween line-up this October.
Great Yarmouth's Pleasure Beach launches FIRST EVER Fairground Fright nights
Featuring ghoulishly costumed actors, spooky surprises, scares and projections, the new 'Fairground Frights' experience at Great Yarmouth's Pleasure Beach will run from 5-8pm across four nights from October 28 to 31. All 20 plus of the Pleasure Beach's fun-filled rides – from the classic Haunted House to the Jet fire extreme ride – will feature in the special Halloween event. Aimed at visitors 5 years+, there's also pumpkin carving and nightly prizes for the winner of the best dressed Halloween costume. Entrance tickets, which need to be bought online in advance, cost £17 for unlimited access to all the rides (height restrictions apply) and attractions for the three-hour slot. Suitable for all ages, the Park will also be open daily from Saturday 24th October to Sunday 1st November from 12-4pm.www.pleasure-beach.co.uk, with pre-bookable tickets from £12.
Halloween Spooktacular at the Hippodrome
Featuring a packed line-up of amazing acrobatics, daring stunts and hilarious comedy for all the family, The Hippodrome Circus's brand new Halloween Spooktacular runs from 22nd November to 1st November and costs from £18 per adult and £12 per child. The historic fixed-circus, which has been entertaining the crowds since 1903, has introduced strict Covid protocols, so as well as distanced seating, tickets can only be booked via the telephone ticket hotline on Tel: 01493 738877 https://www.hippodromecircus.co.uk/
Drive-in cinema pumpkin fun and a Maize Maze at Hirsty's Fun Park
Family-friendly classics such as The Addams Family and Hocus Pocus as well as late night adult horror including Aliens and Halloween are all part of the line-up at Hirsty's Family Fun Park's spooky-special drive-in. With early evening and late-night screening times available 29-31st October, tickets cost £25 per car.
Throughout half term, Hirsty's is also hosting daytime pumpkin picking and carving, a NEW barrel train, zip wire, hay bale mountain and crazy croquet lawn; plus, visitors can experience the "Mega Maize Maze" – specially grown with two metres wide paths and a one-way system within the trails to ensure visitors remain safe. Hirsty's fun park is open from 10am to 4pm from 22 October to 1 November. Day-time tickets are £5 per adult and £10 for children aged 3-16. http://hirstysfamilyfunpark.co.uk/
Where to stay?
Within the Broads, on the north eastern edge of Greater Yarmouth, Clippesby Hall provides award-winning camping and touring facilities in the heart of the Broads National Park. Facilities are spread over eight distinctive areas, offering a choice of secluded individual pitches set into the natural woodland and more open, family-oriented lawns, with electric hook-up available. A week's stay for four in a tent on an all-weather pitch with individual water and drainage costs £277.50 arriving 24th October and a four night stay for a family of four in a two bedroom apartment costs from £422.50 arriving 26th October.(www.clippesbyhall.com, 01493 367800)
Alternatively, a four night break for a family of up to eight at Haven Seashore in a Prestige Caravan costs £659 and a four night stay for up to six at Haven Caister-on-Sea in a Standard Caravan costs £464, both arriving on 26th October. (www.haven.com, 0333 202 5250)
For information on things to do and see visit: www.great-yarmouth.co.uk
Alton Towers Resort reveals terrifying 'Toxic Junkyard' scare maze to open at this year's Scarefest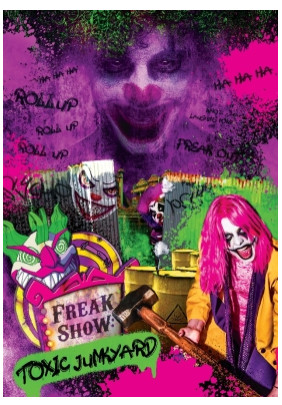 An image and video revealed today give a chilling glimpse of the clown-inspired horror that awaits thrillseekers
The outdoor maze will lure brave volunteers through an eerie old junkyard that holds a dark secret
Details of additional new outdoor family spook attraction set in the Theme Park's listed gardens have also been revealed
Tickets for Scarefest 2020 are now live
Alton Towers Resort aren't clowning around with their latest scare maze after revealing the first image, spine-tingling video and details of Freak Show: Toxic Junkyard that hint at what will await courageous guests this Scarefest.
Set outside in what appears to be an abandoned junkyard, daring thrillseekers will discover the dark and disturbing secret it hides in a truly chilling experience. After being hunted and cast out of the community, the last of the Freak Show psycho clowns have gone into hiding, plotting in secret their next "BIG SHOW". Will dare devils entering the junkyard be able to help stop their evil plan or will they become the main attraction of the next performance?
Situated in an open-air space of the Theme Park, the new maze is inspired by the Theme Park's hugely popular Freak Show 'scare zone' which has featured at Scarefest in previous years. The walkthrough experience saw guests come face-to-face with a travelling side-show of circus rejects and misfits. Following its popularity with thrillseekers, scare experts at the Resort have significantly dialled up the fear factor and created a menacing maze featuring psycho clowns and horrifying freaky folk that can only be endured by those aged 15 years and over.
In an interactive two-part unsettling and creepy video released by the park today (Thursday September 17th), two teenagers can be seen enjoying a harmless kickabout. Their fun takes a sinister turn when they lose their football. The video then gives viewers the chance to decide the nightmarish fate of the teenagers by choosing "heads" or "tails". Trapped in the Junkyard with nowhere to go, and the chilling sound of psychotic laughter getting ever closer, the doomed duo are in the hands of the viewers.
A tease visual (above) has also been revealed for the new maze.
Freak Show: Toxic Junkyard is the latest horror experience to join the Resort's line up of renowned and award-winning scare mazes*, which will this year see the return of:
Altonville Mine Tours: a tour with a not-so-beautiful twist that invites thrillseekers to enter a damp, disused mine, believed to have once been home to a family of village outcasts nicknamed the 'Skin Snatchers' by local residents. Their spine-chilling secret is about to be unearthed. Remember 'Beauty is only skin deep'.
The Attic: Terror of the Towers: high in the eaves of the Theme Park's famous historical Tower ruins, people talk of the Governess. Rumour has it that she's haunted by the death of her young charges. They say she wants revenge, and she will take it by seizing the spirits of the living in retribution. Word is her ghost haunts The Attic.
Darkest Depths: an award-winning pirate themed attraction for families and thrillseekers alike. Guests are invited to board the infamous ghost ship 'The Mutiny' and journey into the darkest depths to earn their piece of eight.
The Alton Towers Dungeon will also be offering spooks and scares to guests wishing to venture through the attraction on a hideously hilarious journey through Staffordshire's darkest history.
Scarefest 2020 will also see the introduction of the Garden Lights Walk: Whispering Souls, a free family experience that gives guests the chance to see the Resort's listed gardens brought to life as never before. Take an otherworldly stroll and discover a mysterious energy that runs through the Gardens' water believed to bring lost souls back from the dead for All Hallows' Eve.
Additional family frights and spookalicous fun include the Freaky Fun Zone led by the Resort's Halloween characters in their colourful playground with amazing shows, including Patch's Halloween Party, ghostly tales from spooky Skelvin, as well as Phil and Franklin's Ghoul School and Gretyl with her magic spells!
Families with young children can also take part in the CBeebies Land Monster Ball in CBeebies Land. Guests are invited to dress up in their favourite costume and join some of their favourite CBeebies characters live in Big Fun ShowTime as they dance, play games and learn all about spooky things! This year the event will feature Peter Rabbit, the Teletubbies, Bing, Ubercorn, and many more!
The Alton Ancestors dancing flashmob will also be back in socially-distanced action across the park providing fun-packed live entertainment for all to enjoy. The Alton Ancestors have risen from the grave once more and returned to their old stomping ground, but be warned – standing still is not an option when that music starts.
Open until 9pm each day, guests will be able to enjoy all the theme park's world-class thrilling rides, rollercoasters and attractions in the dark including its latest adrenaline-pumping coaster, Wicker Man.
Since re-opening on July 4th, Alton Towers Resort has implemented a wide range of measures to help ensure social distancing and good hygiene whilst guests enjoy a fun day out. A full list of the measures can be found here [www.altontowers.com/plan-your-visit/before-you-visit/know-before-you-go]. The Resort remains committed to continuously monitoring and adapting its measures in line with the changing government guidance.
Scarefest is being planned in strict accordance with existing COVID-19 measures, which will be adapted should guidance change at any point before or during Scarefest taking place. Capacity will remain at a level where social distancing can be maintained, including in entertainment spaces, and open-air or well-ventilated venues will be utilised. Full details of the safety measures for Scarefest will be released shortly.**
Scarefest will take place at Alton Towers Resort from Friday October 9th to Sunday October 11th, then each day from Friday October 16th to Sunday November 1st.
To find out more about Scarefest at Alton Towers Resort visit www.altontowers.com/scarefest
This Halloween is bound to be different, with COVID restrictions meaning the usual sweet laden trick or treat tour is out of the question.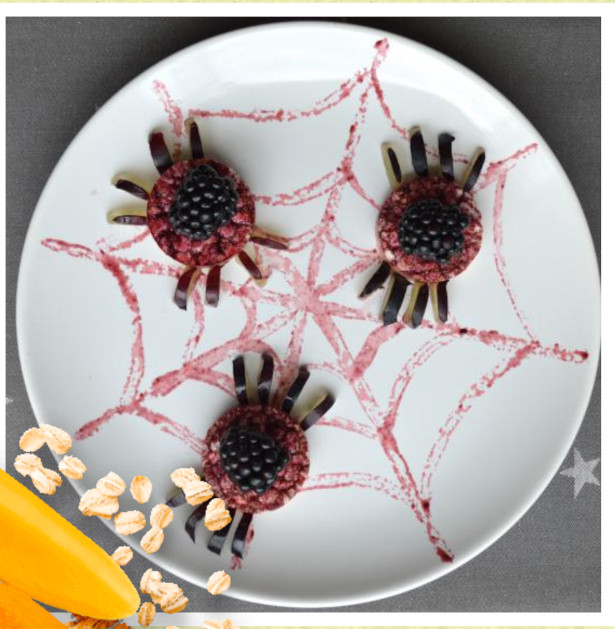 Instead of the traditional neighbourhood tour, we suggest creating a pumpkin trail with a few select friends or neighbours. Lay out the pumpkins around your garden, and supply a treat for every pumpkin little ones find. And rather than being at the mercy of whatever ghoulish sweet is being offered to them, you can provide the yummy but healthy treats yourself! Such as:
Organix Multipack Snack Box: Suitable from 12 months upwards, each box contains 10 best selling toddler snacks including the delicious Mini Gingerbread Men, fun to play with Alphabet Biscuits, Apple & Date Chunky Fruit Bar as well as juicy Raspberry & Apple and Apple & Orange Soft Oaty Bars.
Organix Mini Oaty Bites These handy mini oat bar share bags come individually wrapped and available in Apple and Orange or Raspberry and Apple flavours, using delicious organic ingredients, including fruit juice, which gives them a scrummy natural flavour without any unnecessary ingredients.
All Organix snacks come with the Organix No Junk Promise, with nothing artificial added, providing a delicious and healthy alternative to the sugary fare that lurk in sweets handed out at this time of year!
And if you are looking for Halloween themed foods to enjoy, how about the following, easy to prepare fun plates:
Organix Spooky Spider fun plate (suitable for 7 months+):
With Organix Raspberry and Blueberry Rice Cakes as the base of the spider, create a trio of spooky spiders caught in a spider web with just three grapes and four blackberries!
Organix Pumpkin Face Platter (suitable for 12 months+):
For a healthy snack that still captures the essence of Halloween, why not create a pumpkin face out of carrots?! Bring the pumpkin flavours to life by creating a homemade hummus.
Organix Spooky Pumpkin Risotto (suitable for 7 months+):
These super easy cute evil pumpkins provide a comforting and tasty Halloween meal for all the family, including little ones aged 7 months+. Get creative with the pumpkin's teeth using olives!
Introducing the Devil's Advocate Brocktail for Hallowe'en

This Hallowe'en, the obvious spirit of choice is Brockmans Gin, notable for its darkly mysterious black bottle. Brockmans is launching a new serve especially for 31 October 2020 – The Devil's Advocate Brocktail – and Brockmans will be running a 'name the cocktail' social media contest to win gin.
Brockmans brims with blueberries, blackberries and bitter-sweet orange peel. The taste profile of this seductive 40% ABV gin is perfect for contemporary and classic cocktails.
Created by Alex Klas, the mixologist at Jake's Bar in Leeds, this is a deliciously sensuous, dark red new cocktail.
Look out for Brockmans Gin on social media as Mike, the brand's Global Brand Ambassador, will stir up a storm with an online masterclass. Go on, be a devil…
The Devil's Advocate Brocktail
With thanks to Alex Klas, of Jakes Bar, Leeds – #15 in the 'World's Best Bars' list – for creating the recipe for Brockmans Gin.
Ingredients
40ml Brockmans Gin
20ml Aperol
10ml Amontillado Sherry
10ml Raspberry liqueur
Method
Add all ingredients to a mixing glass with ice. Stir and then pour. Garnish with fresh orange and an elegant slice of root ginger.
If you are in Leeds, this cocktail will be served at Jake's Bar for Hallowe'en and the week following. If you will be mixing this cocktail at home, you can find Brockmans Gin (RRP £34) instore and online at ASDA, Booths, Co-Op, M&S, Morrisons, Ocado, and Tesco plus selected speciality retailers and online retailers including the brand's own online shop: https://www.brockmansgin.com/shop/
Hallowe'en activities
Brockmans' Hallowe'en activities on social media begin with a competition on 16 October. The winner of our 'Name the Brocktail' contest wins a prize worth well over £100. This includes a copy of The Black Book of Gin Cocktails, a bottle of Brockmans Gin and a £50 voucher to spend at Jake's Bar. In addition, the winning name will be included on the Jake's Bar menu for Hallowe'en.
On 24 October, look out for an online 'How to mix a Hallowe'en Brocktail'; with the ghostly Brockmans fun – including ghoulish facts along the way – culminating with a music playlist especially for fright night on 31 October.
Tasting Notes
Brockmans is a 40% ABV gin made in England and packaged in stylish and tactile black glass. The rounded harmonies of blueberries and blackberries in this gin combine with juniper berries and botanicals that include notes of dry, bitter-sweet peel of Valencian orange peel, angelica and coriander. This combination of 11 intriguing botanicals serve to give Brockmans an intensely smooth, beautiful taste.
Follow Brockmans on social media for news of all Hallowe'en activities.
Website: www.brockmansgin.com Facebook: www.facebook.com/brockmans.gin
Twitter: www.twitter.com/brockmansgin Instagram: www.instagram.com/brockmansgin
Follow @jakesbarandstill on Facebook and Instagram.
It's safe to say that Halloween is looking a little different this year, with most people choosing to 'Halloween at Home' as a result of recent restrictions and lockdown laws.
BIG W has all your Halloween at Home needs covered with a huge range of DIY decorations and creepy decor collections sure to scare all the neighbourhood kids away (from your lolly jar) this October.
Ensuring Aussies can embrace the fun of one of the most spooktacular nights of the year, BIG W has created a five step guide on how to haunt your own house with three fa-boo-lous DIY room revamps – a ghost graveyard, a haunted room, and a witches spell room.
See step by step guide below.
5 Steps to haunting your house this Halloween
Ghost Graveyard Room
Step 1: If you have an air con, turn it up high for some creepy coldness, or grab a fan to create a breeze highlighting an unseen 'presence' (ghosts).
Step 2: Cover the couches with dark fabrics like sheets or tablecloths to prep for the gravestones.
Step 3: Pull apart some cotton wool to create some DIY cobwebs and hang it from the windows and walls.
Step 4: Dim or turn off all the lights in your bedroom or lounge room to gauge the ultimate spooky effect.
Step 5: It's time to fill your graveyard with gravestones, skeletons and spiders!
Products
• Two Headed Dog Skeleton
• Skeleton Arms
• Aged Tombstone
• Broken Tombstones
• Broken Tombstones
• LED String Lights
Haunted Room
Step 1: To get the haunting off to a killer start, find a creepy Halloween playlist on your preferred music app.
Step 2: Grab a red piece of clothing and throw it over your bedside lamp or swap out your white light globes with some bloody red ones.
Step 3: Rip up some old white bed sheets and either paint or dip them in red dye, hanging the strips across the entrance of your bedroom to warn your fellow muggles.
Step 4: Scatter the floor with eyeballs, by panting a black pupil on some old golf balls or ping pong balls – be sure to watch your step.
Step 5: The haunted room is now ready to be filled with vampires, ghosts and zombies!
Products
• Full Skeleton Body
• Yoga Skeletons
• Small Animal Skeleton Set
• Medium Animal Skeleton Set
• Blood Cling On's
• Keep Out Door Curtain
• Fright Tape
Witches Spell Room
Step 1: Place your carved pumpkin or some drinking glasses from the kitchen on the floor and insert some tea lights – ready to cast your first spell.
Step 2: Gather your favourite treats and scatter them over a table, making sure you have all the right ingredients for your witchtastic potions.
Step 3: Grab the biggest bowl in the kitchen, fill it with water, throw in some glow sticks and watch your cauldron simmer.
Step 4: Get dressed for the occasion – dig into your wardrobe to find something that resembles a cape and cackle the night away.
Step 5: Invite all your fellow witches and their black cats to join your new coven – blow out the tea lights and watch your cauldron come to life.
Products
• Screaming Doormat
• Chandelier Decoration Kit
• Door Curtain
• Mini Spiders
• Tinsel Cat
• Hanging Witch Skeletons