AWARD WINNING TROO SPOONFUL OF FIBRE NOW AVAILABLE IN WAITROSE & HOLLAND & BARRETT STORES NATIONWIDE
FACEBOOK | TWITTER | INSTAGRAM | YOUTUBE
Innovative Gut Health start up TrooFoods Ltd are excited to announce that their unique, fibre-packed alternative sweetener Troo Spoonful of Fibre is now available in Waitrose and Holland & Barrett stores nationwide. Shoppers can now buy the award-winning product from Guernsey to Glasgow.
Made from Chicory Root Fibre and nothing else Troo Spoonful of Fibre is claimed to be 'one of the easiest ways to get fibre into your diet'. Lack of fibre is one of the biggest nutrition issues we have as a nation; with on average people consuming only 19g of fibre – a whole lot less than the recommended 30g. This is particularly concerning with athletes, including rugby players. Athletes often consume high levels of protein which can have a negative effect on gut health – generally they also do not eat the target 30g of fibre per day. Increasing fibre consumption could negate the issues caused by the excess protein consumption as well as providing a host of other health benefits including improved immunity.
With more fibre in a dessert spoonful than a bowl of bran flakes, Troo Spoonful of Fibre is a super easy way to reach your 30g target. It can be added to hold or cold drinks; drizzled over porridge or added to cooking and baking as a honey substitute.
Awarded 'Most Innovative New Product' at the Nourish Awards along with two other prizes in the Ingredients and Gut Health Categories it had the biggest haul of the night in what's dubbed 'the toughest health food awards'.
RRP: £4.99 for 227ml jar (Waitrose Price: £5.25 for 227ml jar)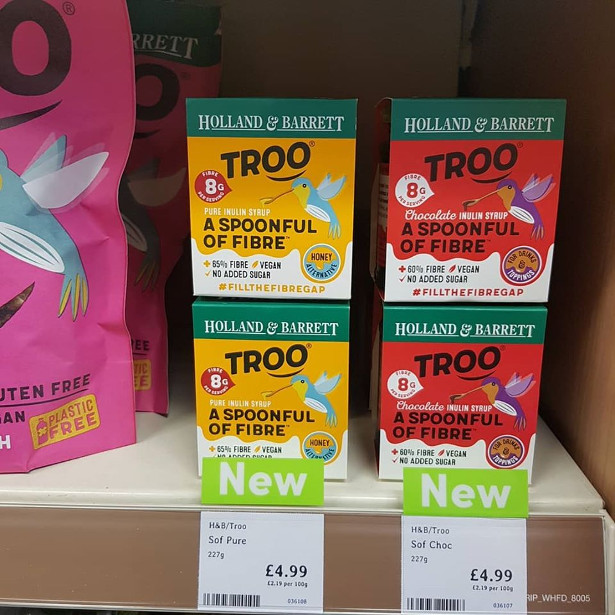 TrooFoods also make fibre-packed Troo Granola and Troo Porridge+ – every proportion of Troo is at least 25% of your daily fibre requirement. Our breakfast cereal are vegan, gluten, wheat and dairy free and come in plastic free packaging.
About TrooFoods Ltd
TrooFoods is a prebiotic-based gut health food company on a mission to inspire people change their diets to live long, healthy & happy lives whilst being kind to the world.
We do this in 4 ways:
1. By helping people UNDERSTAND the gut health science and the research – see our blog
2. By INSPIRING people to make better food choices (including getting closer to the recommended 30g of fibre per day)
3. By making it easy to buy and eat gut healthy food that is DELICIOUS & CONVENIENT
4. By allowing people to track the difference and SEE THE BENEFITS.
We do this in the most sustainable way, aiming to be a B Corporation in the next few months.