A Hybrid Memoir/Photo Book Captures Diverse Musicians, Comedians, Writers, Cultural Curators and Others from an Era Still Relevant Today 2 LONGTIME EARLY CHRONICLERS OF MINNEAPOLIS SOUNDS AND SCENES SHARE INSIDER STORIES, IMAGES, AND HIGHLIGHTS IN HIJINX AND HEARSAY: SCENESTER STORIES FROM MINNESOTA'S POP LIFE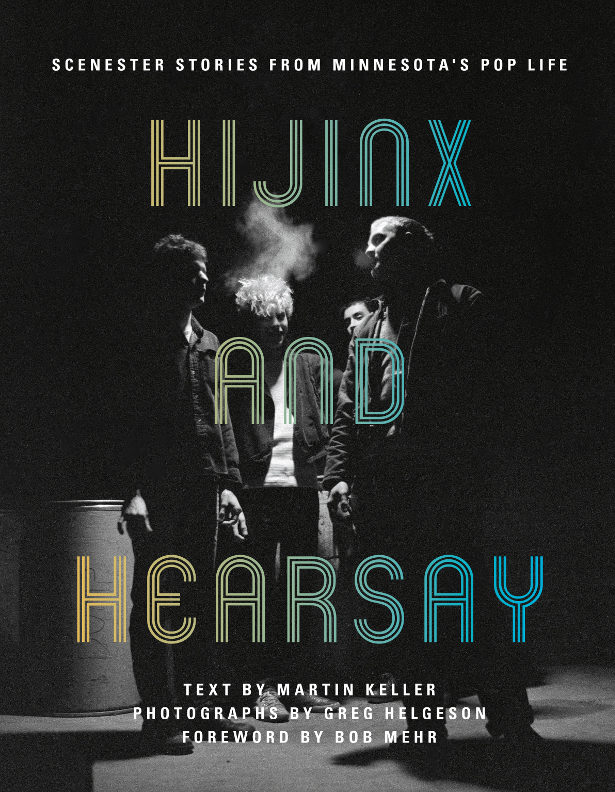 Spanning the late 70s to early 90s, from Dylan and Prince to the Rolling Stones and U2, Bob Marley to Paul McCartney to Elvis Costello, The Replacements to John Lee Hooker to Bonnie Raiit, Louie Anderson to Lizz Winstead to Joel Hodgson, William Burroughs to Garrison Keillor and More!
AVAILABLE from the Minnesota Historical Society Press Music/Entertainment $24.95 Paperback, ISBN: 978-1-68134-132-3 256 pages, 150 b&w photos, index, 8 x 10 — Or Amazon.
TWIN CITIES –  Two longtime early chroniclers of the rich arts and entertainment scenes and the legendary Minneapolis sounds from the late 70s to early '90s have reunited to share their canny insider tales and an abundance of black and white photos – many never seen before – from an era still relevant today. In Hijnx and Hearsay: Scenesters Stories from Minnesota's Pop Life (256 pages, 150 b&w photos, the Minnesota Historical Society Press), writer Martin Keller and photographer Greg Helgeson take a personal, up close look at famous and infamous movers and shakers who were either based in the Twin Cities, or who appeared in concerts, clubs and in intimate interview settings with the two young journalists working in the last days of the truly alternative press — and on the cusp of the digital age. In episodic style, the book follows the exploits of the early punk-new wave underground, visits the scenes on the bluesy, folksy West Bank to charting the rapid international rise of Prince and his Purple Reign.
It likewise zooms in on the burgeoning comedy scene occurring at the same time that eventually produced Joel Hodgson's wacky Mystery Science Theater 3000 (MSTK3K), and The Daily Show, co-created by Minneapolis native, Lizz Winstead, and others. Hijnx and Hearsay also leads readers into the outer orbits of such disparate characters as Beat novelist William Burroughs, Hollywood's Gary "I Was Buddy Holly" Busey, former New York Times columnist and reporter David Carr (a colleague while at The Twin Cities Reader), Devo and Devo filmmaker Chuck Statler, and one of the most famous publicists most have never heard of, Charlie Comer.
"Maybe Keller's really our Virgil, leading us through the nine layers of the Twin Cities' many scenes, providing a perspective from those "on" the roller coaster, because he was right there, on there, screaming with us!" exclaims Kevin Kling, the well-known playwright and storyteller, whose commentaries can be heard on NPR's All Things Considered and whose plays and adaptations have been performed around the world.
With an insightful and funny Introduction by music journalist Bob Mehr (author of Trouble Boys: The True Story of the Replacements. A New York Times best seller), some of the surprises and discoveries in Scenesters Stories from Minnesota's Pop Life include: • An almost improbable Bob Dylan-Prince meeting, plus a week on the road on Dylan's Never Ending Tour.
• Revealing Helgeson Photo Galleries and backstories of new wave and punk rockers, plus classic renowned artists like NRBQ, John Cale, Patti Smith, Tom Petty, Jeff Lynne, Neal Young Roger McGuinn, Captain Beefheart, bluesmen Albert Collins, Gatemouth Brown, John Lee Hooker, jazzers Sarah Vaughn, Sonny Rollins, Sun Ra, and many others
• Keller's longtime friendship with one of America's best-loved comedians, Louie Anderson.
• The return of two of the most successful producers-songwriters ever – Terry Lewis and Jimmy Jam — to their hometown during Superbowl 52 to curate an outdoor music fest in February with deep windchills, snow and "chili sauce!"
• Was it magic, or a Rastaman Vibration? The Bob Marley and The Wailers soundcheck where the bottom of reality fell out and two+ hours with him the next day in his suite.
• Unprepared in the front row at Paul McCartney's post-Wings press conference in Ames, Iowa where farmers were up in arms and fans were finally treated to the first playing of Beatle songs since the Fabs broke up.
• Sizing up the Rolling Stones from two different periods, and A Tale of Two James Brown interviews.
• Digging in the dirt for fossils with Paul Westerberg from the Replacements, and later diggin' his Christmas jam with a bunch of fourth graders in his basement. A photo-packed, quirky memoir, Hijnx and Hearsay: Scenesters Stories from Minnesota's Pop Life offers a rare glimpse and commentary into the life and times of the many artists they encountered on their zig-zagging journey. More Praise for Hijnx and Hearsay:
◼ Martin Keller deserves a place in the Rock & Roll Hall of Fame simply for crowning Prince king with the handle, "His Royal Badness." Luckily for us, Keller's talent far transcends the bestowing of pitch perfect monikers. In Hijinx and Hearsay, he beautifully bears witness to the magical confluence of people (from international icons to local heroes) and places (from the Twin Cities to Rock and Roll heaven) to the time when Flyoverland somehow alchemized into pop cultural Oz. Seen from the scene, written from the heart, and rocking with soul, Keller has produced an instant classic. — Neal Karlen, a former Contributing Editor for Rolling Stone, is the author of nine books, including the forthcoming Prince Off the Record
* Hijinx and Hearsay rocks! There, I said it and I'm proud. Truth be told, in the eighties, I was a patron of the Twin Cities club scene and saw lots of music shows. And like the flush pages of this cool book, I too was able to bear witness to some actual stage magic from the local heavies: Husker Du, The Suburbs, The Replacements, The Wallets, hell, I'll even put Curtis A on this list. This shit was real! And I gotta tell ya, all these years later, I am so blissfully grateful to have gotten to watch it go down, and maybe drink a Grain Belt Premium when I did. — Joel Hodgson Creator of MST3K (Mystery Science Theater 3000)
"Marty gives us a real insider view of why Minnesota has one of the funkiest, most unique and collaborative music scenes in America. Not only was he there, but he can remember it all!" — Bonnie Raitt, 10-time Grammy™ Award-Winning Musician
*
This book leaks the joy of words and images that skillfully capture counterculture. But what's it about all this culture you can encounter in Minnesota? As a stand-up satirist, each time I toured in cities across the country, Minneapolis-St. Paul always had hip audiences. I performed there with Louie Anderson, Lizz Winstead, who later co-created the Daily Show, and others. Dylan was a minimalist wit. When I asked, "How come you're learning Hebrew," he replied, "I can't speak it." When I mentioned the Holocaust, he responded, "I resented it." Among his many triumphs, local peace activist Marv Davidov led 600 protesters in a civil disobedience action. Purple was my favorite color. I took LSD before Prince's "Purple Rain." It deeply remains. And ingesting Ecstasy on my first date Nancy, I was wearing my purple Sweet Potato T-shirt. We've since been married for 30 years, and I still wear it. –Paul Krassner is the former founder of The Realist, the Godfather of the underground or alternative press, and co-founder of the Yippies (Youth International Party). His latest book is Zapped by the God of Absurdity.
Author Bios
Martin Keller is a professional journalist, author, screenwriter, pop culture critic, editor, and columnist. For the past 25 years, he has served as a veteran public relations specialist. Keller covered the arts, business, and cultural affairs for several Twin Cities publications, including Minnesota Monthly, Mpls-St Paul, the Star Tribune, the St. Paul Pioneer Press, City Pages, and Twin Cities Reader, and his worked has appeared in such national publications as Rolling Stone, Billboard, Utne Reader, the Washington Post, and the Boston Globe. He is the author of Music Legends: A Rewind on the Minnesota Music Scene and Storms: Tales of Extreme Weather Events in Minnesota.
Expertly working with Canon and Leica cameras for more than 40 years, Greg Helgeson has fervently documented some of the most renowned artists and public figures in a variety of disciplines, from international superstars to local legends. His work has appeared in a range of periodicals, including Rolling Stone, New York Times, Washington Post, Los Angeles Times, Village Voice, Du Monde (Paris), Mojo (England), Star Tribune, City Pages, and Mpls.St.Paul Magazine, as well as in numerous books and on album covers.