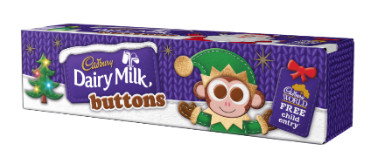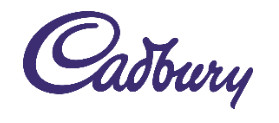 CADBURY UNVEILS A HOST OF FESTIVE TREATS FOR CHRISTMAS 2O19
GIVE THE TASTE OF CHRISTMAS TO SOMEONE SPECIAL THIS YEAR
FACEBOOK | TWITTER | INSTAGRAM
Cadbury has unveiled its festive offering for 2019 to delight chocolate lovers all over the country. The choctastic range includes everything from a limited edition Gingerbread Cadbury Dairy Milk Bar to an exciting 3D advent calendar. And if you're planning on giving chocolate secretly to someone you love this Christmas, there is a whole host of festive deliciousness to choose from that is perfect for Secret Santa!
NEW FOR 2019
ADVENT
CADBURY DAIRY MILK ANGRY BIRDS ADVENT: Christmas wouldn't be Christmas without an advent calendar – and this new addition to the Cadbury range is an exciting one. Complete with 5x Angry Bird toys and stickers to enjoy alongside delicious Cadbury Dairy Milk chunks. RRP: £9.99, 212g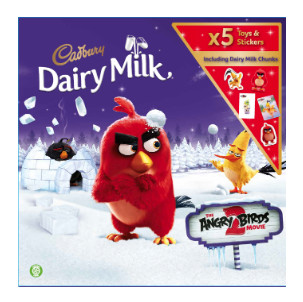 CADBURY WORKSHOP 3D ADVENT: This 3D advent calendar will provide lots of fun throughout the Christmas countdown, with delicious Cadbury chocolate and stickers inside! RRP: £10.00, 312g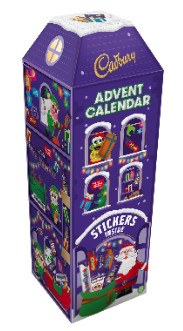 PERFECT FOR SECRET SANTA
CADBURY DAIRY MILK WINTER GINGERBREAD: What is better than a delicious bar of Cadbury Dairy Milk? One with gingerbread pieces in it of course! This limited edition Cadbury Dairy Milk bar will tantalise the tastebuds this Christmas. RRP: £1.49, 120g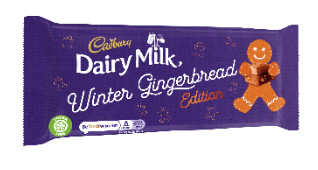 CADBURY DAIRY MILK HOLLOW SHUSHING SANTA: Want to surprise your secret santa with a gift? The new Cadbury Dairy Milk Hollow comes in a beautifully packaged box making it the ideal gift! RRP: £5.00, 175g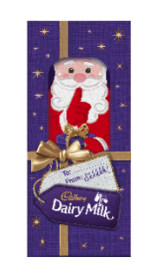 CADBURY BOURNVILLE RETRO SELECTION BOX: For those who like dark chocolate, the Bournville selection box is for them! Containing a variety of 4 deliciously dark Bournville chocolate bars, with 2 of the new orange flavour! RRP: £5.95, 400g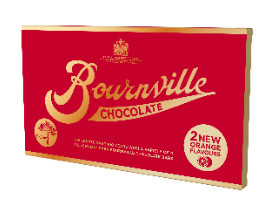 CADBURY DARK MILK SELECTION BOX: The ultimate gift for grown ups! Containing 1x Salted Caramel bar, 2x Original dark milk bars and 1x roasted almond bar – a completely different type of chocolate for grown ups. RRP: £5.95, 340g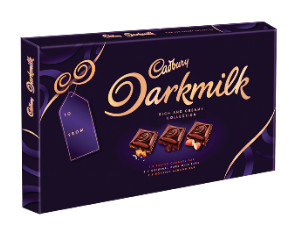 STOCKING FILLERS
CADBURY DAIRY MILK ORANGE SNOWMAN: The much-loved Cadbury Dairy Milk Snowman has had a new addition to the range – a zesty orange flavour, yum! RRP: £0.65, 30g
CADBURY DAIRY MILK LITTLE ROBINS WITH DAIM: The ultimate festive treat – Cadbury Dairy Milk Chocolate Robins with Daim pieces inside. RRP: £1.49, 86g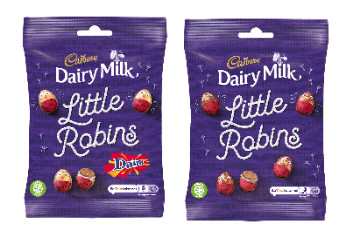 CADBURY MEDIUM FREDDO SELECTION BOX: A great gift to be shared with your loved ones, with a selection of Cadbury Dairy Milk Freddo delights alongside firm favourites such as Curly Wurly and Cadbury Dairy Milk Buttons. RRP: £2.99, 138g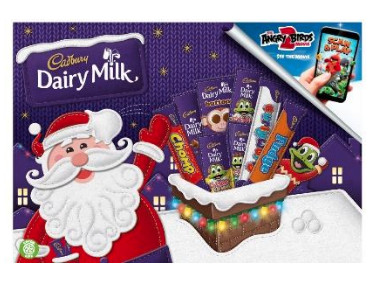 GIFTING AND SHARING
CADBURY ROSES X OLIVIA BURTON: The Cadbury Roses you know and love with a fresh look for Christmas 2019. Cadbury has partnered with Olivia Burton to create stunning tins to gift to a loved one this Christmas. RRP: £9.99, 800g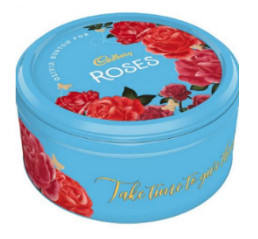 CADBURY ROSES CARTON: A fresh look on the classic Cadbury Roses – a beautiful thank you gift to give someone this Christmas. RRP: £4.99, 275g RRP: £2.99, 115g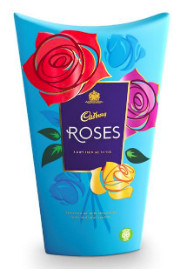 CADBURY DAIRY MILK MONEY BOX: A great gift to give at Christmas – a money box containing delicious Cadbury chocolate. Choose from either Cadbury Dairy Milk Freddo Faces or Cadbury Dairy Milk Buttons – once the chocolate is gone, use the tin to collect your pennies! RRP: £4.00, 120g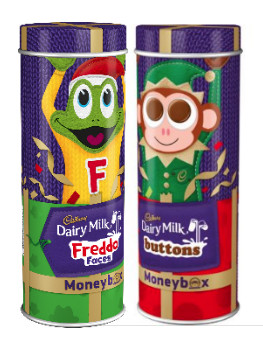 CADBURY ANGRY BIRDS PLUSH TOY: Irresistible, perfect for the whole family and comes packing a generous selection of chocolate! Pick-up either one of the Angry Bird plush selection to give the sweet taste of Christmas. RRP: £5.99, 71.5g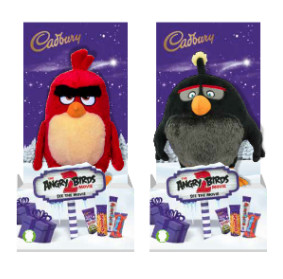 CADBURY DAIRY MILK CLASSICS: A pouch containing an iconic selection from the Cadbury Dairy Milk range – Cadbury Dairy Milk, Whole Nut and Caramel RRP: £6.29, 380g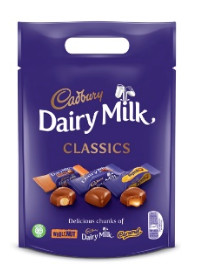 THE REST OF THE CLASSIC CADBURY RANGE:
PERFECT FOR SECRET SANTA
For a jolly way to treat family and friends during the festive season, Cadbury Dairy Milk Jolly Santas are perfect as they come in packs containing five pocket sized Santas, each presented in fun wrapping. Santa has had a makeover and there are now seven cheerful looks to be discovered. The whole family will surely love them! RRP £2.99, 75g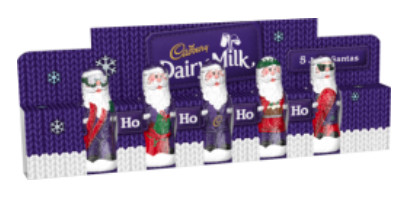 A nation's favourite since 1915, the iconic Cadbury Milk Tray is the perfect thoughtful gift for your loved ones this Christmas. With an assortment of delicious individual chocolates all smothered in Cadbury Milk chocolate, a box of Cadbury Milk Tray has something to please everyone. RRP £1.49 – 78g, RRP £4.25 – 180g, RRP £8.49 – 360g and RRP £12.99 – 530g.
CADBURY DAIRY MILK RETRO SELECTION BOX: Give someone special the classic taste of Christmas with the Cadbury Dairy Milk Retro Selection Box!
Indulge your taste buds in the luxurious taste of Cadbury Dairy Milk chocolate; the crunch of Cadbury Dairy Milk Whole Nut; the comforting taste of the Cadbury Dairy Milk Caramel bar and the insatiable Cadbury Dairy Milk Fruit Nut bar. A generous gift worth giving to every Cadbury fan. RRP: £5.95, 460g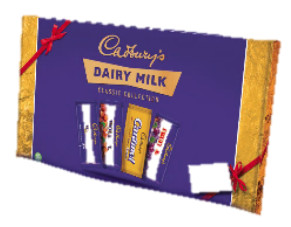 Everybody loves a selection box at Christmas time. This small selection box contains Cadbury classics such as Cadbury Chomp, Cadbury Curly Wurly, Cadbury Fudge and Cadbury Dairy Milk Freddo and Cadbury Dairy Milk Buttons. RRP: £1.09, 95g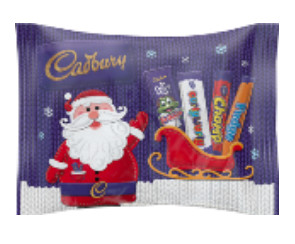 The Cadbury Medium Selection boxes contain a mix of favourites. The Freddo selection box contains family favourites such as Cadbury Chomp, Cadbury Curly Wurly and Cadbury Dairy Milk Buttons whereas the Santa selection box includes tasty treats such as the Cadbury Double Decker, Cadbury Crunchie and Cadbury Dairy Milk Buttons. Freddo Selection RRP £2.99, 138g Santa Selection RRP £2.99, 153g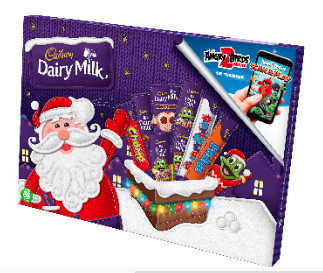 ADVENT CALENDARS
Open up a door every day from the Cadbury Heroes Advent Calendar in the lead up to Christmas and reveal miniature versions of some of your favourite Cadbury bars! These include Cadbury Dairy Milk, Cadbury Dairy Milk Caramel, Cadbury Wispa, Cadbury Éclair, Cadbury Fudge, Cadbury Creme Egg Twisted and Cadbury Twirl – and new for 2019 is Cadbury Dinky Decker and Cadbury Crunchie. There's also a fun digital QR code quiz behind one of the doors, too! RRP: £4.99, 230g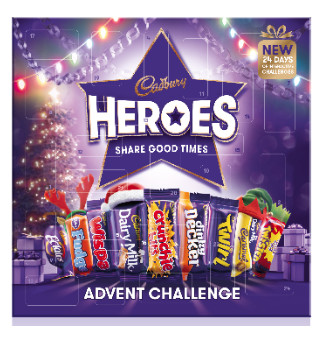 For those wanting something more classic in their life, the Cadbury Dairy Milk Classic Advent Calendar is for them. Containing chunks of Cadbury Dairy Milk chocolate to help with the Christmas countdown! RRP: £2.19, 90g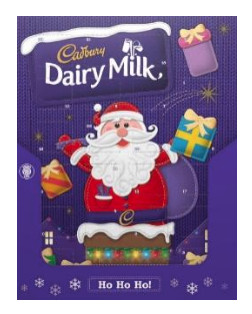 The Cadbury Dairy Milk advent calendar contains filled milk chocolates that will be a delight to countdown Christmas to – complete with a Secret Santa design to get you in the Christmas spirit. RRP: £4.99, 200g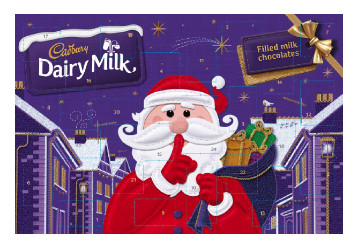 STOCKING FILLERS
The irresistible Cadbury Dairy Milk Snowman will bring you the joy of a snowy Christmas day regardless of the weather. Available filled with chocolate mousse, the Snowman is encased in a Cadbury Dairy Milk shell, with a light and fluffy mousse centre that tantalises the taste buds! RRP £0.65, 30g
Cadbury dairy milk hollow shushing santa: Looking for the perfect jolly snack or gift? Look no further than the new Cadbury Dairy Milk Hollow Shushing Santa's ! RRP: £2.99, 100g, £1.49, 45g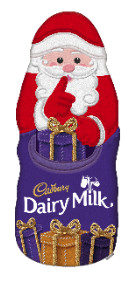 The crunchy Cadbury Mini Snow Balls are an exciting treat to tuck into ahead of Christmas. The delicious milk chocolate balls are encased in crisp sugar shells dusted with icing sugar – they're tasty and also great for turning your festive bakes into a season showstopper. RRP £1.15, 80g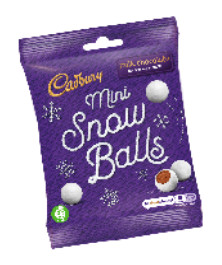 Cadbury Dairy Milk Winter Wonderland Edition is made up of mini white and milk chocolate tree-shaped chunks, perfect for also decorating your Christmas cake. You can break them apart and share with the family for an instant taste of Christmas joy. RRP £1.42, 100g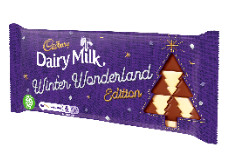 The Cadbury Dairy Milk Selection Stocking box is the ultimate stocking to go under your Christmas tree. A perfect selection of all-time favourite Cadbury bars (Cadbury Dairy Milk, Cadbury Wispa, Cadbury Dairy Milk Oreo and Cadbury Crunchie, Twirl, & Double Decker). This is the perfect stocking for any Cadbury lover! RRP £3.99, 194g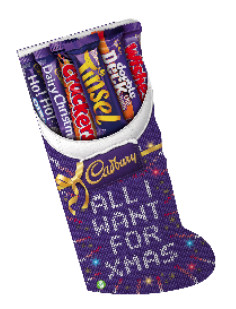 CADBURY DAIRY MILK PLUSH TOY: Perfect for the whole family to enjoy, complete with a generous selection of chocolate1 Pick-up either one of the Cadbury Freddo or Monkey festive favourites to give the sweet taste of Christmas. RRP: £5.99, 70g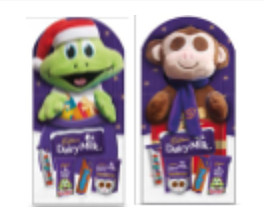 Cadbury freddo plush stocking: Starring Cadbury favourites Freddo and Monkey, these festive stockings are sure to make the rounds every Christmas forevermore. Each sack is filled generously with 4 bags and 9 bars of Cadbury favourites. RRP: £5.99, 192g
Here to put a smile on the faces of every chocolate lover, the Cadbury Dairy Milk Freddo Faces. In addition to being packed full of cheeky Cadbury Dairy Milk Freddo faces chocolate chunks, each tube entitles one child free entry to Cadbury World. RRP £1.42, 72g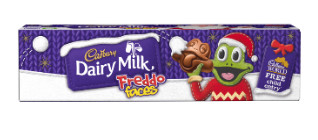 For a timeless treat that will be well received by the whole family, slip a tube of Cadbury Dairy Milk Buttons in the stockings. Containing delicious Cadbury Dairy Milk chocolate buttons in a festive tube! RRP £1.42, 72g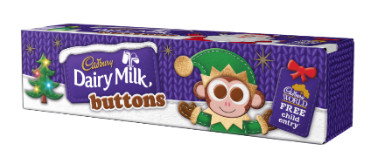 If Fudge is one of your festive favourites, then Cadbury Fudge Mini tube is your perfect stocking filler. The festive tube comes packed full of the sweet treat. RRP £1.42, 72g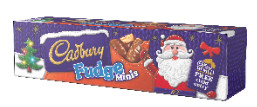 DECK THE HALLS
No Christmas is complete without a jolly cracker. The Cadbury Heroes Christmas Cracker will not only brighten up your dinner table, but provide lots of fun around the table with your family and friends. RRP £2.99, 123g.
Make your tree even sweeter with Cadbury Dairy Milk Tree Decorations. There are different designs and shapes for everyone in the family to leave their sparkly mark on this year's decorations. RRP £2.13, 83g
Pick up the Cadbury Mixed Tree Decorations complete with 14 mixed tree decorations to enjoy this Christmas. RRP £3.46, 136g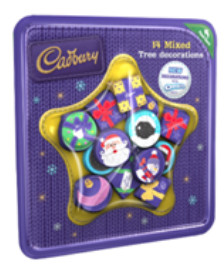 PERFECT FOR GIFTING AND SHARING
Cadbury Heroes gives everybody the option to eat their favourite chocolate this Christmas. This year, choose from a limited edition 20th birthday tin (RRP £9.99, 800g), the classic tub (RRP £8.09, 600g) pouch (RRP £6.29, 400g) and carton formats – 185g (RRP £3.09), 290g (RRP £4.59) and 385g (RRP £5.99).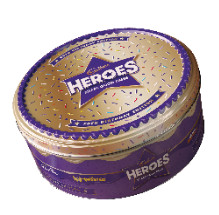 Next up is a favourite Christmas staple since 1938, Cadbury Roses. These individually-wrapped treats offer something for everyone. Available as a tub (RRP £8.09, 600g) pouch (RRP £6.29, 400g) and carton formats – 69g (RRP £1.09), 186g (RRP £3.09) and 290g (RRP £4.59).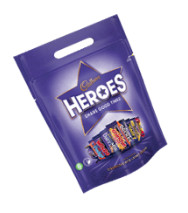 CADBURY DAIRY MILK VINTAGE CHOCOLATE BAR: Roll back the years with this Cadbury Dairy Milk vintage chocolate bar. The vintage 1905 edition is as delicious now as it was then! RRP: £9.99, 850g