Don't Eat the Scraps: and other powerful "Jules' Rules" for Success in any New Relationship! Author Jules Price!
Buy on Amazon here >> www.amazon.co.uk//dp/0578590905/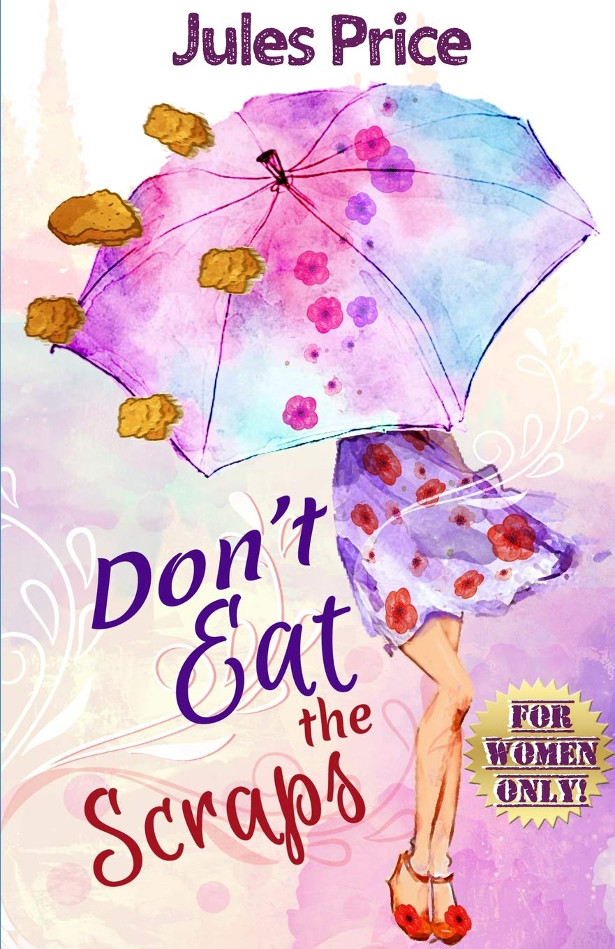 "Don't Eat the Scraps" describes the crucial and (as of now!) unknown theory of a behavior that men exhibit in the first six to eight weeks in dating. Women everywhere find themselves scratching their head, asking themselves the chin-quivering question, "Where did it all go wrong?"
In a lighthearted, provocative and hilarious way, Jules lays out all the things that women need to know in order to navigate, step-by-step, through the first months of any relationship, armed with some of the soundest Jules' Rules dating advice they'll ever receive to overcome future hurdles (and scraps!). It is a one-stop guide to thriving in the murky waters of the dating world… and have a few out-loud chuckles along the way.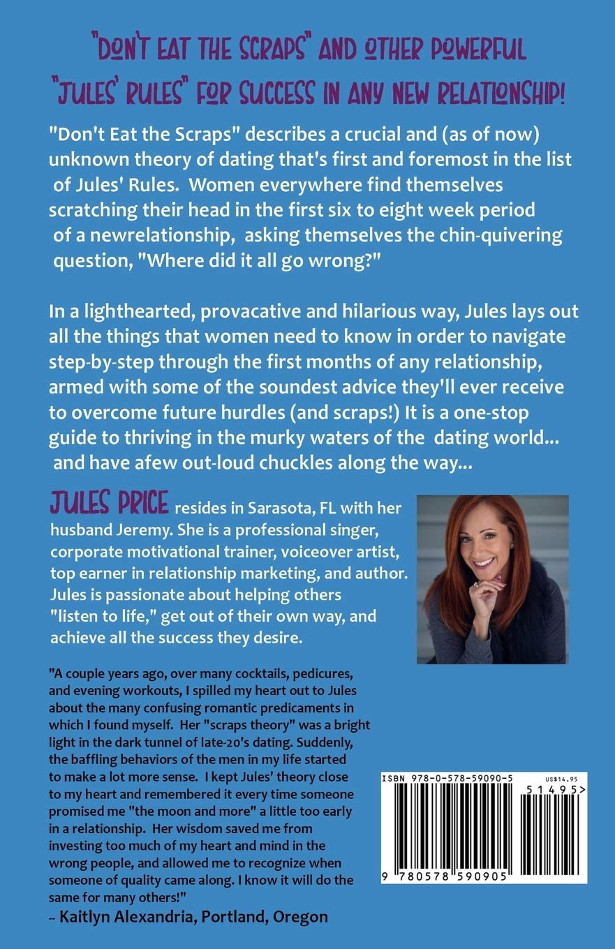 Why aren't MEN allowed to read the book, you ask? It is not a male-bashing book by any means! But if they were to become aware of their own unintended pattern of scrap-flinging behaviors, they would start implementing anywhere from minuscule to dangerously large changes that would ultimately affect the entire balance of this delicate relationship equation.
Armed with this new alarming knowledge, men's behavior would most certainly morph into some kind of odd and unique strain of the original virus that would be much harder to identify, combat, and eventually eradicate! We simply need more women to understand that this pattern exists so that we don't misconstrue their intentions, and we can all live harmoniously.
So please, for the sake of all man and womankind, no men allowed…
A MUST-READ, hilarious and considerate insight into how men and women interact and ultimately misunderstand each other's intentions. Here's the secret key to go from "Scrappiness" to "Happiness!!"
About Jules Price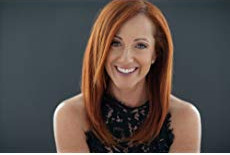 Jules Price grew up outside of Washington, D.C. She received a bachelor's degree in psychology and music at Connecticut College, and then moved to New York City to pursue her passion of singing and theatre. She performed professionally for 15 years in musicals and operettas, including the National and International Tour of The Sound of Music as "Maria" throughout the U.S., Canada and Korea, and then understudied Marie Osmond in the role throughout Singapore, Bangkok, and Hong Kong. She currently still performs with the New York City Ballet as a principal singer in West Side Story Suites.
Jules relocated to Sarasota, FL with her husband Jeremy, the chef/owner of Innovative Dining, a boutique private dining and catering company. It was there that she was first introduced to an online greeting card and gift business, having received a birthday card and gift card from someone she'd never met. With no previous background in the profession, Jules instantly saw the value of the tool and the exciting opportunity it presented. She moved forward with focus, enthusiasm, and a desire to help and support others. This business opened up an unexpected worldwide platform to voice her down-to-earth and relatable advice and experiences.
Her inspirational mindset, quirky sense of humor, and ability to empower and inspire people into action has created a wide impact across both business and personal realms. She continues to be a corporate motivational trainer, voiceover artist, top earner in relationship marketing, and author of her first book, "Secrets from the SOC Drawer." Jules is passionate about helping others to "listen to life," get out of their own way, and achieve all the success they desire.
About the book:
"Don't Eat the Scraps" and Other Powerful Secrets For Success In Any New Relationship!
The little-known but powerfully dangerous concept of the "Scraps Theory" as outlined by Jules Price may save that exciting new blossoming relationship that suddenly takes a downturn, or may be the pivotal turning-point for that one friend of yours who can't seem to find that great guy you know she's destined to eventually discover! "Jules' Rules" is your one-stop guide to navigating and thriving in today's dating world… and have a few out-loud chuckles along the way.
Buy on Amazon here >> www.amazon.co.uk//dp/0578590905/