GET BACK-TO-SCHOOL READY WITH JOHNSON'S®

As the Summer holidays come to an end, help get your little ones get back into a bath time routine they'll love and prepare them to give the classroom all they've got.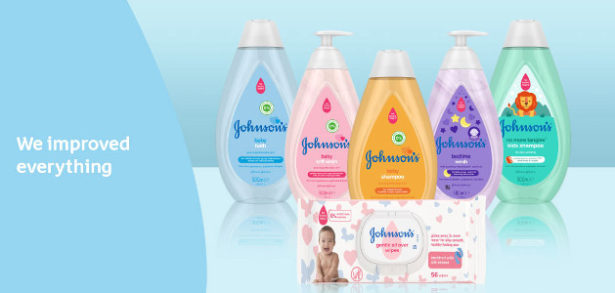 Children's hair is thinner than adults' and still developing until around the age of 12. As a consequence, as they develop and become unique little characters, their hair changes too; from curly to straight, short to long or blond to dark, and requires special care to nurture it as it grows. The new JOHNSON'S® Baby Toddler offering provides a series of toddler specific haircare ranges, specially designed to be gentler to their developing hair than regular adult products while delivering the advanced benefits that their growing hair needs.
Each range within the haircare portfolio provides unique benefits and the tools every parent needs to unlock knots, boost shine and strengthen hair without compromising on gentle, caring products. JOHNSON'S® Baby only choose high quality ingredients that are gentle for baby. That's why they've rejected over 400 ingredients that don't meet their Best for BabyTM Standards.
The JOHNSON'S® No More Tangles™ Kids Haircare range offers a 3-step routine with shampoo, conditioner and detangling spray, proven to unlock 75% more knots and tangles† so you can win the tangle tug of war.
The JOHNSON'S® Shiny Drops Kids Haircare range, enriched with argan oil, boosts natural shine for silky smooth, healthy looking hair.
The JOHNSON'S® Strength Drops Kids Haircare range, enriched with Vitamin E, helps strengthen hair for less breakage as you comb through those bed head knots each morning.
To go alongside the haircare products JOHNSON'S® Baby has specially formulated their Kids Bubble Bath & Wash to combine mild, gentle cleansing with big, fluffy bubbles for bath time fun. Plus, there's no need to save bubbles for special occasions as it's gentle enough to use daily after a busy day at school or nursery.
Thanks to the NO MORE TEARS® formula used across the toddler products, splashing and playing in the bath tub can be a fun, tear free experience. Invite the JOHNSON'S® Toddler mascots into your bathroom this school term and see who's favourite amoungst the little ones.
#choosegentle
† vs. shampoo without conditioning agent