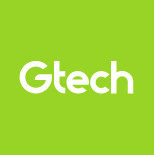 Gtech inventor designs massage robot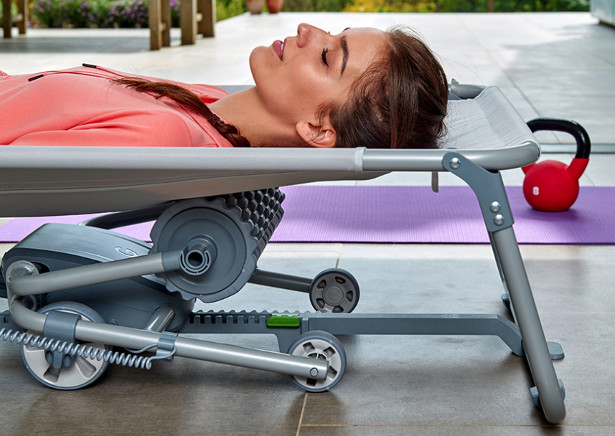 YOUTUBE | INSTAGRAM | FACEBOOK
When Nick Grey, inventor and founder of award winning home technology specialists Gtech, realised that lots of people like him needed a regular massage to loosen up their back, but the NHS simply couldn't cope with the demand, he decided to do something about it.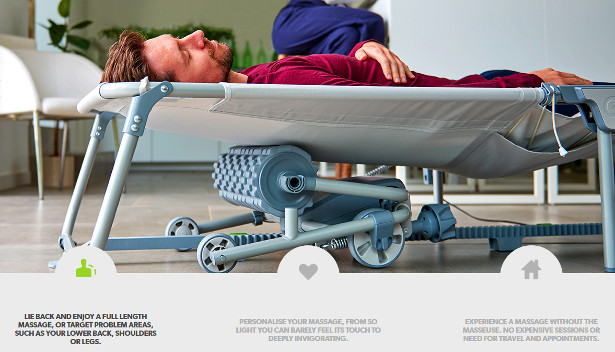 The result is the MYO Touch – an automated massaging bed. Underneath a comfortable contoured bed is a powered robotic massage roller that seamlessly glides along a track. The intensity of the massage can be personalised from so light you can barely feel its touch to deeply invigorating. You can simply lie back and enjoy a full-length massage or target problem areas such as your back, arms or legs.
The MYO Touch – where technology meets tranquility
The massage bed has been engineered to bring relaxation and calmness into your day and enable you to enjoy a massage in the comfort of your own home whenever you need it.
MYO Touch is quick and easy to assemble allowing you to set up your massage space in minutes. In addition to this, you will also get access to Gtech's audio library with four 15-minute tracks to help you unwind, whether it's rainforest sounds, mindful podcasts or guided meditations, all downloadable on your smart phone or tablet. The bed folds down easily and can be packed away for simple storage for use next time.
MYO Touch User Trials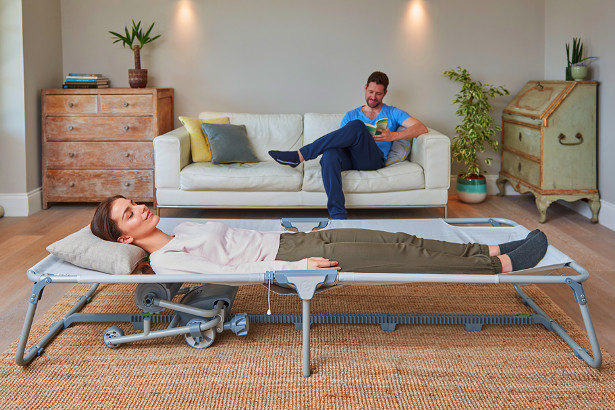 Gtech ran a pre-launch trial with 50 people and the indications are that the MYO Touch could be beneficial to users, at least in the short term. Graduate Sports Therapist Harry Ingham carried out the testing and concluded, "Lower back pain is the leading cause of global disability. During the MYO trials I saw decreases in blood pressure and increases in a range of movement which led me to believe the product has real potential. Also, there is definitely a link between elevated mental health and reduced back pain. Results of a clinical trial carried out by the University of Washington in 2016 found that mindfulness-based stress reduction can be an effective treatment option for patients with chronic low back pain".
As Nick Grey says "It's interesting that the only treatments NICE recommend for lower back pain are massage, mindfulness and exercise. But I see them as being linked. Having a massage is an extremely mindful experience and that can be enhanced by preparing the setting and providing a sound track to the massage. And, if the wellbeing from massage and mindfullnness generates extra exercise then we could be on to something!".
The MYO Touch is available now at www.gtech.co.uk/myo-touch RRP £299.99
The Story Behind The MYO Touch
The National Institute for Healthcare Excellence (NICE) recommends exercise, massage and psychological support like mindfulness for long-term sufferers of lower back pain. But Nick Grey found problems with two of these treatments – getting a regular massage was inconvenient and mindfulness is not easy to achieve. "I visited a lady who worked both for the NHS and privately and she told me some interesting stuff. Back pain is incredibly common – 80% of adults suffer from it at some stage and for some it is a regular state – they just live with it" says Nick. "However despite the NICE recommendations the NHS is pushing staff towards 'hands-off' treatments such as stretching. The NHS simply do not have enough practitioners to spend thier time massaging the massive number of back pain sufferers. In addition providing deep tissue massage can be extremely demanding risking repetitive strain conditions on the practitioners themselves. Given the hard repetitive work and the need for 1 to 1 personal service providing treatment is costly – you can't get enough therapists to service the demand. As an inventor that struck me as an obvious application for a robot."