In celebration of World Chocolate Day ( 7th July) Marlene Watson-Tara, author of GoVegan, recommends her chocolate adzuki bites as a quick and healthy sweet treat.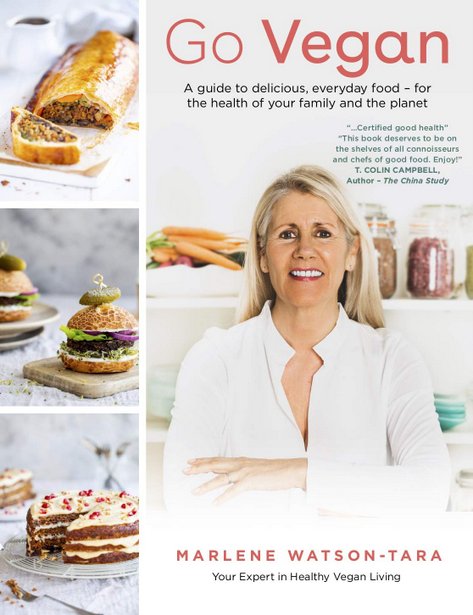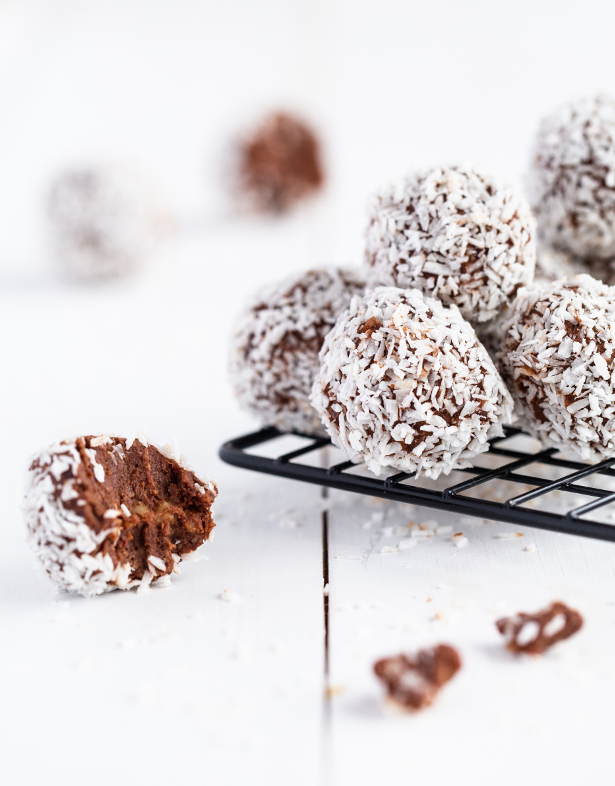 As a vegan and healthy living expert with over 40 years experience of transforming lives, her Go Vegan cookbook contains lifestyle and health advice together with beautifully illustrated pictures of easy to cook vegan recipes. She highlights that a diet based on whole food plants will prevent many illnesses, maintain a good physical condition, and change lives, all backed up with science.
As well as being perfect for vegans, chocolate adzuki bites are a healthy alternative for all to enjoy, rather than snacking on foods high in sugar and refined carbohydrates. Adzuki beans are some of the most nutrient-dense foods on the planet, high in protein and fibre, low-fat, and rich in calcium, phosphorus and magnesium. Their high soluble fibre can help to stabilise cholesterol levels, improve digestive health and keep you feeling full for longer. So go ahead and treat yourself on World Chocolate Day!
Chocolate Adzuki Bites
1 cup of cooked adzuki beans
1 cup of pecans
8 mejdool dates (stones removed)
1⁄4 cup cocoa powder
1⁄4 tsp of vanilla extract
Desiccated coconut
Method
Blend all the ingredients (except the coconut) in a food processor until you achieve a creamy texture. If the mixture is too dry, add a tablespoon or two of water. Take a heaped teaspoon and roll into balls. Drop the balls into a bowl filled with the coconut and shake until well covered. Chill in the refrigerator for a few hours and enjoy. Truly scrumptious and healthy.
Whole Earth goes loco for cocoa with NEW Chocolate Peanut Butter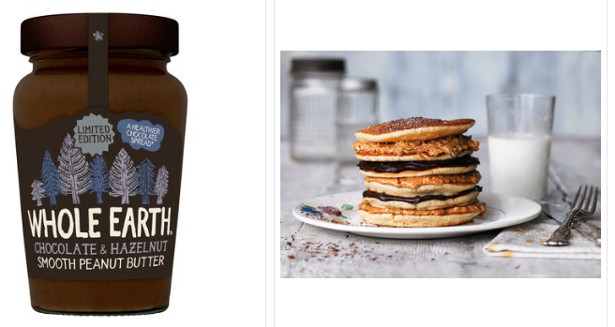 Whole Earth, the UK's number one peanut butter brand, is set to launch a Chocolate and Hazelnut peanut butter in time for Pancake Day – giving people a healthier alternative to traditional chocolate spreads.
Available from Tesco, Whole Earth Chocolate & Hazelnut Smooth Peanut Butter (RRP. £4.00 / 340g), offers a heavenly combination of cocoa and hazelnuts that's perfect for peanut butter and chocolate lovers alike.
Made without any refined sugar and simply sweetened with dates, the limited edition spread has 80% less sugar than the standard chocolate spread.
A brilliant source of protein and fibre, the new peanut butter is the perfect nutritional alternative for those wanting to lead a healthy lifestyle without compromising on indulgence.
As an official supporter of Team GB in their journey to Tokyo 2020, Whole Earth is committed to helping people add more plant-based nutrition to their diets and fuel an active lifestyle.
Kirstie Hawkins, Whole Earth brand controller, says:
"We're delighted to be launching this new healthier chocolate spread. It offers people the best of both worlds; the nutritional goodness of peanut butter married with the delicious taste of chocolate and hazelnuts. It's the perfect topping for pancakes."
Whole Earth Peanut Butter with Chocolate and Hazelnut can be enjoyed in a number of ways, from spreading on pancakes, stirring into porridge and adding to your morning smoothie.
Suitable for those following a vegetarian or vegan diet, the new addition to Whole Earth's range offers deliciously healthy, plant-based indulgence for all to enjoy.
TheDarkChocolateBakery.com in Dallas, TX. We travel to where our customers are in Dallas-Fort Worth!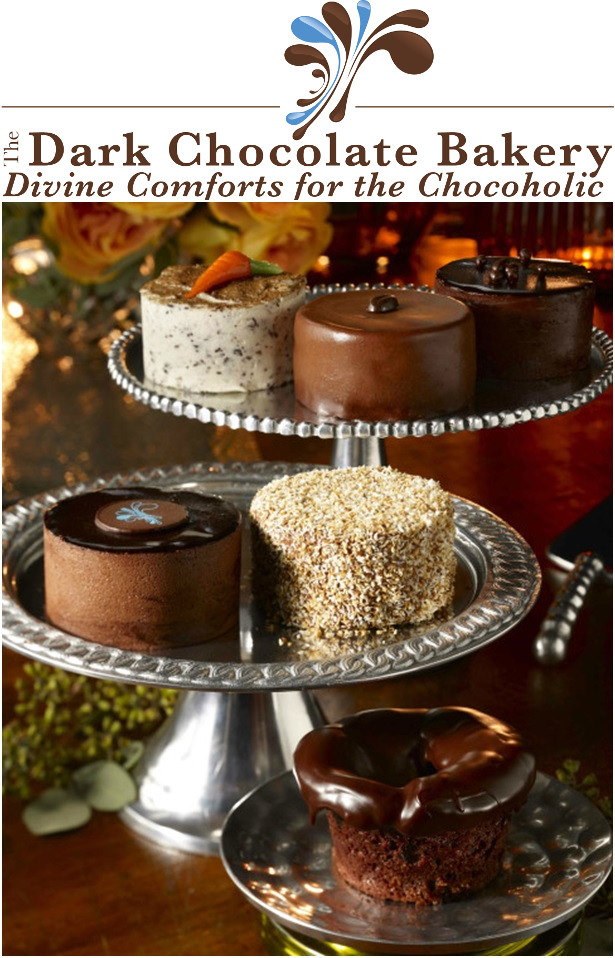 Our fine desserts have been offered at the Royal Blue Grocery in Highland Park Village in Dallas, TX!
Featured on NeimanMarcus.com, and in the Neiman Marcus Christmas Book 2012-2019 and Holiday Entertainment catalog. Also featured in Horchow.com, The Dallas Morning News Daily Guide, Modern Luxury Magazine, and FD Lux Magazine! Read Reviews!
Put your discriminating taste buds into sensory overload with The Dark Chocolate Bakery's decadent bittersweet miniature and full size modern haute French cuisine cakes, desserts & pastries made of the finest 64-100% cocoa that Scharffen Berger, Valrhona and E.Guittard have to offer. We have also made selective exceptions to our Dark Chocolate Rule with our Coconut Cream Cake and other delicious offerings.
Our extraordinary delectable delights combine the finest flavors, textures and richness with unique designs to leave a lasting impression on the eyes AND palate at any special occasion. Our beautiful packaging compliments our cakes and is a delightful gift for business, friends and colleagues. Please come into our store and delight your senses.
Located in Dallas, TX, we offer cake delivery in Dallas Monday – Friday. We deliver directly to your door. NOTE: due to COVID-19 national shipping is not available at this time.
Millican Pecan Company
World Chocolate Day Ideas & Recipes !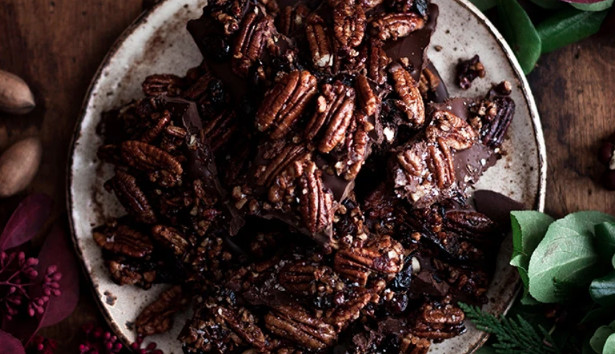 Millican has been harvesting and selling pecans in San Saba, Texas since 1888. This area in central Texas is known as The Pecan Capital of the World. Their great-great grandfather pioneered the pecan industry in San Saba and they are happy to be continue the tradition that he started over 100 years ago.
They sell many chocolate pecan treats such as the items below:
Dark Chocolate Pecan Caramillicans – millicanpecan.com/collections/pecan-treats/products/dark-chocolate-turtles-caramillicans-gift-box
Chocolate Pecan Butter Cups – millicanpecan.com/collections/pecan-treats/products/buy-chocolate-pecan-butter-cups-gift-box
Dark Chocolate Pecan Toffee – millicanpecan.com/collections/pecan-treats/products/dark-chocolate-pecan-toffee-gift-tin
Pecan Truffle Duo – millicanpecan.com/collections/pecan-treats/products/pecan-truffle-duo-gift-tin
Recipe
Maple Pecan Superfood Bark recipe – millicanpecan.com/blogs/pecan-recipes/maple-pecan-superfood-bark-american-pecans
INGREDIENTS
3 cups raw pecan halves
1 cup raw pecan pieces
1 cup dried cranberries
Zest of 2 small oranges
1 teaspoon cinnamon
1 1/2 teaspoons cracked black pepper
2 teaspoons vanilla or the seeds of 1 small vanilla bean
1/2 cup maple syrup
1 to 2 teaspoons coarse sea salt
10 ounces dark chocolate chips (60 to 70%)
INSTRUCTIONS
Preheat the oven to 350 degrees F. Line a baking sheet with parchment paper.
Place the pecan halves, pecan pieces, cranberries, orange zest, cinnamon, pepper, vanilla, and maple syrup in a saucepan and stir to combine. Bring the syrup to a boil over medium-high heat. Stirring constantly, cook for 2 to 3 minutes, or until the syrup has been completely absorbed by the nuts.
Remove nuts from heat and pour onto the parchment lined baking sheet. Spread the nuts out into a single layer. Bake them in the preheated oven for 20 to 25 minutes, or until the pecans are a deep golden brown and give off a nutty aroma. Remove from oven and let cool completely.
While the nuts cool, line another baking sheet with parchment paper.
Place the chocolate chips in a saucepan and place over medium-low heat. Stir occasionally, until the chocolate is completely melted and smooth.
Pour the chocolate over the parchment lined sheet and smooth the chocolate out to a thickness of 1/4 inch.
Break up the cooled pecans and place them evenly over the surface of the chocolate. Set the chocolate aside for several hours to set. Once the chocolate has set, break up into pieces and use as desired. Makes about 25 pieces of bark depending on the size of each piece.
Charles Chocolates is announcing the all new Artisan Chocolate Subscription Service providing world class artisan chocolate made in small batches using only the best fresh ingredients (and no artificial flavors or preservatives) delivered to your door on a regular basis.
www.charleschocolates.com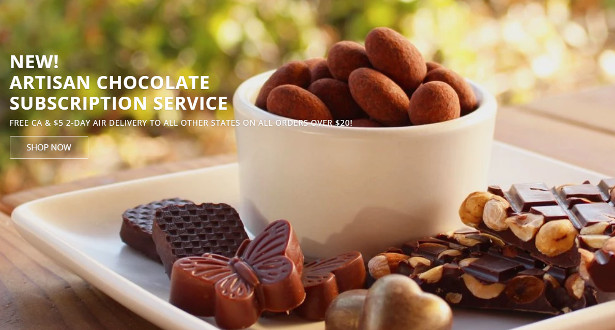 Cacao Tea Co.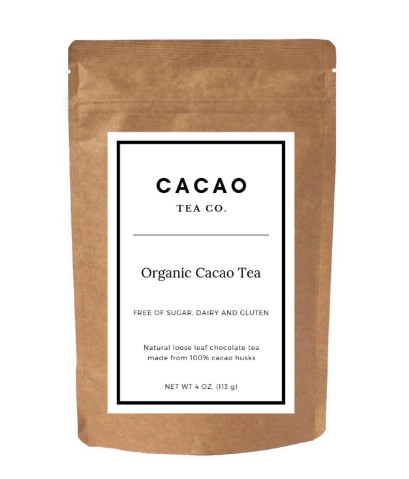 Enjoy the delight of chocolate without any of the guilt. Introducing cacao tea, one of the world's best kept secrets. This delicious drink can be served hot or ice cold, making it perfect for summer. First discovered by the ancient Mayan and Aztec civilizations thousands of years ago, cacao tea (also known as chocolate tea or cocoa tea) has incredible mood and immune-boosting properties and is high in antioxidants. Cacao Tea Co. produces and sells cacao tea which is 100% pure and organic and is completely sugar-free, caffeine-free, gluten-free, dairy-free and GMO-free with no artificial flavouring, additives or preservatives. With a natural sweetness, a heavenly chocolate taste and aroma, and a delicate stimulating effect, cacao tea is the perfect natural alternative to chocolate and coffee. The Cacao Tea Co. also has a "cacao karma" program whereby they donate a portion of profits to help provide healthy meals to malnourished families in impoverished communities in developing countries. See more at :- www.cacaoteaco.com.
Chocolate Hacks
by > jfeldman@shifthappens.com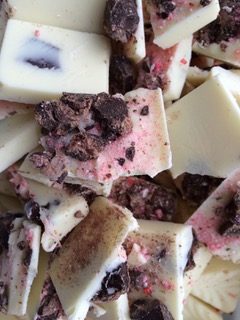 Making barks are about the easiest way to make colorful, flavorful chocolate candy. There are lots of ways to melt the chocolate but most home cooks seem to prefer using a microwave.
Set the power of the microwave on 50%. It takes longer to melt, but it helps them melt slower and reduces the risk of seizing.
Do Not use porcelain or glass bowls as they retain heat and get too hot which can seize or even burn your chocolate. Paper or plastic works best. Take your time. Cook for about a minute at first. Take out the bowl and mix the chocolate. This will get rid of hot spots. Then depending on your microwave, the amount of chocolate and the type of chocolate heat, mix, heat, mix until it is melted.
I always add coconut oil or vegetable oil to my chocolate before I melt them. Whether I am melting chocolate chips or bars I watch carefully to ensure that they don't seize and get ruined.
Sometimes no matter how careful you melt the chocolate sometimes there is trouble melting them. Using oil will greatly reduce the risk.
Once you melt the chocolate, you just have to spread it out into a thin layer and then you add your toppings. Cookies, candy, nuts; the sky is the limit.
HACK
Right after Christmas I go to stores and offer to purchase their unsold peppermint canes for pennies on the dollar. Then AFTER I have melted White chocolate I add crushed peppermint candies.
Right after Easter and Halloween I find the colored M&Ms, or cookies. Remember the stores are anxious to get rid of candies after the holiday. I search through stores for bags of candy, nuts, sprinkles and/or cookies. Do be shy about buying off brands. You are going to break them up and add to your chocolate as it cools.
Store the bulk nuts, candies, and cookie items in air tight jars or ziplock bags. If you are going to keep them for a long time then freeze them. When you want to use them take them out of the freezer and put in the refrigerator for 24 hours and then room temperature over night. This will eliminate condensation.
Water and Chocolate DO NOT MIX.
The sky's the limit for flavors. Be bold.
Celebrate world chocolate day with woman-owned MarieBelle New York a world-renowned luxurious global bean-to-bar chocolate company.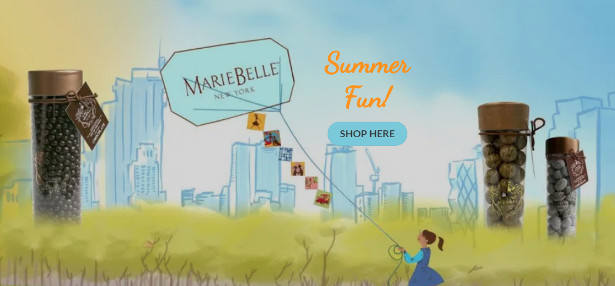 The fine art edibles are produced in the Brooklyn factory with retail locations throughout New York City, and Japan.
With global flavors like matcha, passion fruit and Caipirinha; to name a few, consumers can take a their taste buds on a trip around the world while on the couch.
See more at :- mariebelle.com
Omnom Chocolate.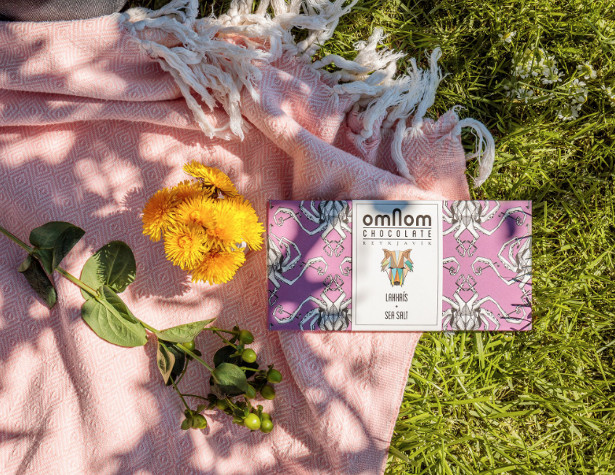 Omnom is Iceland's first and only bean-to-bar chocolate maker, and is available in the U.S. in select retailers and online via Amazon and OmnomChocolate.Store.
Chocolate Pizza Co
chocolatepizza.com
3 awesome ideas for World Chocolate Day
Campfire S'more Chocolate Pizza & Peanut Butter Wings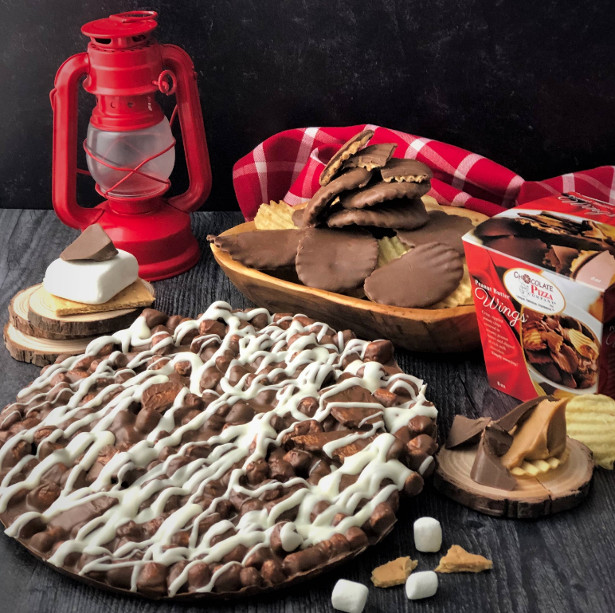 Campfire S'more Chocolate Pizza blends gourmet chocolate with marshmallows and graham crackers and is served in a custom pizza box. Peanut Butter Wings are crisp, rippled potato chips covered in creamy peanut butter and drenched in chocolate.
Drumstick Chocolate Pizza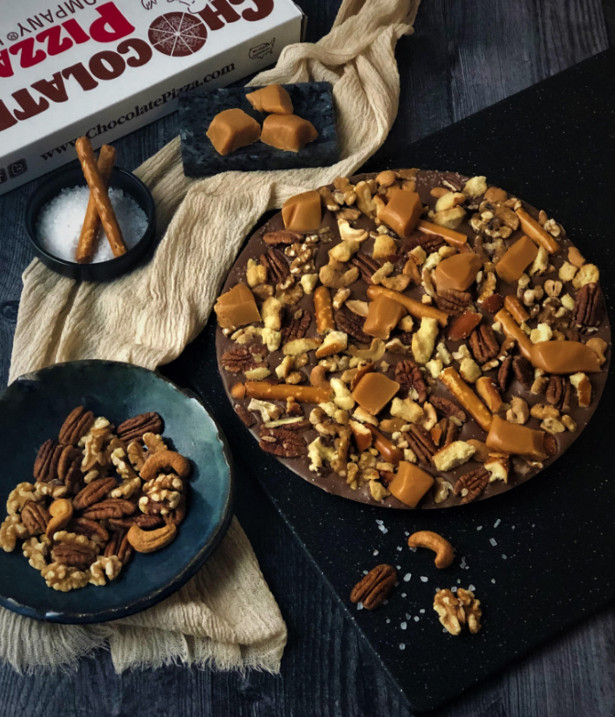 Drumstick Chocolate Pizza blends gourmet chocolate with homemade English toffee and tops it with cashews, pecans, walnuts, pretzels, caramel chunks and a splash of sea salt. Served in a custom pizza box.
Peanut Butter Avalanche Chocolate Pizza Slice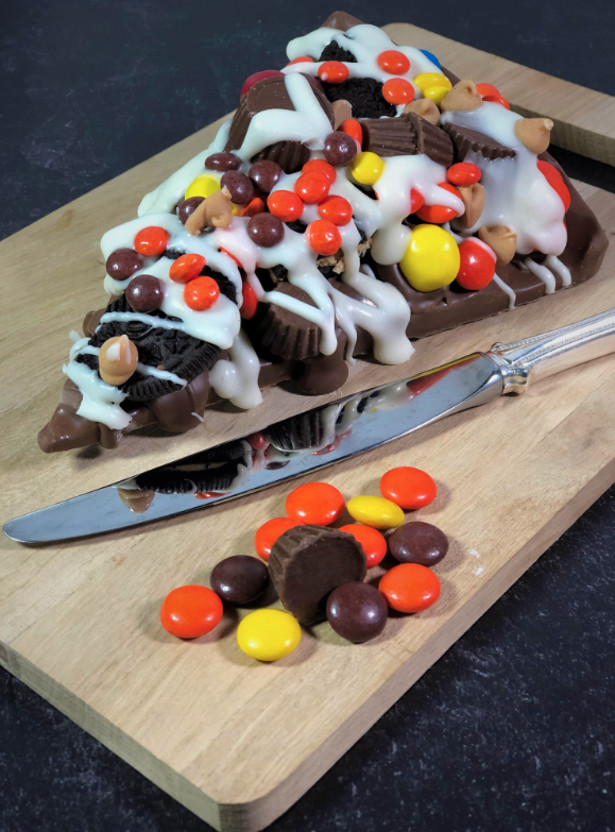 Peanut Butter Avalanche Chocolate Pizza Slice blends rich milk chocolate with homemade English toffee and tops it with peanut butter cups, candies, chips and cookies. Finished with white chocolate drizzle and served in a custom pizza box.
All are made by: Chocolate Pizza Company
www.chocolatepizza.com
Chocolate Pizza Company has been featured on Food Network, Hallmark Channel, CNBC and in Forbes, People and Entrepreneur magazines.
By Health My Lifestyle LLC
Here is a recipe for World Chocolate Day..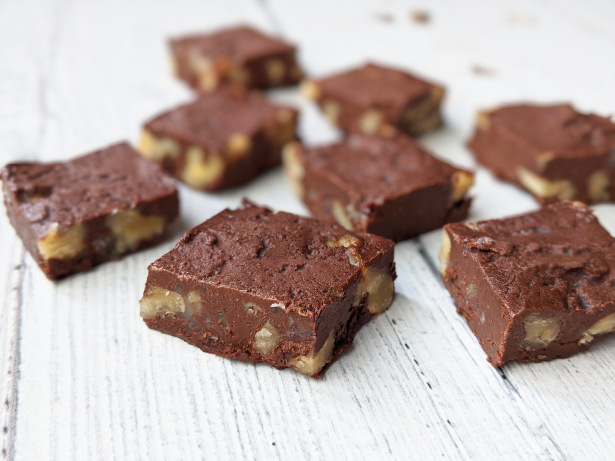 (Vegan) Chocolate Walnut Fudge
Ingredients:
1 cup non-dairy dark chocolate chips
1/2 cup natural peanut butter
1/2 cup sweetened condensed coconut milk
1 teaspoon vanilla extract
Pinch of salt
1/2 cup chopped walnuts
Directions:
In a small saucepan, gently heat the condensed coconut milk until just about to come to a boil. Turn down heat and stir in the chocolate, peanut butter, vanilla extract, and salt until melted through. Remove from heat and fold in the walnuts. Pour into a pan lined with parchment paper. Place in the freezer for one hour. Then cut into squares and enjoy! Store in an airtight container in the fridge for a week.
You can find out more at Healthmylifestyle.com, or on Instagram: Instagram..com/healthmylifestyle and Facebook facebook.com/healthmylifestyle
Celebrate World Chocolate Day with Montezuma's, Bird & Blend and ChicP next Tuesday 7th July
Montezuma's | Bird & Blend | ChicP
World Chocolate Day is fast approaching, and it's the perfect excuse to indulge in copious amounts of chocolate-filled delights such as Montezuma's Giant Buttons and Truffle Bites or Bird & Blend Eton Mess or Earl Grey chocolate bars.
Alternatively if you are looking for something a little healthier, why not try our ChicP Chocolate Bites!
Montezuma's Chocolate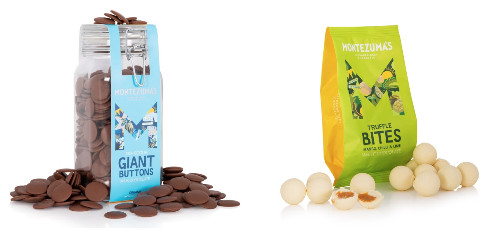 Britain's greatest little chocolate company, Montezuma's, uses the best quality, ethically sourced cocoa, and boasts an innovative range of fun flavour combinations. Why not try a jar of their Milk Giant Chocolate Buttons (£29.99) or if you're feeling fancy treat yourself to a packet of White Chocolate Truffle Bites with Mango, Chilli & Lime (£3.99)
To purchase please visit montezumas.co.uk
Bird & Blend x Cocoloco Chocolates
Independent, award-winning tea company, Bird & Blend, have recently partnered with artisan chocolatiers, Cocoloco Chocolates, to produce one-of-a-kind, tea-infused chocolate bars that marry the magic of these two independent companies. The Cocoloco Chocolates x Bird & Blend range includes three unique flavour combinations including Earl Grey Crème Tea (£5), Peaches & Cream Matcha Infused White Chocolate (£5) and Dark Chocolate Chilli Chai (£5) for the ultimate British collaboration – the perfect purchase for World Chocolate Day!
To purchase please visit Bird & Blend's virtual pantry birdandblendtea.com
ChicP Chocolate Bites
If you're looking to get creative this World Chocolate Day then look no further, sustainable hummus brand, ChicP, has created the ultimate healthy recipe that couldn't be easier to make.
150g chickpeas
1 tbs date syrup
1 tbs maple syrup
1 tbs Nut Blend Maca butter (any nut butter will do)
1 tbs cacao powder
1 tbs coconut oil for the frying pan
Icing: 1 tbs nut butter with 1 tbs coconut milk
Simply blend all of the above ingredients together until mixed well. Heat a frying pan with the coconut oil. When the coconut oil is melted and the frying pan is hot, spoon bite size balls into the pan. Fry until golden on both sides.
Leave to cool and then make the icing by mixing the coconut milk and nut butter together. Pour over the chocolate bites, with a sprinkle of extra cacao and serve with fresh strawberries.
For more information please visit chicp.co.uk
Kitchen Ambition
www.kitchenambition.com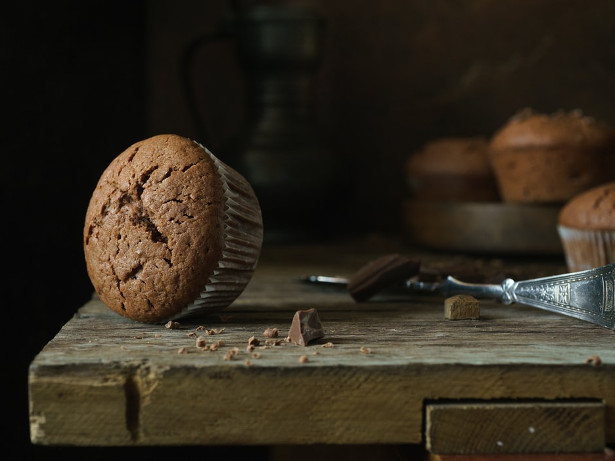 Kitchen Ambition provide guidance to home chefs on their journey to building an inspired kitchen.
This recipe can often be a breakfast "pick-me-up" while watching rugby!
Simple Chocolate Muffins
INGREDIENTS
1/2 cup vegetable oil
1 1/4 cup milk
1 large egg
2 1/2 cup all-purpose flour
1/2 cup granulated sugar
1 tbsp baking powder
1/4 tsp kosher salt
A delicious Chocolate Martini provided by the True Blue Bay Boutique Resort that hosts the annual Grenada Chocolate Festival.
Chocolate Martini
This indulgent drink brings together rum and chocolate, and can be spiced up even more with some grated nutmeg and ginger on top. Grenada, as the 'spice isle' grows spices in such abundance they fragrance the sea breezes.
1 tbsp cocoa powder
.5 tsp ground cardamom
175 ml AMAZ-IN chocolate liqueur plus extra for decorating
100ml Blue Light vodka
75ml single cream
Ice cubes
Decorate the glass, first. Mix the cocoa powder and ground cardamom on a plate then por in a little AMAZ-IN in to a separate saucer. Gently dip the rim of each Martini glass in the liqueur and then into the cocoa and spice mix to coat. Set aside.
Add AMAZ-IN, Blue Light vodka and single cream to a cocktail shaker with ice and shake for 20 seconds. Pour into the decorated glasses and raise a toast to the Caribbean!
You can find out more about the Festival at www.grenadachocolatefest.com/
If you would like a non-alcoholic recipe you could try the Dream Shake as served at the House of Chocolate in St George's in Grenada.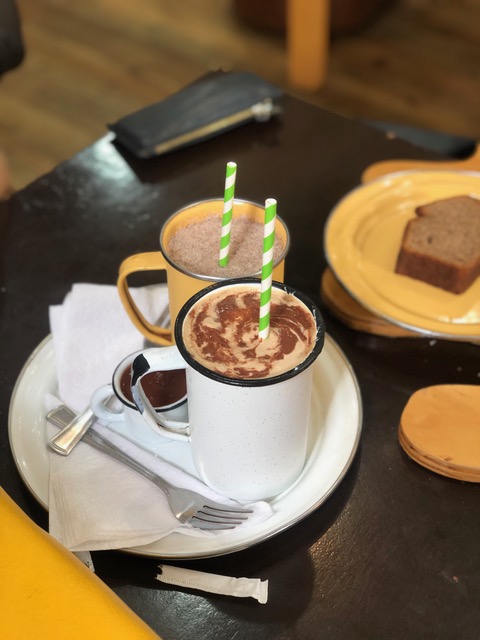 Just mix together the following ingredients and serve with a straw:
Espresso
Grenada Chocolate Ice Cream
Peanut Butter
Ice
Milk
Happy Curls, Happy Girls
Dark Chocolate Skin & Hair Mask (DIY Recipe)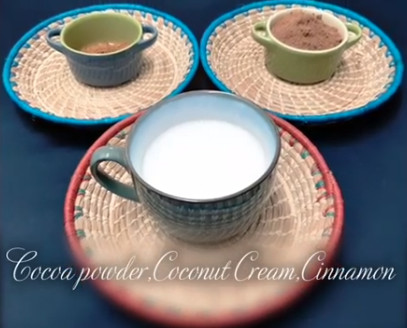 From De L'isle, Hair Whisperer at Happy Curls, Happy Girls. " We're always sharing personal, natural, DIY favs with our clients so here's a popular one- Dark Chocolate & Coconut Cream Hair Mask. We actually posted a tutorial on our social media accounts, so including that link for you as well! www.instagram.com/p/B4P4o10JAaX
It doubles as a pre or post 'poo treatment. Even just as an inbetween-washes-just-feel-like-putting-chocolate-in-my-hair-kinda-thing. And the ingredients are sooo Caribbean. Dark chocolate is rich in antioxidants that fight damaging free radicals; theobromine to boost growth stimulating blood flow; polyphenols that protect from harmful UV; high in copper to slow down premature greying. Coconut cream is a detangling & hair softening dream & cinnamon helps promote hair growth through increased circulation…need we say more?
*
|Dark Chocolate Detangling Hair Mask |
-5oz coconut cream (you can use 50g/1 pack of coconut cream powder*NOT cream of coconut)
-1/2 cup of cocoa powder (no added sugar)
-3/4 tablespoon of powdered cinnamon
-a whisk
Simply add your cocoa powder and cinnamon to the coconut cream. Whisk until smooth and creamy.
Apply to damp hair from root to tip, cover with a plastic cap-as always heat boosts hair treatments so greenhouse or apply heat.
Leave for at least 30 mins, we slept in ours overnight. Rinse and shampoo (if it's a prepoo) or apply your fav moisturiser. Store in an airtight container in the fridge and use within 2 to 3 weeks. Bonus! Skin friendly too!
Yours naturally,
De L'isle
.Happy Curls, Happy Girls.
www.happycurlshappygirls.com
"I believe that the images of days of childhood stay with you a lifetime. The good and bad. The happy and sad.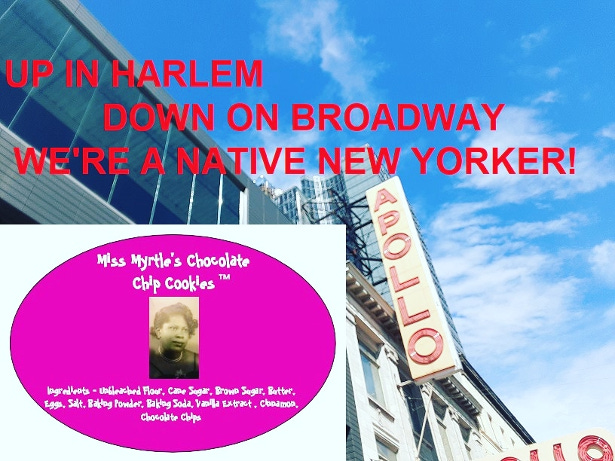 My favourite moments were the fresh homemade chocolate chip cookies with the smell lingering from the kitchen. My mother made sure I was self sufficient at cooking and baking at an early age. That said, I want to honor her memory by introducing Miss Myrtle's Chocolate Chip Cookies for the world to love as I have growing up. All My Best!" Maurice Tyson
Kokab Rahman is a business and career consultant and Founder of Radeya Global – Talent Development & Custom Business Solutions , www.radeya.biz which provides personalized career services and business solutions.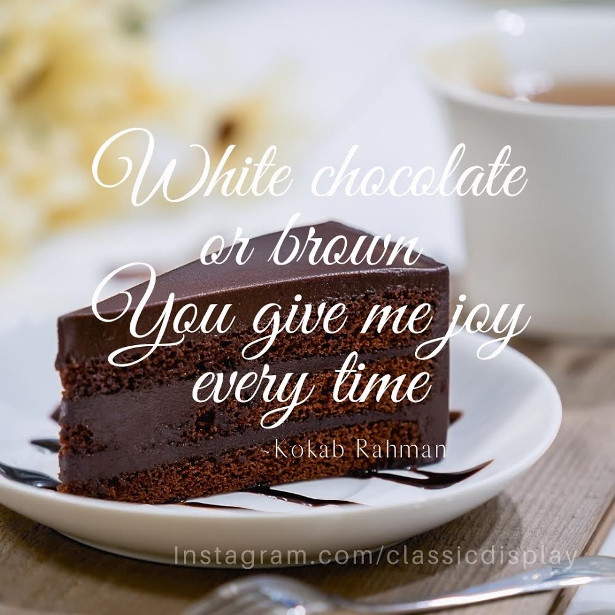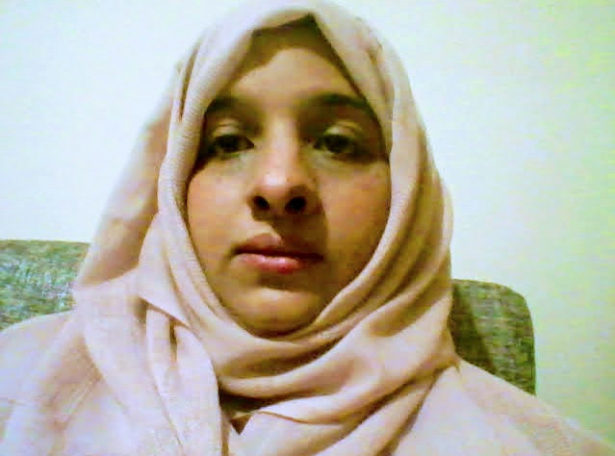 She is an expert on the topics of entrepreneurship, career, self-improvement, and finance, and has written numerous articles as well as the book The Handbook of Remote Work Opportunities, available from Amazon. Kokab traveled to more than 12 countries and 50 destinations and loves the travelpreneur – digital nomad lifestyle. Her career services have been helping clients achieve their goals and resulted in clients getting jobs at multinational corporations like Ernst & Young, JP Morgan, Marriott, Saudi Re, IPCO Germany GmbH, Crowe Mak, NHS, and Egmont Publishing. Radeya Global has a track record of high client success rate and 100% customer satisfaction and is highly rated in Google.
The Daring Kitchen. Here is a simple recipe that requires only a few ingredients and can be made ahead and is perfect for World Chocolate Day!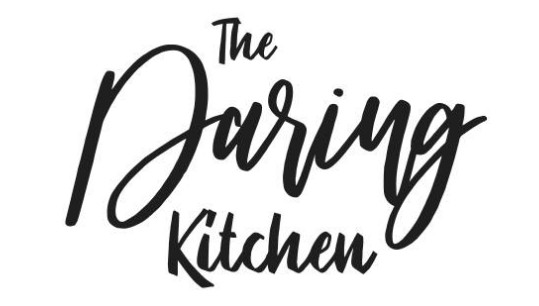 Chocolate hazelnut ice cream cheesecake
Ingredients:
200g honey nut cornflakes
800g chocolate hazelnut spread
360g tubs full-fat cream cheese
1 tbsp roasted and chopped hazelnuts, for decoration
Instructions:
Put the cornflakes and half about 200g of chocolate hazelnut spread in a bowl and beat to combine. Don't worry about breaking the cornflakes.
Press the mix into the base of a 23cm springform tin.
In a separate bowl, beat the cream cheese until smooth, then fold in the remaining chocolate hazelnut spread.
Smooth onto the cornflake base, wrap in cling film and freeze overnight.
Remove from the freezer 20-30 mins before serving, to be able to cut it more easily with a knife.
Serve in slices with hazelnuts sprinkled over.
Will keep in the freezer for up to 1 month.
find out more at >> thedaringkitchen.com
THE LIGHT SIDE OF DARK CHOCOLATE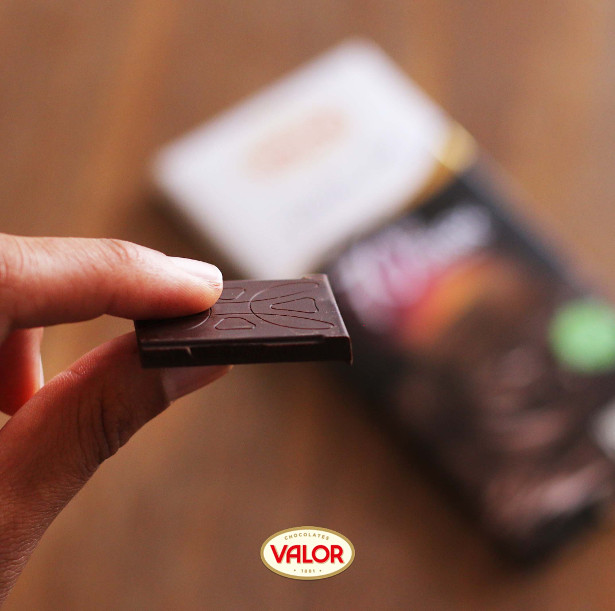 There has been an increased demand for dark chocolate as the current wave of health and wellness trends continue to influence the market. According to market research store, Research and Markets, the global chocolate market is poised to reach $139.94 billion by 2024 as the demand for premium and seasonal chocolates grow. More consumers are turning to Premium brands like Valor Chocolates, whose dark chocolate and sugar-free alternatives offer better quality, innovations in packaging, usage as gifts and undeniable health benefits.
According to dietitian and consultant to Valor Chocolates Mayuri Bhawan, to understand the benefits of dark chocolate, one has to understand the 'bean to bar' process. "A majority of Premium chocolate bars are made from cacao beans, which are harvested, roasted and ground into a thick paste called cocoa liquor. This paste is hardened and pressurised to squeeze out the fat of the bean, which forms cocoa butter. Each of the ingredients is then used in various quantities to create a chocolate bar." The difference between milk chocolate and dark chocolate bars is the portion of cocoa used. Also, dark chocolate does not use milk as an ingredient.
The health benefits of dark chocolate are derived from its concentration of cocoa liquor. Typically, milk chocolate contains 10-12% cocoa liquor, while dark chocolate must contain no less than 35%. White chocolate does not contain any cocoa liquor – instead, it contains only cocoa butter, sweeteners and dairy ingredients. The higher the level of cocoa liquor, the darker the chocolate and the more health benefits it provides.
The cocoa bean contains several minerals necessary for vascular function, including dietary magnesium, potassium, calcium and copper. These all reduce the risk of hypertension and atherosclerosis. Dark chocolate (70 – 80% cocoa) provides up to 36mg of magnesium per 100kcal serving.
Magnesium is important for every organ in the body, especially the heart muscles and kidneys. It also contributes to the composition of teeth and bones and acts as a cofactor in hundreds of enzymes systems. This, in turn, contributes to energy production and DNA synthesis and helps regulate calcium levels, copper, zinc, potassium, vitamin D and other important nutrients in the body.
Mayuri continues, "The flavanols in dark chocolate can also stimulate the blood vessels to form nitric oxide, which helps relax blood vessels – this can lower blood pressure and improve blood flow, and, if the dark chocolate is of a percentage of 70% cacao or higher, it has also been scientifically proven to be an excellent source of antioxidants." Antioxidants play a role in combating oxidative stress which can lead to cell and tissue damage.
Comparatively important too, is the reduced amount of added sugar content in most dark chocolates, as many Premium brands use sweeteners like polyols, maltitol and sorbitol instead.
"Certain dark chocolates, such as Valor's sugar-free range, are made with sweeteners which can help you reduce your sugar intake while still enjoying the great taste of Premium chocolate," says Mayuri. "The quality of the ingredients used in making the chocolate also impacts how beneficial it is for you, plus the taste of dark chocolate will also help satisfy those cravings."
As with everything though, dark chocolate should still be consumed in moderation. "When it comes to diets, we should apply the 80/20 rule. Just because something has health benefits doesn't mean we should overindulge," asserts Mayuri. "80% of your meals should be healthy and balanced, but allow yourself 20% for the occasional treat."
By supplementing dark chocolate into your diet in moderation, you can enjoy an array of health benefits, rather than just a sugar spike. "Eating one or two blocks of Valor 70% dark chocolate as a post-dinner snack now and again is a perfect way to keep sugar intake low while still getting that sweet taste I know and love," she concludes.
Zippy Electrics
zippyelectrics.com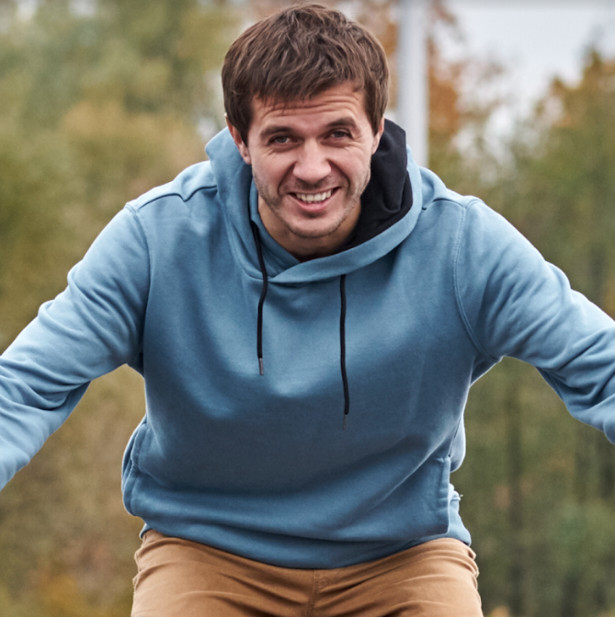 This three-ingredient choco coconut balls recipe is a favorite. All you need are 4.5 cups of coconut flakes, a 200 ml can of condensed milk, and 5 oz- melted semi-sweet chocolate.For the procedure, start by lightly pulsing coconut flakes in a food processor. Transfer to a bowl and add condensed milk. Mix well until combined. Refrigerate for 10 minutes. Make balls out of it and freeze for 10 minutes.While waiting for the coconut balls to cool, melt the chocolate. With the help of a fork, dip each ball into the chocolate. Let the excess drip and place again on the parchment paper. Refrigerate for half an hour before serving.
by Zippy Electrics zippyelectrics.com
World Chocolate Day

This is a sampling of information that Whats Cooking america have on chocolate to help you enjoy World Chocolate Day
Chocolate Glossary: whatscookingamerica.net/Chocolate-Glossary.htm
All chocolate is not created equal. When shopping for your chocolate look at the label to find the percent of cocoa butter contained in the bar. The cocoa butter is where all the flavor and texture is. The higher the percent, the better the chocolate.
Did you Know? Eating 2 ounces (50 grams) a day of plain chocolate with a minimum content of 70% chocolate solids can be beneficial to health, providing protection against heart disease, high blood pressure, and many other health hazards. Also essential trace elements and nutrients such as iron, calcium and potassium, and vitamins A. B1, C, D, and E. Plus it is a lot tastier than boring old vitamin pills too. A 1 1/2-ounce square of chocolate may have as many cancer-fighting antioxidants as a 5-ounce glass of red wine.
More about types of chocolate, measuring, chopping and storing chocolate – Check out our Chocolate Glossary: whatscookingamerica.net/Chocolate-Glossary.htm
RECIPE:
Here is a popular, easy and unique chocolate recipe: Chocolate Grape Truffles – whatscookingamerica.net/Candy/ChocGrapeTruffles.htm
You thought chocolate dipped strawberries were great, now you must try these Chocolate Covered Grape Truffles! These chocolate grape truffles will definitely make a speculator finish to any dinner party and great for serving at your wine tastings. I was surprised how easy and fast it was to make this recipe. These are so simple to make for guests – and you make them ahead of time. They were a big hit at a recent wine tasting. Give them a try!
www.whatscookingamerica.com
Trex's excellent recipes are perfect for World Chocolate Day
CHOCOLATE & PEAR UPSIDE-DOWN CAKE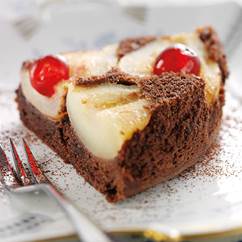 Serves 8, 40 minutes baking
Chocolate & Pear Upside-Down Cake
Ingredients
A little Trex, for greasing
5 tbsp Golden syrup
7 Glace cherries
410g Can of pear halves in natural juice, drained
150g Self-raising flour
20g Cocoa powder
¼ tsp Salt
150g Caster sugar
100g Trex, at room temperature
3 Large eggs
1 tsp Vanilla extract
Method
Preheat the oven to 180°C/fan oven 160°C/ Gas Mark 4. Lightly grease a round 23cm (9in) shallow cake tin with a little Trex.
Spoon the syrup into the cake tin, spreading it over the base. Place a cherry in the centre and arrange the pear halves, cut side down, in a fan around the central cherry. Place the other glace cherries among the pears.
Sift the flour, cocoa powder and salt into a mixing bowl. Add the sugar, Trex, unbeaten eggs and vanilla extract. Use a wooden spoon to beat the mixture together until smooth and creamy – this will only take 1-2 minutes.
Spoon the mixture into the cake tin and spread it out carefully to cover the fruit. Transfer to the oven and bake for 35-40 minutes.
Cool the cake in the tin for 10 minutes, then run a knife around the edge to loosen the edges. Place a large plate on top of the tin, invert quickly and lift the tin away. Cool completely.
Recipe by Trex
CHOCOLATE ÉCLAIRS & PROFITEROLES
Serves 12, 20 minutes baking
Chocolate Éclairs & Profiteroles
Ingredients
A little Trex, for greasing
65g Plain flour
Pinch of salt
150ml Water
50g Trex, at room temperature
2 Large eggs, beaten
200ml Double or whipping cream
75g Plain chocolate, broken into pieces
Method
Preheat the oven to 200°C/fan oven 180°C/Gas Mark 6. Lightly grease 2 baking trays with a little Trex. Sift the flour and salt onto a plate.
Put the water and Trex into a saucepan. Heat gently, so that the Trex melts, then bring up to the boil. Remove from the heat, then immediately add all the flour, beating vigorously with a wooden spoon so that the mixture forms a soft ball. Cook over a low heat for about 30 seconds. Cool for 5 minutes.
Gradually add the beaten eggs to the flour mixture using either a hand-held electric mixer or a wooden spoon, beating well between each addition. The mixture should be very smooth, shiny and thick.
Spoon the mixture into a large piping bag fitted with a plain nozzle. For eclairs, pipe twelve 10cm (4in) lengths on the baking sheets, allowing room for them to spread and rise. For profiteroles, pipe about 30 balls instead.
Bake for 10 minutes, and then open the oven door slightly for just 2 seconds to allow the steam to escape. Bake for a further 5-10 minutes until the pastry is golden brown and crisp.
Remove from the oven and split each éclair lengthways or stab each profiterole with a sharp knife to let the steam escape. Transfer to a wire rack to cool completely.
Fill the eclairs or profiteroles with whipped cream. Melt the chocolate in a bowl placed over a saucepan of simmering water. Dip the tops of the eclairs or profiteroles in the chocolate or spread it over them with a palette knife. Keep chilled.
Recipe by Trex
CHOCOLATE CHIP COOKIES
Serves 20, 8 minutes baking
Chocolate Chip Cookies
Ingredients
A little Trex, for greasing
100g Self-raising flour
¼ tsp Salt
25g Ground rice or semolina
100g Golden caster sugar
100g Porridge oats
4 level tbsp Golden syrup
100g Trex
½ level tsp Bicarbonate of soda
2 tsp Milk
75g Chocolate chips (milk, plain or white)
Method
Preheat the oven to 190°C/fan oven 170°C/ Gas Mark 5. Lightly grease 2 baking sheets with a little Trex.
Sift the flour and salt into a mixing bowl, then stir in the ground rice or semolina, caster sugar and porridge oats.
Melt the golden syrup and Trex over a medium heat, taking care that it doesn't get too hot. Pour into the mixing bowl and stir well to combine with the dry ingredients.
Dissolve the bicarbonate of soda in the milk and stir into the biscuit mixture, then add half the chocolate chips and stir them in.
Form half the mixture into 10 balls, placing 5 onto each baking sheet, well spaced apart. Flatten the balls slightly and scatter half the remaining chocolate chips over them, pressing them lightly into the biscuit dough.
Bake for about 6-8 minutes until golden brown. Cool for a few minutes, then ease them off the baking sheets whilst still warm and cool completely on a wire rack.
Make a second batch of cookies with the remaining dough.
Recipe by Trex
CHOCOLATE BROWNIES
Serves 9, 40 minutes baking
Chocolate Brownies
Ingredients
A little Trex, for greasing
100g Trex
100g Butter, cut into pieces
350g Plain chocolate, broken into pieces
3 Large eggs
250g Light muscovado sugar
75g Plain flour
1 tsp Baking powder
Method
Pre-heat the oven to 170°C/fan oven 150°C/ Gas Mark 3. Grease a 23cm (9 inch) shallow square cake tin with a little Trex.
Put the pieces of Trex, butter and chocolate into a large saucepan and heat gently, stirring with a wooden spoon until melted, taking care that the mixture doesn't get too hot. Remove from the heat and cool for a few minutes.
Whilst the chocolate mixture is cooling, whisk the eggs and sugar together in a large bowl using a hand-held electric mixer. Add the melted chocolate mixture, stirring it in with a large metal spoon. Sift in the flour and baking powder and fold it in gently.
Tip the mixture into the prepared tin. Bake for 35-40 minutes until firm. Test that the cake is cooked by inserting a fine skewer into the middle – there should be a few crumbs sticking to the skewer. Place the tin on a wire rack and cool for an hour, then cut the brownies into squares, remove from the tin and cool completely on the rack.
Recipe by Trex
CHOCOLATE CHERRY SWISS ROLL
Serves 8, 10 minutes baking
Chocolate Cherry Swiss Roll
Ingredients
A little Trex, for greasing
45g Trex
65g Plain flour
Pinch salt
15g Cocoa powder
3 Large eggs
75g Dark or light muscovado sugar
Method
Preheat the oven to 200°C/fan oven 180°C/ Gas Mark 6. Grease a 30x23cm (12x9in) Swiss roll tin with a little Trex. Line with non-stick baking parchment.
Melt the Trex in a saucepan, then remove from the heat. Sift the flour, salt and cocoa powder into a bowl.
Break the eggs into a separate large mixing bowl and add the sugar. Use a hand-held electric mixer to whisk them together until very light and mousse-like. This will take about 5 minutes.
Add the flour mixture and fold it in very gently, using a large metal spoon. Do this carefully to retain the air that has been whisked in. Next, fold in the melted Trex.
Tip the mixture into the prepared tin and level the surface. (Do this as quickly as possible). Bake for 8-10 minutes, until the top springs back when touched lightly.
Put a large sheet of non-stick baking parchment onto a work surface and turn the cooked cake onto it whilst still warm, so that it is upside down. Carefully peel off the lining paper. Roll up the cake, along with the fresh piece of baking parchment, from the short end. Leave to cool completely.
To decorate, unroll the cake and spread the cherry conserve over the surface. Whip the cream and spread it evenly on top, then roll up carefully and place on a serving plate. Sift a little icing sugar and cocoa powder on top, then serve.
Recipe by Trex
BANANA MALTESER MUFFINS
Serves 8, 25 minutes baking
Banana Malteser Muffins
Ingredients
200g Plain flour
2 tsp Baking powder
50g Trex
100g Caster sugar
1 Large egg
1 tsp Vanilla extract
1 Large banana, mashed
100ml Milk
50g Maltesers, roughly chopped
Topping
100g Butter, at room temperature
100g Light muscovado sugar
100g Icing sugar
Dried banana chips and Maltesers, to decorate
Method
Preheat the oven to 200°C/fan oven 180°C/Gas Mark 6. Place eight paper muffin cases into a muffin tray, or line with squares of greaseproof paper.
Sift the flour and baking powder into a mixing bowl, then rub in the Trex with your fingertips. Stir in the sugar.
In a jug, beat together the egg, vanilla extract, banana and milk. Add to the dry ingredients with the chopped Maltesers and stir until just combined. Do not over-mix.
Spoon the mixture into the paper cases and transfer to the oven. Bake for 20-25 minutes until risen and golden. Cool on a wire rack.
For the topping, beat together the butter, muscovado sugar and icing sugar until smooth and creamy. Swirl an equal amount on top of each muffin, then decorate with banana chips and Maltesers.
Recipe by Trex
½ cup cocoa powder
SUPPLIES
Muffin Tin & Liners
Mixing Bowl
Mixing Whisk
Wooden or Silicone Baking Spoon
1 Toothpick
INSTRUCTIONS
Preheat the oven to 375 F.
Set out muffin tin, and add muffin liners to each well.
Add egg to a mixing bowl and scramble it completely. Stir in the milk and oil until fully combined. Set aside.
In a separate mixing bowl, add the flour, sugar, baking powder, salt, and cocoa. Stir until well mixed.
Slowly pour the mixed wet ingredients, adding them into the mixing bowl with the dry ingredients. Stir constantly with a wooden spoon while pouring and until the mixture has few small lumps remaining. This is your batter.
Pour or spoon the batter into the wells on your muffin tin. Each well should receive ¼ to ½ cup of batter.
Bake for 18 minutes, or until done. Muffins are done when you can insert a toothpick into the center of the muffin and it comes out clean upon removal.
By David Lewis
Kitchen Ambition
www.kitchenambition.com