iXpand Wireless Charger More than just a charger. One-step charging and photo backup.
FACEBOOK | TWITTER | LINKEDIN | YOUTUBE
Your photos are precious but there is no easy way to backup these photos privately and automatically today. So we got to work!
Say hi to iXpand Wireless Charger, the world's first wireless charger with automatic photo backup. Just place your wireless charging enabled phone on the base to charge and backup your photos, videos and contacts.
It's simple. Wake up every day to a phone fully charged and photos fully backed up.
Fast charging for Qi-compatible iPhone and Android phones 10W fast charging experience for Qi-compatible iPhones, Samsung™ and other Android smartphones.
Hassle Free Backup While You Charge Never worry about losing your photos. Automatically back up full-resolution photos and videos, and your contacts, just by placing your phone on the base. Please note that your first backup may take longer and a few extra sessions depending on the size of your photo gallery.
Free Up Space on Your Phone No more running out of memory! The iXpand™ Wireless Charger has an intuitive app that lets you confidently free up space on your phone, knowing your photos are backed up in full resolution. You can also easily restore your photos to your phone at any time.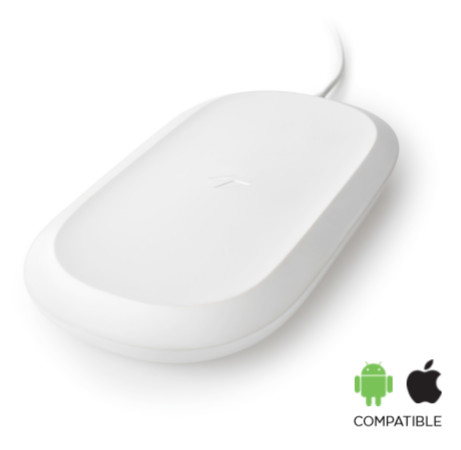 Comes with a High-Efficiency Power Plug Includes high-efficiency power plug with 6-foot (1.8m) cable for fast, convenient charging, right out of the box. You'll have everything you need to start charging and backing up right away.
Personal Backups for Everyone at Home The charger creates personal backup profiles for each user so you can share the charger with your whole family.
Phone Case friendly The iXpand™ Wireless Charger charges through your case (up to 3mm thick), so you can leave it on for hassle-free charging and backup.