Popular board game! "CONFIDENT?"! Check Out the Amazon Reviews!
The game was on tour to the Rugby World Cup this year too!
FACEBOOK | TWITTER | YOUTUBE | INSTAGRAM
Avoid the new cuff links or scarf this Christmas, and give someone the gift of hours of fun instead! CONFIDENT? is the perfect Christmas game as it can be enjoyed by the whole family. Everyone plays at the same time answering curious quiz questions, such as "what is the top speed of a kangaroo?". But instead of giving a specific answer, you answer with a RANGE! Everyone stands a chance as you only need to get the right answer in your range to win points. But, the smaller your range compared to everyone else, the more you score! Are you CONFIDENT enough to win? For 2 to 6 individual players, or team up for large groups.
You can see some of the amazing reviews on Amazon 🙂
A brilliant, funny new book that is perfect for men and women £9.99
I'M YOUR MAN
Letters of the World's Most Ambitious Job Applicant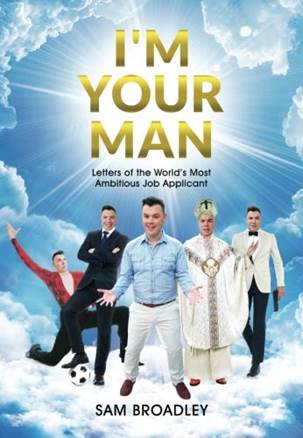 See more at :- bit.ly/ImYourManLetters
www.facebook.com/SamBroadleyImYourMan/
Prime Minister. Galactic Pilot. Strictly Head Judge. Formula One Racing Driver. Pope.
These are just a few of the many outrageously ambitious job vacancies that Sam Broadley applied to fill over the course of 17 years, from England Manager aged 19 to James Bond at 36.
He was successful in none of them.
Nor was he likely to be. After all, he's just a regular bloke… but with a sense of utter delusion that makes him believe that, by winning one of the very top jobs in society, he can, must and will change the world. Maybe even save it.
The letters are written at length and with the utmost seriousness, but littered with idiocy, stupendous over-confidence and absurd ideas of how Sam will overhaul the role and the organisation to take them beyond the stars.
And to add to the farce, the replies Sam receives are almost always exceptionally sensible – in complete contrast to the applications!
It is now available on Amazon in print and for Kindle. Sam also recorded an audio version, available on Audible, reading his own letters and achieving the coup of having Alan "Voice of the Balls" Dedicoat (National Lottery announcer, Strictly Announcer, former Radio 2 Newsreader) reading the replies.
Blushing Bride Box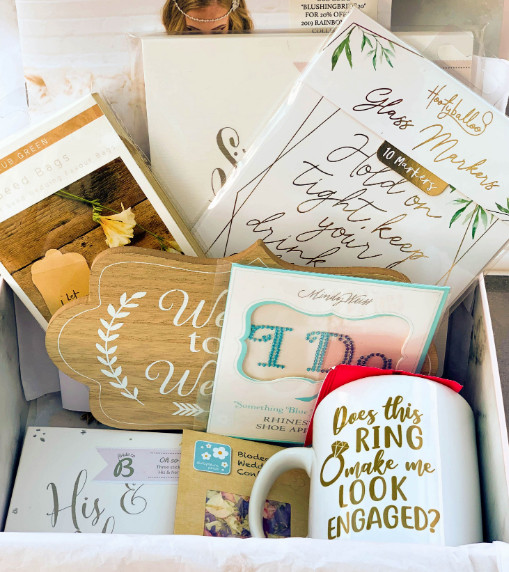 A beautiful monthly bridal subscription box featuring all the latest trends and must-haves – your wedding planner and best friend in a box. A one, three or six-month subscription would make the perfect gift for a friend or fiancé for Christmas.
One month £22.99
3-month subscription £64.99
6-month subscription £128.99
www.blushingbridebox.com/
Yeah Boo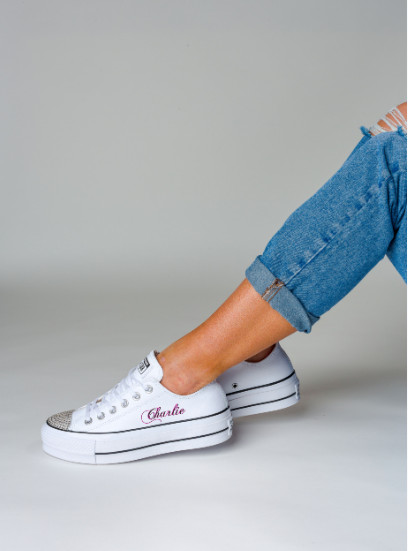 Unique, customised branded trainers make the perfect gift for any shoe fan. Wearing personalised sneakers will make you the talk of the town. Choose your favourite brand including Nike, Adidas, Converse, Superga and more, then customise them with text, a special date, monogram, Swarovski crystals, pearl embellishments, heel tags and ribbon laces.
yeahboo.co.uk/
PRESENT PAY-OUT: HOW SWITCHING BILL SUPPLIER CAN HELP YOU PAY FOR NEXT CHRISTMAS
Price comparison experts at uSwitch, explain how much you could save by simply switching bill supplier and save for Christmas 2020
According to the research, the savings from switching energy supplier could see you save up to £477 – equivilant to x17 Christmas meals for a family of 8 3 and switching broadband could save £193 – the same as x7 sets of Top Christmas Toy 2019, Bank Attack7
Quick pitch: Move over Christmas 2019, building societies are already telling us to start saving for Christmas 2020! With the average household forking out at least £500 on presents and celebrations, according to the Bank of England1, it's a good idea to think about how you can save the pennies without having to cut back on the turkey.
Quote from uSwitch: Rik Smith, energy expert at uSwitch, "Many people think that saving money literally means cutting back on everyday items – but it doesn't have to be like this. The biggest savings can often be unlocked by switching utilities and services. The average household could save nearly £1000 a year by switching to better deals, which could mean that Christmas is already covered for the next couple of years."
What switching could buy you:
Switching your energy provider
Between 1 Jan 2019 and 30 June 2019, at least 10% of people who switched energy supplier for both gas and electricity with uSwitch saved £477 or more. 2
Current great deals:
Cheapest on market: Utility Point Just Up 19 Wk49 Direct v2 -£837/year2
Cheapest Big Six: SSE Exclusive 1 Year Fixed v8 – £893/year2
Save up to £477 = x17 Christmas meals for a family of 8 3
Switching your broadband & home phone
Average out of contract costs for Big Four broadband providers is £491.91 per year compared to the cheapest on the market at £299.40 per year4
Current great deals:
Virgin Media 108Mb broadband + weekend calls £27/month5
Plusnet 66Mb broadband + £75 cashback £26.99/month6
Average saving of £193 = x7 sets of Top Christmas Toy 2019, Bank Attack7
Switching your mobile phone contract
Between 1 January 2019 and 30 June 2019, at least 50% of people who switched 24 month contracts on the most popular mobile devices with uSwitch saved up to £148 versus switching with the mobile phone networks directly8
Current great deals:
Samsung Galaxy S10 100GB data £33/month9
Apple iPhone 11 100GB data £39/month10
Save up to £148 = x4 Christmas trees11
Switching your current account
Many banks are offering introductory offers which can boost your savings.
Current great deals:
Nationwide is offering you and a friend £100 each if you refer a friend to switch to them12
First Direct is offering £50 for switching to them12
Santander is offering cashback on utility bills and council tax.12
Save up to £100 = x1 child's stocking 13
Savings per year = £918
Bank of England, 2019 – cited in This is Money 26/11/19
Between 1 Jan 2019 and 30 June 2019, people who switched energy supplier for both gas and electricity with uSwitch saved an average of £252, and at least 10% saved £477 or more.
Prices correct as at 4/12/19/ Assumes household with medium annual consumption on a dual-fuel tariff paying by monthly direct debit.
Good Housekeeping, 2018 – Christmas dinner for eight people costs £24.90/person
uSwitch data 2019
uSwitch data 2019
uSwitch data 2019
Bank Attack, Amazon, £21.50
uSwitch data 2019
uSwitch data 2019
uSwitch data 2019
Metro, 2018. Trees cost between £10 – £30.
uSwitch data, 2019
Average children's stocking fillers cost £71 Mail Online, 2019
The cost of the corporate Christmas: Brits spend £3.3 billion over the festive period on office treats
Office drink frequency increases 29% in the month of December in comparison to the rest of the year
Office gift buying tops £34 per person for white collar workers
Those who live in or closest to London spend the most on gifts for their workmates, while those who live in or closest to Newcastle spend the least
Tins of sweets, packets of biscuits, and post-work festive drinks, and other treats may be well-intended, but the average Brit ends up £169.74 worse off thanks to their office Christmas culture.
Research by Quidco.com has found that the average British white collar worker gets roped into spending £47.31 on pub visits for socials, buys £72.71 worth of sweets and biscuits, and spends £34.74 on gifts for their colleagues.
Males tend to be more likely to dig deep for colleagues, racking up a £243.13 bill over Christmas on job-related activities1, while females spend an average of £137.57 around Christmas on job-related activities.
The research surveyed 2,000 people up and down the UK, and found that those in or near London spent the most around Christmas on gifts for colleagues and workplace socials, while those near Newcastle parted with the least amount of money.
Chris Hutchings, CMO at Quidco, said, "Christmas is the official party season. A time for indulgence and letting off steam from the past year, so it's not surprising spend increases a bit – but £3.3 billion is a huge amount of money – and a lot more than we expected."
Gen X and Gen Z are the most frugal, clocking up bills of just £137.88 and £228.88 respectively, while Millennials are the most generous, splashing out £260.95 on work-related activities1.
Jack Daniel's Tennessee Whiskey: Legacy Edition II
The second in the Legacy Edition Series sees the bottle play homage to Jack Daniel's classic design. This year's bottle reflects the early 1900s design, including floral decorations and hand crafted typography. Legacy Edition II is the perfect gift for any Jack Daniel's aficionado or whiskey lover.
This collectable bottle has notes of ripe fruit with green apple and warm oak that finishes with a peppery spice. It's lasting legacy is one of toasted oak and warm brown sugar.
Where to buy it: Asda stores nationwide
RRP: £30
Chambord
Inspired by a luxurious raspberry liqueur that, according to legend, was produced for French royalty to commemorate their visits to the Loire Valley in the 17th century, Chambord liqueur is an infusion of the world's finest red and black raspberries, Madagascan vanilla and XO cognac.
Chambord is a perfect gift for an amateur mixologist, stocking filler, or to help add some flavour to cocktails this Christmas. We also have some recipes to accompany this product if you would like to see them?
Where to buy it: Major supermarkets nationwide
RRP: £6 at Tesco (normally £8 RRP)
BRING THE UNDERGROUND HOME THIS CHRISTMAS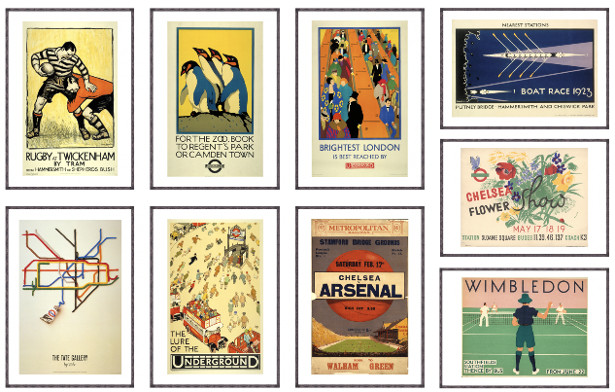 Whether you are looking to treat the art-lover in your life or your sports-fanatic friend this Christmas, London Transport Museum shop has you covered!
Home to a world famous collection of retro and vintage transport themed art, there is something for everyone.
Posters are available to print to order, and with a library of over 5,000 including first and limited editions.
Art available from London Transport Museum shop
Starting from £15
www.ltmuseumshop.co.uk
Christmas Isn't Always Ho Ho Ho | How To Support Someone Struggling This Christmas

www.notanotherbunchofflowers.com
Christmas is an incredibly difficult time for some. Images of the 'perfect Christmas' are everywhere – adverts, magazines and all over social media – and can be a painful reminder of the restrictions either physically or emotionally that this time of year brings for some.
This is something Anikka, founder of Not Another Bunch Of Flowers knows only too well, having been treated for cancer over the Christmas period.
'Living with cancer is hard,' says Anikka. 'It's relentless, exhausting and emotional and people forget that treatment drags on and on and takes its toll. And when you are unwell during the Christmas festivities these feelings can be amplified. The days are shorter and the nights longer, colder and darker. Suddenly everyone is out and about having fun, going shopping and having parties. Social media is flooded with images of everything you are missing out on and you can end up feeling even more isolated. There is also that unspeakable question, could this be my last Christmas?'
But knowing that you are loved and supported can really help.
Anikka's cancer diagnosis inspired her to set up Not Another Bunch Of Flowers – a gift site that specialises in thoughtful gifts and cards for people going through difficult times.
Anikka has provided some tips to help you buy a suitable and meaningful gift for someone struggling this Christmas, whether it is simply a difficult time of year having lost someone dear to them, if they are suffering from a serious illness, are going through a nasty divorce or are simply under the weather
Flowers
Flowers are lovely, but tend to be the first thing that people think of when someone is sick, so the result can often be an overwhelming number. Why not send a thoughtful gift that will stand out from all of the flowers and last longer?
Practical gifts are greatly appreciated…
A care package full of useful items is always a hit!
…as are little treats
Treats to lift the spirits will also go down well. We may spend more time cozied up at home as we recover from surgery, our latest treatment session or are feeling sad or depressed, so comforting, cosy or pampering gifts are much appreciated. Think pretty lounge-wear, cosy hot water bottles, a natural bath oil, magazines, blankets, comfy bed socks and candles.
Avoid anything too clinical
Some gifts might appear to be really useful such as a thermometer, or a giant size tub of E45, but gifts that are too clinical only act to reaffirm that we are unwell. Something to take our minds off this and make us feel more 'normal' is much more appreciated.
Be aware of ingredients
Some cancer patients, for example, are advised to or opt to avoid certain ingredients. They may choose to cut sugar and/or dairy out of their diet, meaning edible treats such as cakes, chocolates and candy may go to waste. Similarly with pampering treats, many cancer patients prefer more natural toiletries that don't contain nasties such as parabens and SLS. They may also find strong fragrances nauseating and there are some essential oils that are best avoided during treatment. So if you are selecting some body and bath treats, natural and organic is probably best.
It is probably safer to avoid comedy gifts
OK, if you're very close to your friend, and you know for sure that they will find the gift funny, then go for it – anything to cheer us up is very welcome. However, if you're not sure, I would avoid it. You don't want to belittle their feelings with a gift that ends up upsetting them rather than making them laugh.
Be very careful with self-help books
There are thousands of self-help books out there and many offer conflicting advice and opinions, leading to feelings of confusion and fear. Others unfortunately do not have a happy ending. So, if you want to send your friend some helpful books, ensure the message is encouraging and positive and that they don't scaremonger. Most people are likely to have researched their own information including alternative and holistic therapies so respect their decisions and try not to interfere or comment on them.
Speak from the heart
When choosing the words to accompany your gift, speak from heart. Try to avoid meaningless clichés and platitudes such as 'you'll be fine' as it belittles our very real fears. We have some specific Christmas cards that recognise this year might be a struggle for some. Christmas may not be the most wonderful time of the year for your loved one, so make sure you acknowledge that.
Practical and emotional support is maybe the greatest gift of all
Living with a serious illness or depression is hard, it is relentless, exhausting and emotional. Giving a gift does not have to cost the earth, it could be a matter of giving your time. Anything from helping with the school run, walking the dog, offering a lift to hospital to simply offering a sympathetic ear and a shoulder to cry on may be the greatest gift you could give someone this Christmas.
Curl chemistry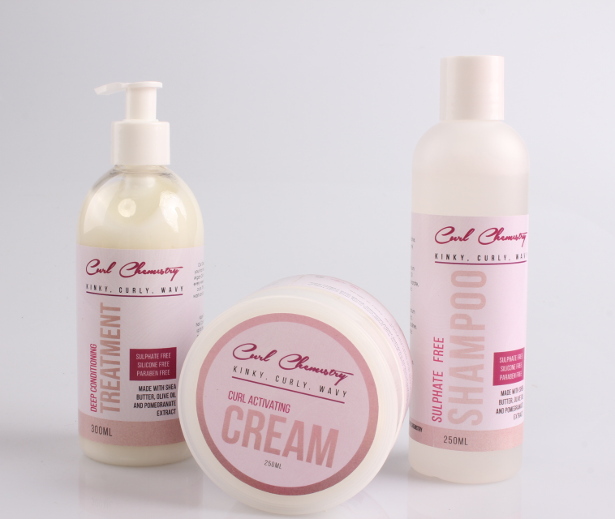 Curl Chemistry will most certainly be joining in on the Christmas feels by having specials and activations in December. They plan on having a Christmas special on their combo sets online and they also plan to target areas in cape Town by selling directly to customers. Keep an eye open for these awesome deals and activities around the Cape!
Please see curl Chemistry's combo's that will be discounted (attached). The special will be on any 3-piece combo. Buy a combo and receive a 100ml.
www.curlchemistry.co.za
www.instagram.com/curlchemistry/
Gold Reef City is rolling out the red carpet!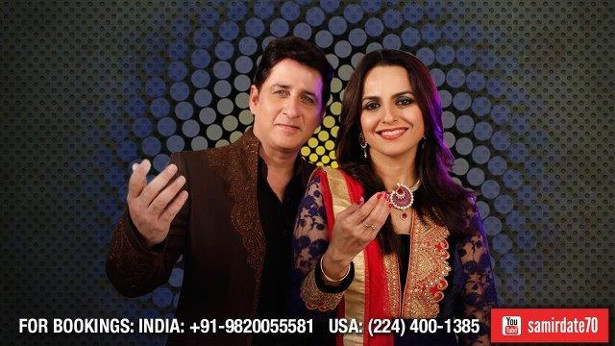 SA's most loved local entertainment spot, Gold Reef City (https://www.tsogosun.com/gold-reef-city-casino), is living up to its reputation with an entertainment line-up that will light up your festive season! From some of the best golden oldies to some of the most memorable lyrics and songs – all live on stage – you won't be disappointed!
Samir and Dipalee light up The Lyric
For the very first time on South African soil, The Lyric at Gold Reef City Casino proudly presents India`s favourite singing couple, Samir and Dipalee (https://www.tsogosun.com/gold-reef-city-casino/whats-on/samir-and-dipalee) – live in concert on Saturday, 7 December. This dynamic duo will be performing for one night only to raise funds for a noble cause. With over 500 international concerts accredited to their name since 2012, Samir and Dipalee promise to give you a night like no other! Tickets are selling from R160 to R1 200 – use your Rewards card to claim your discount. The concert starts at 19h00.
A trip down Bollywood lane!
Take a journey through each era of Bollywood through dance and fashion while paying tribute to the greatest songs and most iconic scenes of all time! The spectacular 106 Years Of Bollywood (https://www.tsogosun.com/gold-reef-city-casino/whats-on/106-years-of-bollywood) is a dance extravaganza that showcases songs from the beginning of time in Bollywood till now! Sing along and enjoy a blast from the past on Saturday, 7 and Sunday, 8 December in the Bullion Room. The Saturday show starts at 18h00 and continues to early hours of the morning. The Sunday show is from 15h00 to 17h30 – tickets start at R150 per person. Don't forget to use your Rewards card to get your discount!
Boity to headline the 2019 Queens of Mzansi beauty pageant!
Queens of Mzansi Beauty Pageant (https://www.tsogosun.com/gold-reef-city-casino/whats-on/queens-of-mzansi-beauty-pageant) is not to be missed with presenter and rapper, Boity, as the headline act and reality star and DJ, Pinky Girl, as MC. Other acts include Wesley Million Dollars and Idols 2016 Top 5, Bevin Samuels but the main act is of course the 16 contestants from all over South Africa battling it out for cash prizes to the value of R20 000 and the chance to be the 'Queen of Mzansi'. Don't miss out on the 4th annual Queens of Mzansi Beauty Pageant which includes the ladies strutting their stuff in swimwear and evening wear with dancing and performances in between on Saturday, 14 December at The Lyric Theatre. Doors open at 17h30, the show starts at 18h00. Tickets are selling from R170 – R220 per person. Don't forget to use your Rewards card!
Seussical magic on the cards!
You've loved the Cat in the Hat, Horton the Elephant, the Grinch and the Who's. Now, meet Jojo: one kid with an unstoppable imagination, who brings together all your favourite characters from acclaimed family author, Dr. Seuss in a big musical adventure like you've never seen before! From Friday, 20 December, the colourful world of Dr. Seuss takes over the Lyric theatre with Seussical (https://www.tsogosun.com/gold-reef-city-casino/whats-on/theatre/seussical). With tickets at only R100 and a stage time of just over an hour, Seussical is suitable for the whole family ages four and up! Remember that Rewards members enjoy up to 20% off the full ticket price!
Big Banger – Skhumba
With all the ups and downs, the highs and lows of 2019, Big Banger Comedy (https://www.tsogosun.com/gold-reef-city-casino/whats-on/theatre/xmas-laughs) is bringing the 2019 edition of the Annual Xmas Laughs hosted by Skhumba. Skhumba will be sharing some of the highlights of the year at The Lyric for one night only on Monday, 23 December. This year`s line will be nothing short of crazy fun when Skhumba and his comic friends rip the crowd with endless laughter. Nothing will be off limits when it comes to Skhumba`s comedy set, and he will hold no punches. This show will be a celebration of comedy in all its forms and one that is not to be missed. To avoid any disappointment, get your tickets early because they are guaranteed to sell out fast!
For more information on what's happening at Gold Reef City Casino & Theme Park, visit www.tsogosun.com/gold-reef-city-casino
Get Social:
Follow us on Twitter @GoldReefCitySA or keep up to date with our news on Facebook @GoldReefCitySA #LoveGRC
CHRISTMAS READS


Looking for last-minute Christmas presents? Struggling to find a gift for someone who has everything?
A beautiful book from one of London's Cultural Organisations is sure to be the perfect gift for all.
The Perfect Gifts for this 2019 Holiday Season
With the holiday season well underway, complete your gift shopping for everyone on your list with these fashion brands, inspirational reads and gourmet goodies. Family, friends and significant others can revel in the finer pleasures that bring joy, happiness and personal growth this holiday season and beyond.
For a gift that truly amazes, these exclusive finds are everything your loved ones will adore.
For the World Traveler
T. Anthony
T. Anthony Luggage Sets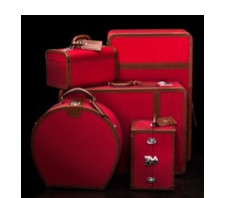 For the frequent traveler, T. Anthony's unique and elegant luggage is a must-have. Launched in 1946, Theodore Anthony's stylish and durable luxury luggage quickly became the travel companion of choice for British and Hollywood royalty, not to mention American Presidents. The luggage of choice for elite globetrotters today, T. Anthony continues to craft its suitcases with hardwood frames and solid brass hardware, as well as soft-shelled canvas and leather options.
T. Anthony continues to remain true to the standards that have carried them into the 21st Century. As an American luxury goods house, their use of the finest leather and materials creates a unique and elegant product offering; one that is accompanied by innovative designs made by highly skilled craftsmen. The end result is a product with the look and feel of pure luxury. The high end luggage line includes a wide range of classic duffle bags, totes, suitcases, garment bags and accessories.
T. Anthony New York, 445 Park Avenue, New York, NY 10022
For more information about T. Anthony, please visit: www.tanthony.com.
Facebook & Instagram: @TAnthonyLTD
For the Chocolate Lover
MarieBelle Chocolates
In New York's famous Soho District is the world-renowned, luxurious bean-to-bar chocolate company, MarieBelle Chocolates. This holiday season, the flagship retail location at 484 Broome Street offers patrons a sumptuous shopping experience for the eyes and appetite with lavish window displays which aim to warm the heart. The perfect gift, MarieBelle Chocolates are artfully wrapped in luxury boxes with colorful ribbons. Relish in the sweetest gift for any occasion, available in-store or delivered same day anywhere in the Manhattan area.
Crafted with the finest single-origin chocolate and eclectic ingredients, using artisanal techniques are MarieBelle's signature Ganache. The Holiday Ganache Collection this year is MarieBelle's Once Upon A Time Collection. The charming boxes are available in 4, 6, 9, 16, 25, 36 and an astonishing 100-piece boxes The signature ganache collections also include the New York set, River of Diamonds set, and other special totes, party favors and a limited-edition Ganache Cake using 65% dark chocolate.
Returning this holiday season is The Nutcracker Box. Showcasing the theme of the one of the most iconic tales, the holiday gift set is elegantly designed to include delicious sweets including: 16-piece MarieBelle Signature Ganache, six-ounce tin of Aztec Hot Chocolate, 125 grams of Pistachio Toffee, 180-gram Dark Chocolate Bar and a cylinder of Dark Chocolate Covered Almonds. More book gift sets offer candy confections in the Luxury, Elegant and Classic styles.
MarieBelle New York (Soho), 484 Broome Street, New York, NY 10013
MarieBelle at the Kitano Hotel (Midtown), 66 Park Avenue, New York, NY 10016
For more information about MarieBelle Chocolates, visit www.mariebelle.com.
Facebook: MarieBelleNewYork | Twitter: @MarieBelleNY | Instagram: MarieBelleNY
For the Wine & Cocktail Connoisseur
Macchu Pisco
Surprise your loved ones with a bottle of the finest Peruvian Pisco. Macchu Pisco was founded by philanthropist Lizzie Asher and her sister Melanie. Together the two have crafted an entirely new experience for discerning drinkers when they introduced the sublime spirit of Peru to the United States, Europe and beyond. While the sisters certainly cast a reverent eye toward tradition, Macchu Pisco is singular in its modern purity and complexity, and has been regarded as nothing less than revelatory by craft mixologists searching to concoct utterly novel drinking experiences. Macchu Pisco is currently available online and can be found at the finest restaurants and retailers around the world.
Macchu Pisco is a premium line made 100% from the quebranta grape. It is produced all naturally so, innately, it's "all the highs without the lows." Characterized by herbal, grassy and earthy notes, it rests for 1 year before being bottled at the estate.
For more information about Macchu Pisco, please visit: www.macchupisco.com
Facebook: MacchuPiscoDrinks | Twitter: @MacchuPisco | Instagram: @Macchu_Pisco
Chianti Classico Riserva 2013
Hailing from the magnificent 15th century estate in the heart of Tuscany, which was originally built for Niccolò Machiavelli, Villa Mangiacane's wine collection never ceases to impress. Blended from an exceptional selection of hand-picked Sangiovese grapes and aged for 18 months in French oak barriques, the estate's Chianti Classico Riserva 2013 recently scored 91 points with the British magazine Decanter, in its panel tasting of 159 Chianti Classico wines from the 2013 and 2014 vintages. "A light dusting of lavender-covered cherry fruit pairs with a creamy spice note on the nose. Underneath there's a dark chocolate character that's vivid and deep. A showy, entertaining style with length and complexity."
By popular demand, the 2013 vintage has been re-released for the festive season. Best enjoyed in good company, a taste of Italy awaits with every sip of this exceptional wine.
For more information about Chianti Classico Riserva 2013, visit www.mangiacane.com
Those interested in purchasing the wines can email winesales@mangiacane.com
F: Mangiacane | I : @mangiacane | T: @VillaMangiacane
For the Stylish
Image result for harrys of london logo
Contemporary Footwear
Give the ultimate style gift this season – a gift voucher for Harrys of London. Synonymous with innovative design, high quality manufacturing and modern style, Harrys of London is a quintessentially British contemporary brand. When the iconic brand was conceived in London in 2001 by Matthew Mellon, the purpose was to create 'shoes that feel like sneakers', and the business defined a new category.
The Harrys of London concept started with the elegant, sporty lines and unique sole of the popular DOWNING loafer, followed by the soft, unstructured Basel moccasin. These styles which we now refer to as 'the iconics' were instantly popular and became the benchmark for everything that followed. Today the brand continues to deliver the ultimate wearing experience for men who do not wish to sacrifice style for comfort and vice versa.
NEW WOMENS FOOTWEAR
New this season, Harrys of London is introducing Harrys For Her, the new women's shoe line. Just like the men's shoes, Harrys For Her are made with Harrys of London signature Technogel innersole, which is covered in gel-filled capsules that mold to the shape of your foot, reliving pressure and providing a one-of-a-kind fit.
Harrys of London, 463 Park Avenue, New York City, New York 10022
For more information about Harrys of London, please visit www.harrysoflondon.com.
Facebook: HarrysofLondonOfficial | Instagram & Twitter: @HarrysofLondon
Bespoke Menswear
Richard James Savile Row opened its American flagship store in New York, located in a landmark building at the corner of Park Avenue and 57th street. The 2,260 sq. ft. interior has been designed by Andy Martin Architecture, which also designed the house's original flagship London store on famed Savile Row.
Established in 1992 by Richard James and Sean Dixon, Richard James quickly established a reputation for itself as a leading luxury brand that has set the standard for contemporary tailoring and menswear. In the last 25 years, the label has achieved international commercial and editorial success, whist retaining its cult status among the fashion, pop and film cognoscenti. Vibrant color, clever cut and offbeat combinations set the Richard James collections apart from other menswear designers. The collection is carried by leading retailers around the world, including Barneys New York, Harrods, and Mr. Porter, among other leading retailers globally.
Richard James, 461 Park Avenue, New York, NY 10022
For more information about Richard James, please visit: www.richard-james.com.
F: Richard.James.Savile.Row | I: @richardjamesofficial | T: @richardjamesrow
For the Beauty Conscious
The Flex Brush and Spray
The Ultimate Detangling Duo for Wet & Dry Hair
The ideal gift for everyone on your holiday shopping list is The Flex Brush™, the ultimate detangling brush. With an incredibly versatile design, The Flex Brush™ is great for aging hair, thin or fine hair, sensitive scalps, children's hair, thick or coarse hair, men's hair and hair extensions. The Flex Brush™ acts as a detangler that can be used to blow dry and style hair, and keeps hair healthy by decreasing damage with its gentle bristles and flexible spine.
To avoid damaging hair during daily brushing and styling, celebrity hair stylist Angelo David, owner Angelo David Salon in New York City, partnered with hair-tool veteran Jacob Guttman, founder and CEO of Creative Pro Hair tools, to create The Flex Brush™. Unlike most conventional hair brushes, the spine of The Flex Brush™ moves forward and back, and side to side. As you brush your hair, it will move with the curvature of your scalp. This helps it naturally detangle the hair and work with it, rather than against it. To compliment The Flex Brush™, they also developed Flex Spray–a revolutionary leave-in conditioner that increases the hair's flexibility in order to decrease damage while styling and detangling.
The "Flex" duo detangles safely, massages the scalp and promotes healthy hair and hair growth. The brush's versatility combined with its flex technology make it the most versatile brush on the market.
To order yours or to purchase it as a gift, visit www.theflexbrush.com
Angelo David Salon is located at 420 Madison Avenue, 2nd Floor, New York, NY 10017
For more information about The Flex BrushTM, please visit: www.theflexbrush.com
Facebook & Instagram: @TheFlexBrush
For the Bookworm – New Paperback Editions
Manners That Matter Most
By June Eding
Etiquette is one of the most valuable assets a person can have and adopting proper skills will be to your benefit this holiday season. Now in its third printing, Manners That Matter Most is finally available in a convenient paperback format so you can bring this valuable guide with you wherever you go.
Knowing how best to present yourself, and how to deal with others in a direct, effective manner, is paramount in all personal, professional, and social relationships. In Manners That Matter Most – the Easy Guide to Etiquette at Home and in the World – published by Hatherleigh Press, researched and written by June Eding, with a special foreword by Norah Lawlor – covers topics from introductions, greetings and thank-you's, to the etiquette of modern technology.
Manners That Matter Most, in its third printing, is available from Amazon.com & Barnes & Noble Bookstores in hardcover and paperback.
Facebook: HatherleighPress | Twitter: @HatherleighPr | Instagram: @HatherleighPr
Successful Philanthropy:
How to Make A Life by What You Give
By
Successful Philanthropy FRONT COVER
This inspirational read by author Jean Shafiroff—which is now available in paperback—encourages aspiring philanthropists to build the fulfillment of giving into their lives. Drawing from her experiences in philanthropy, the volunteer fundraiser, leader and spokesperson authored the practical guide to modern giving, Successful Philanthropy: How to Make A Life by What You Give to empower all individuals to get involved in the act of charitable giving.
This holiday season, learn to identify your passions and interests and discover how they can guide your philanthropic work. Find the best ways to choose a charity that will offer personal fulfillment while also making the best use of your contribution to the cause of your choice. Successful Philanthropy features a special introduction by Georgina Bloomberg, in addition to a foreword by Scott Elkins, US Campaign Director of the Margaret Thatcher Scholarship Trust at Oxford University and CEO of SE Advisors. Elkins salutes author Jean Shafiroff for encouraging others to "help bring about change," through the text and her philanthropic initiatives.
Successful Philanthropy: How to Make A Life by What You Give, in its second printing, is available in select bookstores and from Barnes & Noble & Amazon in hardcover and paperback.
For more information about Jean Shafiroff, please visit www.jeanshafiroff.com/author/
For the Courteous
Etiquette Guide with
Manor of Manners Founder Maryanne Parker
International business and social etiquette expert Maryanne Parker has been teaching the timeless practice of etiquette in the boardroom, ballroom and classroom for nearly a decade. She is the founder of Manor of Manners, an etiquette consulting business which provides its clients with the confidence, skills, self-awareness, and knowledge that will help equip them to reach their professional and personal goals, using proven methods for easy learning. Manor of Manners specializes in engaging public speaking arrangements, elite coaching and certification programs tailored to the client's needs. In addition, Maryanne is the author of two number one international bestselling books The Sharpest Soft Skill (about business etiquette) and Posh Overnight (about social etiquette). Both books are available on Amazon.com in paperback and Kindle editions.
This holiday season, Maryanne Parker is sharing her etiquette and manners expertise with: Luxury and International business etiquette Certification program – 3 days – Holiday special $5,500; Books – bundle – The Sharpest Soft Skill and Posh Overnight – $30.00, FREE shipping; Afternoon Tea – $125.00, including FREE copies The Sharpest Soft Skill and Posh Overnight.
For more information, please visit: www.manorofmanners.com
Facebook: ManorofManners | Twitter: @ManorofManners