ROYAL DOGS RELAXATION KIT – Quiet your wandering thoughts with this practical meditation kit. The Kit includes 30 exquisite illustrations, the meditation guide through coloring, a multi-color pencil and a sharpener. It's perfect for relaxing after a stressful day, in the waiting rooms, and during long airplane, train, or bus trips. Meditative coloring is an effective way to relieve stress. Using the multi-color pencil is the best tool for this type of meditation. The core of pencil has a combination of seven colors. When you draw with this pencil, the color changes and leaves a multi-color effect. This simple meditative technique can help you unwind and remind you of how awesome life is! It's a very effective relaxation tool! Anyone can do it, anywhere and anytime. ROYAL DOGS RELAXATION KIT is available to buy at: www.royaldogsgallery.com/kit
SAVE UP TO 35% WITH LAPTOPS DIRECT BOXING DAY SALES
www.laptopsdirect.co.uk
Make the most of huge savings on big brands this Boxing Day with Laptops Direct –
Grab savings on brands such as LG and Lenovo –
electriQ 27″ Full HD 1ms 144Hz FreeSync HDR Gaming Monitor
WAS £189.97, NOW £159.97, SAVE £30 (16%)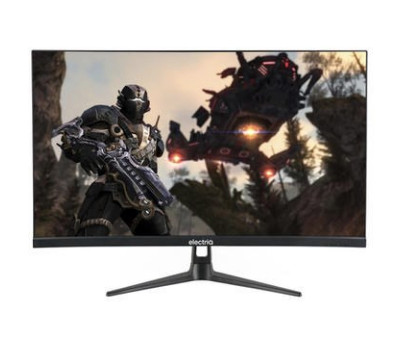 electriQ 27″ QHD 1440p 95Hz FreeSync HDR Monitor
WAS £269.98, NOW £174.97, SAVE £95.01 (35%)
LG 27UD59P 27″ IPS 4K UHD FreeSync Gaming Monitor
WAS £219.97, NOW £209.97, SAVE £10 (5%)
LG 27MK430H-B 27″ IPS Full HD 75Hz FreeSync Monitor
WAS £150.97, NOW £109.97, SAVE £41.00 (27%)
Lenovo ThinkVision T2224d 21.5″ IPS Full HD Monitor
WAS £129.97, NOW £89.97, SAVE £40.00 (31%)
SAVE UP TO 48% WITH APPLIANCES DIRECT BOXING DAY SALES
Make the most of huge savings on big brands this Boxing Day with Appliances Direct –
Grab savings on brands such as Samsung, Bosch and Hotpoint –
Samsung RS50N3513SA No Frost Side-by-side Fridge Freezer With Ice And Water Dispenser – Metal Graphite
WAS 1159.99, NOW £899.00 SAVE 260.99 (22.5%)
Bosch KSW30V81GB 120 Bottle Freestanding Wine Cooler Silver
WAS £949.00, NOW £729.00 SAVE £220.00 (23%)
iRobot ROOMBA616 Robot Vacuum Cleaner with Dirt Detect & Extended XLife Battery
WAS £400.00, NOW £179.97, SAVE £220.03 (45%)
electriQ Pet Robot Vacuum Cleaner with Wet Mop & WIFI Smart App & HEPA Filter
WAS £149.98, NOW £99.97, SAVE £50.01 (33%)
electriQ 100cm Dual Fuel Range Cooker – Black
WAS £749.97, NOW £549.97, SAVE £200 (27%)
electriQ 100cm Dual Fuel Range Cooker – Stainless Steel
WAS £749.97, NOW £549.97, SAVE £200 (27%)
Hotpoint OSD89EDE Electric Single Built-in Electric Oven in Black
WAS £705.85, NOW £399.00, SAVE £306.85 (43%)
Belling 444444070 Cookcentre 90DFT 90cm Dual Fuel Range Cooker Stainless steel
WAS £1,099.00, NOW £848.58, SAVE 250.02 (23%)
Samsung UE55RU7400 55″ 4K Ultra HD Smart HDR LED TV with Dynamic Crystal Colour
WAS £964.96, NOW £499.00, SAVE £465.97 (48%)
LG 55UM7510PLA 55″ 4K Ultra HD Smart HDR LED TV with Freeview HD and Freesat
WAS £799.96, NOW £484.97, SAVE £315.00 (39%)
SAVE UP TO 70% WITH BOXING DAY DEALS FROM BETTER BATHROOMS*
www.betterbathrooms.com
Customers can get an additional 20% off discounted prices with the code BATH20
Deals to go live Thursday 26th December 2019
Make the most of boxing day this year with some fantastic deals from Better Bathrooms. Why not splash out on some new pieces for your bathroom, ensuite or wet room whilst making some amazing savings not to be missed, there's something for everyone at Better Bathrooms this boxing day.
Lisbon double ended freestanding bath
RRP £999.97 | NOW £349.97 | SAVING £650 (65%)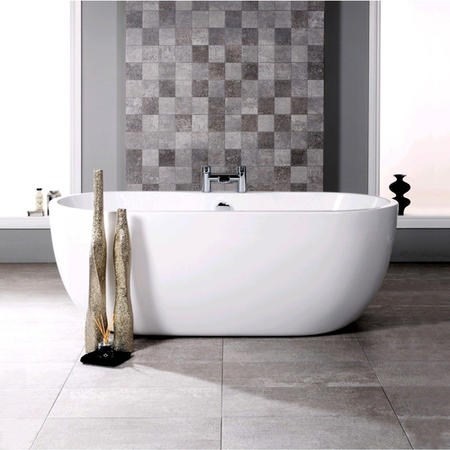 Brooklyn Space saver Right-Handed Bath
RRP £499.97 | NOW £269.97 | SAVING £230 46%
Left Hand Bath with Front Panel and Screen
RRP £149.97 | NOW £129.97 | SAVING £20 13%
Single Flat Panel Chrome Vertical Radiator
RRP £169.97 | NOW £109.97 | SAVING £60 (35%)
Traditional Bathroom Heated Towel Rail Radiator
RRP £169.97 | NOW £109.97 | SAVING £60 (35%)
Thermostatic Shower Tower Panel
RRP £179.97 | NOW £89.97 | SAVING £90 (50%)
Vas Traditional Triple Exposed Shower Valve with Luxury Rigid Riser Kit
RRP £199.97 | NOW £89.97 | SAVING £110 (55%)
ZANA Matt Black Square Mixer Shower Set
RRP £249.97 | NOW £149.97 | SAVING £100 (40%)
Freestanding Bath Shower Mixer Tap
RRP £199.97 | NOW £119.97 | SAVING £80 (41%)
Arissa Round Matt Black Basin Mixer Tap
RRP £69.97 | NOW £39.97 | SAVING £30 (43%)

Saving Family Dogs From Shelters: New Book, What About the Dog? Provides Dog Owners With a Much-Needed Safety Net
Available on amazon here >> www.amazon.com/What-About-Dog-Everything-Around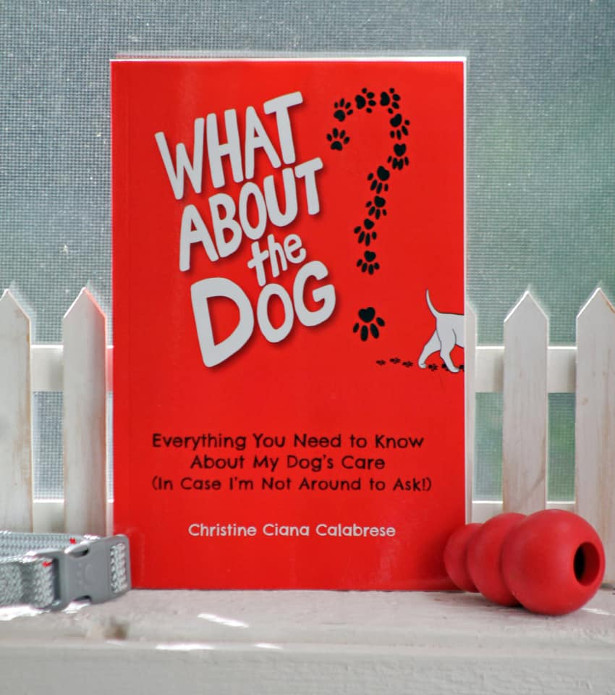 What About the Dog? Everything You Need to Know About My Dog's Care (In Case I'm Not Around to Ask!) intends to keep more dogs out of animal shelters by prompting a necessary dialogue between dog owners and their dog's potential future caregiver.
Christine Ciana Calabrese, author and professional petsitter, sets out on a mission to get dog owners talking about and planning for the unexpected. Part journal and part guide, What About The Dog? Everything You Need to Know About My Dog's Care (In Case I'm Not Around to Ask!) reminds its readers that 'animal shelters are filled with assumptions.'
"This journal really is a call to action," Calabrese explains. "I know far too many heartbreaking stories of people who passed away or became seriously ill and the people they 'assumed' would take their dog just didn't have the time, money or interest. Those dogs end up at overcrowded animal shelters as owner surrenders who are usually first in line to be euthanized."
What About The Dog?, available now on Amazon, intends to minimize the transitional stress for both dog owners and their dogs when the unexpected happens," Calabrese continues. "It's extremely unsettling for a dog to suddenly lose an owner. Their entire world turns upside down; its also chaotic for the people expected to take in an animal they either weren't anticipating and/or weren't adequately prepared to support. This journal promises to help make the transition easier for the dogs that are deeply loved by owners sharing details of each specific routine and habit. What About The Dog? is a solution that brings peace of mind for dog owners, should rehoming ever become necessary."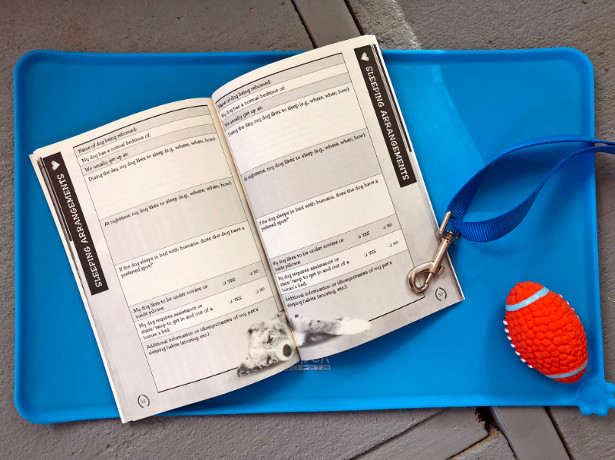 Leatherman engineers the next generation of small but mighty tools available at > www.whitbyandco.co.uk
"Absolutely delighted with my new Leatherman tool from Whitby & co, as a keen outdoors person and loving hiking and the woods, haveing this sturdy well made tool adds a little peace of mind should I need a particular tool ready to hand for opening a water bottle lid for example" InTouch Rugby Outdoors Editor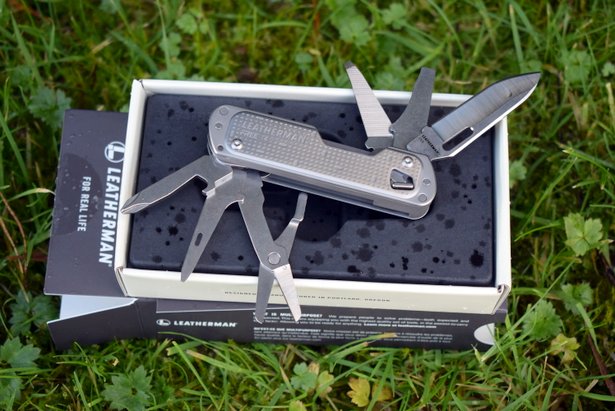 TWITTER | FACEBOOK | INSTAGRAM | YOUTUBE
Leatherman has announced the launch of the T-Series, a set of multi-purpose tools that are part of the premium Leatherman FREE Collection.
The T-Series follows the successful introduction of the innovative P-Series for pliers, and features first-of-its-kind magnetic technology, which is fully integrated into the design, making it easier for users to open, handle and close each tool.
A new locking system also helps to reduce the wear and tear of each tool and the addition of elastomer springs makes the T-Series the most durable in Leatherman's history.
Garry Woodhouse, sales and marketing director at Whitby & Co. – exclusive distributor of Leatherman in the UK for over 25 years – said: "We are thrilled to release this 21st century multi-purpose tool which includes two new styles. The Leatherman T-Series has been engineered to make every tool even easier to use.
"Cutting-edge magnetic architecture makes this series the easiest multi-purpose tools to open and close with no need for a nail nick. The smooth mechanism and distinctive solid click gives the user confidence that the tool is locked in place and ready for use."
The Leatherman T-Series is available in two styles: T2 and T4, both offering users a choice of 20 tools between the two styles, to suit their needs.
All of the tools made on the FREE platform include:
Access to all implements from the outside of the tool plus the elimination of a nail nick, which required a fingernail to deploy the tool.
A proprietary magnetic architecture which ensures smooth, frictionless deployment of the implements.
A new locking system which drastically reduces friction when opening and closing tools. The addition of new elastomer springs makes this collection the most durable Leatherman has ever produced.
Epic haptics that allow each tool to open and close seamlessly with a distinct click providing confirmation that the tool is open and ready for use.
Textured signature design to provide a distinct look and offer enhanced grip.
The T-Series features eight to 12 tools that pack into a convenient size, making it perfect for everyday use. At just 3.3 ounces, the T2 is the most compact offering from the FREE collection, fitting easily in the user's pocket or purse.
With all the assets of the T2, plus a scissors, tweezers, and a heavy duty fie, the T4 was designed with everyday problem solving in mind, making it one of Leatherman's most universal tool to date.
Garry added: "Fans of Leatherman will be really impressed by this use of cutting-edge engineering technology which creates tools that are packed with new features, putting a toolbox full of functionality in the palm of their hand.
"Regardless of who our audience is or what they do, we're committed to providing high-quality, multi-purpose tools that our existing and new fans can always rely on."
The Leatherman T-Series Collection is now available to buy at www.leatherman.co.uk. Prices start at SRP £49.95.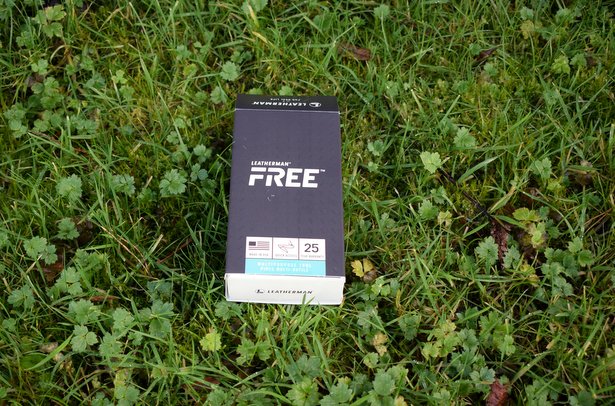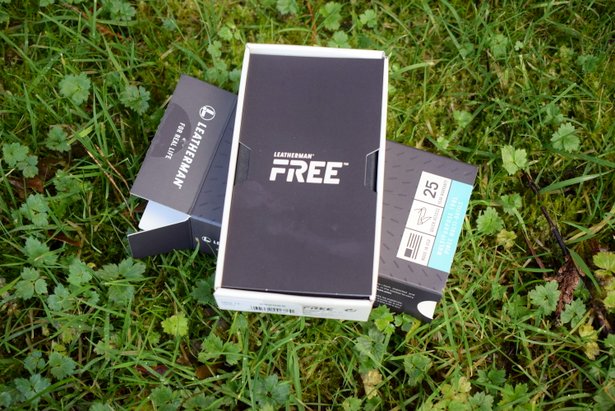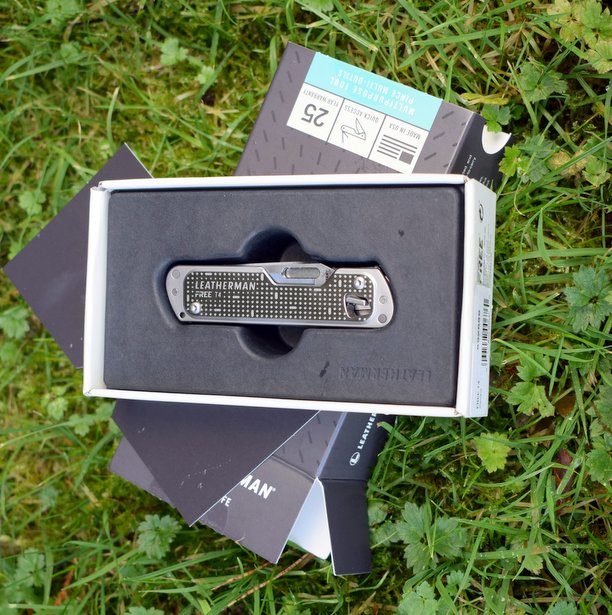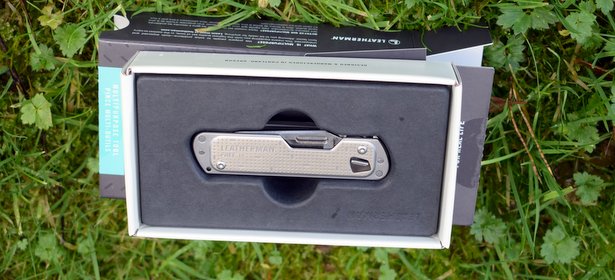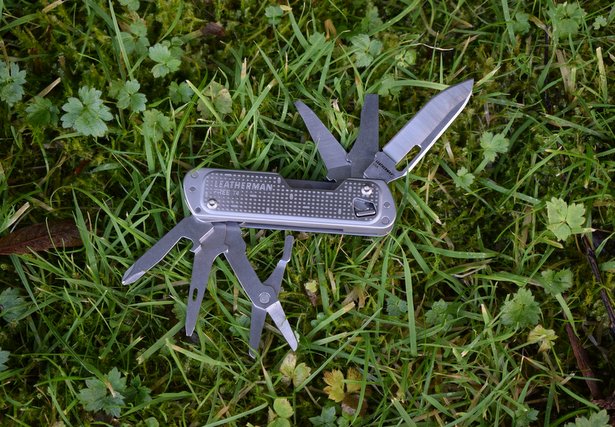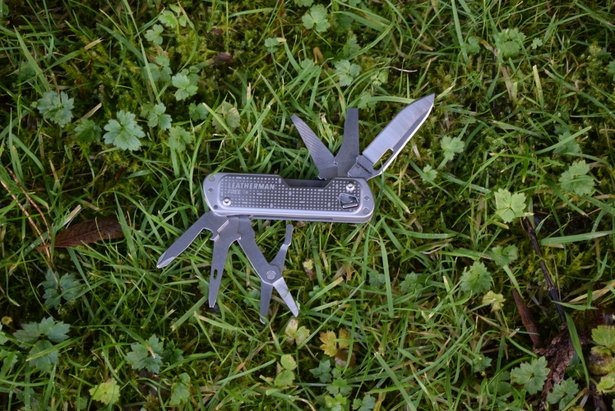 FESTIVE FEAST: NATURAL INSTINCT LAUNCH NEW CHRISTMAS DINNER FOR DOGS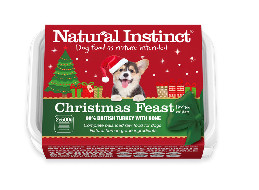 As we all tuck into our roast dinners this Christmas day, the raw pet food experts at Natural Instinst have unveiled a limited-edition Christmas dinner for deserving dogs, allowing them to sample the delights of a traditional turkey meal, with all the trimmings.
Containing 80% British turkey with bone, these additional trimmings contribute to the delicious natural flavours but also help provide all the essential nutrients, minerals and vitamins for optimum dog health.
Suitable for all breeds, the 'festive feast' is available in two pack size varients:
x2 500g meals (£4.70)
1kg meal (£4.20)
The Christmas-themed dogs dinner is available to purchase online at www.naturalinstinct.com from the 15th November.
A spokesperson from Natural Instinct said: "We are very excited for the return of our Christmas Feast this year! Our customers often feedback on the positive changes seen in their pets since transitioning to the Natural Instinct diet; including a shiny coat, healthy skin and stronger bones. We truly believe that this is the best gift for your pet this Christmas!"
NewRoad Foods: newroadfoods.com
PROTEIN CHIPS |
HUMAN GRADE DOG FOOD
CHICKEN WITH ORGANIC COCONUT OIL $12
Oxyfresh Pets: oxyfresh.com/
Pet Deodorizer is great for all pets – the cuddle puppies, comical cats, birds of a feather, snuggle bunnies and more! Don't let bad smells take over. Instead, you can have peace of mind using Oxyfresh Pet Deodorizer that will keep you and your pets safe while effectively combating pet odors. Learn more about Pet Deodorizer: https://shop.oxyfresh.com/products/pet-deodorizer/.
Bow Wow Labs Bully Buddy – bowwowlabs.com/
Give the Gift of Safety with Bully Buddy!
This year, give the gift of safety with Bully Buddy! Dogs can now enjoy a custom size bully stick without the hazard of choking thanks to this one-of-a-kind device. Bow Wow Labs, Inc., the makers of innovative products to help keep dogs safe and healthy, launched their company in November 2018 with the Bully Buddy and their line of premium Bully Sticks. This safety first product pair has become very popular among pet parents.
Bully sticks make for a fun and beneficial treat for dogs because they encourage your pup's natural instinct to chew. The Bully Buddy is a durable, easy-to-use, veterinarian-vetted, and dog-approved device that tightly secures bully sticks, preventing dogs from choking on the tail-end of the treat. The screw twist technology keeps bully sticks secure, and dogs can really appreciate this feature as opposed to working their paws to keep a loose bully stick in place. It's a light-weight device and is BPA free and dishwasher safe. Bully Buddies are available in five sizes.
Bow Wow Lab's healthy and nutritious Bully Sticks are hand sorted to fit each size of Bully Buddy. They're low-odor and are sustain-ably sourced from free-range, grass-fed cattle that are 100% hormone free, and never treated with chemicals. The Bully Buddy and Bully Sticks are a "paw-fect" match, so be sure check out the Starter Kit for the ultimate dog-loving gift.
Starting at $33.13, the Starter Kit includes a Bully Buddy (choose the right size based on the dog's weight), one pack of (5) Bow Wow Labs premium, hand-selected 6-inch bully sticks that match your size Bully Buddy, and one sealable stay-fresh jar. Both dog and owner will love and appreciate the many benefits and safety features that the Bully Buddy and Bully Sticks from Bow Wow Labs provide to our most precious companions. Cheers to safer snacking this holiday season! Learn more and order yours today! https://bowwowlabs.com/products/bully-buddy-starter-kit?variant=29600217858113
Puppy Mama new Book "Raising a Doodle" – puppymama.com/products/raising-a-doodle
Raising a Doodle shares practical tips and tools about:
· How to survive crate and potty training
· Stages of doodle development
· Speaking your pup's language
· Socialization and training tips for older dogs
www.k-9adventures.org/
SACCO Dry Mushing Cart – www.k-9adventures.org/sacco-dog-cart
K-9 Adventures is a company that is serious about fun for both the active dog and owner! Dry Dog Mushing is the newest sensation in active dogs and owners coming together for exercise and excitement on any dry land surface including but not limited to sand, dirt, grass, rock or cool pavement if safety precautions are met to insure the safety of your dog's feet and joints.
Who can participate in Dry Dog Mushing? Once your dogs are trained to use the SACCO Dog Cart, anyone can participate in this exciting new sport with the proper safety training! With safety and the highest quality components in place, anyone can participate in Dry Dog Mushing! We believe that this can provide not only a fun leisure activity but can also be pinnacle for those with mobility issues, as well. The service dog as well as the household pet, can enjoy spending time with their owners utilizing the SACCO Dog Cart and accessories. Let K-9 Adventures show you how!
We proudly present the new fold-able Sacco cart 2019. Sacco is an internationally known producer and supplier of recreational dog carts, with customers that span the globe.
With four wheels and hydraulic brakes on all wheels, our customers can enjoy the dry mushing to the fullest.
We offer the safest and most durable cart in the carting world and have great pride and confidence in the quality of our product. So people can have a fun and safe experience with their dog.
The Sacco cart is world renowned as urban mushing's top of the line cart. Boasting number one in safety and comfort.
It is our goal to bring the Sacco cart into more homes and appeal to not only the mushers but to anyone who wants to enjoy time with their high energy dog.
Bravity – bravity.com/
We're proud to introduce Bravity®, an anti-wrinkle bra for sleeping that naturally and safely prevents the formation of creases and wrinkles on the cleavage. Not only will our bra help you reduce cleavage wrinkles, but it has also been proven to help eliminate existing ones. Bravity® comfortably supports and separates the breasts while you sleep, so you can wake up every morning feeling refreshed and beautiful.
Experience the best no-cup sleeping bra to prevent wrinkles for yourself. Created by women, for women, Bravity® is the best anti-wrinkle bra for sleeping in available anywhere online. If you have been searching for a sleeping bra to prevent wrinkles from occurring in your cleavage, your quest is over! Let Bravity® take care of gravity and embrace your life and beauty once again. Let's divide and conquer today with this revolutionary bra.
CHRISTMAS GIFTS FOR NATURE LOVERS
BINOCULARS AND SPOTTING SCOPES FROM SWAROVSKI OPTIK

Providing the perfect blend of crystal-clear optics and elegant design, a pair of binoculars or a spotting scope from SWAROVSKI OPTIK is the ideal choice of gift for an outdoor enthusiast or nature lover this Christmas.
SWAROVSKI OPTIK provides elegantly designed binoculars of the highest precision and offers a variety of choice for Christmas presents. This winter, gift hunters can choose from the compact CL Pocket binoculars, which can fit into even the smallest of bags, and also the CL Companion binoculars, which come with a bespoke accessory package inspired by nature. For those who prefer to view wildlife from the comfort of their home, the elegantly designed ATX Interior spotting scope is the company's first telescope designed specifically for indoor use.
SWAROVSKI OPTIK's CL Pocket – From £590
For outdoor enthusiasts keen to spot wildlife during walks, SWAROVSKI OPTIK's CL Pocket binoculars fit into even the smallest of bags and pockets thanks to their robust aluminium housing and conveniently designed foldable bridge. Along with an impressive 119-metre field of view, the binoculars are well-suited for those who wear glasses, thanks to the individually adjustable twist-in eyecups. Although small in size, the ergonomic binoculars don't compromise on quality and offer unique optical excellence of the highest order in the compact range. For more information, visit SWAROVSKI OPTIK.
SWAROVSKI OPTIK's CL Companion Binoculars – From £970
Ideal for those who are always on the go, SWAROVSKI OPTIK's CL Companion binoculars can easily be packed away in luggage due to their light weight of 490g and compact size. For spotting wildlife while travelling, the CL Companion binoculars fit perfectly in the hand and are available in either 8x or 10x magnification, ensuring viewing is smooth and jitter-free. For stylish yet practical optimum protection, the elegantly-designed binoculars also come with a bespoke accessory package, which consists of a field bag plus a carrying strap and is available in three designs inspired by nature: NORTHERN LIGHTS, URBAN JUNGLE and WILD NATURE. For further details, visit SWAROVSKI OPTIK.
SWAROVSKI OPTIK's ATX Interior Spotting Scope – From £3,800
The ATX Interior spotting scope is SWAROVSKI OPTIK's first telescope designed specifically for indoor use. A perfect complement for any stylish room or home, the ATX Interior's armouring is an elegant terra brown colour. The scope, which can also be used outside, allows users and their guests to detect even the smallest details from the comfort of their home thanks to its state-of-the-art SWAROVISION technology, a remarkable 25-60x magnification and a field-of-view of 41–23 metres (m/1,000m). For further details, visit SWAROVSKI OPTIK.
The world belongs to those who can see beauty.
Experience the moment!
SEE THE UNSEEN.
www.swarovskioptik.com
Halflight Flask from High Camp Flask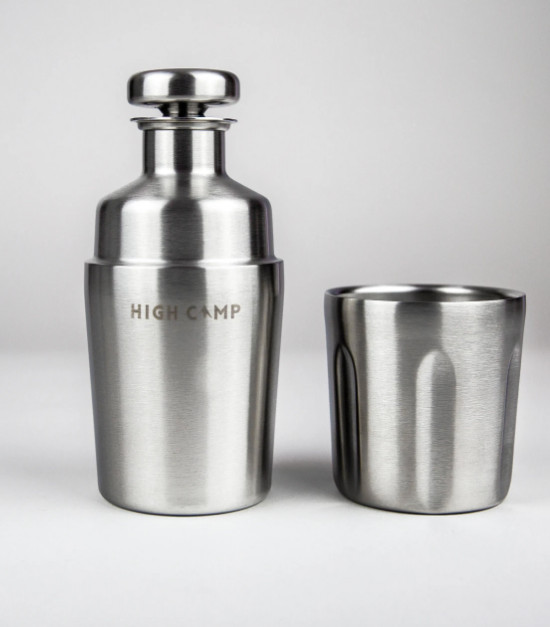 With 1-full sized tumbler and measuring in at 375ml, the Firelight 375 keeps your favorite cocktail at the perfect temperature all day long. The inside is electropolished, meaning it won't hold odor or flavor. Designed for your rough and tumble lifestyle, it fits easily into your purse or backpack. It's vacuum insulated, leak-proof, with brushed stainless steel construction and the 6-shooter tumbler magnetically attaches to your flask.
highcampflasks.com/collections/flasks/products/halflight-375-flask
Best. Gift. Ever. $75.00
Launch of beautiful cat-themed calendar by Axel Scheffler (illustrator of The Gruffalo) – raising money for charity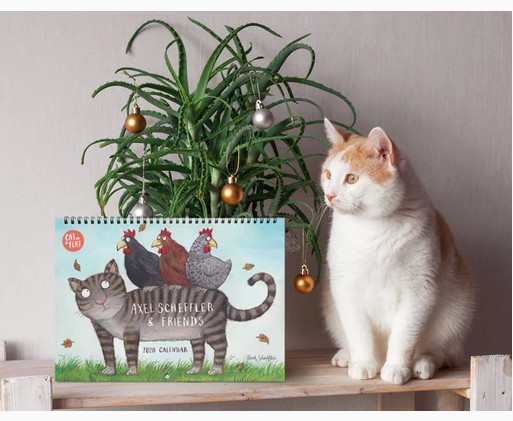 Cat in a Flat has teamed up with Axel Scheffler, the illustrator of The Gruffalo, to produce a beautiful cat-themed calendar for 2020 – with all the profits going to support endangered wild cats in the care of Born Free.
The calendar features 12, full colour, beautiful images created by Axel Scheffler and friends. Each image was drawn specifically for the calendar – making it the perfect Christmas gift for any cat lover.
100% of the profits from the sale of the calendar, which can be bought exclusively through Catinaflat.com, will go to bornfree.org.uk to help them care for and protect endangered cats in the wild.
Cat in a Flat is a trusted cat-sitting community created by cat lovers for cat lovers. Its mission is to help cats stay in the comfort of their own homes by connecting cat owners with trusted, insured, local, cat-loving sitters. catinaflat.com
The Axel Scheffler and friends calendar is the perfect gift for the cat lover in your family – helping them organise their life, while also saving a cat-life; a win-win for all.
The illustrators are:
Axel Scheffler; Thomas Müller; Rotraut Susanne Berner; Philip Waechter; Jörg Mühle; Beck; Susanne Göhlich; Anke-Irina Kuhl; Moni Port; Yvonne Kuschel; and Tor Freeman.
The calendar is priced £12.99 and is available from:
cat-in-a-flat-ltd.myshopify.com

Precision Sports Care In A Box – £39.99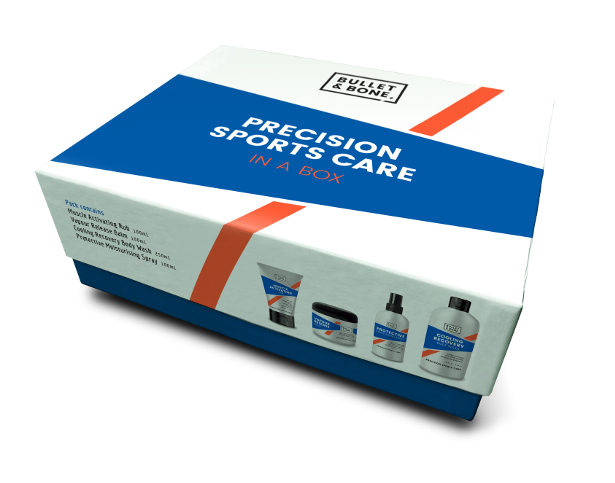 FACEBOOK | TWITTER | INSTAGRAM
The perfect gift for a sports-mad family member or friend. A complete set of all four Bullet & Bone products packed in a beautiful, high quality, presentation gift box.
The gift set provides a complete regime of products to optimise warm-up, performance and recovery to deliver the maximum possible benefits.
What better gift can you give to the special sports enthusiast in your life than one which helps improve their performance and helps them enjoy their sports more?
With all the products tested by elite athletes and recommended by Olympian, Sports Scientist and Physical Activity Expert Professor Greg Whyte OBE and Celebrity Personal Trainer and Performance Expert Winston Squire, you can trust all the products to deliver great results.
The Gift Set contains:
1 x Muscle Rub 100ml
1 x Vapour Balm 100ml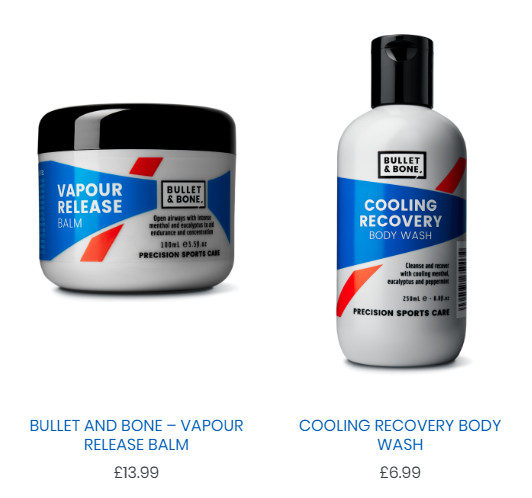 1 x Protective Moisturiser 100ml
1 x Cooling Recovery Body 250ml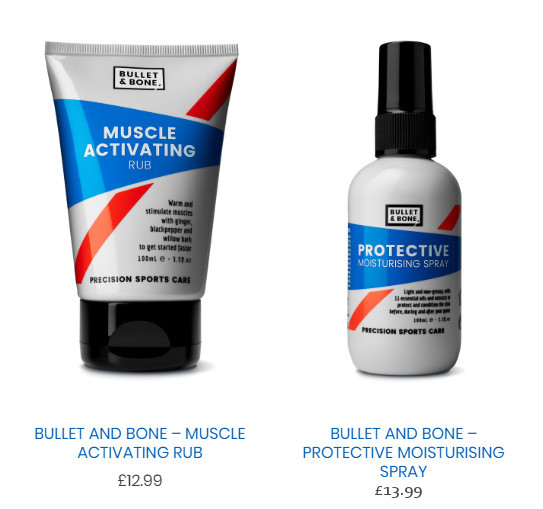 The muscle activating rub, vapour release balm, protective moisturising spray and cooling body wash all contain targeted, evidence-based properties that assist with those all-important marginal gains. The unique, power base of three active, natural ingredients across the Bullet & Bone range of maca extract, magnesium and jasmine are known to hold properties that improve stamina, speed, alertness, concentration and recovery. Like any sporting ritual these potent, topical products will be helpful for all levels of sportsmen.
The set also comes with the added benefit of an enclosed discount code offering 20% off any future purchases of the products through the Bullet & Bone website.
Bullet & Bone is a world first. It offers breakthrough, precision skincare engineered to be used when physically active and contains potent, natural ingredients that enhance sporting performance.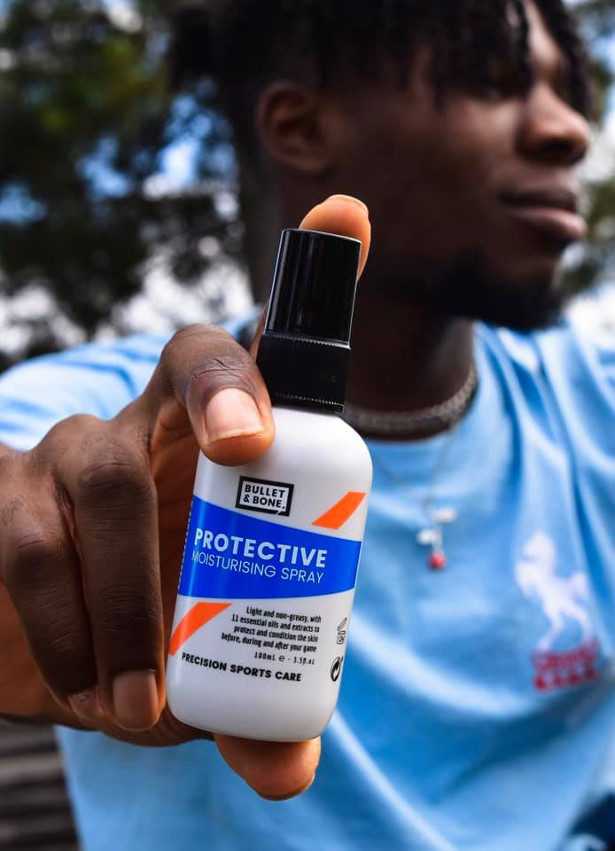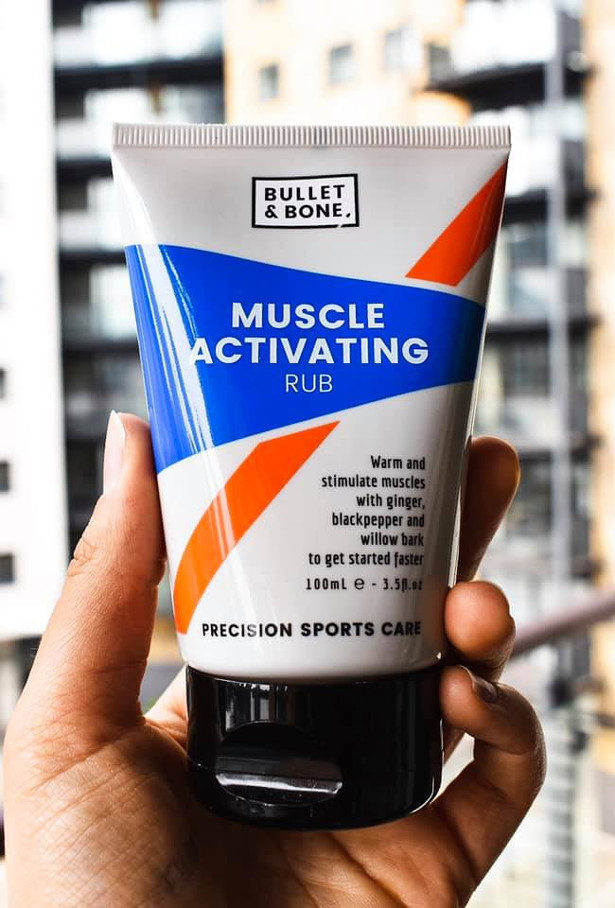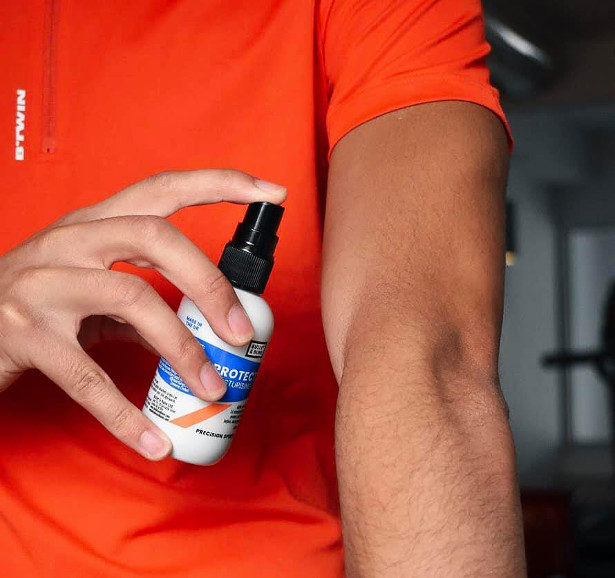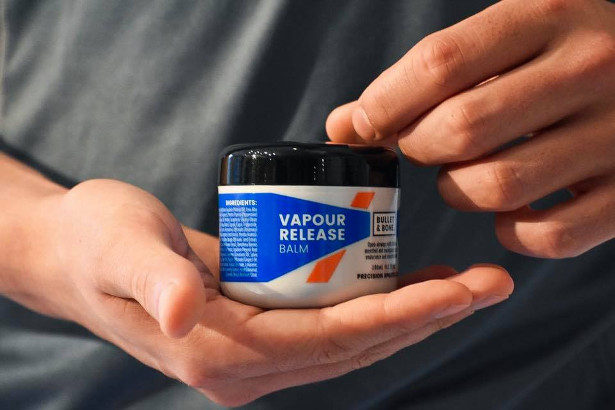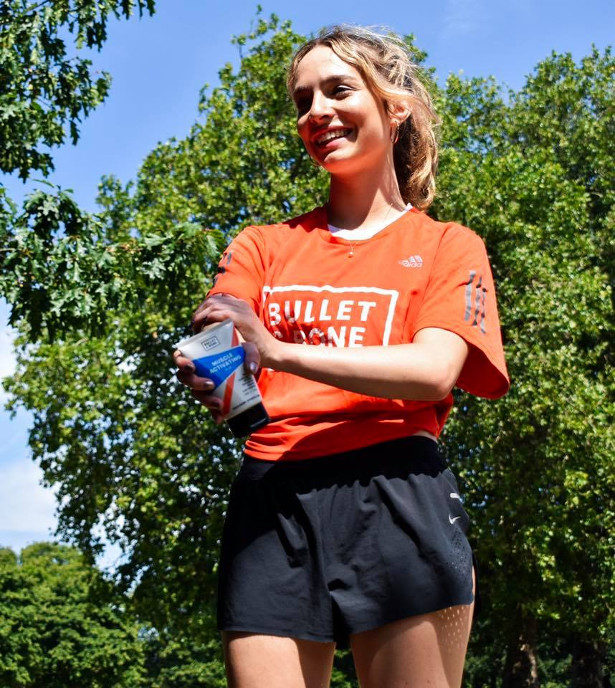 All he wants for Christmas… Is a full head of thick natural-looking hair!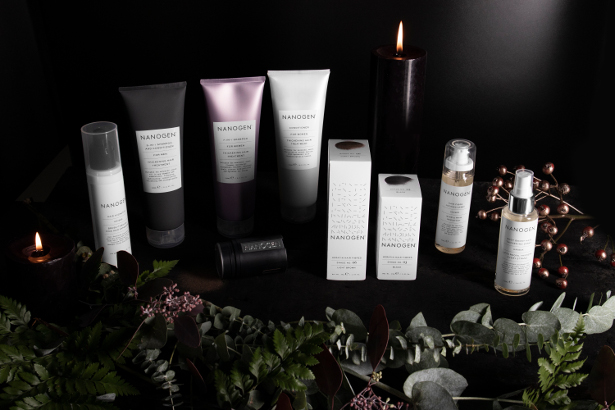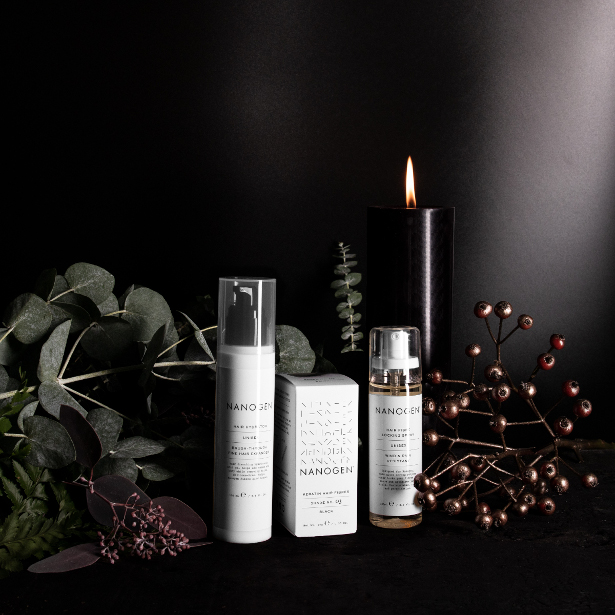 Nanogen, a luxury range of hair thickening and treatment products – featuring the scientifically proven Keratin Hair Fibres range – reveals the Prep, Conceal & Lock collection to give him the gift of full head of thicker, fuller hair this Christmas. So for those looking to give either a loved one the confidence of a hair volume-boost, or perhaps you're prepping your grooming regime for the festive season, the Nanogen Prep, Conceal & Lock collection delivers the perfect gift of natural-looking hair.
NEW product line from celebrity esthetician Lora Condon. Lora has just launched three new Beauty Buster skin care products. Infused with CBD and Italian olive oil, this all-natural organic line is safe for oncology patients, removes inflammation, and hydrates. All products are made in the U.S.A.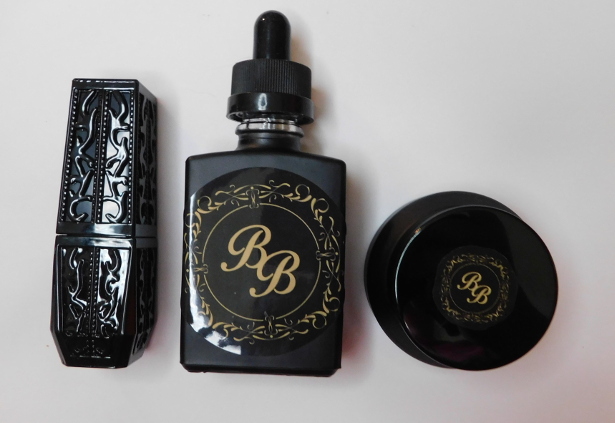 While there are many CBD-infused beauty products. Below are five reasons why Lora's are different.
Her products are edible, and safe
Two are vegan (Bella Sacred Face Oil and Macchiato Sacred Lip Scrub)
Safe for oncology patients
CBD sourced locally from an organic farm in Kentucky. The CBD used iscertified and approved by U.S. Hemp authorities and appropriate approval agencies with 3rd party purity approval for every batch grown.
A subcritical CO2 method used when extracting hemp oil vs. harsh solvents. CO2 is a much healthier choice than other potential solvents.
To celebrate the launch, the three products are now available at a 20% discount. Below are the products in full detail.
Bella Sacred Face Oil – this vegan CBD luxury oil will soothe and smooth out any skin condition from acne to rosacea and especially the most sensitized of skins. CBD reduces inflammation and the pure Italian olive oil will give your skin that natural glow. Organic sandalwood aroma will transport you right to a castle in the hills of southern Italy. (SRP: $85)
Macchiato Sacred Lip Scrub – a vegan sugar-based CBD and Italian olive oilscrub is full of antioxidants, oils and espresso that will plump, hydrate, soothe and soften even the most cracked lips.Gently massage onto clean lips, enjoy the smell of freshly ground espresso and rinse. Follow with Espresso, Sacred Lip Treatment for best results. (SRP: $25)
Espresso Sacred Lip Treatment – This CBD, aromatic espresso, and Italian olive oil lip heals and hydrates. It is long lasting and creates a protective barrier on the lips for ultimate protection and the perfect lip base before lipstick. (SRP: $22)
Cracking Christmas Gifts that last all year
Luxury British socks delivered to your door every month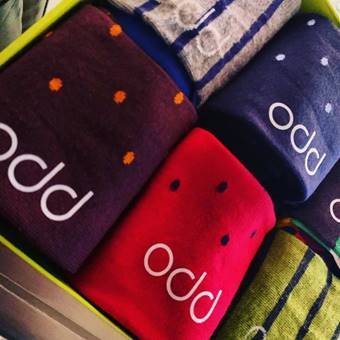 England 2019: Looking for a gift that lasts all year? Treat someone you love to the ultimate Christmas Gift, a subscription service with a difference. Treat feet to the ultimate experience every 30 days and join The Odd Club. Unlike other services, The Odd Company subscription service offers a Limited-Edition pair of luxury Odd socks and a single complimentary sock which can be interchanged with the special pair. It's never been easier to take your style to another level, providing a sartorial twist to your image without sacrificing comfort. Once you decide to sign up to this fantastic foot fantasy your loved one will enjoy a trio of socks every month. Buy 6 months subscription for just £49 or a 12 months subscription for only £99 which is a superb saving!
Why Join The Odd Club?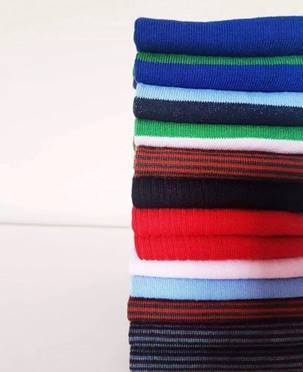 Whether treating yourself or buying a fabulous gift for a loved one, The Odd Club will satisfy your desire to wear gorgeous socks every day of the week. Designed exclusively by our in-house design team, using the finest cotton, our surprise Trio Pack of Odd socks will arrive every 30 days. Each comes in stylish recycled packaging, manufactured in the UK and can be interchanged to give you numerous options. Available in sizes 7-11 for just £10 per month.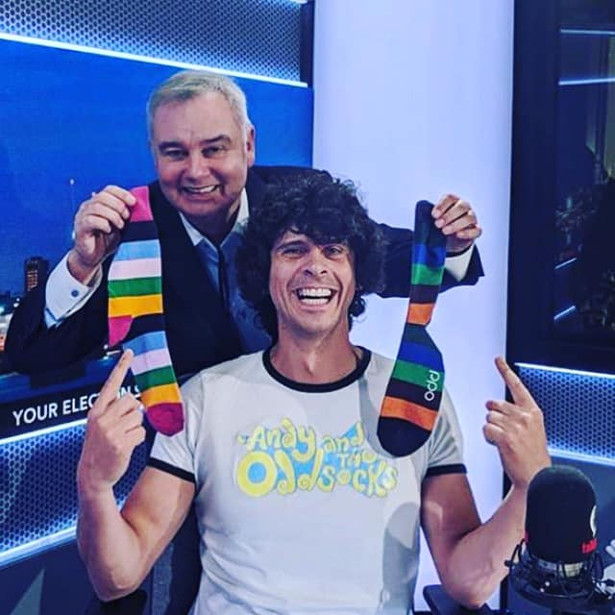 Using superior cotton and working with expert manufacturers within Leicestershire, each Trio will make your feet feel fabulous! Every single month as a member of The Odd Club, you can decide whether you want your socks delivered to your desk or door. Our luxury socks are made from high end cotton and finished with a handlinked toe for the ultimate comfort. Every day you can decide to wear a matching pair or if you are feeling a little more edgy mix up your style and dare to be odd! Once you start you will change the way you wear socks forever!
Get Something Special Give Something Back
Not only will you continue to receive an exclusive Trio every 30 days, being part of the Odd Club you'll be helping us raise awareness for Mental Health, 5% of our net profit will be donated to our chosen charity. We will also be surprising you with gifts from time to time. Buy 6 months subscription for just £49 or a 12 months subscription for only £99 which is a superb saving! So go on what are you waiting for?
Join The Odd Club yourself or treat someone you love to a subscription today.
Visit www.theoddco.co.uk