MAKE LIFE A LITTLE BIT SWEETER WITH JAM SHED
– THE SERIOUSLY JAMMY WINE THAT'S GETTING EVERYONE TALKING –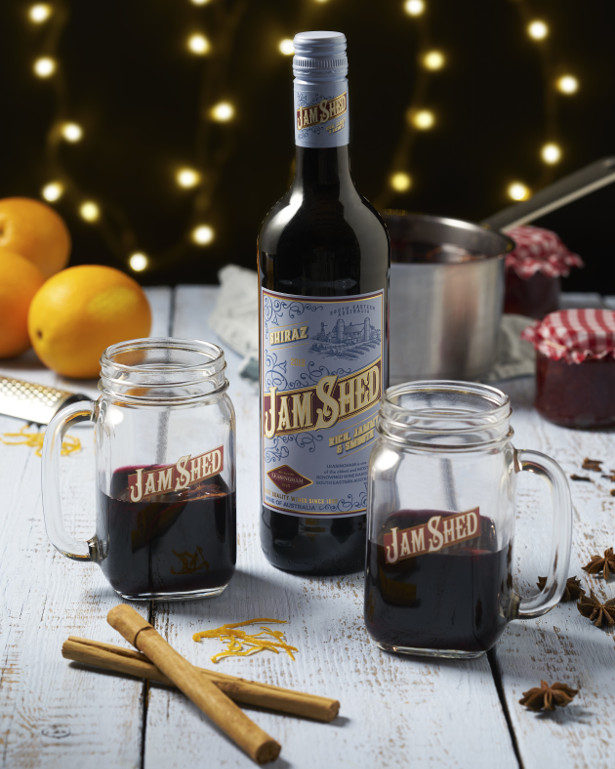 Jammy on the nose, wine on the tongue. Introducing Jam Shed – a deliciously uncomplicated Shiraz, unlike any other. You can't spread it on toast, but it's incredibly jammy, rich and smooth. Perfect for any occasion so enjoy it as you want: cold over ice, warm as mulled wine or as is, Jam shed makes life that bit sweeter.
No matter what the weather throws at us, Jam Shed can be enjoyed come rain or shine. An alternative to crisp whites or rosés, Jam Shed is perfect over ice. The juicy sweetness of the wine means that it holds its body and the berry flavours are enhanced when chilled. Refreshing and on-trend, this smooth serve is guaranteed to get the BBQ or get-together off to a great start. Sit back, take it easy and enjoy a chilled glass or two in the sun. Just don't forget the ice cubes!
Jam Shed also packs a punch when heated and accentuates the hints of vanilla and cinnamon, making it the perfect base for mulled wine. This aromatic winter warmer is easy and quick to make: simply mix the wine with cinnamon, ginger, cloves and orange for your own delicious twist on a popular classic. Get toasty on chilly evenings or catch up with mates over a glass or two.
For a fuss-free evening, enjoy Jam Shed in a glass straight out of the bottle to taste the jammy red wine packed with forest fruit flavours and balanced with subtle hints of vanilla and spice. This smooth jammy wine tastes great on its own or with food – spicy and Italian pairs the best.
What's more, the wine doesn't just taste great, it has a pretty cool story too. It's named after the original Leasingham winery, located in the historic town of Clare, South Eastern Australia. The locals fondly referred to the factory as 'The Jam Shed', as it had previously been a jam factory. The wine is inspired by this fond story of Australian heritage.
So, if you're looking for a serious wine with a quirky story that can be enjoyed whatever the season, you've found your ultimate match. Light-hearted, fun and simple, Jam Shed tastes like it says on the bottle (but without the 'Shed' bit): rich, smooth and jammy. Look out for the pastel blue and burgundy label and let us do the hard work for you.
Jam Shed Shiraz is available to purchase at Tesco, Morrison's and ASDA RRP: £8 a bottle (750ml/75cl – 13.5% ABV).