Start-Ups, Pivots and Pop-Ups: How to Succeed by Creating Your Own Business
by Richard Hall & Rachel Bell
On Amazon!
(Pic (c) Kogan Page Publishers)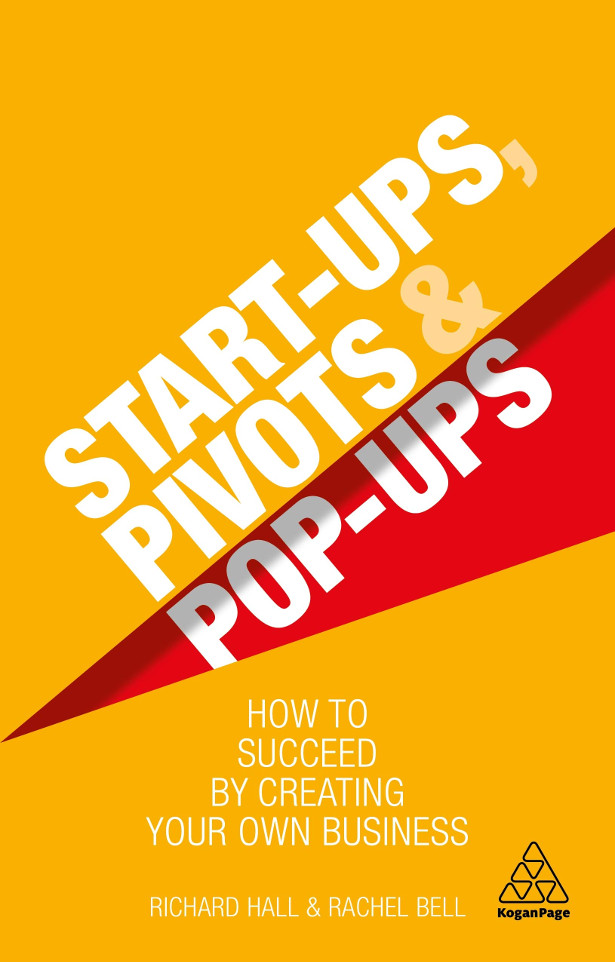 Start-Ups, Pivots and Pop-Ups: How to Succeed by Creating Your Own Business, written by two established entrepreneurs, Richard Hall and Rachel Bell, discusses the key disrupters of the "Start Up Revolution" 50+, female entrepreneurs, changing workplace culture, millennial militants with a burning desire to do things their way and experienced professionals who have either been made redundant or become disenchanted with corporate life. This book surfs this new entrepreneurial zeitgeist.
Start-Ups, Pivots and Pop-Ups is a must read for anyone with a business idea and the desire to be successful. It gives the reader the skills and knowledge to survive in today's innovation and entrepreneurial-focused world. This book is about starting a business. It's about putting your toe in the entrepreneurial water – perhaps through doing a short term business gig or a pop-up business- and then seeing what happens. It shows you how to listen to the customer and work out why failures may happen, and when they do, you'll learn how to deal with them and create a new business that is robust and ready to grow.
Start-Ups, Pivots and Pop-Ups shows you the best ways of starting, testing and growing a business. It shares the stories, experience and insights of those who've done it, and explains how to innovate, trial, refine and succeed. Even if your business idea struggles, you'll find out how to learn so much that you'll pivot your business, try again and then win big time. You'll learn from a range of organizations including abnormal beauty company Deciem, Leon fast-food, Triumph lingerie, New York fashion tech Nineteenth Amendment, Brew Dog beer, Cambridge Satchels, Allbirds, and the Cornish Seaweed Company.