Share the SCARE with HARIBO !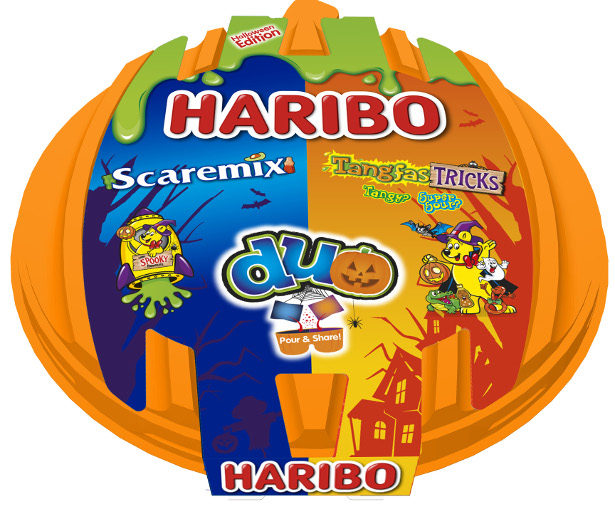 All who dare can 'share the scare' this Halloween with a spooktacular selection of treats from HARIBO.
Prepare for trick or treaters, parties or movie nights in with a spell-binding assortment of sweets, which are perfect for spooky celebrations this season.
Promising a playful trick and enough treats to share, TangfasTricks delivers a delicious dose of magic for any mischievious visitors that come to your lair. But is it a trick or is it a treat? Watch out for the sour pieces which are hidden amongst your sweets!
Thanks to the wave of a wand and a little Hari'BOO', Scaremix features the iconic Starmix pieces but in a host of fearsome flavours too. With Toffee Apple Eggs and Blood Orange bottles to bot.
Hubble bubble there's double trouble in store with HARIBO's Duo tub. Featuring Scaremix and TangfasTricks, this sweet and sour selection makes the perfect, pumpkin-shaped party mix!
Don't forget to listen out for a knock at the door and make sure to be prepared for what the trick or treaters have in store. A tasty mix of minis will go down a treat, so keep in mind HARIBO's creepy concoction of family favourite sweets.
Hocus pocus alakazam, new this sppoky season is a delicious Duo Pack of HARIBO and MAOAM. Coming together for the very fist time, this satisfying salection is ideal for those who want less of the trick and more of the treat this Halloween.
For an extra dose of themed fun and the perfectly portioned treat for one, Trick or Treat multipacks make a delicious surprise. With a bat, a broomstick and a spider shaped piece inside, they'll make a magical addition to any Hallows' Eve night.
With something to 'share the scare' on Twitter @officialHARIBO or Facebook @HariboUK using #HariboShareTheScare
For more details about the HARIBO Halloween range, please visit www.haribo.co.uk
HARIBO Scaremix (available in 140g and 190g bags)
Starmix has been given a spooky makeover just in time for Halloween. Combining the product's iconic pieces with fearsome flavours including toffee apple Eggs and blood orange Bottles, HARIBO Scaremix is the perfect treat for sharing with ghastly ghosts and ghouls.
HARIBO TangfasTricks (available in 140g and 190g bags)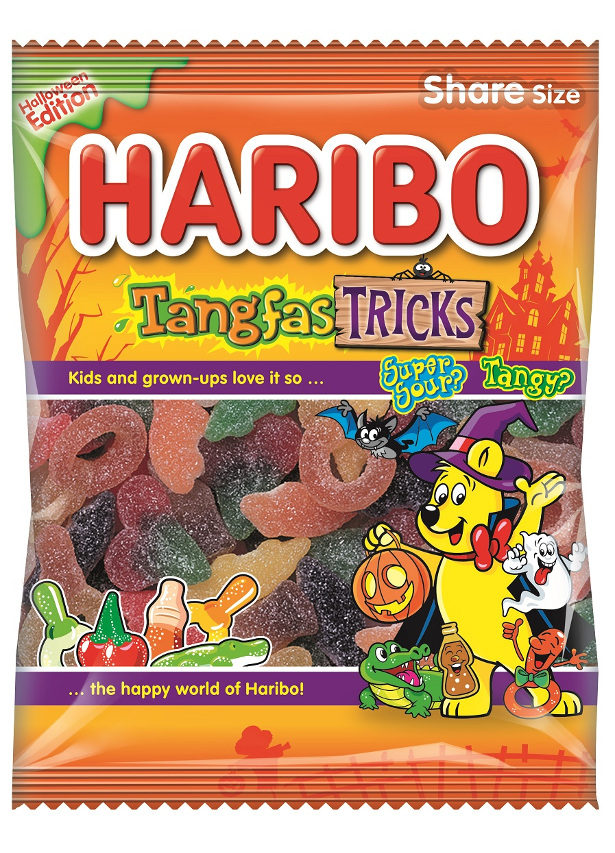 Tangfastics has taken on a terrifying twist with TangfasTricks providing the perfect potion for spooky parties this Halloween. But watch out, will you get the trick or is it a treat? Within the tasty, tangy bag you'll find sour and scarily sour pieces!
HARIBO and MAOAM Duo Pack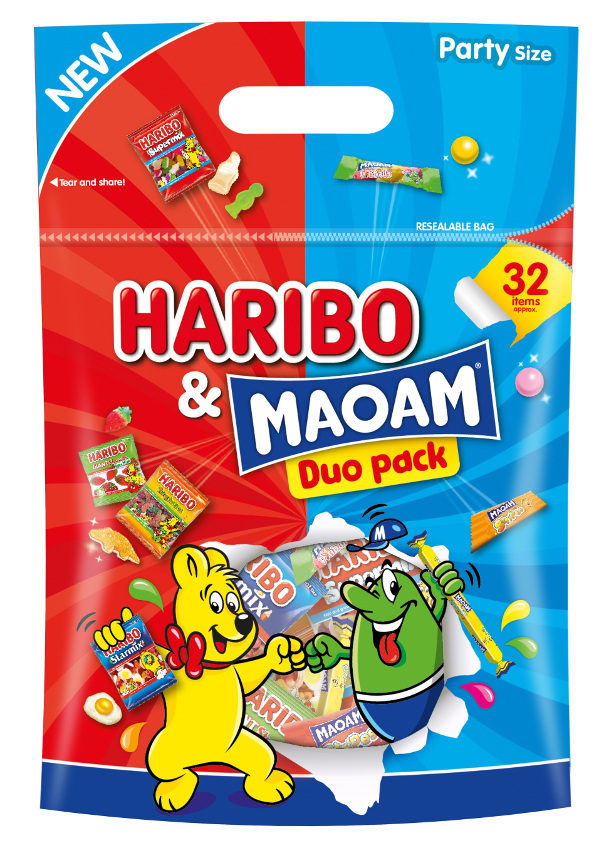 HARIBO and MAOAM have teamed up to 'share the scare' this Halloween.
Coming together in one bag for the very first time, this tasty multipack offers the perfect mix of family favourites for those who want less of the trick and more of the treat this Halloween.
Pre-portioned and individually wrapped, this spell-binding assortment features HARIBO Starmix, Tangfastics, Supermix and Giant Strawbs Gone Mini, alongside MAOAM Stripes, Pinballs and Joystixx.
Packed with a devilishly delicious concoction of 32* mini treats, the HARIBO and MAOAM Duo Pack is just the potion for any ghosts or ghouls that come a-knocking!
*contains approximately 32 items
HARIBO Trick or Treat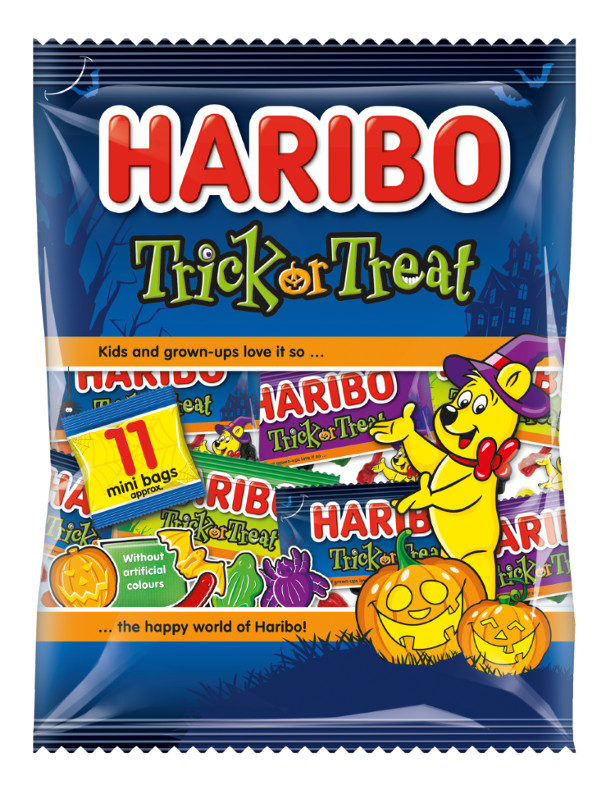 HARIBO Trick or Treat is just what you need for all the vampish visitors that will be knocking at your door this Halloween. Containing bat, broomstick, frog and spider shaped pieces, these themed gums and jellies have been brewed up in two multipacks, containing 11 or 35 mini bags – perfect, pre-portioned and petrifying!
HARIBO Scaremix and TangfasTricks Duo Tub (contains two 350g bags)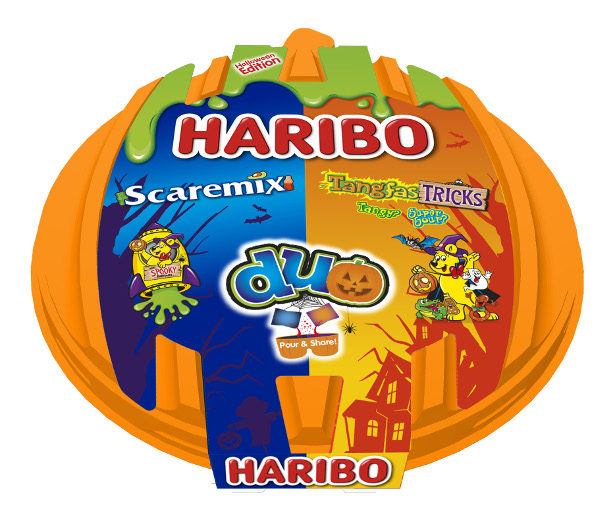 Hubble bubble there's double trouble in store with HARIBO's duo tub featuring Halloween editions Scaremix and TangfasTricks. For those who dare, TangfasTricks' mix of tasty tang and scarily sour pieces make the perfect trick and treat; whilst those more sensitive souls can enjoy a spooky treat with Scaremix and its fearsome flavours. Perfect for parties, this pumpkin-shaped tub is a great way to share this Halloween.
MAOAM Halloween Mixx
MAOAM's not so sweet this Halloween, following the launch of a frightfully good limited-edition Halloween Mixx. Bringing together the perfect potion of sweet and sour, this bag (400g) offers a 'fang-tastic' mix of MAOAM's iconic products and flavours includes Stripes, Joystixx and Bloxx. Ideal for trick or treating and parties, share the scare this Halloween.