LIMITED EDITION CADBURY TWIRL ORANGE IS BACK, WHILE STOCKS LAST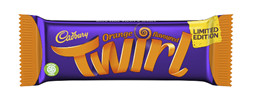 Cadbury is giving fans more chances to get their hands on the elusive bar through an online pre-sale
Monday 17th August: Cadbury has today announced the return of the limited edition Twirl Orange in the UK. But don't race to the shops just yet. Cadbury is giving fans the chance to be one of the very first people to get their hands on this elusive treat without even having to leave their own house.
The Twirl Orange is the first ever flavour innovation for Cadbury Twirl in the UK and was met with unprecedented demand when it appeared in 2019, selling out as quickly as it was hitting shelves. For that reason, Cadbury is giving its fans another chance to enjoy the much sought after bar.
This week, Cadbury will hold their first ever online pre-sale of a chocolate bar, so fans can get Twirl Orange weeks before the bars are available in stores. There are no tricks or shortcuts, no friend of a friend who can get hold of one for you – everyone has an equal chance of getting their own Twirl Orange for just 69p with no postage and some surprise Twirl Orange collectibles.
Here's what you need to know
The pre-sale will be held on Cadbury UK's Twitter page at 12pm (midday) tomorrow, Tuesday 18th August, and Thursday 20th August, so there are two chances to get involved.
Once the presale goes live, using Twitter, fans just need to tweet @CadburyUK with the hashtag #TwirlOrangePresale to enter. It's first come first served, everyone has the same chance of bagging a bar – not even celebrities or influencers are allowed to jump the queue!
The first 5,000 people to tweet during each presale will be sent confirmation of their place in the queue. They will then be sent a unique single use redemption code with a link to where they can purchase their Twirl Orange, which will be sent to them with no postage charge and some surprise Twirl Orange collectibles.
Don't have Twitter? Don't worry
The bars will be available to buy on shelf in stores nationwide from mid-September. More bars have been produced this year so there are more to go around.
Radhika Pai, Brand Manager for Cadbury at Mondelez said: "We are very excited to bring limited edition Twirl Orange back in the UK after the positive response it received last year. It was clear our fans loved Twirl Orange, so we wanted to give people more chances to enjoy it, especially anyone that missed out last year. The online presale means that everyone has a chance to get their hands on one, no matter where they are in the UK, from the comfort of their homes."
The bars will be available in selected shops nationwide from mid-September in the usual 43g, 2 finger packs, that Cadbury Twirl fans will recognise, with a Recommended Retail Price of 69p*.
LONDON TO LIMA GIN
LAUNCHES MULBERRY & COCA GIN LIQUEUR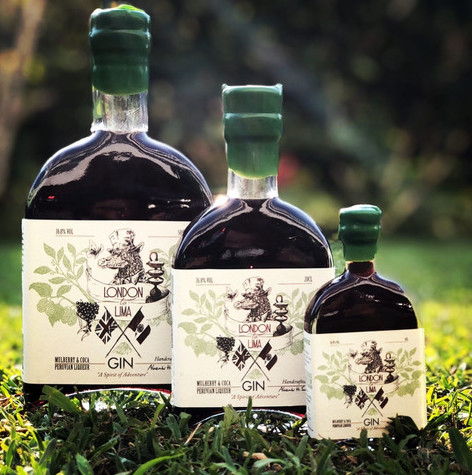 10th August 2020. The London to Lima Gin Distillery in Peru launches London to Lima Mulberry & Coca Gin Liqueur in the UK today, the second expression to come from London to Lima Gin. The original gin is made with Peruvian Quebranta grapes that have been used for centuries to make the national spirit, Pisco. The gin is macerated with mulberries which are hand-picked in Peru close to the distillery. Amazonian Coca leaves, from the same supplier as the world's largest cola brand, are also added, along with wild honey to make a rich and delicious gin liqueur.
Traditional botanicals, used to make the original gin expression, include juniper berries, orris root, angelica root and cassia. London to Lima Gin also includes more exotic Peruvian botanicals such as coriander seeds, Peruvian lime, orange, aguaymanto (more commonly known as physalis) and pink peppercorn grown around the distillery.
The use of a grape-based spirit to make London to Lima Gin was inspired by the oldest known recipe for gin in Europe from 1495, which also used grapes as its base. The gin is distilled three times and blended with water from glaciers in the Andes. With over 50% of gin being water, founder Alex was inspired to source the purest Andean glacial spring water from the summits of the Cordillera Blanca, after completing the trek himself, making it a true spirit of adventure.
The two expressions have a different Peruvian animal on the label. The Mulberry & Coca bottle features a Spectacled Caiman, whilst the original gin features the Spectacled Bear. The name "Spectacled Caiman" comes from a bony ridge between the eyes of the Caiman, which looks like a pair of spectacles. A member of the Alligator family and native to South America, the Spectacled Caiman's tears also provide butterflies and bees with minerals.
Alexander and Karena James, Founders of London to Lima Gin say: "Our spirits represent the wonderful history of the Peruvian and British connection. We are hugely excited to have recently received an IWSC Gold Medal for our London to Lima Mulberry & Coca Gin Liqueur, which we are looking forward to launching in the UK this month. We can't wait to bring new adventures to your drinks cabinet."
Tasting note from IWSC: "A decadent nose of black berry fruit with herbal undertones and lots of spice including cinnamon and cocoa. It has a luxurious texture and a complex, gently sweet flavour reminiscent of sloe berries steeped in PX sherry".
London to Lima Mulberry & Coca Gin Liqueur is best enjoyed neat or in a London to Lima Inka Bramble:
50ml London to Lima Gin
30ml London to Lima Mulberry & Coca Gin Liqueur
25ml Lime Juice
15ml Sugar Syrup
Can be topped with a dash of sparkling water
Garnish: Mulberries and a leaf
Shake the original London to Lima gin with ice, lime juice and sugar syrup and pour in to a glass filled with crushed ice. Drizzle the London to Lima Mulberry & Coca Gin Liqueur on top with a dash of sparkling water and garnish with some fresh berries and a leaf.
NEW SACLA' WILD GARLIC PESTO NEW
August 2020. Hey Pesto! The flavour this little jar brings to the party is truly magic!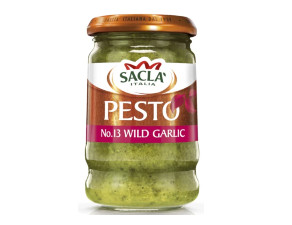 Made with the fragrant broad green leaves, stems and white flowers of Wild Garlic, as well as fresh Ligurian basil, Parmigiano Reggiano and Pecorino cheese.
Sacla' Wild Garlic Pesto is something very special and adds exquisite flavour when tossed with pasta, spread on bruschetta with a layer of mozzarella, or drizzled over a piece of steamed fish, stirred into risotto and omelettes, added to soups, made into a sauce for meat and stirred through crushed potatoes.
Did you know … Wild Garlic is also known as Bear leek, Bear's garlic, Broad-leaved garlic, Buckrams, Ramsons and Wood garlic.
Sacla' Wild Garlic Pesto – RRP £2.50, 190g – is available exclusively online www.sacla.co.uk
Najture: New Sustainable Phone Case Brand with Recycling Initiative Launches Crowdfunding Campaign
On a mission to reinvent a linear e-commerce model into a circular one, Najture was born of a desire for a phone case that was both biodegradable and easily compostable. The result is not only a genuinely sustainable phone case but also an effective and accessible disposal solution.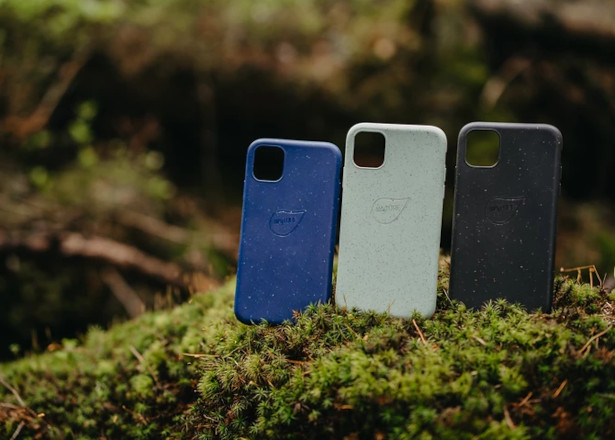 The current process of trading in and returning a product to be upcycled is complicated. So complicated that most consumers and brands avoid it. Najture is striving to make this the new norm, by simplifying the process and offering to recycle any phone case on the market. Taking no more than 5 minutes, customers are incentivised to fill in the Najture Trade-In online form, hand the case over to the Najture courier and in return receive a discount code for their next Najture purchase.
Through its circular e-commerce model, Najture manages the existence of the phone cases from creation until the end of their functional lifecycle to drive responsible economic development and reduce the flow of plastic into oceans.
To put the current global crisis into perspective:
1.5 billion plastic phone cases are produced every year (this could fill 16 Wembley stadiums)
Over 2,000kg of toxic plastics end up in the sea every 10 seconds
40% of earth's ocean areas are impacted by plastics
Common plastics can take 2-500 years to decompose, releasing toxins as they go
Global leaders like Richard Branson, Bill Gates, Ray Dalio, Mark Zuckerberg consider plastic pollution in the ocean to be a major global problem.
The Najture case is designed in Italy using a combination of the bioplastic PBAT (a compostable resin which is found in natural environments and is a biodegradable random copolymer) and calcium carbonate (a common substance found in rocks). These cutting edge, earth-conscious materials do not interfere in the food chain and, once decomposed, they can actually help nurture soils for the following planting season, rather than poisoning it as the plastic alternatives would.
In order to make their goal a reality, Najture is launching a crowdfunding campaign on September 1st asking consumers to back their mission to help the brand to:
Launch manufacturing: Manufacturing, packaging, transportation and distribution.
Develop a technologically advanced website with trade-in software, product customisation features, order tracking features for transparent reporting of each item.
Integrate trade-in software with manufacturers, couriers, customers, recycling companies and industrial composting facilities.
Collaborate and reward communities working on beach cleanups.
Support communities focused on planting trees in selected areas.
Disrupt the e-commerce industry by being a leading sustainable accessories company at affordable prices (accessories are considered to be the worst retail niche for creating circular flow)
Invest in two moulds to produce new models which will be tested for ocean water biodegradation.
Najture has also partnered with OneTreePlanted and for every backer of the crowdfunding campaign, Najture will plant one tree. The trees are planted by local partner organizations and community volunteers in areas where there has been deforestation. Caring deeply about the planet is in the brands DNA and creating a business that gives back to nature is what it is striving to achieve.
"We took everything other phone cases do and refused to accept it. Najture is built from scratch, inspired only by feel-good experience and future-thinking. By backing this campaign our consumers can help finance Najture's very first production run. And help create an entirely new eco industry e-commerce model. One that's focused on ethics, quality and simplicity." said Najture founding CEO Maros Matija.
By prioritising sustainability without compromising style and performance, Najture customers aren't just protecting their phone, but protecting the planet's future too.
Further information can be found on the website:
www.najture.com
LIVE SCREAMING
Streaming-induced arguments on the rise as Northern Irish feel content fatigue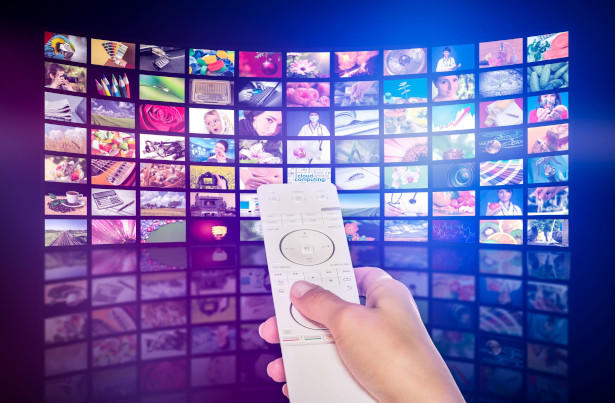 Lack-lustre lockdown entertainment is leading to arguments with friends & family, new research has found.
ODEON Cinemas found that over a quarter (26 per cent) of the nation has argued about what to watch during 2020 and on average the Northern Irish have a stream-induced argument THREE TIMES a week.
Choosing what to watch isn't the only screen-screamer, with 59 per cent of Northern Irish also getting annoyed when others in the household 'double-screen' (watching TV and being on a mobile phone, laptop or tablet at the same time).
Elsewhere, entertainment- starved Northern Irish also spend 99 hours – the equivalent of 4 days a year – searching for shows to watch. It's no surprise then that 79 per cent admit to feeling content fatigue, 'bored' of streaming sites which have been their 'go to' for much of the year.
ODEON is hoping the release of Tenet (26 August) will fill the entertainment void & help the 37 per cent of the nation looking to 'escape the everyday' in the darkness of the cinema.
Carol Welch, Managing Director UK & IRE said "At home entertainment has played a huge part in our lives this year but after spending hours making do with a small screen, we're looking forward to welcoming guests back to the real deal. Those who are tired of big cat kings or double screening can rest assured they can escape to the big screen and immersive entertainment at ODEON."
Brits no longer have to waste hours 'remote con-scrolling' as film fans can get back to ODEON – the home of entertainment – by booking tickets at www.odeon.co.uk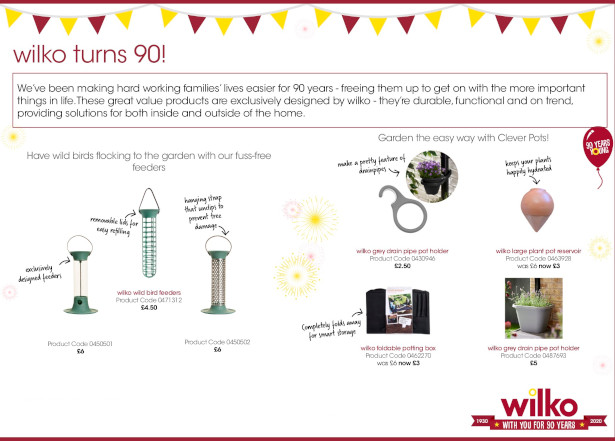 GREAT YARMOUTH'S HIPPODROME CIRCUS OPENS WITH A THRILLING SHOW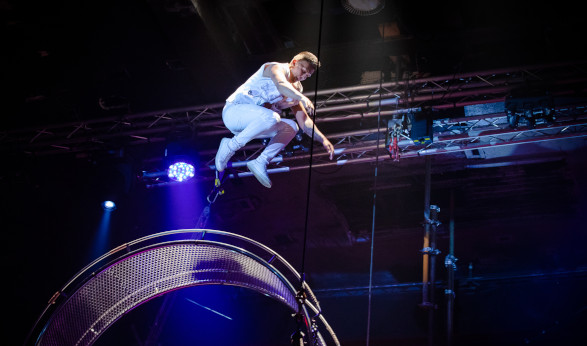 Britain's only total circus building launches summer season with socially distanced seating
17 August 2020: Great Yarmouth's world-famous Hippodrome circus is welcoming audiences again from now to 20 September 2020 with a thrilling "Summer Spectacular" show.
The UK's only surviving original fixed circus has been entertaining holidaymakers and Yarmouth residents since 1903, so the owners of the family-run venue were determined to put in place special Covid-compliant safety measures to ensure the crowd-pleasing performances could go ahead this year.
The historic Great Yarmouth venue was one of the first large theatres in the country to reopen with live shows.
With two shows daily, hosted by Jack Jay and the hilarious Johnny Mac, the 80-minute entertainment extravaganza offers a packed line-up of amazing trapeze aerialists, acrobatics, daring stunts, hilarious comedy as well as a mesmerising Water Spectacular. This aquatic acrobatic showstopper will be performed on the historic central stage that transforms into a giant swimming pool.
The Hippodrome will be adhering to social distancing guidelines throughout the theatre, there will be limited capacity within the auditorium to allow for safe spacing of audience members. To ensure safe distancing and that family and 'bubble' groups can be sat together, tickets for both the matinee and evening performances must be booked in advance via a dedicated telephone ticket hotline rather than online. Also, to prevent crowding in the in foyer and bar areas, there will be no intermission, but a limited menu of snacks and drinks will be available to buy once seated from servers inside the auditorium. Masks must be worn in order to abide with government guidelines.
Prices from £20 per adult and £12 per child. Tickets can only be booked over the phone. To book, call Tel: 01493 738877 (open now from 10am to 7pm). https://www.hippodromecircus.co.uk/ Ticket Hotline number : 01493738877
Check website for times and dates of shows. For information on things to do and see visit: www.great-yarmouth.co.uk
Go vegan on National Burger Day with a healthy alternative.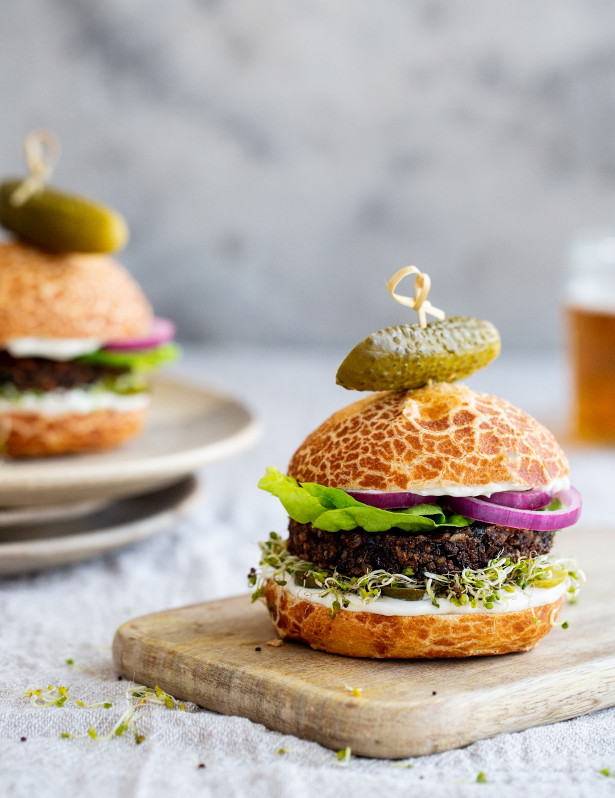 National Burger Day (27th August) is a day dedicated to the burger. The burger was created sometime around the turn of the 19th century, and its popularity was boosted at the 1904 St. Louis World's Fair.
Traditionally, a burger, also known as a hamburger, consists of a patty of ground beef that has been pan fried, barbecued, or flame broiled, and is served in a bun. There are now many variations, including tasty vegan alternatives, which more people, including athletes and celebrities, are turning to in the desire to live a healthier life.
But changing eating habits does not mean giving up eating your favourite foods: just changing how they are made! Marlene's book Go Vegan contains lifestyle and health advice together with beautifully illustrated pictures of easy to cook vegan recipes, one of which is her Teriyaki Black Bean Burger. Made from short grain brown rice, and black beans, this is your healthy alternative.
Grains serve as a major source of protein, fats, vitamins, and minerals in a form that is easy to digest and metabolise. They are also complex carbohydrates, or unprocessed forms of carbohydrates which is the way they exist in whole foods and are crucial to a healthy diet. These complex carbohydrates are crucial as a source of fuel for our bodies, required by our nervous system, muscles and kidneys, and provide glucose to all our body cells.
Black beans are an import source of protein, as they are high in amino acids. The basic elements of proteins are amino acids, the building blocks we need to create human protein. There are 8 essential amino acids, which should be present in our diet on a daily basis.
By eating grains and beans together you are assured of getting all the essential amino acids and therefore protein you need. Any "fear" of cooking beans is eliminated now that they are readily available in cans and jars.
So, go ahead and enjoy a burger on National Burger Day, but one that will be good for you!
Recipe: Teriyaki Black Bean Burgers
2 cups cooked black beans or mixed beans
1 cup cooked short-grain brown rice
1 cup silken tofu
2 heaped tbsp mild salsa
1 tbsp umeboshi paste
1 tbsp lime zest
1 red onion, chopped
2–3 garlic cloves, minced
1 tsp ground coriander
1 tsp dried oregano
1 tsp smoked paprika
2 tbsp teriyaki sauce
½ cup fresh coriander, minced
1 cup sourdough breadcrumbs
Oil-free mayonnaise for serving
Note – For kids Marlene would suggest using regular paprika – no spices.
To make the burgers
Preheat the oven to 180° (350°), gas 4. Line two baking trays with parchment paper. In a large bowl, mash the beans with a fork or potato masher. Add the cooked rice, tofu, salsa, umeboshi paste and lime zest, and mix well. Warm a splash or two of filtered water in a small pan and sauté the red onion, garlic, dried herbs, paprika and teriyaki for 5–7 minutes.
Add this mixture to the bowl and stir to combine. Fold in the fresh coriander and breadcrumbs. Take a heaped tablespoon of the mixture and squeeze together with your hands to form a burger. If not cohesive enough, add some more breadcrumbs.
Place on the baking trays and cook the burgers in the middle of the oven for 25 minutes, turning once halfway through.
Makes 8 good-sized burgers.
www.macrovegan.org
GIVE BANK HOLIDAY CELEBRATIONS A SPRITZ WITH ALDI'S NEW TIPPLE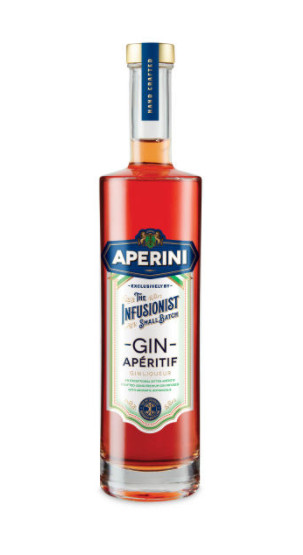 Whatever the weather, bank holidays are every excuse to indulge in some of your favourite drinks and with the long weekend just around the corner, nothing says summer more than a refreshing spritz. Cocktail fans will be pleased to hear that leading supermarket Aldi is launching a delicious new tipple in time for the celebratory weekend.
Hot off the shelves, shoppers can enjoy Aldi's Aperini Bitter Orange Gin Liqueur, available in-stores and online now for just £8.99. Bright orange in colour, this mouth-watering gin liqueur is refreshing yet sharp and offers a bitter-sweet taste with notes of juniper. For a classic Italian spritz with a sophisticated twist, simply serve over cubed ice and top with Aldi's best-selling Castellore Prosecco Frizzante (£4.99) and a splash of soda water. Finish with a slice of orange to garnish and you have yourself perfection in a glass!
Ideal for an Italian inspired aperitivo, enjoy the simply delightful cocktail before dinner to kick off the long weekend, or relax in hand while soaking up the sunshine during the day – this liqueur works for every occasion.
Aldi's Aperini Bitter Orange Gin Liqueur sits alongside a host of summery tipples as part of their new August Spirits Festival range, and is available online from Sunday 2nd August and in stores from 6th August.
Fantastic Functional Gizmos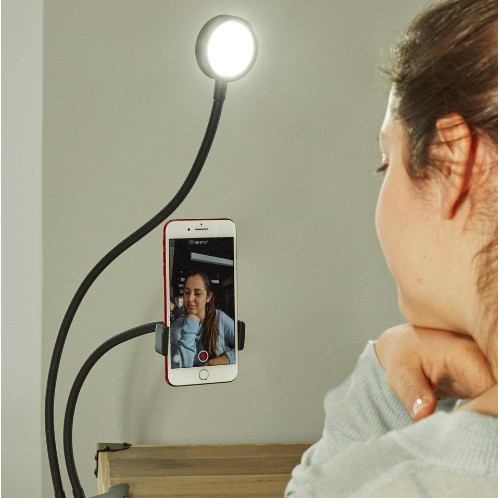 The Live Streaming Kit costs £25 from Oliver Bonas – Stories, Reels, Tik Tok or YouTube you can go hands free with this helpful gadget.
The Wireless Charging Mouse Pad costs £27.50 from Zavvi – Charge your phone next to your mouse with the useful wireless charging mouse pad.
The Wood iBed Lap Desk £13.99 from IWOOT – Place your tablet and connect your mouse and you can 'tick off' a few emails, or forget that and catch up on your favourite TV.
The iBed Lap Desk Black costs £13.99 from Cotswold Trading – WFH or Netflix, you decide with the practical iBed.
The Bedside Pocket Felt Caddy costs £13.99 from IWOOT – Keep everything tidy and in arms reach with this cool caddy.
The Flexible Tablet Holder costs £10 from Menkind – Clamps to almost anything, your desk, work top or dinner table, no more balancing acts.
The Pebble Power Bank costs £15 from Trouva – You can't get blood from a stone but you at least this will recharge your devices.
The Foldable Spot Light costs £5 from Urban Outfitters – Perfect for those gloomy cloudy days, a little spotlight makes reading easy and cool.
The Mirror Power Bank costs £9 from ASOS – This 2-in-1 gadget helps you keep charged and looking your best.
The Copper 3 in 1 Pen Tool cots £6.99 from The Hut – This handsome pen is exactly what you need to get things done. Comes with built-in spirit level, and screwdriver. Writes with black ink.
Footballing legends Ashley Cole and Yaya Toure were among a number of stars who joined fans to watch the Champions League semi-final – at a drive-in CINEMA
Footballing legends Ashley Cole and Yaya Toure were among a number of stars who joined fans to watch the Champions League semi-final – at a drive-in CINEMA.
With supporters barred from the stadium, fans instead turned up in their cars to watch Bayern Munich beat Lyon at the one-of-a-kind venue.
The Dream Screen, held at Magazine London, was organised by Hotels.com to help give fans a stadium atmosphere despite being almost 1,400 miles away from the ground in Lisbon, Portugal.
And as fans weren't able to enjoy the beautiful Lisbon coastline, they were treated to their own beach setup – including deck chairs – where they discussed all of the match's big talking points over traditional fish and chips.
Yaya Toure, who won the Champions League as a player with Barcelona, was joined by Ashley Cole and fellow famous football faces Adebayo Akinfenwa and Scott Minto for the unique event.
Yaya, 37, said: "The Final is set to be a huge game between FC Bayern Munich taking on Paris-Saint Germain FC.
"It will be incredibly close and a real nail biter, I can't call it, but I can say it'll be a brilliant game."
Louisa Johnson, Tallia Storm and Love Island winners Paige Turley and Finley Tapp also attended.
Finn said: "I was buzzing tonight to be able to swap my sofa for a sun-lounger.
"The Hotels.com Dream Screen made us feel exactly as if we were in the stadium ourselves…and what a view. The Final can't come soon enough."
Louisa Johnson added: "The Hotels.com Dream Screen was a fantastic way to enjoy watching the UEFA Champions League semi-final.
"As a huge football fan myself, it was great to watch FC Bayern Munich win the game in front of an incredible London backdrop."
Hotels.com, which is an official partner of the UEFA Champions League, organised the event to give fans a stadium atmosphere despite being almost 1,400 miles away from the ground in Lisbon.
Supporters dusted off their football shirts and practiced their chants in the build up to the match, which was broadcast in front of an incredible London skyline.
GIVE LUNCH THE ATTENTION IT DESERVES
With new ways of working in place for us all and with almost half the UK population working from home* throughout April to July, and 86% of those WFH due to coronavirus* – lunch time has undoubtedly had more attention and time given to it than ever before.
There's no need for microwaved meals from Tupperware boxes, nor meal deals or canteens to serve it on a plate for you, so we've done the hard work for some lunch time inspo in case you're getting a little bored.
Lifestyle blog from AO.com – AO Life – has worked with Carole Poirot, food and lifestyle photographer, to create five simple and easy recipes to make in 15 minutes or less (it won't cut into your lunch hour too much), so get cooking and enjoying some newfound favourites.
Classic and Simple
Toast "Pizza":
Ingredients:
2 slices of bread (white or wholemeal) to toast
2tsp tomato purée
2tbsp chopped tomatoes (tinned)
1tsp mixed Italian herbs
4-6 slices of chorizo
½ mozzarella cheese
How it's done:
Pre-heat your oven to 210C with top heat or put your grill on high
Toast the bread to a light gold
Mix the tomato purée, chopped tomatoes and herbs
Put half the mix on each slice of toast and spread to the edges
Top with chorizo slices
Slice the mozzarella and put the slices on top
Put into the oven/under the grill and bake until the mozzarella is melted
Serve with some salad leaves
BLT Sandwich:
Ingredients:
2 slices sourdough bread
2 thick rashers of bacon
1 tomato
2-3 lettuce leaves (little gems are great for that)
1tbsp mayonnaise
How it's done:
Slowly fry the bacon over a medium heat in a non-stick frying pan until evenly browned and crispy
Set the bacon aside and leave to cool
Spread the mayonnaise on both slices
Slice the tomato
Now put the lettuce on one of the bread slices, top with the tomato slices and then the bacon
Put the second bread slice on top and cut the whole thing in half
Light Bites
"Fake" Niçoise Salad:
Ingredients:
1 tin tuna, drained
1 egg
1-2 handful of mixed salad leaves (washed and ready to eat)
1tbsp sliced black olives
3 plum tomatoes
1 small shallot
Drizzle of olive oil & red wine vinegar
Salt & pepper to taste
How it's done:
Place the egg in hot water and boil for 7 minutes
Whilst the egg is cooking, drain the tuna from the tin
Peel and finely slice the shallot
Cut the tomatoes into slices
Drain the hot water and plunge the egg into cold water to cool for a few minutes
Arrange the leaves on a plate
Top with the tomatoes, shallot, olives, and tuna
Cut the egg into quarters and add to the salad
Drizzle the oil and vinegar on top and season with a little salt and pepper
Warm and Comforting
Spaghetti Puttanesca:
Ingredients:
85g dried spaghetti
½ tin chopped tomatoes
1tbsp sliced black olives
1 small garlic clove, minced
1 small shallot, finely sliced
2 anchovy fillets
1tbsp olive oil
1 pinch of salt
How it's done:
Finely slice the shallot
Put the olive oil and shallots into a medium frying pan and fry on a medium heat until just soft
Whilst the shallots are frying, put the kettle on and boil the water for the spaghetti
Pour the hot water into a large pot, add a pinch of salt and bring to a rolling boil
Add the spaghetti and cook for 8 minutes
Add the anchovy fillets to the shallots and "melt"
Now add the chopped tomatoes, olives and garlic
Bring all to a simmer and cook until the pasta is done
Once the pasta is done (8-10 minutes, depending on how soft you like it), drain the water and add the pasta to the sauce in the pan
Stir together and serve straight away
Chorizo and Pepper Frittata:
Ingredients:
2 large eggs
1 small pack ready diced chorizo
1 small shallot
½ fresh pepper
1tsp olive oil
How it's done:
Finely chop the shallot
Cut the pepper into small pieces
Put the olive oil, chopped shallot and pepper into a small pan
Over a medium heat, fry it all for about 5 minutes until just a little softened
Add the chorizo and fry for a further 5 minutes
Whilst frying the chorizo and vegetables, beat the two eggs
Now add the eggs and turn the heat down
Gently fry for about 3 minutes until the eggs are set
Serve with some salad leaves or some toast
CARR'S FLOUR LAUNCH BRAND NEW ONLINE STORE – DELIVERING THEIR QUALITY FLOURS FUSS-FREE, DIRECT TO YOUR DOOR!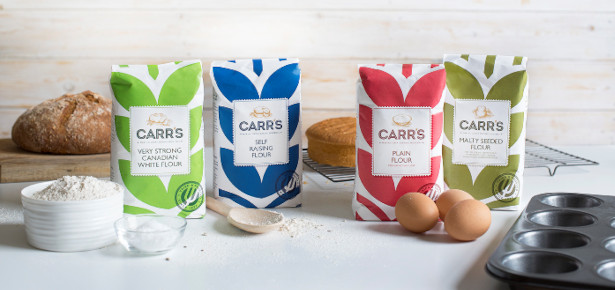 Going live on Monday 17th August, Carr's Flour's new online store will be a one stop shop offering the full range of Carr's premium flours and bread mixes. Giving their loyal customers nationwide access to all their tried and trusted products, the quick and simple platform allows customers to order their favourite flours direct to their door.
From a straightforward loaf to a complex cake, Carr's Flour believe that every time you bake or cook, the flour you use should be right for the job. It is their promise to mill the finest flour so bakers at home can create their own great baking moments, every time.
Flours available on the site include kitchen cupboard staples, Carr's Plain, Self-Raising as well as Wholemeal flour, Strong White, Strong Brown, the Very Strong Canadian Flour, Malty Seeded Flour, and the extremely popular Sauce Flour. The Carr's Breadmaker range of flours, which includes Sourdough, Strong White and Wholemeal bread mixes, are easy to use in an automatic breadmaker. To place an order, customers simply choose their own personalised "case", whether that is a mixed variety case of 7 different bags across the range or a single variety case of flour.
To celebrate the online shop launch, the first 200 orders will receive a free printed copy of the brand new Carr's Recipe Book, as well as a Carr's Dough Scraper – to continue to inspire you on your baking journey! As well as their family favourite ingredients, Carr's will also be looking to launch the Carr's Collectables – a range of baking utensils – onto the site in the future.
Rosie Parker, Brand & Marketing Manager for Carr's Flour says, "We are really excited to be launching the Carr's Flour online shop – never before has it been easier to shop for the complete range of Carr's range of flours & bread mixes. As well as making it simple for customers to choose, we also wanted it to be flexible too, which is why they can choose individual bags of flour and make up their own personalised case. We can't wait to see how customers get creative with our products as deliveries start arriving!"
Known in baking circles as the flour that's tried and trusted by Britain's best artisan and trade bakers right through to home cooks, the Carr's range of flours and bread mixes have been giving bakers confidence for nearly 200 years. Combining a strive for perfection, traditional craft and modern milling, Carr's' team of expert millers blend knowledge, pride and expertise into every bag they produce.
Better Water With Zerowater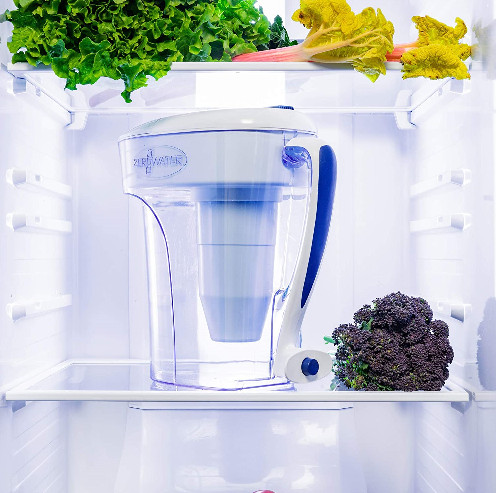 Zerowater reduces 99.6% of all total dissolved solids in your drinking water. It delivers the purest tasting water in minutes. Zerowater removes much more from tap water than other leading filter brands in the UK. Zerowater removes 97% of lead, 96% of mercury, 95% of chlorine and even 97% of asbestos which is often displaced from old and ageing water pipes.
In-fact Zerowater is so powerful that on average it removes 95% of all metals compared to 68% from Brita. Zerowater even removes 68% of all inorganics, whilst 33% is removed from Brita. The full list can be found here.
Zerowater gets better results due to a 5-stage filter, most filters only have 2-stage. Zerowater patented technology ensures that you can save money on buying bottled water and ensure your tap water is pure. The 12-Cup Zerowater comes with a free TDS Reader (Total Dissolved Solids). Some areas of the UK have reading more than 300. When water is filtered through the Zerowater filter it will score 0, Meaning you can enjoy great tasting pure water at home.
The Zerowater 12-Cup Filter costs £39.99 from Zerowater.co.uk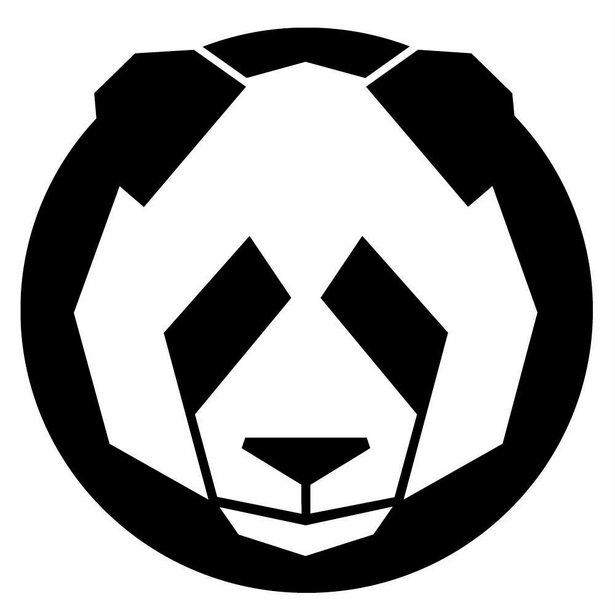 Bamigo's bamboo underwear helps keep Brits cool
It's time to discover the world of Bamigo – a remarkable species. He's comfortable, flexible and incredibly soft…. www.bamigo.com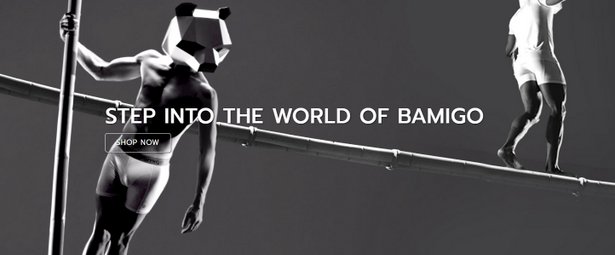 LONDON, 18/08/20 – Bamigo, the sustainable men's fashion brand from the Netherlands, announces its launch in the UK. A premium collection of pants, t-shirts, socks and pyjamas, Bamigo's products are all handmade using bamboo fibres that allow the skin breathe and offer unparalleled comfort day in, day out. Handmade and silky-soft, Bamigo offers a perfect fit which feels like a second skin, whilst looking effortlessly stylish. Loungewear is a must-have in the modern man's wardrobe. These items are primarily worn around the house and are specially designed to enhance relaxation, offering truly unbeatable levels of comfort. Unwind in your favourite bamboo loungewear, and look great doing it.
The bamboo fabric used in all Bamigo products offers excellent ventilation thanks to the microscopic holes in bamboo fibres, helping to keep Brits looking and feeling cool during the heatwave. The bamboo fibres absorb up to 70% more moisture than cotton without retaining unpleasant odours, allowing the skin to breathe and ensuring freshness throughout the day, no matter the situation. The thermal regulating effect of bamboo fibres provide added protection against the chill of a cold day while preventing overheating on warmer ones.
Bamigo is committed to the design of a sustainable and more durable alternative to cotton clothing. The entire range, crafted by hand using bamboo, is kinder to the environment than cotton as it needs only sunlight and rainwater to grow. The use of bamboo also has a positive impact on other global environmental concerns such as deforestation and the greenhouse effect.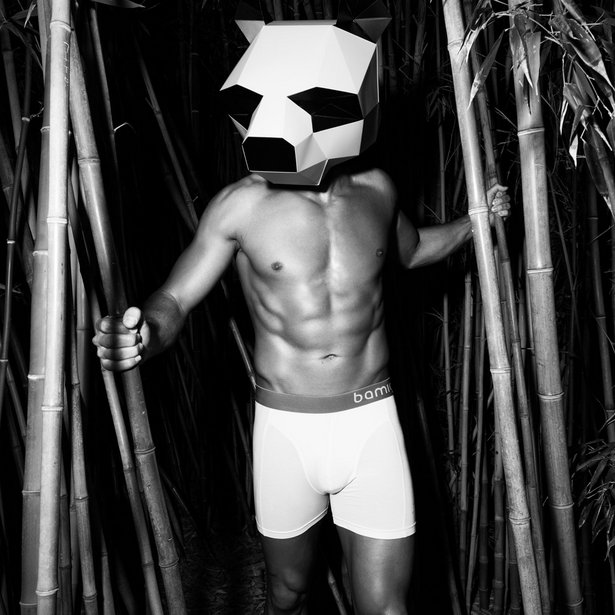 "Through our innovation we work to give bamboo underwear another dimension" said Bart Hoorntje, CEO at Bamigo. "We have been told time and time again that our underwear and range of socks and t-shirts feel like a second skin, and we are excited that British consumers can now experience the comfort and style of our bamboo clothing".
Benefits of Bamigo bamboo clothing:
• Extended Freshness: Fabrics made using bamboo offer excellent ventilation thanks to the microscopic holes in bamboo fibres. Bamboo also has a structure that repels moisture, meaning it wicks away moisture quickly.
• Excellent Heat Regulation: Bamboo fabrics also have several insulating properties that influence heat exchange. In warm weather, bamboo fabrics feel fresh while also providing added protection against the chill of a cold day.
• Hypoallergenic: Bamboo is hypoallergenic, which means that it does not trigger any allergic reactions. This unique property of bamboo is particularly welcome for those who have sensitive skin or suffer with allergies.
• Protection Against UV Radiation: Bamboo provides natural UV protection and can filter up to 97.5% of harmful UV rays. This makes it the ideal fabric to have next to your skin on hot days with prolonged exposure to sunlight.
• Crease-Free: Bamboo clothing does not require ironing. Thanks to the properties of bamboo fibres, the fabric is almost impossible to wrinkle and holds its shape exceptionally well.
• Sweat-Resistant: Bamboo clothing absorbs up to 70% more moisture than cotton without retaining unpleasant odours. The thermal regulating effect of bamboo fibres helps you stay sweat-free and feeling fresh.
• Eco-Friendly: Bamboo has a positive impact on global environmental concerns such as water scarcity, deforestation, soil erosion and the greenhouse effect. Bamboo is a by far more sustainable textile than cotton available to help create a better world.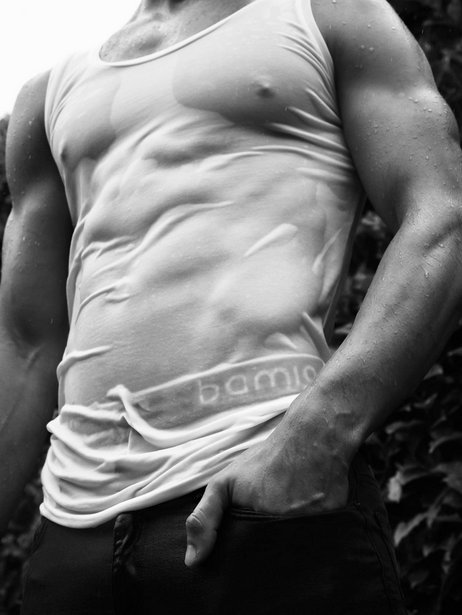 "With our products now available in more than a dozen countries worldwide, we feel this is the right time to extend our offering in the UK", continued Bart Hoorntje, "We believe British shoppers attach as much value to sustainability as we do; they engage with environmental issues, but they also appreciate high quality, so it's a good fit all round."
Bamigo's collection of bamboo underwear, t-shirts, socks and pyjamas are all now available in a range of various styles and lengths, exclusively at bamigo.com.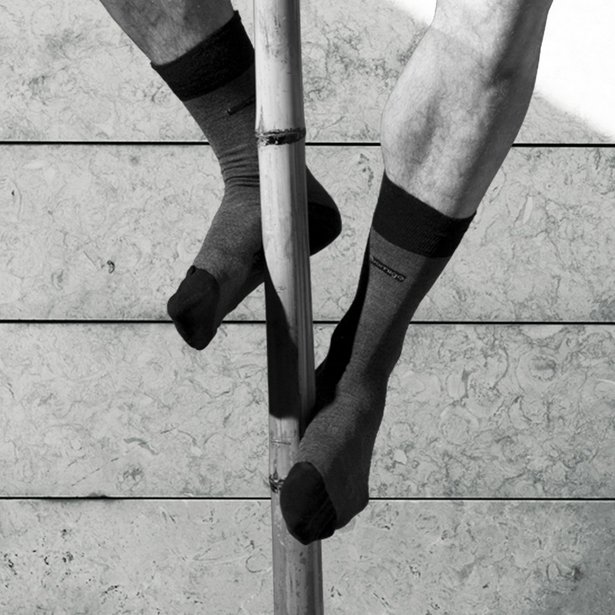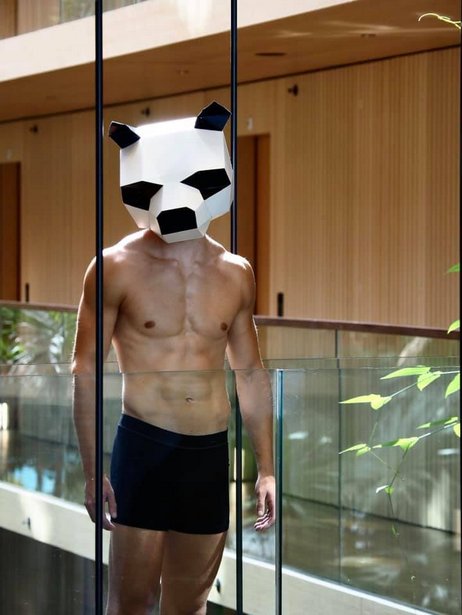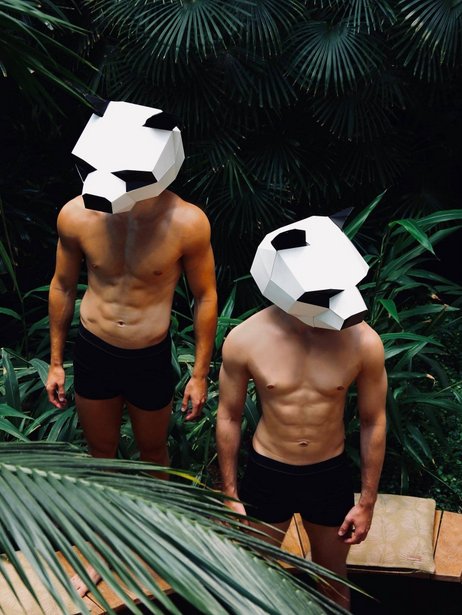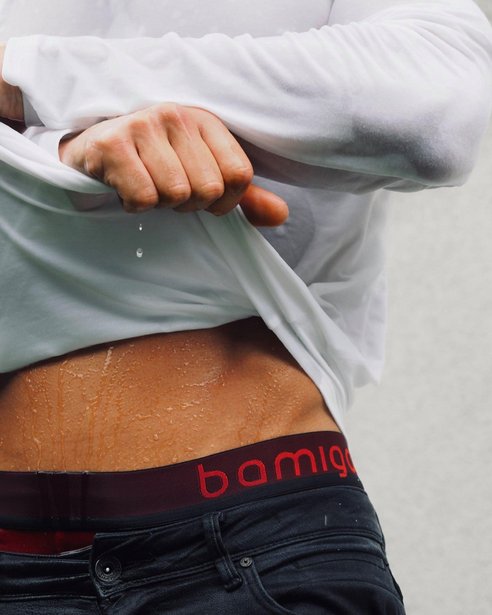 Bear-Essential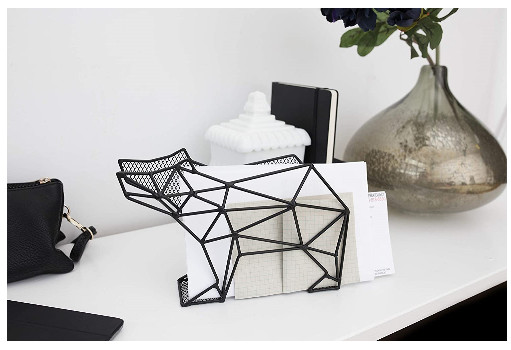 Let the Kikkerland Bear Organiser fill your office space with functional design inspiration. Baked enamel on steel animal wall mount or desktop storage is the creative and classy way of storing files with elegance and ease. When mounted, its trunk becomes a key holder. It measures 24.9 x 5.1 x 15.5 cm and mounting hardware is included.
Features
Made of baked enamel steel
Sit on desktop or mount to wall
Safely store letters, bills and magazines
Comes in a coloured box packaging
The Kikkerland Bear Wall Organsier costs £25 from Beaumonde
ARLU's Rum Punch will be the peak of your day
We'd all love to be on a white sandy Caribbean beach, feeling the sun on our faces sipping on a refreshing rum punch, but whilst we all can't be Kendall Jenner (in more ways than one), this ARLU Rum punch has your name on it – bible.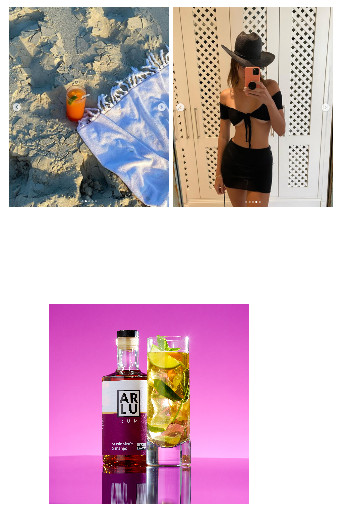 Mix orange, lemon and pineapple juice with the ARLU Original Spiced Rum, ARLU Passionfruit & Mango Rum, ARLU Blood Orange Rum, grenadine and give it a good stir. Then pop into the fridge to chill for 1 hr.
Serve over ice cubes, sprinkle nutmeg and garnish with an orange slice or wedge of lime and guaranteed you'll be the most interesting to look at.
ARLU Rum (£25.00) is available to buy in Booth's and to purchase online at www.arlurum.com.
See full list of ingredients below:
Ingredients:
100ml of orange juice
100ml of pineapple juice
1 freshly squeezed lime/lemon or 2 tablespoons of bottled lemon juice
60ml ARLU Original Spiced Rum
60ml ARLU Passionfruit & Mango Rum
60ml ARLU Blood Orange Rum
60ml grenadine
Garnish:
Nutmeg
Orange slice
Lime wedge
The installation and revolutionary model will improve sanitation in urban areas by promoting and facilitating hygienic hand washing practices.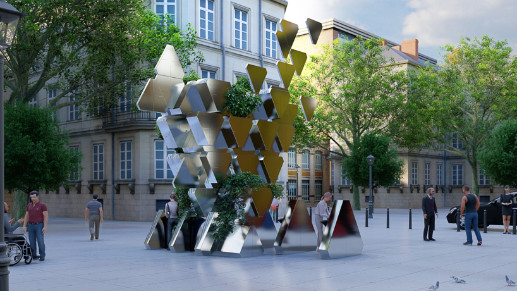 Chloe Rokelle Sun, an architectural designer, has visualized an urban apparatus called Living Future, in response to the challenges posed by the COVID-19 pandemic. Living Future is a concept of sustainable public space designed to provide clean water for public hand washing to mitigate the spread of Covid-19 and subsequent viruses.
Rokelle Sun says: "The COVID-19 pandemic has demonstrated that many urban centers are not ready to confront such issues and often fail to provide their citizens with safe public spaces living up to rigorous hygienic standards. Living Future is a multifunctional installation destined to help mitigate the consequences of COVID-19 and other subsequent viruses, representing a shift in public health that needs to be made".
This multifunctional art installation piece is a Living Machine® designed to provide clean water for public hand washing, ready to be installed in over-populated urban centers. The structure of the apparatus has been created with reflective vessels to house various verdant plants — here the plants also act as filters in the ecosystem of this sustainably conceived product. A greywater filtration system reclaims the used water after handwashing to be reused in addition to feeding the live plants in the structure. With its abundance of lush foliage, clean water, and the illuminating surface made of Nano leaf modular smart LED light panels; this piece is symbolic of the collective resilience through adversity and reflects a shift towards creative, communal efforts to nurture solutions for living and enjoying life amidst COVID-19. From the lush botanicals connected to the water filtrations representing the importance of our ecosystems to the reflective facade during the day and illuminated light panels at night; this structure is meant to be a jovial reminder that we're all in this together.
As of today, over 55% of the world's population lives in urban areas, a proportion that is expected to increase to 68% by 2050. Cities are densely populated, which represents certain challenges in controlling an epidemiological situation: as WHO reports, infectious diseases cause the death of 17 million people every year.
Just like previous epidemics have changed the cities and buildings, COVID-19 may have long-term effects on how public spaces are conceptualized and designed. In the early 20th century, tuberculosis influenced architectural solutions, leading to the birth of a Modernist style – minimal, spacy buildings with lots of sunlight (which was believed to be effective in killing bacteria). And even after the tuberculosis vaccine was used on humans and saw a rapid decrease in the disease, modernist architecture has continued to be prevalent in the design of public buildings.
At the moment, humanity is facing a new challenge, and public spaces (especially in big cities) need to adapt to these new conditions, providing a safer, more hygienic environment to its citizens. The Living Future is a pioneering concept and creation that will be placed in cities in order to rapidly improve sanitation and hand hygiene, creating a safe green space for citizens and contribute to the development of sustainable urban design.
Summer holidays are often the perfect opportunity for some much-needed r&r and some time away with the kids; but with lockdown restrictions differing in different countries and the rules constantly changing, it's starting to feel a bit stressful.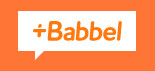 www.babbel.com
Thankfully, the experts from leading language app Babbel (www.babbel.com) have put together an essential guide of terminology to get tourists through the summer season safely, by gathering key guidance and phrases that holidaymakers will need when travelling during the pandemic. Examples (available in French, German and Italian) include:
Key phrases – Babbel has translated important phrases such as "Excuse me, do you sell disposable face masks?" and "Could you take a step back, please?" to help people stay safe when they travel.
Etiquette – Language and cultural experts from Babbel explain the etiquette in France, Germany and Italy when it comes to navigating local Covid-19 guidance (like the amount of distance to be kept between people, and where it's acceptable to visit) – so that travellers can avoid making an inadvertent faux-pas upon arrival. #
Dantoy have launched a brand-new "I'm Green" line of bioplastic products, their bioplastic is made of at least 90% sugarcane, a sustainable raw material, and their bioplastic is 100% recyclable.
Dantoy leads the way with their bioplastics. The manufacture of bioplastics reduces carbon emissions. The sugarcane is cultivated on controlled, pesticide-free plantations in central and southern Brazil. The sugarcane is harvested every 6 – 12 months. Bioplastic made of sugarcane is a 100% sustainable raw material.
Traditional plastic is made from crude oil, whilst dantoy "I'm Green" PE (bioplastic) is made from at least 90% sugarcane (ethanol). Ethanol, a form of alcohol, is extracted from sugarcane, after which it is used to make bioplastic.
The sugarcane used for dantoy bioplastics grows in plantations in the southern and central regions of Brazil, more than 2,500 km from the Amazon region. The enlargement of areas for cultivating sugarcane is managed by "Sugarcane Agroecological Zoning", formed by Brazil's federal government. The harvested sugarcane is conveyed by train for further processing, which is more eco-friendly than being transported by lorries.
Sugarcane can be harvested several times a year. New sugarcane plants are planted every five to seven years. The fields are harvested every six to twelve months enabling them to be classified as a sustainable raw material. Sugarcane absorbs carbon dioxide from the air, thereby minimising the greenhouse effect. For the manufacture of bioplastic, the carbon emissions accounts are positive from the budding of the plant until it is manufactured into bioplastic. For each kilo of manufactured bioplastic, 3.09 kg of carbon dioxide are removed from the atmosphere.
Dantoy's packaging is all made from recycled cardboard. Their toys are made to last and are approved for contact with foods, microwave safe, dishwasher safe, frost-proof and contains no toxins.
Dantoy's range of bio toys includes the popular front loading tractor is great for pretend play. It encourages social skills, interaction and helps children to learn whilst having fun.
Dantoy believe that people should buy less, buy well. That is why their toys are only made with sustainable products. We can all be eco-friendly and by choosing brands who care will make a little difference.
The Dantoy Bio-Toy Front Loader Tractor costs £22.99 from Amazon
Demijohn, the liquid deli
The Demijohn News – Scream for Ice Cream!
www.demijohn.co.uk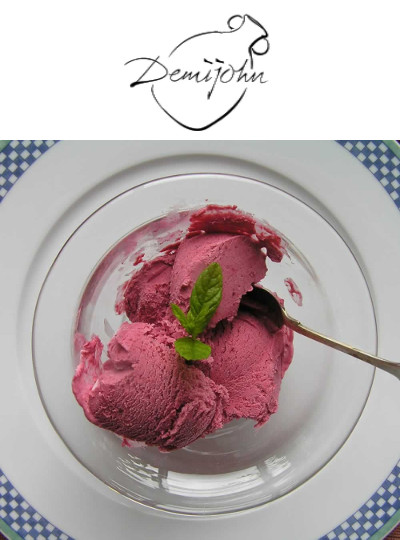 A recipe for Festival Blackcurrant Ice Cream to keep you cool!
~ Our Ice Cream Recipes ~
Scream for Cool Ice Cream
When the temperature in Scotland reaches 25 degrees Celsius at 8am in the morning, as it did yesterday, we all go a little potty. All I could think of was the need for an ice cream….
Luckily we have four quick and easy ice cream recipes up our sleeves for such an unusual heat wave event. As we have just picked our blackcurrants for the year, our Festival Blackcurrant Ice Cream which uses our fruity Blackcurrant Gin Liqueur 20% is at the top of our list.
However, we can also recommend our Rhubarb Ice Cream which uses our Rhubarb & Ginger Cordial, our Seville Orange Marmalade Ice Cream which uses our Seville Orange Gin 26% and our Spiced Rum and Brown Bread Ice Cream which is made with our Spiced Rum Liqueur 20%.
All in all, these are four delicious dessert recipes designed to keep you cool!
Competition Time!
We have teamed up with our honey producing friends at Necta & Hive with a new competition to win one of our lovely Scottish Goody Bags along with some of their delicious and healthy Red Gum 30+ TA honeycomb, a prize collectively worth about £118. Enter this competition before 25th August 2020 for your chance to win.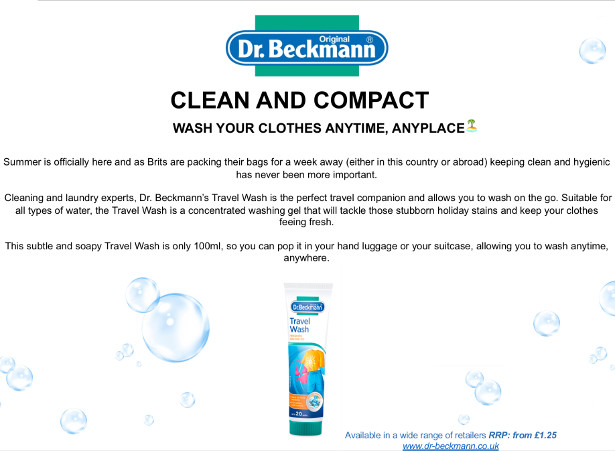 Author Chic Carvell & Rex Hazeldine has just released their new book Fitness for Winning Rugby.
Aout the book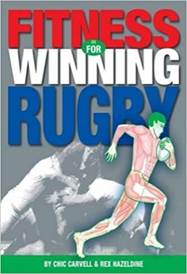 "The Book Fitness for Winning Rugby provides a range and depth of information that makes it "a must read for all who coach and play the sport of Rugby at all levels of the game." – Maggie Alphonsi MBE (former English rugby union player)
Fitness for Winning Rugby is a unique publication as it looks at fitness for rugby in the widest sense of the word. Alongside core fitness information it includes valuable chapters on nutrition, injuries, recuperation from injury, both physically and mentally, as well as the importance of training and playing the game free from drugs that claim to enhance performance.
Throughout the book are colourful diagrams linked to physical training together with hand drawn anatomy illustrations that add an important educational dimension, which makes Fitness for Winning Rugby an essential publication for, professionals, parents who have children playing rugby, coaches and players of all ages and genders. It will be especially useful for developing players who are looking for ways of taking their game to the next level and breaking into representative rugby. Professionals and students interested in the principles of fitness for sport as well as the game of rugby will find this book an important reference source.
The book has been endorsed by:
Maggie Alphonsi, MBE, England International Rugby Player 2003-2014 and member of England's World Cup Winning Squad 2014.
Geoff Richards, Australian International Player 1978-81 and former coach to the England Women's Rugby Football Team.
About the Authors
Chic Carvell trained as a Physical Education Teacher at the Scottish School of Physical Education, Jordanhill, Glasgow from September 1969 to June 1972. Having gained a Diploma in Management Studies (Recreation Management) in 1973 he spent the next ten years managing Leisure Centres in the UK and abroad, pioneering the health/fitness assessment concept when running businessmen's fitness programmes. 1985 saw the birth of his Company, Chartex Products International Limited that, since its conception, has been at the forefront of designing education charts for the Fitness, Sports and Education industries. Chic has trained many sportsmen and women at club and international levels.
Rex Hazeldine worked for over 30 years as a lecturer in Sport and Exercise Science at Loughborough University, becoming Director of Sport. He has been fitness advisor to the England Rugby Squad and the Rugby Football Union and director of fitness to the Women's Rugby Football Union. He is the author of Fitness for Sport and Strength Training for Sport and co-writer of The RFU Guide to Fitness for Rugby (1991). In recognition for his work in fitness and sports coaching he has been inducted into the Sports UK Coaching Hall of Fame.
For more information please visit: www.austinmacauley.com/book/fitness-winning-rugby
GIVE A DOG A HOME: BREWDOG TEAMS UP WITH UK DOG CHARITIES TO HELP FOUR LEGGED FRIENDS FIND FAMILIES

Scottish craft brewer BrewDog, announced today it would be teaming up with Dogs on the Streets and All Dogs Matter, using space on its beer cans to showcase profiles of some of the charity's dogs on the hunt for forever homes. They are launching Street Dog: limited edition Punk IPA , available in 12 packs of 330ml cans, from 11th August 2020 for pre-order.
The collaboration, inspired by Ricky Gervais, a long term advocate for homeless canines, follows his 'shout out to BrewDog' on Twitter earlier this month. The video, posted by Gervais, urged businesses to donate to charity rather than paying for celebrity endorsements, BrewDog were quick to respond to this, donating to several animal charities. The project has also been facilitated by avid advocate of animal rights, Peter Egan who is a keen supporter of both charities.
Ricky Gervais commented,
"Dogs make me happy. Beer makes me happy. A beer that saves dogs makes me VERY happy."
James Watt, Co-found of BrewDog commented,
"At BrewDog we are always looking for ways to use our business to do good. When Ricky tweeted us with a genuine endorsement for Punk IPA, we wanted to use our platform to donate to causes he's passionate about. We then decided to take it one step further and not only donate the profits from our Street Dog cans, but give our pawsome four legged friends over at Dogs on the Streets and All Dogs Matter, space on our cans to help them find forever homes."
The brewer's latest commitment to support charities close to the comedians heart, will see its iconic Punk IPA, transformed and renamed for a short period, giving over space on its can to profiles of dogs currently in the care of Dogs on the Streets and All Dogs Matter. Urging consumers who are able to offer homes to dogs, to get in touch with each of the charities.
Michelle Clark, Founder of Dogs on the Streets, said,
"The team at Dogs on The Streets are really excited to be working with BrewDog to shine a light on some of our amazing dogs looking for new homes. In the current climate it's been amazing to work on such an uplifting project, raising awareness of our work with dogs living on the streets, and hopefully unite some of our ex street dogs with owners in forever homes!"
Ira Moss, Founder of All Dogs Matter continued,
"We have seen a big loss in income due to the ongoing pandemic, so we are thrilled that BrewDog is helping raise awareness of our work through this collaboration. Sadly, there are many unwanted and abandoned dogs needing homes across the UK and this campaign is a creative way of highlighting the importance of adoption instead of buying a dog. We hope the campaign is a huge success and thank our ambassadors, Ricky Gervais and Peter Egan for its inspiration."
100% of all the profits generated from the sales of Street Dog will be split evenly between the two charities. For more news and information on BrewDog head to @brewdogofficial on Instagram or @brewdog on Twitter.
INTRODUCING NAVID SOLE
A MULTI-TALENTED PHARMACIST WHO HAS HELPED THOUSANDS OF UK PEOPLE DURING COVID-19 SPEAKS OUT ABOUT HOW HE CAN HELP ALLEVIATE PRESSURES ON THE NHS
RAPPER & REALITY STAR SPREADS AWARENESS!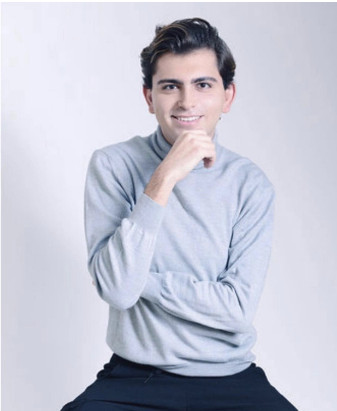 "Welcome to my world of Pharmacy, Travel, Reality TV, Rap and Fashion" reads Navid's Instagram Bio and that's exactly what you will get from him. Navid has a wide range of passions, but they are his life and what makes him who he is.
From overcoming racial adversity to graduating with a Master's Degree in Pharmacy from King's Collage London and owning two of his own pharmacies in London, Navid has pushed himself to achieve what others told him was impossible and thrives to help those in any way that he can. Motivated by the tragedies of COVID-19, Navid wants to use his voice to spread awareness on the importance of the role of pharmacists and how his job can help alleviate the pressures on the NHS.
Pharmacy requires a high level of skill and pharmacists are on the frontline of the British healthcare system. Throughout the coronavirus pandemic, pharmacists have supported the NHS by nearly 78%, ensuring medications were given to patients on time and answering uncertainties the public had during the pandemic. Specifically, during this time, Navid and pharmacists like him have had to step up and take on more responsibility, in support of the strain that COVID has had on the NHS, through supplying medicine to those in need and acting as stand-in GP's during this time, making sure individuals had access to proper and necessary medication. Navid believes that pharmacists should have the right to prescribe medications within their competence and for them to adjust if something incorrect was written on the GPs script, which will hugely reduce the burden on GPs and doctors' surgeries. Navid says: 'I fear that a second peak will soon rise around the UK as people have started to think things have gone back to normal which they have not. We have started to pre-order the flu jab as there will be a huge demand of people wanting a vaccine for this winter'.
Navid is very passionate about speaking on anything regarding pharmaceuticals, he is trained to respond to patients' symptoms and advise on medicines and can recommend vitamins, minerals and supplements where needed. His profession can provide services to patients including smoking cessation, blood pressure measurement and cholesterol management. Not only does Navid give advice to patients on medicines including how to take and what reactions could occur, he also provides advice to healthcare professionals about safe and effective medicine use.
Not only is Navid a practising pharmacist, but he has also starred in a number of TV shows including Channel 5's Rich Kids Go Skint which also aired on 5 Star and MTV, Eating with my Ex on BBC and Things Not to Say on BBC iPlayer. Navid has also appeared a German TV show called Taff which focused on his daily role as a pharmacist. These different yet fantastic opportunities have opened Navid's eyes to a different world and taught him valuable life lessons, which is definitely a different scene to the Pharmacy world.
With an impressive 10k followers on Instagram, and a celebrity following including Nicki Minaj and Blac Chyna, who share his passion for rap and fashion, Navid's favourite way to express himself is through rap- 'I love rap. I am inspired by my gorgeous Nicki Minaj and have a powerful side which comes out when I rap. I love celebrity culture and mingling with the likes of Jennifer Lopez, Britany Spears, Michelle Obama, Donatella Versace, Rita Ora and many more. By being in their presence it gives me the drive for success and inspires me to become as influential as them.'
Navid is a strong believer that you can do anything you want if you work hard enough for it and will continue to use his unique, outgoing, friendly and bubbly personality to get him to where he wants to be and help alleviate pressures on the NHS. Speaking 4 languages (English, Italian, Spanish and Farsi), Navid is keen to express his knowledge across a range of health, science, celebrity culture and music topics.
GIN LOVERS DELIGHT WITH THE LAUNCH OF KOPPARBERG PASSIONFRUIT & ORANGE GIN
Number 1 for taste, drinks brand Kopparberg will launch Passionfruit & Orange gin this March
The new gin bursts with exotic passion fruit and orange flavours
The spirit is 37.5% ABV and will be available at selected Tesco stores from 9th March
This March, Kopparberg, experts in premium fruit refreshment, has capitalised on the phenomenal and continued growth in flavoured gin* with the launch of its brand new Kopparberg Passionfruit & Orange Gin. The new gin offers a bold and exotic taste, expertly infused with sweet passion fruit and orange, and is best served over ice with a slice of orange for the ultimate drink to kick start an evening with friends.
Following the success of Kopparberg's first foray into the spirits market with Strawberry & Lime gin in May 2019, followed by Mixed Fruit later on in the summer and with both taking the gin market by storm, the new Passionfruit & Orange variant offers drinkers an alternative to pink gin, still bursting with bold fruit flavours and a twist on the traditional taste.
The decision for a passion fruit flavour was made following the successful launch of Kopparberg's Passion Fruit cider variant in 2019, and the increase in demand for passion fruit flavoured drinks. Rob Salvesen, Head of Marketing, comments: "We are extremely excited to bring our new flavour of Kopparberg gin to the UK following the success of our pink gin variants launched last year and after we've seen passion fruit as a key and current trend in flavour. Kopparberg is the perfect drink to enjoy with friends and we look forward to seeing Kopparberg fans making memories with a refreshing serve of the new Passionfruit & Orange Gin."
Kopparberg Passionfruit & Orange Gin is best served over ice with a tonic or lemonade mixer, served up with a slice of orange, providing the perfect refreshing tipple for gin lovers.
Date: 13 August 2020
Students in Northern Ireland cannot be left behind
​

Responding to the news that 37% of estimated grades allocated by teachers to NI's A-level and AS level students were lowered, NUS-USI President Ellen Fearon said:
"I am immensely proud of every single student in Northern Ireland who is receiving A Level results today. These learners have had to endure unprecedented stress and anxiety over the past few months and they deserve to take this day to celebrate and reflect on their achievements.
"Unfortunately, for many, today simply brings more stress and uncertainty. Across Northern Ireland, A Level results have shown huge anomalies, with over a third of students grades lowered from their teachers predictions. It's also important that we look beyond these worrying statistics, and think about the direct impact this will have on the futures of individual students.
"The reality is that students in Northern Ireland have not been offered the same safety net as students in the rest of the UK. They will be competing for university places with others who have been guaranteed results no lower than their AS grades, or had their moderated grades scrapped.
"It's not fair that someone receiving their A level results today is at a disadvantage to their peers simply because they live in Northern Ireland. I would urge anyone who is unhappy with their results to use the appeals process and if they are struggling with their mental health to seek support from their school, college or GP.
"Every single student in the Class of 2020 deserves results which fairly reflect their ability and efforts. The Government needs to take action and introduce a fair and easy to use appeals process, making sure that all schools and colleges have the resources they need to support student through this process quickly in time for the new academic year in September."