SPONTUNEOUS—THE SONG GAME IS THE GIFT OF MUSIC THAT PROMISES A HAPPY HOLIDAY AND BEYOND
For Past Two Holiday Seasons, SPONTUNEOUS—THE SONG GAME
Listed as #1 Best Selling Board Game on Amazon
NASHVILLE, TN (October 2019) Spontuneous – The Song Game is the gift of music that promises a happy holiday and beyond. Spontuneous – The Song Game is an old fashioned, tabletop board game, with no electronics. It's a perfect game for all ages and crosses all genres of music. For the past two Holiday seasons, Spontuneous has been the #1 Best Seller on Amazon for board games with over 1,800 4.5-star reviews.
Created by Nashville-based entrepreneur, Rob Ridgeway,Spontuneous makes a board game out of that crazy occurrence where hearing a particular word spontaneously causes a song to pop into your head. Ridgeway states that "Spontuneous opens up great conversations and connects people through the music they sing and the memories they share. Laughter is 100% guaranteed."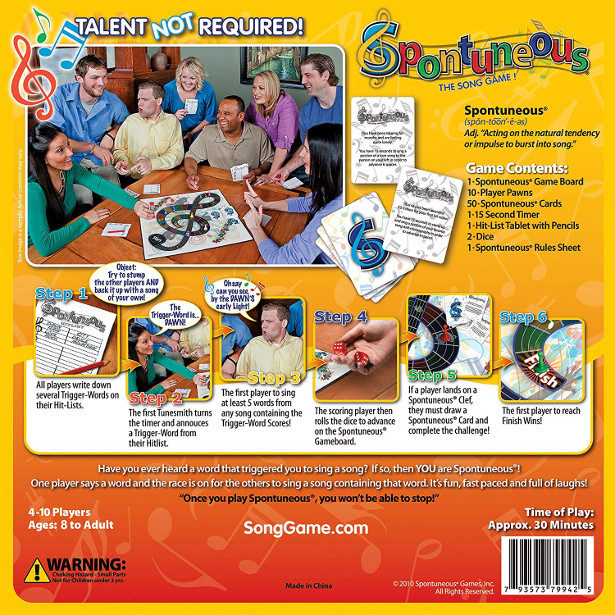 Research has proven that music impacts us in many ways. Using advanced technology, scientists have discovered music can inspire strong feelings and bind us together. Playing Spontuneous will not only create wonderful memories but also trigger pleasant past memories associate with music.
The broader the tastes the better the fun! Spontuneous's tag line is, Sing it or Shout it…Talent NOT Required. So even if you can't carry a tune in a bucket, this game is still for you!
HOW TO PLAY: The objective ofSpontuneous is to stump your opponents from being able to sing a song containing the trigger-word you've chosen. The players race to be the first to sing a 5-word portion of a song containing that word. The first player to begin singing rolls the dice to advance on the game board. If everyone is stumped, the player who announced the word must be able to back it up with a song of their own otherwise they are penalized. The first player to reach the finish line and complete theSpontuneous Challenge wins!
Great for All Ages, 8 and Up
Multiple Award-Winning Game
Crosses All Genres of Music
10 Players or Teams
Length of Play: 30-45 minutes
Talent NOT Required
About Rob Ridgeway
Celebrating 10 years,Spontuneous—The Game has come a long way since Rob Ridgeway invented it in 2009. From handselling his products at his first mall kiosk in Billings, Montana to pedicabbing the streets of Austin, Texas to make ends meet, Ridgeway has hustled to keep his dream alive. He's overcome near-bankruptcy, a brain tumor, medical debt, inventory stranded by a 2014 Port of L.A.strike, and the pessimism of naysayers forSpontuneous to become the bestselling game on Amazon. In 2018, Ridgeway relocatedSpontuneous operations to Nashville, TN AKA Music City USA.