Stiff Guy Yoga
Regain Your twentysomething Self in 30 Days! Author, Nikki Lynds-Xavier.
www.troubador.co.uk/bookshop/health-wellbeing/stiff-guy-yoga/
Available at WH Smith & Amazon online!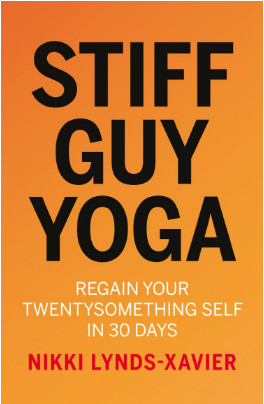 Key selling points • A practical beginner's guide to yoga designed for men • A 30 day fix to leave readers feeling twentysomething again • Nikki has had huge success with her Stiff Guy Yoga classes
Can't put your socks on without sitting down? Tight hips, hamstrings, hip flexors, back and shoulders… sound familiar? Then this is the book for you!
For men who want to improve their flexibility, reboot their energy levels, decrease stress and, most importantly, regain their zip and zeal for life, Stiff Guy Yoga is here to help.
Yoga teacher Nikki Lynds-Xavier invites readers to take her 30 day challenge. The focus of the book is very much on the mechanics of the yoga body. The appeal of Stiff Guy Yoga has led to Nikki teaching the British Army and the Fire Brigade.
£12.99 ISBN 9781838590666
Nikki Lynds-Xavier was originally a lawyer and Partner of a large London law firm, until her love of yoga took her to California to train as a yoga teacher. On her return to the UK she founded Stiff Guy Yoga, a practice specifically designed for men new to yoga.