Do you dream of traveling the world, and flying for free?

The Freedom Project shows a new approach to travel as a lifestyle. Travel has countless benefits to all areas of life, and they are available to everyone.
This book is the liberating blueprint for finding freedom and happiness in your traveling life. The Freedom Project explains, for the first time, the secrets of travel Wilko has used to explore the world, and fly for free:
How to escape, and deal with what gets in the way of getting away.
How to plan for travel, turning your dreams into goals, and plans into action.
How to book travel and claim what's yours.
How to prepare to leave, and find the purpose of being packed and ready to go.
How to go to where you want to be, bridging the distance while still feeling connected.
How to be at the destination, and live your traveling life feeling more alive.
How to come home and take some of your traveling "self" to who you are at home.
Wilko: "The importance of this book became clear to me when people attending my art events were drawn to the images that I took on my many travels, and commented on "how they wish they had gone there". A lot of things can get in the way of getting away, but the benefits of travel affect all areas of life. They say travel is the only thing you can buy that makes you richer. My book will inspire many to go explore and provide the tools to make dreams a reality."

Robbie's Rugby Festival braves the rain!
Leicester Tigers Tom Youngs makes an appearance as the largest 10s Rugby tournament returns for its eleventh year!
Despite the typically damp British weather, Loughborough Grammar School Playing Fields filled with spectators and scrummers alike on Saturday (27th July) to celebrate another year of charity sports event, Robbie's Rugby Festival. Originally curated as an old boy's reunion match by a group of school friends, Robbie's Rugby Festival has grown to become the largest 10's rugby tournament in the midlands, raising vital funds for two incredibly worthy charities, The Robbie Anderson Cancer Trust and The Jake McCarthy Foundation, inspired by two young men who tragically lost their lives to cancer. Determined not to be beaten by the elements, players and fans braved the rain this weekend ready for an action-packed day of rugby rivalry, family fun and the famous 'Party on the Pitch' in the evening.
For 2019 Robbie's Rugby Festival saw the appointment of two new ambassadors, present and former England players and brothers, Tom and Ben Youngs. Although his brother Ben was in Italy, training for the upcoming Rugby World Cup over the weekend, Leicester Tiger Tom attended on day, getting stuck in amid the action, spectating and cheering from the side-lines. Tom was also called upon to present the highly coveted Cup, Plate and Spoon awards, alongside the Mayor of Charnwood, Councillor Brenda Seaton. In May of this year, alongside his Tigers' teammates, Tom Youngs opened a Therapy Room for the children's oncology ward and Teenage Cancer Trust Unit at Leicester Royal Infirmary, paid for by funds raised by Robbie's Rugby Festival.
Tom Youngs said: "Ben and I are extremely proud to have been event ambassadors for the eleventh annual Robbie's Rugby Festival. Although Ben couldn't make it on the day due to his busy World Cup training schedule, I was able to attend and felt incredibly humbled to be a part of such a special event. Having opened the Therapy Room for Ward 27 and Teenage Cancer Trust Unit at Leicester Royal Infirmary earlier this year, it was amazing to see where the funds for these life changing resources were raised. It's truly heart-warming how the rugby family can come together to make a real difference to people's lives."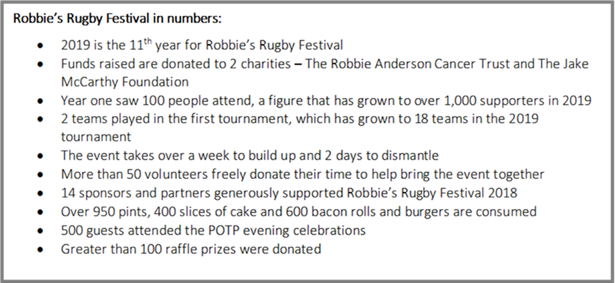 Robbie's Rugby Festival in numbers:
• 2019 is the 11th year for Robbie's Rugby Festival
• Funds raised are donated to 2 charities – The Robbie Anderson Cancer Trust and The Jake McCarthy Foundation
• Year one saw 100 people attend, a figure that has grown to over 1,000 supporters in 2019
• 2 teams played in the first tournament, which has grown to 18 teams in the 2019 tournament
• The event takes over a week to build up and 2 days to dismantle
• More than 50 volunteers freely donate their time to help bring the event together
• 14 sponsors and partners generously supported Robbie's Rugby Festival 2018
• Over 950 pints, 400 slices of cake and 600 bacon rolls and burgers are consumed
• 500 guests attended the POTP evening celebrations
• Greater than 100 raffle prizes were donated
Towards the afternoon, the rainclouds subsided just in time for the awards presentation, where the winners of the main tournament were announced as 'Charlie's Angels' – captained by Charlie Richarson, who has experienced first hand the fanstatic work on Ward 27 during his recent battle with cancer. Coincidentally, Tom Youngs' was also routing for Charlie's team on the basis that their fathers used to play rugby together back in the day. The winners of the Round Robin tournament were 'Huge Tackle' and the Women's 7s tournament were 'Coalville RFC'.
Founder of ADDO Events and Robbie's Rugby Festival, Georgie Fowle said: "We are so incredibly grateful to everyone who turned up on Saturday, despite the weather, to contribute to another successful year of Robbie's Rugby Festival. We are always overwhelmed with the generosity and support we receive for the event and an enormous thanks must go out to the festival committee, our families, loyal supporters and everyone else involved, without whom Robbie's Rugby Festival would not be possible. We also wanted to say a huge thank you to Ben and Tom Youngs for helping to raise the profile of the event by being our wonderful event ambassadors this year. The funds raised from the event will allow our two exceptional charities to continue their vital work in making a real difference to those battling with cancer and their families at what is an unimaginably tough time. Unfortunately, due to the weather, attendance was a little down on previous years, so for anyone who planned to come but were unable to, there is still time to donate either via the Robbie's Rugby Festival Facebook page or directly to the charities via their websites."
Robbie's Rugby Festival returns for a twelfth year on Saturday 11th July 2020. In the meantime, Festiball, the prestigious black-tie event which took place last year to celebrate the 10-year anniversary of RRF, returns this year for New Year's Eve. Get your tickets via the Robbie's Rugby Festival website.
Robbie's Rugby Festival 2019 event was generously supported by a wealth of sponsors including Rugby Village Sponsor The Loughburians Alumni Association; Group Sponsors: The Little Retreat and Emery Johnsons Astills. Scoreboard Sponsor: Audacity Task. Partners include ADDO Events, EI Group, Pipers Crisps, EFS, Loughborough Schools Foundation, Function Jigsaw, Buster Marquees, EFS Europe, OddBalls (balls partner), RS Print (print partner), Challenge Trophies (trophy sponsor) and Nottingham Rugby (partner club).
A variety of sponsorship packages are available for Robbie's Rugby Festival 2020. For more details on how to get involved, visit: www.robbiesrugbyfestival.com.
Dr.Numb, the leading topical anesthetic cream brand, joined the celebration of Tattoo Art on July 17th. For over a decade, Dr.Numb is being a topical numbing cream of choice for many tattoo artists.
FACEBOOK | TWITTER | INSTAGRAM
Dr.Numb, the leading topical anesthetic cream brand, joins the celebration of Tattoo Art this July 17th. For over a decade, Dr.Numb is being a topical numbing cream of choice for many tattoo artists.
As the stats show, 36% of Americans between the age of 18 and 29 have at least one tattoo. This is a pretty impressive number itself, and keeping in mind most of those who tried getting inked once, repeat this experience by getting more tattoos, it is no wonder that the number of tattoo studios is increasing day by day.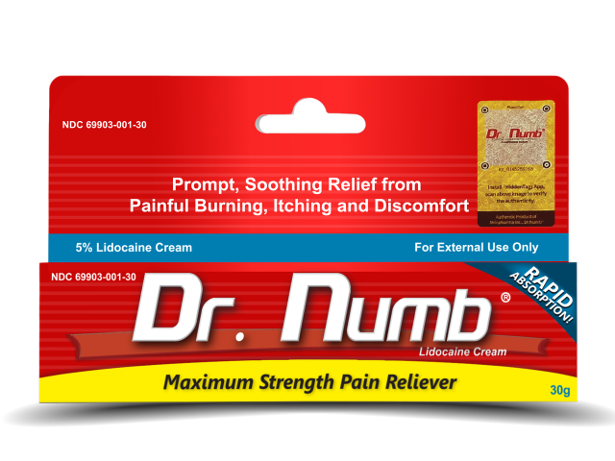 Getting the first tattoo could be a little intimidating experience, due to the potential painful sensations during the session. Dr.Numb is sharing some of the best tips to make sure the first tattoo session goes smooth and creates a pleasant memories:
● Research the artist:
This is probably the most crucial part of any tattoo creation process. Take the time and do the profound research on the Internet and Social Media, make sure you find the artist whose technique and approach suits you most.
● Have the design in mind:
Don't just copy bluntly some other people's designs: always keep in mind the personality, lifestyle and visual preferences of yourself. There might be some reference designs, but a good artist can also help modify them to make it a perfect match.
● Come prepared:
Show up in the tattoo studio beforehand, calm and relaxed. Wear comfortable clothing and ask the artists to use a numbing cream before starting a session: Dr.Numb 5% lidocaine anesthetic cream can help to block the pain signals at the nerve endings.
● Remember the aftercare:
No matter how beautiful it looks, a tattoo if is a fresh wound, and has to be treated accordingly. During at least 2 weeks after getting a tattoo, it is highly recommended to stop intensive workouts, avoid sauna and sunbathing. During the first days, make sure to apply anti-bacterial lotion on affected area, like Dr.Numb 4% lidocaine foam soap, which can disinfect the area and at the same time provide light numbing effect.
Following these simple instructions, the tattoo session will go smoothly and painlessly. Tag @drnumb.art on Instagram to share fresh tattoo designs and get featured!
A Recipe For Play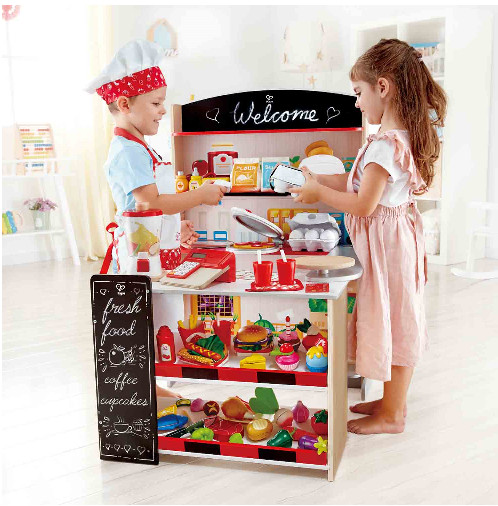 Welcome to the Hape Pop-up Shop! What would you like to purchase today? Complete with all the components of a real life working shop it's the Pop-Up Shop from Hape. Blip, blip, blip! A handheld scanner to read each item, with additional beeps and flashes to only enhance the shopping experience. A calculator to total up the shopping, then when it comes to payment swipe the debit card, and the reader will make a reassuring "beep" to confirm the payment has been processed. Not to mention the shelves for displaying items and two chalk board for personalizing a welcome message and displaying those daily specials. The back shelf is even illustrated with a number of food products so your shop will always appear full, while leaving plenty of shelf space to add your own products. Then when its time for closing the foldaway design makes it wonderfully convenient to store away at the end of a busy shift. The Pop-Up Shop is available to buy online for £119.99 from SmythsToys.
In addition to the Pop-Up Shop the all new ingredient sets are a must, here are three of our favourites!
Polish up on those cooking skills, and get children involved in dinner preparations with the Cooking Essentials Set, complete with a number of vegetables for trimming, peeling and chopping as well as cheese for grating and potato's for peeling on your very own chopping board. When learning to cook you need the essentials and that is exactly what you get. Hape's Cooking Essential Set is available to buy online for £24.61 from Amazon.
Capturing elements of sorting, slicing, combining and serving, it's Hape's Tasty Proteins. Helping build muscle this set includes chicken leg with removable flesh, fish to be scaled, bacon rashers, a prime cut of steak and lemon to be squeezed. Hape's Tasty Protein Set is available to buy online for £22.42 from Amazon.
Love a sweet treat? Make your very own Cupcakes with this adorable playset from Hape. Includes four cases, four servings of cake with a selection of 10 tasty toppings to decorate. From birthday candles, a zing of fruit, to a dollop of icing or waffles allows you to mix up your cupcake flavours. Keep them all to yourself or distribute amongst family and friends. Hape's Cupcakes Set is available to buy online for £18.66 from Amazon.
THE TRUE COST OF BEING A MEMBER OF A WEDDING PARTY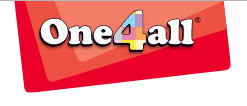 The average Brit will be a member of the wedding party four times in their lifetime
Wedding party members spend £2,809 and almost a month planning and celebrating the nuptials of their loved ones
UK couples typically spend £17,674[i] on their big day, but it's not just the happy couple who fork out for their nuptials as new research reveals the true cost of being a member of the wedding party.
A survey of 1,003 UK adults carried out by One4all Gift Cards has found that the average Brit is a member of a wedding party four times, spending an average of £2,809 and almost a full month (27.8 days) planning and celebrating their loved ones special day.
The study, which examines the time and money invested by those closest to the couple found that the average wedding takes up over a week of their time (7.7 days) and costs £776. This is almost double (98%) the average spend for a wedding guest (£391)[ii]
The most time-consuming tasks for bridesmaids, ushers and parents of the bride and groom were revealed as assisting with the planning of the big day itself (18 hours 34 minutes) engagement party celebrations (10 hours 11 minutes) and hen and stag parties (18 hours).
The research revealed that 71% of wedding party members were asked to cough up for outfits costing £104 and 65% had to pay for their travel and accommodation, spending an average of £99. This was closely followed by 56% of wedding party members who funded the traditional hen and stag party, costing an average of £89.
The study also revealed that more than 1 in 10 (11%) declined being a member of a wedding party due to the cost involved with 7% regretting being a member of a wedding party.
Despite the huge investment the research found that 93% of Brits enjoyed being a member of the wedding party while more than 1 in 3 (34%) stating that being asked to be a member of the wedding party is a huge privilege.
Time and effort planning a wedding does not go unnoticed by the newlyweds as 90% of the bridal party surveyed received a thank you gift from the newlyweds.
When asked which present wedding party members would most like to receive, gift cards or vouchers came first (44%) followed by something handmade (30%) and jewellery (27%).
Aoife Davey, group marketing manager at One4all Gift Cards, commented: "We all know that weddings are a costly celebration but it's incredible to see the huge amount of time and money those closest to the bride and groom are dedicating, to ensure they have the best day possible.
"It's encouraging to see the investment of time and money of the bridal party doesn't go unnoticed, with so many receiving thank you gifts from the happy couple."
Those in Bristol were found to invest the most time and money in their best friend's weddings spending and average of 225 hours and £1,081, followed by Manchester residents who spend an average of 206 hours and £971.
The One4all Gift Card can be spent in more than 55,000 outlets across the UK and is available to buy from Post Offices nationwide and online at www.one4all.com.
ALWAYS ON THE (B)RIGHT SIDE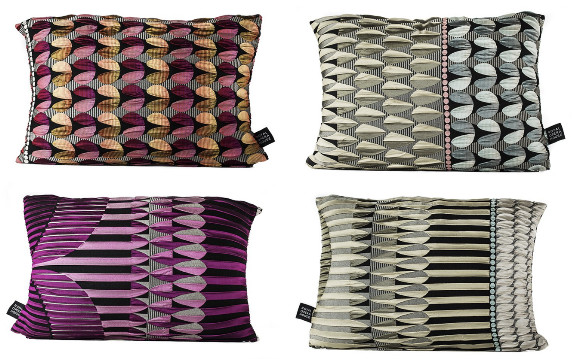 Add a pop of colour, pattern and style to your home, with these gorgeous, reversible scatter cushions from Royal Opera House shop.
Commissioned by the Royal Opera House, Margo Selby has created woven textiles inspired by the bold linear wood panelling of the new Linbury Theatre and the rich, decorative elements of the original building.
There's no easier interior update than a cushion, and with different designs on the front and back, just reverse it when you fancy a change
it will always be on the right side!
image.png
Carmen Cushion – £60 • Boheme Cushion – £60
Royal Opera House shop – shop.roh.org.uk
The United Nations and Talent from The Angry Birds Movie 2 join forces on the ActNow Campaign to urge citizen action on climate change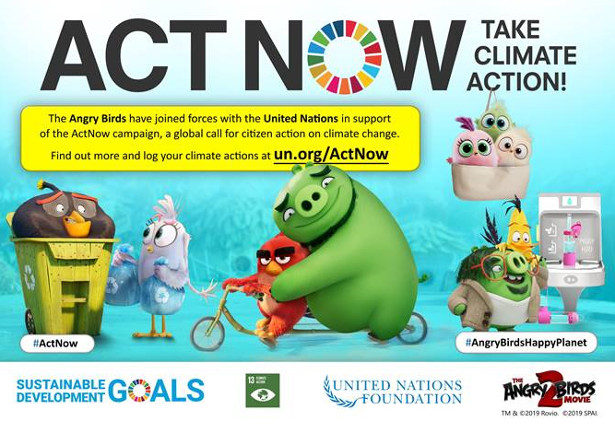 (London, England – 11 July 2019) The Angry Birds and the green piggies have joined forces with the United Nations in support of its ActNow climate campaign, a global call for citizen action on climate change. Back with the UN and the UN Foundation after 2016's successful #AngryBirdsHappyPlanet partnership, the birds are joined this time around by their longtime enemies (turned "frenemies") the pigs and are looking to spread awareness about individual actions we can all take to combat climate change.
As part of the campaign, a public service announcement launched yesterday starring the Angry Birds, the green piggies and the English-speaking voice cast behind the film The Angry Birds Movie 2. Together, they are encouraging citizens to discover and track simple everyday actions that can make a difference by using the UN's innovative new online climate action tool, the ActNow Bot.
"Climate change is already impacting our world today regardless of where we live," said Maher Nasser, Director, Outreach Division, UN Department of Global Communications. "It is through climate action – built on cooperation and collaboration within and across communities – that we can confront the climate crisis. We see many people around the world sounding the alarm and demanding action by world leaders. We are grateful to the Angry Birds for adding their voice again to the call for each of us to lead by example and demonstrate that every action counts."
Harnessing advances in Artificial Intelligence (AI), the ActNow Bot is a fully interactive chat bot located on the UN's website (un.org/ActNow) that connects with users and suggests everyday actions that can be taken to preserve the environment. Every action completed is counted to encourage others to join the campaign as well as to send a message to leaders in government and business that citizens want climate action and are willing to take it. The collective actions will be presented during the United Nations Secretary-General's Climate Summit in New York in September 2019.
The Angry Birds and pigs themselves will be on hand for the first ever takeover of the ActNow Bot website from July 23-30, encouraging users with individualized suggestions – like traveling more sustainably, saving energy or eating less meat – in a campaign to highlight the impact that collective action can have at this critical moment in our planet's history.
The new frenemies, the birds and the pigs, came together at the United Nations to celebrate the launch of the campaign on Wednesday, July 10th at 19:30pm BST at the UN's SDG Media Zone. The campaign launch was live-streamed on webtv.un.org where the PSA was premiered.
"We are really proud that the United Nations and the Angry Birds continue to work on climate issues together through the #AngryBirdsHappyPlanet campaign," said The Angry Birds Movie 2 producer John Cohen. "Even our beloved birds and pigs are putting their differences aside and coming together for this great cause. We all need to come together to help create a more sustainable world and I'm so happy that the Angry Birds will have a chance to help spread this universal message."
Presented by Sony Pictures Animation and Rovio Entertainment,
The Angry Birds Movie 2 starts its global rollout in August 2019, with a UK release date of 2ND AUGUST 2019
Crash Bandicoot XL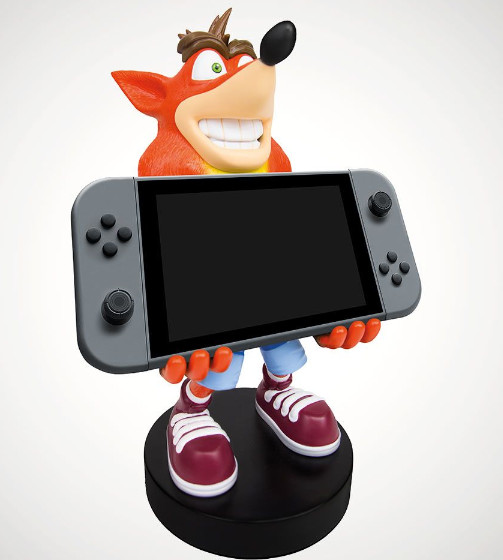 Crash Bandicoot This is the gadget for all Crash Bandicoot fans. The amazing, stunning and collectable figure is crafted to perfection in full oversized XL glory. His hands hold a Nintendo Switch, Nintendo Switch Lite, Smartphones and game controllers.
The Official License is bright, bold and will look great in any room. Designed by leading gaming merchandise brand Cable Guys, It holds devices central and perfectly balanced, meaning it won't topple over. Comes complete with a 2M charging cable it enabling it to recharge devices.
Features:
Styled on your favourite marsupial, Crash Bandicoot.
Holds PlayStation and Xbox Game Controllers.
Holds devices whilst charging.
Holds Nintendo Switch, Nintendo Switch Lite and the XL.
Works with all models of smartphones
Officially Licensed Crash Bandicoot merchandise
Includes a 2M Micro USB Charging Cable.
The Cable Guy Crash Bandicoot XL costs £24.97 from Amazon
Dual Purpose NEW Storage Ottomans from MY Furniture
MY Furniture knows that storage is a crucial part of any design project. No one wants their gorgeous furniture and decor hidden under mountains of clutter. MY Furniture's stunning NEW range of storage Ottomans means that no matter what your style, you can find the perfect piece for you.
The right storage not only provides a place to hide away the debris of everyday life but can enhance your interior scheme. The new ANTOINETTE Storage Ottomans are one such solution and are perfect for anyone looking to save space and provide a spectacular centre piece to your room. These Ottomans are ideal for any room in the house, whether small or large and priced at £99.99 they also provide a perfect footstool, dressing stool or occasional seat and come with two elegant ring handles for easy repositioning.
The larger MYLIA Storage Ottoman is a new circular, buttoned ottoman, available in four colour options and has a diameter of 1 metre. Priced from £249.99, this large scale centrepiece Ottoman can be used as a coffee table or footstool and is perfect for storing blankets, cushions, toys and general clutter.
For those looking for a standard Ottoman there is also the new NEVIA ottoman. This plush velvet buttoned ottoman is available in four colours and priced at £149.99.
For further information visit www.my-furniture.com or call 0800 092 1636.
Super Spirals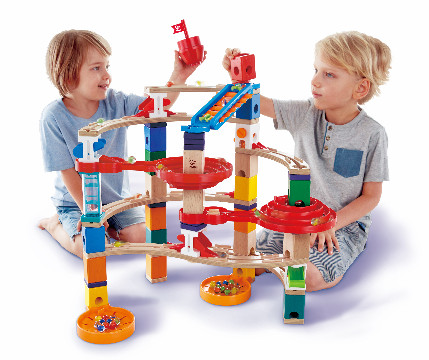 From the resounding success of Hape's Quadrilla wooden marble runs, arrives the new and deluxe Super Spirals suitable for children aged 4YRS+. For hours of family, fun filled play throw the rule book out the window, as each build is bound to take on new direction as limitless possibilities are right at your very fingertips. With a whooping 129 pieces you're sure to keep the family entertained for hours as you enjoy valuable quality time together.
Full of exciting twists and turns Super Spirals is jam packed with a collection of brightly coloured building blocks, accelerators, roulettes, xylophone rails, see-saws and curved rails not to mention the transparent stairway and the four special control blocks which add additional elements of surprise, randomly distributing the marbles from every direction.
As your children's engineering skills sore once the big build commences get family and friends involved as the interaction and co-operation between peers helps you work as a team to find the answers to allow the marble to run freely through the track.
Hape pride themselves on creating toys that are not just for play but to also aid learning. Something that is evidently in Super Spirals, to help children build and experiment with their own creativity. Encouraging 3-D thinking, forward planning, spatial reasoning, developing necessary engineering skills with hands on fun.
Using the finest natural materials and brightly coloured water based paints which match the energy and speed of the Super Spirals, Hape provide only the best for your child transforming your traditional wooden toys into something that leaves children with problems to be solved not unanswered questions – an investment that children can love and parents can trust!
Hape's Super Spirals is available to buy online for £160.55 from Amazon.
MasterPieces Acquires Baby Fanatic
Tucson, AZ – (July 9, 2019) – MasterPieces, Inc. today announced the acquisition of Baby Fanatic, the leading sports licensed baby product company.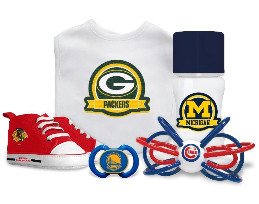 MasterPieces is uniquely positioned to bring the extensive line of baby products to a wider fan-base. The MasterPieces sales team will manage the existing Baby Fanatic retail customers as well as expand the availability of the products through its dynamic network of sports merchandise channels. In addition, online product sales availability will be linked into the MasterPiecesInc.com shop as well as directly from the existing www.BabyFanatic.com site.
David Rolls, President of MasterPieces, said, "Baby Fanatic has been an industry leader in sports team fan-gear for babies for over 15 years. We're thrilled to add to our sports category with these exceptionally high-quality products."
Appropriately, the acquisition allows a genuine fulfillment of the Baby Fanatic classic tagline, Where Little Ones Become Big Fans. MasterPieces now becomes a one-stop shop for sports fans to find fan gifts and gear suited for ages 0 to adult. "From pacifiers and sippy cups to games and playing cards, there is something for every sports fan," Rolls said.
The Baby Fanatic line currently includes professional and collegiate sports team Bibs, Pacifiers, Bottles and Sippy Cups, Security Bear Blankets, adorable Pre-Walkers, and Gift Sets. Complementing the existing MasterPieces' MLB, NFL, NHL and NCAA licenses, these new fan favorites will join the award-winning MasterPieces' sports stadium panoramic puzzles, checkers, dominoes, playing cards, matching games, FANPANS bakeware, and many other toys, games and housewares accessories.
About Baby Fanatic: Grown from a love of kids and sports, Baby Fanatic has grown to become the premier manufacturer of officially licensed NFL, MLB, NHL, and collegiate baby and toddler products. In 2003, Baby Fanatic founder, Tricia Woodson, was looking for the perfect baby gift for a fellow sports fan. Tricia soon developed and presented to the market place a product line that quickly became the one-stop-shop for quality licensed baby goods. Sports fans cheered!
About MasterPieces: MasterPieces Inc. was founded in 1995 by David Rolls, a former 8-year minor league baseball player for the Kansas City Royals and Texas Rangers. Twenty-five years later, MasterPieces remains laser focused on the success of its retail customers to ensure the company's growth and longevity. MasterPieces is now an established toy company focused on jigsaw puzzles, wood crafts, games, and sport licensed products. Headquartered in Tucson, Arizona, MasterPieces values long standing integral relationships with worldwide everlasting brands, the finest manufacturing facilities, and personal relationships with its network of vendors and employees. Committed to ensuring value, quality, and excellent customer service, MasterPieces has earned dedicated and worldwide consumer loyalty. For more information about MasterPieces, visit the company website at MasterPiecesInc.com and to interact with the company, please like and follow MasterPieces on Facebook, Twitter, Instagram, Pinterest, and YouTube.
INTRODUCING THE SUPER SOFT SOPHIA BLANKET
from Wool Couture
Sophia Gigantic Felted Blanket – from £59.00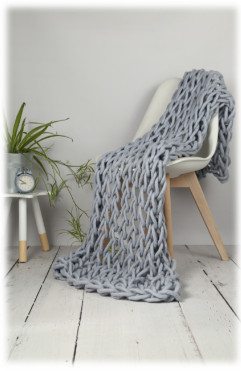 On chilly summer nights, the Sophia Blanket from Wool Couture is the perfect accessory to ensure you stay warm and cosy!
Made from the all new Gigantic Felt Yarn, combining 50% Super Soft Lambs Wool and 50% Romney Wool and spun in the heart of Yorkshire, this stunning blanket comes in eight fabulous colours – so it's sure to suit everyone's taste.
www.woolcouturecompany.com
LONDON BY LIGHT!
Iconic sign now available in Mini Underground Lightbox, exclusively from London Transport Museum shop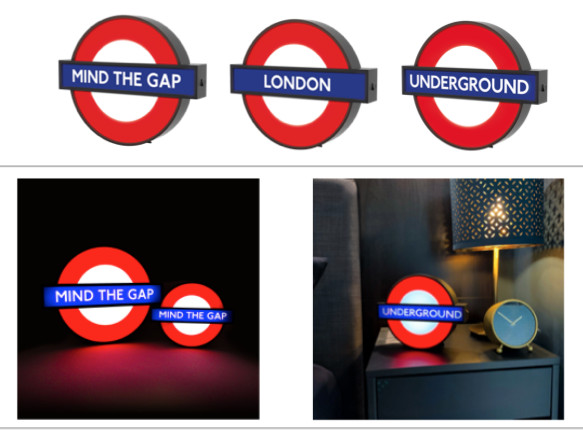 The globally recognised symbol of the UK's capital is now available in a brand NEW Mini Underground Lightbox. On exclusive sale* from London Transport Museum shop (in store and online) the Mini Underground Lightbox is certain to light up any room it is placed in.
With a choice of interchangeable classic signs, 'Mind The Gap', 'London' or 'Underground', the free-standing lamp is certain to add a quintessentially London vibe. A quirky addition to your desk, lounge, bedroom, hallway or even as a welcome sign when visitors enter, the Mini Underground Lightbox is a must-have accessory for 2019.
Mini Underground Lightbox, £25 from the London Transport Museum shop at ltmuseumshop.co.uk
220mm x 180mm x 43mm
Show Stopping Candle Creations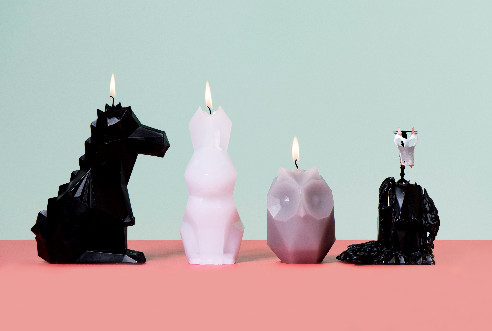 For so long now candles have just been a low flickering light, a subtle scent and a nice jar in the corner of the room but there is more to it than that thanks to Icelandic designer Thorunn Arnadottir, founder of 54 Celsius.
Recognised for their abstract, geometric cute animal exterior, while they may look just like an innocuous wax ornament strike a match, light the wick and you will soon see Ugla the PyroPet Candle for what it really is. A truly theatrical performance to reveal an aluminium skeleton with fire glowing eyes.
Whether it's a dinner party amongst friends or movie night for two, on the mantel piece or by the bedside table nothing sets the mood like candles do. So as the sun sets on a busy day in the office, let all your stresses and strains wash away. Just light the wick and watch Ugla slowly transform from an innocent, adorable looking owl to a brooding predator at it's core.
Each Ugla PyroPet Candle comes beautifully packaged in a geometric printed gift box. A wonderful housewarming or birthday gift idea for he or she who takes great pride in their surroundings, to create a cosy, snug living space.
Measuring 4 x 4 x 4.3 inches in size, Ugla is available in two varying colors; Dusky Blue, a hue of timeless, elegance, for versatile usage round the home and Grey which offers a classic, sleek and refined aesthetic that molds to your surroundings effortlessly. Made from the highest quality each Ugla PyroPet Candle is made from Paraffin wax, with a cotton wick and aluminum skeleton.
Ugla (the Owl) is available to buy online for £22.00 from 54 Celsius.
We might just add from each of the PyroPet Candles, every one of the eight animal shaped candles including; Kisa (the Cat), Bíbí (the Bird), Hoppa (the Rabbit), Einar (the Unicorn), Dýri (the Deer), Dreki (the Dragon) and Voffi (the Dog) would make a Spooktacular addition to your home as Halloween festivities get underway. To find out more about the whole PyroPets range visit 54 Celsius.
Are You Japan Ready? is a great tool to learn more about Japan (there's even a mini quiz at the end to see how prepared you are for your journey) – japanready.englandrugbytravel.com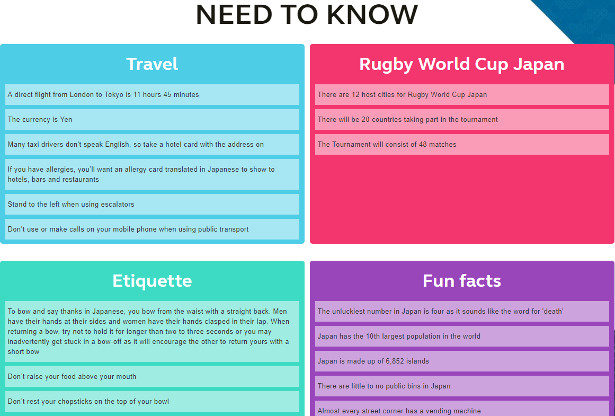 New blood test to accurately detect the presence of clinically significant prostate cancer now available
Tues 16th July 2019 – Today, MDNA Life Sciences announces that its breakthrough Mitomic® Prostate Test (MPTTM) – the world's most accurate blood test to determine whether a man does or does not have prostate cancer that requires treatment (clinically significant prostate cancer1) – is now available for clinical use with the launch of the test in the UK by MDNA's partner, Aspire Pharma Ltd.
The new test takes advantage of the unique characteristics of mutations in mitochondrial DNA as biomarkers which can signify the presence of clinically significant prostate cancer. A clinical study2 carried out in collaboration with the University of Cambridge shows that the MPT™ biomarker has a higher than 99% negative predictive value.2 This means that men with a negative MPT™ result can therefore safely delay or avoid further diagnostic tests, as they are highly unlikely to have clinically significant prostate cancer. MPT™ also has a 92% sensitivity,2 which means that men with a positive MPT™ result can be referred for immediate medical intervention.
Dr Nikhil Chopra, Education Secretary for the Primary Care Urology Society says, "Until now, prostate cancer has been challenging to diagnose and current methods of diagnosis have limitations that create uncertainty. A simple blood-based test that can provide more accurate and certain information regarding the decision to undergo biopsy, is a welcome addition and may go some way to reducing one of the problems we face of over diagnosing low grade tumours. In the type of patient for whom this test is aimed, those with elevated PSA but no clear evidence of high-grade disease, we could positively impact how we diagnose and differentiate those prostate cancers which require treatment, from those which do not."
Prostate cancer testing is heavily reliant on measuring Prostate Specific Antigen (PSA) levels, which can give notoriously high false-positive results. Only 25% of men who have a biopsy following elevated PSA levels are found to have prostate cancer.3 This leads to millions of men being wrongly referred for a prostate biopsy. The MPTTM can help to reduce the number of prostate biopsies by up to 30%.
Dr Andrew Harbottle, MDNA Life Sciences' Chief Science Officer explains: "We exploit the unique characteristics of mutations in mitochondrial DNA, which can act as biomarkers, providing us with a unique and detailed diary of damage to the DNA. This enables us to accurately detect many difficult to diagnose diseases and conditions, such as prostate cancer. Just as importantly, the ability of our Mitomic® Prostate Test to determine that clinically significant cancer is not present can help to significantly reduce the number of prostate biopsies required, thus saving costs in the health system and reducing stress and discomfort for many men."
The test will initially be available privately, for self-funding patients, through private healthcare clinics with testing and result reporting being handled at HMR Labs in London. Aspire Pharma are actively undertaking work with the NHS on a longer-term plan to make the test available more widely.
Graham Fraser-Pye, Managing Director of Aspire Pharma says, "We take great pride in the fact that we are working alongside MDNA Life Sciences to bring this exciting new test to the UK market. Diagnosis of prostate cancer has, until now, been lagging behind other cancers and we believe that with the launch and subsequent further use of this test, that will no longer be the case."
Harry Smart, MDNA Life Sciences' Chairman adds, "We are the only company to use mitochondrial DNA to detect diseases such as cancer and have developed a library of 16,000 biomarkers to date. Our test for prostate cancer is highly accurate. It is the best performing prostate cancer blood test in the market and will fundamentally change the way this disease is detected and diagnosed. In parallel with the launch of MPT™ in the private health sector, plans are under way to make it available in the NHS."
For further information on the test and its availability in the UK please visit www.mitomic.co.uk.
OmniFob is a smart key fob that transforms any standard keychain into a connected life remote.
Open your garage, unlock your door, turn on your lights, start your car, find your keys, call for help, and more all in one very smart fob. OmniFob provides quick and easy one-handed access to your favorite connected functions – smart home, connected car, personal security without having to lug around multiple cumbersome remotes,
without having to pull out your oversized smartphone each time, and
without having to use both hands when you're on the go or have your hands full.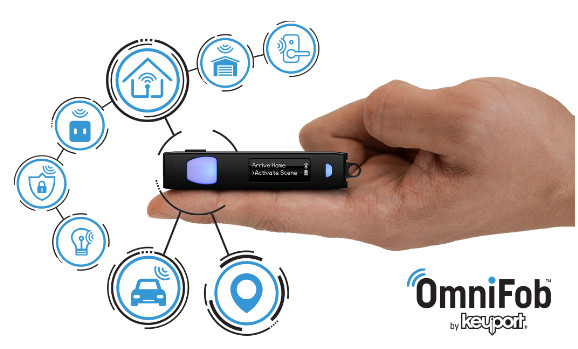 OmniFob also includes a built-in Bluetooth locator powered by Chipolo so that you never lose it.
Just click a button and control your everything.
With OmniFob, you can create your own ultimate everyday carry solution. Attach it to any keychain, clip it to your pocket, combine it with our Anywhere Tools modules, or connect it to one of our award-winning key organizers – Slide 3.0 or Pivot – for keys, tools, and tech all-in-one.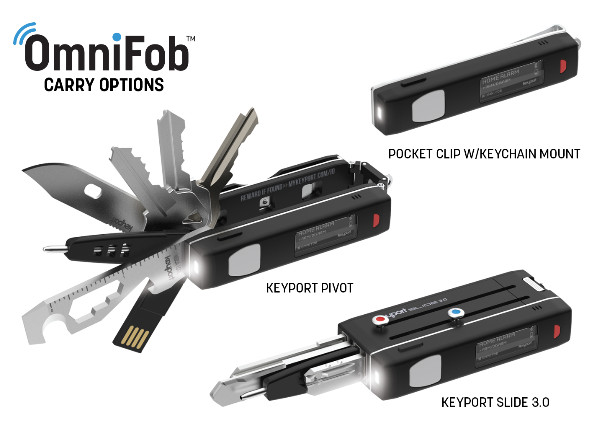 Mr Toad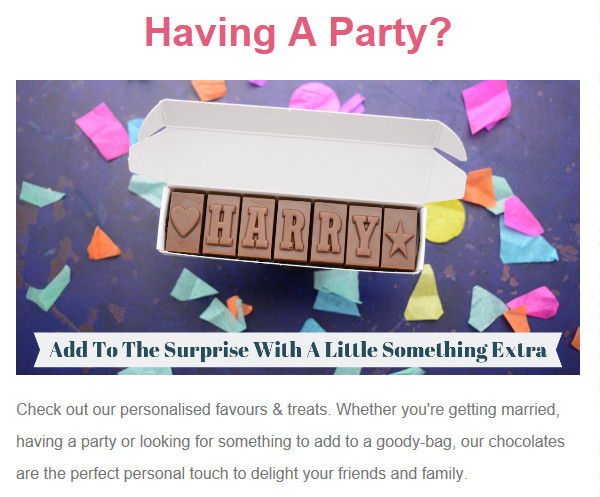 "Kaleidoscope Beauty mission is to empower the disenfranchised with particular focus on the youth community. Our artisans are talented young men and women, faced with the burden of
multi-generational poverty, lack of sanitation and the harsh realities of life in the slums. Given the right tools, and an opportunity for a career, the artisans are trained in beadwork and brass-work, which in turn creates job opportunities for them and a sustainable source of income," – says Umutoni Thuku-Benzinge, Founder of Kaleidoscope Beauty.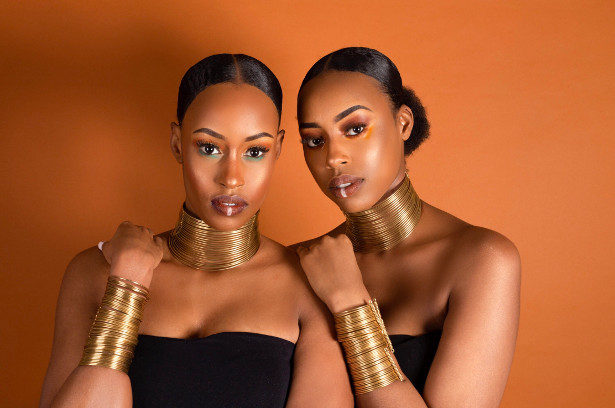 In recent years, there is a spike of interest and global demand towards African design, with examples spanning from high fashion runways, such as Ozwald Boateng's Africanism line, to Hollywood costume designs in films such as Black Panther.
Kaleidoscope Beauty carries several lines of jewelry accessories, all of them assembled sustainably by their artisans. The brand does not use of plastic as the core materials used are brass, glass beads, leather and wire.
"By supporting us, not only will customers gain an aesthetically pleasing piece of jewellery,
they'll contribute to the alleviation of multi-generational poverty in Sub-Saharan Africa." -says Umutoni.
Inspired by traditional Kiswahili names, Kaleidoscope Beauty currently carries four design collections, catering to fashionistas and style-makers of all kinds:
MAJIRA COLLECTION
The 'Majira' collection is inspired by the fun and flirty feel of the summer season, made up of bright colours, bold brass staples, beaded tassels for looks that will stun and bring a touch of drama.
NGOZI COLLECTION
Ngozi collection is where leather meets creativity, these pieces are sure to give you the edge amongst the crowd.
SHABA COLLECTION
Shaba collection brings a contemporary twist to brass work.
SHANGA COLLECTION
The Shanga collection is made up of unique, intricate beaded designs, sure to give the look an added pop of colour.
THE MOST POPULAR TEACHERS IN THE UK REVEALED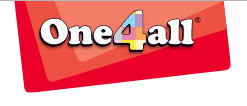 English teachers crowned the nation's favourite
Maths teachers are officially the strictest
48% say passion for their job is what makes a good teacher
As the UK's teachers prepare to wrap up another academic year, research released today reveals which teachers are the nation's favourites.
A survey of 2,001 UK adults, carried out by One4all Gift Cards, reveals that English school teachers top the polls as favourite teachers for Brits reflecting on their school years.
Drama teachers topped the list as the funniest followed by science and music teachers.
While PE teachers were voted by more than 1 in 10 respondents as the scariest along with maths and language teachers.
Maths teachers were also found to be the strictest for more than 1 in 4 people surveyed, while language teachers came in second place, closely followed by history teachers.
In addition to being crowned the nation's favourite, English teachers were found to be the most inspirational, in comparison to other subject educators.
When questioned about what qualities their favourite childhood teachers had, 48% of UK adults said that their favourite teacher had passion for the job, whilst almost a third say that their favourite teacher helped them become more confident.
Highlighting the positive impact teachers can have on pupils' attitude to learning, 1 in 7 UK adults said that their favourite teacher made their least favourite subject interesting.
Since leaving school, an overwhelming 39% of UK adults wish they had thanked their favourite teacher for everything they did for them during their academic years.
Aoife Davey, group marketing manager at One4all Gift Cards said: "Whether they be funny, caring or strict, our teachers have helped shape the people we are today. But it's also clear to see that many of them were also very memorable personalities in their own right!
"It's not surprising that upon reflection Brits wish they had thanked their favourite teachers and shown more appreciation at the time.
"It might be a bit too late to express thanks to our own teachers, but those of us with children can express thanks to the people who are educating our little ones, and the end of the school year is the perfect time for this."
Interestingly the research found that 48% of adults in Birmingham who have now left school say they wished they thanked their favourite teacher closely followed by 45% of Liverpool locals.
The One4all Gift Card can be spent in more than 55,000 outlets across the UK and is available to buy from Post Offices nationwide and online at www.one4all.com.
INTERIORS: TOP OF OUR SUMMER WISH LIST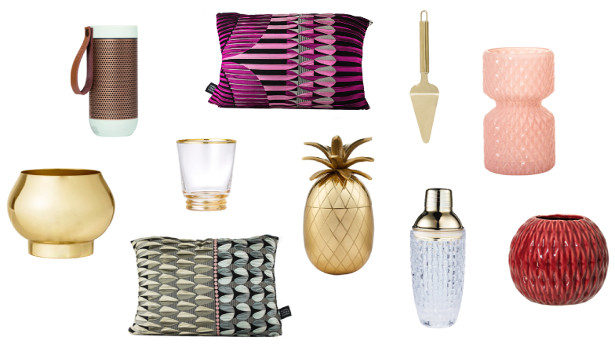 If you are looking to spruce up your home this summer, the Royal Opera House shop caters for your every need.
From gorgeous cushions, to flowerpots and cocktail shakers, these on-trend home accessories will be sure to steal the spotlight!
White & Rose Gold Speaker – £120 • Carmen Cushion – £60 • Gold Cake Server – £8 • Rose Gold Vase – £14
Small Gold Flowerpot – £24 • Boheme Cushion – £60 • Gold Ice Bucket – £75 • Glass Cocktail Shaker – £25 • Stone Red Stoneware Vase – £12
Royal Opera House shop – shop.roh.org.uk
FLOWERS TO THANK THE TEACHER
Thank the class teacher with a gorgeous bouquet of flowers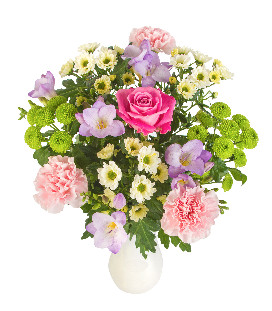 Free next day delivery on orders placed as late as 10pm, seven days a week
Looking for a thoughtful gift to say thank you to your child's teacher as the school year comes to a close? Say it with a beautiful bouquet of hand arranged flowers from the UK's leading independent online florist, SerenataFlowers.com. With hundreds of bouquets to choose from and next day delivery available, there's no better way to show your appreciation.
THANK YOU BOUQUET
RRP: £24.99
This sweet arrangement is the perfect way to say 'Thank You'. Centred around a beautiful rose, this bouquet showcases sweet scented freesias, bright chrysanthemums and carnations. A stunning way to thank the class teacher for all of their hard work.
SCHOOL'S OUT BOUQUET
RRP: £29.99
Thank your teacher with something sweet this year. In gorgeous shades of pink and white the School's Out bouquet features pretty pink roses, speciality carnations, aromatic freesias and is framed with delicate waxflowers. This stunning arrangement comes in a sweet little basket to complete the look.
TEACHER'S FAVOURITE
RRP: £39.99
Dazzle the teacher with this charming gift bag full of happiness. Brimming with 12 golden moonwalk roses and blue freesias framed in eucalyptus, you can be sure the teacher won't ever forget a gift as gorgeous as this.
SerenataFlowers.com offers the best possible prices and provides a fast and convenient way to gift fresh flowers to family and friends, whatever the occasion, offering FREE next day delivery seven days a week. Customers can order as late as 10pm for next day delivery.
SerenataFlowers.com sells affordable fresh flowers and bouquets prepared by floral artists and hand-delivered by couriers in the UK. For more information, visit www.serenataflowers.com.
ENJOY THE BEST OF BRITISH TEAM SPORTS THIS SUMMER WITH DECATHLON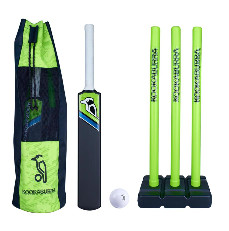 Celebrate the Best of British by getting active on the pitch, field or court this summer –
Quality team sport products such as cricket sets, football goals and hockey sticks for all available at Decathlon –
With Women's Football World Cup underway and The Ashes around the corner, there are plenty of reasons to get involved in the action with the Decathlon team sports range this summer.
Decathlon's range of team sports equipment allows the whole family to get out and get active, whether they're total beginners or experienced players.
Whether scoring in the top corner or practising the perfect shot on the basketball court, summer is the perfect time to spark some sporting spirit with friends and family.
Cricket
KOOKABURRA KOOKABURRA BLAST CRICKET SET SIZE 2 –£19.99
This compact cricket set is something the whole family can enjoy and is perfect for taking on days out during the summer.
The size 2 set is well-proportioned for younger players, while the hardwearing plastic stumps and bat make it durable, meaning they can play all summer long.
Meanwhile, the lightweight construction and handy carry bag make it easy to transport.
Football
KIPSTA SG 500 FOOTBALL GOAL – £44.99
This mid-size (180 x 120 x 90cm) football goal is perfect for getting the real feel and thrill of playing in a match, and will be a welcome addition to any football fan's garden.
The strong steel and aluminium top corners make this goal a reliable and resilient option for budding footballers of all abilities.
The sturdy design makes it great for different surfaces and environments, so take your friends and family can enjoy a penalty shootout or a casual kickabout whether the pitch is grass or concrete.
KIPSTA NG100S POP-UP FOOTBALL GOAL – £14.99
Enjoy a quick game of football wherever the mood strikes, with this generously sized pop-up goal (120 x 80cm).
Light and easy to transport, with an easy to erect pop-up system and handy travel bag, this football goal is great to take on road trips and staycations with friends and family.
Strong and stable, it has handy side pockets that can be weighed down, meaning play can go on, even when the weather takes a turn for the worst.
KIPSTA FIRST KICK FOOTBALL SIZE 4 – £2.99
This beginner's football is designed specifically with young players in mind.
Perfect for those aged 8 to 12, this smaller sized football is a great way to improve ball control. Designed with laminate layers to improve the ball's bounce, making those first moves on the pitch memorable.
Plus, the durable cover ensures that it will last game after game, no matter how strong their kicks get.
Rugby
OFFLOAD R100 SIZE 4 TIKI BEACH RUGBY BALL – £7.99
This ball is great for those first learning to play rugby, as the smaller size, foam material and pimpled surface make it more comfortable to catch.
What's more, this ball is made from one single layer to make it lighter, ideal for those practicing their first spin passes or simply enjoying a casual game on the beach.
GILBERT RUGBY WORLD CUP JAPAN SIZE 5 REPLICA BALL 2019 – £19.99
This full-sized souvenir ball is 2019's essential piece of rugby kit, ahead of the Rugby World Cup in Japan in September 2019.
The grainy rubber surface gives it a superior grip, ideal for more competitive games or training, while the durable hand-stitched material makes it hard wearing, meaning it can handle a scrum for as long as you can.
Basketball
TARMAK R100 KIDS SIZE 5 BEGINNER BASKETBALL – £3.99
This basketball is designed for both indoor and outdoor courts, so there is no need to worry about the unreliable British weather interrupting games this summer.
The smaller size means it is great for younger players to control, before moving up to the full-size ball.
The foam rubber exterior makes it durable while also providing a soft touch.
Hockey
KIPSTA FH100 KIDS WOODEN BEGINNER FIELD HOCKEY STICK – PIRANHA – £9.99
The enhanced grip and feel mean this wooden hockey stick is perfect for beginners.
The 100% wood material of this hockey stick absorbs impacts from the ball, offering comfort and better control, to help build confidence.
What's more, it weighs in at 350g, making it much lighter than an average hockey stick, ideal for smaller players who are getting used to sweeping their way up the pitch.
KIPSTA FH100 KIDS WOODEN BEGINNER FIELD HOCKEY STICK – UNICORN – £9.99
This beginner's hockey stick is available in a range of prints to encourage younger ones to try their hand at hockey.
Made entirely of wood, directional control is maximised while the stick's bow makes it easy to handle so young players can hit the back of the net every time.
Keep Flush with Evolution's Minimalist Window Style
The most recent addition to Evolution's range of timber alternative windows is the modern, flush fitting, casement window. Flush windows are a timeless, elegant solution characterized by cool, sleek lines that fit flush into the window frame, unlike other designs that overlap it.
Evolution uses the very latest in modern materials to emulate the richness and depth of real timber, but without the problems traditionally associated with wooden windows. The simple, minimalist lines of the Flush window suit both traditional and contemporary-style homes. They are also ideal for those replacing original timber flush windows, but looking to reduce the need for costly maintenance.
Timber styling is used throughout Evolution's Flush windows, including handcrafted joints and a wood grain effect across the whole frame. The greater glazed area of the minimalist design allows more light to flood into your home.
While the Flush style of window has been widely used in period homes and cottages, Evolution has noticed property developers and owners are now starting to use them more and more in contemporary homes due to their clean, sleek lines.
All of Evolution's timber alternative windows are made to measure. Our trusted network of experienced retail partners, all over the UK, will work with you to create the perfect window to meet your exact requirements. Flush windows can be tailormade to suit your property by the addition of Georgian Astragal bars, decorative glass or detailed leading. The textured wood grain finish on the interior complements the classic flush-fitting exterior. There are over 200 RAL colours, such as olive or agate grey, to choose from, as well as a wide range of high quality handles and stays.
Highly Energy Efficient Evolution's Flush windows have an exceptional A+11 and 1.3 U value energy rating. They will keep homes warm in winter, cool in summer and will certainly help to reduce household bills. To enhance the energy-saving credentials even further, try triple glazing, which will have the added effect of cutting noise pollution.
Evolution Windows & Conservatories Group specialise in timber alternative PVCu products. We employ traditionally skilled craftsmen, as well as technicians, in our Bedfordshire factory, to ensure exceptional quality. Our retail partners will handle your purchase. They will arrange a survey to assess the exact measurements and allocate an experienced team to carry out the installation.
Evolution Flush windows are priced from £500. For further information visit www.evolutionwindows.com tel 0800 773 4045.
Five 'Stranger Things' to do at the Gym
Supreme Nutrition exposes the craziest fitness fads from 80s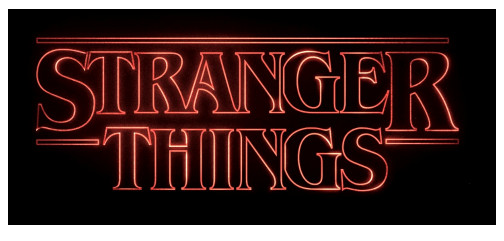 London, UK | 16 July 2019 – With Season 3 of Netflix's smash hit Stranger Things now live on our TVs, lifestyle nutrition brand Supreme Nutrition takes a look back at some of the strangest things practiced in the world of health, nutrition and fitness during the 80s, with help from their in-house PT Alex Parsons (@alexparsons).
1) The Blue Vision Diet
The Blue Vision Diet allowed individuals to eat unrestricted as long as they wore a pair of blue glasses while doing so. The most calorific and tasty foods are often yellow (think cake, crisps, biscuits) so wearing blue tinted glasses makes food less appetising: the theory being that dieters don't eat as much.
Alex's verdict: "While being able to eat what we want sounds great, I would give this diet a miss. We see different diets come and go, but I really can't see this one coming back anytime soon. Let's be honest even if I saw my favourite food through blue tinted glasses, I'd still eat a lot of it. Instead go for a well-balanced varied diet, with plenty of colourful fruit and veg, high protein and carbs such as wholegrain rice and sweet potatoes. Along with a small amount of healthy fats, such as avocados and almonds, you'll be well on your way."
2) The 'trick your man into losing weight' diet
Based on Suzy Kalter's popular 1980's diet book 'How to Take 20 Pounds Off Your Man', this diet advocates stealth and trickery in order to subtly help the hubby lose weight without him even noticing.
Alex's verdict: "The book is actually based on a medically-approved diet plan that helps a significant other plan delicious meals for their partner while calorie counting. It makes eating sound fun and interesting whilst putting yourself into a calorie deficit making fat loss occur. That being said, if you're keen to help a loved one make real changes to their health and fitness, it's essential that they are an active part of the process to ensure sustainability, which is the key to success. So be honest with them, rather than tricking them!"
3) Goat Yoga
Goat yoga is practiced in the presence of, and in tandem with, live goats. Goats are kind-hearted animals so the theory is that practicing yoga with an animal nearby will lift your spirits, lessen feelings of grief and improve communication.
Alex's verdict: "I would give solo yoga a try, however personally, I'm just a little unsure on the goat bit. Yoga is fantastic for the body and mind, leaving you feeling very positive but if you're a true fan of goats, then why not try yoga with them!'
4) The 8-minute ab workout
One of the most popular home exercise videos from the 80s, this VHS was a must-have for any fitness fan keen to tone their torso.
Alex's verdict: "Jane Fonda, Jazzercise and 8-minute abs transformed the way we exercised in the home. However the infamous abs video isn't something that I'd recommend. Loads of crunches aren't good for you and could lead to injuries if done incorrectly. With so many other fantastic core exercises at your fingertips and easy to find on social media, I'd give the 8-minute ab. workout a miss and instead try one from mine or SupremeNutrition's Instagram."
5) Denim disasters
In the 80s and 90s, Andre Agassi continuously rocked the tennis courts with his edgy style and even boycotted Wimbledon because of its strict dress code. Often using the Grand Slam tournaments to showcase his unique style, one of his most iconic looks was at the 1988 US Open where he stepped onto the court wearing a tiny pair of denim acid wash hot pants.
Alex's verdict: "The 80s had many fashion faux pas, and wearing denim whilst exercising was probably one of them; far too restricting and sweaty! It's always best to wear fabrics that allow the skin to breathe and allow you to move more freely. I'm sure Agassi quickly learnt his lesson and has stuck to cotton, nylon and polyester kit ever since. With this said, it didn't stop him winning!'
Lion Magic: Roar Away Teething Pain!
King of the jungle joins the Matchstick Monkey family

Matchstick Monkey, the award winning teething toy, proudly introduces the newest member of the family… Meet Lion Teether. This animal hero of the hour is on hand to show teething pain who's boss!
Just like with the much-loved Matchstick Monkey, the Lion Teether has a range of textures along its arms, head and feet to gently massage baby's gums and enable teething gel or granules to get straight to the source of pain.
Giving parents ultimate reassurance, the Lion Teether is made from BioCote® anti-microbial technology, which kills 99.9% of microbes, and prevents bacteria from growing on it.
This low-maintenance and durable toy can be conveniently popped into the dishwasher after a hard day's work, and is fridge-friendly for a cool silicone feel that adds an extra dimension of soothing relief.
With easy to grab arms, little ones can improve their fine-motor skills at the same time as soothing their teething troubles. Lion Teether is made from FDA approved food grade silicone, BPA free, and non-toxic; this is one lion that is totally safe to be played with!
£9.99
www.matchstickmonkey.com
Available to buy in September 2019
KEY FEATURES:
üFun soft textured silicone teether providing soothing relief to aching gums
üDesigned with toothbrush bumps on the back of the head to gently massage baby's hard to get to molars
üErgonomically designed "arms" help develop fine motor skills
üEasy to grasp handles and lightweight making sure it is easy to hold from a very young age
üCan be used as a pre-training toothbrush
üFDA food grade silicone and BPA free
üDishwasher, fridge and steam / cold water steriliser safe
üBiocote® Antimicrobial technology makes the teether more hygienically clean and reduces the potential of cross-contamination
INSTRUCTIONS:
üUse the back of the Lion's head to massage the hard to reach painful back gums
üPlace in the fridge to apply the cold silicone straight to problem areas
üAllow your little one to chew happily on their teether throughout the day
üClean the teether in soapy water, or place in the dishwasher / steriliser
RESEARCH SHOWS SHOPPERS ARE TAKING LIMITING THE ENVIRONMENTAL IMPACT OF FAST FASHION INTO THEIR OWN HANDS

  1 in 5 now feel guilty buying new clothes 
  64% say they would now buy second hand clothing (up from 45% in 2016) 
  A quarter of women say they don't want to contribute to clothing waste 
THE GOVERNMENT may have this week rejected plans to force retailers to tackle the environment of fast fashion, but new research shows there is an appetite amongst a growing number of consumers to tackle this themselves, by altering their shopping habits.
According to a survey of 1,000 UK adults, released to mark the launch of Patatam.co.uk, which makes it easier than ever to buy and sell quality preloved clothing by high street brands, 1 in 4 (26%) of British women are now worried about buying new clothes, due to the environmental impact of fast fashion.
And this is impacting on their spending habits. Many women are now pursuing alternative, more ethical methods of getting their shopping fix – with almost 2 in 3 (64%) saying they'd happily buy second hand and preloved items, up from 45% in 2016.
What's more, 1 in 5 (18%) of British women now admit to feeling guilty when purchasing new items garments, as they already own so many.
1 in 3 (31%) British women who say they are now conscious of the issues surrounding fast fashion, such as water wastage and unwanted clothes going to landfill.
And supply is matching the demand, as an increasing number of platforms are now available to allow consumers to shop sustainably in a convenient way.
The news comes in a year which has seen a growing tide rising against fast fashion practices. Only this month, activists Extinction Rebellion brought Bristol city centre to a standstill to protest the waste in the fashion industry.
Eric Gagnaire, managing director at Patatam.co.uk, said: "It's great to see British consumers becoming more conscious of the impact their shopping habits are having on the environment. Consumers are now considering the clothes in their wardrobe in a whole new way and thinking about not only the manufacturing process and the environmental and social impact of this, but what happens when they are done wearing items.
"We have seen an increase in shoppers wanting their clothes to have a second lease of life – whether they sell, donate or upcycle them – rather than just sending them to the landfill. This, coupled with the research, shows just how much attitudes have changed and how British women are making a move to become more conscious consumers."
Patatamis the UK's biggest online preloved fashion retailer, providing quality women's and children's clothing at prices 70% less than the high street, via its website. Consumers can also sell their quality, preloved clothing directly to Patatam using its free Patabag service, with no fuss.
Patatam offers free delivery in 48 hours with no minimum spend, £2 next day delivery and free returns.
For more information or to order a Patabag, please visit www.patatam.co.uk
Exhibiting Now: Art Curator

Art curator
Paul Blomkamp
The Art Curator Gallery has acquired five oil paintings by Paul Blomkamp. One of our very sort after modern artists.
Art Curator
Buy the set for R50 000
Or purchase individuals for R20 000 each
Oil painting on 100% Cotton Fabiano paper.
These are original art work not Ltd edt Prints.
They come from a series sets that where painted.
Art Curator
Abstract Landscape
100 x 100cm
Oil on canvas.
Selling for R70 000
Valued at: R95 000
Sub-Automic Nomad
100cm x 100cm
Acrylic on Wood on canvas.
Selling for R85 000
Valued at: R120 000
Born 1949, Johannesburg, South Africa.
Paul Blomkamp seeks to paint the invisible. At age ten Blomkamp's hero was Paul Klee. Not so much because of his beautiful paintings but because of a few simple words he said: "I am here to make the invisible visible". His paintings are about energy, invisible energy which he sees move and sparkle around him, just as surely as he sees the sun dancing on the surface of the sea.
Blomkamp says: "There are no words to describe the invisible I see. There is just the painting. I paint in a sacred place. A place free from race or culture. Free from religion or philosophy. A place free from any definition of who I am. I paint in the 'clouds of unknowing', as an old 14thcentury monk said, 'when you are in the clouds of unknowing then everything is illuminated".
Although primarily a painter, Paul Blomkamp also became fascinated with the art of stained glass window making in his early twenties. Disregarding the traditional methods used, he interpreted this medium in his designs as coloured light. This led to him being awarded a number of stained glass commissions however he now concentrates exclusively on his painting.
Australian L'Alpina
Headed on a summer holiday?
SUMMER SWIMWEAR SALE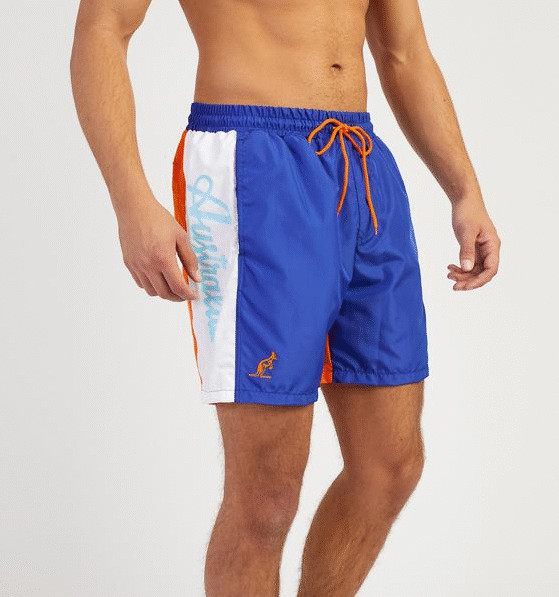 Summer is in full swing so get ready for more beach days with some brand new swimwear from Australian. We've got a wide selection of colours and styles so you'e bound to find something you'll love. Especially now with up to 50% off!
BRITISH TOURISM BOOST TO BRITISH ECONOMY

Research from the UK Caravan and Camping Alliance (UKCCA) shows that nearly £5billion is due to be spent in rural tourism economies during the summer months by holiday park and campsite visitors.
Plus, holiday park and campsite operators will spend a further £100m each year (for the next three years) on site maintenance and improvements – this is money that will further boost local trade economies.
Rory Stewart MP represents Penrith and The Border in Cumbria, a constituency which includes a large part of the Lake District where tourism is now worth £3bn a year.
Mr Stewart said: "Visitors to holiday parks and campsites are vital contributors to our region's economy, as they are in many other rural areas of Britain – and I am proud that Cumbria is able to provide families with a superb choice of first-class options of places to stay.
"I know from visits to parks in my constituency that providers of such accommodation are committed to delivering the very highest standards.
"The importance of tourism to areas such as my constituency is underlined by the fact that visitors to Cumbria now support 65,000 jobs – a fifth of all employment. The caravan and campsites sector has many smaller and long-established family-run businesses, and I would like to take this opportunity to recognise their enterprise and hard work."
VisitEngland Director, Patricia Yates, said: "This glorious weather has been providing the perfect opportunity to get out and explore our outstanding destinations and visitor attractions, from our coastal towns and vibrant cities to our stunning countryside.
"And it is no wonder more than a fifth of all domestic holidays in England take place in the great outdoors with our huge variety of caravan parks and campsites up and down the country. The summer holidays are just around the corner and with the ease and convenience of booking a holiday at home, now is the perfect time to book a staycation. This will drive growth from tourism across the country and also boost local economies."
The UKCCA research also shows that holiday park and campsite visitors spend, on average, almost £300 per week when holidaying – this money is spent on eating out, shopping and visitor attractions.
Barney Reynolds, owner of The Swan Inn at Hanley Swan near Worcester, said: "The Swan benefits hugely from having two large campsites a short walk away and I anticipate the business they bring in adds £8,000 a week to our turnover. I'm a caravan owner myself and even with the cooking facilities in my own unit, it's nice to sometimes go out and buy local produce and support local businesses."
Caravan and camping holidays are increasing in demand and popularity, and with the summer months set fair and sunny, this sector is going to bring a welcome boost to the British tourism economy.
One of a Kind Gift Cheese Experiences for Christmas
For a truly unique gift experience for the turophile in your circle of family and friends this Christmas, then Paxton & Whitfield may just have the answer.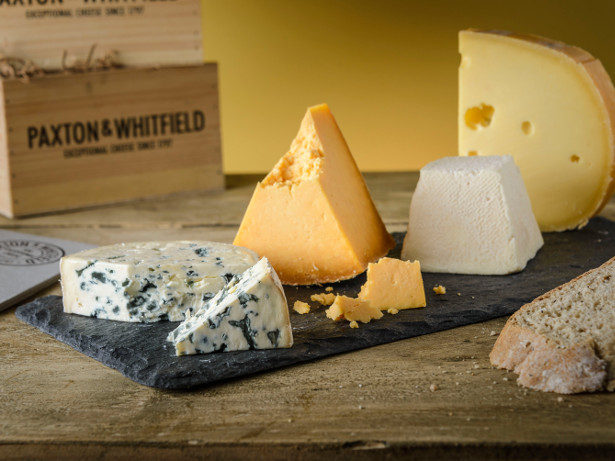 Choose from the following educational and one of a kind experiences and products: book a place on the Paxton & Whitfield Academy of Cheese Level One course, buy a make-at-home Cheese Making Kit, enjoy the Paxton's monthly Cheese Society or order a Tasting pack for 8 people.
All the products are available from Paxton & Whitfield's four shops in Jermyn Street -Piccadilly, Cale Street – Chelsea Green, Bath and Stratford upon Avon, as well as online at paxtonandwhitfield.co.uk.
Paxton & Whitfield Academy of Cheese – Level One Course Paxton's Jermyn Street flagship shop runs the Paxton & Whitfield Academy of Cheese (www.academyofcheese.org) Level One course. This course is aimed at consumers who love their cheese and want to learn more.
It is run as a one-day course by the shop's experienced team and pre-Christmas dates for the courses for 2019 are 13th September, 9th October and 15th November (Please note: 2020 dates will be confirmed nearer to Christmas). The cost is £195 per person (this cost includes a simple lunch as well as a selection of non-alcoholic drinks throughout the day).
The Level One course introduces cheese lovers to the Academy's Structured Approach to Tasting Cheese and Make Post Make cheese model. During the day they will taste and learn about the story and history of approximately 10 different cheeses in detail, using the Academy's specially developed tasting wheels and tasting sheet. In addition to tasting they will be introduced to the history of cheese production; a thorough understanding of how cheese is made; how cheese is matured, its affinage and grading; how to present and serve cheese; and how to talk about cheese.
Hero Hirsh, head of retail for Paxton & Whitfield, winner of Cheesemonger of the Year at the World Cheese Awards 2012, and Paxton & Whitfield's leader for the Academy of Cheese Level One course, says: "This is a great course for people interested in finding out more about cheese, its history, the different varieties of cheese and of course tasting some of our exceptional artisan cheeses from our counter in our flagship shop. The idea for the Academy of Cheese programme of courses is similar to the well-established Wine Spirit & Education Trust courses."
Products to learn about and enjoy cheese at home:
Paxton & Whitfield's Cheese Society (Bronze £105 for three months; Silver £200 for six months; Gold £390 for a year) If your family or friends enjoy good cheese and want to find out more about them then this monthly cheese delivery is a must. As a member, they will receive four carefully selected cheeses in peak condition, chosen for the season. The selection is sent by overnight courier leaving on the second Wednesday of each month to arrive on the Thursday.
Paxton's Cheese Making Kit (£25.00) Given the huge diversity of cheeses available, it is astounding to think that all cheese starts with the same basic ingredients. This kit contains everything that you need to make fresh Mozzarella, Ricotta, Burrata, soft goats' cheese and Mascarpone in your own home. The kit contains a 0-100oC thermometer, citric acid (30g), cheese salt (30g), a cheese cloth, rennet sachets (x4), a basket mould and a recipe booklet. All you need to add is the milk!
Tasting pack for 8 people (£60.00) A kit containing everything you need to host a fun, informative, and most importantly, delicious cheese tasting evening in your own home. Not only does the kit contain a selection of six tempting cheeses, chosen to provide a varied and educational cheese tasting experience, but it also includes a guide to tasting cheese, an A4 cheese tasting notepad to record your tasting notes and fact sheets with information on the history and production, as well as recommended drinks to accompany each cheese. The cheeses included are: Appleby's Cheshire (250g), Selles sur Cher PDO* (150g), Brie de Meaux PDO* (250g), Comte PDO* (250g), Finest English Stilton PDO* (250g) and Smoked Poacher (250g). Make this a gift by adding a Large Gift Box (£6.50).
PDO – Protected Designation of Origin, for products that are produced, processed and prepared within a particular geographical area, and with features and characteristics that must be due to that area.
TRAILER UNVEILED FOR ROGER WATERS US + THEM FILM
IN CINEMAS AROUND THE WORLD ON OCTOBER 2 AND 6
FEATURING SONGS FROM HIS LEGENDARY PINK FLOYD ALBUMS AND
FROM HIS LAST ALBUM, IS THIS THE LIFE WE REALLY WANT?
TICKETS NOW ON SALE AT rogerwatersusandthem.com
London, July 17: Trafalgar Releasing are excited to unveil the official film trailer for Roger Waters Us + Them, filmed in Amsterdam on the European leg of his highly successful and critically acclaimed 2017/2018 world tour, US + THEM. The film will be screened in 2500+ cinemas across 60+ countries around the world on October 2 and 6 only. Tickets to see the film are on sale now from rogerwatersusandthem.com.
Roger Waters, co-founder and creative force behind Pink Floyd, with visionary director, Sean Evans, brings to the screen the live story of Us + Them to inspire you with its powerful music and message of human rights, liberty and love.
The film features songs from Waters legendary Pink Floyd albums, The Dark Side of the Moon, The Wall, Animals, Wish You Were Here, as well as his last album, Is This The Life We Really Want?
The tour saw Waters perform a total of 156 shows to 2.3M people throughout North America, Australia & New Zealand, Europe, Russia, Latin America and Mexico.
"I'm so looking forward to the launch of the movie in October. US + THEM is not standard rock and roll fare, some in the audience may 'yee haaaa!!!' Which is ok, but many will weep. That is what I hope for. US + THEM is a call to action. Homo Sapiens stand at a crossroads, we can either pool our love, develop our capacity to empathise with others and act collectively for the good of our planet, or we can remain Comfortably Numb, and continue, like blind lemmings, on our current omnicidal death march towards extinction. US + THEM is a vote for love and life."
Roger Waters, 11th July 2019
Director, Sean Evans added: "This is a great film – an amazing performance delivered with care, emotion and meaning. Didn't think it was possible, but I believe we've outdone The Wall…"
The event will be screened in cinemas around the world on Wednesday, October 2 and Sunday, October 6 (in Dolby Atmos where available). More information can be found at rogerwatersusandthem.com, where fans can sign up for event alerts.
THE STRING SHOPPER GOT COOL!
Hammock Bag Macramé Rope Knitting Kit – £14.99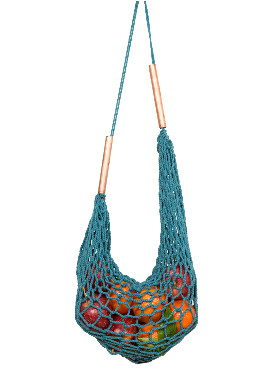 You might have first seen this string shopper at the grocery store, but now it's fast becoming the 'it bag' for the summer.
Perfect for shopping, a day at the beach or used as a style-savvy accessory to a high-fashion outfit, the macramé hammock bag is available in ten colours and comes complete with a chic copper finish.
www.woolcouturecompany.com
With sunshine and temperatures of 30 degrees predicted, it's important to keep your skin safe while playing in the sun.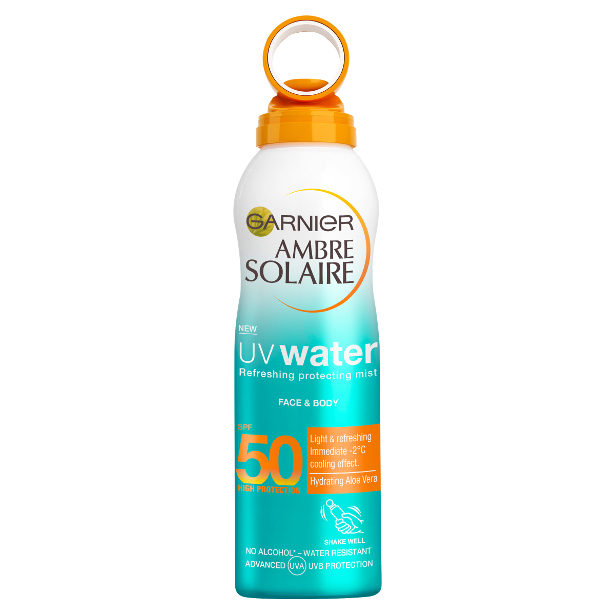 At Garnier Ambre Solaire, they have a range of products that are perfect for keeping your skin protected from the sun's harmful rays, so you can concentrate on the scrum– not worry about getting sunburnt!
Their new UV Water Mist has L'Oréal patent technology which makes sure you don't miss a single spot, and is scientifically proven to cool you down by 2 degrees; keeping you protected and cool while you tackle your way to success.
Garnier Ambre Solaire UV Water Mist – £14.00
Garnier Ambre Solaire UV Water – £8.00
Garnier Ambre Solaire Dry Mist – £7.00
HIT THE BEACH THIS SUMMER WITH EQUIPMENT FROM DECATHLON

Enjoy sun, sea and sand with beach sporting equipment from Decathlon this summer –
Quality beach sport products such as cricket sets, football goals and volleyball equipment for all available at Decathlon –
As the summer holidays are upon us nothing is going to keep families from heading to the coast and enjoying a Great British beach.
Decathlon offers a wide range of quality recreational beach sport equipment, from cricket sets to volleyballs, sure to keep the whole family entertained during long days on the sand. Whether heading on a staycation or simply enjoying a day trip to the seaside, bring family and friends together for some fun beach activities with equipment from Decathlon.
Balls
ALLSIX V100 VOLLEYBALL – BLUE/GREEN – £4.99
Nothing says summer like a game of beach volleyball with friends, and this ball is perfect for a spontaneous game in the sunshine.
Designed for volleyball beginners this ball, covered in a soft synthetic material, gives the whole family the opportunity to get involved and makes it easier to pass those first shots.
Durable enough to withstand up to 5000 shots, beach-goers can enjoy playing in the sand with this ball again and again, no matter if their serve isn't quite Olympic standard yet!
OFFLOAD R100 SIZE 4 TIKI BEACH RUGBY BALL – £7.99
This ball is great for those wanting to have a friendly game of rugby on the beach, as the smaller size and foam material make it more comfortable for beginners catch.
What's more, this ball is made from one single layer making it lighter, ideal for those who are inexperienced in passing a rugby ball.
The bright colours will have friends and family running for try and practising tackles into the soft sand.
KIPSTA SUNNY 500 FOOTBALL SIZE 5 – YELLOW/PINK/BLACK – £6.99
Kick off your flip-flops and play football barefoot in the sand with this football. The inner foam layer and soft outer surface means it can be used without the need for football boots.
The ball is designed specifically for grass and sand-based pitches thanks to it being 10% lighter than a traditional ball.
The machine stitch construction means it is durable to last game after game, so your family can bring this ball along to the beach every time.
NERF VORTEX NERF KIDS' 32CM AMERICAN FOOTBALL – ORANGE/GREEN – £12.99
Kick a classic game of catch up a notch with this exciting Nerf American football, perfect for practising catching and throwing on the beach.
Parents will love teaching children throwing techniques, whilst little ones will love the whistling noise the ball makes.
Available in a range of colours and the missile shape is sure to get little ones excited for an action-packed day at the beach.
Bat sets
KOOKABURRA KOOKABURRA BLAST CRICKET SET SIZE 2 –£19.99
This compact cricket set is something the whole family can enjoy on a day-trip to the beach or weekend at the coast.
The size 2 set is well-proportioned for younger players, while the hardwearing plastic stumps and bat make it durable, meaning they can play all summer long.
Meanwhile, the lightweight construction and handy carry bag make it easy to transport.
ARTENGO WOODY BEACH TENNIS RACKET SET – BLUE – £4.99
Make some fantastic beach memories playing tennis on the sand with this classic racket set.
The two bats and rubber ball come with a soft coating, to ensure speed can be controlled, meaning friends and families can practise their volleys easily.
The lightweight bats come with a comfortable foam handle, meaning sweaty hands can keep grip even if the summer sun sends the temperature soaring.
KIPSTA BA 100 KIDS' BASEBALL SET – £19.99
Enjoy a fun filled team game with friends and family with this full baseball set.
The handy carry case includes a bat, two balls and five flat disk markers, so set up a pitch and aim for a home run on the beach.
The bat is the perfect size for smaller players, and what's more, both the bat and balls are covered in foam so the whole family can have fun safely.
Equipment
KIPSTA NG100S POP-UP FOOTBALL GOAL – ORANGE – £14.99
Enjoy a quick game of football in between sandcastle making, with this generously sized pop-up goal (120 x 80cm).
Light and easy to transport, with an easy to erect pop-up system and handy travel bag, this football goal is great to take on beach trips and staycations with friends and family.
Strong and stable, it has handy side pockets that can be weighed down, meaning play can go on, even when the sea breeze starts to blow.
Kurt Beers
Released 5 September 2019
100 SCULPTORS OF TOMORROW is the culmination of a year-long search to identify the 100 most exciting up-and-coming sculptors working today around the world.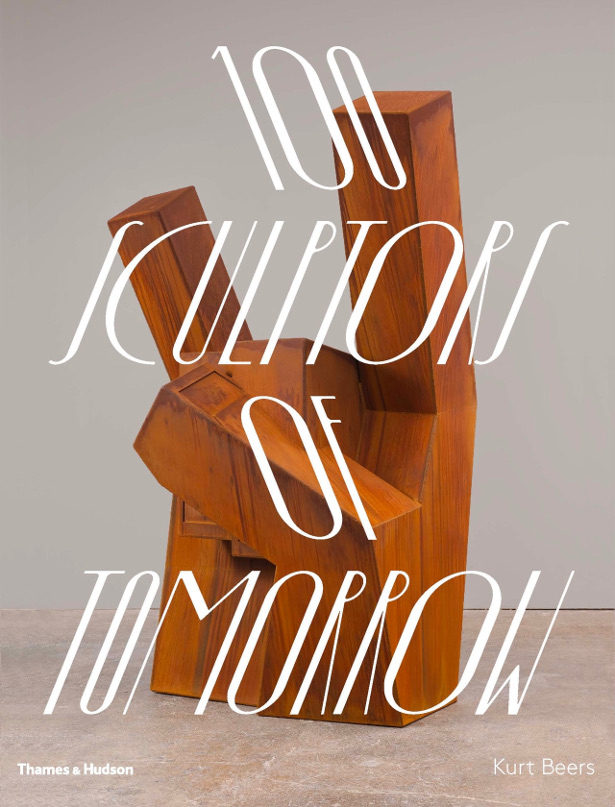 Authored by Kurt Beers, whose groundbreaking 100 PAINTERS OF TOMORROW went on to launch many artists' careers and is still a leading resource on some of the most important emerging painters in the world, 100 SCULPTORS OF TOMORROW serves not only as an inventory of the most notable sculptors working across the world today, it questions what the very nature of sculpture can be.
The foreword is written by art historian and critic Richard Cork, who comments, "As this book attests with such vigour the artists of today refuse to be constrained in any way by traditional approaches…Sculpture used to be considered a fundamentally 'tough' activity, lauding bodily perfection. But practitioners in the twenty-first century are increasingly preoccupied with vulnerability."
Selected sculptors include Chris Bogia, Shane Darwent Mark Whalen, Troika, Haroon Mirza, duo Ghost of a Dream, Zac Harmon, Michelle Segre, Alex Chinnock, Ben Long, Samara Scott, Jack Lavender, Leif Low-Beer, Rachel Ara, Jonathan Schipper, Emanuel Tovar, Donna Huanca, Renee So, Cammie Staros, Sebastian Neeb, Cameron Platter, Ludovica Gioscia, Ioanna Pantazapoulou, Rachel Champion, Rachel Pimm, Gal Weinstein, Haffendi Anuar, Tuan Andrew Nguyen, Saad Qureshi, Zadie Xa, Rushdi Anwar, Kadar Attia, Cătălin Bădărău, EJ Hill, Thomas J Price, Robin Antar, Jebila Okongwu, Caroline Aichantre, Lindsay Lawson, Pepe Mar, Ruby Neri, Christian Newby, Ramesh Mario Nithyiendran, Zoe Paul, Nathan Mabry, Francis Upritchard, Olaniyi R Akindiya, Virginia Leonard and Hiromi Tango.
The 100 artists, chosen by a jury of professionals in the field of sculpture, represent a fifty-fifty split of online open-call submissions and juror recommendation including sculptors found by Beers at art fairs and on Instagram. A platform for those included to reach a wider audience, gain international exposure and encourage critical reception, 100 SCULPTORS OF TOMORROW offers three collectives, fifty-nine male, thirty-eight female and three non-binary artists born in thirty-eight different countries and working in over thirty. Recurrent themes, from technology and communication to ecology, are clear throughout, and dialogues with architecture and nature seem enabled by an openness to scale, site-specificity and temporality. The final sculptors of tomorrow represent an astoundingly diverse range of artists, backgrounds, styles and approaches.
"It is not just about creating something for a plinth, but about questioning and reshaping sculpture as a discipline, and rethinking precisely what we – as viewers – have come to expect a sculptor to make….Sculpture offers us something tangible, physical and material – a way, perhaps, of figuring out how to situate ourselves in a greater context." Kurt Beers
The 288-page hardback includes high-quality reproductions of each artist's work, short texts including biographical information, quotations from the artists themselves plus a further listing of artists to watch, recommended reading, and individual juror picks.
The respected panel of jurors are Anne Ellegood, Senior Curator at the Hammer Museum; Clare Lilley, Director of Programme at Yorkshire Sculpture Park; Jiang Jiehong, Professor of Chinese Art at Birmingham School of Art; Francesca Gavin, freelance writer, curator and editor whose credits include Dazed & Confused, Vogue, and Elle; David Huber, critic, editor, and frequent contributor to Artforum; Natalie King, curator and Senior Research Fellow at the Victorian College of Arts, Melbourne; Stefan Simchowitz, art collector, curator and advisor; and Anita Zabludowicz, UK-based collector and head of the renowned Zabludowicz Collection; as well as author Kurt Beers, Director of Beers London and author of 100 PAINTERS OF TOMORROW.
100 SCULPTORS OF TOMORROW is the second book in the series authored by Kurt Beers and published by Thames & Hudson.
Kurt Beers is Director of Beers London art gallery and author of both 100 Sculptors of Tomorrow (2019) and 100 Painters of Tomorrow (2014). In his capacity as gallery Director since 2012, Beers has worked with emerging and established artists internationally, prioritizing an approach to contemporary art that is both progressive and thought-provoking. Through his work on both books with esteemed British art publishers, Thames & Hudson, Beers has worked to create an international network of artists with the goal of creating a legacy of books and an international fraternity of artists. Through continued collaboration with artists and organizations, Beers continues to spearhead one of the most regarded spaces operating under its first ten years in London. In 2015 and 2016, Beers London was listed in Blouin Media's '500 Best Galleries Worldwide' and in 2015 Director Kurt Beers was included in ArtLyst's 'Alternative Power 100'. Beers holds a Bachelor's Degree from Carleton University in Ottawa, Canada, and a Master's Degree from City University in London, England.
Book Launch
6-9pm, Thursday 12 September 2019
The Wellington Club, 91 Jermyn Street, London SW1Y 6JB
Book Information
Released 5 September 2019
£39.95 Hardback
Extent: 288 Size: 32.0 x 24.0cm
ISBN: ISBN:9780500021477 Over 250 Illustrations
AND NOW IT'S ME TIME
From music, to mindfulness, celebrity interviews and politics, there's something for everyone to listen to in the podcasting world.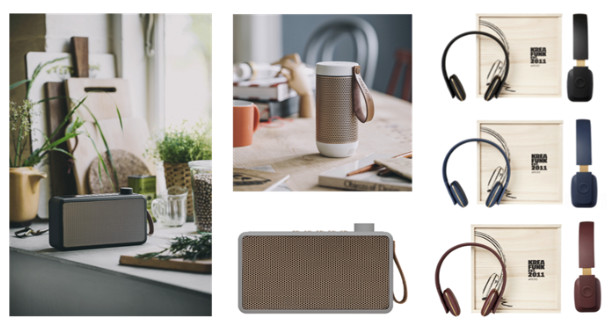 Like the Royal Opera House, Kreafunk aims to enrich lives through music and the arts –
so if you need time to yourself, time to reflect, or even a way to while away the time, the luxurious Kreafunk headphones and speakers, available at Royal Opera House shop, let you do just that.
Relaxing at home or on your travels, they enable you to listen to music or the latest episodes of your favourite podcast, and transport you to your happy place.
Black / Grey Radio / Speaker – £125
White & Rose Gold Speaker – £120
Black / Blue / Plum Bluetooth Headphones – £98
Royal Opera House shop – shop.roh.org.uk
With the fabulous wireless headphones and radio offering you 10-14 hours of sound, the Kreafunk range really will be your favourite this year!
To help you unwind, why not try listening to some of the Royal Opera House ballet and opera themed podcasts and music?
• Giordano's Andrea Chénier at the Royal Opera House
• Behind the Scenes: Marianela Nunez at Covent Garden
• Chorus of the Royal Opera House
Source: BBC Sounds
NEW @paxtonscheese – Make Your Own Cheeseboard and Cheese Homeware Gift Packs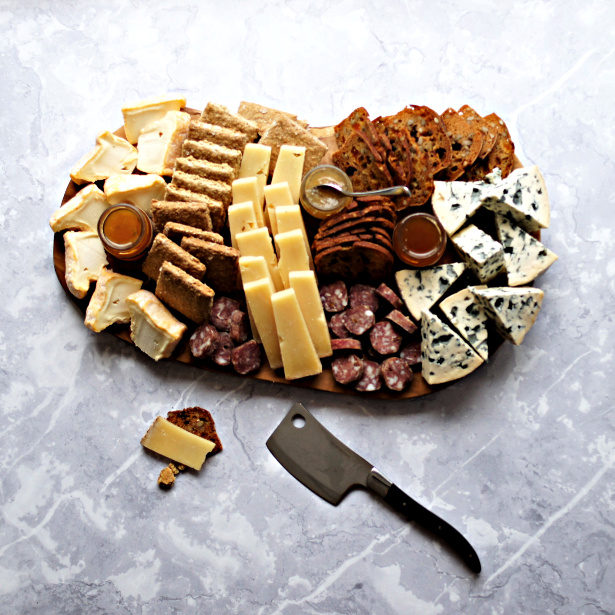 NEW for this Christmas at Paxton & Whitfield are these two delicious ranges – Make Your Own Cheeseboards and Cheese Homeware Gift Packs. Both these selections have been created by the team at Paxtons for customers to create these enticing experiences and enjoy the exceptional artisan cheeses and fine foods that they contain.
James Rutter, director of operations for Paxton & Whitfield, explains: "This year we wanted to create a selection of gift packs that gave our customers the opportunity to create enjoyable moments with friends and family where they can enjoy an amazing selection of the cheeses and fine foods that we sell. It's about getting people together and having some fun with cheese!
"The Make Your Own Cheeseboard packs include everything you need to create visually tempting displays that your guests will just go 'WOW!' at when they see them. The Cheese Homeware Gift Packs give you the opportunity to enjoy the products and cheese and then keep the homewares to use over and over. We hope customers will get so inspired that they feel they'll want to share them on social media – so don't forget our address – @paxtonscheese."
All the products in the packs are available from Paxton & Whitfield's four shops in Jermyn Street -Piccadilly, Cale Street – Chelsea Green, Bath and Stratford upon Avon, as well as online at paxtonandwhitfield.co.uk.
NEW Make Your Own Cheeseboard Range – Impress your guests with these delicious and striking cheeseboards! The MYO cheeseboard range provides all the cheese and fine foods you need along with a complete guide to cutting, plating and serving cheese like a true professional. Each selection comes with a step-by-step instruction leaflet of how to put them together. So order a pack, have fun putting one together and even more fun savouring it!
Make Your Own – British Cheese Platter (£40.00) – This cheese and fine food selection celebrates the best of British artisan cheese and charcuterie with delicious fine food accompaniments. The pack includes: Paxtons Cave Age Cheddar PDO* (250g), Perl Las (250g), Tunworth (250g), Cornish Charcuterie Salami (90g), Sloe, Fig & Almond Slice (100g), No 93 Ale Chutney (198g) and Cornish Buttermilk Biscuits (100g).
Make Your Own – Cheesemonger's Choice Platter (£40.00) – A selection of fine cheeses selected by Paxton's cheesemongers. The pack includes: Langres PDO* (180g), Lincolnshire Poacher (250g), Fourme d'Ambert PDO* (250g), Cornish Charcuterie Salami (90g), Apricot, Date & Sunflower Seed Cracker Bakes (100g), Celery & Sea Salt Oaties (150g) and Trio of Mini Confits (135g).
Make Your Own – Continental Platter (£40.00) – A mix of the finest Continental cheeses and fine foods to create a visual and flavour sensation. The pack includes: Manchego Curado PDO* (250g), Camembert de Normandie PDO* (250g), La Buchette (150g), Fig Ball (250g), Quince Cheese (140g) and Multiseed & Cracked Black Pepper Cracker Bakes (100g).
NEW Cheese Homeware Gift Packs – a selection of gift packs that include Paxton's cheese homewares and artisan cheeses to enjoy with them. Once you've used the cheeses you'll have the homewares to keep and use again and again.
Make Your Own Baked Camembert (£40.00) – An elegant lidded, ceramic dish to bake a Camembert in and some fruit to cheese to enjoy with it. A simple but blissful dish to enjoy and afterwards you have the baker to keep and use again. The pack includes: Paxtons Camembert Baker, Camembert de Normandie PDO* (250g), Gooseberry Fruit Cheese (120g), Rosemary Wafers (150g) and a Beech Wood Spreader.
Two Person Raclette (£45.00) – This mini, candlelit Raclette grill, with Raclette and other accompaniments is perfect for an intimate dinner for two. The pack includes: Paxton & Whitfield Raclette Grill, Raclette (250g), Sweet Cucumber Pickle (198g) and a Cornish Charcuterie Salami (90g).
Two Person Fondue (£50.00) – Cold winter nights require cosy nights in with melted cheese 'a deux'. This candlelit fondue is perfect to share and create that cosy feeling. The pack includes: Paxton & Whitfield 2 Person Fondue Set, Gruyere Reserve PDO* (250g) and Mayfield (250g).
Six Person Fondue (£150.00) – The ultimate fondue feast that comes with Paxton & Whitfield's Six Fondue Set, cheese, British Charcuterie, fine food accompaniments and wine. What more do you need to entertain on a cold winter's night? The pack includes: Paxton & Whitfield Six Person Fondue Set, Raclette (500g), Gruyere Reserve PDO* (500g), Sweet Cucumber Pickle (198g), Caramelised Onion Chutney (227g), Cornish Charcuterie Salami (2x 90g) and a bottle of Côtes de Duras White (75cl).
PDO – Protected Designation of Origin, for products that are produced, processed and prepared within a particular geographical area, and with features and characteristics that must be due to that area.
GOING GREEN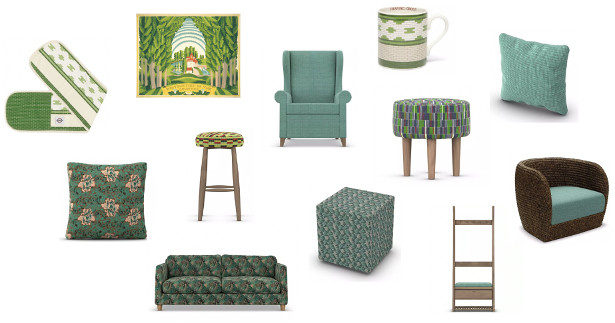 With the autumn months very quickly approaching, add a splash of winter greens to your home with these stylish pieces from London Transport Museum Shop.
image.png
   In homage to London Underground, the eye-catching and sophisticated furniture is made from traditional Moquette fabric, used on the London transport system since the 1920's. 
Turn eyes GREEN with envy! Bright and unique, these accessories will be an exciting addition to any home this autumn!
Get the look from ltmuseumshop.co.uk
Hidden London Oven Gloves – £18 • Whitsuntide in the country, by Edward McKnight Kauffer, 1925 – from £14.99 • Club Wingback Chair Eastern Coachworks Check – £975 • Hidden London Mug Charing Cross – £9.99
Moquette Mesa 45 Milking Stool Tramlink Standard – £255.99 • Moquette Cushion 45cm Eastern Coachworks Check – £59.99
75cm Moquette Floor Cushion Eastern Coachworks Floral – £179.99 • Moquette Hops Kitchen Stool cafe – £249.99 • Moquette Pimlico 3 Seater Sofa Eastern Coachworks Heathland – £1964.99 • Moquette Cube Eastern Coachworks Forest – £174.99
Moquette Totem Hall Stand Eastern Coachworks Check – £676.99 • Moquette Tubby Armchair Punto Nero Eastern Coachworks Check – £821.99
London Transport Museum shop – ltmuseumshop.co.uk
Sharks' community hero wins at national rugby awards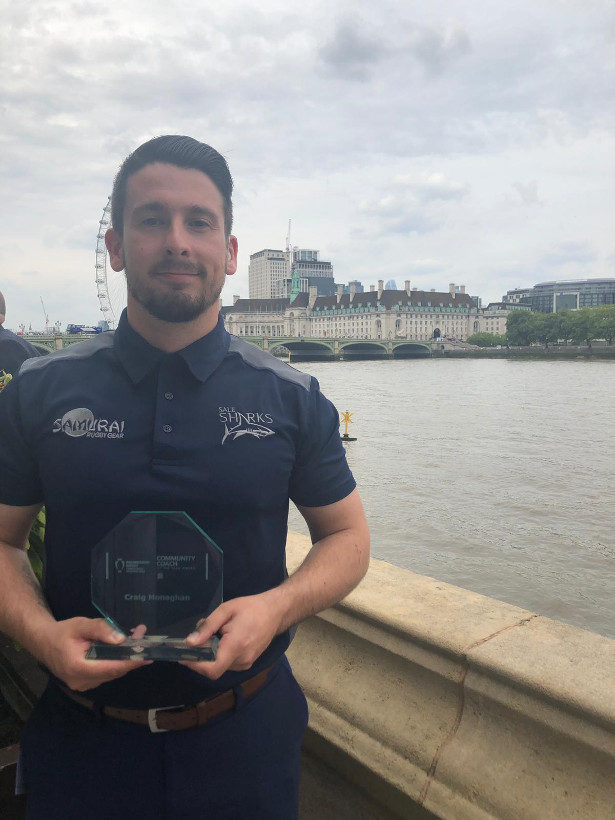 Craig Monaghan has been recognised for his achievements working with military veterans in the community at the Premiership Rugby Parliamentary Community Awards
A military veteran who uses his wartime experiences from Afghanistan to help other ex-forces personnel in Greater Manchester has picked up a national award for his work in the community.
Craig Monaghan, a coach at Sale Sharks Community Trust, collected the award for 'Community Coach of the Year' at this year's Premiership Rugby Parliamentary Community Awards, which took place at the House of Commons.
He fought in some of the bloodiest battles of the Afghanistan conflict and lost eight of his colleagues in an ambush, also suffering severe injury himself. As a result of one battle in 2009, he perforated both of his eardrums and lost the majority of his hearing.
Since being medically discharged from the army in 2013, Craig was diagnosed with a traumatic brain injury and Post Traumatic Stress Disorder (PTSD) but has gone on to lead the Trust's Sharks Forces programme, helping hundreds of other veterans reintegrate back into society after life in the forces.
The pioneering programme offers a range of support to military veterans in Greater Manchester and the North West, helping to tackle social isolation and promoting better mental and physical wellbeing.
He also leads a separate programme called Balls To That – a mental health workshop where he shares his personal story to promote greater awareness of mental health in workplaces across the region.
Craig said: "I'm really pleased to have picked up this award and helping other people and military veterans every day gives me a reason to get up each morning.
"I think rugby really saved my life because it helped me overcome some dark times, and through Sharks Forces and Balls to That we're trying to help lots of other people in the same way.
"We've already achieved so much, but we're now looking to expand the reach of Sharks Forces in the coming months to help even more military veteran across the North West."
Three people involved in community programmes run by Sale Sharks Community Trust were shortlisted for the national awards, including Matt Hulme – a young volunteer and Howard Coppenhall, a retired engineer who started playing rugby to keep fit and active.
Alison Warwood, Executive Director at the Trust, said: "We're incredibly proud of Craig, Matt and Howard for getting this national recognition and obviously we're delighted that Craig picked up the award. He deserves it for everything he has helped the Trust achieve since joining just two years ago.
"Having a military veteran like Craig in our team has allowed us to better connect with other ex-forces personnel in the region. They can relate to his experience and he can understand better than any of us how they're feeling and the challenges they face day-to-day, whether that be re-integrating into society or looking for work outside of the forces for the first time.
"The results of the programmes speak for themselves, and the issue of veterans feeling isolated isn't going to go away without programmes like ours to offer support and guidance."
For more information about the Trust's work across Greater Manchester and the North West, visit www.salesharks.com/community/about/.
O2 ANNOUNCES 'WEAR THE ROSE LIVE', GIVING ENGLAND RUGBY FANS THE CHANCE TO MEET THE TEAM BEFORE THEY HEAD TO JAPAN
· Wear the Rose Live will bring fans closer to the England Rugby team at a special event to inspire the players before Japan
· The rugby festival will feature Eddie Jones and the full squad as well as England legend Jonny Wilkinson and some special guests
· The event takes place from midday on Tuesday 13th August at Bristol's Amphitheatre
FRIDAY 19TH JULY, BRISTOL: England Rugby fans are invited to show their support for the squad at a special event, hosted by O2 and England Rugby. A unique opportunity for fans to mingle with the team as part of O2's Wear the Rose campaign.
The free-of-charge rugby festival will see the full men's England Rugby squad and coaches spend an afternoon alongside the rugby community who'll be able to rub shoulders with their idols officially selected by Eddie in the final 31-man squad announcement the day prior. The event will feature live music alongside a variety of carnival stalls and rugby games, manned by the players, with a chance for fans to win prizes.
The event will also include an O2 Touch tournament where teams will have the opportunity to showcase their running, agility and ball handling skills in front of an eager crowd, and England Rugby legends. Teams can win entry to this exclusive contest by entering a competition via O2's Priority app.
O2 Touch has successfully introduced 30,000 registered players to the game since its launch in 2013 and Wear the Rose Live will see 20 lucky teams take part in a tournament to be crowned our Wear the Rose Live champions.
Gareth Griffiths, Head of Sponsorship at O2, said: "As lead partner of England Rugby, we want the team to feel the full power of the nation's support, and what better way to do that than inviting fans to meet the players at Wear the Rose Live. Support is everything in sport – it can change a game and prepare players for the challenges ahead. Bringing the entire playing squad, Eddie and his coaching team to meet the Bristol rugby community, so the fans can show their support, is really exciting. We can't wait."
England Rugby fans can register their interest for free tickets to Wear the Rose Live and find out more information at http://o2.uk/WearTheRoseLive. While hopeful teams and O2 customers are encouraged to keep their eyes on the Priority app where team places and special spectator perks will be available for the event.
Eddie Jones, England Rugby Head Coach added: "It's great to have our supporters and players from the community game at the centre of the Wear the Rose Live event. We are highly motivated to win and to inspire the country later this year. To be given the opportunity to spend the afternoon with so many of our fans in Bristol will be great and for us to show our appreciation for all their support before we head to Japan.
England Rugby legend Jonny Wilkinson added: "I know first-hand the difference the power of support can make to a player. Wear the Rose Live will show the England Rugby team just how much the nation is behind them, I'm looking forward to attending as a fan and showing the players and coaches my support ahead of Japan."
Full Information:
Location: Bristol Amphitheatre, Explore Lane, Bristol, BS1 5LL
Date: Tuesday 13th August
Timings: 12:00 – 19:30
NOW MUSIC RELEASES PERFECT SUMMER AND THROWBACK ALBUMS WITH NOW 103 AND NOW 3
Release Date: 19th July 2019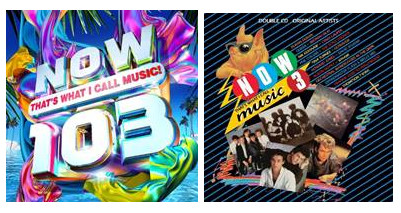 RRP: £12.99
www.nowmusic.com/album/now-103/
NOW Music strikes the balance perfectly between a great tune and a throwback with NOW 103, its second numbered compilation album of the year. It features 44 chart-topping hits and treats listeners to a bonus four throwback tracks from NOW 3 making it the biggest two-disc NOW CD with more tracks than ever before. In addition, NOW Music will re-release NOW 3 in all its glory CD following on from the overwhelming demand for the classic hits of yesteryear.
Peter Duckworth, Managing Director of NOW Music said: "Our latest album, NOW 103, has 48 songs on its two CDs and that's more songs than any (numbered) NOW album has ever had before. The reason that we can fit more songs on is simply that hit singles these days are on average shorter than at any time since the early days of the single, since the days of artists such as Elvis in the 1950s."
The UK has recently reveled in a whole host of events from Glastonbury to Pride to the Women's World Cup and NOW 103 continues to be the Nation's musical time capsule, showcasing everything from historic Pyramid stage performer Stormzy (Vossi Bop) to Country Hip-Hop newcomer Little Nas X (Old Town Road) and representing powerful women everywhere the likes of P!nk (Can We Pretend) Billie Eilish (Bad Guy) and Little Mix (Bounce Back).
The album also celebrates this year's biggest blockbuster movie soundtracks sung by some of the UK's breakthrough actors including Taron Egerton's version of Rocket Man, from the biopic of Elton John's life and Himesh Patel's version of Yesterday, from Richard Curtis' latest Summer smash.
NOW 3, originally released in 1984 coincided with Prince making his acting debut in Purple Rain and is stuffed full of incredible cross-generational tunes from Queen I Want To Break Free, Tina Turner What's Love Got To Do With It and The Weather Girl's It's Raining Men. Even Bananarama, The Guinness Book of Records' most successful female group of all time, made their debut with Robert De Niro's Waiting. On top of all that NOW 3 introduced fans to the famous Pig artwork which became synonymous with the brand and was a nod to the original Danish Bacon poster that gave way to the brand's name.
From the original curators of pop music comes the NOW Music App, the only app with the most current chart toppers to the nostalgic superstars of the past four decades to the hottest breakthrough artists of 2019, and everything in-between. For only £4.99 a month with no contract and no adverts the NOW Music App is the easiest and most enjoyable way to access music on your mobile.
NOW 103 and NOW 3 are available in physical and digital format and on the NOW app.
NOW 103
TRACK LIST
CD1:
Lil Nas X feat. Billy Ray Cyrus – Old Town Road (Remix)
Ed Sheeran feat. Chance The Rapper & PnB Rock – Cross Me
Billie Eilish – bad guy
Avicii feat. Aloe Blacc – SOS
Katy Perry – Never Really Over
Ariana Grande – break up with your girlfriend, i'm bored
MEDUZA feat. Goodboys – Piece Of Your Heart
Stormzy – Vossi Bop
Shawn Mendes – If I Can't Have You
Mark Ronson feat. Camila Cabello – Find U Again
Mabel – Mad Love
Sigala & Becky Hill – Wish You Well
P!nk feat. Cash Cash – Can We Pretend
Jess Glynne & Jax Jones – One Touch
Zara Larsson – Don't Worry Bout Me
CamelPhat & Jake Bugg – Be Someone
Jax Jones, Martin Solveig & Madison Beer – All Day And Night – Jax Jones & Martin Solveig Present Europa
Martin Garrix feat. Macklemore & Patrick Stump of Fall Out Boy – Summer Days
Little Mix – Bounce Back
Jonas Blue feat. Theresa Rex – What I Like About You
The Chainsmokers & 5 Seconds Of Summer – Who Do You Love
Miley Cyrus – Mother's Daughter
Jonas Brothers – Cool
5 Seconds Of Summer – Easier
Steel Banglez feat. AJ Tracey & MoStack – Fashion Week
CD2:
Shawn Mendes & Camila Cabello – Señorita
Lewis Capaldi – Hold Me While You Wait
Ariana Grande & Victoria Monét – MONOPOLY
Avicii – Heaven
David Guetta feat. Raye – Stay (Don't Go Away)
Bastille – Joy
Elton John & Taron Egerton – (I'm Gonna) Love Me Again (from "Rocketman")
Kylie Minogue – New York City
Ellie Goulding – Sixteen
OneRepublic – Rescue Me
Dominic Fike – 3 Nights
Lighthouse Family – My Salvation
Emeli Sandé – Sparrow
Sam Fender – Hypersonic Missiles
Liam Gallagher – Shockwave
James Arthur – Falling Like The Stars
Westlife – Better Man
Taron Egerton – Rocket Man (from "Rocketman")
Himesh Patel – Yesterday (from "Yesterday")
Grandmaster Flash & Melle Mel – White Lines (Don't Do It) (BONUS: NOW 3 Throwback)
Orchestral Manoeuvres In The Dark – Locomotion (BONUS: NOW 3 Throwback)
The Weather Girls – It's Raining Men (BONUS: NOW 3 Throwback)
Nik Kershaw – I Won't Let The Sun Go Down On Me (BONUS: NOW 3 Throwback)
NOW 3
TRACK LIST
CD1:
Duran Duran- The Reflex
Nik Kershaw- I Won't Let The Sun Go Down
Sister Sledge- Thinking Of You
Orchestral Manoeuvres In The Dark- Locomotion
Ultravox- Dancing With Tears In My Eyes
Howard Jones- Pearl In The Shell
Blancmange- Don't Tell Me
Phil Collins- Against All Odds (Take A Look At Me Now)
Frankie Goes To Hollywood- Two Tribes
Grandmaster Flash & The Furious Five- White Lines (Don't Do It) (Furious Five)
The Special AKA- Nelson Mandela
Womack & Womack- Love Wars
The Style Council- You're The Best Thing
Bronski Beat- Smalltown Boy
CD2:
Queen- I Want To Break Free
Cyndi Lauper- Time After Time
Alison Moyet- Love Resurrection
The Bluebells- Young At Heart
Bananarama- Robert De Niro's Waiting
Propaganda- Dr Mabuse
Tina Turner- What's Love Got To Do With It
The Flying Pickets- When You're Young And In Love
Wham- Wake Me Up Before You Go Go
The Thompson Twins- You Take Me Up
The Weather Girls- It's Raining Men
The Art Company- Susanna
Madness- One Better Day
David Sylvian- Red Guitar
NEW: Wonderful Wall Lights from Industville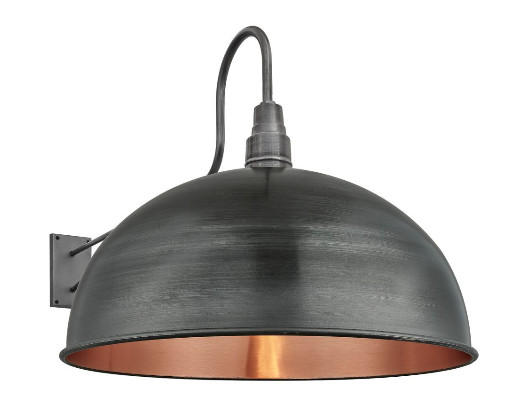 Wall lights can help to add depth to any room, adding another layer of illumination and creating a relaxing atmosphere. Industville are proud to introduce their very latest Wall Light Collections; The Long Arm and The Waterproof Brooklyn Globe
Long Arm 18″ Dome Wall Light in Pewter & Copper £389.00
Wall lights create a calming atmosphere when used alone, or can be used to add layers when combined with other lighting styles. As Marketa Rypacek, MD at Industville explains, "Often the biggest mistake is made by thinking all one needs is a single overhead light for a room, but lighting should be approached in a layered manner. In order to accomplish a warm, welcoming room, you need to embrace the whole range of lighting sources available. Our latest collections of wall lights complement many of our other lighting styles, allowing customers to create a harmonious lighting scheme. I always advise customers to vary the lighting in a room to create little pockets and pools of light."
Long Arm 13″ Dome Wall Light in Light Pewter £159.00, Long Arm 8″ Dome Wall Light in Brass £159.00
The new Long Arm Collection features elegant designs which are perfect for accent lighting; highlighting pieces of artwork, plants, or impressive architecture. These beautiful wall lights are all designed in the UK and handcrafted for the perfect vintage finish.
Long Arm 15″ Flat Wall Light in Copper £229.00, Long Arm 21″ Giant Hat Wall Light in Brass £179.00, Long Arm 4″ Wire Cage Wall Light in Pewter £139.00, Long Arm 20″ Giant Bell Wall Light in Pewter £179.00
There are a variety of on-trend shade designs to choose from including the ultra-industrial style Wire Cage shown above left. Most are available in a choice of three finishes; cool metallic brass, gleaming copper or the paired-back pewter. Ranging from a small 4 inches for the Wire Cage design up to a giant 21 inches for the Giant Hat design, the Long Arm Collection can be used for subtle practicality or to make a bold statement.
Brooklyn Waterproof Globe Wall Lights shown in Copper, Brass & Pewter, all £85.00
Also new are the stylish Waterproof Brooklyn Globe Lights. Understated in their design, these chic little lights really highlight the bulb within, which is totally encased making them completely waterproof. They carry an IP65 rating meaning they are safe for outdoor and bathroom use and would look lovely placed either side of a bathroom mirror. Available in brass, copper and pewter, the ring above the glass can be chosen in a different colour to really personalise them.
Brooklyn Waterproof Globe Wall Light in Pewter & Brass, £85.00
These new designs add to the company's already impressive Wall Light Collection, which includes swan necks, bulkheads and swivel spotlights. To see more of their beautiful wall light designs click here.
Orlando 4″ Wire Cage Wall Light in Brass £49.00, Brooklyn Glass Funnel Wall Lights in Pewter £79.00
Restock of all 30 Year Sweatshirts and T-Shirts
tomcridland.co.uk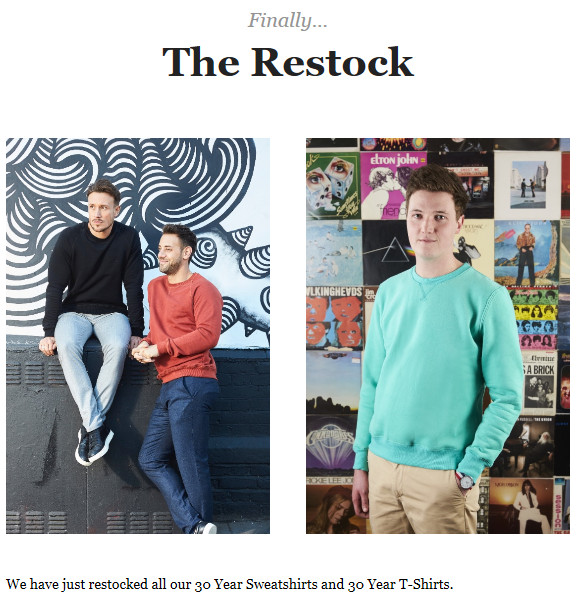 Thousands of runners took to the streets of Westminster to RUN UNITED at the ASICS London 10K 2019, presented by Virgin Sport, with support from the Mayor of London, Will Smith and Sir Richard Branson!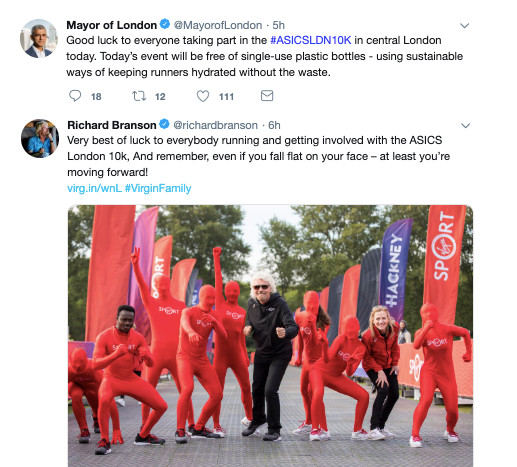 The race, won by Josh Griffiths with a time of 30 minutes 26 seconds, encouraged people to Run United; highlighting the inclusivity and openness of the city. This was demonstrated with nearly half the runners supporting over 300 charitable causes raising an estimated £2.2m.
This the first ASICS London 10K race, to proudly become plastic bottle free. Part of Virgin Sport's wider mission to make all their running events plastic bottle free in 2019 by eliminating 500,000 single-use plastic bottles from their courses.
JUST Goods provided recyclable JUST Water cartons at the finish line, eliminating 19,000 single-use plastic water bottles. A partnership announced by WILL SMITH on Instagram earlier this week.
An additional 40,000 plastic bottles were removed from the route and replaced with 100% recyclable paper cups.
The ASICS London 10K finisher t-shirt was also made using recycled PET bottles.