The Restaurant Guide 2020:
2,000 restaurants – inspected by the AA for culinary excellence
AA Publishing
£16.99 RRP | 15th October 2019
New look 27th edition of The Restaurant Guide reveals the UK's 2,000 best restaurants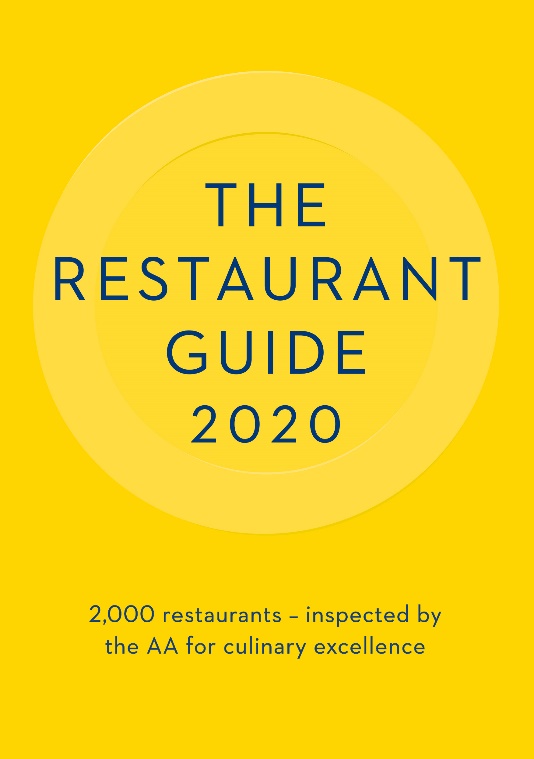 Over 140 new additions for 2020, including restaurants in a former spy training facility, UK's "passport village", Tate Britain, and with "England's best view"
Discover AA Hospitality Award winners, and hear from some of the UK's top chefs
The Restaurant Guide 2020: 2,000 restaurants – inspected by the AA for culinary excellence (AA Publishing) is the food lover's guide to the best cuisine in Britain. The practical guide to Britain and Ireland's top dining destinations contains over 2,000 restaurants currently awarded Rosettes for culinary excellence by the AA's professional inspectors.
From fine dining perfect for a special occasion to beloved local eateries, the 27th edition of the AA Restaurant Guide includes many old favourites, plus over 140 new and interesting restaurants which have made it into the Guide for the first time this year.
The Restaurant Guide 2020 offers an in-depth guide to the UK's restaurant scene by county, with a detailed description of each destination, from opening details and capacity, to whether the restaurant is child friendly, alongside information on the latest chef changes and sample menu prices. The Guide also offers clear AA mapping to assist those looking to travel to the listed restaurants, as well as images of many of the dining destinations.
In addition to restaurant listings, The Restaurant Guide 2020 includes interviews with top chefs including Tom Brown and Steven Edwards, as well as details of the winners of the AA Hospitality Awards, including Restaurants of the Year, AA Wine Awards and Chefs' Chef of the Year.
New entries for 2020 include: a restaurant in a former WWII spy training facility (Arisaig House, Arisaig), a restaurant in the village which appears in the UK passport (The Brasserie, Bibury), Tate Britain's eatery (The Rex Whistler, London), a dining room exhibiting Chatsworth's Devonshire Collection (Cavendish Hotel, Baslow), and a dining spot in the town with "England's best view" (Mizu, Borrowdale).
The Restaurant Guide 2020 will be available for £16.99 online and in bookstores from Tuesday 15th October 2019.