BABYBJÖRN celebrates Babywearing Week with BRAND NEW Baby Carrier Move, Award Winning Baby Carrier One and Baby Carrier Mini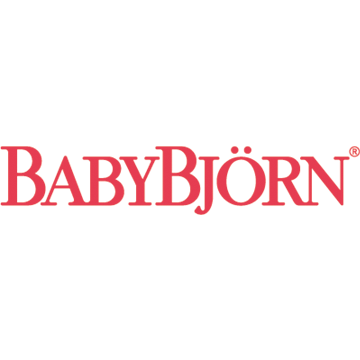 INSTAGRAM | FACEBOOK | PINTEREST
Bonding with your baby is not just about feeling good, there are well-established long-term benefits of having your baby close, which is why BabyBjörn are celebrating Babywearing Week (30 September – 6 October 2019).
In 1973, after new research about the importance of closeness for babies emerged, together with paediatricians, BabyBjörn developed their first baby carrier. Since then, more than 30 million babies all over the world have been carried in BabyBjörn baby carriers, close to their parents' hearts. Although times have changed, and BabyBjörn has launched many new carriers, the needs of newborns remain unchanged.
BABYBJÖRN Baby Carrier Move – Launching October 2019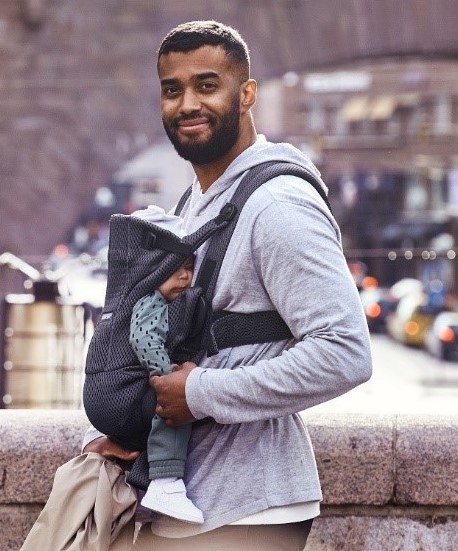 The new Baby Carrier Move is designed for parents with an active, social lifestyle who want to take their baby with them from day one. The baby carrier has built-in back support and a waist belt that distributes weight away from the shoulders, as young babies grow heavier surprisingly quickly! The baby carrier's thin and flexible 3D mesh fabric ensures that a new-born baby is sitting in a perfect position and the size of the baby carrier can be adjusted as the baby grows. The soft fabric hugs the baby's back, legs and hips, and provides good support.
Baby Carrier Move is available online and in stores from October 2019 in the colours Sage green, Grey and Anthracite. RRP: £119.99
BABYBJÖRN Baby Carrier One – Soft Sprinkles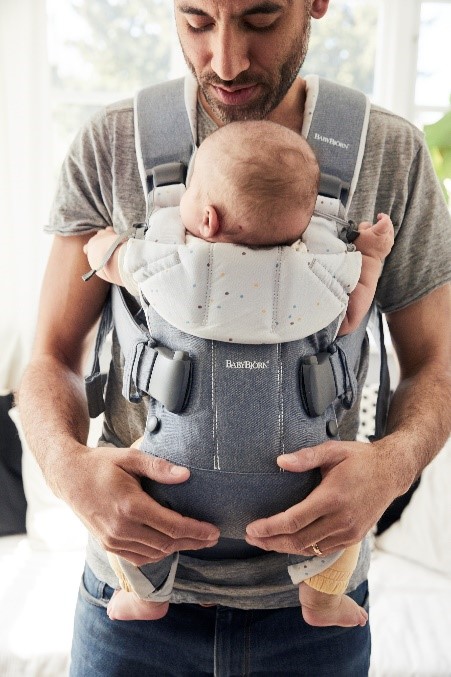 The new Autumn collection from BabyBjörn, Soft Sprinkles, is available in the award-winning Carrier One. The new collection is delicately dusted with delightful dots and features a playful print and soft colours that have been carefully selected to appeal to style-conscious parents and blend effortlessly into modern homes. The award-winning Baby Carrier One is a soft and ergonomic babywearing choice that makes it easy for parents to give their baby the important closeness that strengthens the parent-child bond from day one.
Baby Carrier One – Soft Sprinkles is available from October 2019, online and in stores. RRP: £139.99
BABYBJÖRN Baby Carrier Mini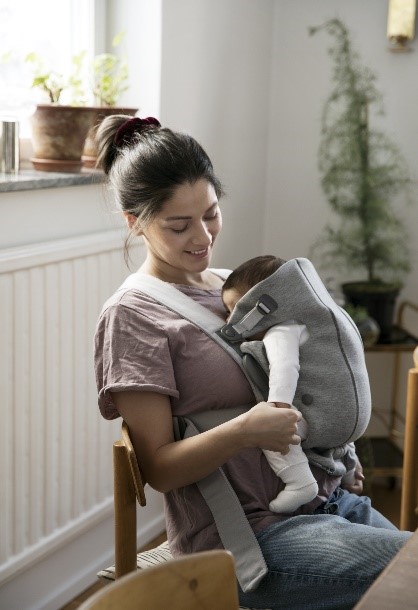 Baby Carrier Mini is perfect for preserving those precious first few months of parenthood. Designed to fit the needs of a newborn baby, the simple design is easy to put on, even in the middle of the night, and the luxurious, tactile fabrics are gentle on your newborn's delicate skin. You can feel your baby is being carried in a natural position, with their back in a gentle c-curve. The entire front section of the carrier opens for you to put down your sleeping baby, and there is no fabric between the baby and your chest, so ideal for skin-to-skin contact too.
The Baby Carrier Mini is available online and in stores in: Light Grey, Dark Grey, Greige, Anthracite, Dusty Pink, Vintage Indigo, Black. RRP: From £74.99
Babywearing has so many benefits for both you and your baby, some being:
Babies who are carried often cry less, feed easier and sleep better. While they are close to you, they know they are safe and you can give them what they need.
Upright carrying is good for babies physically, helping with colic, digestion, and helping prevent physical abnormalities such as flat-head syndrome.
Babywearing promotes attachment, and can help prevent post-natal depression.