Get ready for every game with scrum-ptious Rugby World Cup burgers!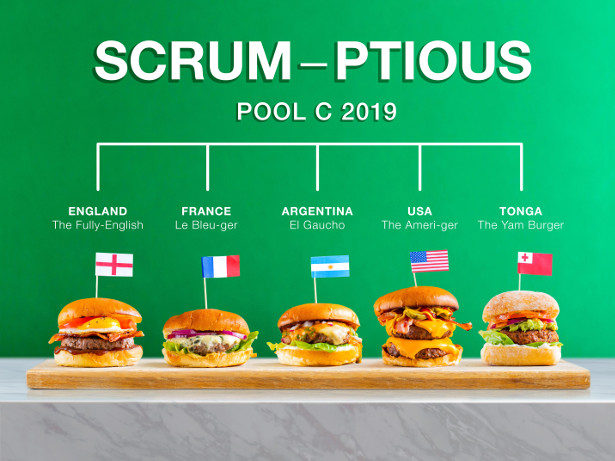 The 2019 Rugby World Cup is upon us and Pool C will saw England face-off against Tonga, the United States, Argentina and fierce rivals France.
The Japanese are hosting the tournament for the very first time – so avid rugby fans will need to be up at the crack of dawn to catch matches across September and October before November's Rugby World Cup Final. In fact, the earliest Pool C game, will kick off at a yawn-inducing 5.45am!
If heading down to your local at 8am for a beer and burger combo isn't an option – Princess appliances has developed the perfect solution! Convert your front room into the ideal place to catch the match with a selection of scrum-ptious burgers that can be cooked (and consumed!) in front of the telly.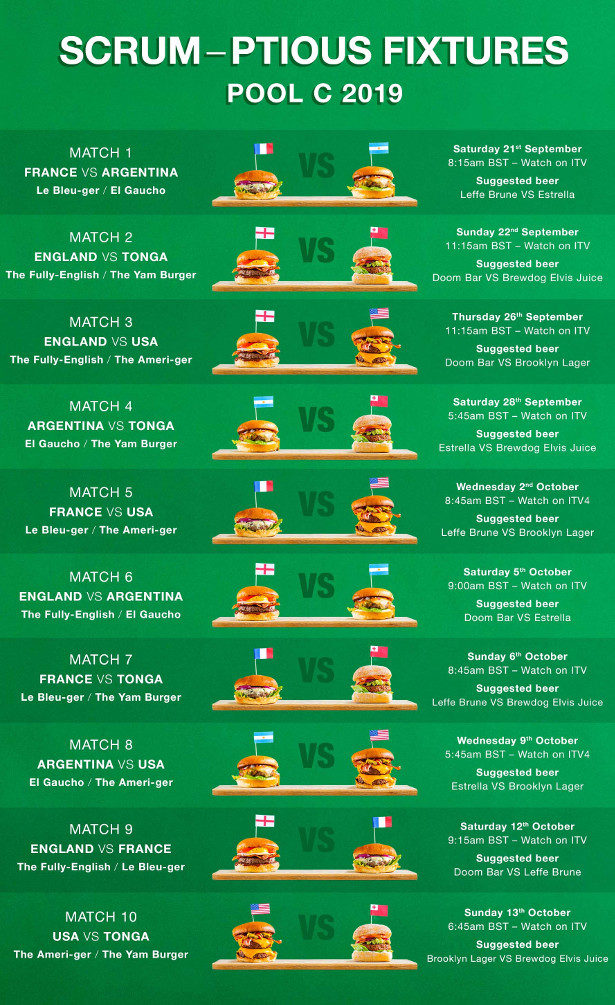 Princess has perfected five Rugby World Cup inspired recipes that can quickly be rustled up on the Princess Table Chef Pure Compact. Your options include: The Fully-English (England), The Yam Burger (Tonga), The Ameri-ger (USA), El Gaucho (Argentina) and finally Le Bleu-ger (France).
The Princess Table Chef Pure Compact is the perfect grill plate for flipping burgers with friends and family whilst catching all the action. Plug in and play on a coffee table and your mobile burger station is ready for kick-off!
So you know exactly what to eat for each match, Princess has provided this handy fixture guide below.
ENGLAND, FRANCE, ARGENTINA, USA, TONGA
Match 1: France vs Argentina
Date and time: Saturday 21 September, 8.15am BST
TV channel: ITV
Burgers: Le Bleu-ger vs El Gaucho
Suggested beer: Leffe Brune vs Estrella
Match 2: England vs Tonga
Date and time: Sunday 22 September, 11.15am BST
TV channel: ITV
Burgers: The Fully-English vs The Yam Burger
Suggested beer: Doom Bar vs Brewdog Elvis Juice
Match 3: England vs USA
Date and time: Thursday 26 September, 11.15am BST
TV channel: ITV
Burgers: The Fully-English vs The Ameir-ger
Suggested beer: Doom Bar vs Brooklyn Lager
Match 4: Argentina vs Tonga
Date and time: Saturday 28 September, 5.45am BST
TV channel: ITV
Burgers: El Gaucho vs The Yam Burger
Suggested beer: Estrella vs Brewdog Elvis Juice
Match 5: France vs USA
Date and time: Wednesday 2 October, 8.45am BST
TV channel: ITV 4
Burgers: Le Bleu-ger vs The Ameir-ger
Suggested beer: Leffe Brune vs Brooklyn Lager
Match 6: England vs Argentina
Date and time: Saturday 5 October, 9:00am BST
TV channel: ITV
Burgers: The Fully-English vs The El Gaucho
Suggested beer: Doom Bar vs Estrella
Match 7: France vs Tonga
Date and time: Sunday 6 October, 8.45am BST
TV channel: ITV
Burgers: Le Bleu-ger vs The Yam Burger
Suggested beer: Leffe Brune vs Brewdog Elvis Juice
Match 8: Argentina vs USA
Date and time: Wednesday 9 October, 5.45am BST
TV channel: ITV 4
Burgers: El Gaucho vs The Ameir-ger
Suggested beer: Estrella vs Brooklyn Lager
Match 9: England vs France
Date and time: Saturday 12 October, 9.15am BST
TV channel: ITV
Burgers: Le Bleu-ger vs The Fully-English
Suggested beer: Doom Bar vs Leffe Brune
Match 10: USA vs Tonga
Date and time: Sunday 13 October, 6.45am BST
TV channel: ITV
Burgers: The Ameir-ger vs The Yam Burger
Suggested beer: Brooklyn Lager vs Brewdog Elvis Juice
For more information, visit www.princesshome.co.uk