Get the man in your life all kitted out to looking and feeling head to toe grooming great with the NEW Jack Black All Jacked Up!
Jack Black All Jacked Up Available from October 2019 at www.mankind.co.uk ~ www.cloud10beauty.com ~ www.thegroomingclinic.com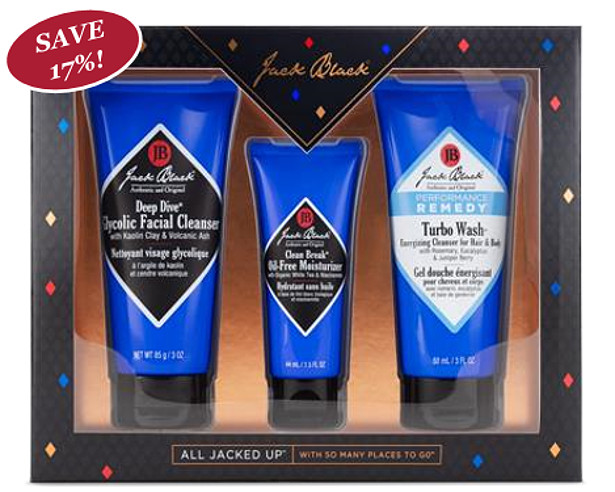 FACEBOOK | TWITTER | INSTAGRAM | PINTEREST
Jack Black All Jacked Up £24.50 Get your guy's skin looking super fresh and clear with the New All Jacked Up trio of ultimate essentials from Jack Black. It's the perfect gift to elevate their grooming routine and leave their skin clean and clear!
The trio of face and body skincare must-haves are suitable for normal to oily skin and features:
❖ Jack Black Turbo® Wash Energizing Cleanser for Hair & Body (88ml) Kick start your body, awaken the mind and feel refreshed with this dualpurpose shampoo and body wash. It also aids performance recovery and supports the body's natural defences.
❖ Jack Black Deep Dive® Glycolic Cleanser (88ml), a purifying, 2-in-1 wonder cleanser to fast track your way to clearer skin. Works as a gentle, effective cleanser, it exfoliates while soothing and smoothing, but can also used as a purifying mask when left to dry on skin.
❖ Jack Black Clean Break® Oil-Free Moisturizer (44ml), an oil-free moisturiser that leaves skin refreshed and healthier-looking with a natural, shinefree finish.