Graham's launches innovative White Port targeting new consumers and vibrant bar scene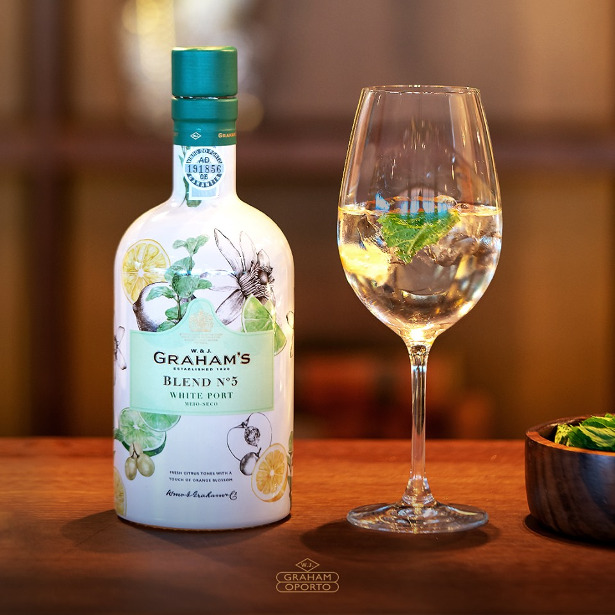 FACEBOOK | INSTAGRAM | TWITTER
Graham's Port, one of the Symington family's flagship port brands, have launched its first premium white port to engage with new consumers and broaden the category's appeal.
Graham's Blend Nº5 White Port brings together the port-making knowledge handed down through the Symington family since the 19th century with the more contemporary and informal approach of the 5th generation, who have recently joined the family's long winemaking tradition.
The release of Blend Nº5 follows the increasing popularity of White Port & Tonic as a refreshing aperitif. The trend towards healthier lifestyles and people 'drinking less, but better' has prompted a surge in lower strength alcoholic drinks. The Port & Tonic has been experiencing success in both in the UK and at home as an innovative and less alcoholic alternative to the classic Gin & Tonic.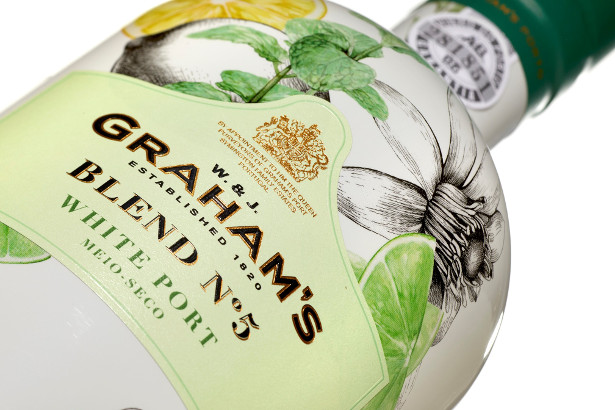 Whereas most white ports are made up of a mixed field blend of various white grape varieties,
Graham's Port's head winemaker, Charles Symington, selected two premium Portuguese white grape varieties – the fresh Malvasia Fina and the aromatic Moscatel Gallega – to produce this new blend.
The grapes are hand-picked and cold fermented in small batches. Blend No.5 is bottled 3 months after the harvest to preserve maximum freshness and should be drunk young. The wine is medium dry, deliberately designed to mix well with tonic whilst also being an excellent standalone drink.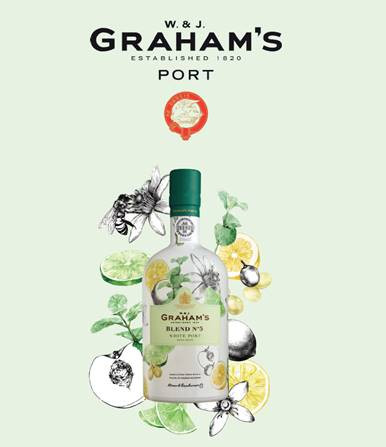 Graham's Design Manager, Alexandra Sousa Ribeiro, commissioned the renowned Portuguese fashion illustrator António Soares, who has previously collaborated with FENDI, Karl Lagerfeld, and Chanel, to draw the beautiful illustrations for the bottle.
"Our design concept aimed to transmit the aromatic fresh profile of the wine – white grapes, lime, peaches, honey – whilst connecting it with mint and lemon, the garnish associated with Port and Tonic. António Soares, who is known for his strong use of colour, was invited to use his artistic interpretation to create the organic elements for the bottle illustration." Alexandra Sousa Ribeiro, Design Manager, Symington Family Estates