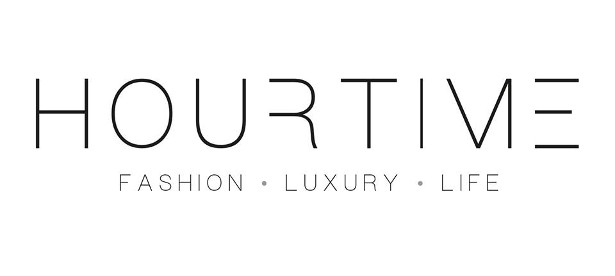 BOSS LEGACY COLLECTION
H i g h – F l y i n g M o d e r n C l a s s i c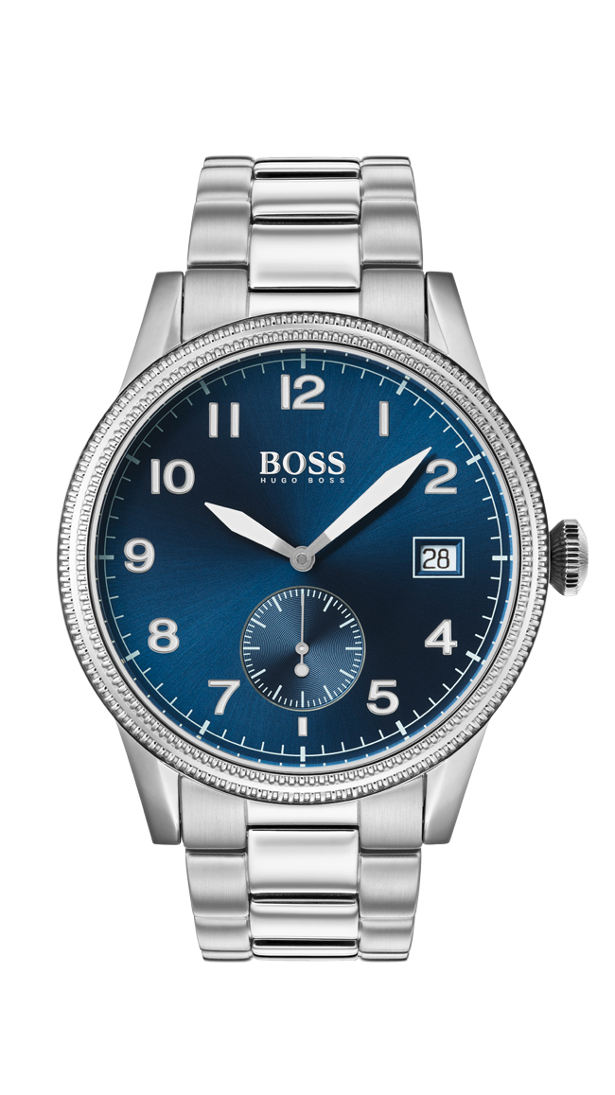 The BOSS Legacy collection effortlessly combines classic vintage style with a more refined contemporary and sporty look, perfectly capturing the essence of modern masculinity in a selection of watches whose style is inspired by the classic pilot's watch design. For the man who likes to make a bold and yet understated style statement with their timepiece, the typical large Arabic numerals not only lend the sunray dial a distinctive look, they also ensure that the watch can be read at a glance in those moments when time is quite literally of the essence. Continuing with the aviator theme, these elegantly sporty watches also incorporate a small-second sub-dial at 6 o'clock, a square date display window at 3 o'clock, striking sword hands, and a unique textured bezel.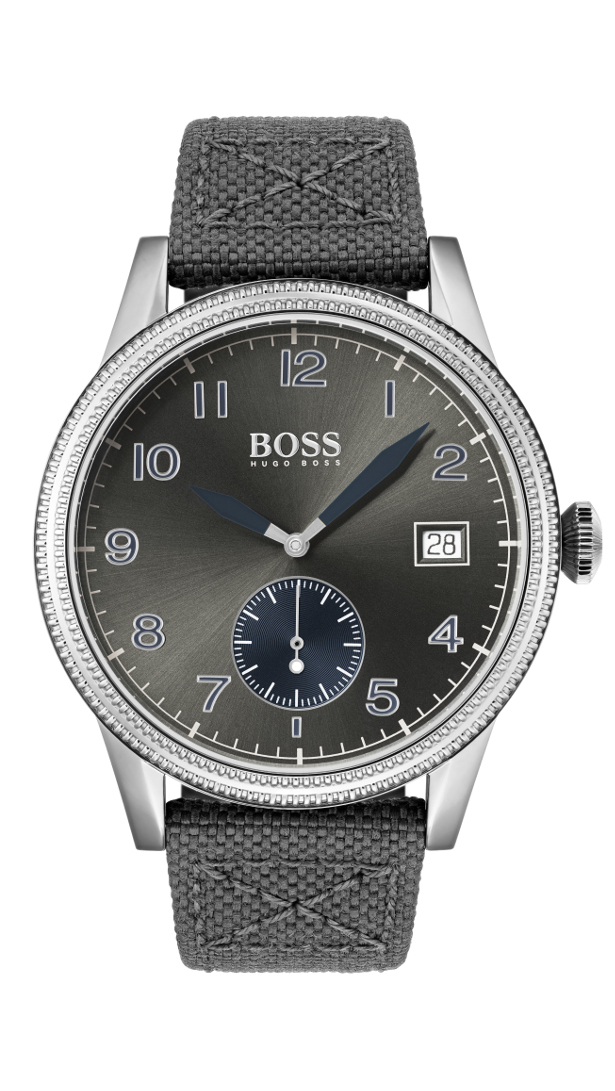 This is a timepiece perfectly suited to fashion-conscious highfliers with an appreciation for tradition, an eye for contemporary retro style, and a taste for adventure. With nine different combinations of case finishes, strap materials, stainless-steel bracelets, and dial colours, the collection also offers an option for every casual look. Whether in stainless steel with a matching bracelet and blue dial, grey ion-plated finish with a green fabric strap and parchemin dial, or coffee ion-plated finish with a brown strap made from high-end Italian calfskin leather and a green dial, this is a watch that is as multifaceted as the gentleman who is wearing it.
Technical Features: Movement: Two-hand with small seconds and date Water resistance: 5 ATM Case: 316L stainless steel/IP in coffee, grey, or black Diameter: 44 mm Dial: Sunray dial
Available from: www.hourtime.co.uk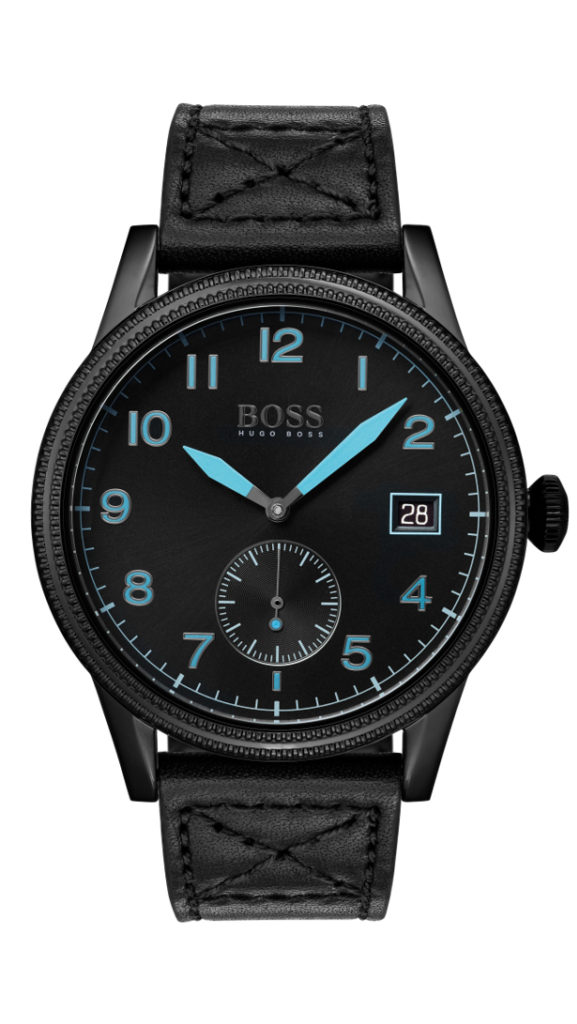 DISCOVER COLLECTION
D i s c o v e r yo u r s t yl e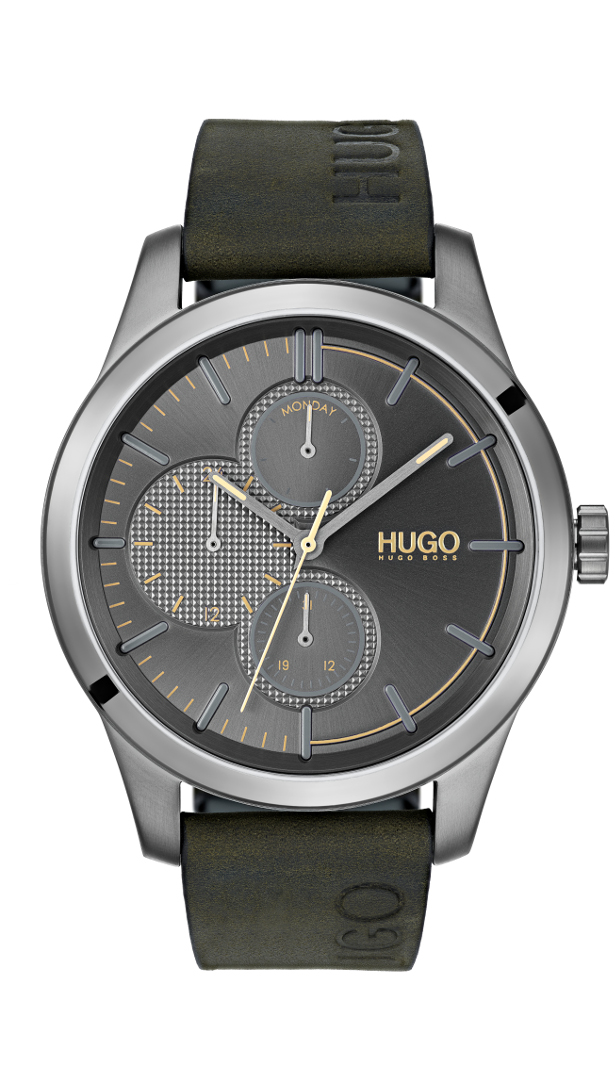 Life is a journey of discovery, and discovering our style is an ongoing process. Year to year, season to season, day to day, our style evolves with the latest trends to echo our personality. The DISCOVER watches by HUGO are a dynamic reflection of this nonstop journey of discovery – a stylish and casual watch in a range of versions that offer a fashionable way to finish off whatever look expresses your attitude today. Or tomorrow.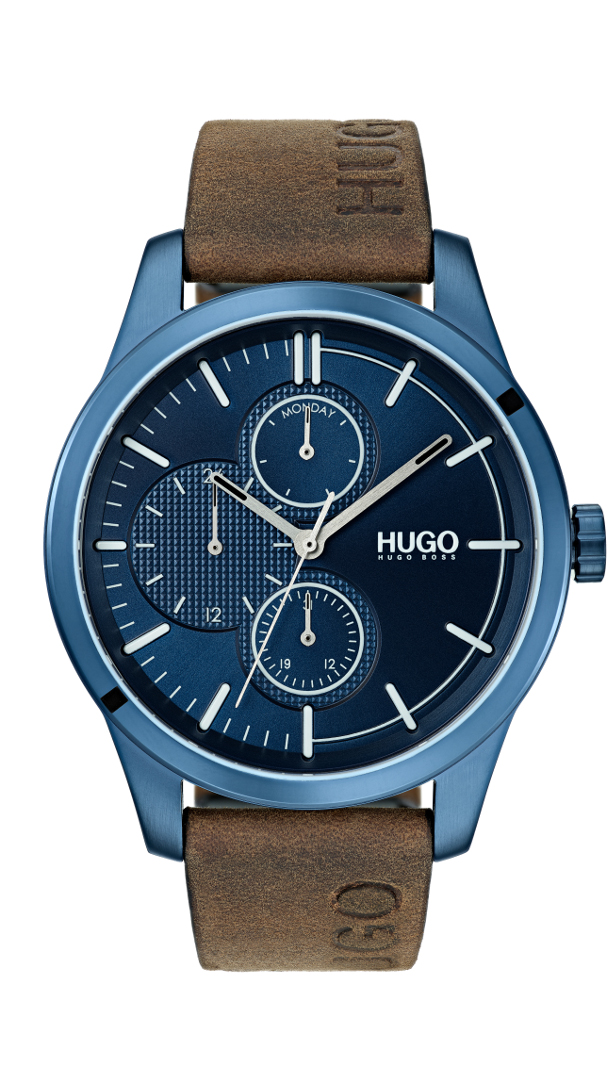 With its three-eye dial design, this trendy watch combines a cool sporty look with a technical temperament and a distinctive textured dial that gives it a modern voice. The different layouts on the left and right sides of the dial create a cool asymmetrical look that adds a fashion-forward twist without too much fuss. Leather straps, stainless-steel bracelets, and dials in various colours with a range of matching and contrasting hand and index combinations offer an option, wherever your journey of discovery may take you. DISCOVER your style.
Technical Features: Movement: Multifunction Water resistance: 3 ATM Case: 316L stainless steel/IP in grey, blue, or black Diameter: 46 mm Dial: Sunray dial
Available from March 2019: www.hourtime.co.uk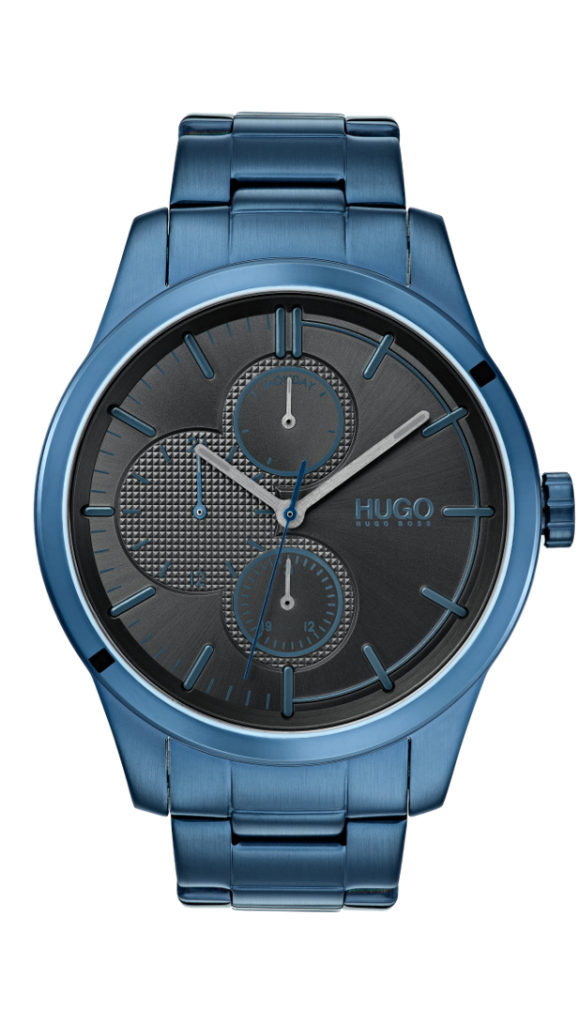 L A C O S T E K E Y W E S T C O L L E C T I O N
N e w C l a s s i c S p o r t s f a m i l y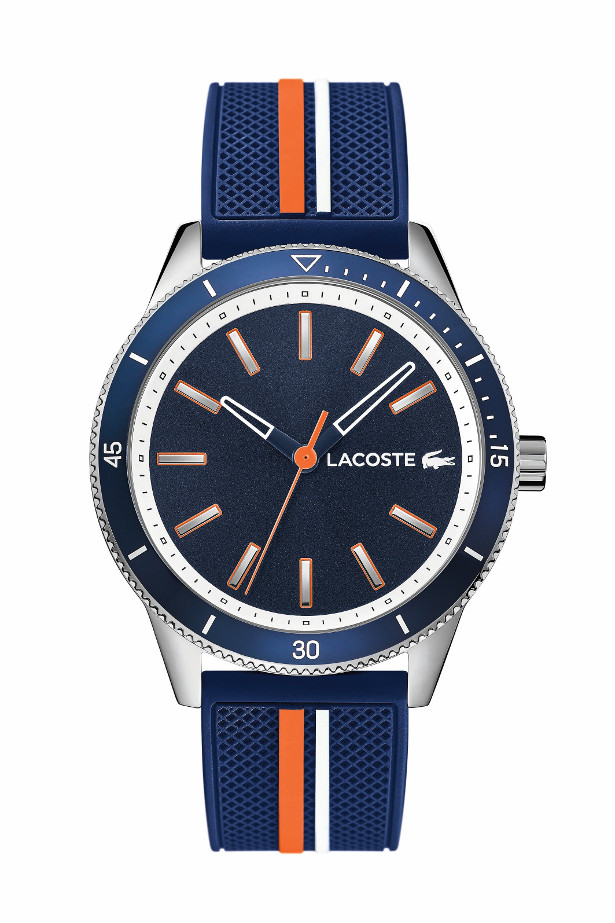 With a distinctively timeless yet contemporary flair, inspired by their authentic sports roots and the well-known grace of brand founder René Lacoste, the Key West Collection is the new classic sports family from Lacoste SS19. Designed for everyday wear, the Key West collection masterfully combines comfort and practicality with imbued quality and style. Made for men who appreciate that time is precious and need something that will keep up with their busy day to day life's whilst still self-assured they will do so in undeniable and effortless elegance.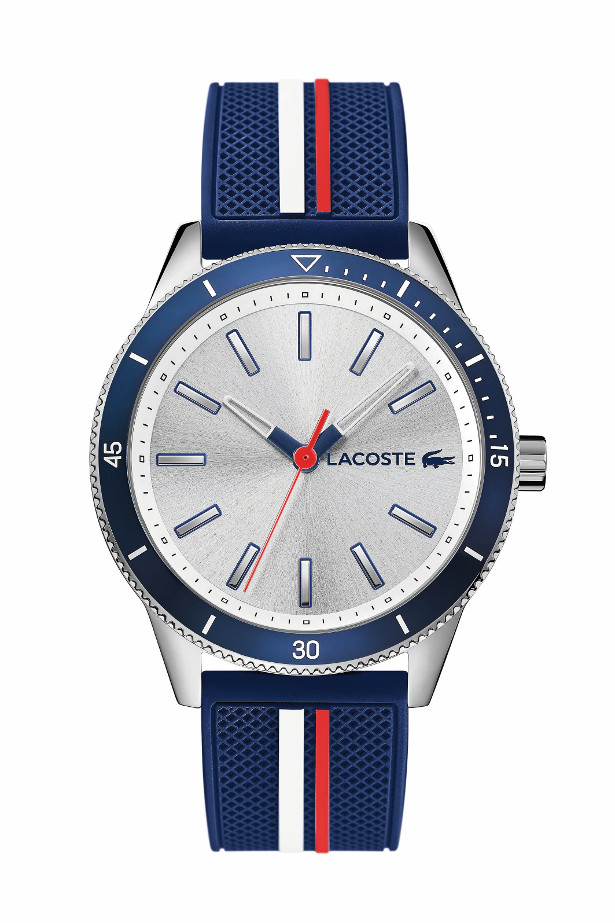 Sporty sophistication is the winning design combination on this three-hand piece. With silver, blue and black colour details on the dials along with colorful aluminum bezel, the Key west collection channels the unrivaled sports fashion heritage of Lacoste and modern elegance and masculinity.
The range of combinations of strapping in the collection from the distinctive blue silicone straps with or without striping print to the stainless steel or yellow gold IP plated metal bracelet provide high comfort levels supported by an undeniable attention to detail. With 5 ATM water resistance the Key West collection is designed for men who demand performance and adaptability from there timepiece along with retaining distinctive style.
Technical Features:
Lifecycle: Core Collection Movement: 3 hands Case: Stainless steel or yellow gold IP plated Dial: Silver, blue or black with colour details Dimensions: 42mm Case thickness: 9mm Strap: Blue silicone with or without striping print Water resistance: 5 ATM
Available from: www.hourtime.co.uk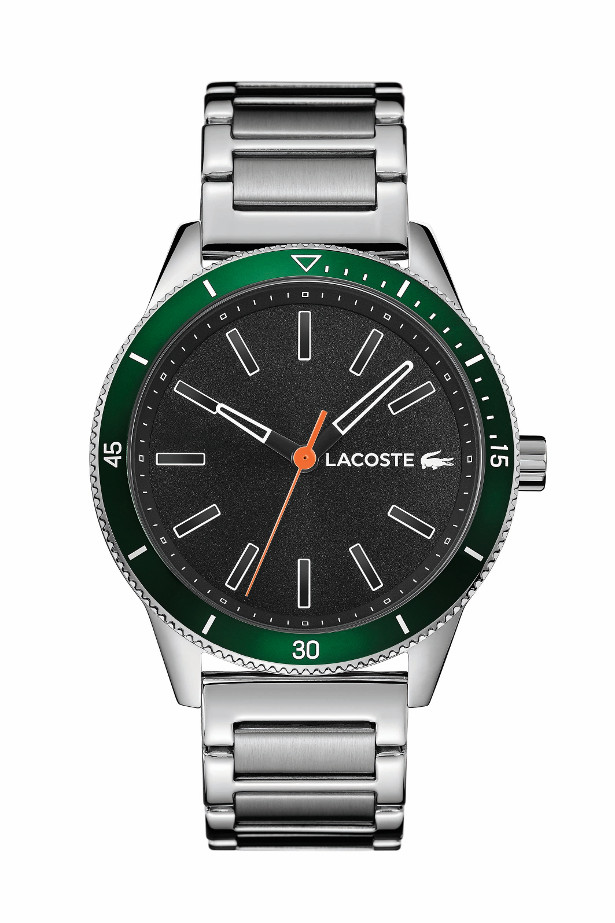 OCEAN EDITION COLLECTION
S t r i k i n g t h e r i g h t b a l a n c e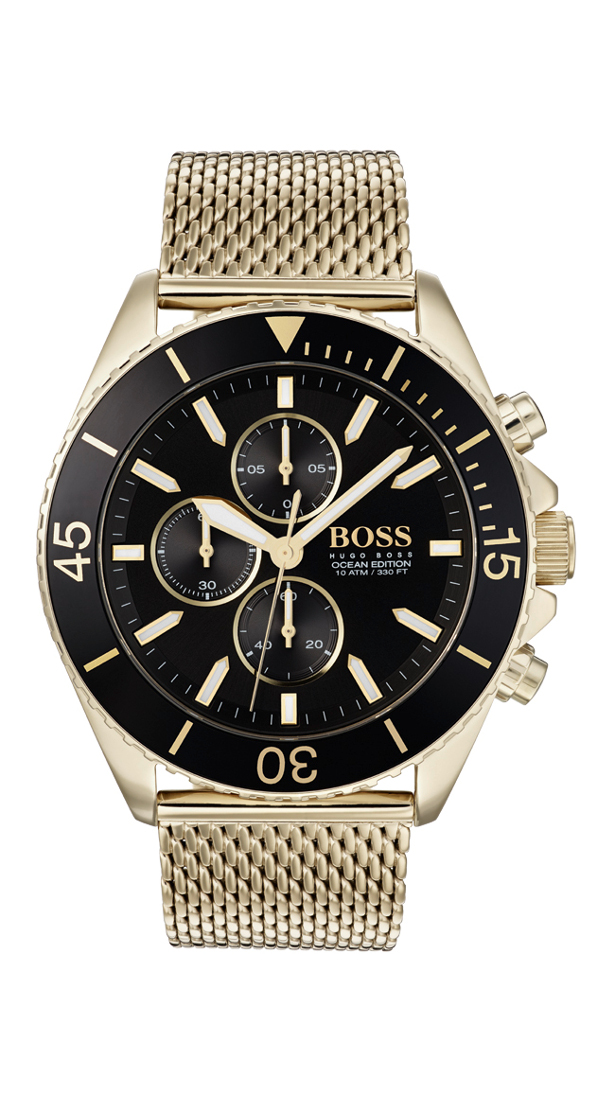 Designing a timepiece that successfully fuses sporting heritage with a classically luxurious aesthetic requires the same eye for detail that is essential when putting together an outfit that embodies masculine self-assurance while exuding effortless elegance. With the Ocean Edition collection, BOSS has succeeded in creating a range of timepieces that masterfully strike the fine balance between strong and subtle, confident and understated, contemporary and classic that defines modern masculinity.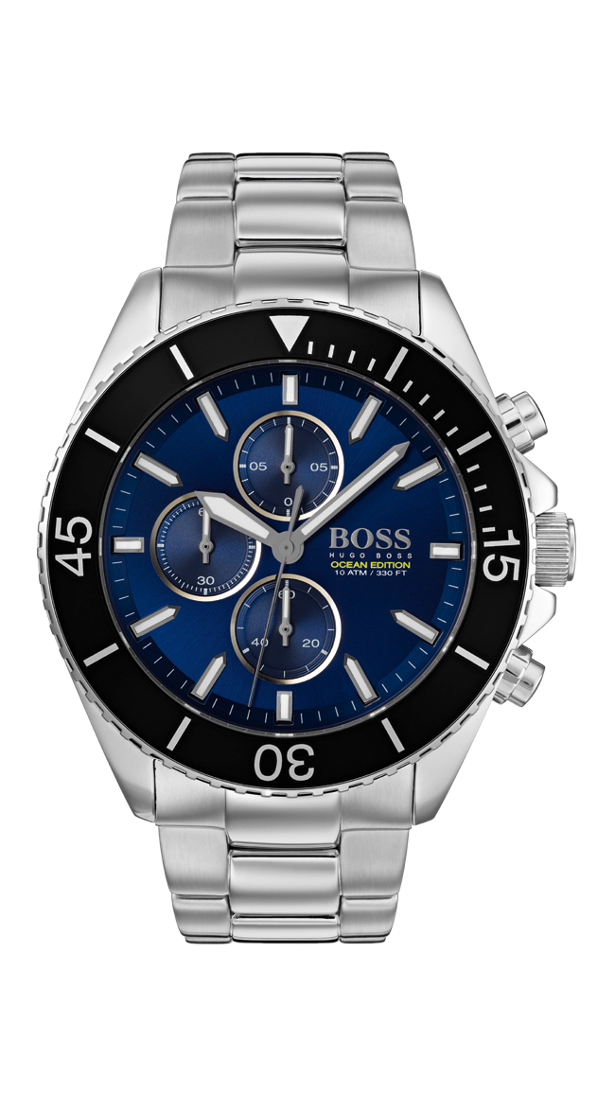 These chronograph timepieces make their sporting statement clear from the get-go with a striking unidirectional rotating bezel in black or blue aluminium that gives each one an air of intrepid resoluteness, while the collection name inscribed on the dial adds a touch of unassuming exclusivity. The range of distinctive combinations includes a leather strap, mesh and link bracelets, stainless steel, and carnation gold or grey ion-plated finishes, as well as one particularly bold monochrome version with a black ion-plated case, black rubber strap, black dial, and black hands and indexes. With 10 ATM water resistance and LumiNova detailing, the BOSS Ocean Edition is as focused on performance and adaptability as the man who wears it.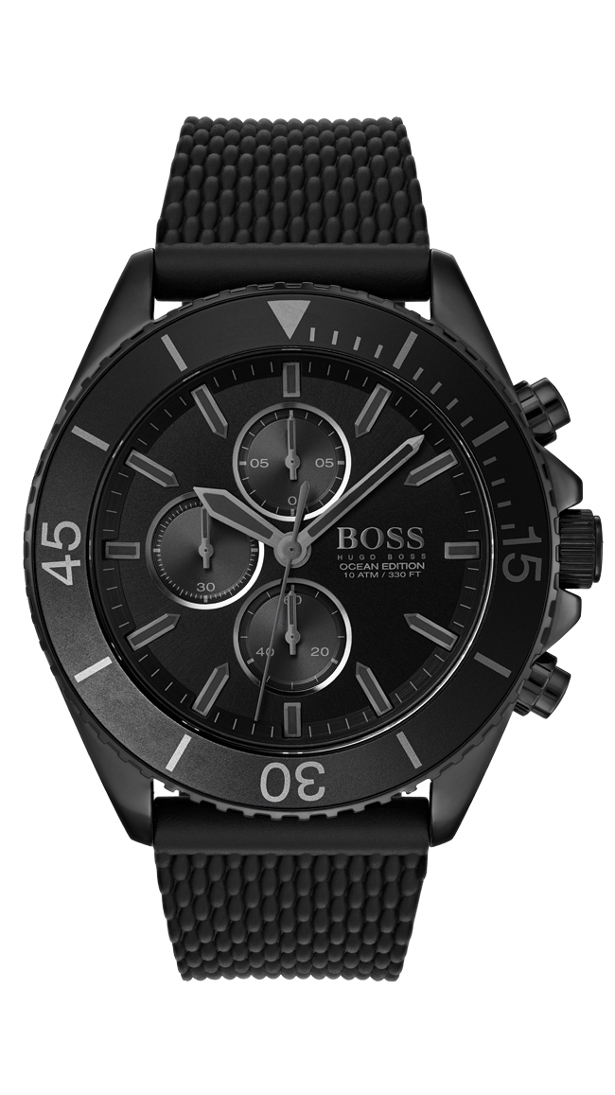 Technical Features: Movement: Chronograph with date Water resistance: 10 ATM Case: 316L stainless steel/IP in black, grey, or yellow gold Diameter: 46 mm Dial: Sunray dial
Available from March 2019: www.hourtime.co.uk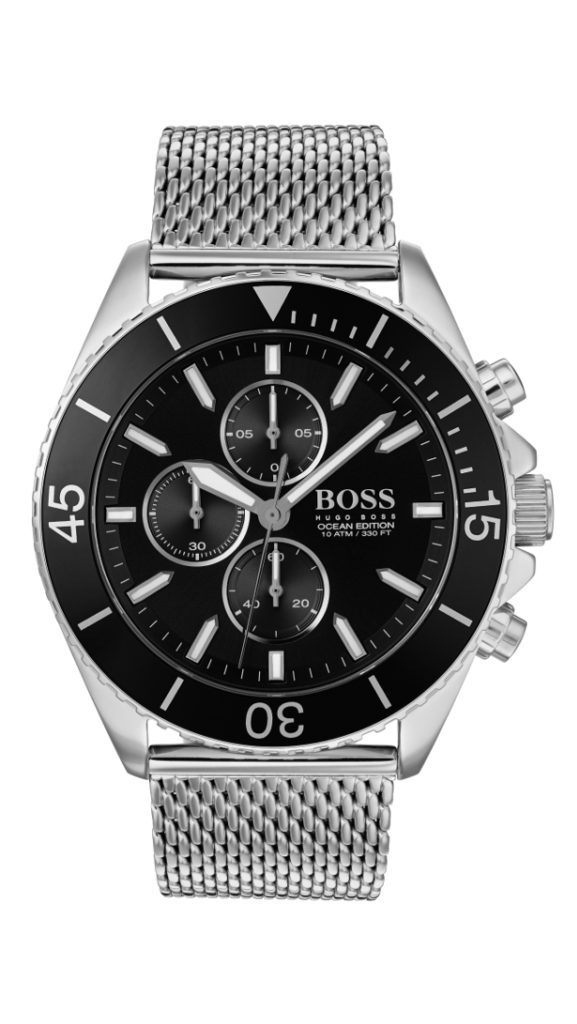 TRAVEL COLLECTION
L i f e i s g l o b a l
"What's the time?" The answer might not be as simple as it sounds. With friends, family, colleagues, contractors, and collaborators spread across the world, we have all become – physical or virtual – globetrotters. Knowing the time where we are isn't always enough. The HUGO TRAVEL collection is the perfect watch to keep an eye on the clock in two different time zones while accessorizing any business look with a unique style statement that is truly ahead of its time.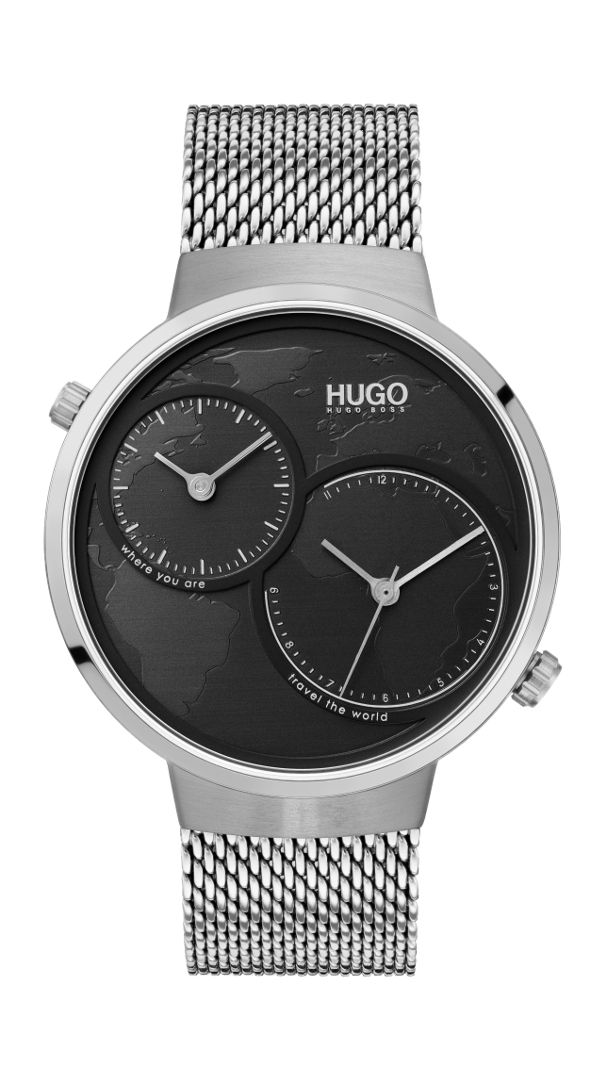 This collection is a true expression of individuality in a world that never stops moving. The unique face features an on-trend world map design and dual dials that tick away the time in two different parts of the world. The unique crown placement is an eye-catching design feature that also makes setting the time in two different zones a straightforward affair. With a range of combinations of colours and materials including leather straps, mesh bracelets, stainless steel, and blue or black ion-plated finishes, these watches understand that life is global, and are at home wherever in the world their wearer's next trip may take them.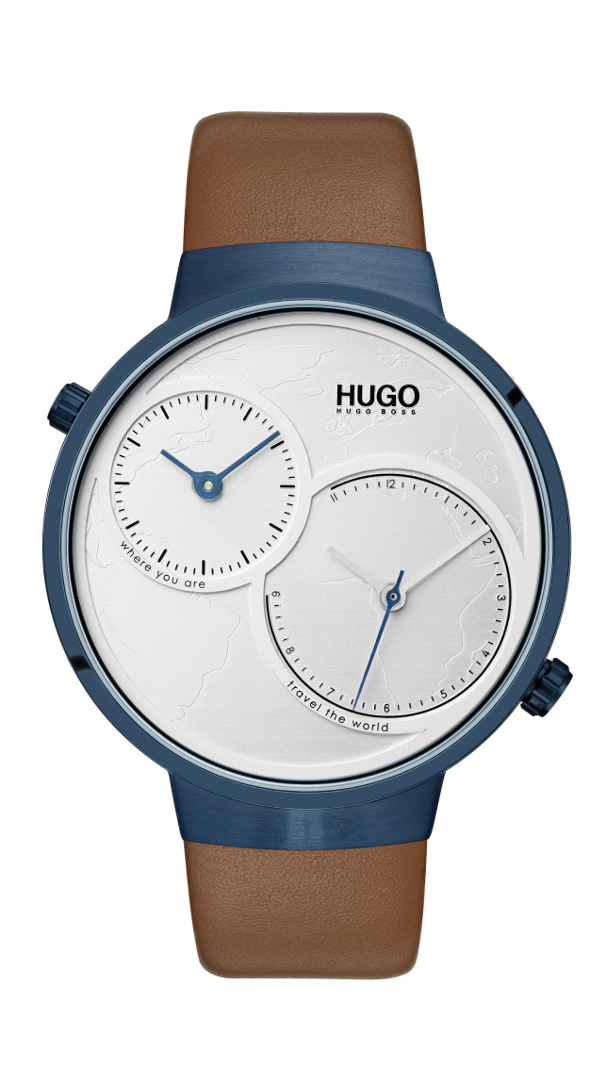 Technical Features: Movement: Dual time Water resistance: 3 ATM Case: 316L stainless steel/IP in blue or black Diameter: 42 mm Dial: Heavy-brushed dial with world map design
Available at: www.hourtime.co.uk