MAKE WATER COLOURFUL AND DELICIOUS WITH NEW KIDS COLD IN'FUSE FROM TWININGS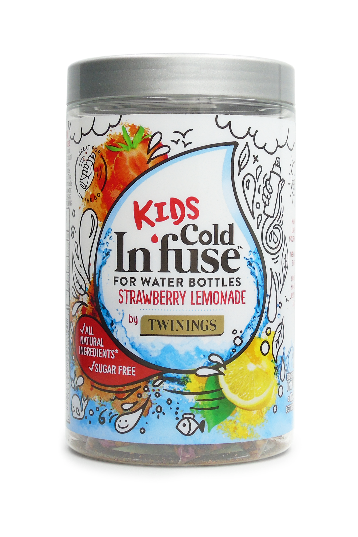 TWITTER | PINTEREST | FACEBOOK | YOUTUBE
· Twinings is supporting Change4Life by encouraging a sugar swap from squash drinks to Kids Cold In'fuse
· Developed with children, Twining's Cold In'fuse has been created to suit kids' taste buds
· Sugar-free and made with all natural ingredients, children can easily and conveniently add a hint of flavour to their water
· The new range is available from August 2019 in a range of UK supermarkets and online at twinings.co.uk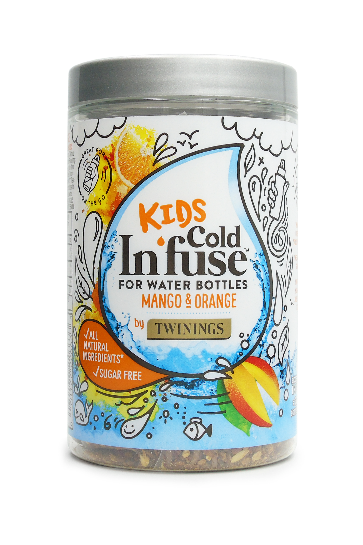 London, UK – Following on from the popularity of Twining's original Cold In'fuse range, which hit shelves in 2018, Twinings is now shaking things up with the launch of their new infusion range – Kids Cold In'fuse.
Hitting shelves in August 2019 and developed in partnership with children, Twinings' Kids Cold In'fuse range offers a fun way for children to consume water and encourage them to drink the recommended six to eight glasses of water per day. By simply adding the infusion bags to their water bottles and giving it a quick shake, children can enhance their water with delicious flavours including; Strawberry Lemonade, Mango & Orange and Blackcurrant & Apple. All products in the range have also been specially developed to ensure that the acidity level is safe for children's tooth enamel.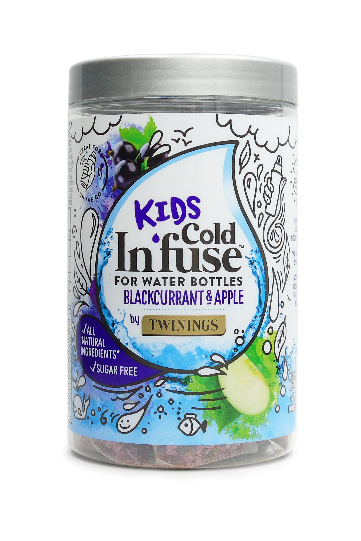 Produced using only natural ingredients, the Kids Cold In'fuse range is a sugar free alternative to fruit juices and cordials, which can have a high sugar content. As part of the launch, Twinings are supporting Public Health England's Change4Life campaign, which encourages families to cut back on sugar by making a few simple swaps to everyday food and drink.
The products will also be using the distinctive yellow Good Choice badge throughout the Kids Cold In'fuse marketing material to make it simple for families to identify how they can make a swap when they next shop.
Along with being a sugar-free alternative to fruit juices and smoothies, the Kids Cold In'fuse range infusers are also extremely quick and easy to use – the perfect solution for any busy parent and a great way to keep children occupied. Simply add the mesh infuser into a water bottle and in as little as five minutes it works its infusion magic, resulting in a delicate flavour sensation.
Karmel Maletta, Innovation Manager at Twinings said; "We are very proud to launch Kids Cold In'fuse range and support Change4Life, encouraging parents and kids to make a simple swap and drink more water. Following extensive research, we created the range with kids' preferences in mind, so we're confident that the flavours will help parents to get their children to drink more water."
To accompany the Kids Cold In'fuse range, Twinings have also created a bespoke bottle made from shatterproof Tritan material. The bottle is designed to help encourage drinking on the go, so children can enjoy their infused, fruity and colourful water anywhere.