TREAT THE MAN IN YOUR LIFE TO THE ULTIMATE GROOMING PRODUCTS THIS CHRISTMAS – HE'LL SHAVE HIMSELF A FORTUNE!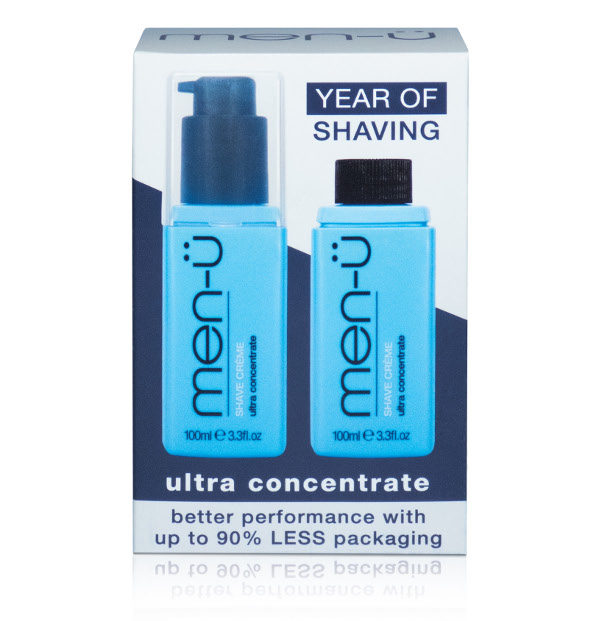 TWITTER | FACEBOOK | INSTAGRAM
It's the thought that counts when it comes to giving and​ receiving Christmas gifts … but it can be pretty hit and miss at times. Sometimes we are given things that are either added to the pile of 'unused' gifts, or even re-gifted to a friend or family member.
One of the popular gifts that most men open on Christmas morning are shaving and shower gel gift packs. Always a bonus for a man and it will keep them going for a month or so. But imagine unwrapping a shaving gift pack that was half the size, better quality and would last them the entire year!
Top male grooming brand men-u are one step ahead when it comes to packaging in a non-wasteful and environmentally friendly way. Their products can offer a better performance with 90% less packaging to other brands.
So this Christmas, why not treat the man in your life to a special gift pack of men-u Ultra Concentrate Shave Crème. This handy sized gift box includes Shave Crème 100ml (with pump) and Shave Crème 100ml (refill) that will cover around 330 shaves! This compact gift set is the equivalent of 6 x 200g high street aerosol cans and takes up no space at all.
men-u revolutionary line of high performance, ultra concentrate products prove that a little goes a long way. Concentrated formulae facilitate use of a high percentage of the finest ingredients and the secret is to get them to where they are needed, without waste.
Product details: RRP: £19.95. Includes Shave Crème 100ml (with pump) and Shave Crème 100ml (refill), available on www.men-u.com