(Re)Introducing GALAXY® Truffles – a fan favourite, back with a twist!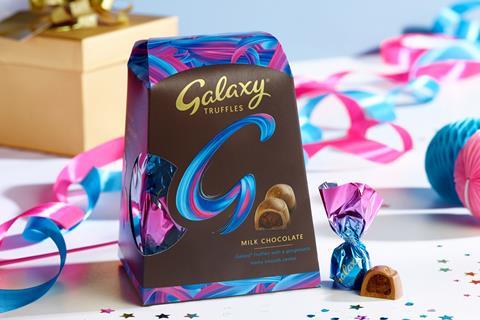 Chocolate lovers, rejoice! GALAXY® unveils its latest innovation – NEW GALAXY® Truffles. Answering the demands of fans across the UK, this new launch offers a contemporary twist on the GALAXY® Truffle, which first found fame in the mixed CELEBRATIONS box.
GALAXY® Truffles have long had a loyal fanbase – we all remember the infamous gifting scene in Gavin and Stacey, back in 2008, when characters Gavin Shipman and Uncle Bryn shouted, "I got the GALAXY® Truffle!" – declaring it the best in the box. So, when GALAXY® Truffles left the mix back in 2011, devoted Truffle lovers petitioned passionately for their return. Now, fans can celebrate as GALAXY® brings the melt-in-your-mouth chocolate treats back – but this time as the star of the show, in their own bespoke box.
The launch marks the first GALAXY® product to enter the all-year-round gifting market. Encased in smooth GALAXY® milk chocolate, each GALAXY® Truffle has a rich, velvety centre, individually foil wrapped in new eye-catching colours, offering a premium chocolate that's special enough to give.
Sarah Mellor, GALAXY® Brand Director said: "We are extremely excited to be launching GALAXY® Truffles in the UK this year and to be entering the all year-round gifting market for the first time as a brand. For so many, GALAXY® Truffles were part of a much-loved festive tradition and we are thrilled to be answering the undeniable demand, reinventing this favourite, now available all year round, as the perfect gift to bring pleasure to the next generation of GALAXY® fans."
*NOTES TO EDITORS*
GALAXY® Truffles will be available in a 206g box (RRP £4.99) in stores nationwide from mid-August.
From mid-September, enjoy GALAXY® Truffles in a 329g box (RRP £7.49), available exclusively in Tesco stores nationwide.
About Mars, Incorporated:
Mars is a family-owned business with more than a century of history making diverse products and offering services for people and the pets people love. With more than $35 billion in sales, the company is a global business that produces some of the world's best-loved brands: M&M's®, SNICKERS®, TWIX®, MILKY WAY®, DOVE®, PEDIGREE®, ROYAL CANIN®, WHISKAS®, EXTRA®, ORBIT®, 5™, SKITTLES®, UNCLE BEN'S®, and COCOAVIA®. Mars Associates proudly take care of half of the world's pets through our nutrition, health and services businesses such as Banfield Pet Hospitals™, BluePearl®, Linnaeus, AniCura, VCA™ and Pet Partners™. Headquartered in McLean, VA, Mars operates in more than 80 countries. The Mars Five Principles – Quality, Responsibility, Mutuality, Efficiency and Freedom – inspire our more than 115,000
Associates to take action every day to help create a world tomorrow in which the planet, its people and pets can thrive.