The Thrill of the game…. with increasing scorelines and more ball in play time the Six Nations continues to push the excitement factor up? Right or Wrong?
Scoring more and seeing the play through to the score is definitely increasing on the pitch during the Six Nations. If players, coaches and teams and management were just going for safe defensive plays and not putting on scores then the score would be going down right?
Logically the argument is sound. 9 times out of 10 and maybe even 999 times out of 1000 times if the score lines are increasing then this simply is logically incoherent with the statement "teams are playing defensively and just going for referee decisions to gain kicks at goal"
Ok… maybe it is slightly more complicated… maybe the score lines could be increasing but its kicks for goal from infringements and therefore the teams are palying defensively and there are less tries and maybe an argument could be made that the game has become more boring.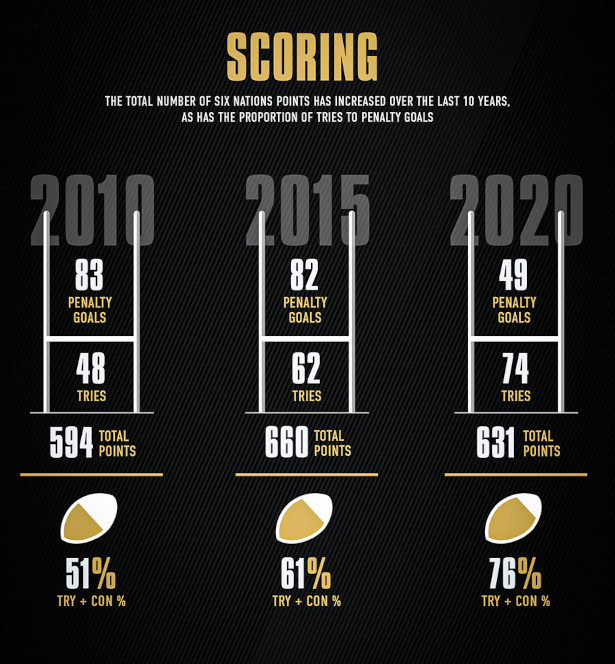 Ok lets put aside the question of what is "boring" some people love playing defensively and seeing goals kicked!
However most people and certainly the noise from the crowd and intensity seems higher when tries are scored!
How do we answer all of these questions!
Well that is why the graphics produced here from our source Betway Insider are so helpful!
The team at Betway took a deeper dive into the questions raised and decided to find out are scorelines increasing and if they are then is it tries or kicks at goal from infirngements!
As you can see beyond a shadow of a doubt the increase is more from tries than kicks at goal from, infringements.
The question in this context of whether the game of rubgy in the six nations has become more or less exciting seems to be answered!
It can't be less exciting because there more tries being scored! It must be more exciting!
While this is not logically indisputable the probablity is massively weighted towards the game being more exciting! It quite simply is the case that endorphine leves of fans and players and everyone watching will be elevated during the build up to a try and reaching a peak at the point of scoring and reaching the peak towards the end of a game when the balance of scores show your team is going to win!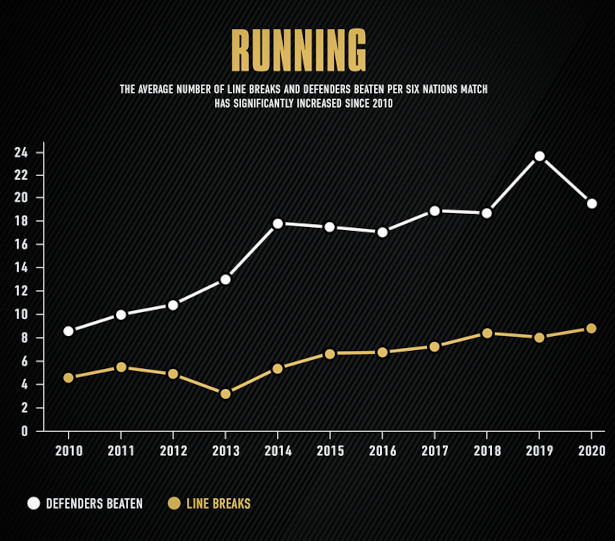 The team who produced the graphics have done a great job!
Thank you so much for stopping by and we do hope to see you again soon!
Best wishes!
Bye for now.
The team at InTouch Rugby & Rugby Rep Publications on…. assignment!