What Does A Jackfruit, Ruby Chocolate And A Goat Have In Common
The top food trends you need to know this Summer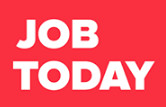 FACEBOOK | TWITTER | INSTAGRAM | LINKEDIN
One of London's leading chef's and the UK's number no.1 hiring app, JOB TODAY are joining forces to demystify London's hipster menus and share some of the top foodie trends taking the food scene across the UK by storm.
Whether you are a foodie who is finding the menu a bit tricky to understand or want to a career in the hospitality industry – Sven Hanson Britt takes the guesswork out:
Jackfruit
Jackfruit is becoming more and more popular in restaurants and cafes across the country. Its lauded by unimaginative chefs for its natural ability, once cooked, to appear a little bit like slow cooked meat. It's origin is south east Asia and India and it's more common there to eat it raw, as a true fruit. It has a delicious, honeyed banana and papaya flavour when fresh from the tree. The seeds are also often used in cooking, sliced and fried or roasted whole. Look up a traditional method for cooking and enjoy without smothering bbq sauce on top!
Ruby Chocolate
Ruby chocolate has been manufactured by Barry Callebaut and its been many years in the pipeline. It is actually a new variety of chocolate sitting alongside white, milk and dark. It's made from ruby cocoa beans. These are existing botanical cocoa bean varieties that have been identified as having the right characteristics to create this vibrant mauve hued chocolate. It has a sour and fruity flavour and plenty of sweetness. Pastry chefs are starting to create some amazing desserts and patisserie with this new ingredient.
Kombucha and home made ferments
Fermented food has been around us for thousands of years. Kombucha, the fermented tea drink, has become more and more popular and appears on most supermarket shelves these days. Chefs are now experimenting with their own kombuchas and fermented fruit and vegetables, it's very common to see this in kitchens all over the country. The recent launch of the Noma fermentation book is going to lead to even more experimentation. This will launch exciting new textures and flavours for chefs, and, more than likely plenty of disasters.
Cabrito Goat
Cabrito, as a company, sparked the renaissance of goat meat served in restaurants across the country. Their sustainability policy of taking a waste product – the kid goat meat from the dairy industry – and turning into a luxury ingredient is a fantastic business model for creating a delicious and ethical ingredient. Goat is an incredibly popular meat and appears on many menus across the world, but never really caught on in the U.K. Now, with its appearance in some of the best kitchens in the capital, it's going to be a common place ingredient very soon.
Sven highlights that many young Brits fail to properly prepare for their interviews, leaving them less likely to secure a second interview and ultimately scuppering their chances of getting the job.
Sven says a lack of preparation and passion for the industry in interviews is a big turn off:
"In interviews we come across young talent that have all the necessary skills…yet, they lack a passion for the industry. The foodie world around us is constantly changing and so I'm looking for these younger candidates to tell me about these exciting trends – if they can do this they're always guaranteed to get my attention!
"My advice is to stay clued up on the latest trends influencing our menus. Educate yourself. Do some research. Talk to chefs. Learn as much as you can so you can better showcase your passion and drive, helping you make a positive and lasting impression on your prospective employer."
Polina Montano, Founder of JOB TODAY, is helping the next generation of the hospitality industry enthusiasts get their foot in the foodie door by helping to provide them with the support and skills they often need to get on the jobs ladder.
Polina comments: "With more and more young people across the UK working in casual jobs, the next generation has started to realise a career in hospitality can be both extremely rewarding and plenty of fun! Like many other industries, it's vital candidates keep up with the latest news and trends related to their industry – not only showing a proactive work ethic but also an enthusiasm for the role that will set them apart from the many other interviewees."
"We're passionate about helping young people acquire the right skills they need to get into the job market here, which we know can sometimes be pretty tough! That's why we've partnered with Sven and also why we've created the JOB TODAY Academy which is all about providing young people with essential skills and training they need to get their foot in the door."
The casual jobs sector is a booming industry with JOB TODAY placing thousands of young people in permanent positions in under 24 hours. As the UK's leading hiring app, JOB TODAY is helping facilitate flexible working situations for young Brits across the UK. Whether you're on the lookout for some extra cash during your studies, or desperate to learn the fundamental skills you need to get to hired, JOB TODAY is there to help.