ACTIVE SPINE BASELAYERS
BETTER POSTURE, IMPROVED PERFORMANCE
FACEBOOK | INSTAGRAM | YOUTUBE | LINKEDIN
Can better posture improve performance? It's easy with Active Spine baselayers! ODLO's latest innovation helps athletes to stabilise their posture. This is important because an upright posture increases oxygen intake and reduces muscle fatigue, with positive effects on performance, recovery and overall health. And if it helps athletes, of course it's also ideal for everyday wear.
WHY IS GOOD POSTURE SO IMPORTANT?
"Sit up straight!" – You probably heard this all the time when you were a kid. Today it's more important than ever, because more and more people are suffering from problems related to poor posture. This is because of our sedentary lifestyles and the fact that we often spend long periods sitting and standing incorrectly. Poor posture can lead to neck and back pain and headaches. It can also affect athletic performance by hampering breathing and restricting movement. When we improve our posture, we quite simply feel better, and it also has a positive effect on our performance and flexibility. An upright posture also makes us feel more confident and positive and can even make us look younger and slimmer.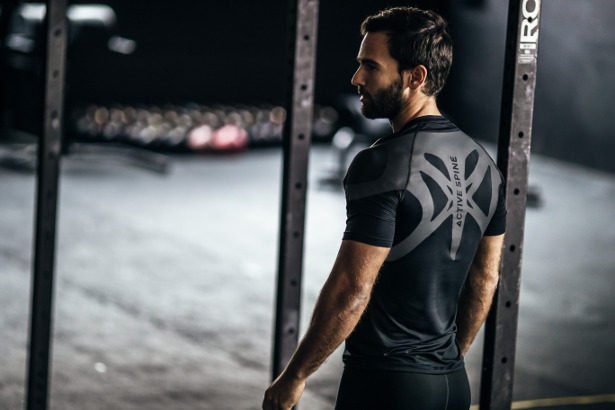 THE KEY TO IMPROVED POSTURE
The innovative Active Spine Baselayer has been engineered by Odlo to support your posture during workouts and day-to-day activities. Inspired by the natural function of the human spine and based on the latest research into biomechanics, the firm Active Spine element ensures a stable posture by straightening your shoulders, spine and torso. This stretches the spine and expands the chest, which increases the oxygen supply and reduces muscle fatigue. In tandem, it prevents back problems by stabilising the upper body. The effect is instant!
Odlo's patented Active Spine technology was developed for competitive and amateur athletes with a particular focus on running, team sports and CrossFit. But this innovative system has proven itself to be equally valuable for everyday use.
AWARD-WINNING INNOVATION
The ground-breaking nature of Odlo's Active Spine Baselayer was quickly recognised, and in 2018 the Active Spine Pro T-Shirt won the ISPO Gold Award in the Health & Fitness category. Every year, an independent 40-strong jury from the International Sports Business Network (ISPO) examines hundreds of products in various categories and recognises the very best with the ISPO Gold Award. After the successful launch of the Active Spine Pro Baselayer at the start of the year, this season sees the introduction of the new Light version.