FRUIT SQUEEZIES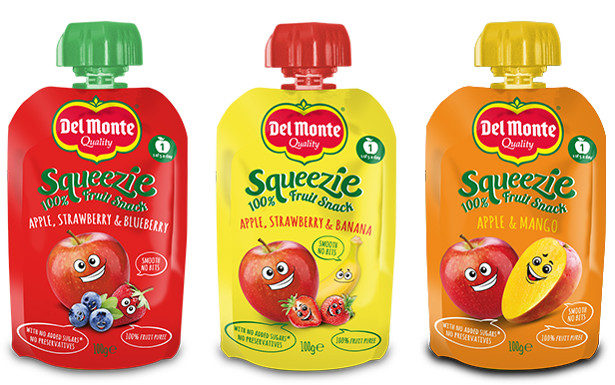 FACEBOOK | TWITTER | INSTAGRAM | PINTEREST
Looking for new ideas to pack the perfect lunchbox for your kids? Want to give them a tasty snack after school but not over indulge a sweet tooth? Del Monte's Squeezie range is here to put a smile on the whole family's face. Not only do they taste delicious, Squeezies are also nutritious as they are made from 100% fruit and have no added sugar.
Squeezies from Del Monte® are terrific snacks for toddlers and older children – full of vitamins and minerals and bursting with flavour. As every pack counts as a portion of fruit, these pouches are a great way to get your little ones eating their five fruit & veg a day. Plus, with no added sugar or artificial ingredients, you can be confident that you are giving them nothing but 100% natural goodness!
The Squeezie kids snacking range, made from 100% real fruit, comes in three fantastic flavours:
Apple, Strawberry & Banana – the perfect blend for an energy-boosting snack bursting with vitamins C and E. Apple, strawberry and banana are a fruity match made in Squeezie heaven!
Apple & Mango – known as the "king of the fruits," mango is nutritionally rich and an excellent source of vitamin A, making this an ideal snack for your little prince or princess.
Apple, Strawberry & Blueberry – they say all good things come in small packages, and blueberries are just that! Packed with vitamin C, fibre and other antioxidants, your kids are sure to love this as much as you do.
Great for snacking on the way back from school, enjoying as a refreshing fruit burst or added to cereal or porridge in the morning, each pouch will add a fun, fruity moment to your day, no matter where you are.
Thanks to Del Monte®, healthy snacking has just been made easy peasy super Squeezie!
Del Monte® Squeezies are available in Asda stores nationwide. RRP 50p per pouch or 5 for £2.