Helping Children Achieve Their Potential Is Paramount! Help them with these delightful kits from >> www.littlekidsbusiness.com.au !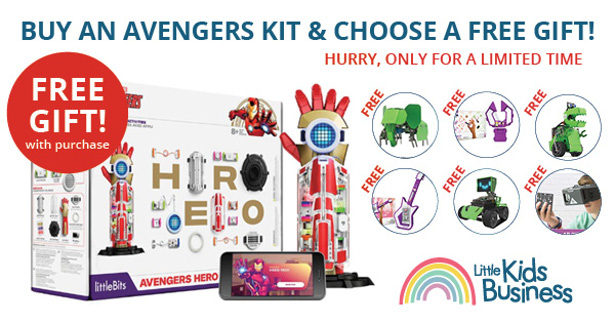 Get smart this festive season with Robo Wunderkind! Helping kids learn how to code with fun and creative robotics kits > www.robowunderkind.com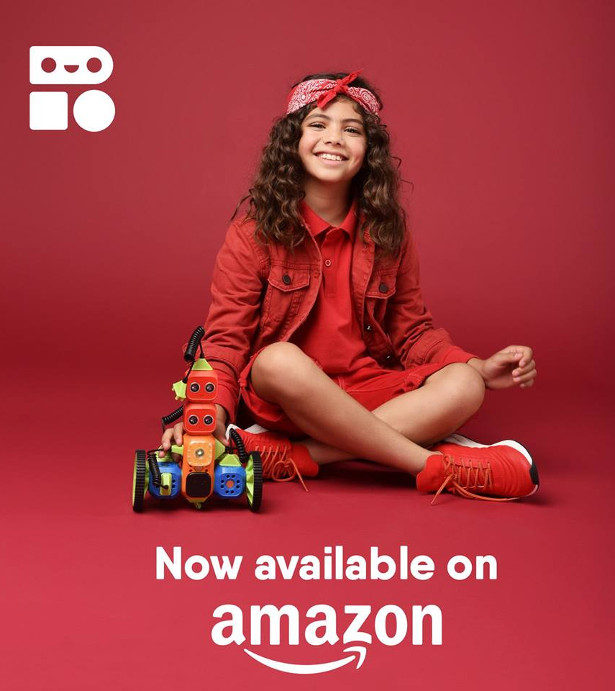 Barrington's Watch Winders are a great gift for Dads, Grandads and uncles (or any female watch collectors in your life!) who might be tech or gadget lovers. www.barringtonwatchwinders.com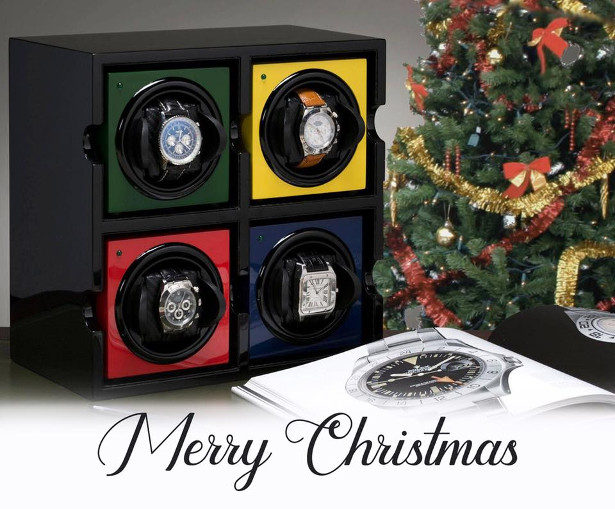 With one third (30%) of Brits now wanting to gift environmentally-friendly presents*, SodaStream is the must-have eco-gadget to give people this Christmas. www.sodastream.co.uk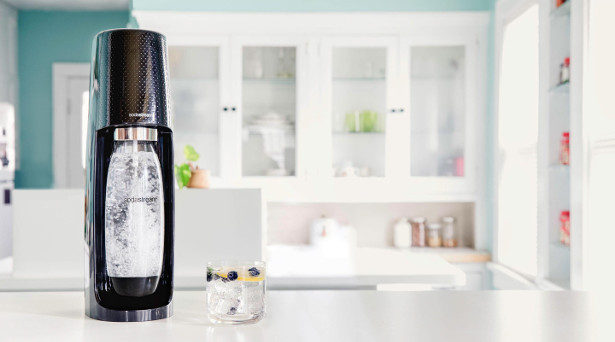 GIVE THE GIFT OF MEMORIES THIS CHRISTMAS WITH INSTAX
TWITTER | FACEBOOK | PINTEREST | INSTAGRAM | YOUTUBE
Treat your loved ones to something they will actually like this Christmas with an instax camera. Fun and nostalgic, the instant prints allow you to capture tangible memories with the family and with a wide range of instant cameras and smartphone printers, there's something for everyone. The best part; instax devices use real film for perfect quality prints every time, which don;t fade over time.
The instax range including theSQUARE SQ6, mini9, mini Link and mini LiPlay are all available
instax SQUARE sQ6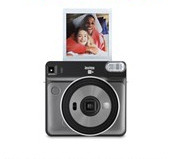 With various shooting functions, a simple yet stylish design and beautiful square format photos, the SQ6 is ideal for trend-conscious friends or family members looking for the next must have gadget accessory.
It comes in Blush Gold, Pearl White and Graphite Grey
RRP £124.99
instax mini 9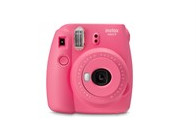 With a dedicated selfie mirror and close-up lens, the iconic mini9 is perfect for those who want to capture memories with their friends and live in the moment. it also comes in a range of colours, including Flanimgo Pink, ice Blue, Clear Purple, Clear Yellow, Smoky White, Blush Pink and Poppy Red!
RRP £74.99
NEW instax mini Link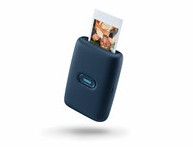 Boasting motion control, LED Lights, print from video feature, plus numerous other creative modes, this little printer is something you'll treasure forever; the mini format prints also make for great wallet inserts. it comes in Dark Denim, Ash White and Dusky Pink
RRP £109.99
NEW instax mini LiPlay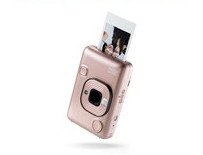 LiPlay may be the smallest instax ever but this all-new 2-in-1 hybrid instant camera can record sound clips to imbed into snaps and comes with 30 fun frame designs that can be added to prints, providing snapchat-like filters – perfect for young creatives. It comes in BLUSH Gold, elegant black and Stone White
RRP £149.99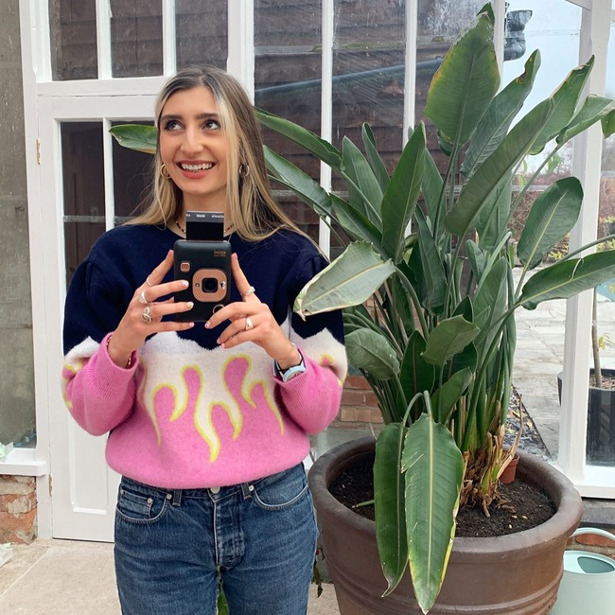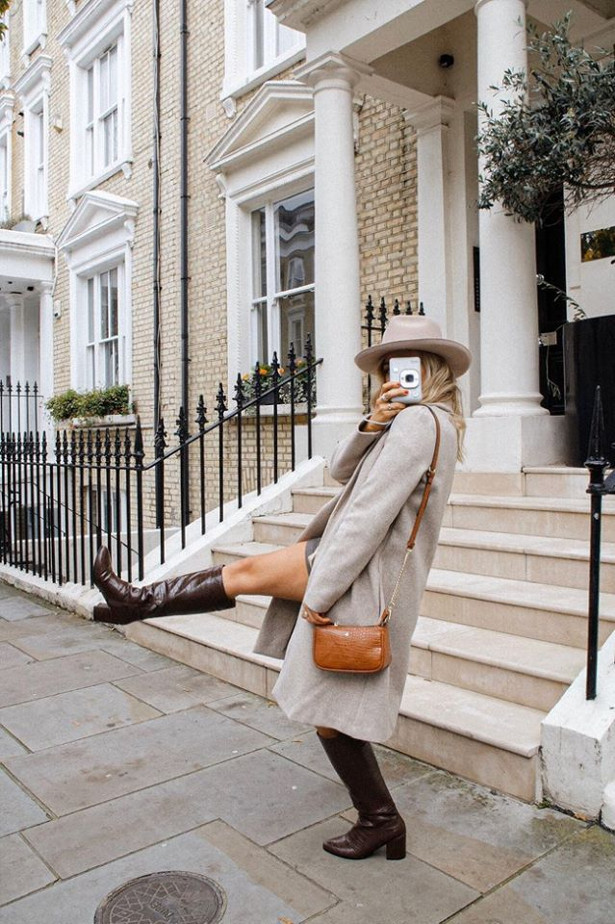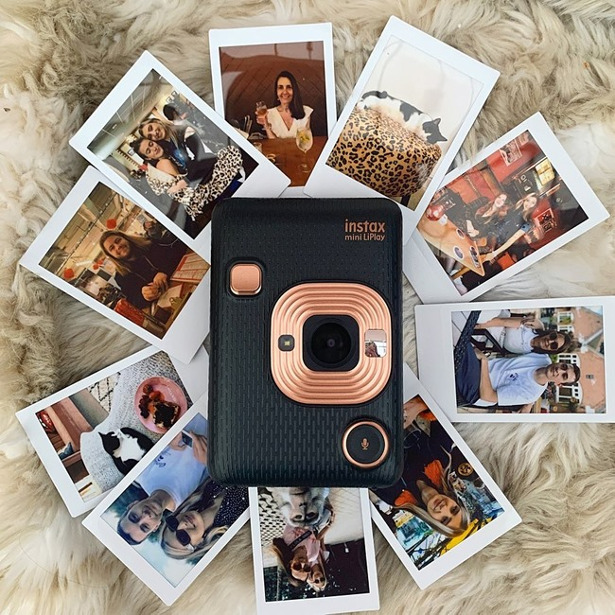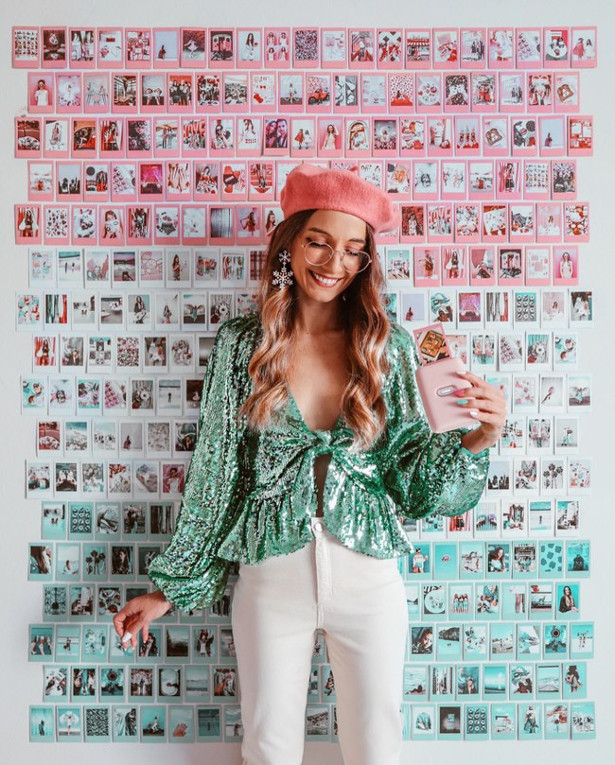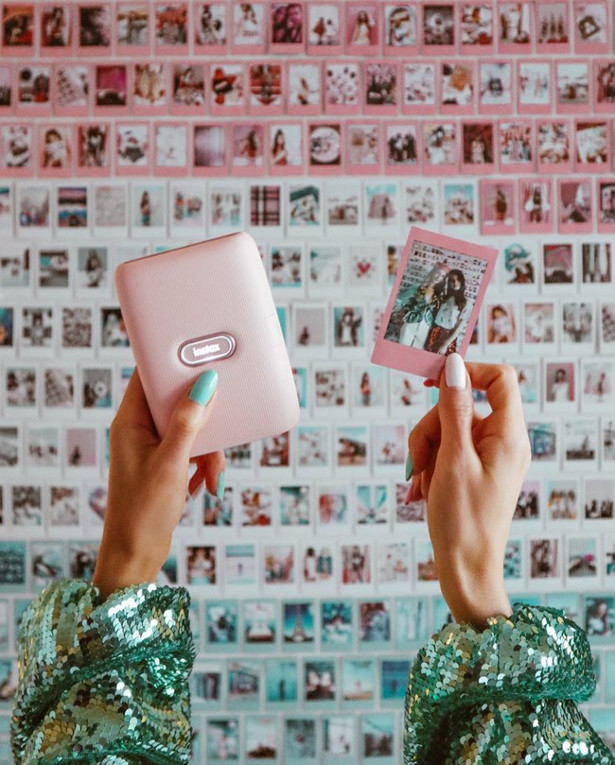 ALL I WANT FOR CHRISTMAS IS…
VANILLA REINDEER'S PERSONALISED GIFTS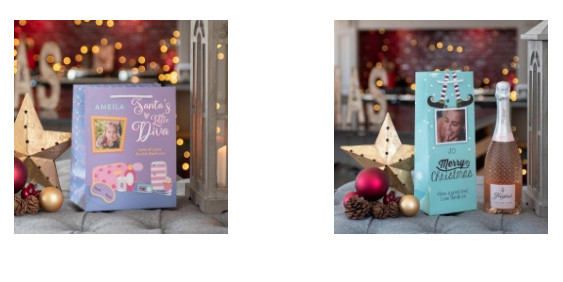 Don't you envy that person who gives the most beautifully wrapped Christmas presents? You wonder how they have the time and energy to find those gorgeous gift bags and chic bottle boxes. Well fear not, as now you can be that person – the ultimate gifting guru – with the help of personalised gift bag brand, Vanilla Reindeer.
Whether you need a Gift Bag for your lovely mum, an Advent Calendar for your naughty niece or a Box of Chocolates for your work bestie, Vanilla Reindeer has a wide range of both cheeky and contemporary designs – there's something for everyone.
Use our personalisation service to give your gift that extra sparkle. Simply add your best giggle-worthy photo and a fun message when you order online at www.vanillareindeer.com. It's never been so quick and easy to make someone smile with your hilariously funny or super sweet Christmas gifting designs!
For the Gift Bags, take your pick from 5 different sizes, which come in 36 fun designs. Choose from festive crackers including Santa's Little Diva or King Kong Merrily on High for the kids, or some more cheeky choices such as You're The Stuffing To My Turkey or All I Want For Christmas Is Shoes.
Alternatively, if it's a bottle box you're after, choose from 14 festive designs such as There's Snowman Like You or Sleigh Me Queen. Personalised gift bags and bottle boxes start from *£5.99.
.
'Santa's Little Diva' Small Portrait Gift Bag 'Elf' Upright Bottle Box
m/f
2/…
Choose from 22 fun styles and themes for Advent Calendars. Please the kids with designs including King Kong Merrily on High or Merry Slothness or make your mates laugh with a more adult design such as Don't Scoff Them All At Once!, You're The Stuffing To My Turkey or Clippity Clop and Reindeer Plops. Available from *£11.99 for the Standard option and up to *£22.99 for the Truffles.
Need a gift for a chocolate lover? Why not personalise one of our luxury Chocolate Truffle Gift Boxes, containing a range of delicious flavours including Intense Dark, Smooth Milk, White Lemon, Sweet Mandarin, and Dark Mango and Passionfruit. Prices range from *£11.99 up to *£18.99.
'Santa Claus' 16 Chocolate Box "Don't Scoff Them All At Once" Truffle Advent Calendar
Want to be super productive? Well why not sort your gifting and gift at the same time? Vanilla Reindeer offers a range of alcoholic beverages, including gin, prosecco plus exclusive wine options you won't find on the high street, and a range of indulgent toiletries and pampering products from well-known British beauty brand, Baylis & Harding.
UK based Vanilla Reindeer is the NEW personalisation brand and was launched to offer a wide range of fully personalised products that combines contemporary design flair with the very latest in digital print technology, providing you with a user-friendly, one-stop service that's guaranteed to delight all those special people in your life.
To ease you through the silly season, Vanilla Reindeer provide Royal Mail 1st Class standard delivery, Royal Mail Tracked 24, Royal Mail Special Delivery and Royal Mail Special delivery Saturday, so there's no need for any last gasp Christmas shopping.
*All prices exclude postage.
For more information visit www.vanillareindeer.com/
elho Christmas Houseplants
Gifts for houseplant fanatics
Team a striking red or gold pot with a beautiful plant to create the perfect gift for a houseplant lover. Poinsettias and variegated foliage are perfect for brightening up a Winter home. Or go for something exotic and pair a stunning white orchid with a green planter.
Brussels Orchid High in Mint Green RRP £3.29
The orchid is a plant with beautiful flowers that suits many interiors. The Brussels is an extra tall flowerpot, especially designed for orchids. The elevated bottom provides optimal aeration and drainage for the orchid's roots: stylish and practical! Choose the colour to match your style and make your interior complete.
Brussels Diamond Round in Velvet Gold RRP £3.69-£21.79
The brussels diamond round is a sleekly designed, high quality flowerpot that brings out the best in your flowers and plants. The beautiful lustre gives it a sophisticated touch. This elho flowerpot is watertight, so you can safely put it on a wooden table. It comes in various colours, so you can pick the colour to match your style each season. Choose your colour and give your interior a finishing touch!
Brussels Diamond Round in Lovely Red RRP £3.69-£21.79
The brussels diamond round is a sleekly designed, high quality flowerpot that brings out the best in your flowers and plants. The beautiful lustre gives it a sophisticated touch. This elho flowerpot is watertight, so you can safely put it on a wooden table. It comes in various colours, so you can pick the colour to match your style each season. Choose your colour and give your interior a finishing touch!
Gifts for avid gardeners
For the keen gardener in your life, a colourful outdoor planter paired with a heavenly bamboo is an evergreen gift that adds colour and interest to the garden all year round. A Polygala myrtifolia, or sweet pea bush, is another great evergreen option that flowers from July through to October. Grow in a conservatory or greenhouse in Winter and then move outdoors when Summer comes.
Loft Urban Round in Mint Green RRP £4.99-£89.29
Turn your living room, balcony or roof terrace into an even greener place with this urban collection by elho. Each pot comes with a built-in water reservoir, which saves up the surplus from watering or a downpour. Meaning you don't have to get busy with your watering can all the time, how great is that! And plenty of garden-inspiration: change colours each season, because this collection is offering a large variety of colours for a fresh look.
Loft Urban Round in Jade Green RRP £4.99-£89.29
Turn your garden, balcony or roof terrace into an even greener place with this urban collection by elho. Each pot comes with a built-in water reservoir, which saves up the surplus from watering or a downpour. Meaning you don't have to get busy with your watering can all the time, how great is that! And plenty of garden-inspiration: change colours each season, because this collection is offering a large variety of colours for a fresh look.
About elho
Use elho's colourful and stylish synthetic pottery collection to transform your house and garden into a great place to be. Whatever your taste, elho has a style that suits you. Elho is creative, innovative and has a green vision. Elho is proud that all products are made of recycled material and produced with 100% wind energy. The company is the leading innovator in Europe and has developed synthetic pottery in the Netherlands for more than 54 years. Give room to nature with elho.
Paxton's Christmas Cheese Recommendations 2019
Paxton & Whitfield, the UK's oldest cheesemonger, prides itself on being a leader in sourcing exceptional British and European cheeses for its customers.
This year Hero Hirsh, head of retail for the company, has handpicked two selections of delicious cheeses to enjoy over the festive season. The first selection is made up of classic cheeses and the second is made up of new cheeses to the Paxton's cheese counter. The cheeses in both selections come from dedicated cheesemakers and affineurs in the UK and Europe and are delicious products to have on your Christmas cheeseboard.
For the classic selection, Hero says: "Whilst this selection features some of the best known styles of cheese, we put just as much time and energy into sourcing these delicious products as finding new ones. We work closely with these excellent cheesemakers to ensure we have the ideal age and flavour profile and are stocking the finest examples of these cheeses."
On the new cheese selection Hero comments: "This second set of cheeses highlights some of the most exciting new arrivals to our counters. Each of these cheeses comes from an expert cheesemaker who produces a better known cheese but has diversified and created a brand new, superb product. The maker of Brightwell Ash makes Sinodun Hill; the maker of Evenlode makes Rollright; the maker of Sparkenhoe Blue makes Red Leicester; and the maker of Toma St Ours makes Fontina."
All the cheeses are available from Paxton & Whitfield's four shops in Jermyn Street – Piccadilly, Cale Street – Chelsea Green, Bath and Stratford upon Avon, as well as online at paxtonandwhitfield.co.uk.
WE'VE DONE THE CARD WORK FOR YOU THIS CHRISTMAS!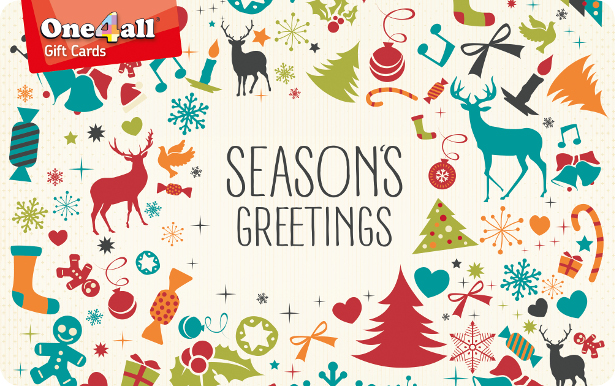 Give the gift of choice this Christmas
The One4all Gift Card can be spent at more than 55,000 stores nationwide
Gift cards can be loaded with any amount between £10-£400
The true meaning of Christmas is about spending time with loved ones and treating them to a gift which will they can value and enjoy.
Look no further than One4all, the UK's leading multi-store gift card! It allows recipients to choose a gift that they really want and is the perfect way to treat someone this Christmas.
The One4all Gift Card can be used to shop in more than 55,000 stores and websites across the UK, allowing recipients to explore a host of different shops ranging from retail and travel to outdoor activities and food. Popular retailers include the likes of Marks and Spencer, John Lewis, H&M, Warehouse and Argos.
The One4all Gift Card is great for those watching the pennies this Christmas, as it can be loaded with any amount from £10-£400, making it suitable for any type of budget.
With so much choice, there really is something for everyone, from a fashionista friend and adrenaline junkie relative to tech obsessed teens and wanderlust loved ones.
Skin Worshippers
From makeup lovers to skincare gurus alike, they will relish the chance to explore the products available from high-street favourites such as Boots, The Body Shop, Mankind, Glossybox and Feel Unique to name a few.
Interior Designers
For those who enjoy sprucing up their living space with a spot of DIY and investing in some new accessories for the home, they won't be disappointed with the huge choice on offer from stores including John Lewis, Argos, Carpetright, HomeSense, B&Q and Crown Decorating Centres.
Tech Fanatics
Alternatively, tech obsessed teens will jump at the chance to purchase the latest must have gadgets. Whether it be a new pair of headphones, smart watch, new laptop or a sound system for the home, they can search a choice of products available at Curry's PC World and Carphone Warehouse.
Weekend Wanderers
It might be that loved ones are looking for time away to unwind for some well-earned rest and relaxation or just travel and explore new destinations, One4all Gift Card holders can book anything from a weekend break away to a luxury holiday in the sun with Kuoni, Thomas Cook and cities direct when booked via Inspire Travel. Alternatively, the One4all Gift Card can be used to book a tranquil spa day or calming treatment with the likes of Spa Seekers and Spa Breaks.
Entertainment Lovers
Loved ones might want to treat themselves to a night on the town and catch the latest blockbuster with the likes of VUE and Empire Cinemas, purchase tickets to watch highly anticipated west end shows with Theatre Tokens or even dine out on some delicious food with Pizza Express, Wagamama's, Zizzi's and All Bar One; they won't be stuck for things to do!
Adventurers
If it's the thrill seekers you're trying to impress, they can put their gift card towards an exciting day out or adrenaline adventure with Virgin Experience Days or Red Letter Days. From race car driving, hot air balloon rides or even a trip around the zoo, there is something for all the family to enjoy.
The One4all multi-store gift card is available in a choice of Christmas designs, RRP £10-£400, and can be purchased in Post offices nationwide or online at One4all.com
For more information, visit: www.one4all.com.
CELEBRATE BABY'S 1ST CHRISTMAS WITH GREEN PEOPLE'S NEW-LOOK SILENT NIGHT GIFT SET
Green People's tried-and-tested infant bedtime regime gets new look for Christmas 2019
This Christmas Green People is helping to give parents the gift of sweet dreams with their beautiful sparkly NEW-LOOK Silent Night Gift Set.
Suitable for delicate infant skin and babies that are prone to eczema and skin allergies, this perfect-for-parents present is priced £16.50 and contains:
ORGANIC BABIES SOOTHING BABY SALVE 100ML
Green People's best-selling natural rescue salve softens and soothes baby's skin. This sleep-promoting salve can be used on baby's face, hands, body and bottom to quickly calm irritation and contains essential lavender oil to help to lull restless tots into the land-of-nod.
ORGANIC BABIES BABY WASH & SHAMPOO – LAVENDER 100ML
This calming, natural Baby Wash contains certified organic ingredients. Made without skin-irritating SLS, this bubbly baby bath product uses naturally foaming Yucca and Coconut extracts to create a soothing bath soak that gently cleanses ultra-sensitive skin, whilst protecting against dryness and irritation.
GOODNESS YOU CAN TRUST
As organic infant skincare experts Green People believes that with the right ingredients, developing a soothing infant bed and bath routine can become child's play.
An ideal stocking-filler for parents whose Christmas wish is to support their baby's delicate skin barrier from the start, this special edition skin care set is tested by midwives and contains plant-based organic ingredients that comfort tired infants whilst gently soothing sleep-disrupting skin complaints.
LAVENDER
Calming Lavender oil helps fractious littles minds to unwind and nod-off and delivers skin-balancing benefits whilst they snooze.
CHAMOMILE
Gentle Chamomile delivers anti-inflammatory action to reduce redness and restore skin-softness.
SHEA BUTTER
Skin-supporting Shea Butter contains Omega 3& 6 and Vitamin E- a vital vitamin for building a strong skin barrier.
CALENDULA
Hydrating Calendula contain lots of irritation-reducing actives. These soothe inflamed skin and can help safeguard skin against eczema, nappy rash and other topical conditions.
PROUD TO SUPPORT:
The Lullaby Turst
Following safe sleep guidance can help new parents to relax by knowing that their baby is sleeping safely in their crib and to helps raise awareness of developing safe infant sleep routines, Green People has partnered with safe-sleep charity The Lullaby Trust. Each time a Silent Night gift set is sold 50p is donated to the vital research this children's charity conducts and the support that they offer to parents.
Bliss
Green People are donating 20 Silent Night gift sets to BLISS, a charity for babies who are born premature.
Green People's Silent Night gift set will be available from 1st September 2019 at www.greenpeople.co.uk.
'Tis the season to gift green with WWF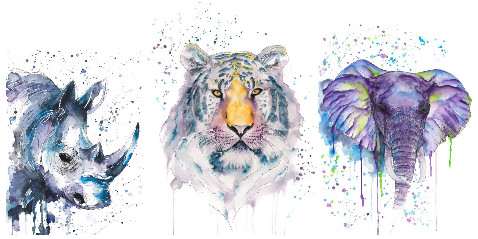 Get ahead this Christmas and show your support for our planet with sustainable gifts from the world's leading conservation charity
The World Wide Fund for Nature (WWF) will spread the festive cheer across the nation, as it launches its 2019 Christmas gift guide.
From colourful leggings for children, to stylish clothing for fashionistas and notebooks to capture all of your ideas, WWF will have you covered this season with sustainable gifts that can help make a difference in the fight for our world.
WEAR IT
Tatty Devine Jewellery
Complete your festive outfit and go wild in Tatty Devine's first ever collection made from 100% recycled, infinitely recyclable and repairable acrylic jewellery.
You'll be roaring with delight at the choice of fifteen unique designs, from swinging orangutans, to prowling leopards and more.
Brooch, earring and necklace designs vary from £35.00 each
Available at WWF's online shop: shop.wwf.org.uk/collections/wear-it
Elizabeth Grant Prints – made to order
Stand out from the crowd and splash a bit of colour into your life with these exclusive designs by artist Elizabeth Grant.
Inspired by threatened iconic wildlife species, the made to order collection features six original designs that can be printed onto your choice of product, including kids & adults organic cotton t-shirts and tote bags, mugs and posters.
T-shirts/Totes Adults £20 Kids £15, Mugs £15, Posters £7.50
Available on WWF's online shop from September: shop.wwf.org.uk/collections/wear-it
Heritage Panda Range
Enjoy a piece of WWF history and show your support in the fight for our world, with the original panda sketch made to order on a product of your choice, including kids and adults organic cotton t-shirts, mugs and posters.
T-shirts/Totes Adults £20 Kids £15, Mugs £15, Posters £10
Available at WWF's online shop: shop.wwf.org.uk/collections/wear-it
LITTLE PANDAS
Children's leggings
Keep your little one warm and stylish this Christmas with the new Blade and Rose babies and toddlers 100% organic cotton leggings.
Sustainable and super soft, each pair features a unique design of an elephant, panda, tiger, turtle and rhino to choose from.
Leggings, size 00-06 months – 03-04 years, £12.00.
Available at WWF's online shop from September: shop.wwf.org.uk/collections/love-it
Critically Endangered Socks
Keep your babies toes extra snug this winter and purchase a pair of critically endangered socks.
Beautifully crafted, organic and super cute, these baby socks feature images of rhinos, tigers, orangutans and of course a panda. The perfect choice for ethical comfort and entertainment, doubling up as a sock puppet.
£15 pack 4 pairs
Available direct from Critically Endangered Socks from October: www.criticallyendangeredsocks.com/
SUSTAINABLE SWAPS
Dingbats Notebooks
Jot down those creative ideas, important dates and notes in a 100% vegan, hardcover bound Dingbat notebook.
Complete with pen holder, 2 bookmarks and expandable pocket, these notebooks are equipped with Forest Stewardship Council certification (FSC) paper, promoting responsible management of the world's forests.
Practical and sustainable, you can choose from a range of colours; yellow, orange, blue, black, grey and purple.
£15.95 each
Available at WWF's online shop from September: shop.wwf.org.uk/collections/use-it or directly from Dingbats* Notebooks: https://www.dingbats-notebooks.com/
Quenches – bamboo toothbrush
You'll have the perfect reason to smile when you're the new owner of a FSC bamboo Quenches toothbrush. Twist off the neck piece, fill with water, add some toothpaste and its ready to use.
By using this brush, you will be preventing plastic waste and also saving around 12 litres of water each time you brush.
Single £6.95 or box of 4 £24.95
Available on WW's online shop: shop.wwf.org.uk/collections/use-it
Panda Straws
Be instantly recognised at any restaurant, cafe or party and slurp up support for our oceans with the totally biodegradable panda straws.
Available in packs of 25 or 50, they come in an FSC box for ease of use and storage. These paper beauties are trademarked with the panda design and are an easy way to eliminate plastic waste and make a positive change.
£2.95 per box 25
Available on WWF's online shop from September: shop.wwf.org.uk/collections/use-it
ICEo Bottle and saver cup
Working in collaboration with ICE° Bottle, WWF will be able to keep you hydrated and tea-filled with the stainless steel, functional yet trendy water bottle or Saver Cup.
Both durable, easily cleaned and tough to survive the knocks of a busy daily life, these items provide you with a very small lifestyle change to take a stand for the planet and protect the environment every time you use them.
ICEo Saver Cups £14.99 and ICEo Bottle 500ml £24.99/300ml £19.99
Available on WWF's online shop from September: shop.wwf.org.uk/products/panda-ice-bottle-500m
Panda Bags
Swap out the plastic bags to cart around your Christmas goodies this year and pick up one of our new range panda bags. Perfect for any occasion, these bags have been brought to life from recycled plastic water bottles.
Spoilt for choice, you have the option of a fold up shopping bag, tote bag and child's backpack all featuring the iconic WWF logo – an excellent way to kick start your sustainable new year's resolutions.
Foldable £4.00, Backpack £4.50, Tote £3.50
Available on WWF's online shop from September: shop.wwf.org.uk/collections/use-it
FOR THE TREE
Made from recycled post consumer water bottle felt and thread from plants, this super cute sewing kit includes everything you need to create your own decoration and instructions.
£9.99 each ​
Available on WWF's online shop from October: shop.wwf.org.uk/collections/love-it
ADOPT & PROTECT
Adopt and protect a Jaguar this Christmas. This elusive species has virtually been wiped out from most of its northern range and now occupies less than half of their historic habitat.
Your adoption will not only help fund projects to work with local communities to monitor jaguar movements and help protect their habitat but also fund our other vital work around the world.
Adopt a jaguar for as little as £3 a month and receive an optional soft toy, fact pack, regular updates plus adoption certificate – ideal for the last minute shopper.
For these animal adoptions and more, visit support.wwf.org.uk/adopt-an-animal
Celebrate Christmas 2019 with three NEW products from
Rosebud Preserves
Christmas is a time for family and friends to come together for celebration and the enjoyment of flavoursome food and drink. With the festive season fast approaching the team at award-winning Rosebud Preserves has hand-picked a selection of preserves they hope you will enjoy.
NEW for this year are a Pear, Orange & Ginger Chutney, a Damson Fruit Paste for Cheese a Smoked Apple Butter for Cheese:
Pear, Orange & Ginger Chutney (£3.95/198g)
Bright and vibrant with fresh Conference pears, plump sultanas, sweet citrus and warm stem ginger. Enjoy with cold Roast Pork and Wensleydale Cheese. Conference pears 37%, onions, unrefined cane sugar, Bramley apples, fresh orange juice 7%, sultanas, preserved ginger 5%, cider vinegar, orange zest, ground ginger and ground cloves.
Damson Fruit Paste for Cheese (£3.95/125g)
A sweet/sharp and vibrant fruit preserve, naturally set with unrefined sugar.
Damsons 120%, unrefined cane sugar and fresh lemon juice.
Smoked Apple Butter for Cheese (£3.95/125g)
Sweet, smoky and piquant with Bramley apples, cider vinegar, Madagascan vanilla and whisky.
Apples 131%, fresh lemon juice, cider vinegar, vanilla pods, unrefined cane sugar and whisky 5%.
Elspeth Biltoft, owner of Rosebud Preserves, says: "We're really thrilled to offer these three new products to enjoy over the festive season. The Pear, Orange and Ginger Chutney is what I would call a classic 'old school' chutney with a light modern freshness. It has a very British flavour with simple ingredients, it's a mix of sweetness with a little heat that gives a light, fragrant and delicious product. I'm really proud of the work that John, our head chef, put into developing this as it is such a good addition to our range and is also something quite different to all the other preserves we produce.
"Apple Butter was first produced in the Middle Ages by monks who wanted to preserve the fruit grown in monastery orchards. It is a highly concentrated form of apple compote with a buttery consistency. Our recipe uses the addition of Whisky to add a little heat to the flavour and a little smoked Bramley apple to add a unique final touch.
"The Damson Fruit Cheese is the perfect accompaniment to the cheeses on your Christmas cheeseboard. We source the damsons from dedicated British growers. We cook these with unrefined sugar to create a dense fruit cheese that has the deep, rich/sharp, vibrant purple/red fruit flavour. It works well with many cheeses but I love to enjoy this with some Stilton."
Rosebud Preserves' Christmas selection also includes Masons Yorkshire Gin & Satsuma Marmalade and Yorkshire Wensleydale Chutney. These two preserves have been created in collaboration with other Yorkshire based fine food producers. This collaborative approach is something that the team at Rosebud Preserves is very proud of as it highlights their Yorkshire heritage, as well as promoting the abundance of superb ingredients and products the area is famous for.
The company has been making its jams, marmalades, chutneys and jellies at Masham, North Yorkshire, since 1989. The company was started by Elspeth Biltoft and her founding principles, to source local produce whenever possible; to cook traditional recipes; and practice time honoured techniques, without the use of additives, preservatives or pectin; remain the same today.
Their tempting products also make great gifts for food lovers and to help present them Rosebud Preserves has a stylish gift box that accommodates any three of the customers' choice.
The products listed below are all available to buy online at rosebudpreserves.co.uk.
Cycle to Christmas With Children's Bikes from Decathlon
–Make a child's Christmas with the gift of an exciting new bike from Decathlon –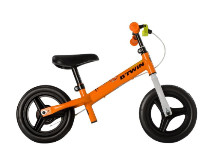 – Quality products available for all ages, from balance bikes for young beginners, to high performance hybrid bikes for more experienced youngsters –
With Christmas just five months away, Santa's elves have been working overtime to make sure Christmas 2019 is the best one yet, with a range of high quality children's bikes from Decathlon. What better gift for little ones to find under the Christmas tree, than a bike, allowing them to make memories on adventures with family and friends.
Whether your child is a junior Laura Kenny or a first time peddler, Decathlon offers a range of bikes to suit each child's needs. From balance bikes perfect for getting to grips with two wheels, to stylish hybrid bikes sure to impress friends, Decathlon's quality children's bikes make the perfect Christmas present for children of all ages.
Balance Bikes
B'TWIN RUNRIDE 500 BALANCE BIKE, ORANGE/BLACK – 10″ – £44.99
Little ones will love learning to balance and brake on this balance bike, as the lightweight frame makes it easy to control.
The gentle brake system has been cleverly adapted for little hands to get to grips with, making them easier to handle.
What's more, the puncture-proof tyres, mean that kids can get all the practise they need, without parents worrying about wear and tear.
B'TWIN RUNRIDE 900 ALLOY BALANCE BIKE, BLACK/YELLOW – 12″ – £69.99
This balance bike will provide hours of fun, thanks to the lightweight tyres that allow riders to glide and zoom around with ease as their confidence grows.
Budding bike enthusiasts will feel stable thanks to the extra wide handlebar and lightweight aluminium frame, making the bike easier to control.
The easy to adjust saddle means this bike will grow with your child, ensuring the adventures will last even longer.
14-Inch Bikes
B'TWIN 500 KIDS' 14-INCH BIKE (3-4.5 YEARS) – ROBOT – NOW £74.99
For those moving on from balance bikes, this bike is perfect for first time peddlers. The low frame allows children ages three upwards to mount the bike with ease and get comfortable, on the soft padded seat.
Parents needn't worry about children getting hurt by bike mechanics thanks to the robot emblemed chainguard, sure to keep little fingers, shoelaces and clothes away from the chain.
This bike comes with a bell, front and rear lights, wheel reflectors and tool free stabilizers so parents can feel confident that their children are safe on their bike, whilst discover a love of cycling.
B'TWIN 500 KIDS' 14-INCH BIKE (3-4.5 YEARS) – UNICORN – NOW £74.99
This brightly coloured bike will be the highlight of any unicorn lovers Christmas and will have them peddling like the big kids in no time.
The bike comes with easy to remove and re-apply stabilizers, so riders can learn to cycle at their own pace, without parents needing to reach for the tool kit.
The easy to stop brakes have been adapted for better grip, meaning little hands will feel in control as they head off for a day of cycling fun.
B'TWIN 500 DOCTOGIRL KIDS BIKE – 16″ – £89.99
Compatible with stabilizers, this bike allows children to develop their cycling skills as their confidence grows, but still offers stability whilst they are learning.
No need to worry about getting their Christmas day outfit dirty, this bike comes with front and rear mud guards, ideal for those wanting to use this bike to cycle to school as it prevents splashes on school uniforms.
Parents needn't worry about children getting hurt by the bike mechanics as they become more independent riders thanks to the chainguard, keeping clothes shoelaces and fingers away from the chain.
B'TWIN 900 ALLOY KIDS BIKE, BLUE – 16″ – £139.99
This stylish bike is perfect for smaller riders with a passion for cycling. Lightweight, thanks to the aluminium frame, making it easy to control and giving the added bonus of being rust proof – so junior riders can take this bike out on regular rides, even on harsh terrain, such as mud and sand.
The foam saddle makes for a comfortable ride and it can be adjusted as your little one grows.
The unique frame is shorter than typical 16-inch bikes making it more comfortable to ride upright during a long family bike ride on boxing day.
20-Inch Bikes
B'TWIN ORIGINAL 500 KIDS' 20″ HYBRID BIKE 6-9 YEARS- £139.99
This bike is perfect for a budding cycling enthusiast, as it can be used on a range of terrains and in all kinds of weather.
Older riders can practise getting used to gears, with an easy to use shifter which allows riders to change speeds smoothly.
The bike comes with a basket and a handy kick stand, so little ones will enjoy cycling to friends' houses on this bike to show off their new Christmas present.
B'TWIN ORIGINAL 120 KIDS' 20″ HYBRID BIKE 6-9 YEARS – £119.99
This bike is the perfect gift for any would be adventurer, as it comes with gears equipped for 6 speeds, meaning riders can take on a range of hills and terrains.
The bike has been designed with smaller riders in mind and the brakes are in the perfect position for little hands to grasp, allowing them to control their speed with ease.
What's more, the lower frame makes it easier for riders to get on and off, whilst stopping to explore their surroundings on a country cycle.
Decathlon has 45 stores in the UK and sells a variety of sports equipment, clothing and accessories perfect for those want to get active or maximise their performance.
For more information, visit www.decathlon.co.uk
Benro Launches 3XS Lite Smartphone Gimbal Stabiliser for Game-Changing Smartphone Videography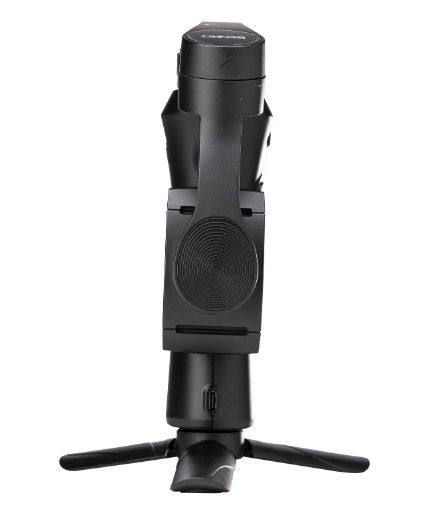 · 3XS Lite offers never-before seen performance for smartphone video recording
· Industry-first automatic horizontal to vertical switch at the push of a button, with no need to remove phone from gimbal
· Super compact original folding design
· Lightweight but with excellent weight capacity, and the ability to mount an external microphone for improved sound quality
Monday 5th August 2019 – Benro, a world leader in camera stabilisation, today announces the 3XS Lite, a smartphone gimbal stabiliser that will vastly improve smartphone photography and videography performance. Ideal for vlogging on the go, or capturing live action shots, the gimbal will prove to be a game-changer for anyone relying on their smartphone for capturing high-quality content.
The 3XS Lite has been designed to deliver perfectly smooth content that looks like it could have been professionally shot, under even the most challenging conditions. For vloggers filming themselves on the go; sports fans capturing live action or film and photography students shooting creative content, the 3XS Lite will keep content smooth and seamless at all times.
The 3XS Lite has been designed to work harmoniously with a smartphone. Its 'barrier-less' smartphone clamp makes balancing easy, just slide the smartphone left or right until the handset is balanced. This also allows users to retain access to their smartphone's charging and audio ports during use of the gimbal. A single button enables users to switch from portrait to landscape orientation and back again; no more fiddling to switch between the two. The camera shutter, video record, zoom and focus functions can also be accessed directly from the gimbal handle. What's more, an external microphone can be fitted with no compromise on performance to achieve sound quality that matches visual performance.
Weighing just 430g and compact enough to carry in a handbag or jacket pocket when folded, the 3XS Lite can be a constant companion for users who don't want to miss a moment of the action. It can be unfolded and ready to go in a matter of seconds.
Mark Hoskins, Brand Manager, Benro said, "The 3XS Lite is one of the smallest gimbals on the market, but despite the small size it is not small on features. It boasts all of the features of the competition and more, its folding design makes it easy to carry, it's lightweight and even has the ability to run an external microphone – something you wouldn't expect to see on a gimbal of this size."
The 3XS Lite companion app empowers users with a host of high-end creative options. It can be used to create multi-shot panoramas, beautiful time-lapse images with dynamic motion or object tracking, or set to automatically track faces or objects. It can also be used to precision-tune the gimbal, for calibration and updating of firmware.
Ideal for most smartphones weighing up to 290g, it features a 2000 mAh capacity battery which provides up to 24-hours of run time – the 3XS Lite will keep up with the most extensive days of shooting.
The Benro 3XS Lite handle has a ¼" threaded hole for mounting to a tripod which allows the gimbal to be used hands-free during panorama or motion time-lapse modes as well as during object or face tracking modes.
The Benro 3XS Lite Smartphone Gimbal is available from Benro Authorised Stockists priced at £90 RRP. For more information visit www.xseries.benrogear.com.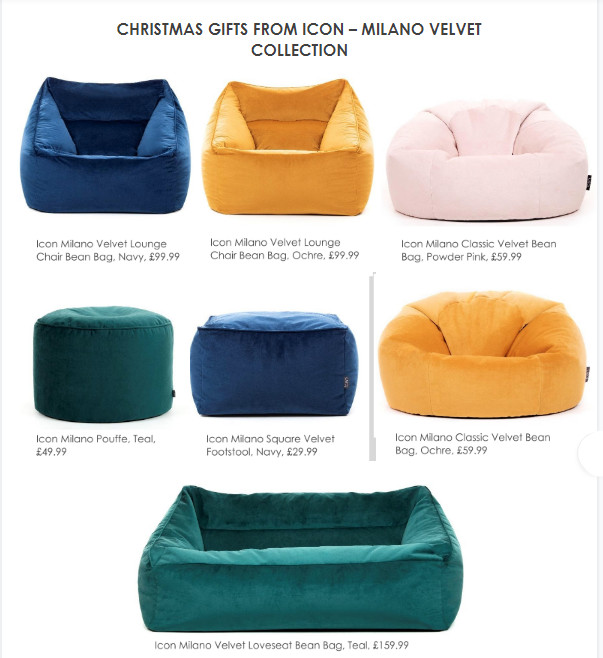 By using Body Glide before the game, you can take the chafe out of any game.


Body Glide is a preventative anti-chafing balm that protects your skin all game long. It forms a dry, invisible barrier to protect your skin. It's effective wherever skin is rubbed by clothing, footwear or skin. It creates a barrier to the effects of rubbing, its formulation makes it easy to apply for all-day protection from skin on skin rubbing, chafing from clothing, or pinching and friction from shoes, or protective gear.
Let Body Glide do the work, so you can focus on winning.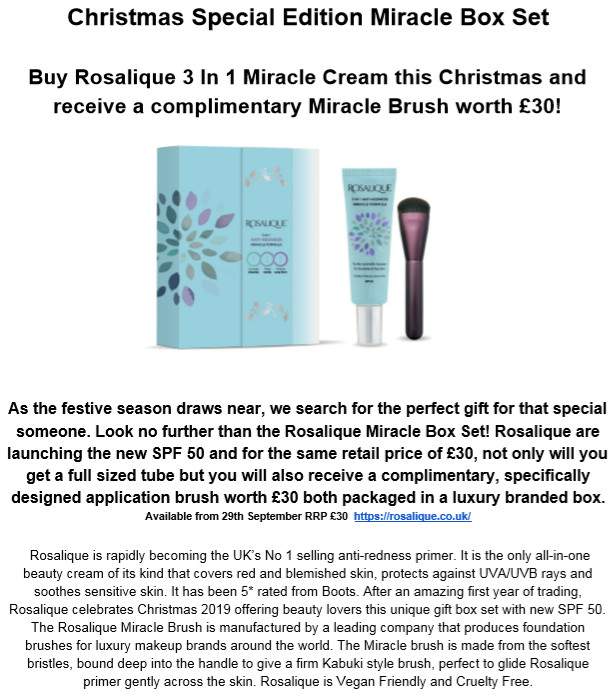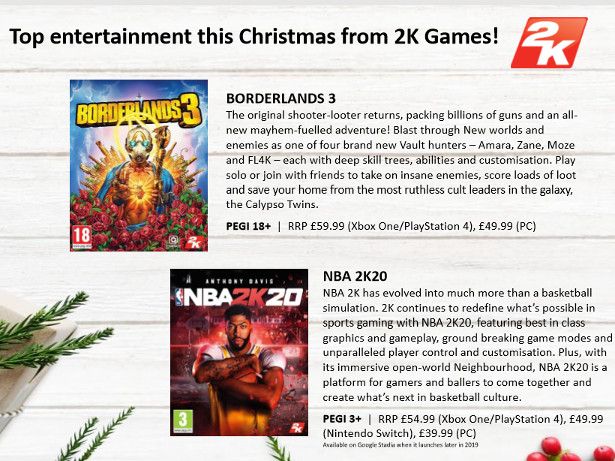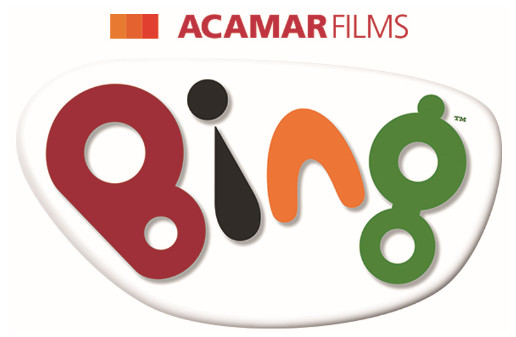 Bing and Flop Soft Toys RRP £5.99 each
These cute and cuddly Bing and Flop soft toys are perfectly sized to take along with you on all your adventures. Whether it's a trip to the park or a day at nursery, Bing and Flop are the ideal companions for your little Bingster! Bing is made from super-soft textured fabric and wears his red checked dungarees and features his iconic button. Flop is made from a tactile knit fabric and features beautiful fine embroidered detail. Approx size 20cm. Suitable from birth.
Bing Pick & Place Wooden Puzzle RRP £9.99
This wooden puzzle features Bing and his friends Sula, Pando, Coco and Flop. The chunky wooden pieces and pegs make it easy for little hands to pick up and place, helping develop fine motor skills and hand-eye coordination. The brightly coloured pegs and matching coloured shapes also introduce Bingsters to simple colour recognition whilst providing them with hours of fun. Suitable for children aged 12 months and over.
Talking Bing Soft Toy RRP £15.99
This cute and cuddly Talking Bing Soft Toy is perfect for hugs as it's made from super-soft textured fabric. Talking Bing has over 15 fun phrases to delight and entertain fans such as 'Hi, I'm Bing! What's your name?' Simply press Bing's button to hear him talk and giggle. Bingsters will love to re-create their favourite Bing stories, listen to Bing talk and interact with him. Approx size 30cm. Suitable from birth.
Talking Sula Soft Toy RRP £15.99
Just like the Talking Bing Soft Toy, Talking Sula is made from super-soft textured fabric and great to cuddle. Just like in the show, she wears her beautiful pink dress and has gold sparkly shoes and a cute flower in her hair. She has over 15 fun phrases to delight and entertain fans such as 'Hi, I'm Sula! What's your name?' Approx size 30cm. Suitable from birth.
Light Up Talking Bing with Hoppity RRP £29.99
With over 15 fun phrases for little ones to enjoy, Light-up Talking Bing with Hoppity is sure to be a hit with little Bing fans! Bing comes complete with his 'favourist' toy, Hoppity Voosh! Hoppity wears a soft red cape and can be detached from Bing. Your little Bingsters will love to make their very own Hoppity 'voosh' through the air, just like Bing does in the show. Press Bing's hand and watch his button softly glow as he talks to Hoppity, giggles or as the music plays and for even more fun Bing has poseable arms. Bing and his best friend Hoppity are made from super-soft textured fabrics and have beautiful embroidered detail. Approx size: 36 cm from top of ears to feet. Suitable for children aged 10 months and over.
Bing & Friends 6 Figure Gift Set RRP £14.99
This adorable figurine set includes Bing, Flop, Sula, Pando, Charlie and Amma. Perfectly sized for little hands to hold, these brightly coloured, chunky plastic figurines really bring these adorable Bing characters to life – especially as they can stand unaided, so ideal for creative play and story telling. Size of figurines range from 5cm – 9cm. Suitable for children aged 18 months and over.
Bing & Sula Soft Toys RRP £9.99
These cuddly toys are made in soft huggable fabrics, perfect for holding tight. Choose from Bing or his best friend, Sula. Bing Softie is wearing his iconic red dungarees which feature his special plastic button. Sula Softie is wearing her pretty pink dress. Each character has fine embroidered facial features and are perfect companions for any Bingster, and for even more fun they have crinkly ears! Each sold separately. Suitable from birth.
Bedtime Bing £19.99
Super-soft and huggable, the Bedtime Bing Soft Toy features soothing music and phrases from the show to comfort and reassure your Bingster as part of their bedtime routine. Press his hand to hear Bing say 'I'm tired now' and for even more fun Bing plays music from the show. Bing is ready for bed, dressed in his snuggly blue pyjamas that features a motif of his favourite toy Hoppity Voosh. Approx size 24cm. Suitable for children 10 months and over. Sold exclusively in Argos – as seen in the Argos October Gift Guide.
Jumbo Bing RRP £24.99
This Jumbo Bing, made is super-soft fabric, is just the thing for little Bingsters to get their arms round and cuddle. Bing wears his iconic red dungarees with button and has beautiful fine embroidered detail. Jumbo Bing measures 50cm. Suitable for children aged 10 months and over. Sold exclusively in Argos – as seen in the Argos October Gift Guide.
And from Harper Collins!
Bing's Christmas Bauble Books £9.99
The perfect festive present for little Bingsters! Four bauble-shaped board books in a sparkly silver and red gift box. Perfect for small hands, they teach toddlers about first concepts (Numbers, Opposites, Shapes and Colours) and then double up as Christmas tree decorations! Once you've read them, have fun threading them with ribbon and hang them on your Christmas tree or around your home. Each board book is ten pages long, has sturdy board pages, simple words, and colourful festive images of Bing and his friends. Suitable for 1-5 year olds.
Festive Fruity Firsts from Opies ! www.opiesfoods.com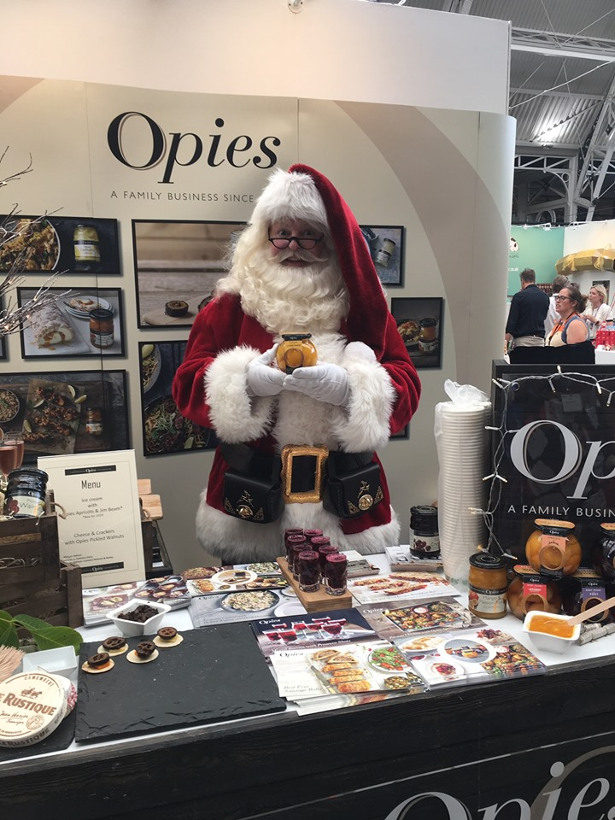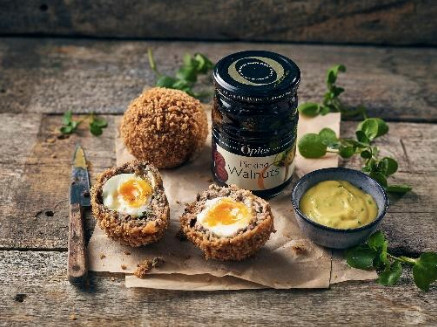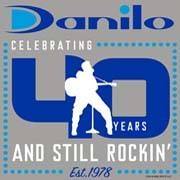 Looking for a rugby gift! check these out >> www.danilo.com/Search-Results?q=Rugby+calendars
FACEBOOK | TWITTER | PINTEREST | GOOGLE+ | LINKEDIN | YOUTUBE
Scottish Rugby Union 2020 Calendar – Our Price: £9.99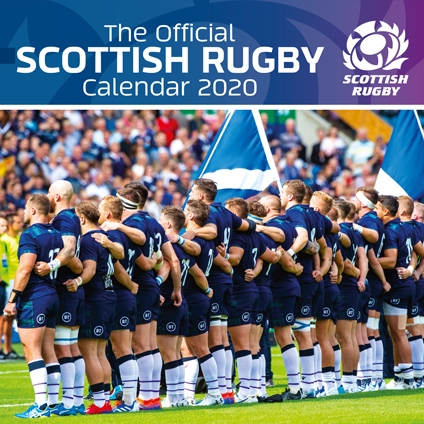 Welsh Rugby Union 2020 Calendar – Our Price: £9.99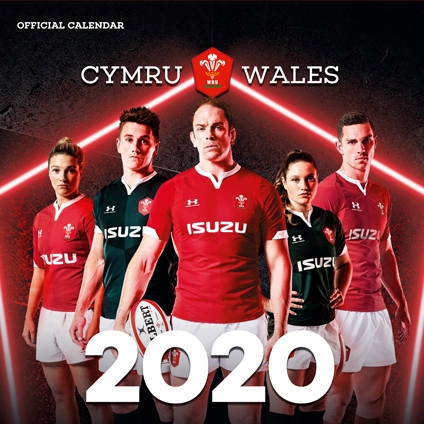 England Rugby Union 2020 Calendar – Our Price: £9.99
Rugby Addicts Gren's 2020 Calendar – Our Price: £9.99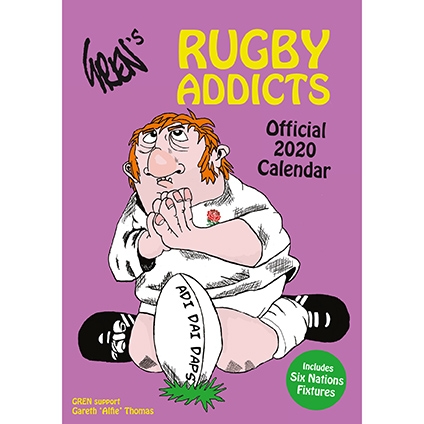 Children's Wooden Toys for Christmas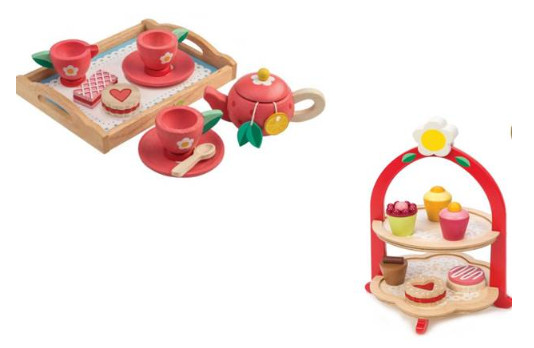 Perfect for Christmas, a new collection of colourful wooden toys for children, is now available from Historic Royal Palaces online shop at www.historicroyalpalaces.com or in our selected palace gift shops.
From tea sets to towers, castles to cars. These traditional toys are perfect to inspire the imagination of any child. Made from sustainable wood from the Rubber tree and painted with a soft non toxic water stain. All sets suitable for children age 3 and above.
Tea set
This pretty little tea set includes a tray with handles, two cups and saucers, a teapot with lid, a milk jug, a spoon, two biscuits and two fruity teabags.
Price: £35.00
Afternoon tea play set
Ideal for role play, this daisy topped set includes a two tier wooden cake stand with four wooden cupcakes and two wooden biscuits.
Price: £30.00
Wheelbarrow play set
Perfect for the aspiring gardener, this superb wheelbarrow complete with gardening equipment will keep active minds occupied with a life in the garden.
The set includes a sturdy wheelbarrow (with muddy wheel), three seed packets, and three flower pots containing a sunflower, tomato, and carrot plant. Tend to these plants with a watering can, trowel and cut the flowers with some secateurs. All parts are made from sustainably sourced plywood. Price: £65.00
Wooden flower bed and watering can play set
A perfect gift for a little gardener, this set includes ten wooden plants at various stages of growth which can be planted in any one of the ten holes in the wooden base. They can then be watered with the watering can.The set is made from sustainably sourced plywood.
Price: £19.99
My first castle play set
Lower the portcullis and prepare for a role-play battle with our children's painted first castle play set.
Taking its inspiration from traditional medieval castles, this set features four turrets with red tops, a lifting portcullis and running boards. Supplied for self-assembly with graphic stickers to add detail to the set.
Price: £50.00
Wooden siege tower toy
Children's wooden siege tower toy
Prepare for your final assault on the enemies castle stronghold with our wooden children's siege tower toy.
The splendid six wheeled siege tower features a red shield with three crowns. It also has a battering ram, a drop down platform, a catapult with two cannonballs and a rope ladder for supreme detail.
Siege towers were designed to give protection to the castle assaulters with a ready-made drop down platform for access onto high walls. Price: £35.00
And for children who love buses and cars ……
London double decker red bus
Take a tour around the city of London with this vintage style double decker London bus.
The bus has a removable roof for access to the upper deck and a removable top deck floor for access to the lower deck. There is space inside for the Budkin bus driver (included) and 11 passengers (not included). And real rubber tyres (for extra grip when going fast!). Price: £50.00
Set of 7 traditional London vehicles
A wonderful collection of iconic London vehicles. Each vehicle is wooden and even compatible with wooden train tracks. The set includes a double decker bus, a fire engine, a police van, an ambulance, a black cab and two sporty
Christmas 2019 at Sadler's Wells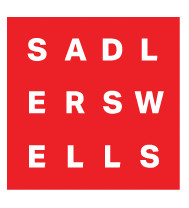 This year's winter programme sees the return of three magical Christmas shows: Matthew Bourne's award-winning The Red Shoes (3 December – 19 January) on the Sadler's Wells stage, Arthur Pita's enchanting adaptation of Hans Christian Andersen's fable The Little Match Girl at the Lilian Baylis Studio (11 – 29 December), and Birmingham Repertory Theatre's charming take on festive favourite The Snowman at The Peacock Theatre (21 December – 5 January).
New Adventures
Matthew Bourne's The Red Shoes
Sadler's Wells Theatre, EC1R
Tuesday 3 December 2019 – Sunday 19 January 2020
Tickets: £15 – £75
Ticket Office: 020 7863 8000 or sadlerswells.com
Matthew Bourne's triumphant adaptation of the legendary film returns to London, having won two Olivier Awards and dazzled audiences across the UK and the USA.
Victoria Page lives to dance, but her ambitions become a battleground between the two men who inspire her passion. Set to the achingly romantic music of golden-age Hollywood composer Bernard Herrmann, The Red Shoes is orchestrated by Terry Davies and played live by the New Adventures Orchestra, with cinematic designs by Lez Brotherston, lighting by Paule Constable, sound by Paul Groothuis and projection from Duncan McLean. With Adam Cooper, returning to New Adventures after more than 20 years as Boris Lermontov, alongside Ashley Shaw, Dominic North, Liam Mower, Michela Meazza, Glenn Graham, and Cordelia Braithwaite reprising their acclaimed original roles, this intoxicating drama will dazzle your senses and break your heart.
Matthew Bourne is a Sadler's Wells Associate Artist
Press night: Thursday 12 December at 7:30pm
For further information or to arrange interviews, please contact Amy Barder or Simon Raw at Raw PR on 020 3829 0930 or amy@rawpr.co.uk / simon@rawpr.co.uk
Arthur Pita
The Little Match Girl
Lilian Baylis Studio, EC1R
Wednesday 11 – Sunday 29 December
Tickets: £6 – £18
Ticket Office: 020 7863 8000 or sadlerswells.com
Director and choreographer Arthur Pita is renowned for adopting a surreal take on storytelling. Following his Björk Ballet, performed by San Francisco Ballet at Sadler's Wells in summer 2019, his magical dance theatre show The Little Match Girl makes a welcome return for Christmas.
The Little Match Girl's unlikely heroine is an impoverished street girl, with just one final match to keep her warm on a cold Christmas Eve. Beautifully recreated through dance, song and Frank Moon's live atmospheric music, The Little Match Girl is a timeless fable about kindness and helping others.
Press night: Wednesday 18 December at 7pm
For further information or to arrange interviews, please contact Helen Snell on 020 7240 5537 or helen@helensnell.com
Birmingham Repertory Theatre
The Snowman™
The Peacock Theatre, WC2A
Thursday 21 November 2019 – Sunday 5 January 2020
Tickets: £18 – £55, Family Tickets available
Ticket Office: 020 7863 8222 or peacocktheatre.com
The Snowman has whisked generations of children off to a wintery wonderland for a festive adventure year on year. Now the live stage show journeys back to The Peacock to charm both young and old for its 22nd consecutive year. Based on the much-loved film and book, the stage adaptation of The Snowman features exquisite dancing, magic and live music, including the unforgettable classic Walking in the Air.
Suitable for all ages
Press performance: Saturday 23 November at 11am
For further information or to arrange interviews, please contact Caroline Ansdell on 020 7863 8125 or caroline.ansdell@sadlerswells.com
NOTES TO EDITORS
About Sadler's Wells
Sadler's Wells is a world-leading creative organisation dedicated to dance in all its forms. With over three centuries of theatrical heritage and a year-round programme of performances and learning activities, it is the place where artists come together to create dance, and where people of all backgrounds come to experience it – to take part, learn, experiment and be inspired.
Its vision is to reflect and respond to the world through dance: enabling artists of all backgrounds to create dance that moves us and opens our minds, and sharing those experiences with the widest possible audiences – to enrich their lives and deepen their understanding of what it means to be human.
Audiences of over half a million come to Sadler's Wells' three London theatres each year, with many more enjoying its touring productions at venues across the UK and around the world, and accessing its content through digital channels. Sadler's Wells commissions, produces and presents more dance than any other theatre in the world, embracing the popular and the unknown. Since 2005, it has helped to bring over 170 new dance works to the stage, many of them involving its 16 Associate Artists, three Resident Companies and four Associate Companies – the most exciting talents working in dance today.
Sadler's Wells nurtures the next generation of talent through a number of artist development initiatives and reaches over 30,000 annually through its learning and engagement programmes.
Located in Islington, north London, Sadler's Wells' current building is the sixth to have stood on site since entrepreneur Richard Sadler first established the theatre in 1683. The venue has played an illustrious role in the history of theatre ever since, with The Royal Ballet, Birmingham Royal Ballet and English National Opera having all started at Sadler's Wells.
Sadler's Wells is to open an additional mid-scale venue in east London in 2022. The new space will be at the heart of the East Bank project, a new cultural and education district in Queen Elizabeth Olympic Park in Stratford, which will also include BBC, UAL's London College of Fashion, UCL and the V&A in partnership with the Smithsonian Institution. As well as a 550-seat auditorium, Sadler's Wells' new venue will include a choreographic centre and a hip-hop theatre academy, the first of their kind in the world to be run by a theatre.
www.sadlerswells.com
About New Adventures
New Adventures is an iconic and ground-breaking British dance-theatre company, famous for telling stories with a unique theatrical twist. For over 30 years Matthew Bourne and New Adventures have delighted, inspired and nurtured people of all ages and backgrounds: audiences, artists and the next generation. We create world class productions and engaging projects, reaching thousands worldwide every year.
New Adventures has received numerous international awards and an incredible 12 Olivier Award nominations, including 6 wins. New Adventures has created 12 full-length productions and a triple-bill of short works. This award-winning repertoire has inspired and thrilled millions of people worldwide. In 2019 the company premiered its 12th full-length production, Romeo and Juliet.
Investing in the future of dance and theatre, New Adventures engages in inclusive projects with thousands of people of all ages and ability, as well as emerging artists across the UK and around the world.
New Adventures is a national portfolio organisation supported using public funds by Arts Council England.
Birmingham Repertory Theatre
Birmingham Repertory Theatre Company is one of Britain's leading producing theatre companies. Its mission is to inspire a lifelong love of theatre in the diverse communities of Birmingham and beyond. As well as presenting over 60 productions on its three stages every year, the theatre tours its productions nationally and internationally, showcasing theatre made in Birmingham.
The commissioning and production of new work lies at the core of The REP's programme and over the last 15 years, the company has produced more than 130 new plays. The theatre's outreach programme engages with over 7000 young people and adults through its learning and participation programme, equating to 30,000 individual educational sessions. The REP is also committed to nurturing new talent through its youth theatre groups and training for up and coming writers, directors and artists through its REP Foundry initiative.
Many of The REP's productions go on to have lives beyond Birmingham. Recent tours and transfers include The Lovely Bones, Brief Encounter, Nativity! The Musical, What Shadows, LOVE, The Winslow Boy, The Government Inspector, Of Mice and Men, Anita and Me, Penguins and The King's Speech. The theatre's long-running production of The Snowman celebrated its 25th anniversary as well as its 21st consecutive season at London's Peacock Theatre in 2018.
Artistic Director: Sean Foley
Deputy Artistic Director: Amit Sharma
Executive Director: Rachael Thomas
birmingham-rep.co.uk
@BirminghamRep
Festive Favourite Walkers Shortbread Announces New, Limited Edition Christmas Advent Calendar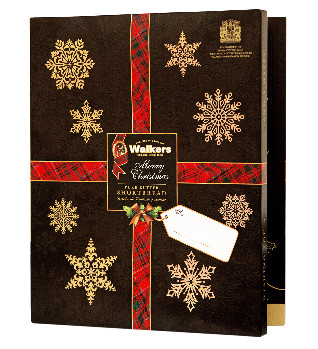 For many, Walkers Shortbread is a festive favourite, with the buttery sweetness of every bite awakening memories of Christmas past. So, what better way to count down the days until Santa Claus comes to town than with a Walkers Shortbread advent calendar?
Today, the creator of The World's Finest Shortbread has announced the launch of its new, limited edition 2019 advent calendar, providing shortbread fans with a daily bite-sized treat during the lead up to Christmas Day.
Synonymous with the true taste of Christmas, 24 individually wrapped Walkers favourites including the Pure Butter Shortbread Fingers, Rounds and Mini Chocolate Chip Shortbread can all be found waiting under each numbered window.
A Christmas must-have for fans of Walkers, and available for a limited time only, the beautifully designed calendar features Walkers' trademark tartan, logo and Royal Warrant, alongside embossed, iridescent snowflakes adorning an eye-catching black background.
Featuring a printed gift tag, the calendar is also presented ready to be personalised for its lucky recipient. With Christmas at its very core, once opened the calendar sets the scene with a backdrop full of festivity in red, gold and black – and there's even a guest appearance from the big man himself.
Customers will need to be quick, as a limited number of calendars will be available to purchase exclusively on the Walkers Shortbread website until stocks last and will not be available again for 2019.
Walkers Shortbread is a long-established family favourite at Christmas time, thanks to its extensive range of Christmas treats including mince pies, Ecclefechan tarts, iconic festive tins and now, limited-edition advent calendar.
Walkers Shortbread products are all based on a simple recipe which has been perfected by the family-run business (currently in its 5th generation) for the past 120 years. Boasting four, natural ingredients – flour, butter, sugar and salt – the buttery shortbread favourite is also free of artificial colouring, flavours and additives.
The Walkers Shortbread advent calendar will be exclusively sold on the Walkers Shortbread website from October 2019, RRP £14.99, for a limited time only.
Power Up With Iron Man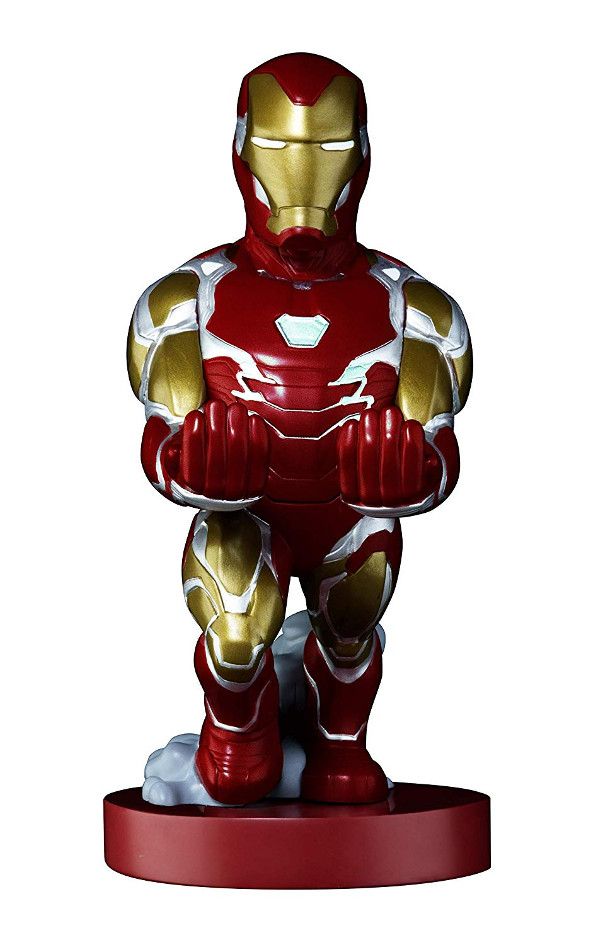 For film and gaming fanatics meet the marvellous Iron Man, for those who want to keep everyone safe. At last Iron Man can look pristine in your own home, or around your desk. It holds most gadgets, such as mobile phones and gaming controllers, whilst also powering them up. It's ideal for those who don't want to join secret boybands, or believe that following isn't really their style. Set the trend and lead the way with Tony Stark's favourite invention.
The Avengers: Endgame Iron Man Cable Guy Controller Holder stands at a mighty 8-inches tall with a 6-foot long USB C charging cable for your devices.
You don't need to be a genius, billionaire, playboy, philanthropist to grab The Iron Man Cable Guy. Iron Man is compatible with most console game controllers and almost all smart-phones and tablets.
Designed by Cable Guys, the Iron Man Cable Guy costs £26.75 from Amazon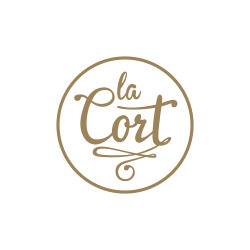 La Cort an Italian Company who ship handcrafted & natural products from the Alpine Meadows of Friuli >> www.lacortstore.com
FACEBOOK | PINTEREST | INSTAGRAM
La Cort is an Italian company which proposes handcrafted and natural products manufactured in Region Friuli Venezia Giulia, north-east of Italy, and sells on its own online shop: www.lacortstore.com. They ship to Europe and on request also to other Extra-Cee Countries.
The products, highly selected, are realized with the great knowledge and passion of their artisans and are carefully checked piece by piece. Their proposal is really original because the items, local and of high quality, are rarely available in the traditional markets.
– Armo1191 products: a brand focused on Arnica cultivated locally and naturally: high Arnica concentration (30% in the Oil, 20% in the cream) and really valid before and after sport activities, also perfect after insects bites, for skin irritation and ideal for the treatment of hematomas. Airless package is the plus of the cream lotion Armo Ultra, perfect when travelling. Armo Sweet is also ideal after littles burns. This production is really an uniquum in Europe an already appreciated by a lot of sport lovers.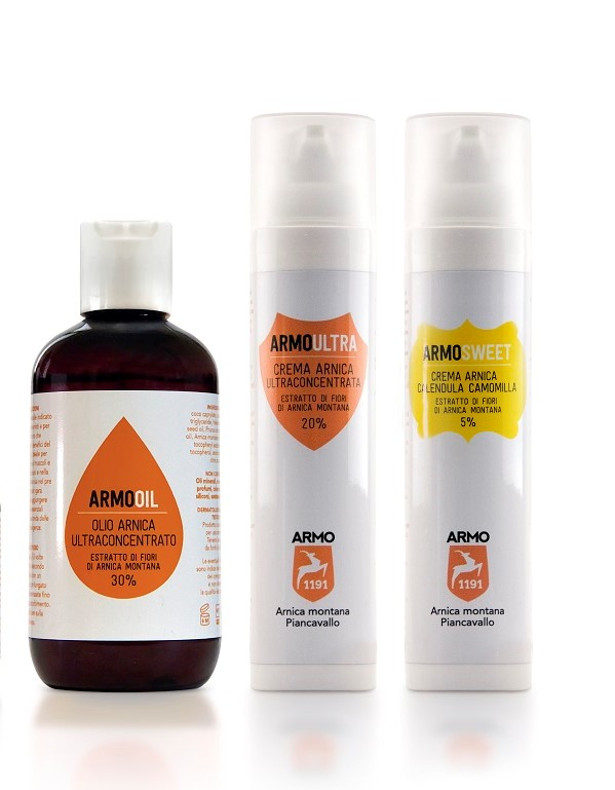 – Manicure Scissor: this product coming from a local crafter is in stainless steel and cuts perfectly. It is a professional combination for cuticle and nails, too.Image attached.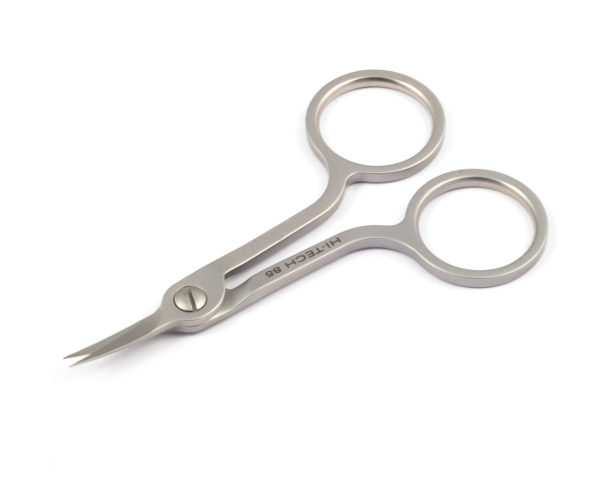 – Lamami collection: a special kitchen cutlery collection made up of original knives combination. Blades in stainless steeel and olive wood handle. The production, completely local comes from an ancient tradition of working blades. Attached images for Champagne Sabre, Grappa&Chocolate Degustation Set, Cheese&Wine Set.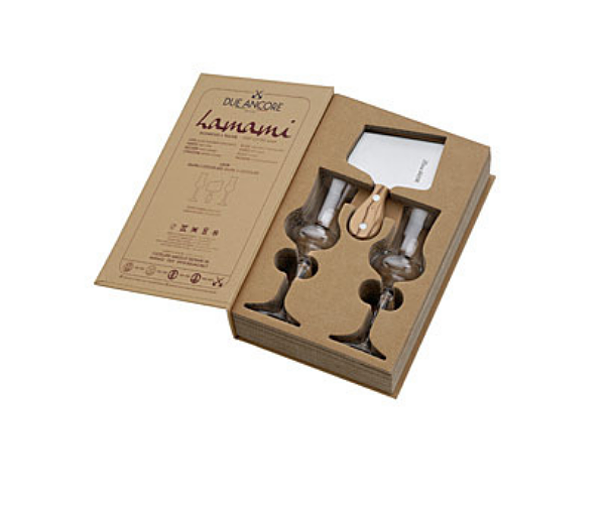 La Cort ship to Italy, Europe and other Countries on request.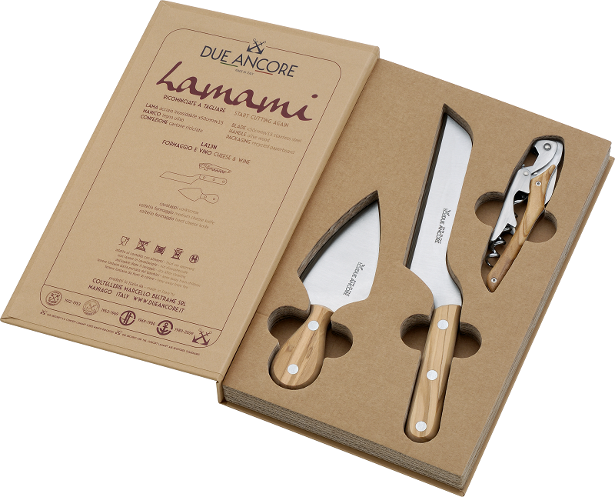 Veritas Farms
Full Spectrum CBD Peppermint Tincture: Get into the holiday spirit with Veritas Farms' peppermint tincture. The fast-acting CBD oil tinctures contain full spectrum hemp oil extracted from the flowers and leaves of hemp plants grown on our Colorado farm — never from isolate. Additional flavors include watermelon, citrus, strawberry and unflavored, starting at $39.99
Full Spectrum CBD Salve: This topical remedy is available in the following aromas: unscented, lavender/eucalyptus, and cooling menthol. The Full Spectrum CBD topical salve contains whole hemp oil extracted from all-natural hemp plants grown on our Colorado farm. Available in two potencies: 400 mg or 1,000 mg – starting at $39.99
CBD Gummies: Discover your new favorite sweet snack with CBD-infused gummies from Veritas Farms. These chewy CBD edibles are made with CBD isolate and organic ingredients, including a naturally delicious mixed-berry flavor. Available online starting at $34.99

Get the man in your life all kitted out to looking and feeling head to toe grooming great with the NEW Jack Black All Jacked Up!
Jack Black All Jacked Up Available from October 2019 at www.mankind.co.uk ~ www.cloud10beauty.com ~ www.thegroomingclinic.com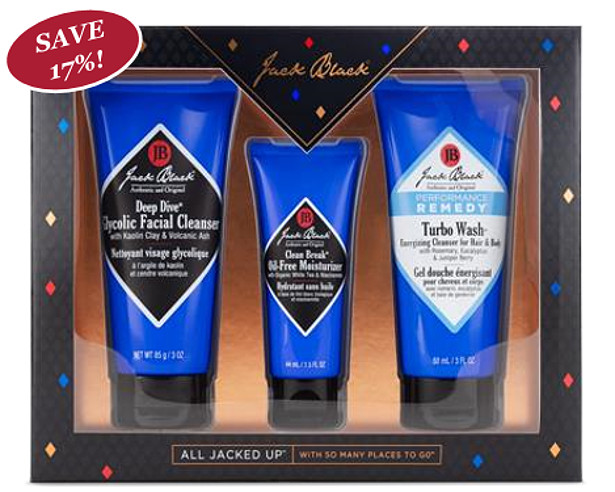 FACEBOOK | TWITTER | INSTAGRAM | PINTEREST
Jack Black All Jacked Up £24.50 Get your guy's skin looking super fresh and clear with the New All Jacked Up trio of ultimate essentials from Jack Black. It's the perfect gift to elevate their grooming routine and leave their skin clean and clear!
The trio of face and body skincare must-haves are suitable for normal to oily skin and features:
❖ Jack Black Turbo® Wash Energizing Cleanser for Hair & Body (88ml) Kick start your body, awaken the mind and feel refreshed with this dualpurpose shampoo and body wash. It also aids performance recovery and supports the body's natural defences.
❖ Jack Black Deep Dive® Glycolic Cleanser (88ml), a purifying, 2-in-1 wonder cleanser to fast track your way to clearer skin. Works as a gentle, effective cleanser, it exfoliates while soothing and smoothing, but can also used as a purifying mask when left to dry on skin.
❖ Jack Black Clean Break® Oil-Free Moisturizer (44ml), an oil-free moisturiser that leaves skin refreshed and healthier-looking with a natural, shinefree finish.
CELEBRATE THIS FESTIVE SEASON WITH GREEN & BLACK'S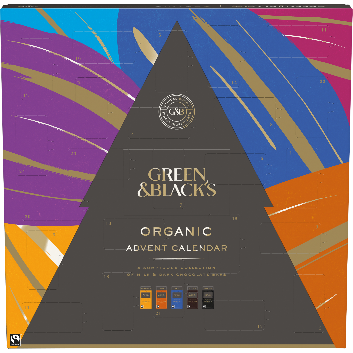 Chill Time = Best Gift of All… SleepPhones® www.sleepphones.com combine award winning tech with ASMR content! (10% Off Here ((Coupon code is CART10OFF)) )
SleepPhones®: ASMR Edition is now available on www.sleepphones.com/product/3283. This product retails for $99.95 USD and qualifies for free domestic standard shipping and comes with a limited one year warranty. SleepPhones®: ASMR Edition can be purchased with a 10% discount using the coupon code CART10OFF, which will save you 10% on an order of any SleepPhones® products!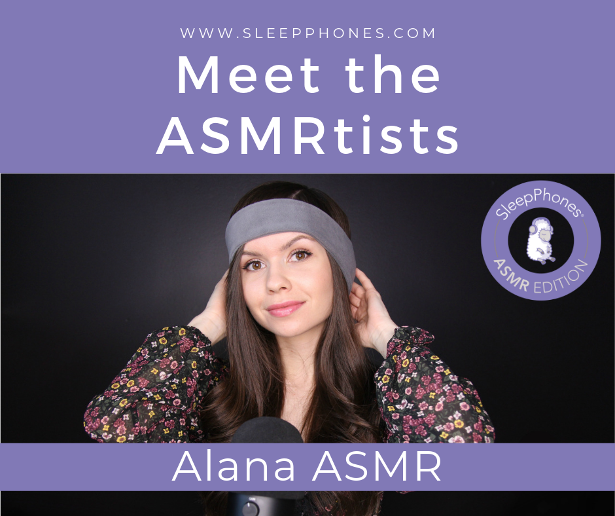 Rascals brings new challenges and adventure with The Crystal Maze Eastern Zone Mini Game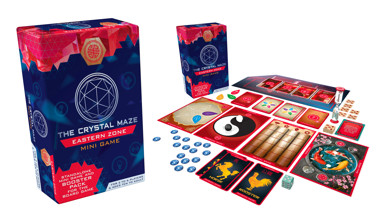 Delve into the ancient realm packed with an all-new set of mental, mystery, skill and physical games.
[Rascals, the makers of the Mr & Mrs Board Game and The Crystal Maze Board Game is pleased to announce the release of The Crystal Maze Eastern Zone Mini Game. This special themed edition coincides with the unveiling of the all new zone: The Eastern Zone on the hit Channel 4 show, inspired by the historic art, architecture and monuments of East Asia. It's the first time a new realm has been added to the format since the 1990s.
Players pit their wits against friends and family with this all-new set of skill, physical, mystery and mental challenges designed with replay-ability in mind, so they can be enjoyed again and again.
This special themed edition can be played independently or used as a booster pack of contents for The Crystal Maze Board Game (sold separately) adding the new zone to the big adventure.
Suitable for ages 10 to adult and for 2 or 6 players, The Crystal Maze Eastern Zone Mini Game is sure to challenge and excite even the bravest of adventurers with success being rewarded in the shape of precious time crystals just like in the TV show.
Whether a player is challenging themselves with mind-bending mental puzzles or a physical trial, the game has something for everyone.
The Crystal Maze Eastern Zone Mini Game will be available from September 2019 at Next, WH Smith and Amazon with pricing TBC
The Crystal Maze Board Game is available now from John Lewis, WH Smith and Amazon.
High Resolution imagery of both games can be found here
More information on the Eastern Zone can be found here
For 2 to 6 players
Ages 10 to adult
Contents:
Game board
4 × Game sign cards
Eastern Zone symbol card
Sand timer
Rules
Maze Master's manual
24 × Crystals
Mental/Mystery Game base
20 × Mental Game symbol tiles
5 × Mystery Game lotus petals
12 × Mystery Game cards
Skill/Physical Game base
Dice
12 × Physical Game zodiac cards
2 × Plastic balls
About Rascals
Rascals are the makers of the Mr & Mrs game based on the hit TV show, The Really Nasty Horse Racing Game and The Crystal Maze Board Game. Rascals' development team has many years' experience in the toy and game industry, working with some of the biggest selling game brands of all time, including Trivial Pursuit and Who Wants to Be a Millionaire?
Hot Smoked scoops three awards at the Gift of the Year Awards 2019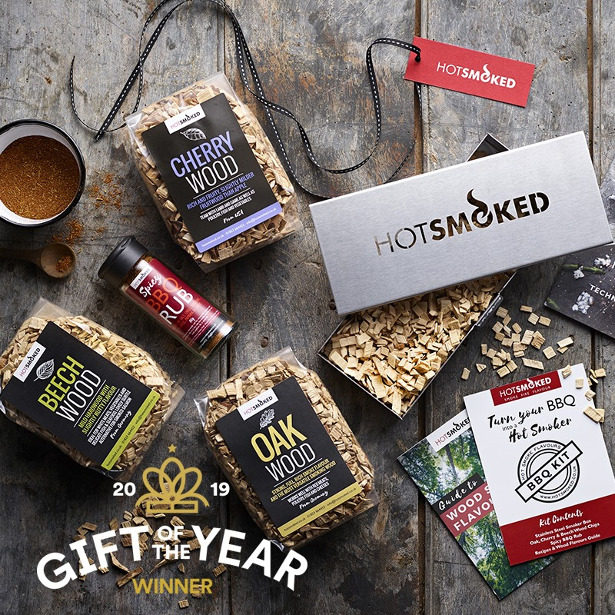 INSTAGRAM | TWITTER | FACEBOOK
A South West company, Hot Smoked, has been awarded three Gift of the Year Awards at this year's awards ceremony held at the NEC in February. Specialising in food smoking and bbq equipment, the company sells a range of starter gift packs designed to introduce bbq'rs to using wood smoke flavour in their outdoor cooking.
The winning kit, a BBQ Hot Smoking Kit which retails for £25, won both the Food & Drink and Garden & Outdoor award categories and was also awarded the overall Judge's Choice Gift of the Year 2019. The kit has all you need to experiment with hot smoking flavours and techniques on a bbq and includes three natural wood chips flavours, a stainless steel smoker box, spicy BBQ rub and a 24 page recipe booklet.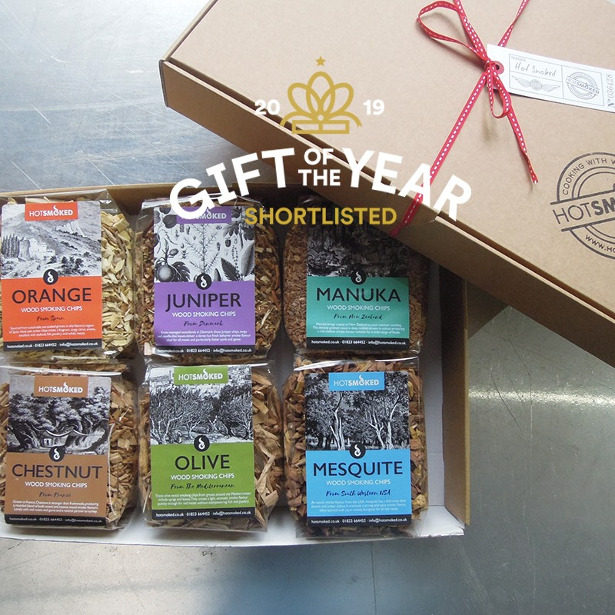 Packed by hand at the company's base in Devon, the gift kit features eco friendly packaging, strong presentation and lots of helpful information and its unique, innovative approach was praised by the judges. Hot Smoked was also shortlisted in the Garden and Outdoor Category with its Exotic Woods Collection, an introduction to more unusual wood flavours from around the world.
Run by The Gift Association the Gift of the Year Awards are an established event in the retail calendar with over 1100 entrants and success at the awards has been 'life changing' for previous winners. Amongst the judging panel were representatives from across the retail landscape including John Lewis, Sherriffs Foods, Scotts and Co, Beales, The Royal Mint, Handpicked, the Retail Gazette and specialist retail and buying consultants.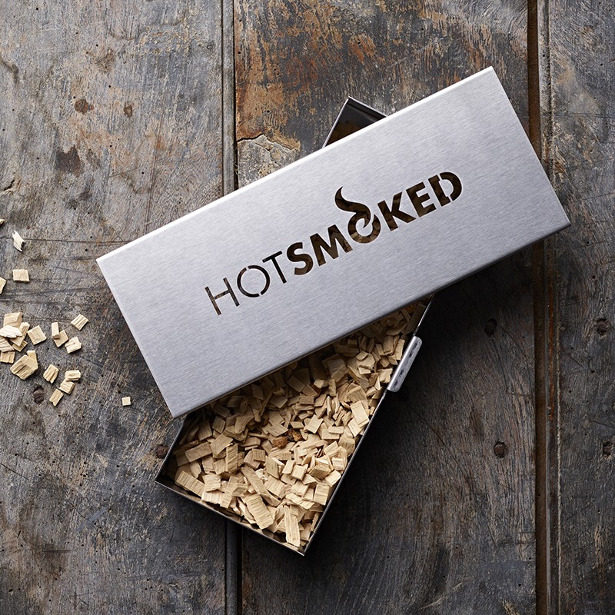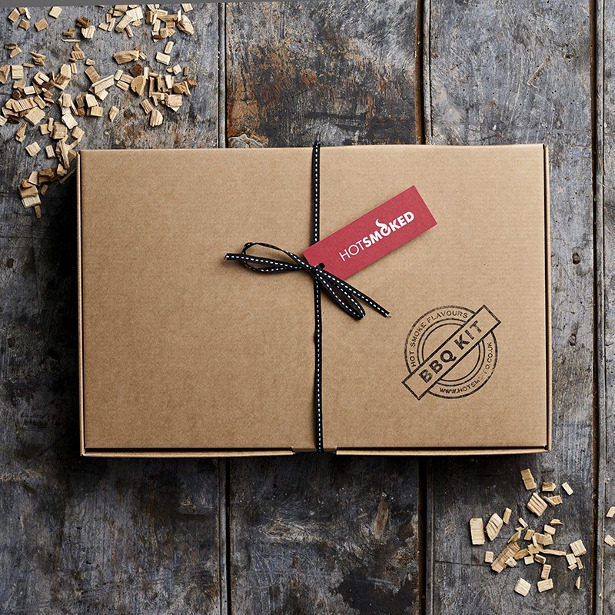 Audible Gift Membership

With over 400,000 audiobooks, dramas and exclusive podcasts to choose from, an Audible membership is the perfect gift for audio and book lovers. Whether you pick a one month (£7.99), three month (£23.99) or twelve month gift membership (£69.99 and 25% discount), huge savings can be made with up to 60% off selected audiobooks, a free credit each month and access to daily deals. Browse all Audible's gifting options at: www.audible.co.uk/ep/giftcentre
BEST-SELLERS
Sherlock Holmes: The Definitive Collection
By Arthur Conan Doyle
Narrated by Stephen Fry
A lifelong fan of Doyle's detective fiction, Fry has narrated the complete works of Sherlock Holmes – four novels and five collections of short stories. And, exclusively for Audible, Stephen has written and narrated nine insightful, intimate and deeply personal introductions to each title.
New York Times: "The pairing of Fry and Holmes is a bit of a marriage made in heaven."
BuzzFeed: "Sherlock Holmes. Narrated by Stephen Fry. Need I say more? Honestly though, what a perfect way to get away from it all while you're cooking dinner, commuting, or tidying up this weekend."
Jane Eyre
By Charlotte Bronte
Narrated by Thandie Newton
Following Jane from her childhood as an orphan in Northern England through her experience as a governess at Thornfield Hall, Charlotte Brontë's Gothic classic is an early exploration of women's independence in the mid-19th century and the pervasive societal challenges women had to endure.
AudioFile: "Narrator Thandie Newton gives a delightful performance of this beloved classic. She delivers the voice of Jane from childhood to adulthood with elegant conviction, breezing through the dense sentences as if they were part of a contemporary novel."
The Great Gatsby
By F. Scott Fitzgerald
Narrated by Jake Gyllenhaal
F. Scott Fitzgerald's classic American novel of the Roaring Twenties is beloved by generations of readers and stands as his crowning work.
The Odyssey
By Homer
Narrated by Claire Danes
The first great adventure story in the Western canon, The Odyssey is a poem about violence and the aftermath of war; about wealth, poverty, and power; about marriage and family; about travellers, hospitality, and the yearning for home.
Alice's Adventures In Wonderland
By Lewis Carroll
Narrated by Scarlett Johansson
One hundred and fifty years after its original publication, Alice's Adventures in Wonderland remains one of the most widely read, deconstructed, referenced, and reinterpreted works of Western fiction. Golden Globe nominee Scarlett Johansson (Lost in Translation, Girl with a Pearl Earring) brings a palpable sense of joy and exuberance to her performance of Lewis Carroll's enduring classic.
AUDIBLE ORIGINAL PODCASTS
West Cork
Created by Sam Bungey and Jennifer Forde
This much we do know: Sophie Toscan du Plantier was murdered days before Christmas in 1996, her broken body discovered at the edge of her property near the town of Schull in West Cork, Ireland. The rest remains a mystery.
The Times: "Is West Cork the new Serial? No, this murder mystery is far better."
Marie Claire: "A captivating investigative feature that fans of Serial and Making A Murderer will devour."
The Butterfly Effect
Created by Jon Ronson
Join best-selling author Jon Ronson as he traces the story of one very strange butterfly effect: What happened after a teen in Brussels figured out how to make porn free and easily accessible on the internet.
The Guardian: "It makes for a gripping listen, a story that unfolds in a madly unpredictable way."
Financial Times: "The Butterfly Effect has the same level of detail and widescreen storytelling that you would expect from a television documentary."
Where Should We Begin?
Created by Esther Perel
Featuring consensually recorded counselling sessions, Belgian therapist and TED alum Esther Perel walks her clients through the ways in which relationships can break down, play out and build back up again. This bold experiment in intimacy, offers listeners the chance to eavesdrop on the failing relationships of real couples.
Vogue: "Provocative, intriguing, and insightful all at once."
The New Yorker: "Refreshingly bold and optimistic."
The Beautiful Brain
Created by Hana Walker-Brown
A four-part investigative documentary from multi-award winning producer Hana Walker-Brown, The Beautiful Brain looks at the devastating effects of Chronic Traumatic Encephalopathy (CTE) – a degenerative brain disease found in people who've suffered severe or repeated blows to the head.
Sunday Times: "I can't stop thinking about its core message … The breadth of argument and depth of detail are remarkable."
Financial Times: "Thoughtful, compelling and frequently hard-hitting."
Observer: "Essential listening."
Sue Perkins' Earpedia: Animals
Created by Sue Perkins
Former Bake Off host, passionate animal lover and comedian Sue Perkins, is our indispensable guide to the animal kingdom. Join her on a comical, insightful and, at times, shocking nature trail around the world.
Sunday Times: "Animal Heaven"
The Sun On Sunday: "Hilarious"
PERFECT FOR HARRY POTTER FANS
Harry Potter Books 1 – 7
By J K Rowling
Narrated by Stephen Fry
A storytelling phenomenon, narrated by national treasure and BAFTA-nominee Stephen Fry.
The Times: "A marriage made in heaven, Stephen Fry reading Harry Potter."
Harry Potter: A History Of Magic
By Pottermore Publishing
Narrated by Natalie Dormer
Available exclusively in audio. Harry Potter: A History of Magic reveals some of the hidden stories behind real-world magic and explores some of J.K. Rowling's magical inventions alongside their folkloric, cultural and historical forebears.
Fantastic Beasts: The Crimes of Grindelwald – Makers, Mysteries and Magic
By Pottermore Publishing and Hana Walker-Brown
Narrated by Dan Fogler, Eddie Redmayne, Jude Law and others
Available exclusively in audio. Lifting the lid on the moviemaking secrets behind the latest installment in J.K. Rowling's Fantastic Beasts series, narrator Dan Fogler will guide you through the process of creating the magical on-screen world and explore the story, themes, and characters of Fantastic Beasts: The Crimes of Grindelwald.
Quidditch Through The Ages
By Pottermore Publishing
Narrated by Andrew Lincoln
Available exclusively in audio. A perennial best-seller in the wizarding world and one of the most popular books in the Hogwarts School Library, Quidditch Through the Ages contains all you will ever need to know about the history, the rules – and the breaking of the rules – of the noble sport of Quidditch
Block Out Some Time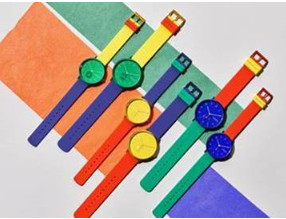 Introducing a fresh colour palette in the form of our favourite trend: colour blocking. With three new colour combinations on our ever-popular Aaren Kulor watch, these numbered and limited-edition styles provide the perfect pops of colour to your personal style.
Inspired by the unexpected colour combinations of trendsetters on the streets and runways of Copenhagen, our designers sought to bring the same fashion-forward design to your wrist. Including hues evolved from the original Aaren Kulor collection, the new colour palette begs to be worn boldly.
SKAGEN invites you to block out some time to play with colour. However you do it, make it about you and express yourself boldly. Your time starts now.
A Collector's Delight
London Underground Pin Badges Hit the Shelves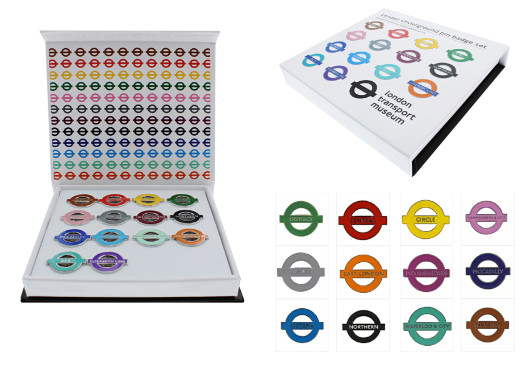 One of the most iconic symbols of the UK's capital, the Roundel is recognised by billions of people all over the world.
Since their introduction, the Tube Lines pins have fast become collectors items with many commuters wearing their line badge with pride.
Celebrated by Tube Lovers everywhere, London Transport Museum have had regular requests for the pins to be available as a set. In response to popularity and customer requests, London Transport Museum shop are delighted to introduce the
London Underground Pin Badge Gift Set.
Comprising all 14 London Underground Tube Lines pin badges, the set is sure to delight commuters far and wide.
LTM Pin Badge Gift Set.png
London Underground Pin Badge Gift Set – £30
London Transport Museum shop – ltmuseumshop.co.uk
If you require the assistance of reading glasses, then you know it can sometimes be difficult to complete easy outdoor tasks, like gardening, woodworking, or reading by the pool, as you need reading glasses to see but need sunglasses to shield your eyes from the sun.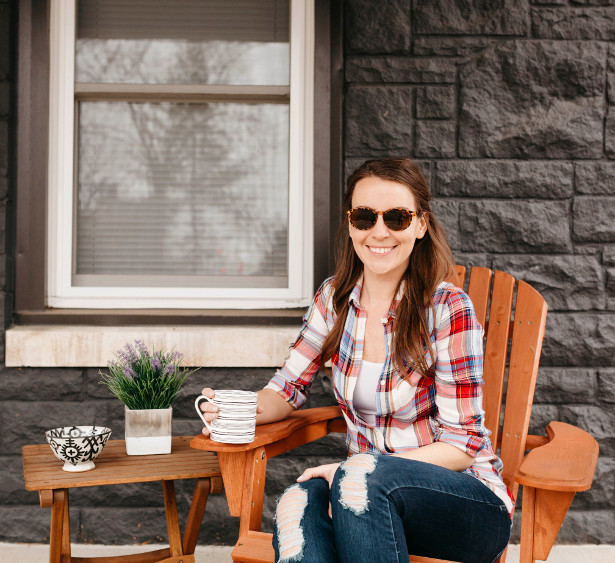 But here's where reading sunglasses come in. With convenient sun protection with bifocal style or fully magnified lenses, this is the perfect accessory for spending time outdoors this summer. With UV protection and fully magnified lenses, The Key West Reading Sunglasses by Readers.com are a must-have. Bonus: Metal accents on these retro-inspired tinted reading glasses add a touch of style. If The Key West isn't your style, then no worries! Readers.com offers a wide selection of reading sunglasses and an array of other speciality readers.
Deck the Halls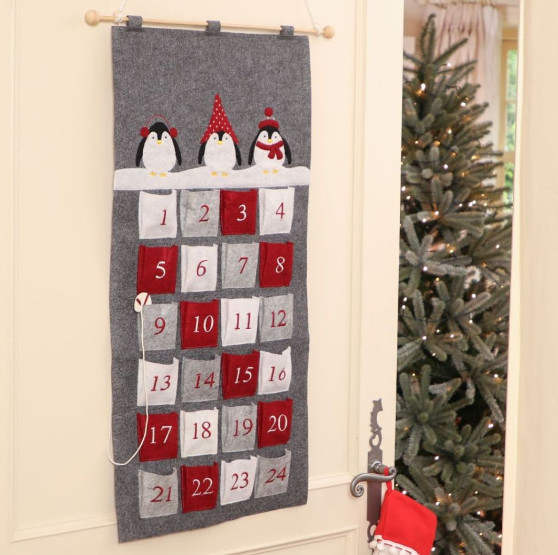 Dibor's Christmas collection has arrived and it's nothing short of magical. There is so much to enjoy; today we are introducing their advent calendars, stockings and table decorations. Wreaths, garlands and tree decorations will follow soon so watch this space!
Advent calendars have long been a traditional way of counting down to Christmas, building anticipation for the big day. Dibor's quality range of fabric advent calendars are sure to become family favourites, destined to be enjoyed year after year. Available in a range of styles, their advent calendars feature 24 numbered pockets that are ideal for filling with small gifts or treats in the run up to Christmas.
Pictured above: Christmas Penguins Hanging Advent Calendar, £16.00.
Initially London


The UK's most extensive monogramming and personalisation brand. They have created a graphic design technology that enables them to embroider a variety of monograms, crests and logos on a line of sustainably sourced products: whether it be an elegant tote bag, a collection of weekend bag gear, a set of crisp linen napkins, a whole range gorgeous homeware, practical yet stylish wash bags or even a yoga mat…if something can be stitched on, they can stitch it!
Americans have been ahead of the curve with monogramming for years and Initially London is trailblazing the luxury and lifestyle industry in the UK by enabling this process across such a variety of products….I'm including press release below with more info.
Highlights of the Christmas range are: Velvet wash bag sets, monogrammed candles, and personalised linens – pictures of which I will have next week.
www.initiallylondon.com
Hold the power with Marvel infinity stone glasses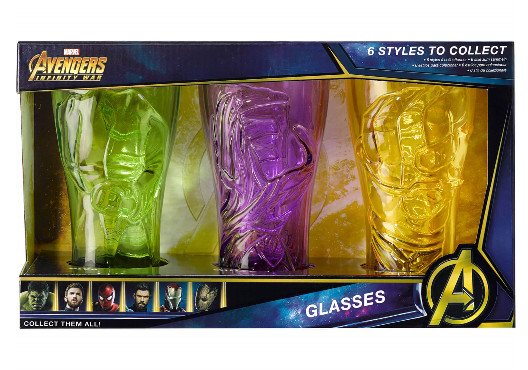 Keep on top form and ready to master the universe with these official licensed Marvel Infinity Stone Glasses. There is no better way top up your power than with this stunning collection.
Each glass holds a mighty 495ml, coming in set of three, these will help you keep you in total supremacy. The stunning set includes Hulk, Thor and Groot. Whether you prefer brute strength, a mighty hammer or simple life is up to you. Make sure you keep all of these glasses close to you and avoid Thanos stealing them and the super powers they behold.
The Meta Merch Marvel Infinity Stone Glass Set Of Three, costs £12.99 from Zavvi
OS Maps Subscription Gift Pack
New packaging to be provided asap.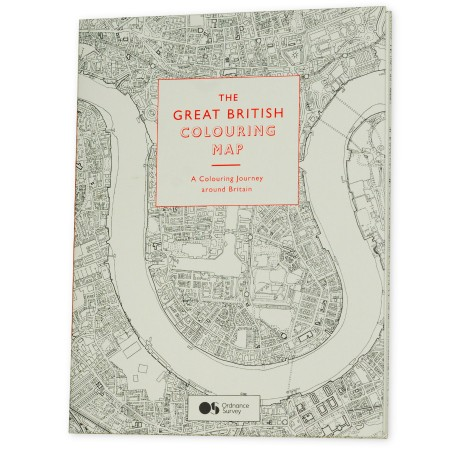 OS Maps is our online subscription service containing our complete set of 1:25 000 OS Explorer Maps and 1:50 000 OS Landranger Maps, National Park auto-routing, aerial photography and much, much more on all of your devices.
From finding and planning routes to printing them out and heading out exploring, it's the essential companion for anyone who loves exploring the outdoors.
£29.99
www.ordnancesurvey.co.uk/shop/os-maps-box.html
POP POPS from Yulu… more fun more play! Ideal Christmas Prep! Stocking Stuffer & Christmas Party Fun Toy! >> www.popops.com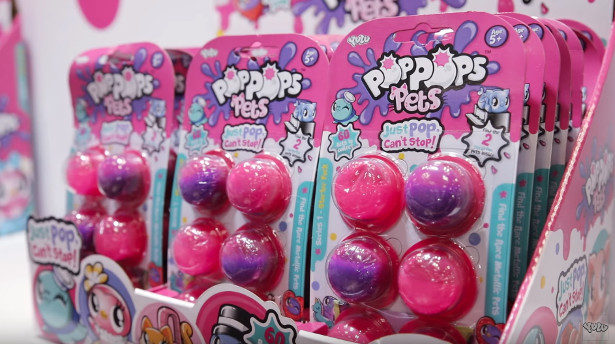 Whether you're looking for a special treat for yourself, are wanting to find the perfect gift for a loved one or simply want to fill your home with beautiful glassware this Christmas, there is something for everyone at Dartington Crystal. From glitzy champagne flutes to vases for your Christmas bouquets, right through to beer gift sets for Dad and gin sets for Mum.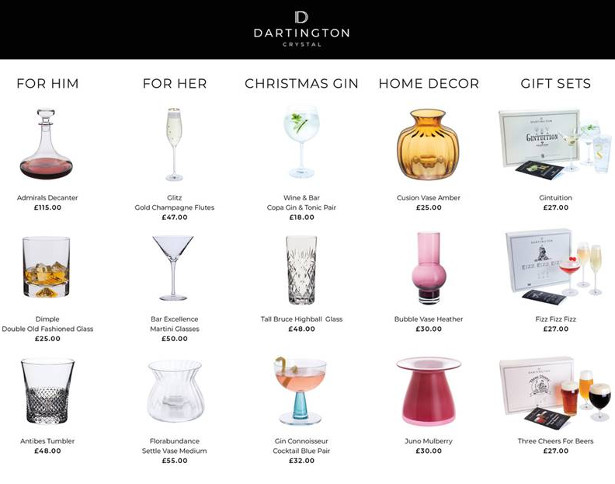 The leading name in contemporary crystal and glass, Devon based Dartington Crystal have been designing and manufacturing British made crystal and glassware for over 50 years, offering a selection of clear and coloured glasses and decorative homeware pieces.
This beautiful wooden train set from London Transport Museum shop is sure to be at the top of any child's wishlist!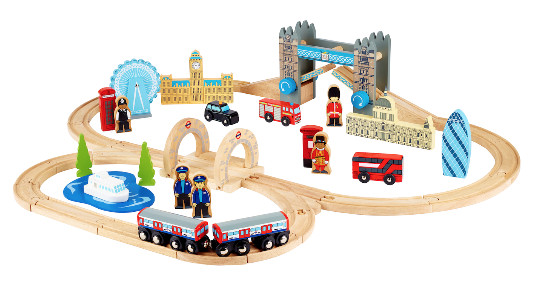 Bring the City of London to life as your child will become familiar with well-known London landmarks such as Tower Bridge, Houses of Parliament and London Eye.
Watch them take a journey into their imagination as they role play with the iconic London vehicles including the New Routemaster, a black taxi and London Underground tube trains.
Extending their play further, children will delight as they interact with the accompanying figures, including a Beefeater, police officer and London Underground staff.
City of London Wooden Train Set, £50, www.ltmuseumshop.co.uk
Steven Carey, London hairstylist has launched a hairdryer that dries hair faster and holds a blow-dry longer, due to the professional super-motor and combination of ionic and ceramic technology.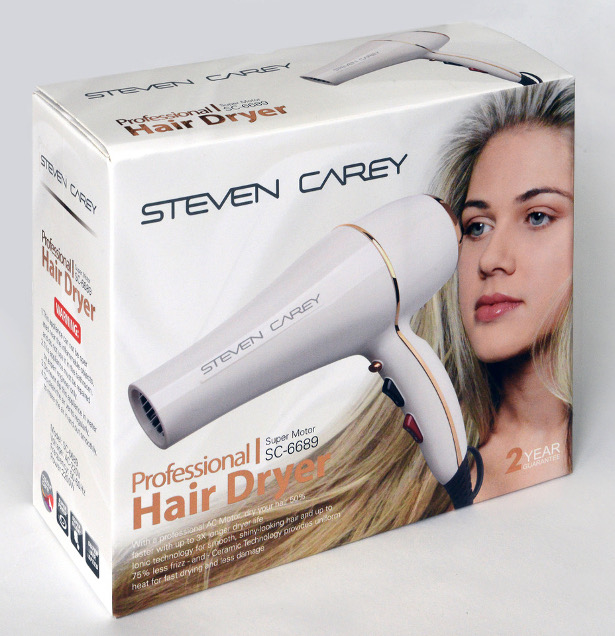 The Professional, Super-Motor Hair Dryer provides a gentle, consistent heat that lessens the damage to the hair and helps to create a less-fizzy blow dry whilst adding shine.
A timeless design flushed in gloss white and edged with rose gold, the Professional, Super-Motor Hair Dyer is priced at £79 and available exclusively at the Mayfair salon.
Speaking of his first, electrical product Steven Carey said "People are so time-poor these days and blow-drying your hair is a time-consuming activity. I wanted to give people the chance to have that luxury, but quicken the pace, without compromising on quality and design"
Congham Hall unveils Twixtmas Recharger break, plus kids stay free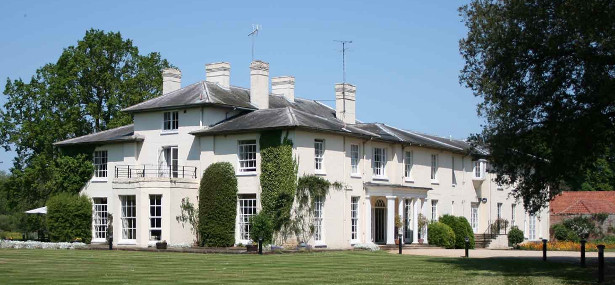 Congham Hall Hotel (01485 600250; www.conghamhallhotel.co.uk) in Norfolk has launched a three-night Recharger Break for the 'Twixtmas' period, which this year falls over a weekend.
The package, now available to book for 27-29 December 2019, offers guests the chance to recharge their batteries after the busy Christmas period. It's an opportunity to relax with friends or family, explore the local area and then kick back and let the staff at Congham Hall do the rest.
Guests can spend their days trying one of Congham Hall's downloadable local walks and trails, visit the wild beaches of the nearby 'Deep History' coast, explore the hotel's 30 acres of parkland or make full use of the Secret Garden Spa, which has a 12-metre indoor swimming pool, outdoor hot tub, a thermal suite with sauna, bio sauna, steam room, relaxing footbaths and experience showers.
The Recharger Break costs from £705 per room for three nights, including full English breakfast each morning and a three-course dinner in the evenings, based on two sharing a double or twin room. There is a range of room grades. Children stay free in their parents' room and pay for meals as taken.
To book: 01485 600250; www.conghamhallhotel.co.uk quoting 'Recharger Break'
GINSPIRATION FOR SOME SEASONAL SPIRIT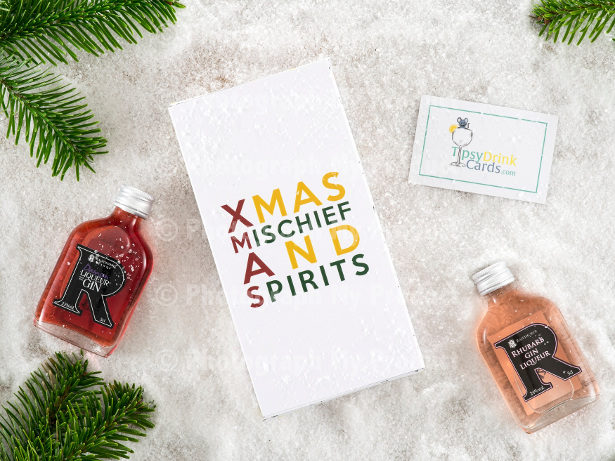 ME-TIME Therapies Officially Launch Christmas Bundles! Vegan Christmas Gift/Stocking filler under £10 & Body Butter (Vegan & Ethical) £9.50 Stock Will Not Last Long From This Very Popular Provider and they can be got on >> www.me-time-therapy.co.uk/product/handmade-vegan-body-butter/ Shipped by Amazon UK – Free Delivery.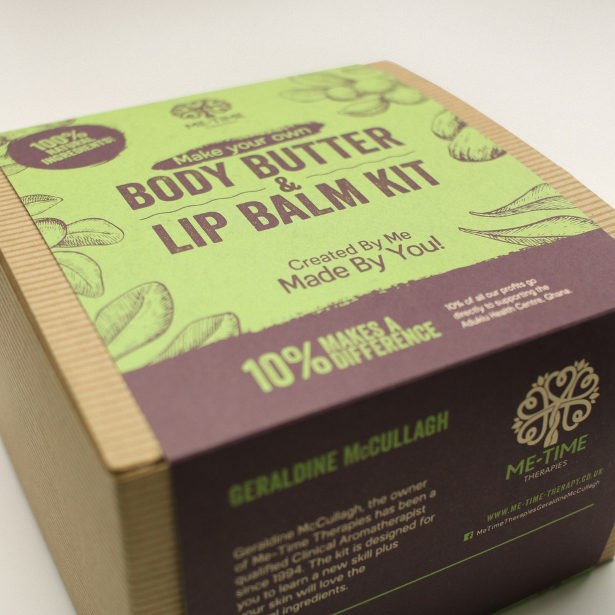 Join Santa Claus and the hard-working Christmas elves to create festive treats with the Christmas Bakery with Cookie Cutters set.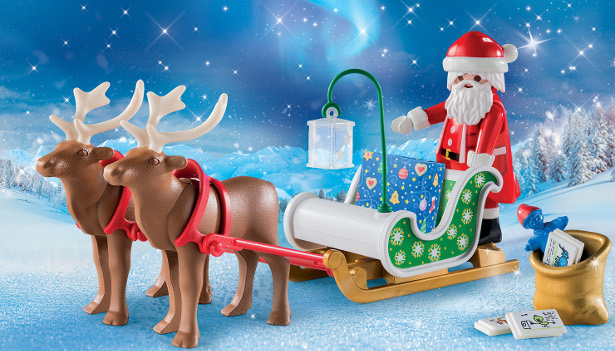 Transfer the baked goods out of the Christmas bakery via the cookie chute! This playset comes complete with cookie cutters and a biscuit stamp! For more inspiration, a cookie recipe can be found on the PLAYMOBIL website.
The Christmas Living Room set features a festive family scene and comes complete with three PLAYMOBIL figures, an illuminated Christmas tree, Advent arrangement and many more accessories.
Navigate Santa's Sleigh with Reindeer to help deliver the gifts to the children before they wake up! The set comes complete with Santa and two reindeer, a sleigh and accessories including a sack for storing the presents and letters.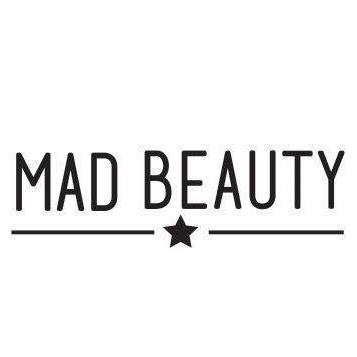 Mad Beauty UK go inter-galactic with Star Wars www.madbeauty.com 
Star Wars fans unite…. Mad Beauty UK have launched an imperial collection of Star Wars inspired Sheet Face Masks.
• Darth Vader, CP30, Yoda and Chewbacca
London based Mad Beauty are continuing to take the UK market by storm with its Award Winning, Design Led, beauty products.
Due to the success of their existing range face mask range in the last 12 months Mad Beauty have introduced four new designs, Darth Vader, CP3O, Yoda and Chewbacca with men in mind but appeal to all Star Wars fans alike.
Combine your love of Sci-fi with beauty what more could we ask… Set to be huge Q4, 2019
Get ready to launch your complexion into a world of moisture with these infused face masks. Each mask has the character printed on the sheet mask which will create some intergalactic fun.
In collaboration with Disney, Mad Beauty introduce…
Darth Vader – Infused with Black Tea – The Force is strong with this one
Yoda – Infused with Cucumber – Cool the skin it will
Chewbacca – Infused with coconut oil to bring out your inner Wookie
C3PO – Infused with honey to condition & bring out your golden glow
RRP £3.99 (single unit) £13.99 (multi pack of 4)
May the face be with you…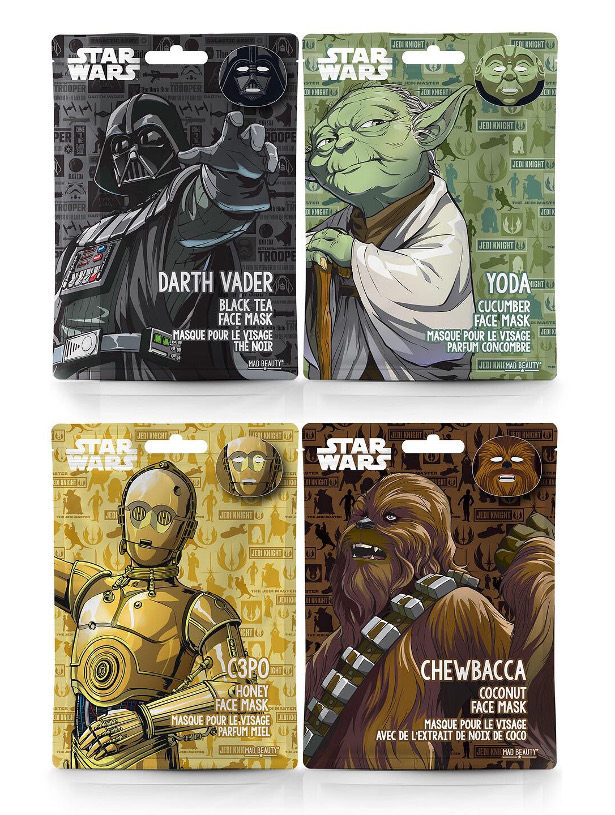 FACEBOOK | TWITTER | INSTAGRAM
Mad Beauty. The home of truly inspirational cosmetic gifts, including Award winning Vintage Kellogs collection, Never Too Old Inspired by vintage Disney
Company Overview
To view the entire collection visit www.madbeauty.com
Follow us on twitter at @mad_beauty
The home to inspirational cosmetic gifts including hand sanitzers, gift sets and much much more; so if you're looking to buy a treat for yourself or your loved ones Mad Beauty will have just the thing for you!
Mad Beauty provide innovative, fun and appealing beauty products for consumers and salons nationwide.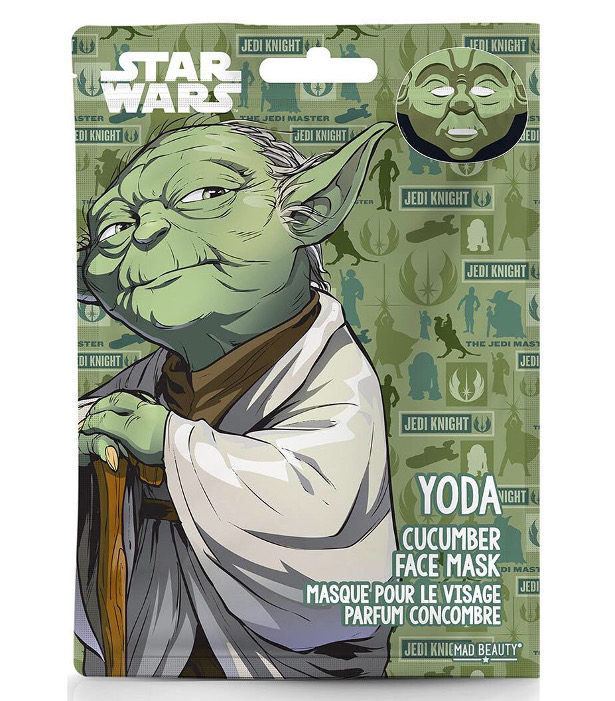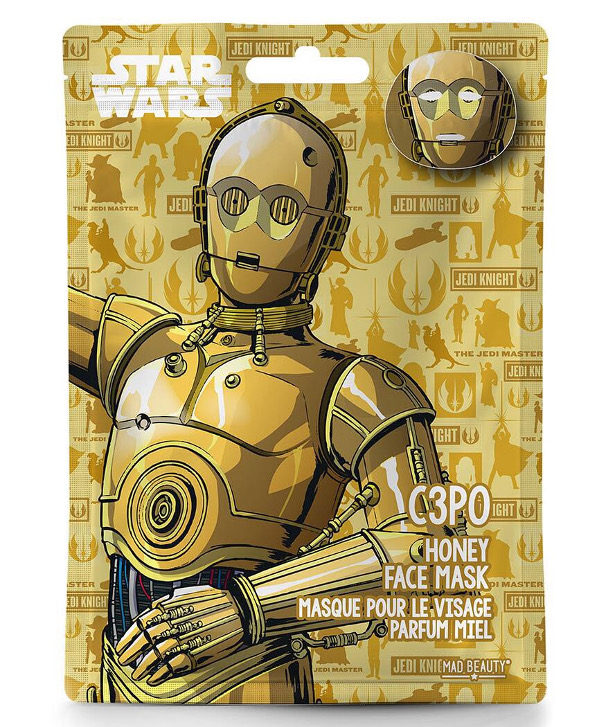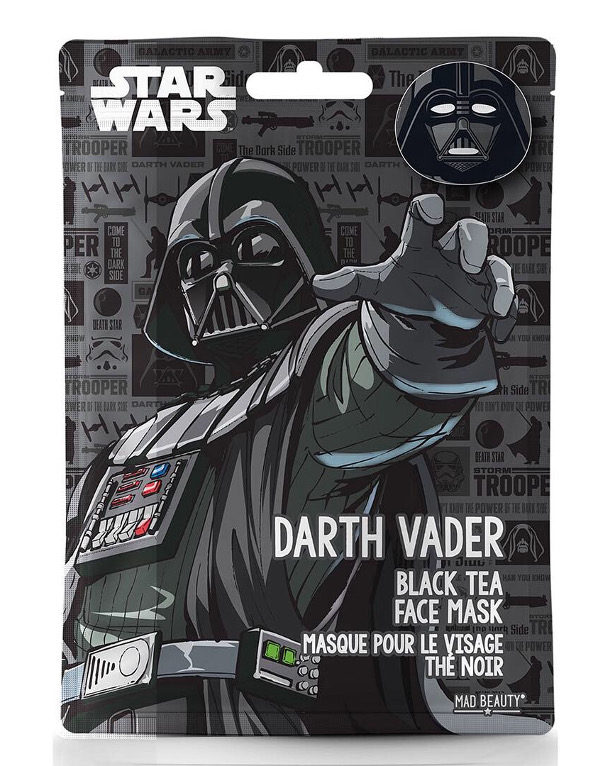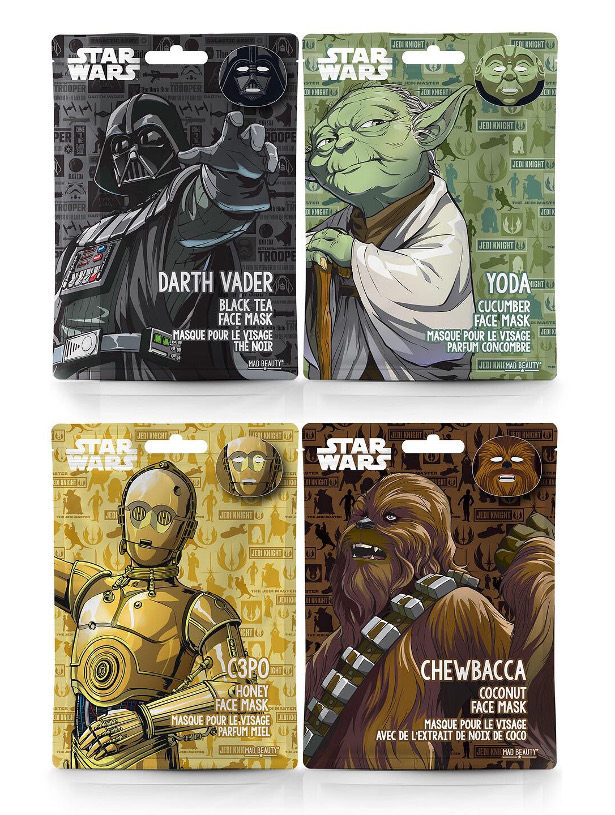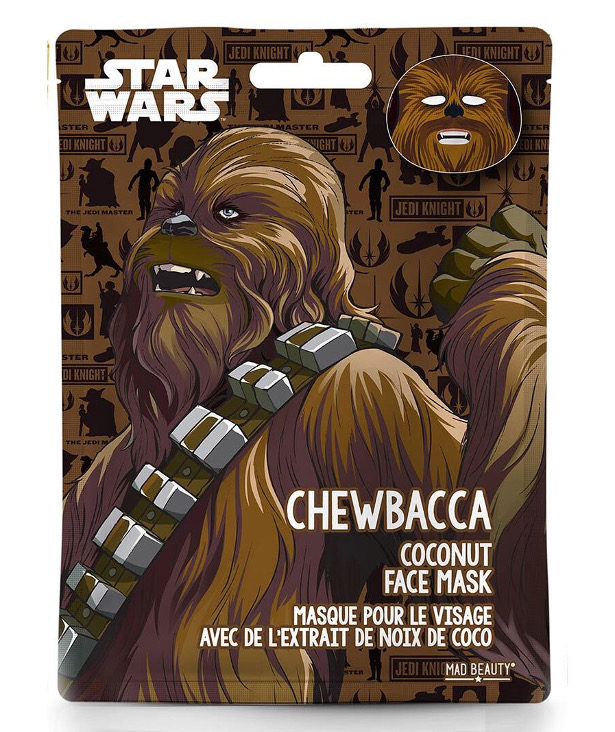 FACEBOOK | TWITTER | INSTAGRAM
In Stock! Check them out on the links!
Disney Villains Face Masks
£3.99
See more at :- www.madbeauty.com/gifts-c1/disney-c109/disney-villains-face-masks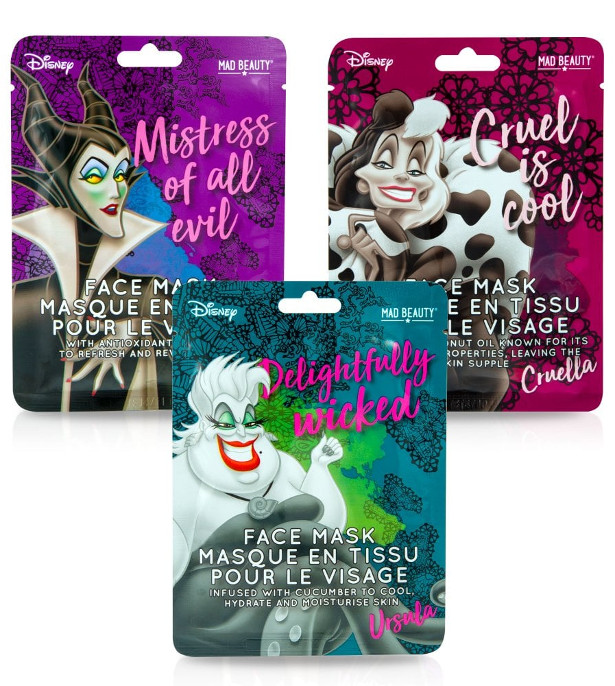 Disney Frozen Face Masks -1pc
£3.99
See more at :- www.madbeauty.com/gifts-c1/disney-c109/disney-frozen-face-masks
O' Christmas Tea, O' Christmas Tea: Countdown to Christmas with Pukka Herbs' Advent Calendar featuring 24 Health-Boosting Organic Herbal Teas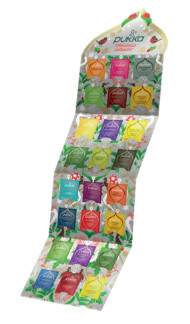 To celebrate the countdown to Christmas, Pukka Herbs – producer of organic herbal teas – are launching a new edition of their Christmas Calendar, containing 24 specially selected Pukka blends.
The Pukka Christmas Calendar will be available from Waitrose & Partners, as of 7th October for an RRP of £10.
Using the power of plants, Pukka's Christmas Calendar is a healthy and delicious alternative to traditional chocolate-filled advent calendars and perfect for people looking for a comforting cup of herbal bliss to revive them this festive season or gifting to loved ones.
Inspired by Pukka's tea box designs, the Christmas Calendar is festively designed, easy to hang on walls or doors and use as decoration this Christmas.
The calendar itself is a gift for good health and made sustainably to benefit the planet. Each Pukka teabag is plastic free, and the calendar is made from 80% recycled cardboard, 100% recyclable after use and is printed using vegetable-based inks.
The calendar will include Pukka's much-loved herbal teas, Turmeric Active, Turmeric Gold and Peppermint and Liquorice to bring you warmth, support digestion and help you beat the Christmas bloat.
Festive favourites Original Chai, Revitalise, and Wild Apple and Cinnamon are included along with Pukka's bestsellers, Night Time and Supreme Matcha Green – to help promote restful sleep and boost energy throughout the busy Christmas period.
To help maintain your health and vitality during the colder winter months, Pukka's Christmas Calendar also offers invigorating teas to boost immunity. Winter warriors, such as Three Ginger, Elderberry & Echinacea and Blackcurrant Beauty, to help support season wellness and promote a radiant glow from the inside out.
All of Pukka's teas have been expertly blended by Pukka Herbs Co-Founder and Master Herbsmith, Sebastian Pole to nourish, support, uplift and relax.
"Gone are the days of traditional chocolate-orientated advent calendars, as more people search for luxurious and eccentric alternatives to get us in the festive mood,' says Sebastian. "Not only does Pukka's Christmas Calendar deliver excitement, it also provides people with the chance to connect with more wonderful plants through a variety of our herbal teas.
"At Pukka, we think that every cup of herbal tea should not only be good for you but should taste great as well. That's why we use 100% organic practitioner-grade ingredients that are rich in natural oils, to enhance taste and depth of flavour as well as to increase potency and unlock the full wellbeing potential of each tea."
All Pukka Herbs teas and supplements are ethically sourced via sustainable means, from many different regions around the world. Pukka Herbs is dedicated to building and maintaining meaningful relationships, working compassionately with others and ensuring that business is used as a force for good to benefit people plants and the planet.
Even more Pukka Christmas Gift ideas…
Organic Tea Selection Box, available from Amazon (RRP £13.99)
A great gift for all tea lovers, featuring 45 of our favourite Pukka organic herbal teas. The selection box will include customer favourites such as Supreme Matcha Green, Turmeric Gold, Feel New and Night Time.
Pukka ceramic tea caddies, available from Amazon (RRP £14.99)
Inspired by Pukka's famous tea box designs, the premium ceramic caddies with bamboo lid come in three vibrant and beautiful variants; Revitalise, Turmeric Gold and Revitalise. Each caddy comes filled with 10 individually wrapped tea sachets.
The caddies themselves are a gift for good with ceramic bodies containing no bone and lids made from natural, rapidly renewable bamboo fibre.
British jewellery designer, Will Odell, has a beautifully timeless collection called Cambré which takes inspiration from the graceful movements found in ballet.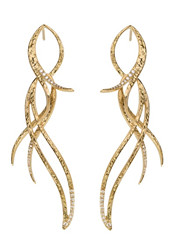 Handmade in Will's Holborn studio using traditional techniques, the Cambré Collection features distinctive hammer-textured 18ct gold rings, earrings and pendants. Each piece is finished to the highest quality and set by master setters using superior gemstones including blue spinel, pink tourmaline and diamonds.
Hero pieces include the eye-catching statement ring – 'Swift Ring' – an ideal alternative engagement ring or anniversary gift, and the graceful 'Cascade Earrings' which detaches into two different looks for both day and evening wear (pictured).
35-year-old Will Odell has been hand-crafting gold and silver jewellery for over ten years, and comes from a long line of metalsmiths (the Odell family have been ironmongers for seven generations, since 1745).
CHOC ON CHOC UNVEILS 2019 CHRISTMAS COLLECTION
UNIQUE FESTIVE TREATS REIMAGINED IN PURE BELGIAN CHOCOLATE

For the 2019 festive season, artisan Bath-based chocolatier, Choc on Choc (www.choconchoc.co.uk) has revealed its Christmas collection: a decadent range of inventive gifts, lovingly handmade from pure Belgian chocolate.
With a range of bespoke gifts from Chocolate Brussels Sprouts to edible Christmas Jumpers, Choc on Choc is perfect for gifting friends, family or colleagues with its collection of festive stocking fillers and indulgent novelty gifts.
Choc on Choc's creations are handmade from the finest Belgian milk, white and dark chocolate using the brand's patented production method that layers chocolate on top of chocolate, allowing its master chocolatiers to create any design imaginable.
FESTIVE FAVOURITES
Christmas Jumpers
(£25.00)
Chocolate
Brussels Sprouts
(£9.50)
The Night Before Christmas (£20.00)
Everyone loves a festive knit! This unique gift features six Christmas jumpers, handcrafted from the finest Belgian chocolate.
It's a Christmas miracle! Choc on Choc has reimagined this hotly debated festive vegetable in pure Belgian chocolate, designed to please everyone.
Choc on Choc's 'Night Before Christmas' collection will power Santa through Christmas Eve with a chocolate mince pie, mini bottles of milk, prosecco and whiskey and, of course, a chocolate carrot for Rudolph!
SENSATIONAL STOCKING FILLERS
Chocolate Yoga Box (£12.00)
Chocolate Fishing Set
(£12.00)
Chocolate Knitting Set (£12.00)
The ultimate present for yogis, Choc on Choc's Chocolate Yoga Box is filled with delicious sporty shapes for zen vibes this festive season.
Angling for some brownie points with a fishing fan?! Choc on Choc's Belgian Chocolate Fishing Set is a must for any would-be anglers.
Choc on Choc's quirky Knitting Set, complete with chocolate balls of yarn and knitting needles, will leave avid knitters in stitches.
Chocolate Dumbbells
(£7.50)
Build Your Own Chocolate Castle
(£12.00)
Mini Chocolate Unicorns (£9.00)
The perfect treat for fitness fanatics with a secret sweet tooth, Choc on Choc's box of nine mini Chocolate Dumbbells are handcrafted from the finest Belgian dark, milk and white chocolate.
Make Christmas dreams come true this year with Choc on Choc's Build Your Own Chocolate Castle, a unique gift for crafty chocolate lovers!
A magical Christmas gift of nine mini, white and dark Belgian chocolate unicorns, complete with flowing pink manes and bordered with twinkly chocolate stars.
CHRISTMAS CLASSICS
Chocolate Biscuits
(£12.00)
Chocolate
Cheeseboard
(£30.00)
Mini Chocolate Rudolph (£5.00)
A selection box of everyone's favourite biscuits, recreated in pure Belgian chocolate, featuring a buttery Custard Cream, a decadent Bourbon, a Party Ring, Jammie Ring, Chocolate Digestive and two Pink Wafers!
What's Christmas without a cheeseboard? This gift brings together a selection of classic cheeses crafted by hand from the finest milk, dark and white Belgian chocolate.
Choc on Choc's miniature Belgian chocolate Rudolph, complete with red nose, is the perfect stocking-sized treat or Christmas table favour for this year's festivities.
Have yourself a corporate Christmas party, on the Sussex coast…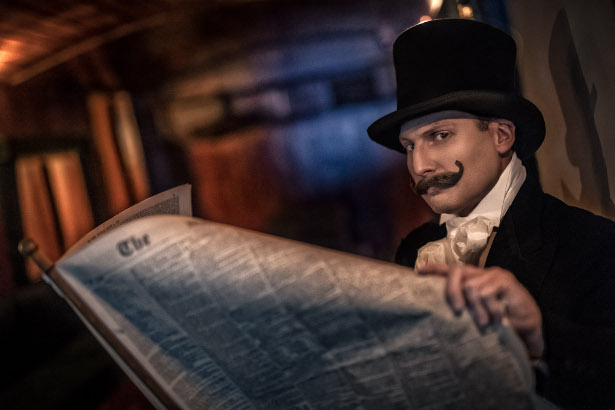 Organising a company Christmas party that appeals to everyone is often the boss's worst nightmare. This year why not offer the staff an experience they will never forget?
Set in Brighton, Phileas Fogg's World of Adventures is a triple-award-winning, authentic attraction. Take the staff across the globe through a series of 12 four-dimensional themed rooms to overcome Phileas Fogg's mind-boggling games in teams.
Going around the world begins with a train ride from Paris. People also experience a stint in jail and bar games in a Wild West saloon bar, among others. All rooms were handcrafted by the same team behind the Harry Potter and James Bond props and scenery.
Each room is brought to life with scents and special effects all cleverly held together by a costumed actor providing side-splitting storytelling.
Following the team experience all delegates are recharged with a drink and pizza or a buffet in Phileas Fogg's bar – 'The Reform Club'.
The Phileas Fogg Christmas package retails at £59.50 per person and up to 60 delegates can be accommodated at one time.
For more information on Phileas Fogg's World of Adventures and its attractions visit www.phileasfoggsworldofadventures.co.uk.
Gift ideas for Secret Santa/Stocking Filler lists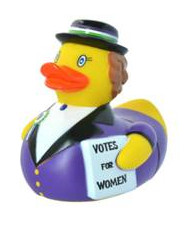 Our range of exclusive products are perfect for featuring in Christmas gift lists. Customers in the UK receive free UK delivery on orders over £50. The sale of all our products helps maintain the majestic Palace of Westminster for future generations.
Below is a selection of the many items available. High resolution photographs of all products sold on the website can be provided on request. A limited number of samples can also be provided on request.
Suffrage Duck – £6.95
Dubbed the 'suffraduck', the suffragette duck is exclusive to the Houses of Parliament Shop and has been one of this year's best-selling products. The suffraduck made a surprise appearance in the Twitter feeds of several MPs and journalists last summer when they arrived in Westminster to find several hundred ducks floating in the fountains of Portcullis House. Among them was BBC journalist Laura Kuenssberg.
Exclusive to Houses of Parliament Shop
www.shop.parliament.uk/products/suffragette-duck
House of Commons Golf Balls – £12.95
A set of three House of Commons Callaway golf balls of professional quality. These golf balls also feature the Portcullis symbol.
Exclusively designed for the House of Commons
www.shop.parliament.uk/collections/food-drink/products/21107
House of Commons Tea Bag Tin – £5.95
Stuck for a present for a tea-loving politico family member or co-worker? The Houses of Parliament Shop has the solution! The House of Commons tea bag tin features 40 ethically sourced, quality English Breakfast tea bags.
www.shop.parliament.uk/collections/food-drink/products/21107
Prime Minister Illustrated Playing Cards – £4.95
Learn about Britain's past Prime Ministers with this pack of playing cards. Each card is beautifully illustrated and includes a portrait and a description of the Prime Minister.
www.shop.parliament.uk/products/21316?_pos=1&_sid=13dc23de4&_ss=r
Votes for Women Collection – £2.00-£60.00
Our Votes for Women range features silhouette designed stationery, mugs and tote bags, as well as designs inspired by the 'Proclamation' poster used in 1908 when suffragettes Muriel Matters and Helen Fox chained themselves to the grille of the Ladies' Gallery windows in the House of Commons.
Exclusive to the Houses of Parliament Shop
www.shop.parliament.uk/collections/votes-for-women?page=1
House of Commons Shot Glass – £2.95
Ideal for a secret Santa gift under £5, the Houses of Parliament Shop stocks a single shot glass featuring the House of Commons logo and portcullis in green.
www.shop.parliament.uk/collections/gifts/products/house-of-commons-shot-glass
After Dinner Mints – £4.95
The Houses of Parliament Shop's mint creams are our all-time best-selling product and are extremely popular with Members of Parliament. The mint creams combine rich dark chocolate with a deliciously soft mint fondant and are the perfect way to round off an evening meal.
Vegetarian and gluten free | Available in 200g or 400g | Made in the UK
www.shop.parliament.uk/collections/gifts/products/20976
Big Ben Rubber Duck – £5.95
This fun Big Ben rubber duck is the perfect addition to bath time.
www.shop.parliament.uk/collections/gifts/products/21529
Poker Dice in Recycled Leather Case – £9.95
A recycled leather pouch containing five poker dice, emblazoned with the Portcullis motif.
Made from recycled leather | Made in the UK | Exclusively designed for the House of Commons
www.shop.parliament.uk/products/poker-dice-leather
Gunpowder Mustard – £7.95
Christmas wouldn't be Christmas without cold cuts and cheese on Boxing Day, and to accompany your ham, cheddar and pickles this year the Houses of Parliament Shop have a pungent mustard that'll spice things up rather nicely. Packaged in a cardboard barrel and labelled as "Gunpowder Mustard", this quirky condiment will make an ideal gift for foodies.
www.shop.parliament.uk/collections/gifts/products/gunpowder-mustard
Titles Collection – £2.95 – £19.95
Our Titles Collection feature coasters, aprons, tote bags, mugs, notelets, keyrings and more, ideal for the Chief Whip, Chancellor of the Exchequer, Honourable Lady, Honourable Gentleman or Leader of the House in your life.
Exclusive to the Houses of Parliament Shop
www.shop.parliament.uk/collections/titles
Tin of Scottish Shortbread Biscuits – £6.95
Enjoy this tin of buttery handmade shortbread. This box of 10 treats comes in a green and gold tin for the House of Commons.
Suitable for vegetarians | Made in the UK
www.shop.parliament.uk/products/30371
The new Rocky Road Wreath recipe is made using the newest addition to the Schär range, the Delishios. The Delishios are made with a light, crunchy cereal centre and are smothered in indulgent milk chocolate. They are the perfect sweet treat for gluten free foodies and are the first of its kind in the UK Free From category.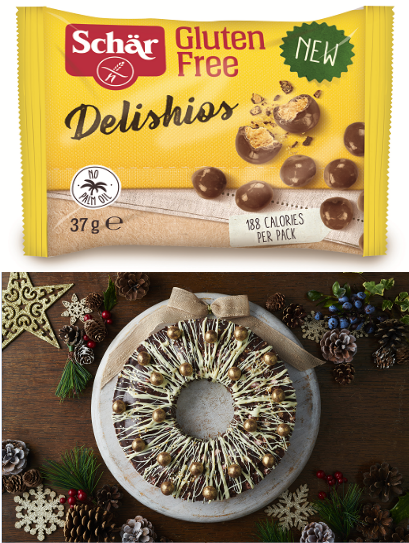 Schär Delishios
Available from: Asda stores nationwide
Delishios can be found in the free from aisle.
RRP: £1.00
Pack size: 37g
Calories per pack: 188
Rocky Road Wreath
Ingredients:
For rocky road:
180g dark chocolate
50g butter
3 tbsp golden syrup
3 x 37g packets Schär Gluten Free Delishios, halved
60g Schär Gluten Free Pretzels
50g marshmallows
For decoration:
50g white chocolate for decoration
1 packet of Schär Delishios
Gold edible glitter/lustre
Method:
1. Grease and line a bundt tin (you can use a normal cake tin if you don't have a bundt tin).
2. Melt the chocolate and butter in a bowl over a pan of boiling water. Set aside to cool for 10 minutes.
3. Add the golden syrup to the chocolate and butter mix.
4. Mix in the Delishios, Pretzels and marshmallows. Stir well to ensure all the ingredients are coated in the chocolate.
5. Spoon the mixture into the bundt tin and press down firmly. Refrigerate for two hours before decorating. (Tip: If using a cake tin, place a mug in the middle of the tin and add the mixture around this to achieve the wreath shape.)
6. Remove from the tin once you are ready to decorate.
To decorate:
1. Melt the white chocolate and use a spoon to drizzle onto the rocky road.
2. Empty one packet of Schär Delishios into a plastic bag with a small amount of the gold lustre dust. Make sure the bag is tied, then shake until all the Delishios are covered.
3. Affix the Delishios to the top of the rocky road wreath using a blob of white chocolate.
4. Serve and enjoy!
The gifts that home and garden lovers really want this Christmas: Bosch Christmas Gift Guide 2019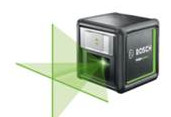 The countdown to Christmas is well underway. From pressure washers to laser measures, and glue pens to lawnmowers – if you're searching for the perfect gift this Christmas, then look no further. From avid gardeners and DIY aficionados, through to novices and home crafters, Bosch Home & Garden has something for all.
Stocking fillers: sub £100
Bosch Gluey
The Bosch Gluey is the gismo you thought you could live without – until you owned one. Ideal for those who love arts and crafts, this is a fantastic gift. The Gluey's ergonomic pen shape fits comfortably in the hand so you can quickly stick, decorate or make repairs on a wide variety of materials. It also includes environmentally friendly, rechargeable AA batteries. RRP: £29.99 (tool only)
Bosch IXO
A picture containing appliance
Description automatically generatedThe Bosch IXO cordless screwdriver is a fantastic gift for those who are always on the lookout for a DIY project. Versatile and adaptive, with this tool you can take on a wide variety of everyday tasks at the press of a button. Its ergonomic handle design allows for multiple grip positions and its MicroUSB charger means it's simple to charge. RRP: £29.99 (tool only)
Bosch Quigo Green
Perfect for those who love home interiors, this self-levelled laser cross makes it easy to quickly align pictures on the wall. The green laser technology gives you up to four times better visibility, even under bright lighting conditions. With an extended working range of up to 12m, the Bosch Quigo Green is also ideal for tiling, setting curtain rails and, of course, hanging Christmas cards. RRP: £59.99 (tool only)
Bosch GlassVAC
Winter temperatures can hail the arrival of condensation in the home. For that person who loves to entertain guests at home, the Bosch GlassVAC window vacuum helps you stop it in its tracks. Whether it's on windows, mirrors or shower cubicles, the Bosch GlassVAC absorbs moisture with streak-free results. Its rubber blade features Power Protection Plus polymer coating technology from Bosch's leading automotive windscreen wipers. RRP: £64.99 (tool, charger, large suction head, small suction head, spray applicator bottle, large and small microfibre cloths).
Bosch EasyPrune
A great gift for the gardener in your life. When overgrown stems and branches become too much to bear, cutting back has never been easier than with the Bosch EasyPrune. With Power Assist Technology you can cut through thin and thicker branches cleanly to promote healthy plant growth. These pruning shears are easy and intuitive to use especially when the winter weather has removed all the leaves! RRP: £85.00
Bosch Zamo Set
There's nothing worse than a wonky shelf or uneven table, but with the Zamo you don't need to worry. This adaptable laser measure tool can be used for measuring objects, areas and distances up to 20 metres. Its simple, one-button control means it's easy to use, and the tape, wheel or line adapter help to make any project easy to complete. A lovely gift for those who love to create and build their own DIY projects. RRP: £89.99 (tool, batteries, Line Adapter, Tape Adapter, Wheel Adapter).
DIY & garden gifts: sub £200
Bosch UniversalGardenTidy
Help proud gardeners keep the lawn or driveway tidy by giving them the brand new UniversalGardenTidy blower-vacuum. With its lightweight design, a new ergonomic handle and three-in-one functionality, you can blow, vacuum and shred garden waste effortlessly. It is now up to 75% quieter than previous models and also features a new metal fan to maintain optimal shredding performance for longer. RRP: £104.99 (tool, collection bag, support strap).
Bosch EasyCut 12
For no fuss, DIY enthusiasts look no further than the Bosch EasyCut 12. Its NanoBlade technology offers easy, vibration-free sawing and its maintenance-free blades don't require oiling, sharpening or tensioning. Giving you flexibility for your designs you can freehand saw wood and plastics, and SDS enables quick and easy keyless saw blade changes. RRP: £129.99 (with battery and charger)
Bosch AdvancedCut 50
If the DIY lover in your life likes to tackle big projects, the AdvancedCut 50 is perfect. It also includes NanoBlade technology for easy, vibration free sawing, and you can make fast and easy adjustments for 0° to 45° bevel cuts. As well as bevel cuts, with this adaptable saw you can also make groove cuts in two heights, as well as straight and plunge cuts. RRP: £129.99 (tool only)
Bosch UniversalGrass Cut 18-26
hbgrasscut_037Lightweight and easy to use, the UniversalGrassCut 18-26 grass trimmer is a great gift for garden perfectionists. It makes tidying up the garden the simplest of tasks thanks to its grip and hands-free one-click rotatable head – which removes the need for bending over or awkward manoeuvring. What is more its V-shaped handle is ergonomically designed to encourage a natural and comfortable working posture. RRP: £149.99 (tool, battery pack, charger).
Bosch AdvancedImpact 18
Whether you know someone who is a DIY expert or if they're just starting, give them the new Bosch AdvancedImpact 18 combi drill. Capable of tackling jobs using wood and steel, and even tough impact drilling tasks on brick and limestone, this versatile tool has intuitive selection modes and automatic gear changes to ensure that the job gets done with minimal fuss. RRP: £189.99 (tool, battery, charger, chuck adapter, screwdriver bit).
Garden gifts: sub £300
Bosch CityMower 18
Help someone keep on top of the lawn this summer by giving them the brand new cordless CityMower. Ideal for tackling small lawns, it can mow up to 200 square metres on a single charge, and is the first lawnmower in Bosch's 18 V Power for ALL battery system line-up – meaning that the nifty 18-volt battery can be used in over 25 cordless tools across Bosch's DIY and garden tools range. It is incredibly easy to manoeuvre, and its 34cm cutting bowl offers excellent cutting performance. RRP: £215.99 (tool only); £269.99 (tool, battery, charger).
Bosch Fontus
A great gift for anyone who loves the outdoors, the Bosch Fontus Cordless Outdoor Cleaner has a 15-litre integrated water tank and can be used at home or on the go. It doesn't need access to a mains water or electricity supply, giving you the freedom to clean anywhere, anytime. Its adjustable water pressure and SmartBrush Extendable Handle also means it is perfect for giving garden furniture and pots a new lease of life, as well as cleaning bikes, boots and more. RRP: £269.99
Something special
Bosch Indego S+ 350 Robotic Lawnmower
The Bosch Indego range is the robotic lawnmower all tech lovers want this Christmas. The Indego cares for your lawn so you don't have to. Simply switch it on and it will cut within a pre-set perimeter by itself, covering a lawn area of up to 350m². Thanks to Connected Technology, you can even operate the Indego re-motely and easily via an app. Make it a really special gift with the series of personalised covers. RRP: £899.99
HAVE A VERY MERRY CHRISTMAS TREE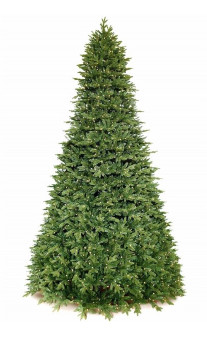 – Find some fantastic deals on Christmas trees this year
– High-quality Christmas trees ranging from 4ft to 40ft, which are stylish and affordable
Christmas wouldn't be the same festive spectacle without investing in a Christmas tree to help spread cheer and joy. This can be a big decision for families, so it's important to make the perfect choice.
The Christmas tree creates a focal point for any home, whether it be placed outdoors or in, so it's important to pick a style and size which suits. Christmas Tree World has a fantastic selection of premium artificial trees, ranging from 4ft to 40ft – meaning there is a size to fit all.
Giant Outdoor Woodland Pine
Brighten up any street or city with the Giant Outdoor Woodland Pine Christmas tree, perfect for bringing a touch of the festivities outdoors.
This tree is a great choice for those wanting to make an impact this Christmas and who love the natural look of a real Christmas tree thanks to its highly realistic branch tips.
This model is available in sizes from 13ft to 40ft and is designed with a quality frame to sit firmly on any surface. Available in unlit or pre-lit, this Christmas tree is one not to be missed.
Pricing available on request and depends on size.
The Ultra Mountain Pine
The Ultra Mountain Pine Christmas tree offers an exceptionally realistic look, with contoured branches which extend full and bushy tips to make this tree stand out.
It's the perfect choice for families who want a traditional look this Christmas. Choose from the unlit or pre-lit version, which has built in LED lights for those who want to keep decorating quick and simple.
This model is available in a range of sizes from 4ft to 10ft and comes with attached hinged branches which are easy to assemble.
RRP from £53.99, depending on size.
The Arbor Ultima
Make a statement this year with the Arbor Ultima Christmas tree, designed with compact PE foliage to create a bushy and full-looking tree.
This tree is easy to assemble thanks to the attached hinged branches, whilst the folding metal stand ensures it has a solid base. Designed in new-shoot green to add a fresh colour to this impressive tree, it's the perfect choice for families who love a modern look.
Available in a range of sizes from 4ft to 12ft, this traditional tree is great value for money.
RRP from £59.99, depending on size.
The Mountain Pine Tree
The realistic Mountain Pine Christmas tree is a great festive choice. It has long, life-like branches which have up-swept tips and are designed to impress.
It's the perfect platform to decorate with some sparkly decorations, such as lights, baubles and other colourful trinkets to create an extra special Christmas.
With easy to assemble hook-on branches, this affordable tree is available in a range of different sizes, from 4ft to 14ft.
RRP from £32.99, depending on size.
The Ultra Pre-Lit Devonshire Fir
If the family is looking for a realistic bushy branched Christmas tree, then look no further than the Ultra Pre-Lit Devonshire Fir. The natural dark green silhouette is a very popular design and gives this tree a truly festive feel.
With a choice of warm white or multicolour LED lights, this tree makes decorating an easy task so you can concentrate on picking your favourite festive trinkets and baubles to finish the look.
This tree is available in a range of different sizes, from 4ft to the 12ft option.
RRP from £69.99, depending on size.
The Woodland Pine Tree
A popular choice for families who love the look of a real and bushy Christmas tree is the Woodland Pine. The extra full branch tips ensure there are no gaps to create a fuller look.
Simply hang some beautiful ornaments and lighting to help bring the festivities indoors and bring the tree to life.
Available in a range of different sizes, this affordable tree ranges from 3ft to the impressive 20ft option.
RRP from £23.99, depending on size.
The Pre-Lit Green Classic Pencil Tree
This stylish Pre-Lit Green Classic Pencil Tree is designed with elegance in mind making it the perfect choice to help spread Christmas cheer amongst family and friends.
The slim fit pencil design is ideal for those with smaller indoor living areas and is perfectly on-trend. The delicate branches are the perfect platform for hanging delicate decorations whilst the fitted LED lighting makes decorating an easy task.
Suitable for all size homes, this magical tree is available in a range of sizes from 4ft to 8ft.
RRP from £47.99, depending on size.
The Snowy Alpine Tree
Create your own winter wonderland at home with the realistic Snowy Alpine Tree – perfect for capturing the magic of Christmas.
Quick and easy to assemble, this tree looks beautifully real with fluffy snow and green branches, requiring little decoration to bring this festive spectacle to life. It is a great model to hang your sparkly decorations and comes in a choice of unlit or pre-lit.
This mystical tree is available in a range of sizes from 5ft to 8ft.
RRP from £65.99, depending on size.
The Vesuvius Fibre Optic Fir
The Vesuvius Fibre Optic Tree creates a beautiful standalone spectacle in the home and will certainly make a statement this year.
Adorned with pre-lit colour changing fibres which have seven different colour settings, this tree will bring a colourful glow to any room and make a striking centerpiece this Christmas.
Available in a range of sizes from 3ft to 8ft, this show stopping tree is excellent value for money.
RRP from £35.99, depending on size.
Blossom Tree
The Blossom Tree is a beautiful alternative to the traditional Christmas tree and will certainly impress this year.
With striking LED lights which glow through flower branch tips, this tree is a great choice for indoors and out and is guaranteed to bring a warm glow to any space.
Available in a sizes from 40cm to 3m tall, this impressive LED tree will make a great choice.
RRP from £35.99, depending on size.
Make Fairtrade your Festive Favourite
Make sure your Christmas is ethical this year with some of these Fairtrade hero products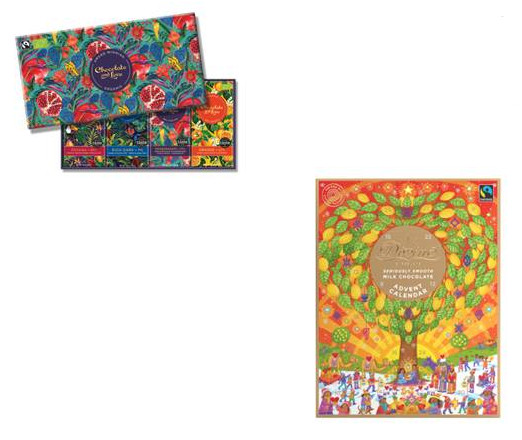 With ethical shopping on an upwards spike and no signs of slowing down, making sure that your Christmas gifting goes further than the stockings this year is a must for gift givers and receivers alike. Fairtrade is the most recognized certification in the UK and is the simple way to make sure that the people who made your gifts are paid fairly for their work.
For many of us Christmas is about celebrating traditions with loved ones and this year it's even bigger as the Fairtrade Foundation marks 25 years since the first Fairtrade product was seen on shelves.
Christmas is the perfect time to support people around the world and by buying Fairtrade, you know that your purchase will have a direct impact on families around the world to celebrate with their families and share in traditions of their own.
Behind each Fairtrade product is a powerful personal story. Find out how lives have been changed because of Fairtrade. Read the full media pack and download images here: https://fairfile.fairtrade.org.uk/fairfile/index.php/s/4MYjdwabG5jKX6W
1.7 million Fairtrade farmers and workers' lives have been transformed through Fairtrade, but they still need your support, and Christmas is the perfect time to show you care.
Each gift listed here is Fairtrade certified, whether it's a unique spin on a classic festive feature, or that extra special Christmas item, which will make your Christmas truly stand out, both for your own friends and family, and for the families of farmers and workers at the beginning of the supply chain.
Shake up your Christmas traditions to make sure your generosity goes further this season
Chocolate & Love Pomegranate Gift Box
RRP: £16.99
Where to buy: Chocolate & Love online
Containing all vegan dark chocolate bars: Panama 80% single origin, Rich Dark 71%, Pomegranate 70% single origin Madagascar and Orange 65%) with a beautiful Christmas sleeve. Who wouldn't be happy with this stunner under the Christmas tree?!
Divine Milk Chocolate Advent Calendar
RRP: £4.29
Where to buy: Amazon, Ocado, Booths, Oxfam, Traidcraft online shop, Waitrose & other independent stores
Divine Chocolate is the only chocolate company in the world that is 100% Fairtrade and owned by cocoa farmers. The Kuapa Kokoo farmers co-operative in Ghana own 44% of the company, giving them direct control and empowering the producers of Divine's quality chocolate.
Beautifully illustrated with scenes and depictions from the nativity each door opens to reveal the words 'Merry Chrtsmas' in 24 different languages and a milk chocolate heart.
Cocoa Loco Milk Chocolate Fairies
RRP: £4.79
Where to buy: Cocoa Loco online
Cocoa Loco are our go to for quirky treats that put a fun spin in the classics. They wowed us this Easter with their Lemon Drizzle egg and their Christmas treats are promising to be just as delicious, getting us all going loco for cocoa. These magical fairies are made from our smooth and creamy 37% milk chocolate. As always, organic, Fairtrade certified, palm oil free and handmade with love.
Waitrose Silky Fruity Belgian Milk Chocolate with Raisins & Almonds
Waitrose Silky, Fruity Belgian Milk Chocolate with Raisins & Almonds.
RRP: £1.62
Where to buy: Waitrose stores
A high quality chocolate with just the right mix of sweetness and nuttiness to appease chocoholics of all kinds. This delicious and luxuriously melty bar is the perfect front runner for Waitrose's commitment to making their confectionary 100% Fairtrade for 2019
Zaytoun Caramelised Almonds
RRP:
Where to buy: Traidcraft online
These Fairtrade certified premium almonds are slowly roasted with Fairtrade sugar until they are perfectly caramelised to create a delectable treat with a sweet crunch.
A beautiful and delicious present, these Fairtrade almonds grow well in Palestine and make a delicious and ethical present which supports farmers in Palestine to earn a sustainable living.
5010115927166 HEN_Icing Sugar FT 500gTate & Lyle Icing Sugar
RRP: £1.00
Where to buy: Waitrose, Ocado, eBay
A festive staple! Don't look any further than Tate & Lyle, proudly offering a large selection of Fairtrade sugars. Icing sugar is an essential for the final touches to that festive treat, the icing on the cake, the winter sprinkle to grace all table tops. Tate & Lyle's commitment to Fairtrade means thousands of farmers and workers can benefit from the Minimum Price for their product and an additional fund from Fairtrade to support their communities.
Try one of Tate & Lyle's festive recipes.
cCotswold Fudge Company Vegan Fudge
RRP: £3.10 per pack/ £14 Hamper
Where to buy: Online shop & Various Independents including many National Trust Gift Shops
To make their irresistibly crumbly fudge The Cotswold Fudge Company use sugar from another Fairtrade company, Tate&Lyle who source sugar from over 20,000 small scale farms around the world.
This new Vegan range is handmade in the Cotswold fudge kitchen and comes in three original flavours: Chocolate,Vanilla and SeaSalt all of which have a smooth and creamy finish that will have you reaching for more.
Ben & Jerry's Fairway to Heaven
RRP: £5
Where to buy: exclusively at the Co-op
If you've got visitors this Christmas don't forget that Ben & Jerry's is Fairtrade too and makes a great dessert or treat for those with a sweet tooth. They launch 'Fairway to Heaven' to celebrate their partnership with Fairtrade and it's certainly an irresistible one for your celebrations too – salted caramel ice-cream with chunks of caramel bar.
FAIR Drinks Fairtrade Café Liqueur
RRP: £23.00 (70cl)
Where to buy: Waitrose, Borough Wines & Beers online shop, plus many independent retailers such as MASTER of MALT website, The Whisky Exchange website, The Drink Shop website, Distillers Direct website.
Finest Fairtrade Arabica coffee beans from Mexico, slow roasted and organically grown, are diffused into this deep and luxurious liqueur. Serve over ice as an after dinner drink or celebrate Christmas in style with one of FAIR. Drinks' cocktail recipes.
Co-op wines
RRP: various
Where to buy: Co-op Stores
The world's largest Fairtrade wine retailer, the Co-op have your Fairtrade festivities all tied up this year. Ever growing, their selection has something for everyone, from a pleasant, floral Chardonnay-Viognier blend from one of the Co-op's oldest wineries, to an intense red from Bosman Adama to a fruity fizzy rose Moscato. Sourced from Fairtrade vineyards in South Africa, Chile and Argentina, hundreds of farmers and workers have benefited through projects funded from the additional income they earn through Fairtrade.
Radical Roots' Ginger Pale Ale (4% abv)
RRP: 1x case of 12 bottles is £39.95
Where to buy: Little Valley Brewery online
Radical Roots Ginger Pale Ale is the only UK Fairtrade-certified beer. Little Valley Brewers are based in Yorkshire and pride themselves on their unique products. This ale is vegan and organic, 95% of the barley comes from the UK, and the ginger and sugar cane is sourced from Fairtrade plantations in Paraguay, Sri Lanka and India. Buy a whole case as an unusual gift, or add this to your Christmas feasting.
Tilimuqui Fairtrade Organic Malbec
RRP: £11.99
Where to buy: Waitrose
This Fairtrade Organic wine is produced by the growers at La Riojana co-operative from high altitude vineyards located in the Famatina Valley, in a remote part of north west Argentina. An elegant, intensely rich, full bodied red, this wine was made by La Riojana's Chief Winemaker Rodolfo Griguol and his winemaking team from 100% Malbec (Argentina's flagship grape variety) using hand-picked, ripe, organic grapes from 30- year-old vines. It is full of delicious silky-smooth fruit flavours, with enticing hints of violets, plums and cherries and on the palate, it is full and long with supple, sweet tannins and a complex finish.
Old Hamlet Fairtrade Spice Mix for Hot Mulled Cider
RRP: £3.85
Where to buy: Steenberg's Online
Old Hamlet's iconic Calico Bags with Fairtrade Sugar and Spices for Mulling Cider are created from family recipes in the mid-1970s. Old Hamlet hand blends its authentic mulling cider mixes using Fairtrade ingredients at its factory in North Yorkshire. They are simple to use and make delicious mulled cider for those cold winter months, or use them to flavour a non-alcoholic punch at seasonal parties. A great party gift or stocking filler, or just for a great present to yourself.
ft-xmas-letterboxArena Flower Christmas Bouquet
RRP: £19.99
Where to buy: Arena Flowers online
Give your home a festive façade with colourful bouquets from Arena. Weaving Fairtrade roses into their winter selections, this is a stunning way to say thanks, a different gift for family, friends or colleagues or a nice simple way to decorate your house. The vast majority of roses sold in this country are grown in Kenya, where Fairtrade has changed lives for hundreds of women and their families through gender empowerment programmes, maternity clinics and education – all established with support from the Fairtrade Premium.
Odylique_3 in 1_Maca_Mask
Odylique 3-in-1 Maca Face Mask
RRP: £20
Where to buy: Odylique online
Turn your beauty box Fairtrade. Odylique have a lovely range of Fairtrade products, like this deep cleansing mask, made with green and white mineral clays to cleanse, detox and replenish. Organic and Fairtrade sugar cane and organic oats gently exfoliate to reveal smooth, soothed and beautifully polished skin while maca further revitalises with essential amino acids and minerals. A perfect gift for friends or why not treat yourself in time for all those Christmas parties.
Akoma Shea Million Shea Butter 50ml
RRP: £5.97
Where to buy: Akoma Skincare Online, Amazon
Prized for its medicinal qualities on sensitive skin and its rich texture Shea Butter is sworn by from many dermatologists for all skin types. This silky and indulgent formula from Akoma is no exception to the rule, as unrefined as you can get it on and retaining all of the anti-ageing vitamins A & E it provides a refreshing lift in the morning like no other and can even be applied to damaged hair in need of some TLC. This little delight is called Shea Million because of Akoma's pledge to change a million lives for the better through ethical business practices.
Harriet Kelsall Bespoke Jewellery
RRP: £125.00
Where to buy: Harriet Kelsall Online
Harriet Kelsall is one of the UK's leading bespoke jewellery companies. This unique pendant which has been made from Fairtrade Sterling silver hangs beautifully on a recycled Sterling silver chain. The primrose design is one of the early signs of spring, but this striking piece brings a touch of elegance all year round. It's a perfect present for someone special and will certainly be a gift to remember.
Dip & Doze bedding
RRP: from £45 for a set
Where to buy: Dip & Doze online
Passionate about enhancing your everyday life while moving away from short-lived items and unsustainable methods, Dip & Doze presents a rare take on luxury. Made from the finest Fairtrade, hand-picked cotton that's grown using 80% rain water and free from any harmful chemicals you'll love these thoughtful essentials. Why not treat yourself to this beautiful blue strip set for dreamy winter nights.
OceanBluu Children's clothing, underwear and bed linen
RRP: various
Where to buy: Ocean Bluu online
New kids on the block OceanBluu offer a gorgeous range of kids bedding, pyjamas and now pants too! Each item is sumptuously soft to help your little ones sleep snug, all eco-friendly, organic, Fairtrade cotton. Not your usual Christmas gift but with the cute dinosaurs and funky fishes on these patterned pieces the kids are sure to love them.
Rita Fairtrade Dress (Navy Print) | White Stuff
White Stuff Fairtrade cotton clothing
RRP: various
Where to buy: White Stuff high street stores or White Stuff online
White Stuff doesn't just want feel-good fabrics, but ones that do good, too. That's why it's proud to be the first UK lifestyle brand to sign a three-year Fairtrade commitment to source cotton in an ethical way. White Stuff's Autumn/Winter Fairtrade collection, which includes dresses, tops and polo shirts, will launch online and in select shops from September. You can find something for all the family this winter.
Cafédirect Christmas Blend of Batch Roasted Coffee
RRP: £4.99
Where to buy: Ethical Superstore, Ocado, Oxfam and Amazon, plus many high street retailers including Sainsbury's, Waitrose and Tesco.
Perfect as a gift for those who just have everything – why not try a special Christmas coffee blend. Plus, this delicious coffee is from Cafédirect's speciality organic range.
Cafédirect are the UK's first and largest Fairtrade hot drinks brand and additionally invest 50% of their profits back into the grower communities responsible for their coffee. They celebrate 25 years of the Fairtrade Mark this year, along with the Fairtrade Foundation.
Percol Fairtrade Barista Gold Instant Coffee 100g
RRP: £3.65
Where to buy: Sainsbury's; Asda; Waitrose & Partners; Ocado
A firm front runner of the glitziest instant coffee, in a shiny new gold tin. Fairtrade superstars at Percol are leading the charge in sustainable and ethical coffee, from their top of the crop beans down to their fully recyclable packaging. This Barista Gold Instant coffee is infused with dark roasted Arabica to make a caramel smooth coffee with just hints of dark chocolate that you won't be able to resist. This is a full bodied brew perfect at any time of day and will keep you going right through the winter period.
Grumpy Mule Sumatra Beans
RRP: £4.65
Where to buy: Waitrose, Tesco, Selfridges, Grumpy Mule online & others
Freshly ground beans on Christmas morning's sure to wake up all the family to a good start. This one's a punchy favourite from the Gayo Highlands in Sumatra where clean, dark coffee is a specialty due to the warm, wet climate. Growers earn a fair price for their beans so you can sit back and enjoy a nice pot of chocolatey coffee goodness. Check out Grumpy Mule's Grumpy Yule coffee for an extra Christmas twist. In stores in winter.
Clipper English Breakfast
RRP: £3.85
Where to buy: Waitrose, Ocado, Clipper.com
A majestic blend starring full-bodied Assam and wonderfully delicate Ceylon for a refreshing finish. Don't forget to stock up your cupboards for all the family visits over the winter period. This one's sure to please them all.
Affordable folding umbrellas – perfect for stocking fillers: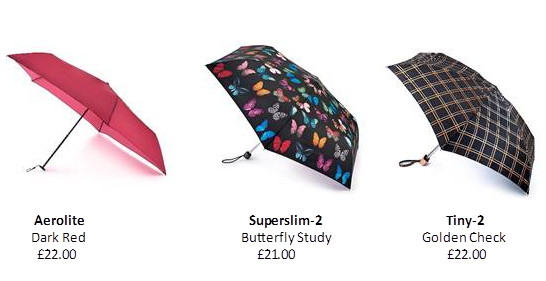 With the recent unpredictable British weather, a stocking filler which helps to combat the 'seasonal climate' may be suitable…Thankfully, Fulton has an array of stocking-filler-sized umbrellas available for those organised shoppers this Christmas. With a range of seasonal designs from their latest AW19 collection to choose from, there is sure to be something for everyone this Christmas. Whether you're looking for the brand's latest Aerolite; one of the lightest in the UK, the stylish Superslim – 2 in Butterfly Study or the smart and sophisticated Tiny – 2 in Golden Check, these will be sure to make rainy strolls a walk in the park.
The Diamond Collection – Fulton's must luxurious range to date:
If you're looking for the ultimate luxury gift to give to your loved one this festive season, look no further than Fulton's Diamond collection, the brand's most luxurious range to date.
This uniquely designed collection marks the best of traditional British design; featuring exceptional quality materials, intricate details and the latest in technological developments. The collection is made up of four iconic designs that incorporate elegant prints on woven fabrics, beautiful woods, fine leather and detailed hardware; making each umbrella the ultimate transitional accessory whatever the weather.
Amazon Prime TV trio The Three Drinkers release their own whisky in time for Christmas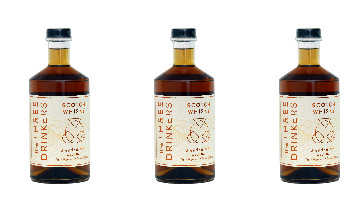 With part two of their global Amazon Prime series 'The Three Drinkers do Scotch Whisky' hitting our screens on the 1st December, expert TV drinks trio The Three Drinkers, launch their own whisky inspired by all the locations in their show.
A Limited Edition
The Three Drinkers Scotch Whisky, Cask Selection No.1 is a 17-year-old blended malt that's non-chill filtered and non-coloured. This first bottling is a limited-edition release of just 300 bottles, each of which is individually numbered and personally signed by the show's three presenters and co-producers, Aidy Smith, Helena Nicklin and Colin Hampden-White.
"It's something we always wanted to do," says Nicklin, who adds: "Creating our own whisky inspired by the show helps bring it to life and allows us to connect with our viewers on another level." Hampden-White continues: "We wanted to create a dram that combined all the classic notes of Scotch that we've experienced on our travels, so this whisky combines the Christmas-cake fruit and spiciness of the highlands with subtle smokiness of Islay and Jura."
"Given the December release date of the final part of our Scotland series," says Smith, adding: "We loved the idea of viewers sharing a dram of our whisky while they watch it."
When asked what the perfect match would be for this whisky, Aidy Smith replied: "A subscription to Amazon Prime, naturally!"
Support from the trade
Cask Selection No.1 was created with the help and support of Cask Trade Ltd; the new marketplace for trading cask whisky and will be available exclusively through award-winning drinks retailer Master of Malt from the from 1st November 2019 priced £39.99 RRP.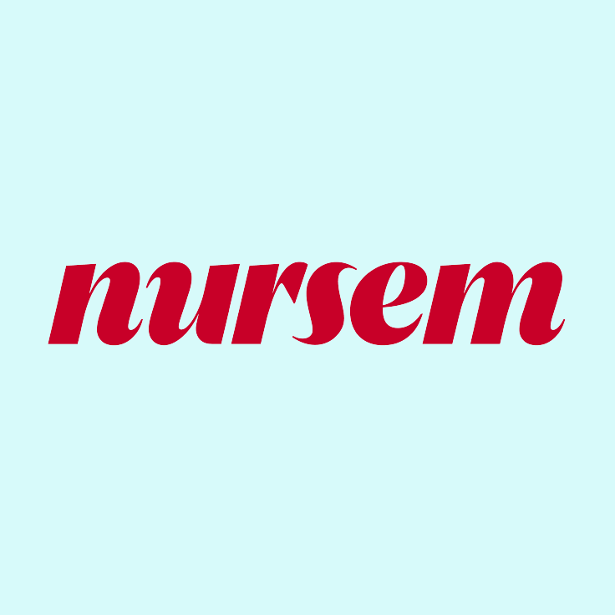 SKINCARE BRAND LAUNCHES TO CARE FOR HARD-WORKING HANDS
FACEBOOK | TWITTER | INSTAGRAM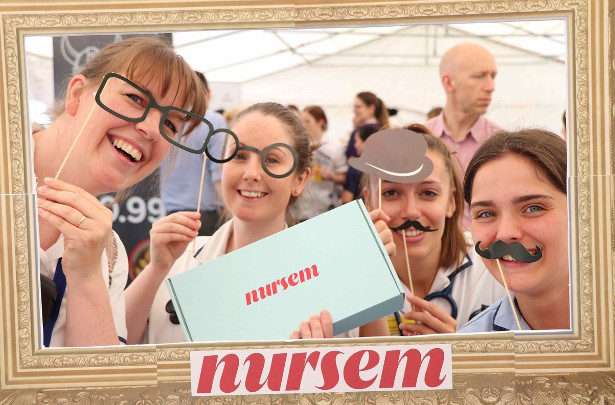 Nursem is a caring skincare brand developed with nurses to help combat the effects of relentless hand-washing
Nursem's dermatologically tested formula offers natural intensive care, suitable for sensitive and overworked skin
The brand also gives back to the most deserving of hand sufferers, by providing a month's worth of free hand cream to an NHS nurse or midwife for every product sold
August 2019 – Nursem – a caring skincare brand developed to nourish, nurture and protect hard – working hands – has launched in Boots stores across the country following a successful Crowdfunder campaign.
After witnessing the effects of relentless hand washing, Jonny Philp, husband of paediatric nurse Antonia, recruited a panel of nurses and teamed up with Newcastle Science City to develop a range of specialist formulas utilising plant-derived active ingredients to soothe and protect skin. The result is a range dedicated to reviving and recuperating even the most overworked skin.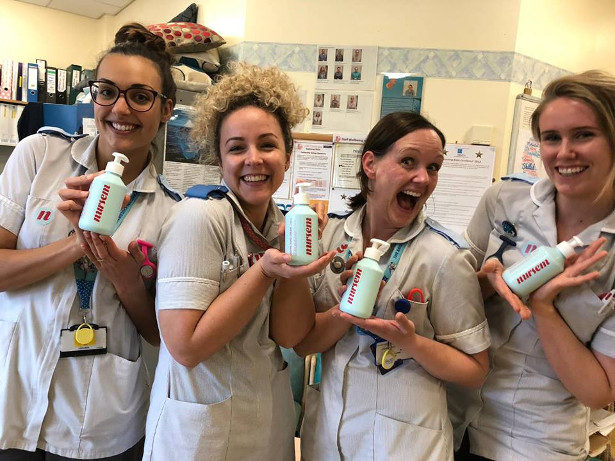 Not only has Nursem been specifically developed to counter the harsh effects of constant hand washing, but the brand also gives back to NHS nurses and midwives who wash their hands-on average 55 times a day while caring for patients.
The Nursem range consists of:
Caring Hand Cream: A non-greasy, fast absorbing formula designed to be used little and often throughout the day to immediately soothe, hydrate and reduce the risk of further on- going discomfort. High in Omega 3, 6 and 9 and containing Manuka Honey NPA +15, the Caring Hand Cream is the perfect prevention for hand working hands.
Caring Hand Wash: An ultra-mild soap-free formula that uses skin-friendly cleansers designed to minimise the effects of constant hand washing i.e. removal of the skin's own natural barrier. The formula is fortified with conditioning Pro Vitamin B5, Glycerin and plant- derived oils to help protect hands against further on-going damage.
Caring Hand Fix: Intensive, targeted relief for persistently dry, irritated and sore hands – especially knuckles and finger tips. The fragrance-free formula helps to mask, calm and nourish skin with Hyaluronic Acid, Avocado and Shea butters and Colloidal Oatmeal – allowing skin to naturally recuperate. Caring Hand Fix is best used at home or overnight for best results.
On the launch Jonny said, "Our aim is to make every working day better for hard-working hands, so we've developed a range of products that are formulated to care for, hydrate and replenish your skin's natural defences. To help give back to the most deserving sufferers of hand conditions, we're also on a mission to provide free hand cream to every NHS nurse and midwife by 2025. For every product we sell, we will give free hand care to an NHS nurse or midwife."
The range is now available to purchase in Boots stores and online. Nursem Caring Hand Cream comes in two sizes – 75ml RRP £9.99 and 300ml RRP £19.99, Caring Hand Wash 300ml has an RRP £9.99, while the Caring Hand Fix 50ml has an RRP of £14.99. For more information, please visit: www.nursem.co.uk.
For more information around the product or for samples and imagery, please contact nursem@wearetheromans.com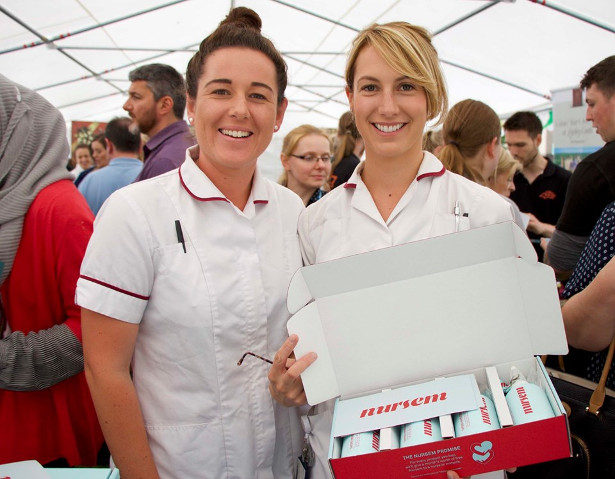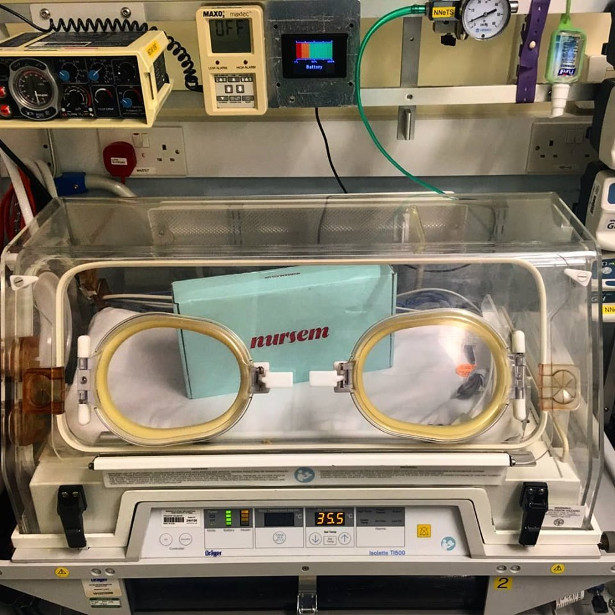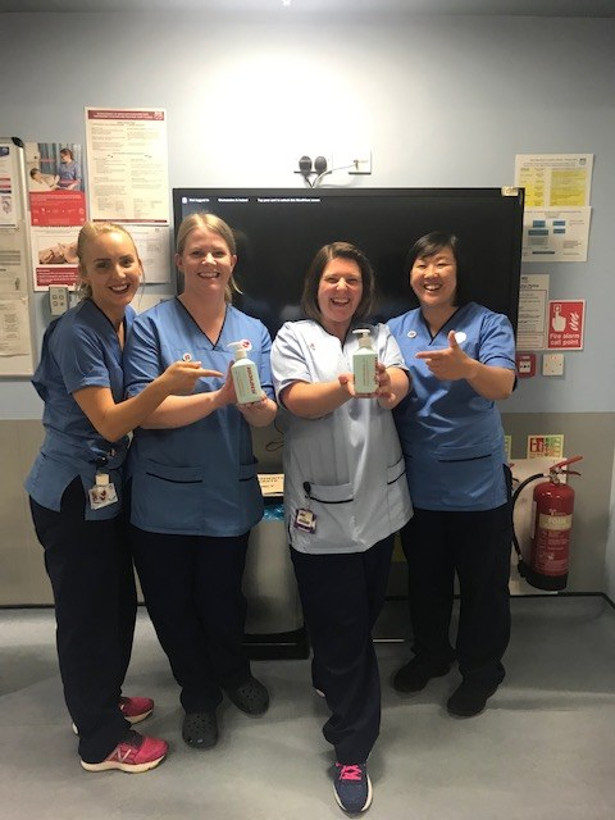 Make more time for things you love, and spend less time making coffee.. Waka Coffee source the best quality instant coffee out there, pack it in single serve packets, and ship it directly to your doorstep.
On Amazon too! >> www.amazon.com/Waka-Coffee-Quality-Colombian-Single-Serve/dp/B07JNJ8S23/ref=mp_s_a_1_3?keywords=waka+coffee&qid=1568411511&sr=8-3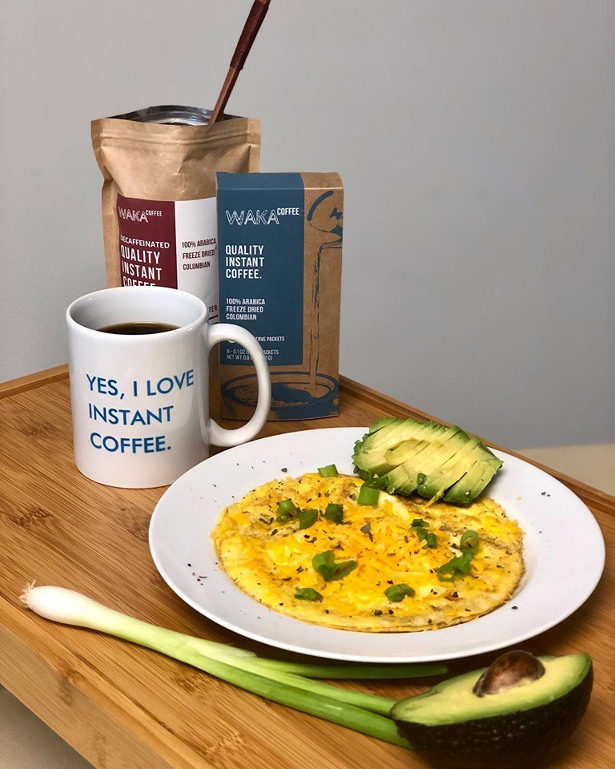 FACEBOOK | TWITTER | PINTEREST | INSTAGRAM
They are reviving the instant coffee category, and on a mission to bring the instant back!
They also donate a percentage of their sales to charity: water, which brings clean and safe drinking water to communities around the world through their "Add Water, Give Water" program.
TMF Sportswear which is engineered to optimise performance at affordable prices, while at the same time being aesthetically pleasing. They also wanted to create a sportswear collection under the unique brand of my company, Tailor Made Fitness, so that by wearing the clothes clients would feel part of the TMF movement. 'FOR THE JOURNEY' to make the fitness experience relevant to both sexes and also to all ages. The path to fitness may be subjective and therefore individually based, but TMF Sportswear gives the necessary comfort required to keep setting further fitness goals suited to a wide range of needs.
www.tmfsportswear.com/our-story
Gentz reinvents the roadbike bell for sleek and high-tech safety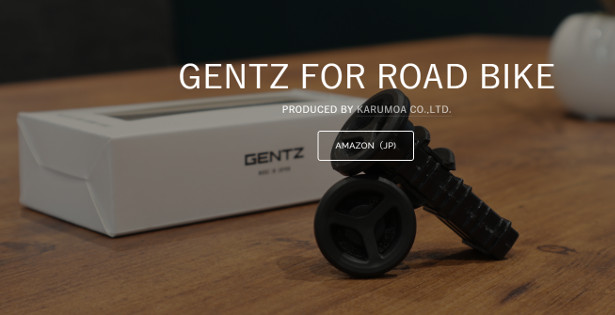 As more countries adopt laws that prohibit the use of bicycles without bells or buzzers cyclists are left to seek out options that improve their safety but don't compromise on their riding experience or bike aesthetic.
A revolutionary new bicycle bell aims to change all this by providing a convenient, high tech solution that blends seamlessly into sleek form of a road bike.
GENTZ is a bicycle buzzer that can be securely mounted inside the drop handle of a road bike and emits a 4.0Hz frequency beeping sound within the most sensitive audible range for humans, to ensure other cyclists, pedestrians and motorists can clearly hear roadbike users on the road.
The product was developed by Japanese engineer and cyclist, Omichi and was launched on Kickstarter late last week.
"I myself have loved road bikes for about 10 years as a hobby as well as a commute option," says Omichi, "This, among other things, motivated me to develop this product for all road bike lovers. Even though it's law in Japan to have a buzzer on the bike, few people have one, possibly because there weren't any inconspicuous buzzers available to match the beauty of expensive road bikes."
With this in mind, Omichi got to work creating GENTZ, a solution that maintained the sleek roadbike aesthetic while still allowing cyclists and pedestrians to stay safe on the roads.
He came up with the innovative idea of mounting the device inside the handlebars – allowing for simple installation by removing the endcaps on the handlebars and inserting the buzzer inside. GENTZ uses a lithium-ion battery which lasts 300 days if used 30 seconds per day. When the battery level dips, it can easily be recharged using a USB cable.
"GENTZ was deeloped with the desire to maintain the sleek form of road bikes and I personally think the beautiful form has been preserved with thorough attention to detail at the same time, achieving high functionality," says Omichi.
The name of the product is a hybrid of the words "gentle" and "buzzer" and also reflects Omichi's beliefs around road cycling.
"I think the act itself of safely mounting a GENTZ to your roadbike and consciously following the rules of the road is gentlemanly conduct and so this is reflected in our ethos and name."
GENTZ has recently launched its crowdfunding campaign on KICKSTARTER with an aim of raising $7400 to invest in the large-scale production and distribution of the product and make GENTZ available to the whole world.
Out Friday: NOW 100 Hits Movies
Release Date: 20th September 2019
RRP: £14.04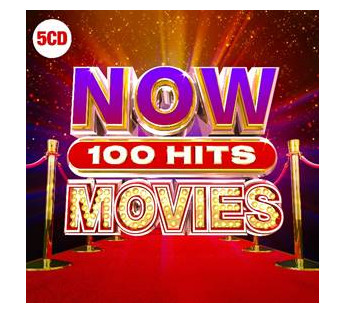 www.nowmusic.com/album/now-100-hits-movies/
NOW releases NOW 100 Hits Movies with all the Greatest Movies' Greatest Hits
What are our favourite movies with their soundtracks?
Where would Bond be without a fully orchestrated, showstopping ballad? What is The Bodyguard without Whitney? How can Jack and Rose's heart-breaking story truly be told aboard the Titanic without My Heart Will Go On in the background? Music is undoubtedly one of the most important factors in films, even silent movies swiftly started incorporating music, so whether you're jumping around to Irene Cara's What A Feeling in Flashdance or humming the theme tune to Star Wars; one of the biggest blockbuster movie franchises ever made, it is clear that a great score or soundtrack can create a box office hit.
We all love to sing along to our favourite films and know that the best soundtracks help movies become, and stay, iconic long after their original release. From Hot Chocolate's You Sexy Thing in The Full Monty to Bill Medley & Jennifer Warnes (I've Had) The Time Of My Life in Dirty Dancing and Pharrell Williams Happy in Despicable Me 2, these tracks have become synonymous with some of the greatest motion pictures of our time, if not even more famous than the films themselves.
In more recent years, music has taken centre stage as the nation has gone wild for musicals, rejuvenating those old classics and creating new hits. The Greatest Showman; Mamma Mia!; Rocketman and Yesterday have delighted audiences with their pure escapism, whipping us away from reality and welcoming us into a world where everyday life is peppered with big musical numbers and joyous flash mobs.
NOW 100 Hits Movies strikes the balance perfectly between classics and new blockbusters, with the biggest hits from across the ages. The whopping 5 CDs will have the whole family singing and reminiscing over their favorite songs and films we have come to love and cherish.
NOW 100 Hits Movies is available in physical and digital format and on the NOW app.
CD1:
01. Keala Settle – This Is Me (The Greatest Showman)
02. Taron Egerton – Rocket Man (Rocketman)
03. Berlin – Take My Breath Away (Love Theme from Top Gun)
04. Simple Minds – Don't You (Forget About Me) (The Breakfast Club)
05. Ray Parker Jr. – Ghostbusters (Ghostbusters)
06. Huey Lewis & The News – The Power Of Love (Back To The Future)
07. Pharrell Williams – Happy (Despicable Me 2)
08. Justin Timberlake – CAN'T STOP THE FEELING! (TROLLS)
09. Harold Faltermeyer – Axel F (Beverly Hills Cop)
10. Hot Chocolate – You Sexy Thing (The Full Monty)
11. Henry Mancini – The Pink Panther Theme (The Pink Panther)
12. Shirley Bassey – Goldfinger (Goldfinger)
13. Céline Dion – My Heart Will Go On (Love Theme from Titanic)
14. Whitney Houston – I Will Always Love You (The Bodyguard)
15. Joe Cocker & Jennifer Warnes – Up Where We Belong (An Officer And A Gentleman)
16. Maria McKee – Show Me Heaven (Days Of Thunder)
17. Wet Wet Wet – Love Is All Around (Four Weddings And A Funeral)
18. Ellie Goulding – Love Me Like You Do (Fifty Shades Of Grey)
19. Now We Are Free (Gladiator)
20. Hedwig's Theme (Harry Potter And The Philosopher's Stone)
CD2:
01. Theme from Star Wars: A New Hope
02. Theme from Mission: Impossible
03. Robbie Williams – Have You Met Miss Jones? (Bridget Jones's Diary)
04. Fontella Bass – Rescue Me (Sister Act)
05. Natalie Cole – This Will Be (An Everlasting Love) (The Parent Trap)
06. Kenny Loggins – Footloose (Footloose)
07. ABBA – Does Your Mother Know (Johnny English)
08. Irene Cara – Flashdance…What A Feeling (Flashdance)
09. Philip Oakey & Giorgio Moroder – Together In Electric Dreams (Electric Dreams)
10. Bill Medley & Jennifer Warnes – (I've Had) The Time Of My Life (Dirty Dancing)
11. Wilson Phillips – Hold On (Bridesmaids)
12. Robert Palmer – Addicted To Love (Cocktail)
13. Blondie – Call Me (American Gigolo)
14. Meryl Streep – Mamma Mia (Mamma Mia!)
15. Danny Wilson – Mary's Prayer (There's Something About Mary)
16. Ronan Keating – When You Say Nothing At All (Notting Hill)
17. Lana Del Rey – Young And Beautiful (The Great Gatsby)
18. Anne Hathaway – I Dreamed A Dream (Les Misérables)
19. Act I: Maria (West Side Story)
20. Main Theme from Schindler's List
CD3:
01. Roy Orbison – Oh, Pretty Woman (Pretty Woman)
02. Booker T. & The MGs – Green Onions (Quadrophenia)
03. Stealers Wheel – Stuck In The Middle With You (Reservoir Dogs)
04. Harry Nilsson – Everybody's Talkin' (Midnight Cowboy)
05. Louis Armstrong – We Have All The Time In The World (On Her Majesty's Secret Service)
06. For The Love Of A Princess (Braveheart)
07. Theme from Jaws
08. Annie Lennox – Love Song for a Vampire (Bram Stoker's Dracula)
09. Dido – Thank You (Sliding Doors)
10. All Saints – Pure Shores (The Beach)
11. Sia – Elastic Heart (The Hunger Games: Catching Fire)
12. a-ha – The Living Daylights (The Living Daylights)
13. Irene Cara – Fame (Fame)
14. Quincy Jones – Soul Bossa Nova (Austin Powers)
15. Bob & Earl – Harlem Shuffle (Baby Driver)
16. The Four Tops – Loco in Acapulco (Buster)
17. Los Lobos – La Bamba (La Bamba)
18. John Paul Young – Love Is In The Air (Ballroom Mix) (Strictly Ballroom)
19. Chuck Berry – You Never Can Tell (Pulp Fiction)
20. Elvis Presley – Jailhouse Rock (Jailhouse Rock)
CD4:
01. John Parr – St. Elmo's Fire (Man In Motion) (St. Elmos' Fire)
02. Survivor – Eye Of The Tiger (Rocky III)
03. Paul McCartney & Wings – Live And Let Die (Live And Let Die)
04. Lara's Theme (Doctor Zhivago)
05. Sam Smith – Writing's On The Wall (Spectre)
06. Ellie Goulding – Still Falling For You (Bridget Jones's Baby)
07. P!nk – Just Like Fire (Alice Through The Looking Glass)
08. The Cardigans – Lovefool (Romeo & Juliet)
09. Dido – Here With Me (Love Actually)
10. Dua Lipa – Swan Song (Alita Battle Angel)
11. Hugh Jackman – The Greatest Show (The Greatest Showman)
12. The Psychedelic Furs – Pretty In Pink (Pretty In Pink)
13. The Proclaimers – I'm On My Way (Shrek)
14. Dolly Parton – 9 To 5 (9 To 5)
15. Daryl Hall & John Oates – You Make My Dreams ((500) Days Of Summer)
16. Buffalo Springfield – For What It's Worth (Forrest Gump)
17. Johnny Cash – I Walk The Line (I Walk The Line)
18. The Shangri-Las – Remember (Walkin' In The Sand) (Goodfellas)
19. Main Title from Taxi Driver
20. Overature (Lawrence Of Arabia)
CD5:
01. John Travolta & Olivia Newton-John – The Grease Mega-Mix (Grease)
02. Isaac Hayes – Theme From Shaft (Shaft)
03. Salt N Pepa – Shoop (Deadpool)
04. Iggy Pop – Lust For Life (The Prodigy Remix) T2 Trainspotting
05. Billy Ocean – When the Going Gets Tough, the Tough Get Going (The Jewel Of The Nile)
06. Culture Club – Do You Really Want To Hurt Me (The Wedding Singer)
07. Himesh Patel – Yesterday (Yesterday)
08. The Mamas & The Papas – California Dreamin' (Forrest Gump)
09. The Mash – Suicide Is Painless (M*A*S*H)
10. Doris Day – Que Sera Sera (Whatever Will Be, Will Be) (The Man Who Knew Too Much)
11. Cher & Andy Garcia – Fernando (Mamma Mia! Here We Go Again)
12. Nat King Cole – Stardust (Sleepless In Seattle)
13. Ben E. King – Stand By Me (Stand By Me)
14. Michael Bublé – Love At First Sight (Totally Blonde)
15. Matt Monro – From Russia With Love (From Russia With Love)
16. Henry Mancini – Moon River (Breakfast At Tiffany's)
17. The Righteous Brothers – Unchained Melody (Ghost)
18. Theme from Dances With Wolves
19. Bicycle Chase & End Credits (E.T.: The Extra-Terrestrial)
20. Shore: A Lord Of The Rings Suite (The Lord Of The Rings)
Christmas (Monkey) Magic
A Christmas gift that babies and parents actually want… teething pain relief


Matchstick Monkey has revolutionised teething. The fun, soft, colourful teethers feature a range of different textures to help massage sore gums and ease teething pains.
These include the ingenious and effective bumps on the back of his head (allowing you to apply teething gel or granules to those hard to reach back gums).
And now, with more choice than ever… the award winning teething toy makers, proudly introduce new members to the family… Meet Elephant, Bear, Crocodile, Giraffe, Penguin, Lion and Pig Teethers.
Uber stylish too, with Monkeys even available in an on-trend, Scandi colour palette, these aesthetically-pleasing teething toys will double-up as welcome additions to your home decor!
Giving parents ultimate reassurance, the NEW Animal, Monkey and Mini Teethers are made from BioCote® anti-microbial technology, which kills 99.9% of microbes, and prevents bacteria from growing on the teether.
With your baby's gums under control, the adorable Matchstick Monkey Plush Monkey is the ideal companion providing warmth, friendship, fun and comfort when little ones are still feeling out of sorts.
True to monkey type, its velcro hands let it hang around from cots, prams and pushchairs. Its bottom filled with beans, allow it to sit easily upright, waiting to be grabbed by your little monkey.
Designed in Devon by mumpreneur Katie, with her own three little ones, Matchstick Monkey is a firm household favourite, letting little ones play their teething pain away.
www.matchstickmonkey.com
* BioCote® is the only antimicrobial supplier approved by HACCP International.
Rewrite the rules of photography with the Huawei P30 Pro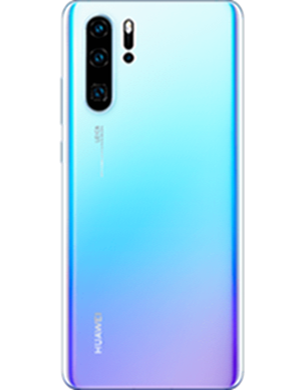 Equipped with a new Leica Quad Camera System, featuring an incredible 40 MP SuperZoom Lens coupled with a 20 MP Ultra Wide Angle Lens, you're able to zoom in to explore the mystery of the celestial at night, watch an eagle hovering over trees or examine the delicate details of crystal. The P30 Pro is accentuating a new peak of smartphone photography – your Instagram game will be better than ever.
The P30 Pro is equally as impressive on the sound front. Instead of a traditional top-front speaker, the P30 Pro uses HUAWEI Acoustic Display Technology to provide a larger display and increased hearing area. The electromagnetic sound levitation will project sound from the vibrations in the display to your ear giving it extra power.
The Kirin 980 is the world's first 7nm mobile process chipset with stronger performance and lower power consumption ensuring battery woes are a thing of the past. This innovative chipset plus up to 8 GB of RAM and 512 GB of memory storage, reveal a performance.
What's more for the adventurous souls, HUAWEI P30 Pro is protected with IP68 water and dust resistance and comes in a variety of beautiful colourways.
"The HUAWEI P30 Series will set the pace for the next generation of smartphones by empowering people to capture the true beauty of the world around them through a device that fits in the palm of their hands."
Huawei P30 Pro 128GB – £899
Colourway: Breathing Crystal – inspired by crystals this holographic colour way might is a magical mix, some even say it looks like a Unicorn.
Image result for huawei p30 pro breathing crystal
For more information and stockist details visit Huawei.com
Huawei P30 Pro 128GB – £899
Colourway: Aurora – witness the beauty of the mysterious Aurora Borealis (Northern Lights) inspired from the darkness of night.
undefined Aurora back
For more information and stockist details visit Huawei.com
Huawei P30 Pro 512GB – £1099
Colourway: Amber Sunrise – inspired by the sun, of course! You are sure to be the envy of your friends…
undefined Amber Sunrise back
For more information and stockist details visit Huawei.com