'TIS THE SEASON FOR HAPPY SMILES

Let your little monkey play their teething pain away this Christmas
This Christmas, get your little one something that they (and you) really want… relief from teething pain!
Fun and functional, Matchstick Monkey, the latest must-have teething accessory, aids pain relief by getting teething gels or granules right to the source of pain, using the clever bumps on the back of the Monkey's and Animal's heads.
With easy to grasp arms as handles – perfect for small hands! – each toy is made from high quality, friendly materials and is dishwasher safe and fridge friendly.
With your baby's gums under control, the adorable Matchstick Monkey Plush Monkey is the ideal companion providing warmth, friendship, fun and comfort when little ones are still feeling out of sorts. True to monkey type, its velcro hands let it hang around from cots, prams and pushchairs. With their cute yet functional design, the Plush Monkey's are set to become your little one's new best friend!
Coming in a selection of bright and beautiful colours and designs that are certain to brighten any tot's day when played with, the Matchstick Monkey Teether's are sure to divert your child's attention away from their tricky teeth to happier places this Christmas.
Teethers range from £7.99 – £14.95
Plush / Knitted Monkeys range from £11 – £27
Matchstick Monkey – www.matchstickmonkey.com
Stranos Linen is a luxurious British brand based in London.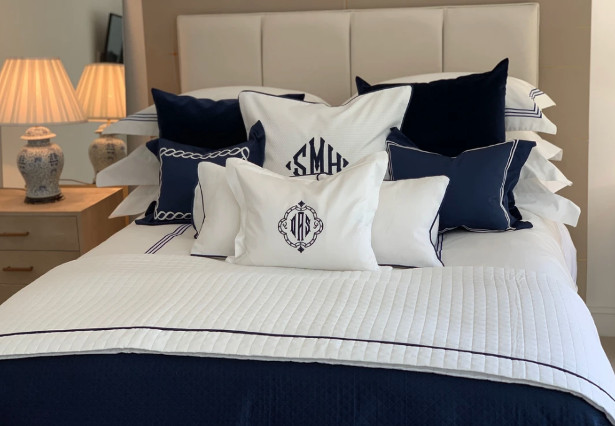 Founded in St Tropez by Christophe Mela, whose bespoke, handcrafted gifts are now produced in his Chelsea studio, the label specialises in bedlinen, bathrobes and tableware using only the finest cotton, silk and linen. Such pieces make the perfect gift for Christmas, from napkins embroidered with guests' initials to children's dressing gowns or djellabas monogramed with their name or initials and a choice of coloured piping.
In addition to the utterly divine Christmas gifts, Stranos Linen has launched a travel set in 100% cashmere which is the perfect gift any traveller could wish to receive. The travel set comprises of a pochette which contains a cashmere wrap (150x90cm) and eye mask. Each item can be monogrammed with a choice of fonts and the set comes in timeless beige or classic slate grey with up to 4 initials monogrammed on each item – an elegant way to bring a touch of first class to any journey.

CELEBRATE THE FESTIVE SEASON
WITH A BANG!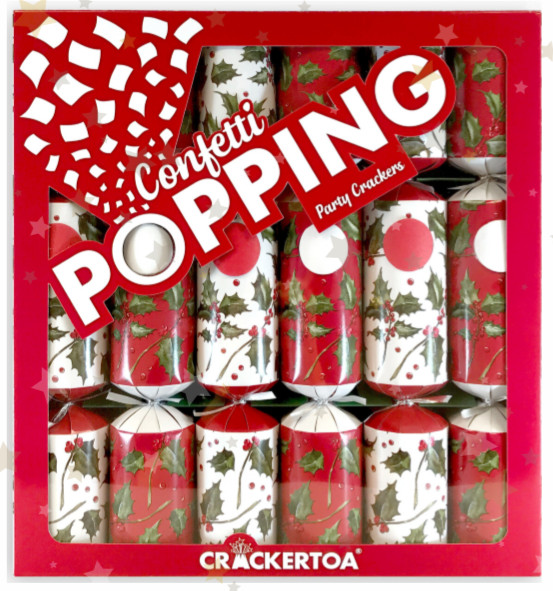 INSTAGARAM | FACEBOOK | PINTEREST
This year celebrate Christmas with a bang! The new paper Confetti Popping Party Crackers from Crackertoa® add the finishing touch to any Christmas dinner spread. Decorated with a seasonal Holly and Ivy design, Crackertoa® crackers are perfect for popping at the office Christmas party or over Christmas dinner!
Inside every cracker is an eruption of paper confetti, novelty paper finger puppets, a party hat and a hilarious joke and conversation starter. Fun for all of the family*, this upgrade to the traditional Christmas Cracker is guaranteed to turn any occasion into a party!
What's inside? Every Crackertoa® cracker pops with an eruption of paper confetti, a party hat, a joke, a conversation starter and a novelty paper finger puppet! How to use? • Lay the cracker on the table with the disc seal facing upward • With a partner, each hold an end ensuring the coloured disc remains facing upward • Pull both ends at arm's length, always keeping away from faces • The cracker will erupt with a bang, scattering colourful confetti all around you • Enjoy the content and create your own stories with the finger puppet family Crackertoa® Confetti Popping Holly & Ivy Crackers Box of 6 • RRP £14.99 • Amazon UK
*not suitable for children under the age of 3
ACME 'WHISTLE' UP SOME OF THE BEST CHRISTMAS GIFTS FOR REFEREES
On court, referees are charged with managing the flow of a game, overseeing its fairness and being an authority figure – basically they are the boss. ACME whistles, the inventors of the original sports whistle, have therefore pulled together a range of Christmas gifts to help referees across the country – boss the court.
New Acme Thunderer 60.5/59.5/58.5/58 Matt Black
Cost: from £8.49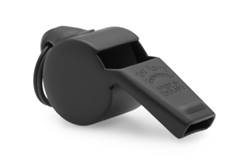 Invented by ACME in 1884 by John Hudson, and his son, the founders of ACME whistles; the ACME Thunderer was the world's first pea whistle. The Acme Thunderer whistle and its variations have since become the world's best-selling whistle favoured by referees at the highest level across a wide range of sports.
The base of this stunning matt black whistle is made from solid brass and contains a pea producing a clear high pitch. The newest addition to the range, the Acme Thunderer in Matt Black (from £8.49), is also available in a range of finishes including a plastic model (from £3.99); nickel (from £6.99), sterling silver (from £14.99) & gold plated (from £17.99).
For more information visit www.acmewhistles.co.uk/acme-thunderer-60-5-matt-black
ACME Thunderer Finger whistle
Cost: from £3.49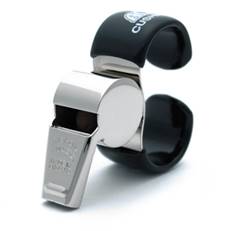 The classic Acme Thunderer has been attached to a comfortable strap where and agility is paramount.
The same quality of sound and craftmanship is prominent in this specialist sports whistle, yet it's ergonomic finger strap, perfected over decades by the team at ACME through its use in elite sport, adds control whist in the thick of the action.
The ACME Thunderer Finger whistle is available in a range of finished including composite plastic (from £3.49), nickel plated (from £8.99), antique brass or matt black (from £10.49), sterling silver plated (from £18.99), rose gold plated (from £22.49) or gold plated (from £23.99).
For more information visit www.acmewhistles.co.uk/acme-thunderer-finger-whistle-477-60-5-nickel-plated
Solid silver ACME Thunderer 59.5/58.5/58
Cost: from £99.99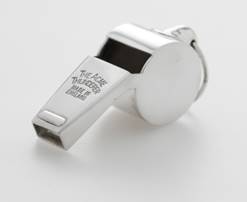 For something special, the team at ACME Whistles have developed a solid silver range of ACME Thunderer sports whistles using the same reliability and quality yet making them entirely from sterling silver.
Available in three sizes 59.5 (from £99.99) 58.5 (from 114.99) and 58 (from £139.99) these are sure to be the envy of any referee's toolkit.
For more information visit www.acmewhistles.co.uk/acme-thunderer-59-5-sterling-silver
Miniature ACME Thunderer Whistle Necklace or Cufflinks
Cost: from£99.99 and £149.99 respectively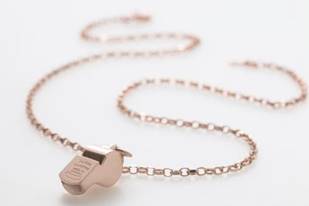 With the launch of the prestige range at ACME Whistles there is the perfect gift with miniature working replicas of the World-Famous ACME Thunderer Whistle included on accessories from Necklaces to cufflinks. This gift will mean that you will never be far from your whistle!
Both gifts are hallmarked at the Birmingham Assay Office and are available in Sterling silver (Neckless £99.99; Cufflinks £149.99), Gold (Neckless £104.99; Cufflinks £154.99) and Rose Gold (Neckless £104.99; Cufflinks £154.99).
For more information visit www.acmewhistles.co.uk/buy-online/j-hudson-co-prestige-range
Based in Birmingham, Acme Whistles are the inventors of many of the world's whistle designs used around the world in sport, the services and dog training. Ben McFarlane, Marketing Director from ACME Whistles, said; "We are proud of our heritage and the role we have played in designing and making the world's best whistles. Every whistle that leaves our hands has been lovingly crafted and tested making it the perfect present for any referee around the world."
For more information about the perfect dog whistle for Christmas, visit www.acmewhistles.co.uk/buy-online/sports-whistles or www.acmewhistles.co.uk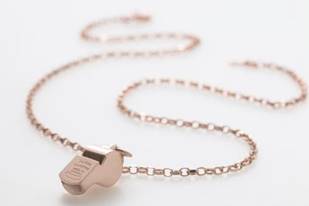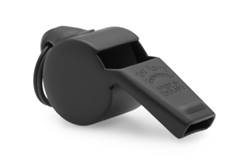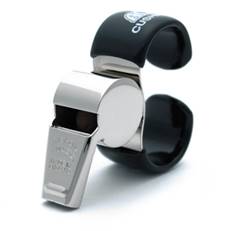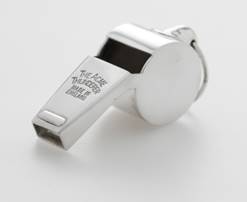 Radical Tea Towel
Making History…
Radical retro washbags from Radical Tea Towel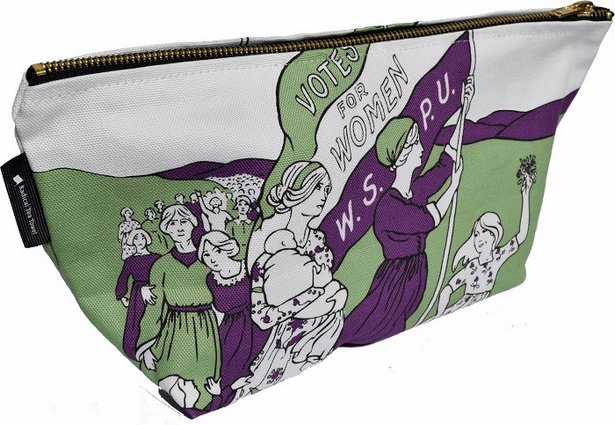 TWITTER | FACEBOOK | INSTAGRAM
Radical Tea Towel have created a range of washbags featuring retro images inspired by great radical thinkers and monumental moments from history.
With a water-resistant lining they're perfect for toiletries and cosmetics – or even a pencil case – and make for a great gift for the person who has (almost) everything.
Women's March! (above)
Based on a 1911 vintage design by Margaret Morris, intended to illustrate the song sheet of "The March of the Women," a song dedicated to suffragette leader Emmeline Pankhurst. It became the anthem for the women's suffrage movement throughout the United Kingdom and elsewhere.
Bugler Girl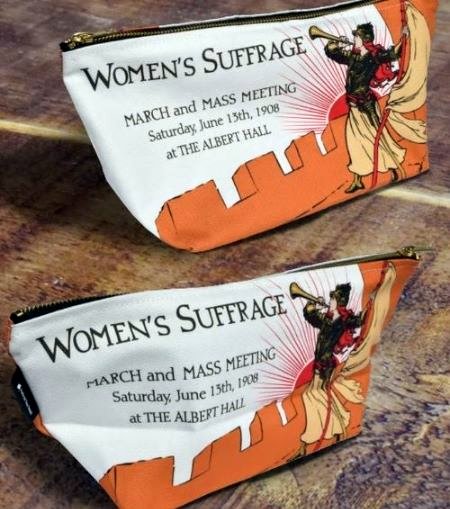 Bugler Girl – The striking design on this wash bag is taken from a vintage 1908 poster design by Caroline Marsh Watts. It features a girl marching with a bugle, an instrument historically used to relay instructions during battle. The Bugler Girl certainly trumpeted her battle message loud and clear: against injustice, for equality.
William Morris Strawberry Thief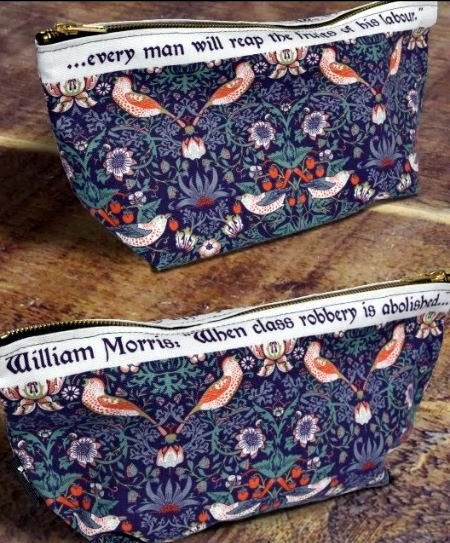 William Morris Strawberry Thief – 'When class-robbery is abolished every man will reap the fruits of his labour.'
Combining one William Morris' classic designs The Strawberry Thief and a radical quote by him in a perfect marriage of his two passions: art and activism.
Liberty, Equality, Fraternity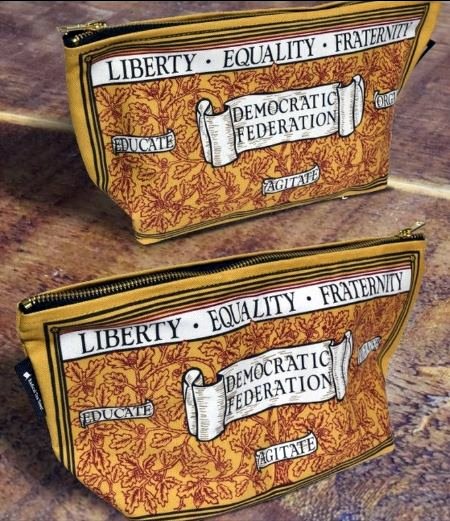 Liberty, Equality, Fraternity – William Morris created this design for the membership card of the Social Democratic Federation (Britain's first socialist political party).
A British artist, poet, novelist, and ardent socialist, Morris is best known as the 19th century's most celebrated textile designer, responsible for the some of the most recognisable textile patterns from the century.
Votes For Women Wanted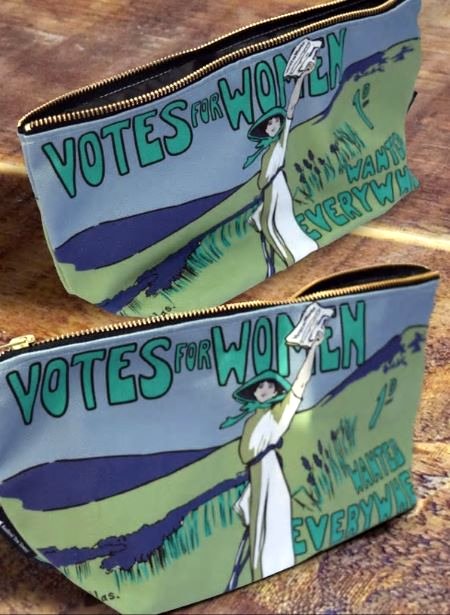 Votes For Women Wanted – This image is based on a 1909 poster advertising Votes for Women, the official Suffragette newspaper. The design is by Hilda Dallas (1878-1958).
"The Suffragettes" was a nickname given to the Women's Social and Political Union, who had broken away from the National Union of Women's Suffrage Societies in order to pursue militant tactics under Emmeline Pankhurst.
Washington Suffrage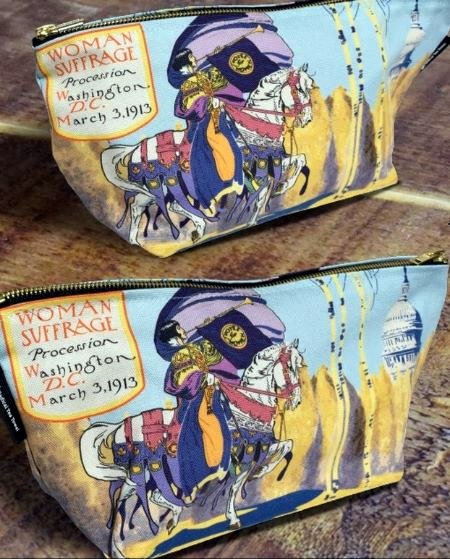 Washington Suffrage – The artwork on this wash bag captures an inspiring moment of feminist history: the 'Woman's Suffrage Procession', the first suffragist parade in Washington, D.C., organised by suffragist Alice Paul. On March 3rd, 1913, the day before President Woodrow Wilson's inauguration, thousands of suffragists marched down Pennsylvania Avenue 'in a spirit of protest against the present political organisation of society, from which women are excluded.'
Specifications: Sturdy wash bag in 300gsm bleached half panama with a strong brass top zip. Measures 30 x 15cm with a 10cm gusset. Digitally printed on both sides, with black, water-resistant lining. Hand wash carefully at 30 degrees. Suitable for toiletries and make-up.
Price – £18.00 each
Featuring quotes from politicians, poets, writers and philosophers along with illustrations from events that changed the course of history, Radical Tea Towel's homewares range extends to tea towels, aprons, tote bags, oven gloves and mugs.
See the full range at www.radicalteatowel.co.uk
Instagram @radicalteatowel
Twitter @radicalteatowel
Facebook @radicalteatowel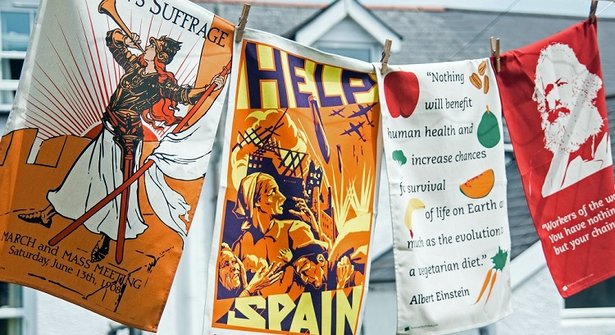 THE FUTURE OF FITNESS IS ALL IN THE AI: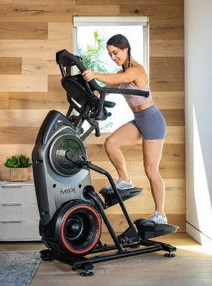 THANKS TO THE NEW BOWFLEX MAX TRAINER M8 WITH CONNECTED FITNESS AND PERSONALISED WORKOUTS
The new Bowflex Max Trainer M8 is the first home exercise equipment to possess an Artificial Intelligence platform that can help people reach peak fitness.
Bowflex (www.global.bowflex.com/) the leader in home fitness equipment, is dramatically changing the relationship people have with their training machines and redefining the smart home gym with the introduction of their new intelligence platform, JRNY™. This new digital platform uses artificial intelligence (AI) to provide truly customized workouts that automatically adjust with the individual user.
JRNY's adaptive coaching technology uses AI algorithms, data from an initial assessment, and tracking from previous workouts to create personalised daily workouts based on the user's fitness goals. Each custom workout is adjusted automatically based on how the user is feeling, how much they improve, and their past performance. Users also receive real-time feedback and expert guidance from a virtual trainer, as well as rewards to celebrate their achievements.
In addition to the new AI platform, the new Bowflex Max Trainer M8 boasts enhanced features over its predecessor, the M7. Combining the full-body, low-impact motion of an elliptical with the calorie-torching power of a stepper, the fat-burning capability of the Max Trainer M8 is unmatched. At a fraction of the size of most ellipticals and treadmills, this space-saving machine is designed to fit in every home gym environment, and with handy integrated transport wheels, it can be moved about with ease.
Enjoy one of seven built-in programs – including the classic 14-minute workout – or let Max's dynamic coaching guide the way.
20 resistance levels ensure every session is a challenge – easily adjustable via the one-touch buttons on the console.
More than just a series of classes, Bowflex's new AI is a full-fledged fitness coach that learns from your workout history and responds to you in real-time utilizing the most advanced algorithm in fitness to tell you when it is time to ramp up your workout, dial it back, set new goals and celebrate achievements.
The Max Trainer M8 is available exclusively from Fitness Superstore in the UK for £1999.
VISION FILMS TO RELEASE FAMILY CHRISTMAS COMEDY ELFETTE SAVES CHRISTMAS TO VOD AND DVD ! buy at :- amzn.to/2PK2UIY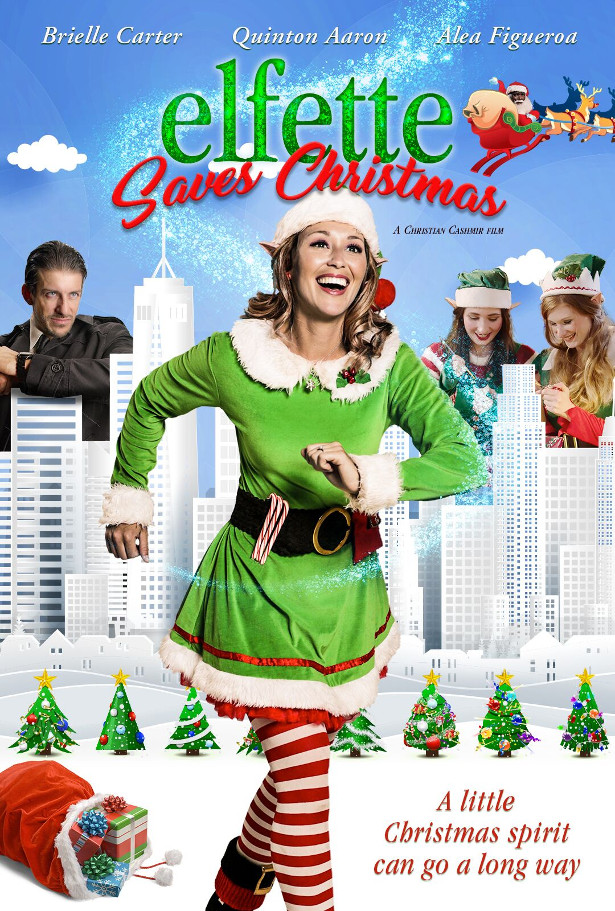 September 30, 2019 (Los Angeles, CA) – Vision Films Inc. ("Vision") is bringing the magic of Christmas to audiences in the US and Canada with the VOD and DVD release of Elfette Saves Christmas, an instant classic and the best new Christmas film of 2019. Elfette Saves Christmas is from Litewave Media and delivers fun for the whole family as the newest addition to the holiday season film milieu. Bringing new twists and characters to "finding Christmas spirit where you least expect it," the movie features Quinton Aaron (The Blind Side) as Santa Claus. The movie will be available on DVD and VOD platforms in the US and Canada on November 19, 2019.
Elfette Saves Christmas is the story of a not-so-ordinary elf named Elfette (Brielle Carter) who finds her vacation in Florida cut short when there's suddenly a Christmas emergency – Santa Claus (Quinton Aaron) has been kidnapped by the New York Mafia's crime boss, Little Georgie (George Vricos)! Elfette to the rescue! Upon arriving in New York City days before Christmas, Elfette finds herself lost in a human world she doesn't understand and with a lunatic elf-hunter named Ernest Killingsworth III (Zachary Vasquez) in hot pursuit. To save the day and prove herself an extra-special elf, she must team up with her best friend Sparkle (Aléa Figueroa) to save Christmas, Santa, and the elves before Christmas is ruined for the entire world!
Lise Romanoff, CEO and Managing Director of Vision Films says, "We are so pleased to introduce Elfette, the bravest Elf of them all to audiences in the USA and Canada. This message of holiday spirit is sure to make you smile and we look forward to adding Elfette Saves Christmas to everyone's 'Favorite Christmas Films' list!"
"I've always been inspired by classic Christmas films – they've left me with some of my fondest memories growing up and watching with the family. We wanted to create something with our team that paid homage to those films while also creating a new story for a younger generation of families," shares director and writer Christian Cashmir.
The film stars Quinton Aaron (The Blind Side) as Santa Claus, Kenneth McGregor (XMen, Muppets Take Manhattan), Brielle Carter, (Love Hurts III), Aléa Figueroa (HBO's Ballers), Zachary Vazquez (Magic Mike, Baywatch), and George Vricos (Miss Peregrine's Home for Peculiar Children).
DVD retailers will include Amazon (DVD/Blu-Ray), Best Buy, Barnes & Noble, Walmart, Target and more.
VOD availability will include iTunes, Amazon Instant, Google Play, Vudu, Vimeo, and FandangoNow, Sony/PlayStation, Microsoft/XBox, Hoopla and Overdrive and across hundreds of U.S. cable providers including Comcast, Spectrum, Charter, Cox, Verizon Fios, Frontier, Google Fiber, Mediacom, Suddenlink, Dish, DirecTV, and more including Canadian cable providers, Rogers and Shaw.
About Vision Films Vision Films is a leading independent sales and VOD aggregator specializing in the licensing, marketing, and distribution of over 800 feature films, documentaries, and series from some of the most prolific independent film producers in the world. Led by Lise Romanoff, Managing Director/CEO Worldwide Distribution, Vision Films releases 2-4 films a month across Theatrical, VOD, DVD, and television platforms. visionfilms.net
About Litewave Media Litewave Media's film studio has partnered with both the St. Petersburg, Florida Film Commission as well as local filmmakers to bring more films to the Tampa Bay area. Our team has produced over 30 films over the past 15 years winning numerous awards at festivals around the world. Litewave Media recently produced the hit Steampunk film series, The Skyship Chronicles, filmed primarily in Tampa Bay, Florida. Another of our projects, BTS: The Web series, (filmed in our video studio in St. Petersburg, FL) had its first episode recently screened at the Cannes Film Festival in France. And we have more on the way! Please visit us at litewavemedia.com

An Unconventional Gift for Men Yes but so thoughtful… www.promtpgs.com . The Prostate Cancer Screening Service.
FACEBOOK | INSTAGRAM | LINKEDIN
Grooming gifts are always a great go-to, but this year gift givers are redefining self care for men from beard oil and shave kits to health related gifts men didn't even know they should be thinking about. Show you care and give the unconventional gift of Prompt Prostate Genetic Score (PGS) – the simple at-home test to evaluate a man's genetic predisposition to prostate cancer. It might not be fun topic for the dinner table, so let Prompt do the talking and use this self care gift as a conversation starter to make sure the men in your family are making informed and proactive decisions about their health.
The at-home test is as easy and delivered straight to your door. With a simple to use cheek swab kit – at any age the test can monitor and identify those with genetically high-risk who may benefit most from a prostate cancer screening as early detection is key.
Prostate cancer is the second leading cause of cancer deaths in men despite being curable with early detection, so be the gift giver that cares. Founded by a leading urologist concerned about controversy around PSA testing leading to delayed diagnosis and increase in incurable disease, Prompt focuses on reversing that trend one strange stocking stuffer at a time.
About Promt PGS.
Evaluating Man's Genetic Predisposition to Prostrate Cancer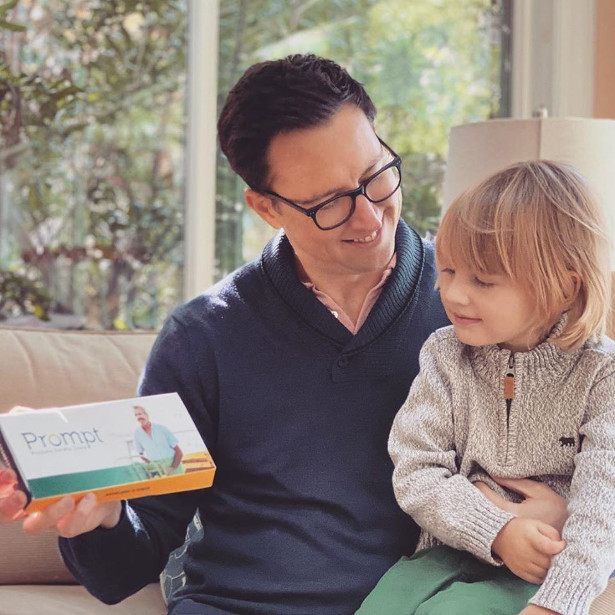 Despite being curable with early detection, prostate cancer remains the second leading cause of cancer deaths in men. Due to controversial recommendations about the common screening tool, called PSA, early detection rates and prostate cancer screenings are declining. At the same time, the number of men with incurable disease is on the rise.
Regular screening has been recommended if you are at high risk — but how do you know your individual risk? Relying on family history alone may not be enough.
Prompt® was designed to provide men, along with their families and clinicians, with the knowledge to make informed decisions about their health.
Prompt is currently validated only in Caucasian men, though testing for additional ethnic origins is in development.
Prompt, is a major advancement in evaluating a man's genetic predisposition to prostate cancer. This simple test, performed with a cheek swab sample, at any age, can help men know their individual risk for prostate cancer and may identify high-risk men who might benefit most from prostate cancer screening.
Our genetic test encourages men to be actively involved in the development of their personalized prostate cancer screening approach at an early stage.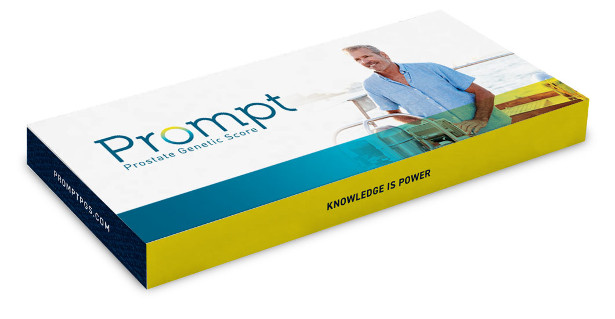 'The Other Straw' a way to show your appreciation to Mother Earth this Christmas!
theotherstraw is a social enterprise offering reusable, ethically-sourced bamboo straws. theotherstraw reusable straws are handmade from sustainably grown, organic bamboo and 50% of the profits go towards ocean cleanup projects.
Co-founders of theotherstraw Jamie-Lee Kay and Lennart Meijer estimate that nearly 1 billion plastic straws are used around the globe, everyday.
"We founded theotherstraw because we were shocked by the amount of plastic waste on our beaches, parks and just about everywhere else – we knew we had to do something about it," Lennart said.
Plastic straws can not be recycled and take hundreds or even thousands of years to break down. According to beach cleanup volunteers, they are the tenth most commonly-found item on our beaches.
Show your appreciation to Mother Earth this Christmas by purchasing some bamboo straws for a loved one. theotherstraw sends all their straws out plastic-free and using carbon neutral shipping. Purchase a pack of straws today; they come in sets of 2, 5 and 10. All sets come with a straw cleaning brush and straw bag. They are the perfect sustainable gift for the conscious sipper. Shop theotherstraw bamboo straws today.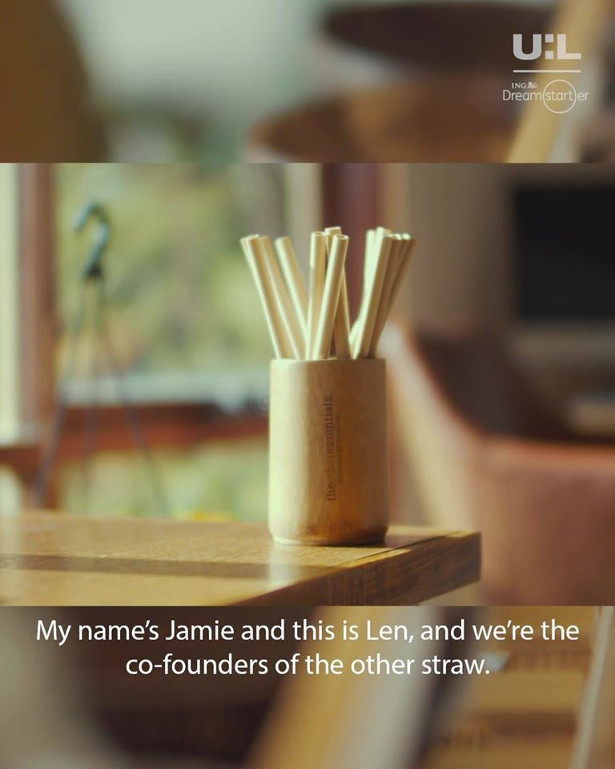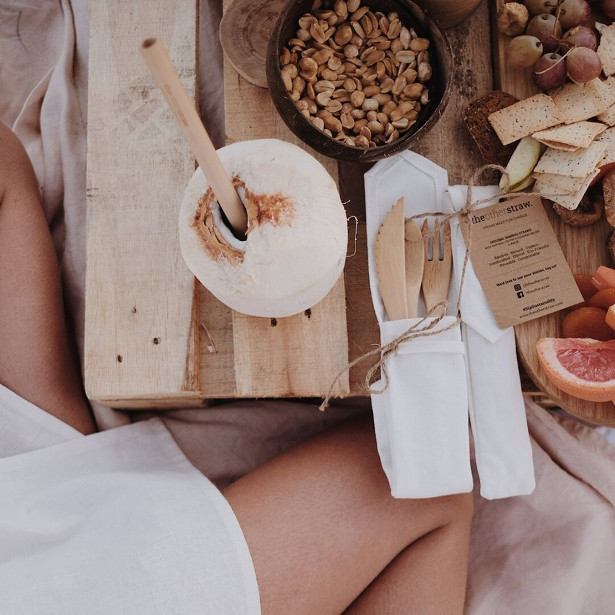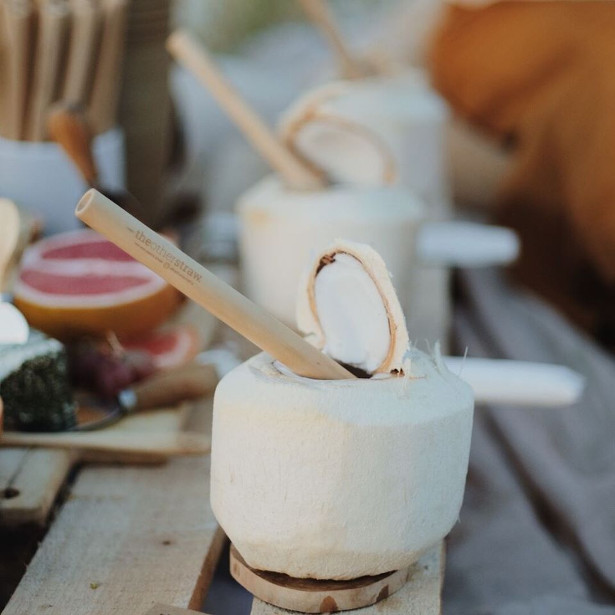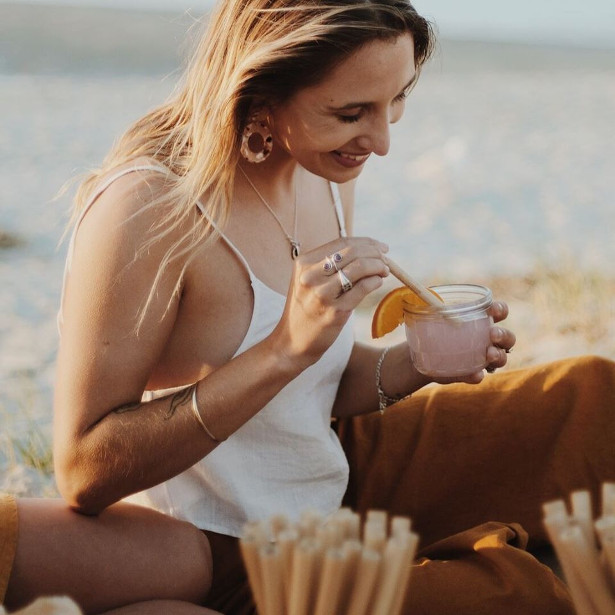 PHOOZY protects Laptops and Tablets at school and on the go
phoozy.com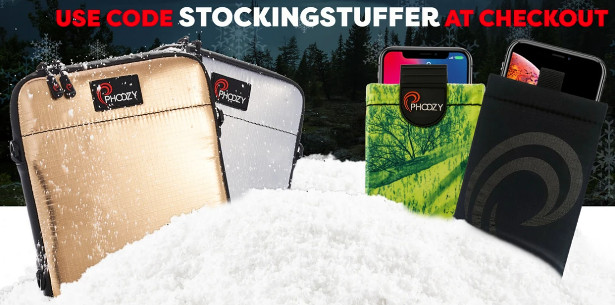 Going back to campus, you want the best and most stylish protection for Laptops, Tablets like iPads and Smartphones. The new PHOOZY thermal capsules protect these precious devices from the weather like heat and cold, rain, drops, water and more. PHOOZY capsules were created by Lamborghini professional race car driver Kevin Conway for his own use while on the go and playing outside.
New Board Game "Houseguests from Hell" Launches Just in Time for Holiday House guest Season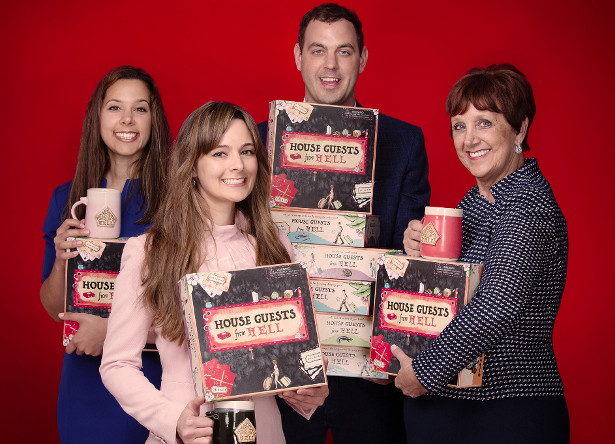 While taking care of a long-term houseguest, Shelley Pritchett and her family found a creative way to bring laughter and reduce the strain. They created the board game, "House guests From Hell."
Los Angeles, CA – Over the last 12 months, the Pritchett family has turned their stress reliever into an exciting and new way for families to play together and team building for small groups. The board game "House Guests From Hell" was released to the public on October 30 at the Los Angeles Small Business Expo. The board game is available online at www.houseofgames360.com.In the team-building game, "House Guests From Hell," each player becomes a Host and must entertain their bad house guest. The object of this game is to be the first to get rid of their houseguest. Dilemmas must be solved using the solution cards that you have drawn. You get to be creative, draw on personal experiences, and work as a team. "House Guests from Hell" has endless possibilities of fun with the screwball explanations that people come up with to solve their various difficulties."Golden Elixir Enterprises is a family business that w as inspired by an endless stream of eccentric visitors that passed through our door," says Pritchett. "We have had to improvise and be quick on our feet to entertain them. We have played to our strengths in using wit, creativity, and problem solving."Golden Elixir Enterprises offers a broad sense of humor in the development of their games, and "House Guests From Hell" is the first of many to come. The company has a variety of other games in various stages of development, with the focus on games that are thought-provoking, addictive, and sometimes even a bit cheeky. "Our hope is that we can create products that will help renew interaction and foster connection in an increasingly digital world," says Pritchett.The board game increases memory cognition and teaches problem solving. It's not only a great family game, but corporations will be able to use the game in team-building activities.
The game is available online at www.houseofgames360.com
Chakra Gifts for Teenagers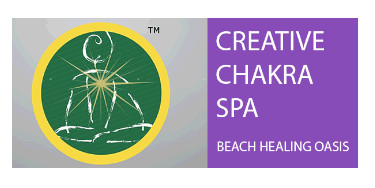 Deck of cards to empower your life as well as chakra meditations paired chakra fruit and vegetable list with 7 chakra pulse oils to balance and enlighten. Helps focus and attein daily and weekly goals.
www.creativechakra.com
Short Bio: The owner Sandie West began her journey as a teenager using tangerine oils to combat depression and chamomile to deal with her insomnia as well as lemon to focus on her school studies. She has owned Creative Chakra Spa for 21yrs.
My devotional He Restoreth My Soul Triumph through Adversity is the perfect gift for loved ones.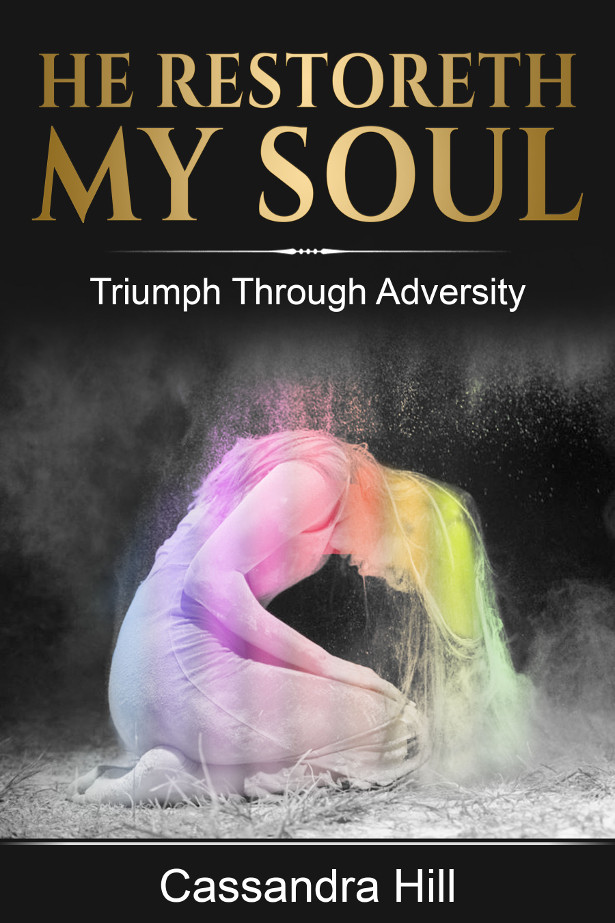 The book is available on Amazon in Paperback and Kindle formats. AT :- www.amazon.com/He-Restoreth-My-Soul-Adversity/dp/0999818872 & www.barnesandnoble.com/w/he-restoreth-my-soul-cassandra-hill/1134392699
Royal Dogs Relaxation Kit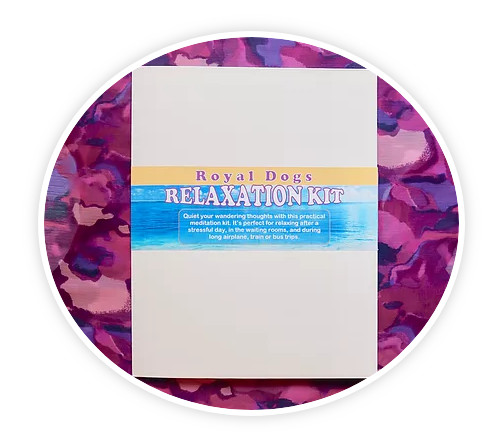 It's this season's perfect gift for everyone who seeks serenity and inner joy. The Kit is designed to quiet your mind with 30 exquisites illustrations and inspirational quotes. It can help you unwind and remind you of how awesome life is! It's a simple but very effective relaxation tool! Anyone can do it, anywhere and anytime.
www.royaldogsgallery.com/kit
EverSmile® AlignerFresh™ The only wearable aligner cleaner you can keep in your pocket.
www.eversmilewhite.com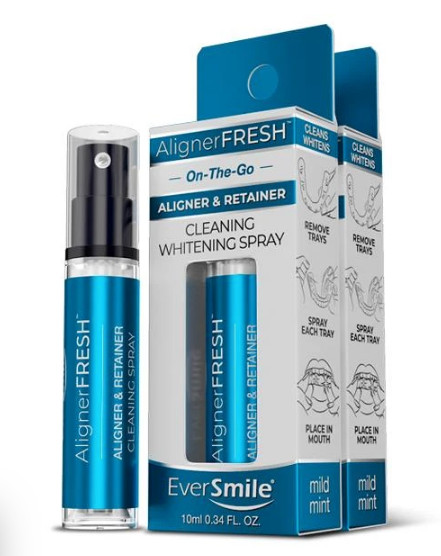 Patent-pending technology solves the number one problem with w earing aligners; whitening and cleaning on-the-go. Perfect for after meals when you can't rinse. EverSmile's mission is to create new and advanced oral care products that will change patients' lives. Their products are game-changers for those seeking fresh breath, white teeth, and clean orthodontic appliances. Being able to keep your dental appliances clean, free from discoloration, and to be able to gradually whiten your teeth is revolutionary!
Give the gift of kindness this Christmas!
FACEBOOK | PINTEREST | TWITTER
The Cool To Be Kind Project love you share kindness cards all year but love it even more so at Christmas. Our children's range of kindness cards are very popular and have been made so they can be coloured in, with the idea for kids to be able to learn the concept of "kindness" and then hide them when out and about with their parents or giving them to someone who is having a rough time at school. Based in Australia, The Cool To Be Kind Project has officially gone global – with responses from people who have found kindness cards in Arizona, Philadelphia and the UK. Our concept of paying it forward is being warmly shared across the world and there is no better time to share kindness than at Christmas!
www.thecooltobekindproject.org | naomi@thecooltobekindproject.org | @thecooltobekindproject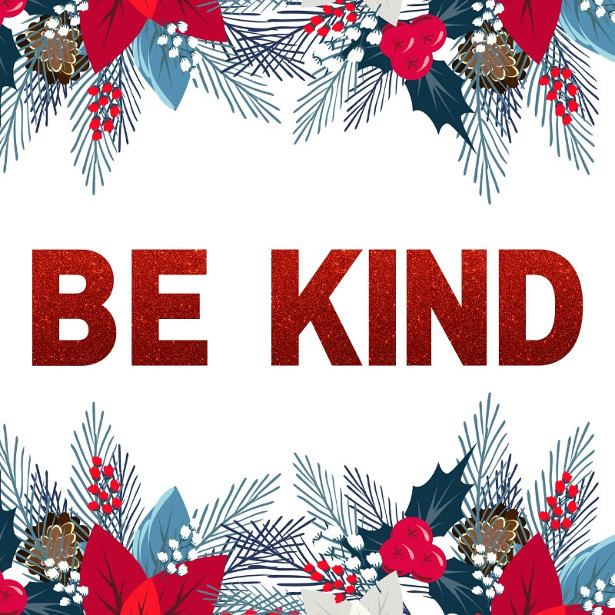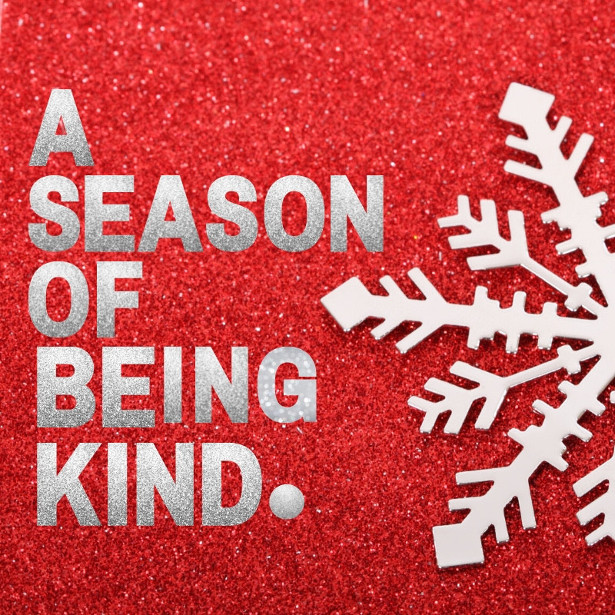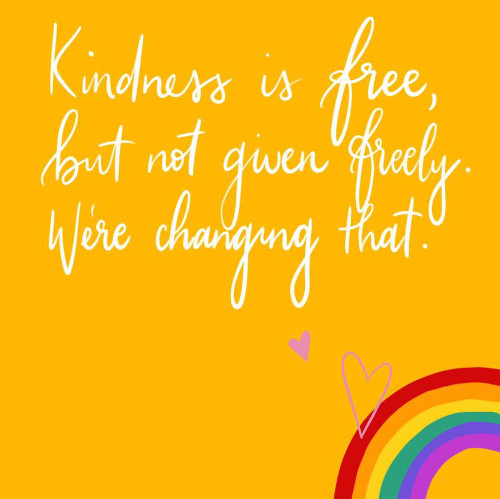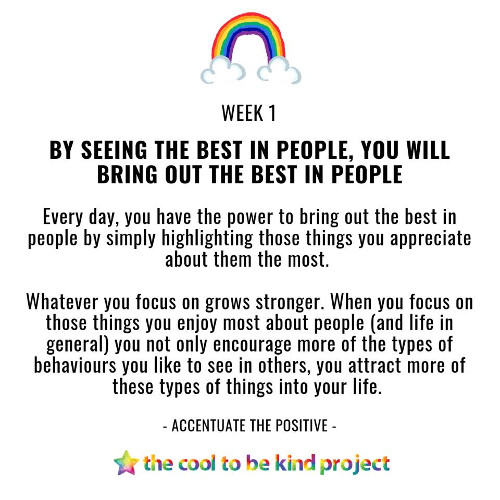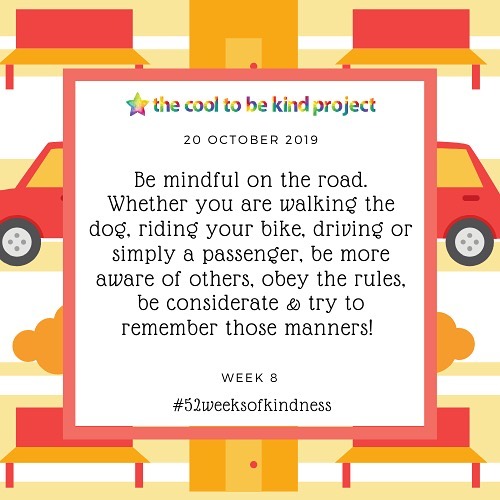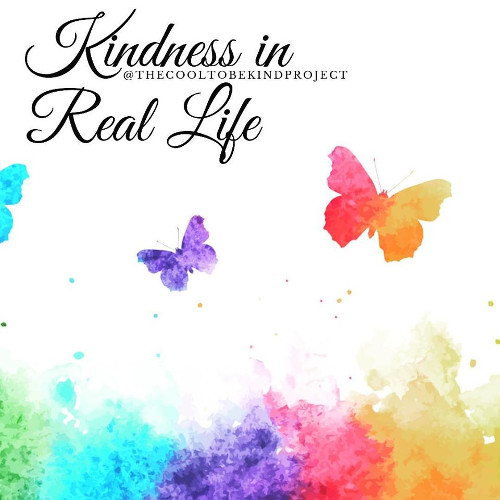 RAW NATURALS, THE SWEDISH WINTER-TESTED NATURAL MEN'S SKINCARE RANGE
ARRIVES IN TIME FOR THE CHRISTMAS CHILL
In Superdrug >> www.superdrug.com/b/Raw%20Naturals
Raw Naturals, the new skin care, body care and beard care range arriving in the UK from Sweden in time for Christmas, is now available exclusively in Superdrug. All products are manufactured in Sweden in the Raw Naturals brewing facilities in Falun and the philosophy is simple: logical skin care and no 'fuzz'. The Swedish logic is that if a grooming product can perform well in the harsh Scandinavian climate, it's more than fit for purpose in Blighty! All Raw Naturals products are tested in weather conditions that your skin hates – demonstrating that what works in Sweden, works anywhere. Indeed, Raw Naturals is the brainchild of 3 Alpine skiers from Sweden who sought to find a moisturiser that only needed to be applied once a day whilst out on the cold, windswept slopes.
The Raw Naturals range includes advanced, and highly efficient quality grooming products for men. The focus is on visible results and problem solving. The concept is technical and cutting edge, but with an honest and straightforward approach. The result is a unique face, body and beard care range with truly exceptional moisturising properties.
Natural by name and natural by nature, Raw Naturals is characterised by its simple profile, from its processes, ingredients, and formulae, to the packaging design, and product descriptions. Caring ingredients are of vegetable origin with natural oils from oats, coconut and olives, as well as natural honey extracts. The cleansing products are completely sulphate-free and contain natural cleansing agents from apple.
With the RAW NATURALS GROOMING COLLECTION FOR CHRISTMAS,
give the gift of top-to-toe high-performance Swedish-brewed face, body and beard care. Protect either your loved ones – or yourself – during the Christmas chill with the reassurance of Swedish-tested grooming
The Raw Naturals range is currently on offer at Superdrug stores and on line at www.superdrug.com/b/Raw%20Naturals
Raw Naturals Pale Ale Shower Gel 300ml / £6.66 was RRP £9.99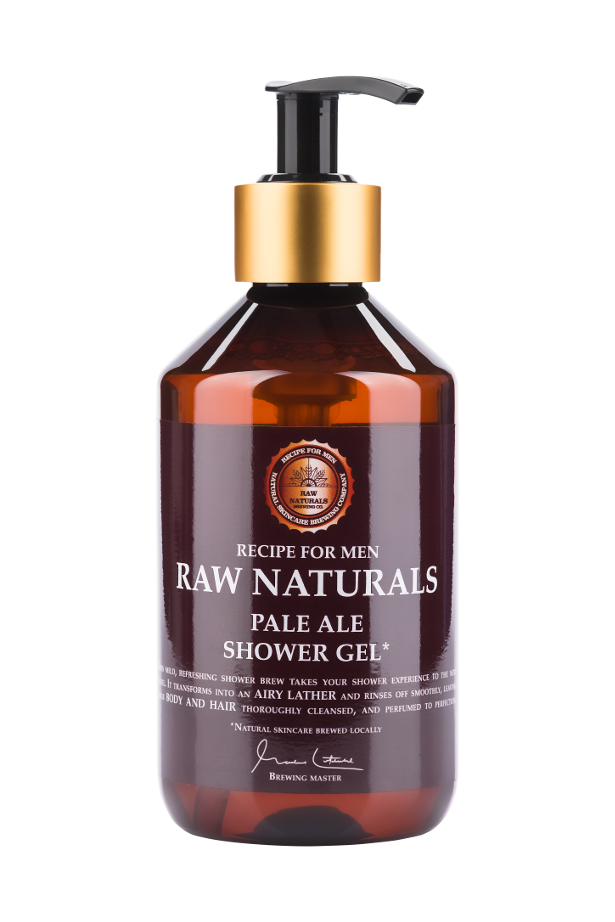 Raw Naturals Rustic Beard Shampoo & Conditioner 250ml / £8.66 was RRP £12.99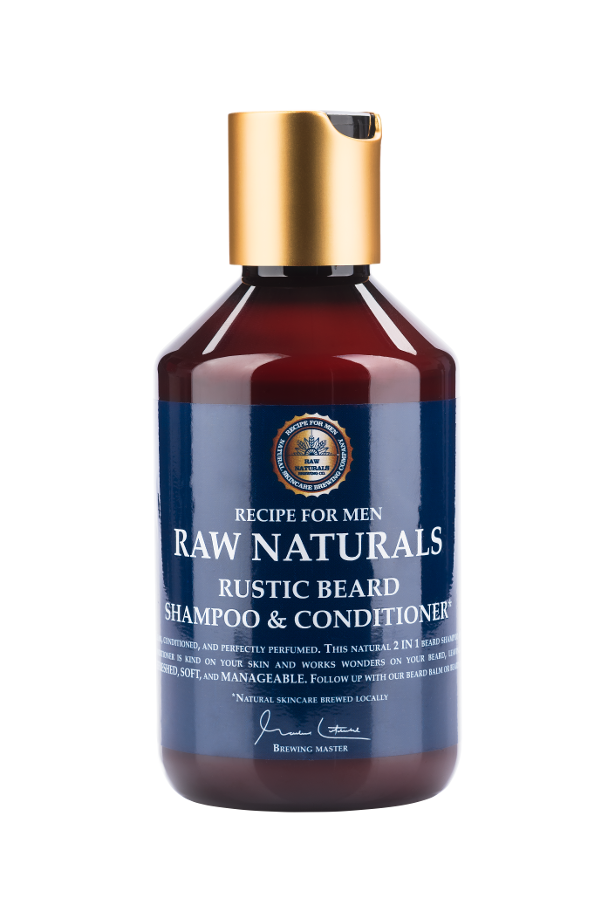 Raw Naturals Glacier Water Face Cleansing Fluid 250ml / £6.66 was RRP £9.99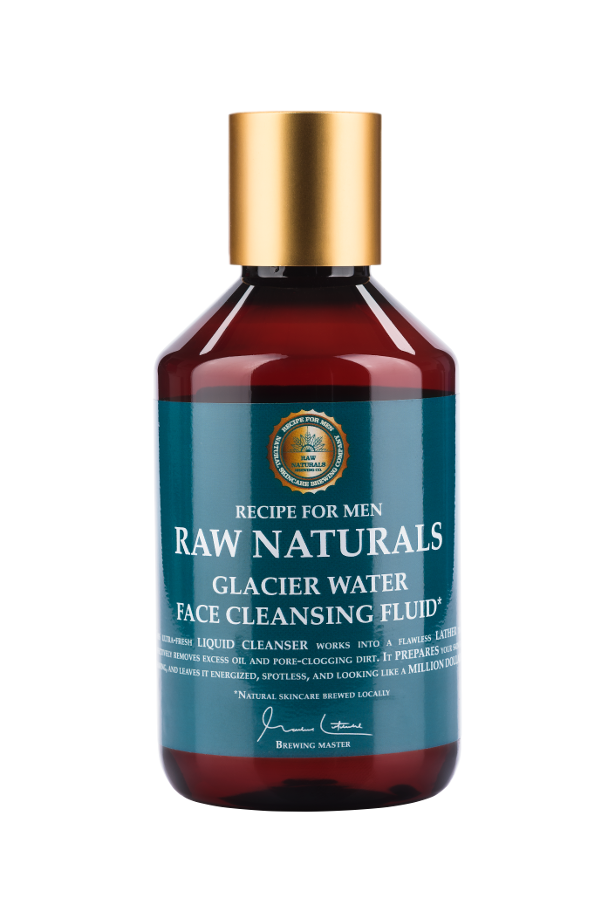 Raw Naturals Universal Face Cream 100ml / £8.66 was RRP £12.99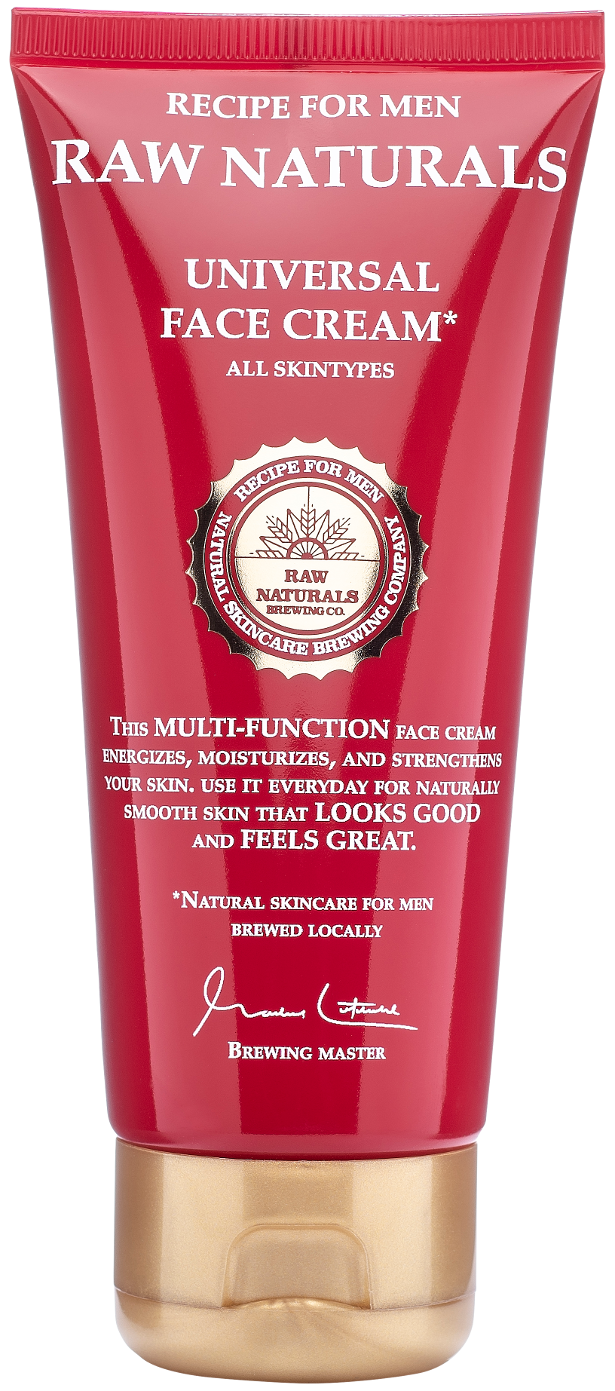 UK seasonal spending bill to hit £75 billion this Christmas
UK, November 25, 2019 – It will be jingle bells at the tills this Christmas as Brits plan to spend on average £1,522 each this festive season according to a new study from American Express. As a nation, this comes to more than £75 billion being spent on everything from presents to parties.
The top three costs this Christmas are festive getaways, gifts and hosting parties. Almost a quarter (23%) of this year's seasonal shoppers will redeem loyalty points, cashback and rewards as part of their festive spending.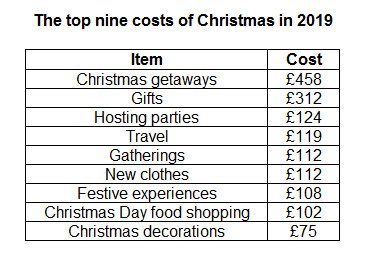 Despite the cost of Christmas, only 17% plan for an increase in their spending and three in ten admit (30%) to not setting a budget at all.
Carmelo Scoglio, Director at American Express, said: "Christmas is the season to spend quality time with friends and family and it can be great fun planning trips to see Father Christmas, going late night shopping or even heading abroad to visit a Christmas market. All of these festive items and experiences can soon add up. When celebrating this year make the most of your expenditures by putting them on a card that gives you rewards and cashback for spending."
American Express offers the following top tips for Santa's little helpers:
1. Shop Small – For more unusual gifts this year, American Express Cardmembers could Shop Small at local independent retailers between 7 and 22 December to earn a £5 statement credit when they spend £10, once per merchant, up to £50. Terms apply
2. Make a list and check it twice – Write down the names of everyone who you need to buy a present for, your gift ideas for each person and where you want to buy the gift. This way you can make your shopping trips as efficient as possible.
3. Cashback Christmas – Christmas costs can soon add up, so you could consider putting the cost on a card that gives you cashback and rewards for spending. This will allow you to treat yourself later in the year.
4. Secret Santa – The Christmas list of gifts you need to buy can sometimes seem endless. Why not suggest doing secret Santa between your group of friends instead of buying presents for them all? This way you can take your time to find the perfect gift for one friend.
5. Christmas clashes – To save time, why not ask your family members what they would like for Christmas this year, this means they will receive a gift that they really want and you won't have to spend hours looking for something to buy.
Health Changes That Will Last A Lifetime.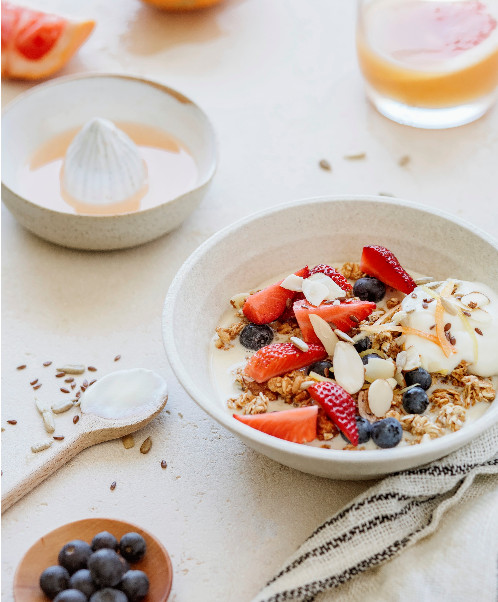 There are many diets, fads and supplements that all promise a healthier you. The truth is there are no quick fixes. The only way to make long term changes is by making little steps that become habits. New Year's resolutions are a good way for you to consider lifestyle changes you wish to make, but the more drastic they are, the more likely you are to fail. Aiming to do seven gym sessions per week may sound like a good idea to lose weight quickly but when you miss a few sessions you are likely to feel demoralised and then give up. Short term goals can create habits which can last a lifetime. If you want real change, then small, achievable little steps make the biggest impact long term.
Here are some little changes that can stay around all year, not just through January. We've included calories to show to you the impact you can make.
1. Choose a healthy breakfast on weekdays. If you start the day well, the rest of the day often follows. By choosing a healthy and balanced breakfast you are more likely to resist eating bad at dinner time and avoid afternoon sugar snacks. You can save around 400 calories per meal when choosing a healthier option. Even if your evening meal isn't the healthiest, you've made real strides throughout the day. Once the weekend comes along you can eat whatever you fancy, but as the weeks go by, you'll be enjoying healthy food more and make better evening and weekend choices. Weekly calorie savings 5 days x 400 Calories = 2,000 Calories per week
2. Have a daily cup of Matcha Tea. According to National Tea Day, Matcha drinkers can burn up to 70 extra calories per day. It's jam-packed full of antioxidants, and benefits and will help you fight off most winter bugs and viruses. Be careful though, most benefits are void if you use boiling water, so let the water cool a few minutes before pouring. Weekly calories burnt 7 days x 70 calories = 490 Calories burnt per week
3. Use a standing desk. Varidesk is a sit-stand desk which slots onto existing desks. Not only will it help increase your productivity, but you will burn an additional 50 calories per hour when stood. By rotating sitting and standing hourly throughout a workday you'll improve your posture, reduce back pain and also burn 50 calories per hour when stood. Varidesk also help boost productivity by 48%, meaning you'll be more focused at work. Work smarter, not harder you won't need to stay late at work catching up. Visit UK.Varidesk.com for more information, prices start from just £150. Daily calories burnt 5 days x 200 calories = 1,000 Calories burnt per week.
4. Some people love the gym, swimming or jogging. They can all burn a lot of calories per year, if you go regularly that is great. You should also try to take at least two brisk 30 minute walks per week, on top of your current exercise regime, even if you don't have a regime, 2 walks will help burn off around 400 calories per week and let's face it, 30 minutes isn't hard to find twice per week. A walk to the shops, or a nice walk in the park. Walking is also a great way to unwind and reduce daily pressures. Weekly calories burnt 2 activities x 200 calories = 400 Calories burnt per week.
5. One in four people have a snack straight before bed. Go to bed half an hour earlier, you'll burn off an additional 35 calories per night and you'll avoid the temptation of a snack before bed, saving needless calories on top. The extra half hour will help your body recover and you'll feel well rested on the morning and more likely to start the day with a healthy breakfast. 35 calories brunt x 7 Days = 245 Calories per week.
It's easier to make small, little and achievable switches which as will all add up for big benefits.
2,000 kcal per week or 104,000 per year by choosing a healthy breakfast.
490 kcal per week or 25,480 Kcal per drinking a daily cup matcha tea.
400 Kcal per week or 20,800 Kcal per year taking 2 x 30-minute brisk walks per week.
1,000 Kcal per week or 48,000 Kcal per year* using a Standing desk such as Varidesk at work. (48 week working year).
245 Kcal per week or 12,740 calories per week going to bed 30 minutes earlier.
In total 2,000 weekly calories are saved + 2,135 Total weekly calories burnt = 4,135 calories per week or 190,220* per year. (Standing desk based on a 48 week working year Mon-Fri)
Whatever changes you make small changes are more likely to form long term habits. An annual 190,220 calorie swing is the equivalent to the calories burnt in running 70 marathons. Now, that's impressive.
Turn Red Wine into Water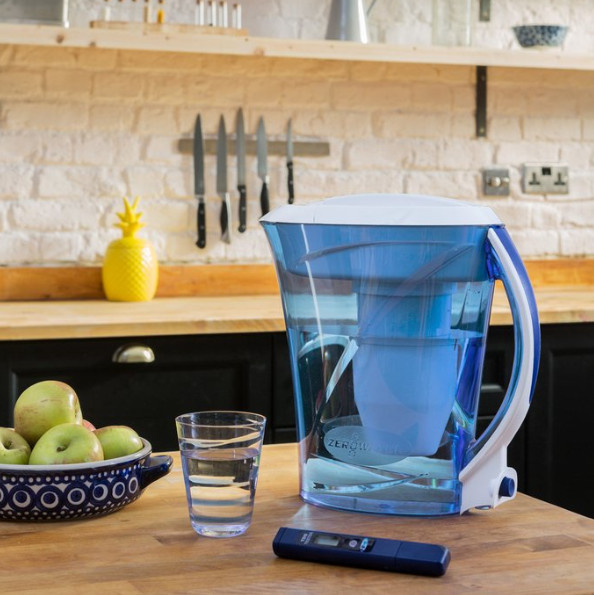 ZeroWater is the only water filter brand that delivers the equivalent to purified bottled water into your home. Developed a pour-through system, with an aim to deliver the best filtration possible with their premium five-stage ion exchange technology, this filter removes virtually all total dissolved solids (TDS), a claim which no other filter can say.
ZeroWater is the only gravity-fed filtration system to match the TDS levels found in purified bottle water. This breakthrough filtration system from ZeroWater is certified by NSF International for the reduction of Lead and other heavy metals such as Chromium 3 & 6 and Mercury. The Good Housekeeping Research Institute have also revealed that ZeroWater removes more total contaminants from water than a regular Brita filter, making it a must have for all homes in the UK.
ZeroWater's 12-cup Ready-Pour™ pitcher is the first in its class that has a sealed lid and reservoir, making it possible to pour water that has already been filtered without spilling water that's still filtering. This means the reservoir can now be kept full, adding a full two cups' capacity to the existing 10-cup design. It also features a one-hand, pull and pour button spout for easy bottle filling.
The 12-cup Ready-Pour™ uses the patented ZeroWater filtration system, which combines FIVE sophisticated technologies that work together to remove virtually all dissolved solids from your water. The result is great-tasting water, straight from the tap, and the only pour-through filter pitcher on the market that's certified by the NSF to reduce lead.
ZeroWater's first layer of filtration, activated carbon and oxidation reduction alloy, removes the chlorine taste you are accustomed to with tap water. The Ion Exchange stage removes virtually all dissolved solids that may be left over from public water systems or even leached into your water from piping, such as aluminium, lead, zinc, nitrates, and more. Three additional stages are included to remove other impurities and ensure your water receives the appropriate amount of treatment time to deliver a "000" reading on the included laboratory-grade Total Dissolved Solids meter.
About ZeroWater
NSF Certified to REDUCE LEAD
Removes 99.6% of all dissolved solids
Purest tasting drinking water
12 cup capacity = 10 cup pitcher + 2 cups in reserve
Immediate pouring ability
One-hand "push to dispense" spout to fill any bottle or cup
Convenient space-saving design
Certified* to reduce Lead, Chromium, & Mercury
Premium 5-Stage Dual-Ion Exchange filtration system
Ion-Exchange system that removes virtually all dissolved solids in your water
The FDA requires the TDS level in PURIFIED bottled water to reach 000-010ppm. ZeroWater is the only filter in its class to achieve this level.
The ZeroWater 12 cup ready pour costs £39.99 from ZeroWater.co.uk
THOUGHTFUL GIFTS FOR LOVED ONES FACING CHEMOTHERAPY:
littlelifts BOXES NOW AVAILABLE TO BUY ONLINE

Just in time for Christmas, breast cancer charity, littlelifts, has launched an online shop selling thoughtful gifts for women undergoing chemotherapy. Each littlelifts box is hand-packed with love and full of specially selected products to provide practical support and promote emotional wellbeing for women during chemotherapy treatment for breast cancer. The new online shop will sell its signature littlelifts box and littlelifts minis.
Signature littlelifts box: £89 includes postage (UK only)
Buy one and help us gift one!
From a pain-easing heat pack and soothing lollies, to luxury body lotion and luscious chocolates, there are twenty-five items to provide a welcome boost and little lift to help to either alleviate, soothe or boost women undergoing chemotherapy. Wherever possible, products are natural, ethically-sourced, eco-friendly and organic. Thanks to the generous support of our suppliers, a littlelifts box is £89 – well below its retail value of over £100.
See end of this release for full list of box items.
For every box sold, 30% is donated back into littlelifts to help women with breast cancer in Norfolk and Suffolk. Up until now, these 'signature' littlelifts boxes have been presented to hundreds of women visiting the oncology and breast care teams at five Norfolk and Suffolk based hospitals.
Also available are littlelifts minis:
littlelifts mini: Boost £30
Choose our littlelifts boost mini for mood-boosting treats and revitalising goodies. Enjoy a little foodie fun with a delicious selection of tasty delights that are good for the body and soul. Items include luxury chocolate, cold-pressed fresh fruit cordial, munchy seeds, organic mint humbugs and a soothing eye mask. Plus, for every box sold 30% is donated back into littlelifts to help women with breast cancer in Norfolk and Suffolk.
littlelifts mini: Nourish £32
littlelifts nourish mini is a perfect blend of practical products and enriching goodies to nourish the body and nurture wellbeing. Items include a soothing moisturiser, gentle toothpaste, delicious herbal teas and a luxury lip balm, as well as a beautiful bird of paradise plant kit. Plus, 30% is donated back into littlelifts to help women with breast cancer.
Littlelifts mini: Restore £39
Soothe the senses and calm the mind, with our littlelifts restore mini. It's a wonderful mix of the sensuous and practical, designed to restore and relax. Items include restorative herbal teas, a comforting heat pack and a fun puzzle book. Plus, 25% is donated back into littlelifts to help women with breast cancer in Norfolk and Suffolk.
Since the charity's launch in 2017, Founder Oa Hackett has received a phenomenal response, not only from those who have received the complimentary boxes in East Anglia but also from many far and wide, enquiring about where they can purchase a littlelift box for a loved one.
Oa Hackett said: "After receiving emails from people as far away as Australia, it made perfect sense to start an online shop."
Oa added: "Being a charity, our partner organisations and brands kindly offer the contents of our littlelifts boxes at 'cost' which means those purchasing a box online will also make savings. Any profit we make, will directly go straight back into the charity – which in turn hopes to broaden our reach to even more hospitals."
The littlelift boxes are now available to buy online by those wishing to buy their loved one something thoughtful.
For more go to www.littlelifts.org.uk/shop
Buy gifts that make a difference this Christmas at Alzheimer's Society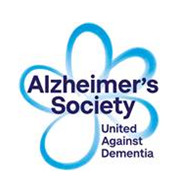 Our Online Shop has the perfect gift for everyone this Christmas
You can buy cards, wrapping and presents for the whole family, including gifts specially designed for people with dementia
Every purchase you make helps fund our work, supporting all those who need our help and ultimately finding a cure for dementia
What: Buy your Christmas presents, wrapping and stocking fillers from Alzheimer's Society online shop, with all profits going towards supporting the 850,000 people currently living with dementia in the UK.
We've got the perfect Christmas gifts for everyone at Alzheimer's Society's online shop! From beautiful cards and gifts for the whole family, to decorations for the tree, or handy products to make life easier for people living with dementia; we have something for you.
We have a wide selection of stocking fillers, jewellery, and secret Santa gifts, in a range of designs and to suit all tastes. All jewellery is supplied in a gift box and makes a lovely present, including our Forget-me-not Silver Teardrop Earrings (£19.99) and our Forget-me-not Silver Round Cufflinks (£34.99). All of our beautiful sterling silver jewellery is made with real forget-me-not flowers.
Make sure you add our games to your Christmas day festivities for a truly special time with your family and friends. Our games and activities, such as our Popcorn Box Movie Quiz (£10.00) can bring all generations together during the festive period. They help encourage conversation and improve cognitive function, such as memory, for your loved one living with dementia.
We have a range of products specially designed for people with dementia that can help make the festive period easier and are useful all year round, for example our Rosebud Reminder Clock (£83.99). Our range of clocks and watches make lovely Christmas presents and can help people with dementia keep track of time, organise their day and support independence.
Dementia is now the UK's biggest killer, with someone developing it every three minutes. 100% of our profits go straight back into our work, so you're not only buying a great Christmas gift, you're helping us support people affected by dementia and research for a cure.
Make a difference this Christmas, shop now at shop.alzheimers.org.uk
A picture containing person, wallDescription automatically generated
Forget-me-not silver Teardrop Earrings – £19.99
A beautiful collection of sterling silver jewellery made with real forget-me-not flowers.
Forget-me-not Silver Round Cufflinks – £34.99
The forget-me-not flowers have been expertly cultivated, briefly dried & then set in
resin and sterling silver to be cherished for years to come.
Popcorn Box Movie Quiz – £10.00
Packaged in a cinema-style popcorn box this fun quiz contains 300 questions on everything movie-related from the classics to action and horror.
Rosebud Reminder Clock – £83.99
The reminder clock has been developed based around feedback from those living with Dementia as well as their carers. Each of the inbuilt alarms can be used to assist with the regular tasks that happen each day, and the clear screens can be displayed easily
at the touch of a button.
GOFISH CAM: SEE MORE, CATCH MORE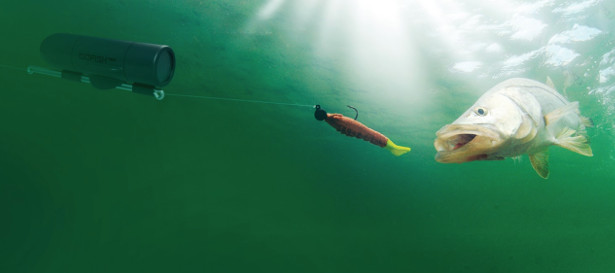 Take the guesswork out of fishing to entice people of all ages and experience levels. GoFish Cam is a wireless underwater HD video camera that sits on your fishing line and reveals all the underwater action. Novice and expert anglers can study the footage to improve their techniques, plus easily show off their trophy catch videos on social media. $239.99. (832) 709-8377. gofishcam.com
SHAKE IT UP THIS CHRISTMAS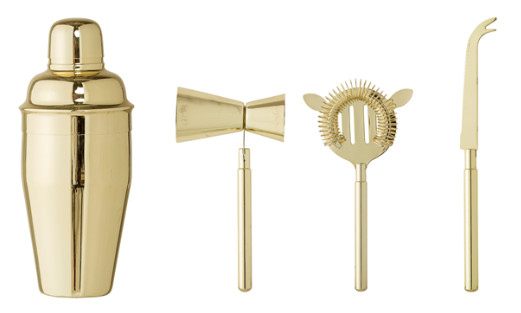 Whether you are planning on hosting Christmas drinks or looking for the perfect gift for your cocktail-loving friend, the Gold Cocktail Shaker and Cocktail Bar Set from the Royal Opera House shop will do just the trick!
Adding a stylish touch to your home, you will be making your favourite cocktails and mocktails in no time!
Why not try making one of the delicious House Christmas Cocktails from Royal Opera House yourself this festive season?
ROH Winter Royale
Freshly pressed cranberry juice and ginger syrup, topped with R de Ruinart champagne with a dash of Orange bitters.
Brass Cocktail – ROH.png
The set contains all of the essential tools for making the perfect cocktail or mocktail – a double jigger for 25ml and 50ml measures, a strainer featuring stabilising prongs to rest securely on the rim of your glass, and a serrated cocktail knife for cutting fruit, its pronged tip is perfect for spearing olives and other garnishes.
Gold Cocktail Shaker – £40 • Cocktail Bar Set – £45
Royal Opera House shop – shop.roh.org.uk
With 2020 fast approaching, it's the perfect time to start thinking about how you will be seeing in the new year.
The all important questions have likely been answered – Where are we celebrating? What are we wearing?… But with new year's comes resolutions and the development of healthy habits – and there is one essential part of our body we are neglecting from our selfcare 'new year, new you' plans.
Our eyes.
Optrex's newest launch can help us all SEE in the new year with the best eye health possible.
ProVision is an expertly formulated eye health food supplement designed to help us proactively care for our eyes each day. This easily digested supplement comes in three offerings – ProVision 30s (RRP£18.99), ProVision 90s (RRP£49.99) and ProVision Plus 30s (RRP£19.99) and has been formulated using scientifically proven ingredients such as Zinc, Vitamin B2 and DHA to help maintain vision as well as magnesium to help with muscle function. Optrex ProVision provides several nutrients and minerals in a single small capsule and is taken once daily as part of a healthy diet. Available now at selected Boots Stores and your Pharmacy.co.uk and Amazon.
Introducing Little Sport Star
Sporty toys for a fit and healthy baby

FACEBOOK | TWITTER | INSTAGRAM | PINTEREST
Little Sport Star is a trusted and award-winning baby toy brand inspired to bring families together through their love of sport. With a range of toys, blankets and play mats inspired by football, tennis, basketball and golf, the Little Sport Star products provide both physical and mental stimulation to babies from a young age, and focuses on the aspirations of the parents to raise a fit and healthy baby, as well as passing on their love of sports.
The first year of a baby's life is vital for learning, development and growth. Founder of Little Sport Star, Nick Farnsworth, identified millennial parents were finding it challenging to steer their children away from screens and introduce them to physical, outdoor activities at an early age. Nick championed this with the launch of Little Sport Star in 2012 where he began developing a range of sports-inspired toys to help babies hit their early development milestones.
Little Sport Star not only offer fun and engaging toys, but also provide babies with skills such as confidence and resilience which they will hold on to later in life. One of the most stimulating activities for children is sport; through sport you develop coordination, balance and core strength, something reflected across the Little Sport Star range.
Founder of Little Sport Star, Nick Farnsworth, comments: "Sports is an international language and a way of bringing people together, from day one and onwards. And although we can't predict a little one's future tastes, it is a decent bet that sports will play a small role at some point in their life. I personally felt that baby toys were too pink, fluffy and one-dimensional."
Ideal gifts for birthdays, baby showers and sports fans, and the Little Sport Star range includes:
Baby Tennis Racket (RRP £15.00)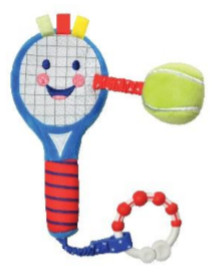 The baby tennis racket is perfect for cuddling with as well as stimulating the baby's senses with a rattle and squeaker incorporated in the design.
When babies start to develop a little more strength, they can start to swing it and become familiar with the motion of a tennis racket.
Baby Golf Club (RRP £15.00)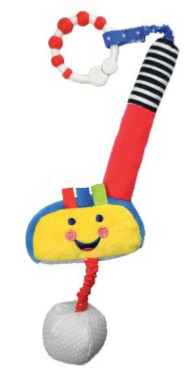 The first soft golf club for babies, the toy was inspired to help babies develop their hand-eye coordination, enjoy the swinging action of a golf club and associate with bright vibrant colours.
With the additional features of a golf ball attached to the club, a squeaker in the handle and a rattle in the ball, these enhance the overall experience where babies associate noise and colours with the movement of a golf club.
Baby Football Activity Gym and Play Mat (RRP £54.99)
The world's first football activity gym, the award-winning Baby Football Activity Gym and Play Mat has been designed to develop the baby's tummy muscles and overall movement.
Featuring a hanging football, two cuddly players, mirrors and cushioned sides to form a football pitch, babies can kick, crawl and touch the sensors around the gym, strengthening their upper body and encouraging them to sit up and explore their surroundings.
Baby Football Comfort Blanket (RRP £11.99)
Ideal as a gift to families who are passionate about football, the Baby Football Security Blanket is the perfect comforter for babies with its soft texture and cute character incorporated in the design. It is also a bestselling product in the US. Complimenting the security blanket is Freddy the Teddy (RRP £14.99) ideal for children under one years. Designed to include teethers to stimulate babies, the toy also makes a cheer when pressed, associating sounds with sports.
A father of two young children himself, Nick says: "We make it really simple for parents to give their baby the best start in life. Our toys need no explanation; when babies receive our toys, they will probably start cuddling the toy but as they grow older, they will start to interact with them by kicking the ball or swinging the racket. Parents love the idea of seeing their newborn already sharing their love of sport and have already planted the idea that sports is fun."
Kords Sunglasses are a new style of sunglasses without arms.
www.kords.store
Kords are designed to fit every head shape, size, or situation. Everyone from active outdoorsman to leisure lovers alike will love these! Built with practicality in mind, Kords Sunglasses provide practical polarized eyewear with many features typical sunglasses don't have. The adjusable Kords allow for a hug like fit so comfortable customers say they "float on your face." Since they don't have arms, Kords are far more durable and packable than conventional sunglasses. These new sunglasses are a great affordable gift. Kords 30% Holiday Sale ends December 31st
Deck the hall with Haynes this Christmas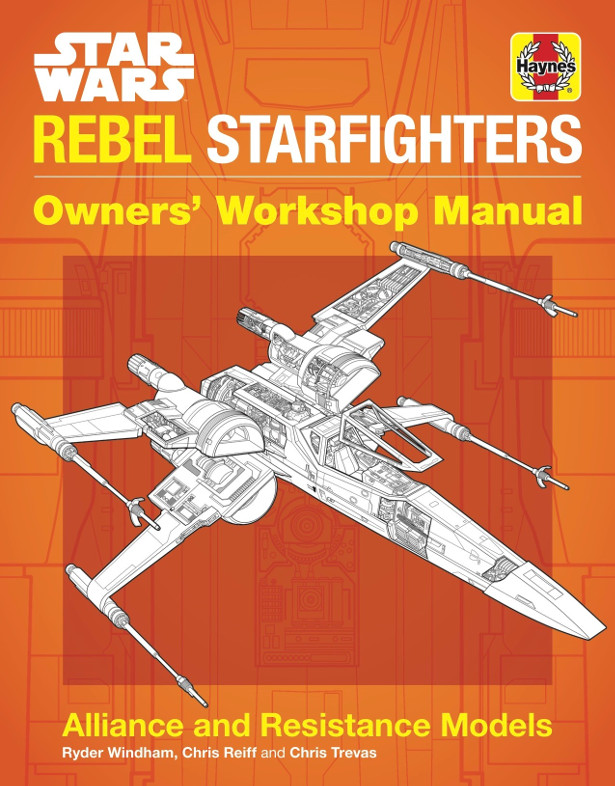 There's a Haynes manual to suit every budget and interest this Christmas
Topics range from space exploration to cooking and even making bee hotels
Titles from Bluffer's Guides and Pocket Manuals also available
Whether you're looking for a main present or a small stocking filler, Haynes has this Christmas wrapped up.
With a wide range of books priced from £4.99 to £25.00, there's sure to be something for everyone in Haynes' extensive collection of titles.
If you're stuck for an idea this Christmas, Haynes has it nailed with its collection of classic Haynes manuals, along with its new smaller manual Concise format titles and its Icons range which celebrate five triumphs of British engineering. Also available is the parody range of Haynes Explains titles and a selection of new kid-friendly pocket manuals.
Haynes has also relaunched the best-selling informative and entertaining Bluffer's Guides, which include some books just perfect for the festive season!
Hot wheels
· Audi Quattro Rally Car Enthusiasts' Manual, Nick Garton, £25.00 ( Haynes.com – ISBN 9781785212505)
o An iconic vehicle which changed the face of rallying, this manual explores the history of the rally car, the drivers who tamed this ground-breaking vehicle and the passion and commitment of Quattro owners today.
· The Bike Book, Complete Bicycle Maintenance (7th Edition), James Witts, £22.99 (Haynes.com – ISBN 9781785211348)
o Packed with over 1,000 colour photographs over 194 pages, this manual is the undisputed market leader in bicycle maintenance.
Stocking filler ideas including:
· Bluffer's Guide to Cars, Martin Gurdon, £6.99 (Haynes.com – ISBN 9781785215841)
· Car Hacks (Concise), Craig Stewart, £12.99 (Haynes.com – ISBN 9781785216510)
· Van Life (Concise), Nigel Donnelly, £12.99 (Haynes.com – ISBN 9781785215957)
· Haynes Desk Diary 2020, £12.99 (Haynes.com – ISBN 9781785216527)
· Haynes Diary 2020, £7.99 (Haynes.com – ISBN 9781785216633)
Real life heroes
· Firefighter Manual, Duncan J. White and Phil Martin, £22.99 (Haynes.com – ISBN 9781785212055)
o Provides budding firefighters and enthusiasts with a fascinating insight into the modern fire service.
· Combat Medicine Manual, Dr Penny Starns, £25.00 (Haynes.com – ISBN 9781785212659)
o A detailed and insightful account of battlefield medicine from the Korean War to Afghanistan.
· Air Ambulance Manual, Claire Robinson, £22.99 (Haynes.com – ISBN 9781785212062)
o Offers in-depth insights into the role and operation of helicopter air ambulances in the UK.
History buffs
· Roman Soldier Operations Manual, Simon Forty, £22.00 (Haynes.com – ISBN 9781785215650)
o This manual is a must-have for history fans wanting to discover more about the day to day life of Roman soldiers of all ranks and in all theatres.
Concorde (Icon Manual), David Leney and David Macdonald, Haynes, £12.99 (www.haynes.com – ISBN 9781785215766)
AvGeeks will lap up this book, which concentrates on the technical and engineering aspects of Concorde, and gives rare insights into operating, servicing and flying the supersonic airliner.
RMS Titanic (Icon Manual), David Hutchings and Richard de Kerbrech, Haynes, £12.99 (www.haynes.com – ISBN 9781785215759)
RMS Titanic celebrates the world famous ocean liner, which sank on her maiden voyage in 1912. The book shows how this leviathan was built, launched and fitted out to provide lavish accommodation for passengers. It also gives insights into the operation of the transatlantic liner.
Supermarine Spitfire (Icon Manual), Alfred Price and Paul Blackah, Haynes, £12.99 (www.haynes.com – ISBN 9781785215742)
Written with the full co-operation and authorisation of the Royal Air Force, this special book offers a unique perspective on what it takes to own, restore and operate a Spitfire, as well as providing an insight into the engineering and construction of this remarkable fighter aircraft.
Tornado (Icon Manual), Geoff Smith, Haynes, £12.99 (www.haynes.com – ISBN 9781785215735)
Railway enthusiasts will get on board with this in-depth look at the A1 Tornado steam train. Published in association with The A1 Steam Locomotive Trust, the book provides a detailed explanation of the construction, operation and maintenance of the steam locomotive that attracts huge crowds wherever it appears.
Churchill Tank (Icon Manual), Nigel Montgomery, Haynes, £12.99 (www.haynes.com – ISBN 9781785215919)
The ability of the Churchill Tank to take punishment and still fight on was legendary, as was its capacity to climb impossible slopes during the Second World War. This book captures the achievements of the iconic tank, how it was built, operated and restored.
Crafts
· Slow Tech Manual, Peter Ginn, £22.99 (Haynes.com – ISBN 9781785216169)
o A valuable guide to getting your hands dirty and creating something useful as you discover the art of slow technology.
· Model Builders' Manual, Mat Irvine, £22.99 (Haynes.com – ISBN 9781785215551)
o This manual is an indispensable guide for both novice and expert model builders, providing a practical guide for professional results.
Nature
· Trees Manual, £22.99 (Haynes.com – ISBN 9781785212017)
o Perfect for people who already own trees or who are thinking about planting one.
Plus stocking filler ideas including:
· Bee Hotel Manual (Concise), Dr Melanie von Orlow, £10.99 (Haynes.com – ISBN 9781785216589)
· Bluffer's Guide to Cats, Vicky Hall, £6.99 (Haynes.com – ISBN 9781785212475)
Geeks
· Haynes Build Your Own Gaming PC, £22.99 (Haynes.com – ISBN 9781785216688)
o Gaming enthusiasts will find the guidance needed to make their perfect PC a reality.
· DNA Human Genome Manual, Dr Melita Irving, £22.99 (Haynes.com – ISBN 9781785215940)
o This book brings together all the fascinating strands of genetic science and explains in an accessible way how DNA is being mapped, classified, utilised and understood.
· Star Wars YT1300 Millennium Falcon Owners' Workshop Manual, Ryder Windham, Chris Reiff, Chris Trevas, £16.99 (Haynes.com – ISBN 9781785212222)
o This manual covers the Millennium Falcon appearing in the original Star Wars trilogy, plus The Force Awakens, The Last Jedi and Solo: A Star Wars Story.
· Star Wars TIE Fighter Owners' Workshop Manual, Ryder Windham, Chris Reiff, Chris Trevas, £18.99 (Haynes.com – ISBN 9781785212239)
o A must have for any Star Wars fan this manual presents a thorough history of TIE fighters including bombers, boarding craft and shuttles.
· Star Wars Rebel Starfighters Owners' Workshop Manual, Ryder Windham, Chris Reiff, Chris Trevas, £22.99 (Haynes.com – ISBN 9781785216602)
o The final book in the Haynes Star Wars trilogy, this manual presents a thorough history of the Rebel Starfighters.
Space enthusiasts
· Apollo 11 50th Anniversary Edition, Dr Christopher Riley, Phil Dolling, £22.99 (Haynes.com – ISBN 9781785215926)
o Celebratory 50th Anniversary Edition features a new look at the legacy
of Apollo 11.
· NASA Moon Missions Operations Manual, Dr David Baker, £22.99( Haynes.com – ISBN 9781785212109)
o A fascinating look at the engineering and technology used in the five post-Apollo 11 Moon landings.
· Milky Way Owner's Workshop Manual, Gemma Lavender, £22.99 (Haynes.com ISBN 9781785215902)
o An insight into the structure, formation and evolution of our home galaxy.
Foodies
· Vegan Man, Michael Kitson, £22.99 (Haynes.com – ISBN 9781785212123)
o Adding a more male perspective to what has in recent years been a female dominated movement, this book is aimed at all those interested in living vegan.
· Smoked Food Manual, James Strawbridge, £24.99 (Haynes.com – ISBN 9781785212178)
o Award winning development chef, James Strawbridge, takes the reader through every stage of their home smoking adventure.
· Flavoured spirits, Tim Hampson, £14.99 (Haynes.com – ISBN 9781785216695)
o A practical guide to adding character to your favourite spirits. Infusion is fun, inventive and a great way to impress your guests.
Plus stocking filler ideas including:
· Bluffer's Guide to Wine, Jonathan Goodall, £6.99 (Haynes.com – ISBN 9781785212413)
Prepping for Christmas
Stocking filler ideas including:
· Bluffer's Guide to Christmas, Boris Starling, £6.99 (Haynes.com – ISBN 9781785216619)
· Haynes Explains Holidays, Boris Starling, £6.99 (Haynes.com – ISBN 9781785216541)
· Bluffer's Guide to Entertaining, William Hanson, £6.99 (Haynes.com – ISBN 9781785216503)
· Bluffer's Guide to Etiquette, William Hanson, £6.99 (Haynes.com – ISBN 9781785212383)
Sport
Stocking filler ideas including:
· Haynes Explains Rugby, Boris Starling, £6.99 (Haynes.com – ISBN 9781785216626)
· Haynes Explains Football, Boris Starling, £6.99 (Haynes.com – ISBN 9781785211560)
· Bluffer's Guide to Golf, Adam Ruck, £6.99 (Haynes.com – ISBN 9781785212406)
Life skills
Stocking filler ideas including:
· Grandad Manual (Concise), Andrew Parkinson, £12.99 (Haynes.com – ISBN 9781785212338)
· Haynes Explains Midlife Crisis, Boris Starling, £6.99 (Haynes.com – ISBN 9781785216640)
· Bluffer's Guide to Social Media, Susie Boniface, £6.99 (Haynes.com – ISBN 9781785212291)
· Haynes Explains Babies, Boris Starling, £6.99 (Haynes.com – ISBN 9781785211027)
· Haynes Explains Marriage, Boris Starling, £6.99 (Haynes.com – ISBN 9781785211041)
Special interest for kids
Stocking filler ideas including:
· Pocket Manual: Extreme Cars, Steve Rendle, £4.99 (Haynes.com – ISBN 9781785216725)
· Pocket Manual: Deadly Creatures, Anita Ganeri, £4.99 (Haynes.com – ISBN 9781785216787)
· Pocket Manual: Sharks, David Thompson, £4.99 (Haynes.com – ISBN 9781785216763)
· Pocket Manual: Kings and Queens, Anita Ganeri, £4.99 (Haynes.com – ISBN
9781785216756)
· Pocket Manual: Dinosaurs, Tim Batty, £4.99 (Haynes.com – ISBN 9781785216770)
· Pocket Manual: Space, Catherine Barr, £4.99 (Haynes.com – ISBN 9781785216718)

Great gift Ideas from PetSafe for both dogs and cats!
FACEBOOK | TWITTER | INSTAGRAM |
Drinkwell® 7.5 Litre Pet Fountain, 70.99 – great for large pets or multi-pet households!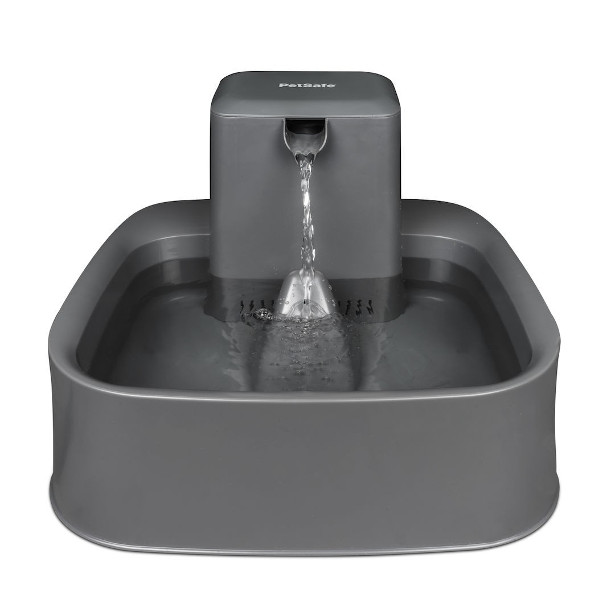 Drinkwell® Pagoda Pet Fountain, £75.99 – continuously circulates and filters your pet's water, encouraging them to drink more – a really attractive design for the home too!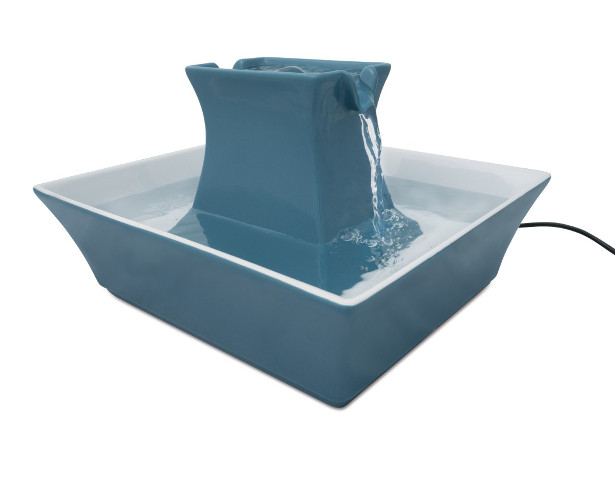 Digital Two Meal Pet Feeder. £50.99 – most suited to cats and small dogs, this stylish feeder allows for easy programming of meal times and means no late or missed meals again when your life keeps you busy or away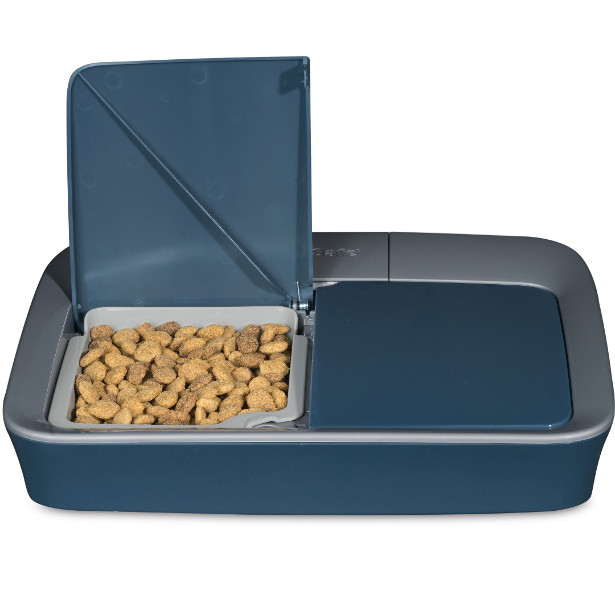 For dogs and puppies:
Automatic Ball Launcher, £129,99 – the ultimate game of fetch for dogs! The water-resistant launcher is great for both indoor and outdoor interactive play. With 9 distance settings and 6 angle settings the launcher shoots standard sized tennis balls between 2.5 to 9 metres and up to a 45 degree angle.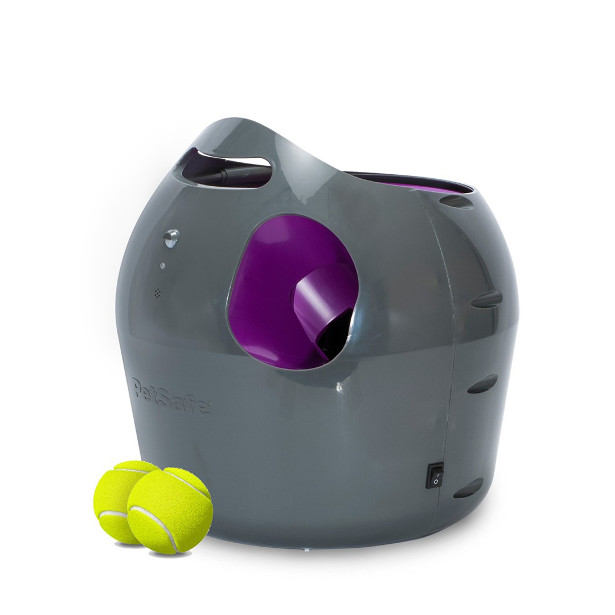 Ribinator Treat-holding Toy, from £6.99 – this has a compression feature similar to flesh on bone, which satisfies dogs' chewing instincts. The toy is designed to be used with treats you currently have in your home or kitchen such as treat sticks, dry treats or event peanut butter and soft cheese. Dogs will enjoy playing with this innovative toy even without treats but adding them makes it even more enjoyable.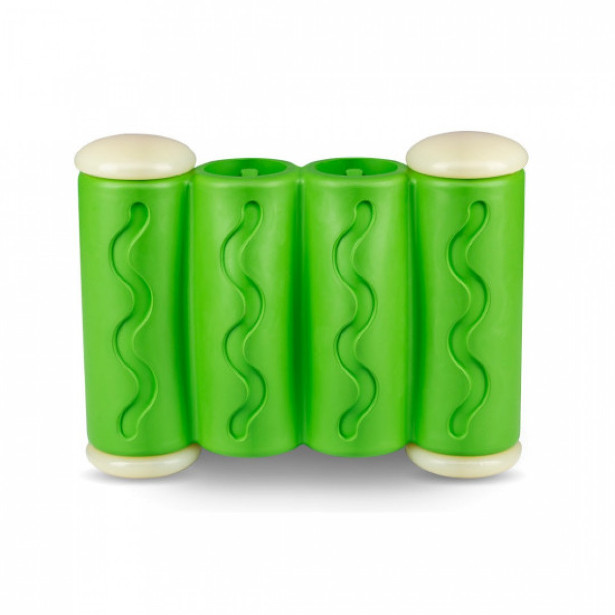 Ricochet Electronic Dog Toys, £29.99 (from November) – these two electronically paired toys offer an irresistible squeak which alternates between toys. The sounds bounce between each toy, which stimulates your dog's hunting instinct. The game continues as long as your dog plays with the toys.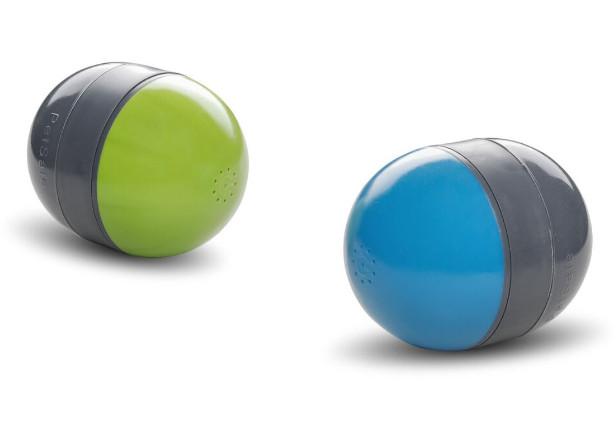 Ribinator Treat-Holding Dog Toy, from £6.99 – a durable, treat compatible dog chew toy, great for even the most energetic chewers. Bully sticks, treat sticks, smearable treats, and even treats or food from your own larder can be used. with the Ribinator.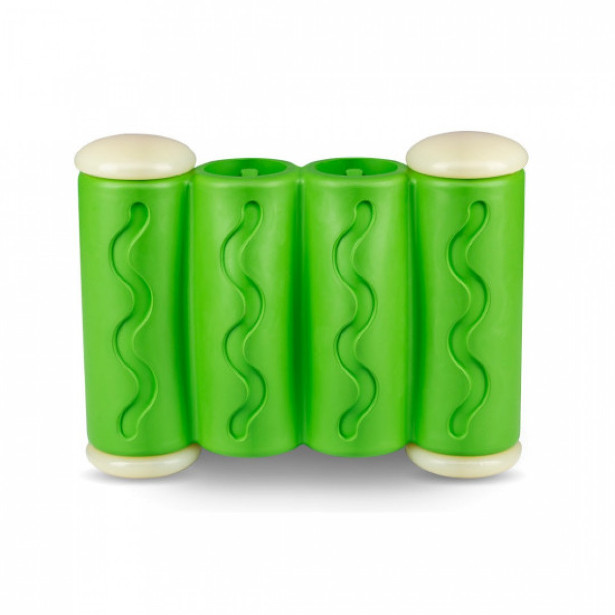 Forever Bone Treat Ring Dog Toy, from £5.99 – available in three sizes, this durable bone-shaped toy is a fun way for even the toughest chewers to entertain themselves!

Jewel Pop Treat Holding Dog Toy, from £3.99 – shaped like a sparkling jewel ring, this fun toy holds an irresistible PetSafe® Brand rawhide treat ring that can be replaced again and again.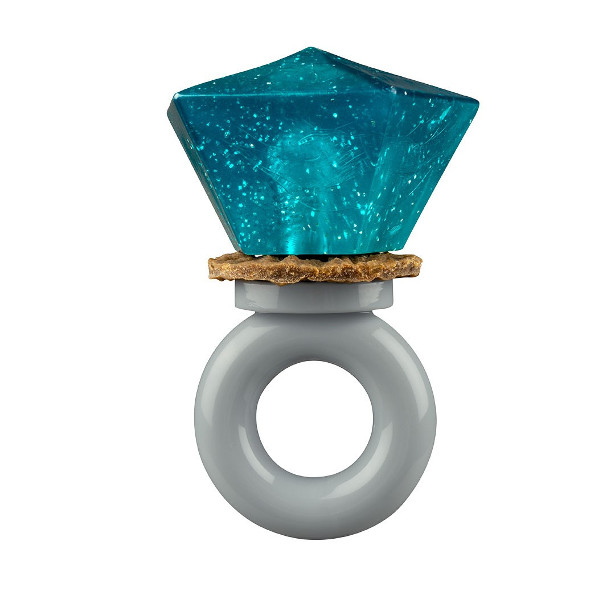 Busy Buddy Grip n' Tug, £12.99 – this fun toy has a unique handle that is designed to help protect your hand when playing while also making it easier to hold. The braided fleece and rope tug is soft to the touch but holds up to pulling and yanking when playing tug-of-war and other exciting games.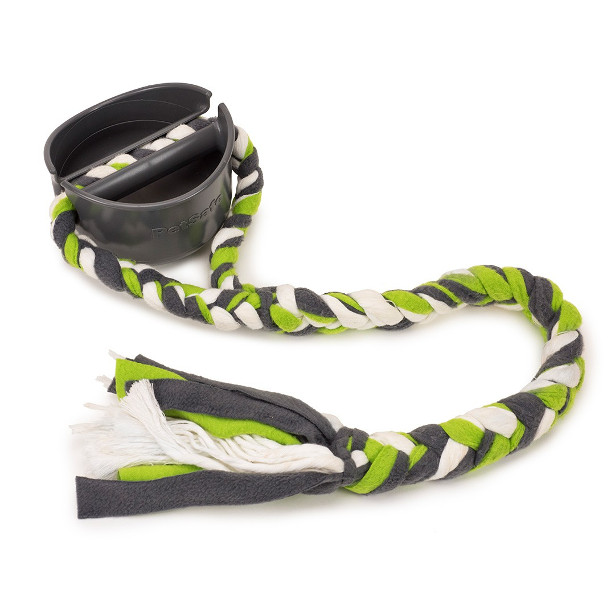 Squeak 'n Treat Ninja Star, from £4.99 – this fun durable toy has a unique shape and features rubber Treat Meter™ treat dispensers that offers customisable rates of treat release.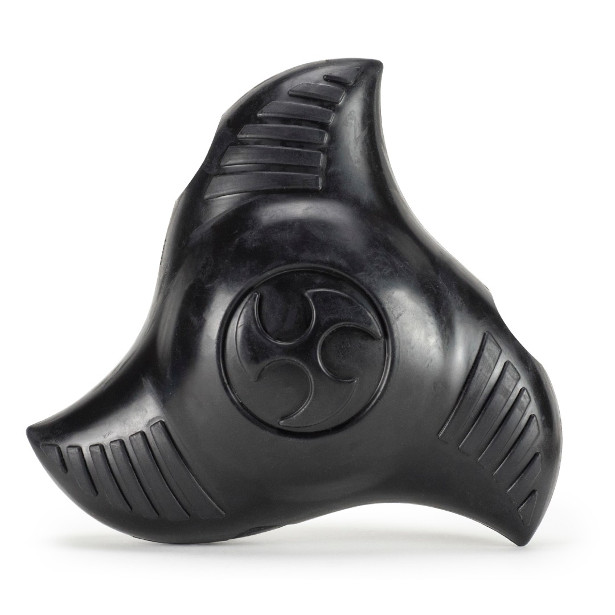 For cats:
Deluxe Crystal Litterbox System, £57.99 – an innovative litter box that is designed to work specifically with crystal litter, easy to use and designed with freshness in mind!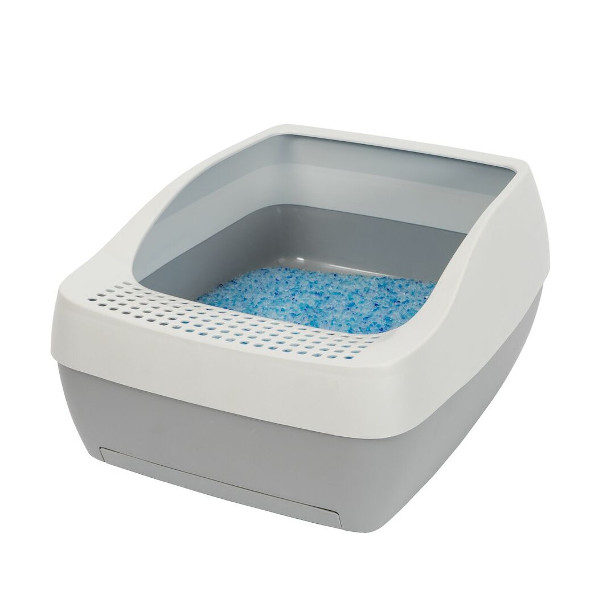 FroliCat® ZIP Automatic Laser Light, £21.99 – a laser toy that moves around on the ground, spinning and whirling in all directions to keep your cat moving. The ZIP will work its way out of corners and find its way out from underneath furniture. The toy automatically shuts-off after 10 minutes which conserves battery life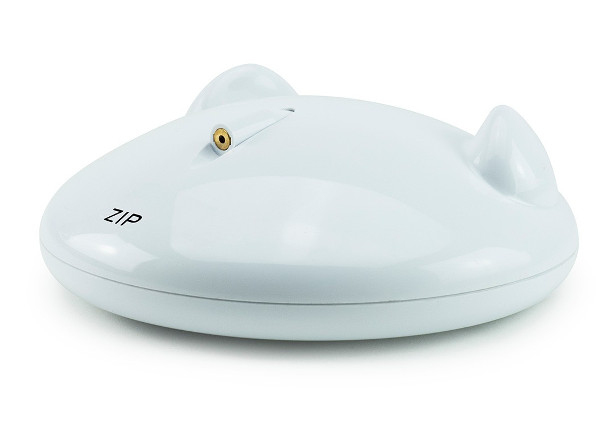 FroliCat® Fox Den Toy Automatic Cat Teaser, £25.99 – the toy excites cats by teasing them with a realistic fox tail. The sly fox hides in his den, waiting to shake his fuzzy tail at the unexpecting cats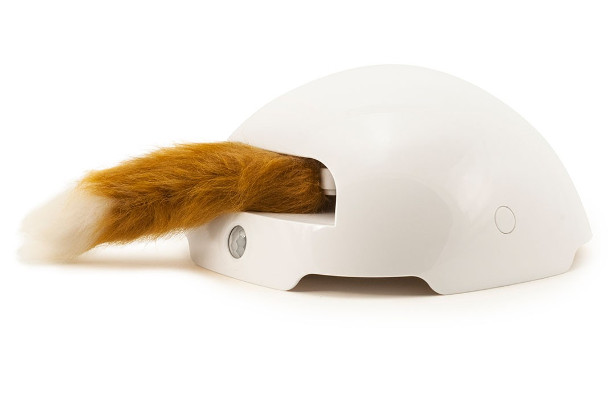 FroliCat Cheese Automatic Cat Teaser, £22.99 – this fun cheese toy is an exciting game of peek-a-boo with two mice that pop out of each side of the Swiss cheese block.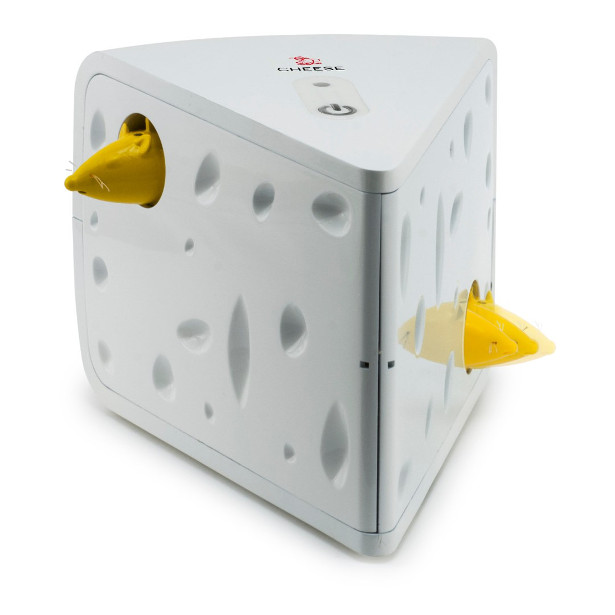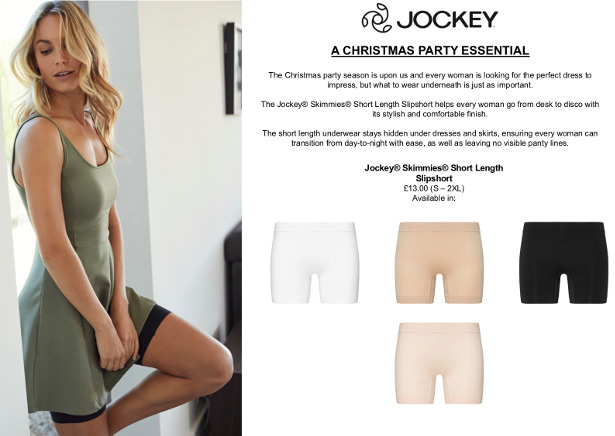 POP-TASTIC POPCORN MACHINE!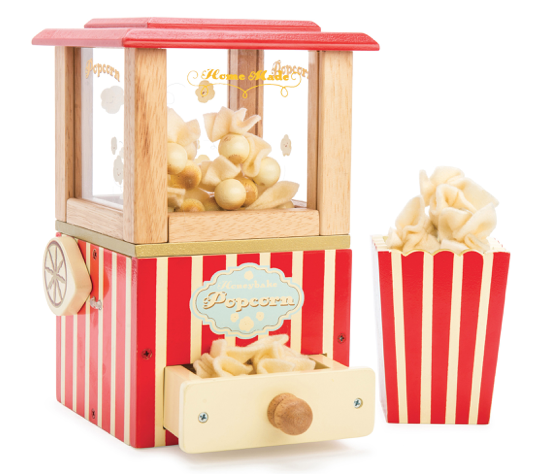 Popcorn Machine – £29.95
The arrival of autumn means movie night! – And, what's best to accompany a night on the sofa than a bucket of popcorn!
So, bring the cinema experience to your home and let your little ones create everyone's favourite movie snack with the fabulously authentic Popcorn Machine from Le Toy Van.
The stylish, vintage-style wooden machine with its 'pop handle' will keep children entertained for hours – push it down, release and watch the corn pop! Then let them serve the five felt popcorns in the traditional striped popcorn bucket.
Hand-painted and beautifully presented in a box complete with cut-out role play cinema tickets, the only thing you will need to remember is your show ticket and then decide, is it going to be salty or sweet?
www.letyovan.com