feel amazing App
Mind wellness for a stress-free life – sleep well, worry less, achieve more and break habits.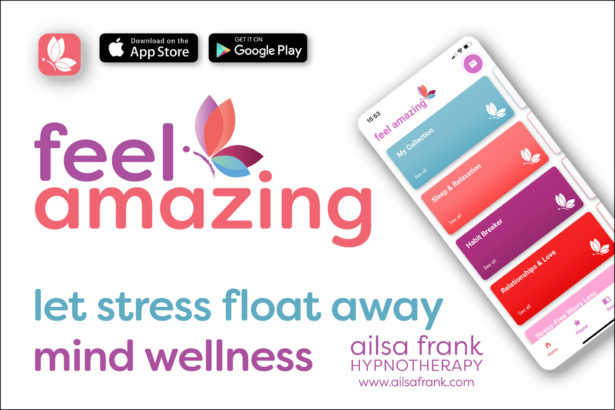 In this stressful world, we all find ourselves living in, the 'feel amazing' app is the perfect gift. A place to relax, remain calm and find time to let your worries float away. Make deep and lasting changes using a combination of self-hypnosis, meditation and mindfulness in these beautifully worded recordings by renowned self-help author Ailsa Frank. 4 free titles including Good Night's Sleep, Release Daily Stress, Stop Worrying and Fit and Well.
45 individual titles available priced from £9.99 or Buy a membership to access all recordings from £35
Get the on your phone at Apple App Store for iphones or Google Play store for Android.
https://www.ailsafrank.com/shop/get-membership-to-the-feel-amazing-app-by-ailsa-frank.html

As seen in Louis Vuitton, Dolce and Gabbana and Ermenegildo Zegna, monochromatic designs and bomber jackets are making a comeback in SS21 streetwear – and RAW WAR's new ''RICHTER'' collection combines these two trends with bold prints and strong silhouettes.
———-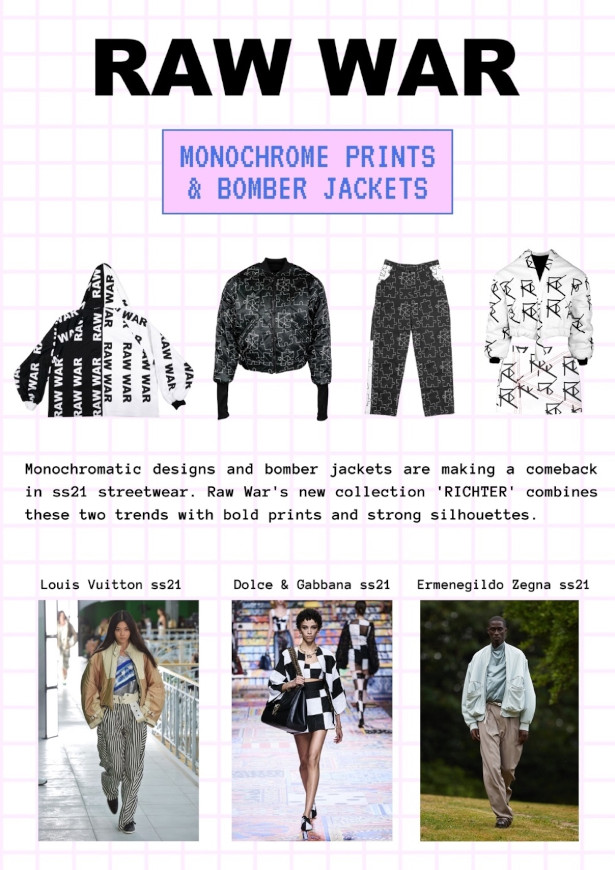 RAW WAR is an Australian Streetwear brand, founded and directed by Antoinette Wedia Raphael. The brand is based on the creative and quirky side of the creative director Antoinette. RAW WAR plays with the concept of androgynous and quirky fashion using oversized silhouettes, bold and graphic prints, saturated colour palettes, and subverted manipulation of fabrics and construction.
'RICHTER by RAW WAR', is based on the Creative Director's experience of an earthquake during her travels in Greece. Her experience inspired her to reflect on the existence of these natural disasters and how it affected her. A visual element Raphael uses to reflect earthquakes is the Richter scale recordings of sharp lines that adorn the garments, both plain and inclusive of the brand's strong name. Selected garments in the collection include a seasonal version of the brand's logo, drawn up with Richter scale recordings, also. These Richter scale recordings and lines have been placed on charcoal, cloudy tones of grey cotton twill to set a melancholy mood, reflecting on the unpredicted nature of these natural disaster.
Looking forward to hearing from you
RAW WAR Instagram: www.instagram.com/raw__war/
Word Poker is the new must-have word-making party game for Christmas
Combining poker face acting skills and word making, it is fantastic fun for all the family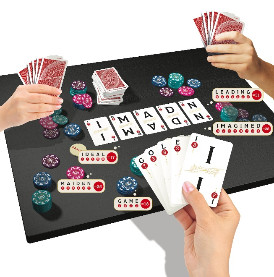 London, 18th November 2020: Rascals, the makers of popular board games including Mr & Mrs, The Crystal Maze Board Game and The Really Nasty Horse Racing Game, have launched the ultimate word-making party game, Word Poker – the perfect game to keep entertained on those cold winter nights!
Word Poker takes the well-known framework of poker – one of the most popular and widely-played games in the World – and transforms it into a compulsive family word game that can be enjoyed by everyone. Able to be played by 2 or more players from age 12 to adult, it will get minds young and old engaged. Taking the concept of poker but instead of normal playing cards, Word Poker uses letter cards with each letter having its own score value. The aim of the game is to make the highest-scoring word using any combination of the five cards that are in the centre of the table and the five cards that the player holds within their hand.
With rounds of betting, players can bet on the strength of their word to win the pot of chips, so a poker face is needed to win the most chips possible! Combining fun word skills with some serious poker tactics and acting skills, it's guaranteed to bring out the competitive edge in all. The quick-start and simple rules mean that there is no knowledge of poker needed to start playing, so it's easy to get started and get winning.
Word Poker is now available from Amazon and in Debenhams for £29.99.
Christmas shopping highlights from Museum shops around the UK
#ShopMuseums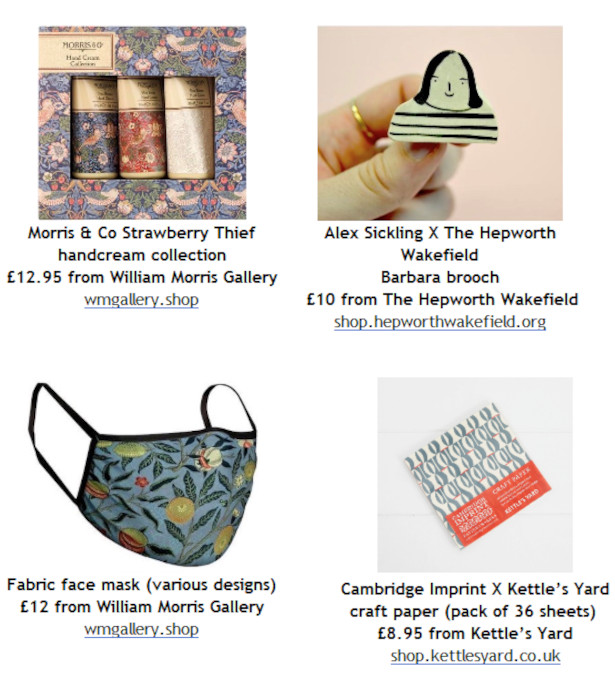 10th ANNIVERSARY OF ELMER'S CHRISTMAS BY DAVID MCKEE CELEBRATED
WITH FIRST EVER CHRISTMAS CAMPAIGN FOR THE BRAND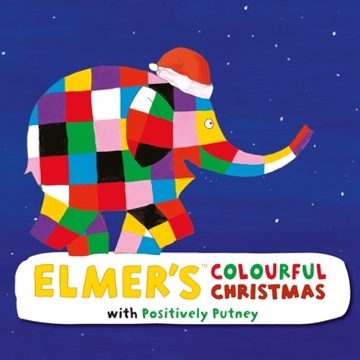 Elmer to be the face of Putney's local Christmas celebration; Elmer's Christmas to be performed at Chessington World of Adventures and activity pack available free for families; Henley River and Rowing Museum 'Elmer and Friends' Exhibition Opens in time for Christmas,
PLUS: brand-new Elmer Tonie character released today
Andersen Press are celebrating the 10th anniversary of Elmer's Christmas by David McKee with their biggest ever festive campaign. With inclusive, free events, offers, major brand partnerships and new licensed products, 2020 is set to be a very colourful Christmas.
Elmer's Colourful Christmas in Putney, developed in partnership with Putney Business Investment District will see special Elmer posters featuring art from Elmer's Christmas dotted around the town, with an interactive trail encouraging families to explore their area in a safe, socially-distanced way, and once open, shop locally. Shops on the trail include Waterstones and JoJo Maman Bebe, which will have special Elmer's Christmas themed displays. Trail maps have been printed in Positively Putney's local catalogue, distributed directly to 22,000 homes in the area and the trail will be in place around Putney from 28th November.
Once re-opened Chessington World of Adventures Resort will share Elmer's Christmas Storytimes as part of their Christmas offering from 4th December, alongside new ride Elmer's Flying Jumbos which opened this summer.
Henley's River and Rowing Museum will open the 'Elmer and Friends' touring exhibition from Seven Stories, in time for Christmas once restrictions have expired in December. Featuring more than 50 original pieces of David McKee's illustration it's an interactive, colourful exploration of David's work, with Elmer, Mr Benn and Not Now, Bernard featuring prominently. Special Christmas programming is planned to celebrate the exhibition in the lead-up to the festivities, with the exhibition scheduled to stay in Henley until March 2021 before it continues touring the country.
The latest in the Elmer licensing programme, the Elmer tonie story book character launches today, featuring 10 original Elmer stories, including Elmer's Christmas. This will be the hero product in a special, festive influencer campaign alongside other products and books for Christmas, and Andersen Press' recent Elmer's Colourful Christmas Activity pack available for free download now here.
To compliment the campaign, Seven Stories will share a free video of Elmer's Christmas read by Panto Dame Mama G over Black Friday Weekend on 28th November as part of the regular Digital Storytimes in partnership with Andersen Press.
Speaking on the Christmas campaign, PR and Brand Director Paul Black has said, "What better way to celebrate the festive season than with Elmer's Christmas? We're huge fans of the colourful, quirky story and have loved working with our partners to celebrate the book. Elmer's message of tolerance, acceptance and celebration of everyone's true colours is needed at all times, but especially this Christmas. We're particularly pleased that families can enjoy a COVID-safe trail, storytime and downloadable activity pack free of charge, hopefully making this festive season a little brighter."
Elmer's Colourful Christmas Activity Pack is available to download free here: bit.ly/ElmerXmasActivities
Elmer's Christmas
ISBN: 9781783442218
£6.99 paperback
Elmer remains one of the most iconic and widely read children's book series of all time, selling over 10 million copies worldwide since it was first published by Andersen Press in 1989. Written and illustrated by celebrated children's author and artist David McKee, the Elmer books have been translated into more than 60 languages and now new books, toys and clothing add to the world of Elmer the Patchwork Elephant.
A beloved classic and firm family favourite, David McKee's iconic and brightly coloured patchwork elephant is the ambassador for friendship and celebrating everyone's own true colours.
David McKee
David McKee was born in Devon and studied at Plymouth Art College. In the early part of his career, McKee regularly drew and sold humorous drawings to magazines and newspapers such as The Times Educational Supplement, Punch and the Reader's Digest. David McKee has written and illustrated over 50 picture books for Andersen Press and has penned a number of children's classics including King Rollo, Mr Benn, Not Now Bernard and Elmer the Patchwork Elephant. David McKee was winner of the 2020 Illustrator of the Year Award at the British Book Awards, and recipient of Book Trust's Lifetime Achievement Award. He now lives in the South of France but regularly visits London.
About Andersen Press
Andersen Press is a leading independent children's publisher, and home to some of the biggest names in the world of children's books, including the much-loved picture book characters Elmer the Patchwork Elephant and the Little Princess. Andersen Press is the publisher of many award-winning authors and illustrators including Melvin Burgess, Rebecca Stead, Susin Nielsen, Julian Clary, David Roberts, Tony Ross, David McKee, and Jeanne Willis. The company was founded in 1976 by Klaus Flugge.
Three British Cheese Suggestions for Christmas from Paxton & Whitfield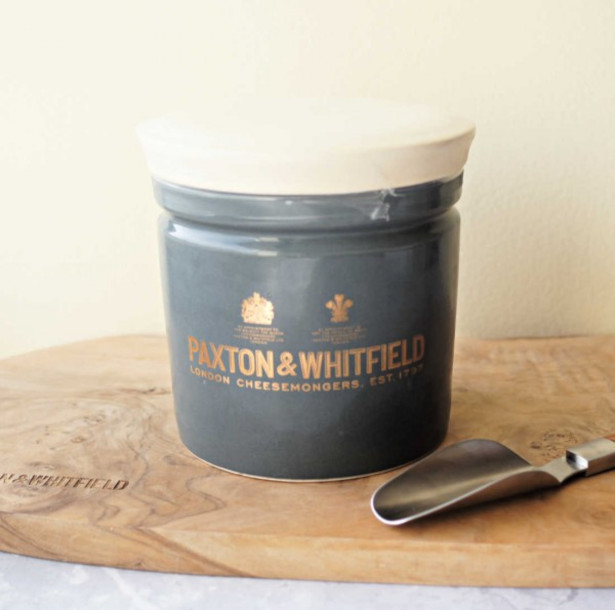 Nothing says Christmas like a good cheese. Listed below are three items from Paxton & Whitfield, the UK's oldest cheesemonger, that feature British cheeses.
Finest English Stilton Jar PDO* (£29.95/500g) www.paxtonandwhitfield.co.uk/shop/fathers-day-cheese-gifts/stilton-jar-500g?number=946
A stylish, collectable 500g Stilton Jar. This jar comes in Paxton's classic cream and grey with gold lettering, elegant bevelled detailing and a tactile gloss finish. It is hand-filled with a generous portion of the 'King of Cheeses' that is creamy with a pleasant herby tang. The cheese is delicious enjoyed with Paxton's Cornish Buttermilk Biscuit or some crusty bread, and a glass of Paxton's Vintage Port or Monbazillac. Once all the cheese has gone the jar can be kept as a keepsake.
Quicke's Clothbound British Cheddar Truckle (£45.00) www.paxtonandwhitfield.co.uk/detail/index/sArticle/1153/sCategory/114
These beautiful, artisan, clothbound Cheddar Truckles are the ultimate festive season must-have and are new to our range for Christmas 2020; supporting a stalwart of the British artisan cheese making industry. The Cheddar Truckles that we have in our maturing rooms now are already dated until 2021, so you can have them delivered to you now and keep them until you're ready to cut into them. Each one is a small, 1.8kg version of a vast 26kg Traditional Westcountry Farmhouse Cheddar.
Our Christmas batch of Cheddar Truckles were handmade in July 2020 with bright and lush summer milk. The Quickes farm is based in rural Devon and the grass that the cows eat is incredibly good quality. These miniature clothbound, whole cheddars have been expertly matured for the optimal flavour profile ready to enjoy in December.
The truckles offer a rich and buttery cheddar that offers outstanding depth of flavour; from brothy to grassy to caramel notes.
Made by the award-winning Quickes family in the South West of England. Mary Quicke MBE, was announced as the 2019 Dairy Industry Woman of the Year and was honoured with the Cheese Industry Award at the 2019 British Cheese Awards. The Quickes family have been farming at Home Farm, near the village of Newton St Cyres in the South West of England for over 450 years and the truckles are handcrafted using heritage starters by expert cheesemakers.
They are a delicious way to enjoy your Cheddar over the Christmas period and also make unique gifts for cheese fans.
Big British Cheese Collection (£135.00) www.paxtonandwhitfield.co.uk/shop/cheese-board-collections/the-big-british-cheeses?c=49
A luxurious selection of some of the best British artisan cheeses for the festive season. These incredible British cheeses have been chosen to complement each other and to keep you stocked up on fine artisan cheese to enjoy over Christmas. It includes:
Paxton & Whitfield Baby Stilton PDO* (2.3kg): Our Finest English Stilton is made in Nottinghamshire and is specially selected to meet our exacting flavour and texture profiles. Once ripened, our Stilton is matured for an additional twelve weeks for a creamier, more mellow flavour with a buttery richness that melts in the mouth.
Paxton & Whitfield Cave Aged Cheddar Truckle PDO* (2.3kg): Our cave-aged, cloth-bound cheddar with a distinctive, fruity flavour. Made in the heart of the stunning Bride Valley in Dorset and matured in Somerset caves.
Baron Bigod (1kg): Award-winning, British farmhouse brie-style cheese. Handmade on Fen Farm in Suffolk. A soft, white bloomy – rind cheese with a golden curd and long lasting, earthy flavours.
* PDO – Protected Designation of Origin, for products that are produced, processed and prepared within a particular geographical area, and with features and characteristics that must be due to that area.
American Cancer Society Hosted
15th Annual Taste of Hope
Virtually with Honorees
Chef Michael White & Chef JJ Johnson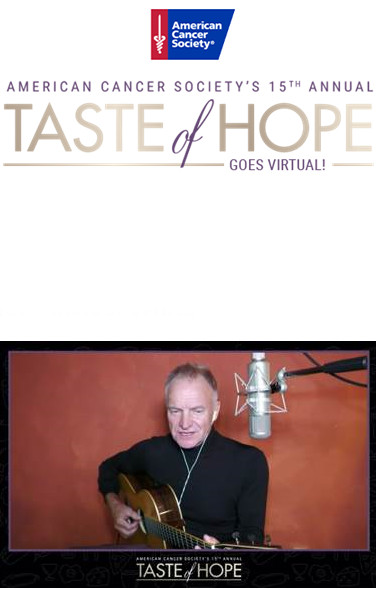 Graphical user interfaceDescription automatically generated
With A Special Performance by
STING
The American Cancer Society (ACS) hosted the 15th annual Taste of Hope virtual celebration. The event celebrated New York City's iconic restaurant industry and raised critical funds for cancer research and local patient service programs offered by ACS.
This year's Taste of Hope recognized James Beard Award-winning culinary honorees, Chef Michael White (Marea) and Chef Joseph 'JJ' Johnson (Fieldtrip). Mark D. Friedman and Jamie Koff returned as event co-chairs, and CBS News' Chris Wragge returned at emcee.
The event featured a special performance by Sting, and appearances by Giancarlo Esposito (The Mandalorian, Breaking Bad), Mario Cantone (Sex and the City), NFL Hall of Famer Harry Carson (NY Giants), Amy Ryan (The Office), Peter Onorati (This is Us), Harry Lennix (Blacklist), Alysia Reiner (OITNB), and Bobby Cannavale. Event guests had the opportunity to hear first-hand how cancer continues during the pandemic and the devastating impact covid-19 has had on life-saving programs and services from two time cancer survivor, communicator, Coach and Author of Make Room for Joy, Vanessa Joy Walker.
The pre-show featured cocktail demos from mixologists at Golden Grove Global and Pepsi Co, and opened with a performance by The New York Voices Plus Three. There was an after-party hosted by DJ SPINDIESEL with livestreamed performances and a special appearance by John Cusimano and Rachael Ray. Attendees such as philanthropist Jean Shafiroff tuned into watch the virtual celebration.
Taste of Hope is the American Cancer Society's signature culinary, wine, and spirits event. In a normal year, Taste of Hope provides 700+ guests the opportunity to enjoy bites from New York City's top restaurants and philanthropic chefs, and sips from leading winemakers and spirit brands. Due to safety precautions, this year's event will be a reimagined virtual party, celebrating the work of local chefs and New York City's culinary community, and honoring cancer survivors and loved ones lost to cancer.
Now in its 15th year, Taste of Hope has raised over $1.8 Million to support the American Cancer Society's mission and goal of eliminating cancer as a major health problem. Attendees also had the opportunity to bid on silent auction prizes donated from leading organizations including: a coveted table at Rao's, 1-1 Private Virtual Cooking Demo with David Burke, Dinner for 10 Guests at their home with Chef Michael White, and more.
This year's Taste of Hope executive committee included Drew Blumenthal, Jennifer Cayetano, Gail Eissenstat, Nicole Filingeri, Juan Goulbourne, Rachel Halperin, Lizziee Jerez, Lauren Kaufman, Wayne Margolin, Melanie McManus, Sari Pollack, Kim Poulos, Meredith Rinn, Susan Santoro, Linda Shapiro, Scott Sheehy, Melissa Siegel, Brittany Stevenson, Jennifer Valentine, Vanessa Walker and Chelsea Whitney.
Taste of Hope sponsors included Arbill, Def Jam Recordings, Eurostruct Inc, the Friedman Rosenthal Team At Brown Harris Stevens, KGI Design Group, Leumi Bank, McIntosh & Moon Strategies, Merrill Lynch Walters Bailey Associates, Olshan Frome Wolosky LLP.
You can still make a donation to view the show at www.tasteofhopenyc.org.
Follow Taste of Hope on social media:
Facebook: Facebook.com/TasteofHopeNYC
Instagram: @TASTEOFHOPENYC
Twitter: @ACSTasteOfHope
Hashtag: #TOH2020 #15YearsOfHope
Super tasty vegan meals and all-in-one craft kits for kids of all ages + more.

Perfect gift for anyone braving Veganuary for the first time:
A Vibrant Vegan Chef's Box – £36 (also available as a recurring subscription at a discounted rate)
vibrantvegan.co.uk/collections/chef-s-choice
An exciting variety of six readymade dishes chosen by the Vibrant Vegan chefs including Smoky Jackfruit Chilli, Moreish Malaysian Dumplings and a Hearty Persian Hotbox.
These plant-based meals come from a selection of 18 globally inspired options that are all nutritionally balanced, sustainably sourced and delivered to your door (for free) in recyclable packaging. – for every meal purchased a meal is donated via WarChild for disadvantaged children caught up in conflict. The meals can be purchased as a one off box of six, or set up on a recurring subscription that can be cancelled anytime.
Perfect all-in-one beginner gifts for eager crafters (all under £15):
Llama crochet kit £8.99
www.lovecrafts.com/en-gb/p/hoooked-llama-laurie-29-x-20-cm-taupe
Macrame hanging basket kit £8.99
www.lovecrafts.com/en-gb/p/hoooked-macrame-hanging-basket
Unicorn cross stitch kit £7.49
www.lovecrafts.com/en-gb/p/permin-unicorn-cross-stitch-kit-16x18cm
Knitting board scarf kit £11.20
www.lovecrafts.com/en-gb/p/knitting-board-skarf-kit-authentic-knitting-board-loom
Home Sweet Home embroidery kit £5.50
www.lovecrafts.com/en-gb/p/dimensions-home-sweet-home-embroidery-kit
… and finally – a great selection of DIY tutorials for making your own crafts to gift this year:
Fabulously festive DIY face masks
www.lovecrafts.com/en-gb/c/article/diy-fancy-face-masks
How to knit socks
/www.lovecrafts.com/en-gb/c/article/sock-knitting
Stylish DIY scrunchie
www.lovecrafts.com/en-gb/c/article/diy-scrunchie-free-tutorial
Perfect Christmas gifts for the sports fan. Only £20!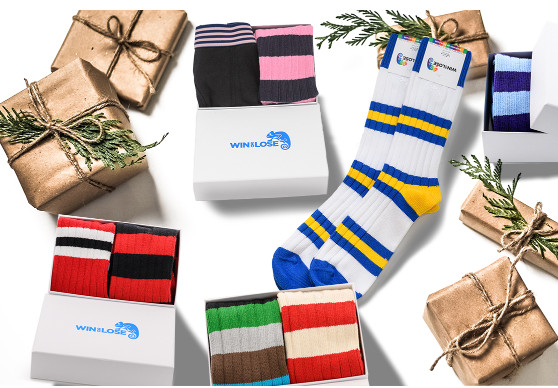 Premium Gift Sets from Only £20
Choose from Pre-Selected Boxes or Make Up Your Own
www.win-or-lose.com
Chance to buy prints numbered No1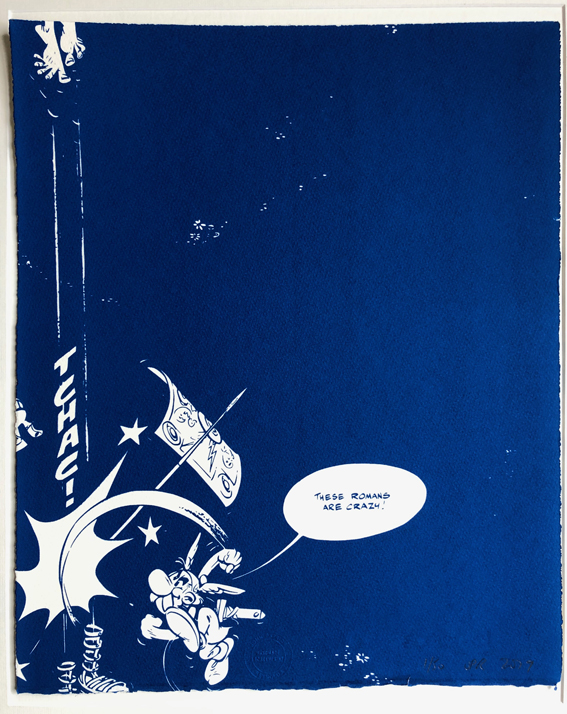 Another chance to get your hands on a No1: these screenprints are all numbered 1 in their editions.
They are all at their usual prices of either £40 or £135 – I am just making you aware that each one is available and that's the one you'll be buying. By definition, there's only one of them.
And they really are a pleasure to hold in your hands. They're all on my usual on cotton mould-made paper, milled in Somerset. It's heavy 300gsm water colour paper. Sometimes I forget this, but they're lovely artefacts.
These are the featured prints this week:
Asterix hits a Roman into the middle of next week. Medium size (48cms x 38cms)
Popeye's arch enemy Bluto makes his first appearance – this panel marks his debut, back in 1932. Medium size (48cms x 38cms)
Brooklands poster from the early days of motor racing and powered flight. Medium size (56cms x 42cms)
Obelix and Dogmatix go for a stroll on a blue hill. Medium size (48cms x 38cms)
Popeye in his dinghy weilds a grappling hook. Medium size (48cms x 38cms)
Portrait of Alf Tupper, the Tough of the Track. This is the man who inspired generations of middle-distance runners. (26x19cms)
Popeye has a moment of brutal self-awareness. Medium size (48cms x 38cms)
Oor Wullie steps out in his footy gear. Standard size (26x19cms)
Krazy Kat – looking for a worm. (26x19cms)
The Bash Street Kids plot against Teacher. (26x19cms)
Go to thecomicartwebsite.com to buy – once the No1 has sold, the design will disappear from sale.
Nintendo Christmas > Mario's 35th birthday collection and more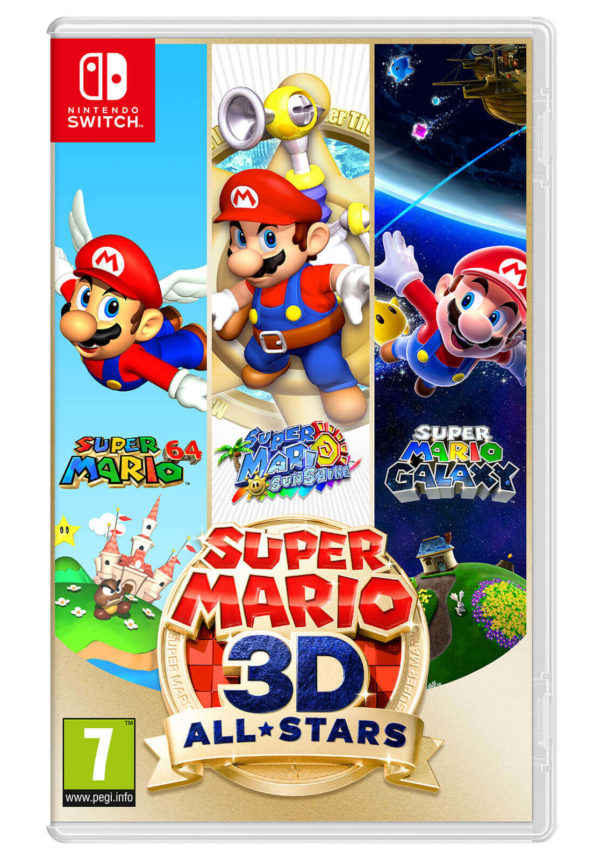 Mario 35th Anniversary:
Super Mario 3D All-Stars: £49.99
Mario fans of all generations can find all the stand out Mario games in one place. N64's Super Mario 64, Game Cube's Super Mario Sunshine and Wii's Mario Galaxy will all be available to play in one optimised version on the Switch.
Mario Kart Live: Home Circuit – Available 16.10.20 – £99.99
Rainbow Road, DK Mountain and now your own home – Mario Kart fans can now make a room in their house a race track. Players can race a real life Switch operated Mario Kart in their own home with all the regular frantic in game play. This is achieved through a camera on the kart which feeds directly into the Switch, allowing users to race against computers or friends using AR.
Game & Watch: Super Mario Bros. – Available 13.11.20 – £44.99
A special Game & Watch system that allows users to play the original Super Mario Bros. from NES, as well as Super Mario The Lost Levels and an updated version of the title Game & Watch Balls. It includes a plus control pad and being a Game & Watch product it also functions as a clock.
Hyrule Warriors: Age of Calamity – Available 20.11.20 – £49.99
A sequel to the immensely popular Hyrule Warriors, the game features fast-paced action-packed gameplay from start to finish. Players will have to hack and slash their way through levels, as well as complete environment puzzles, unlock weapons, skills and much more. The title will be an instant hit with Breath of the Wild fans, with Zelda and Link both being playable characters.
Nintendo must-have:
Ring Fit Adventure – £69.99
Ring Fit Adventure is an adventure game, which uses unique accessories that detect and measure the player's real-world movements and turn them into in-game actions. With the Ring-Con in hand and Leg-Strap equipped, it's time to set out on a fitness-filled quest!
Animal Crossing: New Horizons – £49.99
Animal Crossing allows players to transport themselves into their very own home made paradise, through the creation of their own island. The game's guide, Tom Nook, will be on hand to help creators get everything they need to grow their island and community. Players can island hop to further collect resources needed to expand their island, whilst also being rewarded for spending time on the game. Game can be found here.
Pokémon Sword and Shield – £49.99
Pokémon Sword and Shield brings the experience of a classic mainline Pokémon RPG to Nintendo Switch . A whole new adventure awaits for existing and new fans of the nostalgic franchise.
Consoles:
Nintendo Switch – £279.99
Nintendo Switch is a breakthrough home video game console. It not only connects to a TV at home, but it also instantly transforms into an on-the-go handheld using its 6.2-inch screen. For the first time, players can enjoy a full home-console experience anytime, anywhere.
Nintendo Switch Lite – £199.99
The console for gamers on the go. Nintendo Switch Lite is a compact, lightweight addition to the Nintendo Switch family, with integrated controls.
Steve Diamond sets out top four ambitions ahead of new Premiership Rugby season
As part of an exclusive Sale Sharks Business Club event, Sharks Director of Rugby Steve Diamond revealed his targets for the Manchester-club ahead of the new season launch this week
The event was sponsored by club partner, C&C Insurance, and the Sharks coach was joined for the live viewing by club captain Jono Ross, Faf De Klerk and Sam James
Sale Sharks' Director of Rugby, Steve Diamond says his side will be targeting a top four finish after narrowly missing out on the Premiership Rugby play offs in September.
Speaking during Sale Sharks Business Club's first ever virtual event, the Sharks boss was joined by South African World Cup winner Faf de Klerk, club captain Jono Ross and club centre, Sam James to discuss their hopes for the new season ahead of their curtain raiser against Northampton Saints at the AJ Bell Stadium.
Reflecting on the previous campaign, Diamond revealed his hope that it would spur them onto greater success: "I think all of our players should be proud of their performance last season and we are hoping to emulate the same combative displays we became a custom to last year."
On his ambitions for the 2020/21 campaign, he added: "We will be taking every game as it comes, but we have to be ambitious and be thinking like a top-four side with the squad we have, and the coaching set up we have in place. Once you're in that top four, it's a different competition all together."
Turning attention to his squad, Diamond revealed two potential signings as well as support from academy players could be used to add to the roster.
"Current statistics show we produce more Premiership players than any other club and I think that figure will continue to improve. We have a fantastic crop of talent in both the forwards and the backs and I would have no qualms starting any of our academy lads next week if I had too.
"We are however looking at a near seven-foot lock to ease the loss of Lood de Jager and potentially another international back row to come in to add to our selection options too."
Despite missing Tom Curry due to international duty with England, Diamond made no secret of the benefits Sharks will reap over South Africa's decision to not participate in the Rugby Championship.
"I'm sure it will have been disappointing for a number of our South African players, but if I'm honest it wasn't so disappointing for me. It's been a real boost for us to have these guys around over pre-season and allow them some proper rest. We would have probably had to go four to five games without a lot of our players otherwise."
The event, sponsored by C&C Insurance, also featured messages from Sharks' latest partners including principal sponsor VST Enterprises, cyber protection partner, Acronis, and women's team shirt sponsor BOL Foods.
Attended virtually by Sale Sharks' partners, it marked the first of a series of virtual events from the club for its Business Club, which will offer exclusive insight into the running of the club and interviews with senior players.
Sid Sutton, the club's newly appointed CEO, also appeared live to comment on the club's plans for the future, stressing the need for the club to secure its own stadium in the future.
The Sharks CEO said: "We need a new home, and that's a top priority for me and the board. Having a place to call our own would benefit not only the players, but also the fans with an enhanced matchday experience.
"The Covid-19 pandemic has clearly had a huge impact on rugby, and Sharks are no exception to that, however we've attracted a number of corporate partners from the UK and internationally, who will play a key role in supporting our top four aims this season."
GrafiTape – Washi Tape Art Projector
A special wooden projector that allows children to make tape art on the walls, doors, windows, and more.
www.animicausa.com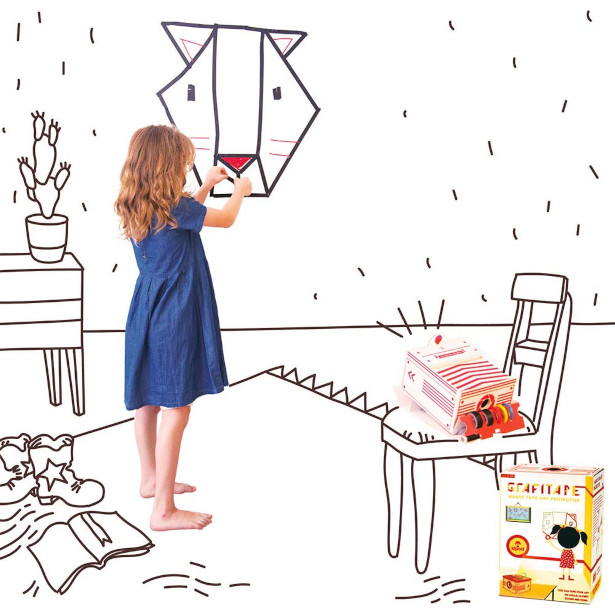 ALL I WANT FOR CHRISTMAS IS… PIZZA!
CHICAGO TOWN LAUNCHES CHRISTMAS CARD RANGE THAT'S A PIZZA LOVERS DREAM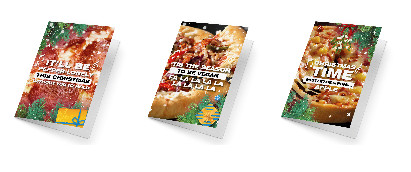 Passionate about pizza, or know someone who is? Well this year you can wish them a Merry Crust-mas with a card that's perfect for them.
That's right, Chicago Town has launched its very own range of pizza themed Christmas cards which you can send to your pizza loving friends and family. What's more, for a limited time only, recipients will also be treated to a FREE pizza with every card.
To bring some cheesy cheer to the festive period, the range of six cards will feature mouth-watering melted cheese, stacks of pepperoni, heaps of ham and pineapple and will be topped off with a sprinkling of pizza-puns. Inspired by the frozen pizza brand's iconic crusts and much-loved pizza toppings, the range will feature six pizza varieties, including the divisive ham and pineapple, so you can ignite the debate if you're a firm believer that these two toppings are a match made in pizza heaven.
The full range of cards are available to buy on greetings card marketplace, Thortful.com, for just £3.29 from the 17thNovember, right up until 21st December, and with six to choose from, including Deep Dish Cheeseburger, Cheese Stuffed Crust Loaded Cheese, and even Vegan Stuffed Crust Sticky BBQ Jackfruit, there is a card for every pizza fan's palate.
For a limited time only, the recipient will also receive a voucher for FREE pizza with their card, meaning you can give your pizza loving pal the gift they've been dreaming of this year – a Chicago Town pizza.
Christmas, especially this year, can be a tough time for many families, so Chicago Town will be donating all profits from card sales to FareShare, the UK's largest charity fighting hunger and food waste.
On its new Christmas card range, Chicago Town spokesperson, Rachel Bradshaw, said: "What better way to say Merry Christmas to all the pizza fans out there than with a cheesy card and the gift of pizza! We know pizza lovers are passionate about flavour so we've made a card to suit every preference – from Loaded Pepperoni to Vegan Stuffed Crust Sticky BBQ Jackfruit, the controversial Ham & Pineapple to our brand new Cheeseburger topping. With free pizza vouchers only available for a limited time you'll have to be quick to grab a pizza the action!"
The six cards will feature Deep Dish Ham & Pineapple, Deep Dish Cheeseburger, Cheese Stuffed Crust Takeaway Loaded Cheese, Tomato Stuffed Crust Takeaway Vegan Sticky BBQ Jackfruit, Tiger Crust Cheesy Ham & Bacon and Tomato Stuffed Crust Takeaway Loaded Pepperoni, so there's something for everybody!
The cards will be available to purchase for £3.29 through online card marketplace, Thortful.com. To take a look at the range and send yours now, head to: www.thortful.com/creator/chicagotown
All profits from the card sales will be donated to Fareshare.
Fancy a slice of the action? Visit us at www.facebook.com/ChicagoTown or www.chicagotown.com for the latest news, promotions and giveaways.
MOORE HOUSE COCKTAIL COMPANY – SHAKING UP CHRISTMAS

It's Christmas party season ahead, and if you're stuck with what to do this year for office parties or team and client gifting; Moore House Cocktail Company has the perfect solution that allows you to delight, celebrate and boost morale.
VIRTUAL CHRISTMAS GET-TOGETHERS
It couldn't be easier – all you need to do is collate your guest list, decide what surprise cocktail to send or invite them to choose their own hand-crafted classic. Choose from the Negroni, Classic Martini, Old Fashioned and Manhattan, to more contemporary serves such as the Espresso Martini and a crystal-clear Margarita. New for the season, is a limited-edition Salted Caramel Espresso Martini and a Spicy Margarita – made with the highest quality ingredients, ready to shake or stir.
As part of the package, Moore House Cocktail Company can get that virtual party going with a bespoke live cocktail masterclass at the start of your Zoom gathering. After a 10-minute 'shake or stir' lesson, and with the ice broken, colleagues can relax and enjoy the get-together, meeting or quiz with cocktail in hand.
GIFT BOXES
It couldn't be easier to surprise and delight those all-important clients or gift your team in place of the office party. Moore House offers a flexible array of cocktail boxes, from single bottles in a variety of sizes to gift sets of any three, with or without a shaker – you choose, they deliver. Each box of three comes with instructions on how to prepare your perfect cocktail and, for multiple gifting, these can be supported with a mini virtual cocktail masterclass by one of the Moore House mixologists. For a truly bespoke gift, the 100ml and 200ml bottles can be personalised – just add the recipient's name, a Christmassy message and Moore House will do the rest. You're guaranteed to be the best secret Santa in town!
Moore House Cocktail Company – shaking up Christmas with cocktail parties and beautiful gifts.
*Next Day Delivery is available nationwide.
Moore House Cocktail Company
Westbourne Studios, 242 Acklam Road, London W10 5JJ
www.moorehousecocktails.co.uk
Tel: 020 8065 5479
Email: hello@moorehousecocktail.co.uk