Analyst Session
Terence Gallagher
12th November 2020|Paperback £7.99|Available via Amazon and all good bookshops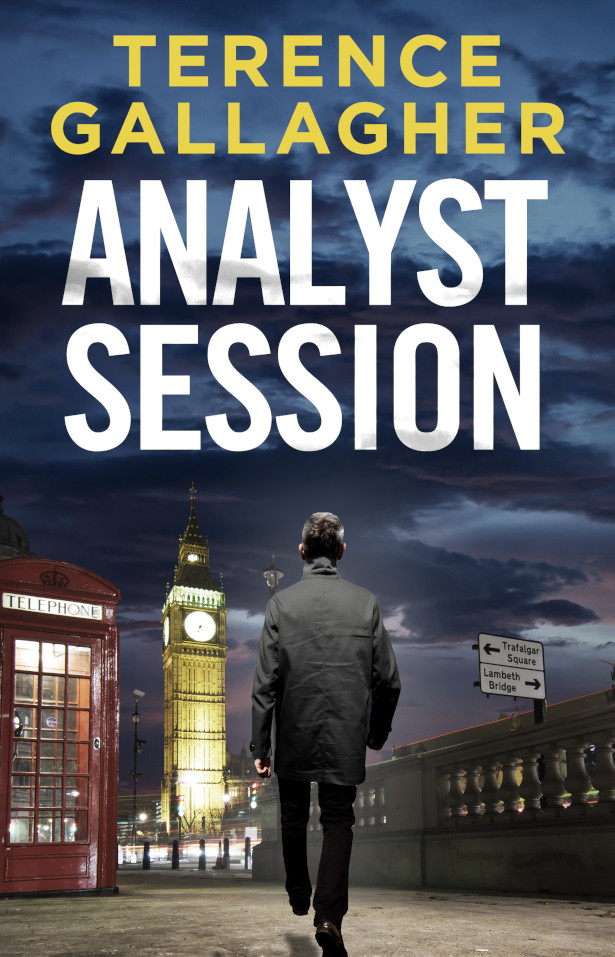 What would you do for love? An intelligent and fast-paced thriller, perfect for anyone who is as interested in fascinating moral issues as they are in tense action.
Set against a backdrop of England in 1980s, the spectacular failure of an IT project enables a clever fraud that goes undetected for a decade.
_________________________________________________________________________
Andrew Sweeney is a computer systems analyst for the Metropolitan Electricity Board in London. Early in his marriage it becomes clear to him that his wife Deirdre enjoys the good things in life – a lifestyle Andrew's salary cannot support. Then an opportunity at work presents a solution to his problem. Andrew rigs the computer-billing program to siphon off funds for his own use.
It's ten years later. The fraud has successfully financed a comfortable lifestyle for his wife. Andrew is threatened with exposure when the new Managing Director of the company implements a state- of-the-art replacement computer system. Seriously flawed, the system threatens no only Andrew's world, its impact is felt all the way to 10 Downing Street where the Prime Minister will find himself flight for political survival.
About the author: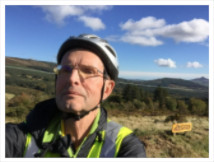 TERENCE GALLAGHER splits his time between Naples on Florida's Gulf Coast and Howth, a fishing village just north of Dublin, Ireland. In his former life he worked as a management consultant in England, Ireland, The U.S., France, and the Philippines. He is now a writer, keen cyclist and reluctant gardener. Fujita 4 is his second novel. His first – Analyst Session – will be republished later this year. He is currently working on his third book, A Coup in Makati, due to be published in early 2021.
Online Home Shops' cosiest Xmas gifts for a comfy night in

There's nothing better than grabbing a seat by the fire wrapping yourself up in a fluffy throw, and taking a moment to enjoy the fact that you're at peak comfy. If you want to give your nearest and dearest that same warm feeling, or a gift that they can cuddle up with, whether it's a fluffy throw, hooded or weighted blankets you can't go wrong with Online Home Shops top festive picks:
Gifts for her and for him
Hooded Blankets
Your perfect companion to virtually anywhere: movies on the sofa, chilling with friends, cuddling with your pet, camping and so much more… this Hooded Blanket is your new comfort buddy! Extremely soft to touch with a Sherpa inner lining, elastic cuffs and a double opening front pocket. One size fits all. Available in Blush Pink and Charcoal Grey – £16.99
Lockdown NYE glamour
Stay in in style this New Year with Online Home Shops glitter and velvet hoodies, bringing comfort and glamour to any celebrations. Available in two colours at £13.99
Weighted blankets
Sleep well for less with our great range of weighted blankets that won't break the bank. Weighted blankets help relieve stress, insomnia, anxiety & ADHD.
Online home shops range of weighted blankets come in a 4kg, 6kg & 8kg as well as a light weight 3kg Kids weighted blanket in either Blush Pink or Sliver Grey.
Prices start from £15.99 – £34.99
For home deco lovers
Mohair Throw
This faux mohair throw gives the same look and feel as mohair but at the fraction of the price. Available in a choice of colours – Blush Pink, Charcoal Dark Grey and Natural Light Grey – £10.99
Pom Pom knit throw
The yarn knit is complimented by a pom pom at each corner, thereby adding a vibrant colour and decorative feel to any room. The thick weave will help you to keep exceptionally warm on those chilly night. Also available in grey and dusty pink – £12.99
Teddy Throw
Feel like you're snuggling up to your teddy bear with this supersoft fleece throw. The cosy material makes this the perfect sofa companion, and the modern colours add a vibrant colour and decorative feel to any room. Also available in 7 colours – £7.99
Supersoft throw
Always be warm when you snuggle up to this blanket. Its supersoft fleece makes it the perfect handy throw for couches, beds and sofa beds.
Available in 6 colours – £6.99
Sheepskin Rug
Grab a statement piece at a bargain price with this faux sheepskin rug, ensuring feet are kept warm and cosy on those cold winters nights – Available in white and grey – £7.99
For Animal lovers
Could this be the perfect gift for animal lovers, these adorable faux mink animal throws, including Dachshund, Tiger, Penguin, Pug, Unicorn & Cat add a warm texture to bedrooms -£7.99
Gifts for kids
Add a touch of cosy to their Christmas Eve Box with this collection of festive goodies:
Kids Hoodies
Keep them warm and cosy with this hooded blanket – £9.99
Kids Bedding
Unicorn kingdom bed cover set from £6.99 – 50% polyester 50% cotton
Dinosaur bed cover set from £5.99 – 50% polyester 50% cotton
Galaxy Star Fleece Throw, Navy Blue – £2.99
Unicorn Pink throw – £2.99
www.onlinehomeshop.com
ALDI IS SELLING A NEW WHITE CHOCOLATE LUXE LIQUEUR WHICH TASTES JUST LIKE A BOOZY MILKYBAR
The festivities have started as Aldi introduces its new Ballycastle White Chocolate Flavoured Cream (£6.99 70cl) to its popular Irish Cream range. This latest addition to the supermarket's Christmas spirit offering provides the taste sensation of everyone's favourite, Milkybar, making it the perfect ingredient to spruce up that cosy hot cocoa we've all been craving.
Available now, this elegant cream liqueur has a delicious flair of white chocolate and can not only be added to a festive cocktail or meet that chocolate craving, it can also simply be served neat with ice, or alongside seasonal fruits – and Aldi has just the recipes for it below!
If Aldi's White Chocolate liqueur hasn't tickled taste buds enough, then why not try the complete set? Other editions to the liqueur range include the indulgent Caramel and Hazelnut Liqueur (£6.99 70cl) and the traditional Specially Selected Irish Cream (£6.99 70cl).
Ballycastle White Chocolate Flavoured Cream, £6.99
A light yet luxurious cream liqueur with the classic flavour of cocoa butter and cream. Its warming notes of white chocolate takes the lead and is met with a vanilla and buttery aroma. Satisfy any chocolate cravings by adding the liqueur to a vanilla latte for that extra kick.
Ballycastle Caramel and Hazelnut Flavoured Cream, £6.99
This luxurious liqueur has a sweet nutty aroma, with a hazelnut flavour taking centre stage, followed by hints of rich caramel flavours – reminiscent of a buttery toffee nut latte. Embrace the indulgence by adding the Caramel and Hazelnut Liqueur to a cheeky rum cocktail or simply serve with ice for a decadent Christmas beverage.
Specially Selected Irish Cream Liqueur, £6.99
A beautiful luxurious blend of spirit and fresh dairy cream with Irish whiskey. The perfect addition to a hot chocolate for the cold, winter nights! If you simply cannot get enough of Irish Cream, Aldi has you covered and will be selling everyone's favouriteSpecially Selected Irish Cream Liqueur in a litre size bottle for just £9.89! Merry Christmas indeed.
Head to Aldi stores or online at www.aldi.co.uk now to bag yourself one of these luxe liqueurs.
No need to look further for festive inspiration, as Aldi has a selection of mouth-watering recipes to incorporate these gorgeous liqueurs into:
'Triple Choc Galore'
Ingredients: 25g Aldi's Choceur instant hot chocolate drink, 3 squares of Choceur creamy dark chocolate, 3tbsp of Aldi's White Chocolate Liqueur, 160ml boiling water, Cowbelle aerosol real dairy cream, Cinnamon
Method: Finely grate the dark chocolate and put a little to one side to sprinkle. Put the hot chocolate powder and the grated chocolate into a mug. Add in the White Chocolate Liqueur and pour over the boiling water – stir to melt. Squirt over the top with the aerosol cream. Sprinkle with the remaining grated chocolate and cinnamon, then serve!
'Sweet and Nutty' Hot Cocoa
Ingredients: 700ml semi skimmed milk, 300ml Cowbelle single cream, 125g Moser Roth 70% dark chocolate, 100ml Aldi's Caramel & Hazelnut Liqueur, 25g Moser Roth Madagascan vanilla chocolate
Method: Finely chop the dark chocolate and grate the white chocolate. Put the milk and the cream into a pan and heat to almost boiling. Divide the dark chocolate between 4 glasses, adding 25ml of Aldi's Caramel & Hazelnut Liqueur into each glass. Divide the hot milk between the 4 glasses. Stir to melt the chocolate and then sprinkle white chocolate over the top.
A little something for everyone from Canon, this Christmas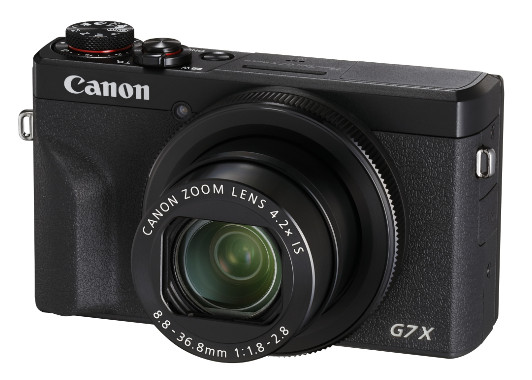 Whether you are looking for the perfect camera for the backpacker of the family, the aspiring vlogger, or the craft lover, Canon has something for each and every family member this festive season.
For the Traveller
Canon PowerShot SX740 HS
The Canon PowerShot SX740 HS gives you the opportunity to tell your story in 4K, using the powerful 40x travel superzoom. With its pocket-sized body, the Canon PowerShot SX740 HS is the ultimate 'all-in-one' solution to capture treasured moments in 20.3 Megapixel detail.
Its unique DIGIC 8 processor actively manages camera settings such as Zoom Framing Assist and Hybrid Auto so you can point and shoot with incredible results. Furthermore, it gives you the possibility to share and store your photos virtually using the Advanced Bluetooth®, Wi-Fi connectivity and Auto Transfer settings.
Available in silver and black, the Canon POWERSHOT SX740 HS can be purchased from the official Canon online store and Canon retailers at £359.99 / €419.99.
For more information on the Canon PowerShot SX740 HS, please visit: https://store.canon.co.uk/canon-powershot-sx740-hs-black/2955C011/
Canon EOS 250D
The Canon EOS 250D is a beginner's DSLR camera for life's big moments. It`s the world`s lightest DSLR camera with a movable screen with a classic feel and intuitive design for powerful performance that's easy to use.
With its 4K movies, 24.1-megapixel sensor and Dual Pixel CMOS AF, shoot images in stunning quality and vivid detail, with Wi-Fi and Bluetooth® to effortlessly connect to your smart device and share your results as you go.
The EOS 250D comes in black, white, and silver and is available to purchase from the Canon official online store and Canon retailers at the price of £529.99 / €599.99.
For more information on the Canon EOS 250D, please visit: https://store.canon.co.uk/canon-eos-250d-body-black/3454C004/
For the Vlogger
Canon PowerShot G7 X Mark III
Create high-resolution photos and 4K video content for vlogs and social media, with a camera that fits in your pocket. The Canon PowerShot G7 X Mark III allows you to communicate your creativity and will give your vlog or social media the quality it deserves. Its incredible 4K video, bold 20.1-megapixel photos and high-speed shooting will undoubtedly surpass what you're used to seeing from your smartphone.
Set to become a vlogger`s go-to portable camera, the PowerShot G7 X Mark III features a microphone connection for crystal clear audio, whilst smartphone connection makes it easy to share instantly using Bluetooth® or Wi-Fi. You can even stream video directly from the camera to your YouTube channel.
The Canon PowerShot G7 X Mark III comes in black and silver for the price of £719.99 / €819.99, via our official Canon online store and Canon retailers.
For more information on the Canon PowerShot G7 X Mark III, as well as our vlogging kit offers, please visit: https://store.canon.co.uk/canon-powershot-g7-x-mark-iii-compact-camera-black/3637C011/
Canon EOS M50
Tell unforgettable stories in rich colour and detail with the compact and connected 4K EOS M50. Its sleek design is packed with innovative technologies including cinematic 4K and 5-axis image stabilisation, with DSLR image quality in a lightweight mirrorless body.
This modern camera combines a 24.1 Megapixel DSLR sized CMOS sensor with powerful DIGIC 8 processing for outstanding low light performance and depth of field control and is guaranteed to do your stories justice. The Canon EOS M50 allows you to shoot remotely by downloading the free Canon Camera Connect app and downloading your photos directly to your Apple or Android device.
Available in black and white for the price of £539.99 / € 629.00, the Canon EOS M50 is a perfect tool for any blogger who wants to capture superb photos and videos in 4K. To purchase it, go to the Canon official online store or any of the Canon retailers.
For more information on the Canon EOS M50, please visit: https://store.canon.co.uk/canon-eos-m50-body-black/2680C057/
For the Photographer
Canon EOS M6 Mark II
For anyone who enjoys documenting their life with spontaneous, creative photography and filmmaking, the EOS M6 Mark II provides speed, power and versatility in a highly portable design. The camera uses an APS-C sized 32.5-megapixel CMOS sensor and DIGIC 8 processor to deliver superb image quality, even in low-light conditions, thanks to a maximum ISO 25,600 sensitivity.
This fast, compact, mirrorless EOS is bristling with the latest tech and able to capture the most fleeting moments. Its tilt-up touchscreen lets you shoot from new and unusual viewpoints, while the optional, removable EVF-DC2 (sold separately) electronic viewfinder lets you take a more personal view and is great for shooting in bright conditions.
Available in black for the price of £869.99 / €1,029.99, the Canon EOS M6 Mark II is the perfect gift for creative and spontaneous individuals. To purchase it, simply visit the Canon official online store or any of the Canon retailers.
For more information on the Canon EOS M6 Mark II, please visit: https://store.canon.co.uk/canon-eos-m6-mark-ii-body/3611C050/
Canon EOS 90D
The Canon EOS 90D is a great match for any wildlife enthusiasts and sports fans, with its APS-C size sensor that extends the effective reach of telephoto lenses. It comes with 10 fps continuous shooting, a 32.5-megapixel sensor and 45-point cross-type autofocusing that tracks moving objects with phenomenal speed and precision.
As a DSLR the EOS 90D features a bright, clear optical viewfinder that shows the world as it really is, in real time. A 220,000-pixel RGB+IR metering sensor ensures accurate exposures and helps the camera recognise and follow faces and other objects.
Available in black, the EOS 90D can be purchased for the price of £1209.99 / €1,449.99 from the Canon official online store or any of the Canon retailers.
For more information on the Canon EOS 90D, please visit: https://store.canon.co.uk/canon-eos-90d-body/3616C025/
For the Crafter
Canon SELPHY SQUARE QX10
The Canon SELPHY SQUARE Q10 is the ideal gift for the whole family to enjoy. Simply connect it to a smartphone via Wi-Fi and print high quality, classic look square prints which are complete with a peel-and-stick back – all in just 43 seconds!
Prints come with a bordered edge for adding that personal element of hand-written captions and are all smudge-free, water, dirt and tear resistant. Plus, its high-quality finish resists the effects of fading for up to 100 years – so now your memories can literally last for a lifetime.
Available in four stylish colours (black, white, pink and green), this battery powered compact photo printer can connect to the SELPHY Photo Layout app, allowing users to access their smartphone photo library and add creative touches. With stamps, filters, borders and bespoke layouts, the app helps personalise prints to make them truly unique.
The Canon SELPHY SQUARE QX10 is available at £139.99 / €169.99 and packs of 20 Canon XS-20L square format photo paper at £14.99 / €17.99 from Canon's online store and official Canon retailers.
For more information on the Canon SELPHY SQUARE QX10 and the Canon XS-20L label set, please visit: https://www.canon.co.uk/printers/selphy-qx10/
Canon Zoemini S and Canon Zoemini C
If you're looking for a camera as well as a printer, the Canon Zoemini S and the Canon Zoemini C could make ideal gifts this Christmas. Capturing special moments has never been easier or more fun with these compact and lightweight gadgets, so the whole family can share their memories together.
The Canon Zoemini C is available in four eye-catching colours; bubble gum pink, bumblebee yellow, mint green and seaside blue. Available without the Canon Mini Print App compatibility and packs a five-megapixel camera, a selfie supporting reflective mirror and a Micro SD card slot. Perfect to shot and print your memories instantly on the go, whether you spend Mother's Day at home, or out and about.
The Canon Zoemini S comes in three stylish finishes; rose gold, matte black and pearl white and fits seamlessly into the palm of a hand, pocket or backpack for exceptional portability. It is supported by the free-to-download Canon Mini Print App (iOS/Android), which enables users to print their images directly from a smart device using Bluetooth® as well as edit from an array of creative filters and frames. Users can also remove the challenge of capturing family selfies, simply by using the Canon Mini Print App's remote shutter and self-timer function, so no one will be out of shot, not even the family pet!
The Canon Zoemini S & C are available from Canon's online store and official Canon retailers with the following RSPs:
Canon Zoemini S £149.99 / €179.99
Canon Zoemini C £109.99 / €129.99
For more information or to locate your nearest retail outlet, please visit:
https://www.canon.co.uk/cameras/zoemini-s
https://www.canon.co.uk/cameras/zoemini-c
A FESTIVE SPREAD DESIGNED TO DAZZLE – THANKS TO FRANK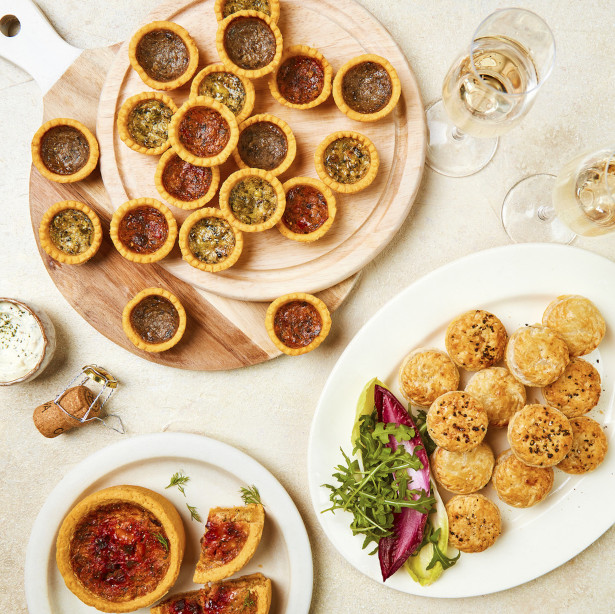 Your Christmas celebrations might be a slightly more muted affair than in previous years, but regardless of the restrictions in place you can still indulge in some amazing quality party food delivered direct to your door by Norfolk's brand-new special occasions national food delivery service, Frank Dale.
The brand of choice for professional chefs looking to create a fabulous (not just for Christmas!) feast, Frank Dale is now available to everyone at home, too. Thanks to Frank you can serve a tantalising bite-sized collection of gorgeous canapés, scrumptious quiches, perfect pies and delicious cakes. And there's no need to panic if any of your guests follow a specialist diet: Frank Dale caters for everyone's dietary requirements including vegetarian, vegan and – coming very soon – gluten free. And don't forget, these delightful culinary creations don't have to be saved just for a special occasion!
With a reputation in the industry for being the 'King of Miniatures', these restaurant-quality, to-die-for frozen miniature gastronomic treats will instantly perk up any buffet and add a dash of festive pizazz. The range is based on British Classics but with a quirky modern twist on the UK's traditional favourites, including:
Mini Yorkshire Puddings
Mini Fish & Mushy Pea Rosti
Mini Steak & Ale and Chicken & Tarragon pies
Beetroot Pastry, Spinach, Feta and Red Pepper mini quiche
Mini Vegan Pies: Mushroom, Leek & Ale, Country Vegetable
Mini Vegan Quiches: Woodland Mushroom & Pea, Broccoli & Mint, Tomato & Basil
Individual quiches including individual Vegan quiche filled with Tomatoes, Red Pepper, Spinach and Basil, in a British Oat based vegan custard (contains pea flour)
Sharing tarts: Caramelised Onion Chutney and Mature Cheddar Tart in Turmeric Pastry; Winter Butternut Squash, Emmental, Red Onion and Spinach Tart; Smoked Salmon, Leek and Dill Tart in Beetroot Pastry
Mini Victoria Sponges
Mini Black Forest
Mini Coffee Cake
Mini Carrot Cake
Planning your party food couldn't be more straightforward. Visit www.frankdaleonline.co.uk to make your selection. Choose six packs (in any combination) for FREE next day delivery.
Once they've left the Frank Dale factory, your carefully-packaged products arrive on your doorstep ready to go straight into either your fridge or freezer. Aside from the convenience factor, the beauty of frozen is that you can guarantee that your delivery remains super fresh, retains all its natural goodness and your selected mouth-watering morsels are as full of flavour as the day they were first created.
Thanks to Frank, your festive spread won't break the bank. Prices range from £3.99 for 12 mini quiches to £6.99 for 12 sumptous mini cake. Visit the website for full details on our products, brand and values.
Frank Dale is backed by a 100-year farming heritage so you can be sure that the ingredients featured in these deliciously decadent bites have all been responsibly sourced. Every item is made in-house completely from scratch – including creams, jams, pastry and fillings ensuring the signature Frank Dale 'handmade' touch.
A DELICIOUS CHRISTMAS COUNTDOWN
Chocolate Advent Calendar – £14 – Houses of Parliament Shop – 

Get your Christmas countdown started with the delicious Chocolate Advent Calendar from Houses of Parliament Shop.
Containing 24 indulgent chocolates with gorgeous Christmas designs, you will be sure to enjoy your daily treat on the lead up to the big day!
Chocolate Advent Calendar – £14
Chocolate Nougat Gift Box – £12 • Handmade Chocolate Florentines – £6 • Chocolate Stars Pouch – £5 •
Festive Tray of Handmade Chocolates and Truffles – £7 • 24 Handmade Chocolates and Truffles – £20
Houses of Parliament Shop – shop.parliament.uk
MA-15 Air Purifier ($119): This compact, but powerful purifier cleans up to 330 sq. ft. in 30 minutes. It can be easily set on a bed-side table, nursery room or at-home office for guaranteed clean air and is perfect for new homeowners, parents, or loved ones working from home.
MA-35 Air Purifier ($349): New for 2020, is this wall-mounted air purifier featuring HEPA H-13 filters to remove 99.9% of particles. Fit for a room up to 640 sq. ft. this purifier can clean the air in 30 minutes, keeping apartments, workspaces and dorm rooms feeling fresh so it's perfect for college students, businesspeople or really anyone in the family.
The Week Junior, the award winning current affairs title that feeds the curiosity of 8-14 year olds has subscriptions starting from just £25.99 that includes a copy of The Quizzler (worth £3.99), a monthly quiz magazine from the same editorial team. Why not set up a sub for that special young person in your life.
Parent title The Week tells you everything you need to know about the world of news and politics with subscriptions starting at £35.99. It's a great gift for those that are time poor but want a carefully curated but balanced view of the week's news.
Those that are careful with their cash and want to be informed about the best places to invest will be delighted to know that subscriptions to MoneyWeek magazine start at £27.49. It's not too demanding on the wallet as a gift either.
Last and by no means least, and another one for the children, is the award winning Science+Nature from the team behind The Week Junior. This is a monthly magazine taking a closer look at the natural and scientific world, and starts at just £23.99 and also includes a copy of The Quizzler worth £3.99.
All of these fantastic deals and more details can be found here: magazinesubscriptions.co.uk