FUN, FAMILY COUNTDOWN TO CHRISTMAS!
THE ELF ON THE SHELF® ANNOUNCE NEW
ORNA-POP!™ ADVENT CALENDAR!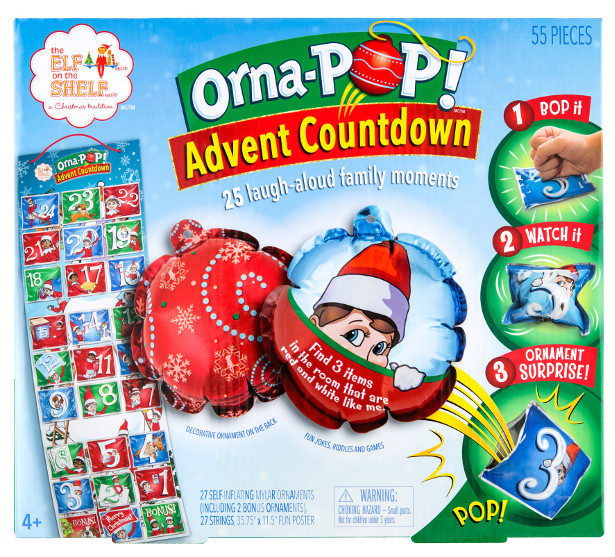 Bop It! Watch It! Surprise!
From the creators of The Elf on the Shelf® comes Orna-POP!™, an all-new holiday countdown activity straight from the North Pole sure to delight the whole family!
Each day kids will be excited to bop and pop each Mylar pouch and watch it self-inflate right in front of their eyes. Once inflated, the pouches offer two sides of fun! One side reveals jokes, riddles and games direct from your favourite North Pole characters. Theother side is a decorative ornament to hang.
The Orna-POP! ™ Advent Countdown provides families with the chance to enjoy each day leading up to Christmas, offering 25 days of magical popping surprises!
The Orna-POP!™ Advent Countdown includes:
27 mylar ornaments
27 silver cords to use in decorative displays
Keepsake poster featuring North Pole characters
The Orna-POP!™ Advent Countdown is available at all good Adoption Centres, across theUK (£14.95 RRP). You can find your nearest Adoption Centre here.
The Elf on the Shelf®: A Christmas Tradition launched in early 2005. Fourteen years on, thebook is read by millions of families with more than 13 million of Santa's Scout Elves having been adopted.
In the run up to Christmas, families can adopt an official Scout Elf™ from Adoption Centres across the UK. Once home and named, Scout Elves receive their Christmas magic, meaning they can fly to the North Pole each night to report back to Santa Claus on all of the day's activities and what's been seen!
For more information or to shop at Santa's Store please visit www.elfontheshelf.co.uk