Meet the two PELI's Optimal Outdoor and General use Torches
FACEBOOK | TWITTER | INSTAGRAM | YOUTUBE | LINKEDIN
According to PELI's lastest survey amongst 500+ users, the 7100 and 2780R are the most preferred lights for outdoor activities, leisure as well as for use at home or vehicle
Barcelona, July 2019 – PELI has recently realized a survey among more than 500 European flashlight users to research the user needs for their lighting tools. Torches are nowadays more considered as a professional tool rather than private one. In fact, 63% of participants declared to use their light for professional purposes. However, they also like to use them for private purposes such as outdoor activities like camping, excursions, or sports (running, biking, hiking), as well as for repairs at home (electricity breakdowns) or vehicle (car, bike).
What is the ideal light for outdoor, leisure or just general use?
PELI observed a clear preference for hand-held lights with 67% versus 33% for headlamps. Peli's research also shows that more than 87% of the respondants emphasize the need for more than 300 lumens of brightness. A solid 55% also demand a maximum size of 20cm and 45% request less than 200gr for total weight including battery. And with that, 61% prefer a Lithium-Ion rechargeable option, same as the latest market trends, with a 65% of users requiring a battery level indicator. Finally, a key benefit for 37% of the users is a high level of autonomy, with torches ideally reaching up to 6 hours of runtime.
PELI 7100 chosen as the ideal torch to light up your leisure activities and home or vehicle dark situations
The high-performance of the 7100 up to 695 lumens for only 13 cm long, coupled with a USB rechargeable lithium ion battery for up to 9 hours of autonomy make it the ideal light for outdoor or general use. It provides high, strobe, medium and low modes, giving users the option to choose from different programs to personalise and fit individual needs. The fulltime battery level indicator ensures you will always know the battery status. The 7100 torch has an extremely robust body thanks to the hard anodizing finish Type II. The 7100 is compact and extremely powerful light and as always covered by Peli's Lifetime Guarantee (where applicable by law).
For more information visit: www.peli.com/eu/en/product/flashlights/tactical-flashlight/7100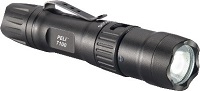 Are you part of the 33% of users who prefer to use a headlamp?
If so, PELI 2780R is 'the one' for the headlamp's fans
With 558 lumens of brilliant light and a USB lithium ion rechargeable battery the 2780R is one of the most intriguing headlamps on the market today. Its Main LED illuminates everything in front of you with a beam distance of 127 meters, the Downcast LED illuminates everything below in a wide diffused pattern providing safe pathways. The easy grip dial incorporates a push to select High / Medium / Low settings for adapting the light to your activity. The 2780R has an unique rear mounted battery pack that provides full time battery level indication, charging levels and a rear mounted red LED safety light;
The rechargeable LED Headlamp 2780R is the very best in hands free lighting for outdoors leisures, and again, covered by Peli's Lifetime Guarantee (where applicable by law).
For more information visit: www.peli.com/eu/en/product/flashlights/headlamp/2780r