'Mix it Up for Summer' with the Jägermeister Mule cocktail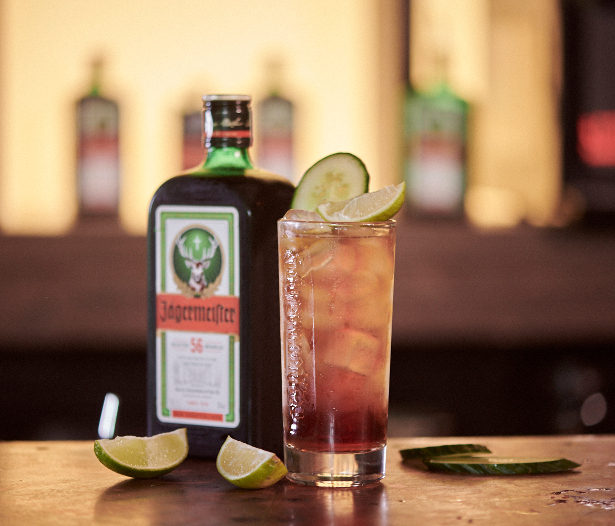 FACEBOOK | TWITTER | INSTAGRAM | YOUTUBE
A light and refreshing mix of Jägermeister with Ginger Beer
July 2019 This summer Jägermeister is introducing the Jägermeister Mule, a refreshing mix of Jägermeister, ginger beer, cucumber and lime with slightly spicy after notes. The cocktail is the brand's meisterful reinterpretation of the classic Moscow Mule, with a twist.
Florian Beuren, UK Brand Ambassador at Mast-Jaegermeister UK explained. "The flavours in the Jägermeister Mule work together in harmony to create a really refreshing serve that lets the signature taste of Jägermeister come through. Ginger is one of the core five ingredients in Jägermeister so the ginger beer works well to amplify this. The addition of lime and cucumber balances the fiery tones of the ginger resulting in a simple yet complex serve."
The cocktail is now available at some of the most exciting bars in the capital including Night Tales, Aqua Shard, Tramp, NT's and Liquorette amongst others, plus you can find it at over 800 bars across the UK.
Jägermeister Mule is also perfect for creating an exciting but simple serve at-home to enjoy during pre-drinks, with a special brunch, or at a summer BBQ. In supermarkets limited edition bottles will come with a free ginger beer voucher plus a guide to creating the perfect Jägermeister Mule at home.
Jägermeister Mule Recipe
What you'll need:
50ml of ice-cold Jägermeister, Ginger Beer, Lime, Cucumber, Ice
Method:
Toss a handful of ice cubes into a nice long glass
Pour over 50ml of ice cold Jägermeister, without spilling a drop
Fill to the brim with your ginger beer of choice
Make it fruity with a wedge of lime, squeezed in for maximum taste
Top it off with a slice of refreshing cucumber
Jägermeister Mule: Sorted.
About Jägermeister:
Jägermeister, the unique herbal spirit known for its iconic bottle was developed by Curt Mast from a secret recipe 80 years ago. A blend of 56 different herbs, blossoms, roots and fruits from all over the world, this undisclosed recipe has not changed since it was first made. The pure and natural botanical ingredients are extracted in their raw, unprocessed form through a gentle, weeks-long process of cold maceration to create Jägermeister's base. The base, housed in more than 400 oak casks, then "breathes" for one full year to guarantee a high-quality finish, and authentic taste. Jägermeister contains 35% alcohol by volume. Made by Mast-Jägermeister SE and family owned to this day, the liquid launched in Wolfenbüttel Germany.
Best served as an ice-cold shot at -18C, or as a long drink in the popular Jägermeister Mule – a concoction of the herbal liquid, ginger beer and lime. With irreverent perfectionism at its core, the brand has steeped its roots in the music industry through its festival activation, JägerHaus, and ongoing partnerships with Soho Radio and Reform Radio.