My Expert Midwife's multi-award-winning skincare products and toiletries for pregnant and new mums! What A Great Gift Basket Idea! www.myexpertmidwife.com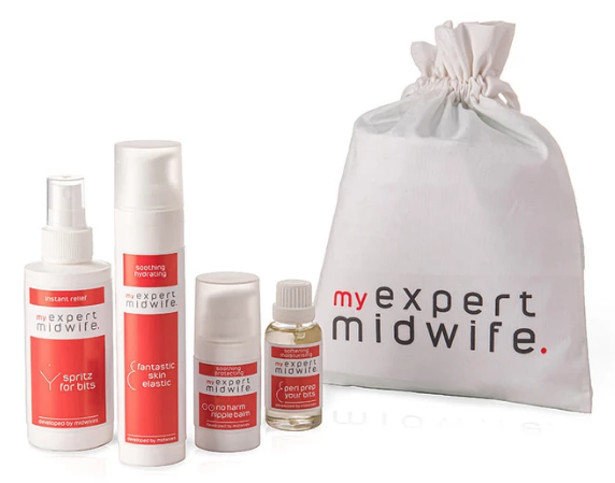 For example – their gorgeous smelling Trio of Pregnancy sprays are fabulously natural, essential oil based and designed to combat the unwanted symptoms of pregnancy.
Produced by My Expert Midwife, a company set up by leading midwife Lesley Gilchrist, they offer respite for classic pregnancy symptoms of sleeplessness, nausea and lack of energy.
The sprays – "Relieve the Heave', "Feel the Zing' and 'Press for ZZZs" are a brand new range at My Expert Midwife. Further details below.
& We'd also recommend the following pregnancy gift set could make a much loved gift for a pregnant mum-to-be…
It includes 4 multi-award-winning skincare products for expectant mums and new mums, and comes beautifully wrapped in a white cotton drawstring bag.
The Mum To Be Gift Set follows the journey all the way from pregnancy through to breastfeeding. Each of the 4 full-size products has been designed by midwives to relieve a range of challenges faced by the skin during pregnancy.
These challenges include tight and dry skin on a growing bump; preparing the perineum for childbirth; caring for the perineal area after childbirth; and looking after the nipples while breastfeeding:
Fantastic Skin Elastic (100ml) – helps to moisturise a growing bump and relieve tight, itchy skin
Peri Prep your Bits (30ml) – A massage oil for preparing the perineum, through perineal massage, to help it stretch during childbirth
Spritz for Bits (150ml) – instant post-birth relief for a sore vulva, perineal tear or episiotomy
No Harm Nipple Balm (30ml) – helps to soothe and protect cracked and sore nipples when breastfeeding.
Further details here https://myexpertmidwife.com/collections/the-collection/products/mum-to-be-gift-set