NEW CHOCOLATE TRUFFLE TWO PACKS
And they're organic!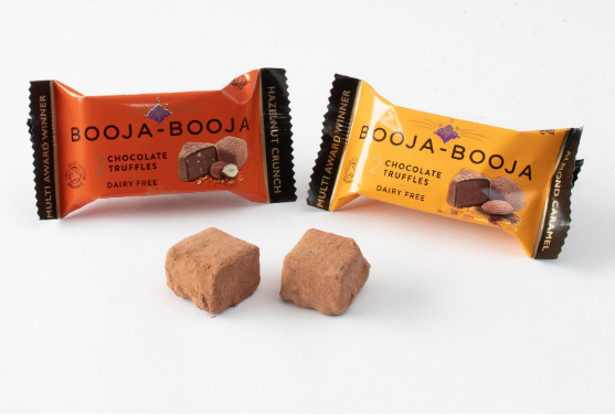 TWITTER | FACEBOOK | PINTEREST | INSTAGRAM
Booja-Booja Hazelnut Crunch and Almond Salted Caramel Chocolate Truffles are now available in Two Truffle Packs; just the right amount of yumminess for a lunchtime, after dinner or 'on-the-go' treat.
Hazelnut Crunch and Almond Salted Caramel are two of the bestselling flavours in the Booja-Booja range. They are both 2019 Great Taste Award winners and won Bronze at the prestigious Academy of Chocolate Awards in both 2018 and 2019. Hazelnut Crunch was winner of the 'Vegan Cupboard' category at the Veggie Awards 2019 and Best Organic Confectionery winner at the 2018 Soil Association BOOM Awards.
The new Two Truffle Packs cost just £1.29 RRP, meaning it's now easier than ever to 'grab and go' some of the UK's most premium chocolate truffles. You'll find them by the till in independent health food shops, delicatessens and farm shops across the UK
Booja-Booja Marketing Coordinator Louise Collins says,
We hope these Two Truffle Packs will help more people discover just how delicious our truffles are. Lots of people know our truffles make wonderful gifts but we create them to be enjoyed as a treat too. These packs give people the opportunity to treat themselves as well as others."
Booja-Booja is one of the UK's leading free-from confectionery brands. Based in Norfolk, it makes a wide selection of organic, dairy free chocolate truffles and ice creams. Its products are available in hundreds of independent health food stores, farm shops and delicatessens, in selected branches of Waitrose, Sainsburys and online at ocado.com.