Good health is crucial now more than ever, but there is not one simple approach that works for everyone.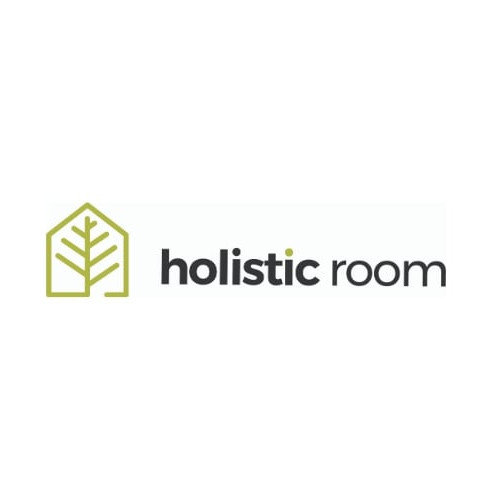 We are all unique and so the path to health and wellbeing will be different for each of us.
Holistic Room (www.holisticroom.com) understands this and works with you to identify your specific needs in order for you to fulfil your health and wellbeing goals. Their experienced staff will match you with the best suited holistic health practitioner, to support you in achieving your objectives using natural therapies.
Good health is not an option, it's a necessity. Sign up (www.holisticroom.com/en/signup) for free today, so we can support you on your journey to better health and vitality."
Freeletics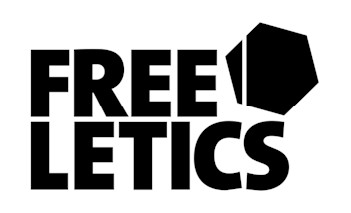 Freeletics was founded in 2013 with the mission to challenge and inspire people to become the greatest version of themselves, both mentally and physically. Since then, the company has become the leading provider of AI-based fitness and mindset coaching, with over 50 million users in over 175 countries. The Freeletics app is not just the #1 fitness app in Europe, but also offers the most advanced AI technology in the industry. It puts a personal trainer in your pocket, enabling you to train anytime, anywhere, any how, with hyper-personalized training plans and workouts. Its AI technology allows the app to learn from millions of users and their individual feedback, so it can develop ongoing smart Training Journeys, uniquely designed to suit every single user, down to the last exercise.
www.freeletics.com
Why Reading Food Labels is So Important
checklabels.com.au
Haven't yet made a habit out of checking food labels? It might be time to start. If you're committed to eating healthy and avoiding unnecessary ingredients, reading food labels will be a game changer for your diet and lifestyle. As we all know, you are what you eat. But how does that work when you don't even know what you're eating?
Checking food labels is the best way to confirm that a 'healthy', 'organic', or 'eco' product is actually good for you. It helps you build more awareness of what is contained in popular supermarket foods so you can make more informed decisions in the aisle. But don't just take our word for it – here are three reasons why you should start reading food labels.
1. Live a healthier lifestyle
One of the most important elements of living a healthy lifestyle – especially when you want to increase your fitness levels – is focusing on eating a natural, wholesome diet. Checking food labels is the best way to ensure that what you're buying from the supermarket is actually healthy for you and not just packed with additives, chemicals, and unhealthy ingredients.
A lot of 'healthy' or 'organic' foods on supermarket shelves – whether muesli bars, plant-based meats and cheeses, or snacks – don't seem that way once you check the ingredients and nutritional content. Taking the time to read a food label shows you whether the 'healthy' food contains undesirable ingredients like preservatives, artificial colours and flavours or unnatural sugars. You'll be better able to spot genuinely healthy and wholesome products from ones that look and sound healthy but are packed with bad ingredients.
At the same time, if you're looking to achieve fitness goals you might want to manage your consumption of sugars, fats, and proteins. Checking food labels shows you how much of these substances is present in foods, so you can opt for products that suit your diet and fitness goals. Don't just guess by the product's packaging – read the label and find out for yourself.
2. Save money in the long-term
Going from our previous point, taking the time to read the contents of a food product will help you make more informed shopping decisions and save you money in the long run. How does this work? Firstly, checking food labels might make you realise that there is a cheaper alternative to a favourite food product, with exactly the same (or maybe even better) ingredients. If you're one to splurge on brand names, checking food labels might be an enlightening experience as you realise there's no need to spend the extra bucks – you can find almost the same product for less. It'll also help you spot a product with undesirable ingredients before you purchase it and find out the hard way, letting a product go to waste at the same time.
3. Stay safe
This one is for people with allergies and intolerances – if you're not already checking food labels then doing so might help you spot allergens and prevent an undesirable reaction. Checking food labels also helps you spot items that have a nearby expiry date or maybe have even expired – and this is one of the biggest reasons Aussies throw out food.
Paxton's LIMITED EDITION January Cheese Treats – Perfect for Burns Night
From Paxton & Whitfield, the UK's oldest cheesemonger, this January Cheese Treats both is perfect for celebrating Burns Night on Monday 25th January 2021. Its cheesemongers have selected three artisan cheeses from different geographical areas of Scotland, all made by dedicated, award-winning cheesemakers.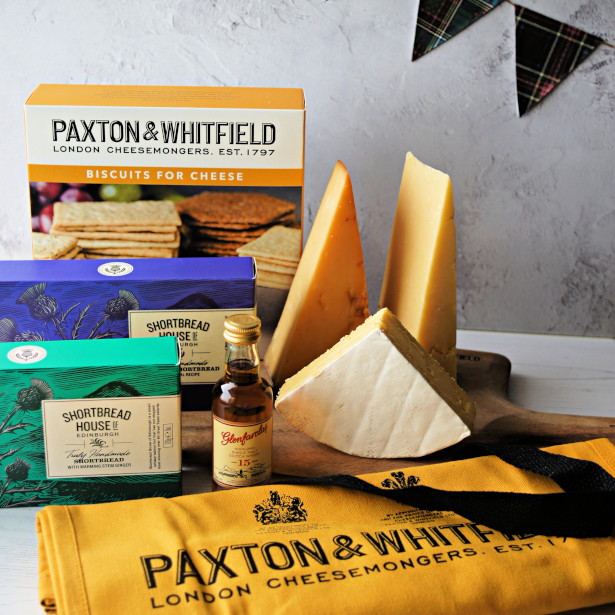 LIMITED EDITION January Cheese Treats (£60 – price includes UK mainland delivery) www.paxtonandwhitfield.co.uk/shop/cheese-board-collections/january-cheese-treats?c=7 – Paxton's cheesemongers have compiled this delicious selection, perfect for January and for celebrating Burns Night on Monday 25th January 2021.
The collection contains three fine Scottish, artisan cheeses (Clava Brie (250g), Isle of Mull (250g) and Auld Reekie (250g)), a 50ml bottle of Glenfarclas Single Malt Scotch Whisky, two packets of hand-baked shortbread (170g each and including a deliciously warming stem ginger flavoured shortbread), a jar of Paxton's Apple & Chilli Jelly (113g), a pack of Biscuits for Cheese (250g) and a Paxton & Whitfield tote bag.
It's perfect to enjoy in January or to send as a gift.
The cheeses are:
· Isle of Mull Cheddar (Unpasteurised, traditional rennet) – the Scottish islands have a rich history of cheesemaking but today the only dairy that remains on the Isle of Mull is Sgriob-ruadh Farm, near Tobermory, which is owned by the Reade family who revived the tradition in 1979. The milk to make this traditional farmhouse cheese comes from the farm's own herd of Friesian cows with the odd Ayrshire, Jersey and Highland cow too. To ensure maximum freshness the cheese is pumped straight to the cheesemaking vats immediately after the morning milking. As the cheese is unpasteurised it really takes on the character of the seasons, for example the cheeses made with winter milk are almost white in colour. The flavour is full and farmy with wild, salty notes from the exposure to the Atlantic elements.
· Clava Brie (Pasteurised, vegetarian rennet) – this is a soft, brie-style cheese made at Connage Highland Dairy on a family-run farm in Ardersier, Inverness. The farm was started by Hamish Clark and today the farm and dairy are run by his two sons, Callum and Cameron, with the help of their wives. They have an organic dairy herd of 140 cows that are mainly Holstein Friesian with some Jersey crosses and Norwegian Reds. The cows graze on clover pastures that surround the dairy and along the shores of the Moray Firth. To achieve the best results for the cheese the curds are delicately hand-ladled into their moulds. The cheeses then develop a soft white rind which helps soften the interior during maturation. The cheese has a delightful earthy and mushroomy flavour.
· Auld Reekie (Unpasteurised, traditional rennet) – the cheese is made by the Cambus O'May Cheese Co. that is located four miles east of the picturesque village of Ballater in Royal Deeside, Scotland. Auld Reekie is a hard cheese that has been carefully developed to combine the flavours and textures of traditional cheese with a delicate wood and whisky finish. Inspired by the local smoking methods used to make distinctive speciality foods in Royal Deeside, this lightly smoked handmade cheese has all the flavour of a traditional farmhouse cheese with a delicate whisky and wood finish.
75 PER CENT OF BRITS ADMIT TO SELF SABOTAGING THEIR SLEEP – BUT A THIRD HAVE MADE BETTER SLEEP THEIR 2021 HEALTH GOAL
Three quarters of UK indulges almost nightly in bad bedtime habits that they know will stop them getting a good night's sleep
A third of us have made improving our sleep a New Year's resolution for 2021; knowing that in turn improved sleep can benefit overall health and wellness and make bad habits less appealing
Three quarters of all Brits self-sabotage their sleep by indulging in bedtime bad habits – behaviors they know will impede their ability to get to sleep – from four to seven nights per week.
The data, compiled via research by Silentnight's Wellbeing Collection found that 73 per cent know that habits including scrolling on social media, drinking alcohol, smoking and shopping have a negative impact on their sleep, mental and physical health – but proceed to do them anyway.
With bad bedtime habits rife across the nation, it's perhaps unsurprising that a third of Brits have made 'to sleep better' or 'improve my bedtime routine' their 2021 New Year's resolution.
A spokesperson for Silentnight's Wellbeing Collection, Hayley Chaytor, said: "It's interesting to see that while so many of us are looking to improve our sleep, the majority of us know that our pre-bed evening routines are impacting our ability to get a good night's rest. What's more, scientific research shows that better quality sleep has benefits for overall health and wellness, meaning sleeping well can make achieving other resolutions simpler too.
"Our research data helped to influence our new wellbeing collection of pillows and duvets, which have been especially designed to make achieving a great night's sleep – and in turn generating those overall health and wellness benefits – simple."
Silentnight also asked its survey respondents what worries kept them awake at night and unsurprisingly Covid-19 related worries featured heavily; money worries (35 per cent), family worries (34 per cent), job worries (26 per cent), children's health worries (11 per cent) and concerns about children's education (seven per cent) all ranked highly. However, worries about appearance (15 per cent) and around worries about others' perceptions (13 per cent) were also common amongst those surveyed.
Another finding from the research included 43 per cent stating that they have to watch a minimum of five vlogs or YouTube videos before they can nod off.
Silentnight's Wellbeing Collection includes a full range of bed products that have been specifically designed to ease the stresses of modern-day life and encourage a relaxed, restorative night's sleep. The products include weighted blankets in a variety of weights to suit all sleepers, including children. These blankets are designed to ease stress and anxiety by relaxing both the body and mind with deep-touch pressure stimulation. They are joined by Silentnight's Re-balance Pillow Pair, which feature carbon threads that restore hormonal balance by reducing the stress hormone cortisol, to ease anxiety and allow for a deeper, more restorative sleep.
The collection also features a lavender-scented and cooling pillows that each make nodding off a doddle and a copper infused pillow that promotes more restful sleep whilst also helping to reduce skin imitations, acne flare ups and puffy eyes, for true 'beauty sleep'.
Silentnight's Wellbeing Collection is available from a wide range of retailers, including Silentnight, Amazon, Argos, and Sleepy People.
The top 10 bad bedtime habits, as identified by Silentnight Wellbeing Collection's research, are:
Streaming a TV show or film in bed (16 per cent)
Drinking a beer or glass of wine (15 per cent)
Watching videos and vlogs on YouTube or Instagram (14 per cent)
Scrolling social media feeds (12 per cent)
Having a snack (10 per cent)
Watching the news (9 per cent)
Shopping online (8 per cent)
Playing an online game (7 per cent)
Eating chocolate (6 per cent)
Smoking a cigarette (5 per cent)
WAVING GOODBYE TO ALCOHOL THIS JANUARY?
SAY HELLO TO HEINEKEN 0.0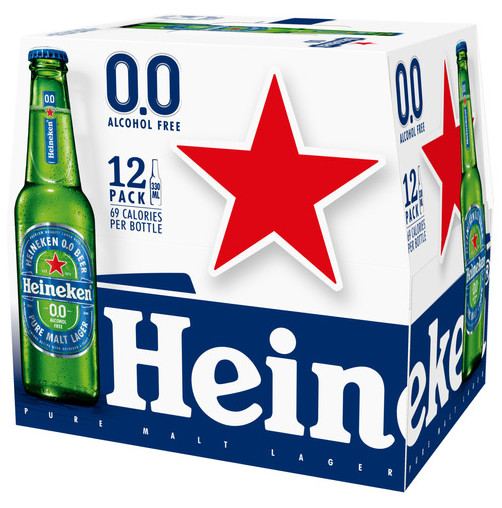 It's January again. And while the first month of 2021 will be unlike any January before (or probably after) we can still expect many people to cut down or go 'dry' and not drink alcohol for the month.
For those deciding to go dry for January there is no better-tasting alcohol-free beer to see them through than Heineken 0.0. In fact, with it being regularly described as one of the best-tasting beers, alcohol or not, it's a great choice all year round.
What's more, Heineken 0.0 has just 69 calories per 330ml bottle – less than an average banana.
Unlike most other non-alcoholic competitors, Heineken 0.0 is made with the same quality ingredients as its alcoholic counterpart, boasting the familiar and characteristic fruity notes of the 5% Heineken. The only difference being that 0.0 is complemented with natural flavours and a soft, malty body, making it perfectly balanced.
The non-alcoholic beverage is double brewed with a unique recipe and its alcohol content carefully removed to enable and empower consumers with choice and options to be able to adopt a healthy, balanced lifestyle at the same time as enjoying every beer moment.
Matt Saltzstein, Beer Unit Director comments: "Heineken 0.0 allows people to enjoy a delicious beer on any occasion without ever having to compromise on flavour. For those that have committed to moderating their intake this January, or even going completely dry for the month, Heineken 0.0 means they can do so while still enjoying a refreshing and full-flavoured beer. In a month of saying 'no', alcohol-free Heineken 0.0 lets people say 'yes'."
Heineken 0.0% is available in a 4 and 12 pack of 330ml bottles and a 6 pack of 330ml cans in major supermarkets and convenience stores.
Life coach, personal trainer and 'movie mentor', Dawud Gurevitch who is the author of unique new book – May the Source Be with You: A Filmic Guide to Change Your Life, which reveals the powerful messages and life lessons we can learn from films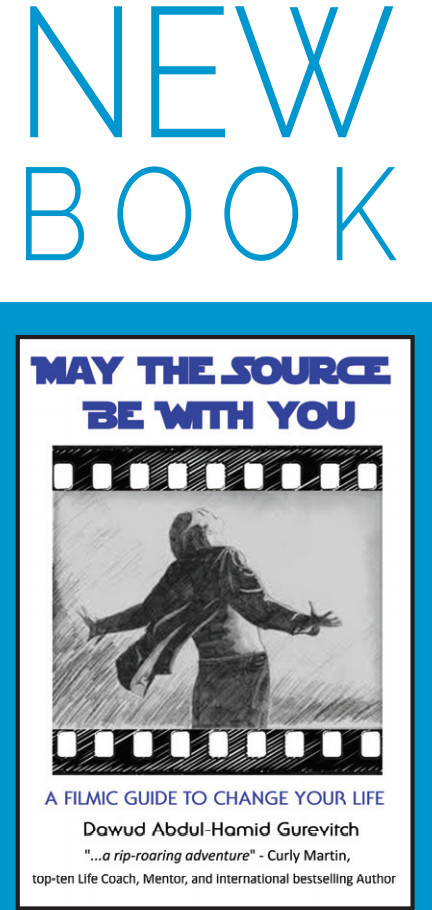 May the Source Be with You is a self-help guide that draws upon the main positive messages contained within ten Hollywood films and provides a series of practical step by step exercises around these messages and lessons, which guide the reader to make positive changes.
The author, Dawud Gurevitch is a certified life coach, personal trainer and film expert, who helps his clients with a huge range of differing needs by prescribing a night (or day) watching films. The key is watching the right movie in the right way so you can apply it to your own life.
itsu's getting even more ballsy this Veganuary
itsu's Asian – inspired meatless meatballs are 60% bigger and juicier than ever before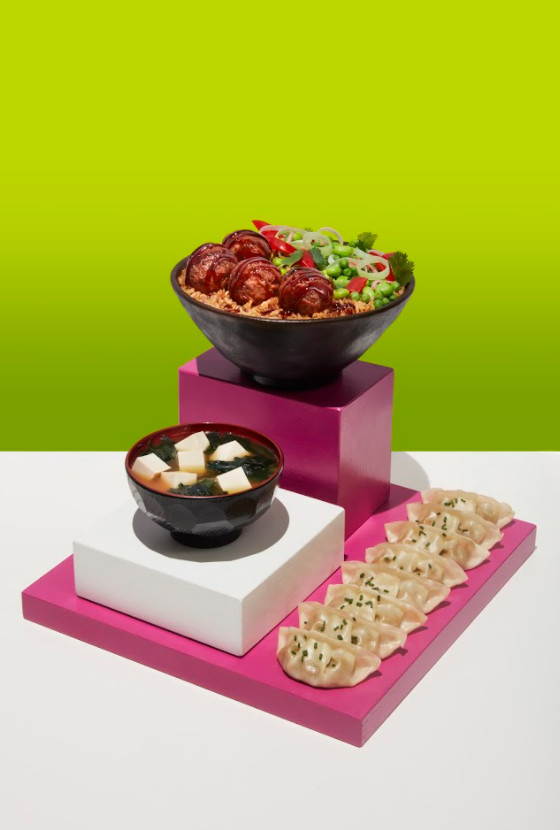 itsu launches new vegan menu this January as it strives to make 50% of its menu plant-based
Almost half (46%) of itsu products sold on delivery were plant-based in 2020
In partnership with Meatless Farm, itsu offers vegans even more variety and unique Asian – inspired flavours
itsu is taking a ballsy approach to plant-based dishes this year and in partnership with Meatless Farm, have just launched its even more delicious meatless meatballs. The plant-based meatballs are 60% bigger and juicier than ever, because the bigger the better, right?
The meatless meatballs rice'bowl is a hearty bowl of goodness. Served on a bed of wholegrain brown rice and seasonal greens, drizzled with sticky teriyaki sauce and spicy ssamjang, this unique recipe takes veggie meatballs to a new level.
The more ballsy meatballs are packed full of veggies and spices that give them a really meaty taste and texture, so that even the most hard-core meat fans will devour them.
Recent data from itsu shows that almost half (46%) of itsu products sold on delivery and over a third (35%) in store were plant-based dishes, as consumers look to eat healthy, try new things and lessen their impact on the environment in 20201. In response, itsu has launched more vegan dishes this month and will continue to throughout 2021 in an ongoing effort to make 50% of their menu plant-based.
The improved veggie meatballs & coconut dish, also with the new Meatless Farm include meatballs sitting in a Thai spiced coconut soup topped with powerful pumpkin seeds, arrive in shops this January.
For those that miss their miso soup, itsu has launched a game changing new recipe. The dynamite miso is a chilli miso soup with wholegrain brown rice and ginger greens. Packed with flavour and gut health goodness, this is sure to warm hungry consumers up.
Finally, the vegan teriyaki gyoza are now available on the itsu menu. These steamed Asian dumplings with pea protein are enriched with teriyaki and a hint of truffle for indulgence.
Morten Toft Bech, Founder at Meatless Farm says: "Choosing to eat more plant-based food has never been easier or tastier. Veganuary is a great place to start and these dishes pack some serious flavour, and the ballsier the better we say!"
These delicious dishes from itsu are perfect for everyone, from strict vegans to flexis looking to incorporate more plant-based meals into their diet and search for new, exciting flavours.
1 itsu, 2020
I'm Green with Dantoy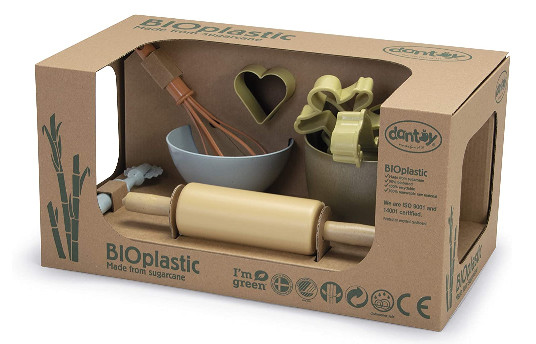 Dantoy's brand-new "I'm Green" line of bioplastic products, their bioplastic is made of at least 90% sugarcane, a sustainable raw material, and their bioplastic is 100% recyclable.
Dantoy leads the way with their bioplastics. The manufacture of bioplastics reduces carbon emissions. The sugarcane is cultivated on controlled, pesticide-free plantations in central and southern Brazil. The sugarcane is harvested every 6 – 12 months. Bioplastic made of sugarcane is a 100% sustainable raw material.
Traditional plastic is made from crude oil, whilst dantoy "I'm Green" PE (bioplastic) is made from at least 90% sugarcane (ethanol). Ethanol, a form of alcohol, is extracted from sugarcane, after which it is used to make bioplastic.
The sugarcane used for dantoy bioplastics grows in plantations in the southern and central regions of Brazil, more than 2,500 km from the Amazon region. The enlargement of areas for cultivating sugarcane is managed by "Sugarcane Agroecological Zoning", formed by Brazil's federal government. The harvested sugarcane is conveyed by train for further processing, which is more eco-friendly than being transported by lorries.
Sugarcane can be harvested several times a year. New sugarcane plants are planted every five to seven years. The fields are harvested every six to twelve months enabling them to be classified as a sustainable raw material. Sugarcane absorbs carbon dioxide from the air, thereby minimising the greenhouse effect. For the manufacture of bioplastic, the carbon emissions accounts are positive from the budding of the plant until it is manufactured into bioplastic. For each kilo of manufactured bioplastic, 3.09 kg of carbon dioxide are removed from the atmosphere.
Dantoy's packaging is all made from recycled cardboard. Their toys are made to last and are approved for contact with foods, microwave safe, dishwasher safe, frost-proof and contains no toxins.
Dantoy's range of bio toys includes the 11 piece baking set. Encouraging children to bake and have fun. They stimulate children's awareness of colours and shape. The set can be used as cookie cutters or modelling dough. They carry the Nordic Swan Ecolabel and do not contain harmful substances such a phthalates, perfume, BPA or endocrine-disruptive substances. In a palette of gorgeous muted tonal colours and packed in a recycled cardboard box. Suitable from 2 years+.
Dantoy believe that people should buy less, buy well. That is why their toys are only made with sustainable products. We can all be eco-friendly and by choosing brands who care will make a little difference.
The Dantoy Bio-Toy 11 Piece Baking Line costs £23.99 from Amazon.
Kelsey Rod
Subject: Special Feature Health & Fitness Ideas For 2021 !
Name: Garry Watters
Email: request-y6x4@mediaalerts.co.za
Position: Independent Blogger
Media: InTouch Rugby
Beat: Lifestyle
Deadline: 12 Jan 2021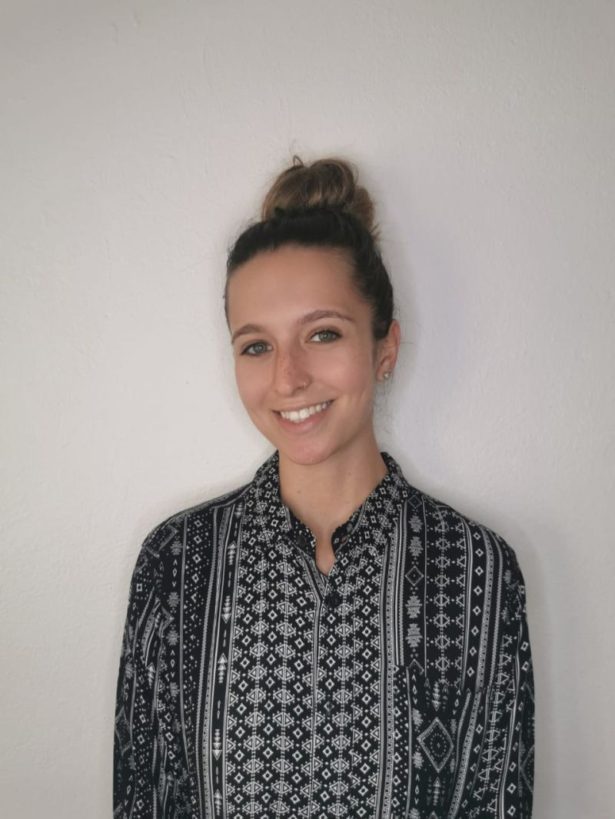 Request: 2021 is full of promise (our feature is now live on all home pages and still accepting submissions) and so many opportunities will present themselves that for many people just starting the New Year exactly as we mean to go on is of utmost importance. Positivity, seizing opportunities, health and wellness and being physically fit so that we can make the most out of each day. Eating and drinking and especially after such an amazing Christmas and New Year celebrations means the opportunity perfectly presents itself to refocus on detoxing, health and fitness and thinking about our fitness and personal presentation and mental awareness!
Please send in all ideas as all submissions will be used in the guides. We will also be featuring individual products on our home pages and sending alerts about them to all our 1,000,000 social and linkedin connections!
With over 100,000 readers per week and 1,000,000+ social connections including 80000K+ on Linkedin and 205000 unique monthly visitors on Pinterest our audience are social, fashionable and sporty. Covering the English Premiership, American Professional League, France Top 14 & Pro14 & With a major focus on Grassroots rugby clubs and schools our guide will endeavour to highlight New Year Health & Fitness Ideas for everyone!
You won't get match fit from the couch – Exercise is medicine
Author: Kelsey Rod, Dynamic Body Technology Healthcare Ambassador
I miss rugby.
The 2019 rugby World Cup celebrations feel like years ago and to go through an entire year of no live sport has really been a downer.
2021 is the year we have all dreaming about for the last few months – an opportunity to start fresh and work on bettering ourselves after the challenges 2020 presented. With the overwhelming level of uncertainty and the extreme lifestyle changes experienced throughout 2020, the start of a new year gives us the perfect opportunity to take control of our lives, and ensure the lessons learned are applied in a way that benefits us majorly.
Scary fact: It is estimated that by the year 2045, 45 million people will suffer from diabetes. Currently that number is around 19 million and a big part of this is attributed to poor diet and lack of physical exercise.
We have already seen the impact of COVID-19 on people with compromised immune systems and this is why this concept of "Exercise is Medicine" has taken off around the globe.
With the world being turned upside down over the past year, it is becoming increasingly evident that living a healthy lifestyle is of utmost importance. Whether it be maintaining an active lifestyle or fuelling our bodies with nutritious foods, the 'new year, new me' catchphrase could and should be used to enhance our overall wellbeing. Going into 2021 with the intention of creating a consistently healthy lifestyle for ourselves goes deeper than improving our diet or exercise routine. It should encapsulate an all-round sense of wellbeing, both physically and mentally. A healthy lifestyle thus begins with a healthy mindset – one that balances drive, commitment, education, and patience. But most importantly, a healthy lifestyle begins with one's eagerness to live in a way that is beneficial to their emotional state, intellectual performance, and physical capabilities.
This doesn't mean hitting the gym and hurting yourself. 40% of the worlds population doesn't even do a basic minimum level of exercise on a daily basis.
Education is the starting point of one achieving their new year's resolutions. By educating ourselves through research, critical dialogues and maintaining an open mind, we are able to learn about the importance of certain changes while also learning how to go about making them.
Physical wellbeing is much more accessible once our minds are in the right place. And education is the key to understanding the way our bodies work in order to build healthy relationships with food and physical activity. We must learn to take pleasure in living a healthy lifestyle rather than this lifestyle feeling like a burden.
When discussing physical wellbeing and the idea of healthy eating, it is very common for people to fall into the trap of fad dieting and extreme (often unhealthy) diets that can cause more harm than good. The COVID19 pandemic has revealed the importance strengthening our immune systems through obtaining the vitamins, minerals, and nutrients our bodies need to function, thus many extreme fad diets that restrict the caloric intake of individuals often pose the risk of people not obtaining the necessary nutrients to strengthen their immune systems in order to prevent and recover from infection. The food we put into our bodies greatly impacts the way we feel on a daily basis. We joke how we all learnt to cook banana bread (or brew Pineapple beer!) but we shouldn't lose that curiosity about putting meals together and get out of the fast-food / takeaways lifestyles.
Another vital element of a healthy lifestyle is the conscious decision of individuals to be as physically active as possible. Whether it be using the stairs instead of an elevator, aiming to increase our daily steps or practicing a more consistent exercise routine, being physically active is extremely important. Not only does increased physical activity work to help us reach our fitness goals, but it also reduces the risk of developing serious health problems such as obesity, type 2 diabetes, blood pressure and cholesterol fluctuations and the possibilities of weight-induced heart problems. In addition to this, being active has proven to majorly decrease the levels of stress and anxiety experienced by individuals due to the release of endorphins that occurs during physical activity.
Sub-Saharan Africa faces enormous healthcare challenges in the coming years and if can extend one wish for you for 2021 it would be to buy into the concept that "Exercise is Medicine"
Exercise your body and exercise your brain and you'll be match-fit for when live sport restarts!
Dynamic Body Technology is a South African heath and wellness business that works with organisations to develop solutions to ensure a competitive and healthy workforce of the future. Follow them on Instagram, Facebook and LinkedIn for more advice on building a healthy team.
Events and PR appoint new National Sales Director
The company behind the UK's biggest business award ceremonies has made a hugely exciting new appointment during lockdown.
Events and PR, which organises the likes of the national and local SME Business Awards, the National Business Women's Awards, the National Association Awards and the National Building & Construction Awards, has appointed Jonathan Tewson to the new role of National Sales Director.
Jonathan has spent the past 15 years working for well-known organisations such as The Jockey Club, Trinity Mirror and Archant, in high profile client facing roles involving events, awards and sponsorship opportunities for the business community.
Jonathan, who is due to start his new role at the beginning of February, said: "I've worked with Events and PR's expert team before and I'm delighted to be taking on this new role with them.
"We all know that things are difficult for businesses at the moment so I can't wait to start working with a wide variety of firms to help them secure some much needed local and national exposure with our support.
"I'll be looking at Events and PR's overarching strategy to find ways to grow its portfolio so we can provide even more opportunities that will benefit the business community."
Events and PR's headquarters is in Milton Keynes and it has an office in Towcester, Northamptonshire, where Jonathan will initially be based.
Events and PR awards director Damian Cummins said: "At Events and PR, we create events which celebrate and facilitate success in business and never has this been more important for the business community than in the current climate.
"Our speciality is Business Awards and we are proud to deliver a diverse range of awards nationwide which recognise the audacious entrepreneurs and business people working across all sectors. We are absolutely thrilled to have someone of Jonathan's calibre join our existing team and look forward to working with him to further grow our exciting portfolio."
For further information about Events and PR visit www.smenationals.co.uk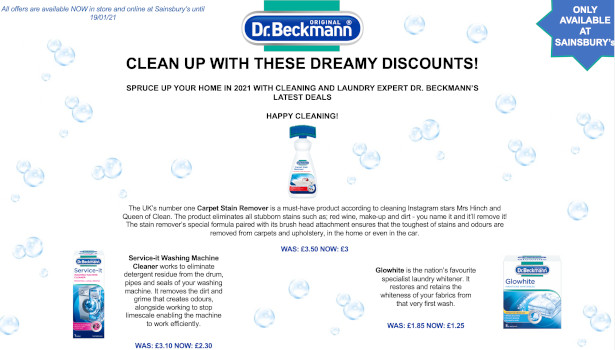 BEDTIME BOFFINS FIND THE SCIENTIFIC FORMULA FOR 'HAPPY SLEEP'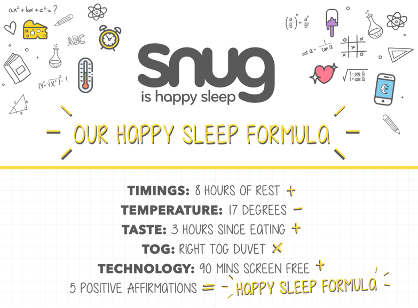 Sleep scientists at new eco-friendly bedding brand, Snug, have trawled through decades of research to compile the ultimate formula for the perfect night's sleep – the 'five t's'
Formula revealed as new range launches with simple bedding options; allowing Brits to easily tailor their bedding choice to their sleep style
Sleep scientists at new eco-friendly bedding brand, Snug, have analysed decades of research to find the definitive formula for satisfying sleep; a mathematical formula of 'five t's' which can be applied to everyone's bedtime routine in order to create their own unique, ultimate night's rest.
The formula comprises:
Timings; eight hours of rest each evening is the optimum amount needed to reset the body after a day's activity
Temperature; the bedroom should be 17 degrees Celsius in order to keep the body at a tepid temperature that stimulates satisfying sleep
Taste-buds; these need a break ahead of bedtime too. Eat the final meal of the day at least three hours before bed and have that last cup of coffee 10 hours before hitting the hay
Tog; for a night full of sweet dreams, change the duvet tog with the seasons – 4.5 tog for warmer nights, 10.5 for the in-between and 13.5 when it's chillier
Technology; switch off and chill out – remember to give screen time a break 90 minutes before bed
Thank-you; turn out the light, say goodnight and remember to say thanks for something you are grateful for today. While this may sound corny, science shows expressing gratitude for things big and small satisfies us and helps us rest
Therefore, for someone who needs to get up at 7am for work would need to eat their last meal by 8pm, drink their last coffee by 1pm, check their tech one last time at 9.30pm, make sure they have the right tog on their bedroom, which is at the right temperature ahead of saying thank you and drifting off to sleep at 11pm for their night's slumber.
New eco friendly bedding brand Snug is based around 'happy sleep' – and it's this focus which drove its in-house scientists to find the formula for sleep satisfaction. Snug itself is a brand-new collection of duvets and pillows that offers an easy-to-understand menu of bedding options; what's more, they're super affordable and eco-friendly.
The collection is filled using materials created from recycled plastic bottles and has revolutionary new sustainable, carbon negative packaging – manufactured using sugar cane – so Brits can also sleep happy knowing they've been kinder to the planet. The options within Snug, which each cater to a different sleep preference, and can be incorporated into the formula for happy sleep are:
Just Right: a simple solution that makes it easier for those who sleep well to kick back and relax
Chill Out: lighter weight bedding options for those who like to be cool as a cucumber as they snooze
Fantastically Firm; for those who like a supportive sleep solution while resting
Snuggle Up; for those who need a cosy cocoon when it comes to sleeping well
Hayley Chaytor, Senior Brand Manager for Snug, said: "Snug is all about 'happy sleep' – and while that varies for each of us we wanted to use our scientists' expertise to find a formula which could be applied to any Brit's bedtime routine in order for them to have a satisfying night's sleep.
"Just as our formula makes it easy to snuggle up and slumber, likewise our product range also makes it super simple for shoppers to pick a pillow and duvet that's perfectly suited to them, and sleep happy knowing they've done their bit for the planet."
Snug's Pillow Pairs range come from £12.00 and its duvets start at £14.99. The entire range is now available online via www.snug-bedding.co.uk, along with Sleepy People and Amazon. For updates on everything Snug-related, including how to achieve happy sleep, please visit @snug_bedding on Instagram.
At a time where Covid has communities feeling more displaced than ever, what role does sport play in being young, black and British in 2021?
Over a THIRD of the BAME community in the UK believe sportsmen and women do more good than politicians
​However, 42% don't feel represented by sports stars of today
Vince Macaulay, Head Coach of the London Lions discusses the importance of sport to communities and cultures across the UK
•41% of BAME believe young, black men are misrepresented in UK sport
•35% trust sporting figures and icons more than politicians and people in power
•41% of BAME fans are hesitant to attend live sport due to the risk of racial and verbal abuse
Sport has always been more than just a game, competition or hobby, both for those that participate and those watching; it has always extended well into the world of politics.
In the past, Jesse Owens's famous performance in the 1936 Berlin Olympics humiliated Adolf Hitler, while in 1986 a "Black Power salute" by medalists Tommie Smith and John Carlos made the world take notice. In the modern day, where Black Lives Matter t-shirts worn by premier league footballers and F1 track stars such as Sir Lewis Hamilton have continued the campaign for equality, sport can be a powerful tool in highlighting, and combatting, racial discrimination.
The London Lions is one of the UK's most diverse sports teams with players hailing from London all the way to the United States collegiate system, they are based in East London's Copper Box arena and are looking to make a difference in their city and community. But at a time where communities are feeling more displaced and isolated than ever before, what role does UK sport play in the lives of ethnic minorities across the country? To help understand these issues, make a practical impact as the UK's most diverse sports team and highlight the role that sport can play in building communities, they have commissioned research into the impact here in the UK.
Key Statistics:
•41% of BAME believe young, black men are misrepresented in UK sport
•35% trust sporting figures and icons more than politicians and people in power
•41% of BAME fans are hesitant to attend live sport due to the risk of racial and verbal abuse
•28% feel that their sporting role models are often misrepresented in the media
•42% don't feel as if their ethnicity and/or culture is represented by sporting icons around today
•36% believe the ability to play and watch sport has aided their mental health more than any other mental health aid
•37% feel most included within their community and peers when playing sports
•28% believe that sport has helped them overcome adversity in their life more than local communities or school
In the UK, footballer Raheem Sterling has long been vocal about the racist abuse he is exposed to and the newspaper coverage of young black players that he claims "helps fuel racism". Across the Atlantic, one of the leading voices in campaigning for racial equality comes from the NBA where basketball players and teams alike have come together to raise money for charities promoting awareness and education around the issue
Vince Macaulay, Head Coach of the London Lions:
"Sport goes well beyond its impact on the pitch or on the court and this research reflects the effect that it has on communities across the UK. Not only do those from a BAME background feel disconnected from the stars they looked up to, but they seem to be the community most in need of this kind guidance and role models.
"2020 was full of sporting icons that went above and beyond, Sir Lewis Hamilton excelled once again and Marcus Rashford's school meals campaign proved to have a direct influence on government policy. Unfortunately while these stars made an impact, the vast majority of communities were disconnected from sport by Covid restrictions. One of our key focuses as a team in 2021 will be to rebuild this relationship with both fans and local people, to offer opportunities and support to all ages, especially under 18s."
Vince Macaulay, Head Coach of the London Lions, is also keen to discuss:
•The implications of the research
•The importance of diversity, equality and inclusion in all sports
•What the Lions are doing to promote diversity in sport and wider society
•The role activism now plays in sport
Advice that could very well help avoid Head Injuries
Fitness for Winning Rugby About the Book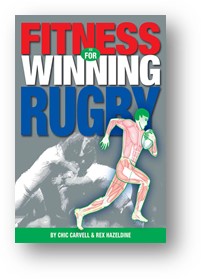 "The Book Fitness for Winning Rugby provides a range and depth of information that makes it "a must read for all who coach and play the sport of Rugby at all levels of the game." – Maggie Alphonsi MBE (former English rugby union player) Fitness for Winning Rugby is a unique publication as it looks at fitness for rugby in the widest sense of the word. Alongside core fitness information it includes valuable chapters on nutrition, injuries, recuperation from injury, both physically and mentally, as well as the importance of training and playing the game free from drugs that claim to enhance performance. Throughout the book are colourful diagrams linked to physical training together with hand drawn anatomy illustrations that add an important educational dimension, which makes Fitness for Winning Rugby an essential publication for, professionals, parents who have children playing rugby, coaches and players of all ages and genders. It will be especially useful for developing players who are looking for ways of taking their game to the next level and breaking into representative rugby. Professionals and students interested in the principles of fitness for sport as well as the game of rugby will find this book an important reference source. The book has been endorsed by: Maggie Alphonsi, MBE, England International Rugby Player 2003-2014 and member of England's World Cup Winning Squad 2014. Geoff Richards, Australian International Player 1978-81 and former coach to the England Women's Rugby Football Team.
5* Review by Steve Cannon MCSP:
Really found this book to be of great value to anyone involved in rugby at all levels. Great pathway through the book and easy to understand and professionally from my standpoint had excellent physiological and psychological content. Obviously the book appeals to a niche market if you are a SC Coach, Head Coach or anyone involved in a medical capacity a great reference book and a great read to reconfigure some of ones previous held beliefs.
Praise for Fitness for Winning Rugby:
"Improving your fitness is not something that is going to happen overnight; it has to be a behaviour change, often a lifestyle change. However, by following the key steps highlighted in this book it will certainly help in winning the challenges ahead" —Andy Robinson OBE.
In Demand, in Command by Philip Grant is published by Austin Macauley Publishers and is available on Austinmacauley.com and Amazon and all good booksellers.
For more information, please visit www.austinmacauley.com/book/fitness-winning-rugby
TCL to Launch Next-Gen OD ZeroTM Mini-LED Technology at CES 2021-Once Again Pioneering in Display Industry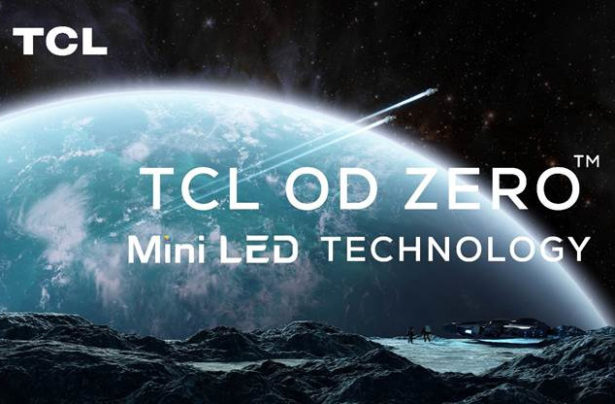 Hong Kong, January 11, 2021 – TCL Electronics (1070.HK), one of the dominant players in the global TV industry and a leading consumer electronics company, today debuts its OD ZeroTM Mini-LED technology at CES 2021. The rollout of high-performance and ultra-slim TCL TVs that will feature OD Zero Technology will be announced closer to its sales launch later this year.
OD Zero is a technology that combines TCL's latest generation Mini-LED backlight technology driven by its skilled in-house technology development and deployed with its powerful vertical integration to deliver an ultra-slim profile that has never been achieved with LED LCD TVs before. Delivering striking brightness with even richer colors, precise contrast, and smooth uniformity, OD Zero outperforms previous TCL Mini-LED technology.
OD Zero represents the optical distance between the Mini-LED backlight layer and the LCD display layer(diffuser plate), which has now been reduced to an astonishing 0 mm, to create an ultra-thin high-performance backlight module.
With TCL's on-going investments in display technology, this latest generation of TV Mini-LED backlight is made possible by TCL's deep expertise in micro-meter class active-matrix LED backlights, skilled optical stack optimizations and its powerful vertically integrated supply chain that can more quickly iterate the most advanced display technologies on TCL televisions.
This unique set of display expertise and deep industrial integration allows TCL to be at the forefront of advanced display technologies like the extraordinarily precise, smoothly brilliant and ultra slim OD Zero Mini-LED Technology.
"We believe that Mini-LED technology will continue to shape the TV industry and by pioneering the use of this technology we are, once again, elevating display quality," said Kevin Wang, CEO of TCL Industrial Holdings and TCL Electronics. "After deploying previous versions of Mini-LED already, in 2021 we will launch the world's first OD Zero Mini-LED TV as part of TCL's endeavor to let people around the world 'Experience More'."
Striking Performance
Along with smoothly brilliant luminance and new level of High Dynamic Range, TCL OD Zero Mini-LED provides users with a richer color layer, more depth of details and an unrivalled viewing experience of striking and uniform brightness.
This high uniformity is achieved by reducing the distance between the light source and the diffuser plate. This effectively controls the range of astigmatism, improves the contrast and minimizes optical halo effect.
With thousands of local dimming zones that allow the brightness to be adjusted in real-time alongside the corresponding backlight areas, TCL OD Zero Mini-LED delivers superb precision in contrast control.
This improves the image performance, reveals remarkably accurate pictures and provides brilliant whites alongside deep blacks. Viewers can enjoy a more realistic picture and even sharper details than ever before.
Dramatically Ultra-Thin
TCL's OD Zero technology uses smaller LEDs and a brand-new lens design, with more light sources, which allows us to minimize the distance between the light source and the panel to an astonishing zero millimeters. It improves the consistency of the brightness while, at the same time, it reaches a new level of thickness, making an ultra-thin TV profile possible.
Continual Technology Development
TCL has been harnessing the transformative power of Mini-LEDs since 2018. We showcased our first Mini-LED product at IFA 2018 and we have been investing in this next-generation display technology ever since.
In 2019 we achieved mass production and launched the world's first Mini-LED TV X10 and 8 Series to the market and in 2020 we proudly introduced 6-Series Mini-LED models.
Looking to the future, TCL will continue to develop innovative optical solutions with smaller backlights and thinner lens designs, to provide imagery with the best clarity and industry-leading color performance with TCL Mini-LED, 8K and Quantum Dot Display Technology.
About TCL Electronics
TCL Electronics (1070.HK) is a fast-growing consumer electronics company and leading player in the global TV industry. Founded in 1981, it now operates in over 160 markets globally. According to OMDIA, TCL ranked global No.2 in TCL brand TV market share in Q2 2020. TCL specializes in the research, development and manufacturing of consumer electronics products ranging from TVs, audio and smart home appliances.
National Houseplant Week 2021: Boost your Winter Mood with these Indoor Plants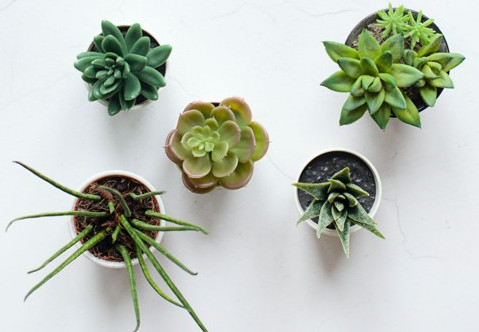 • To celebrate national houseplant week, Wren Kitchens reveals the best houseplants to boost your mood this winter
• Indoor plants can reduce 87% of toxins in the air, reduce blood pressure and make you feel calmer
It's a well-known fact that spending time in nature is good for your wellbeing, so what better way to boost your mood than to bring nature inside. With search volumes for "house plants delivered" increasing by 400%, and "buy houseplants online" by 200% since lockdown, Wren Kitchens have revealed the best houseplants to have in your home to help boost your mood:
1. Aloe vera
The gel from aloe vera can help to soothe acne, burns and dry skin, helping you both physically and mentally. To allow your aloe vera plant to thrive, place it in bright but indirect sunlight, and let it dry in between watering.
2. Lavender
Place your lavender plant in the bedroom, and the scent will help to reduce your stress levels, enabling you to sleep better. To let it grow, water it regularly and leave it in a place that gets a lot of light.
3. Snake plant
Had issues in the past with keeping plants alive? Try a snake plant – they need minimal care, but can really help to improve your wellbeing as they add moisture to the air and release oxygen. They're particularly ideal for people who suffer from allergies – and interestingly, they were the most Googled plant in lockdown!
4. Peace lily
Peace lilies are great houseplants to have. Not only do they soak up mould spores in the air; they also absorb their water before releasing it back into their environment – so place your peace lily in a dry room.
5. Monstera plant
You've likely seen the Monstera (also referred to as a Swiss cheese plant) clogging up your Insta feed, but they can actually boost your mood. They purify the air, making your home healthier – plus, you can grow new plants from their cuttings.
6. English ivy
Like peace lilies, English ivy absorbs mould in the air, helping to purify your home; and it also has properties that help you to stop being restless, meaning you can enjoy a better night's sleep.
For more plants to boost your mood, please go to www.wrenkitchens.com/blog/top-10-mood-boosting-houseplants-wren-kitchens

ITS LIVE >>>>> KICSTARTER FINANCING SPECIAL Better life: Zaphyr 2in1 biodegradable crossbody phone case
This product will not only make your life easier, but also helps to never lose your phone again. & ITS ECO-FRIENDLY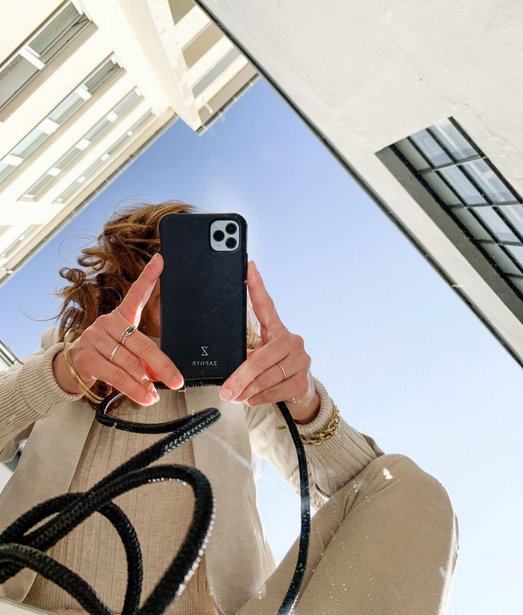 Help a cool young female-founder start-up on kickstarter.com! … your new iPhone will love it :-).
ZAPHYR ECO-FRIENDLY CASE.
Thuis new generation of phone cases doesn´t need plastic The new plant-based material is biodegradable. It's compostable and helps to reduce waste. Find out more at zaphyr-cases.com and at kickstarter.com!
These cases are multifunctional and high protective! They make your life easier. With the ZAPHYR 2-in-1 crossbody phone case you will always have your hands free!
Help a cool young female-founder start-up on kickstarter.com! … your new iPhone will love it :-).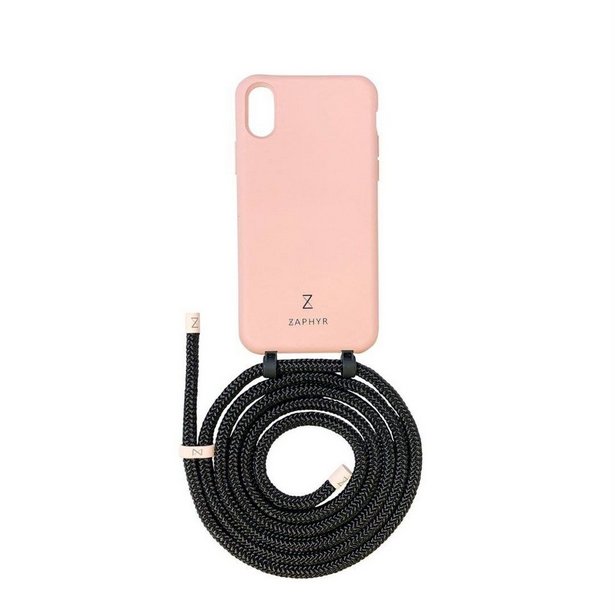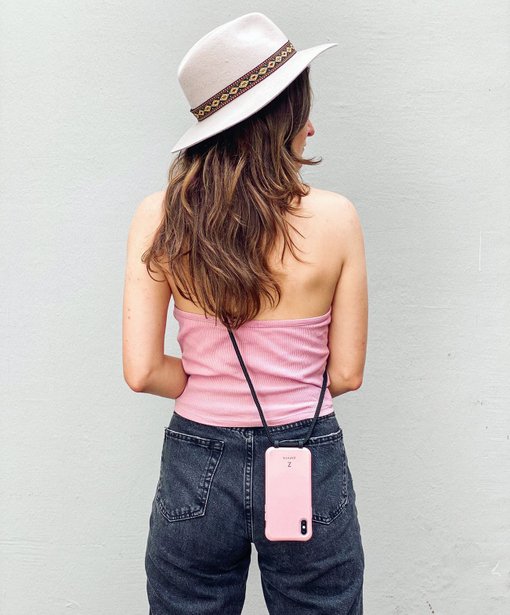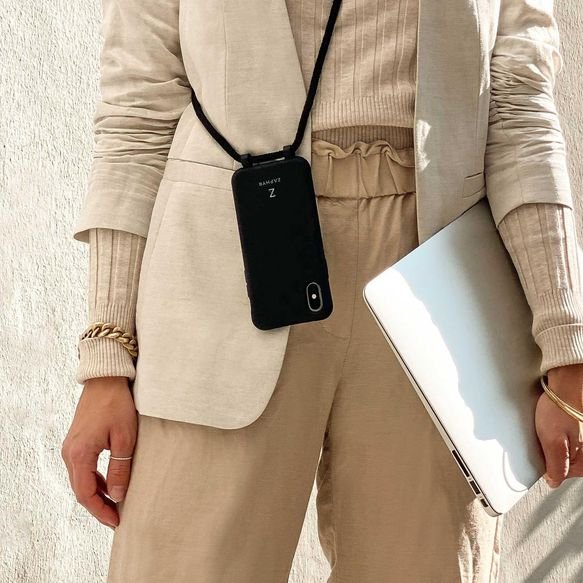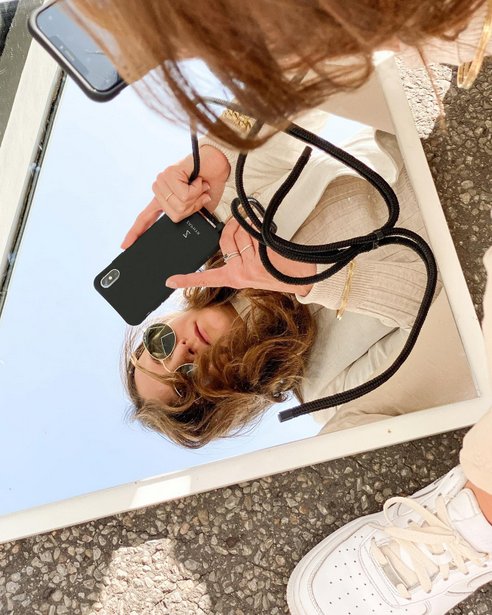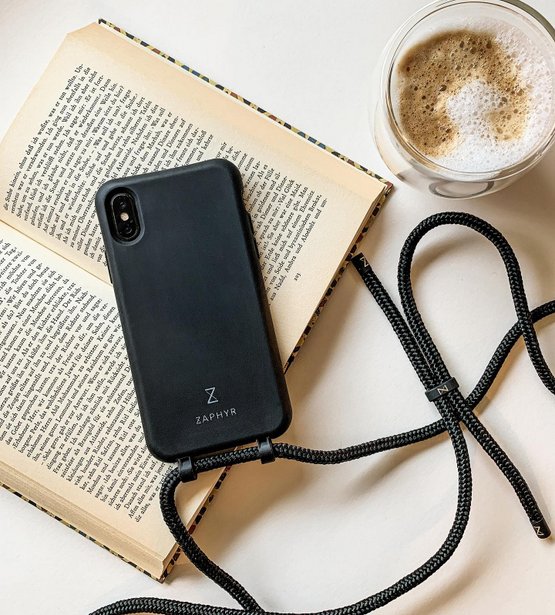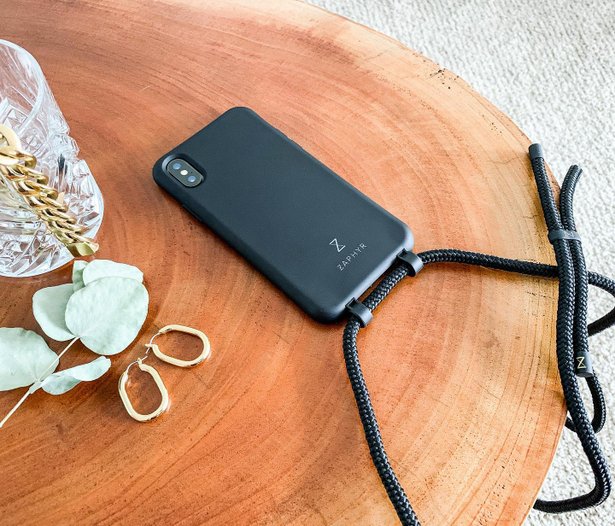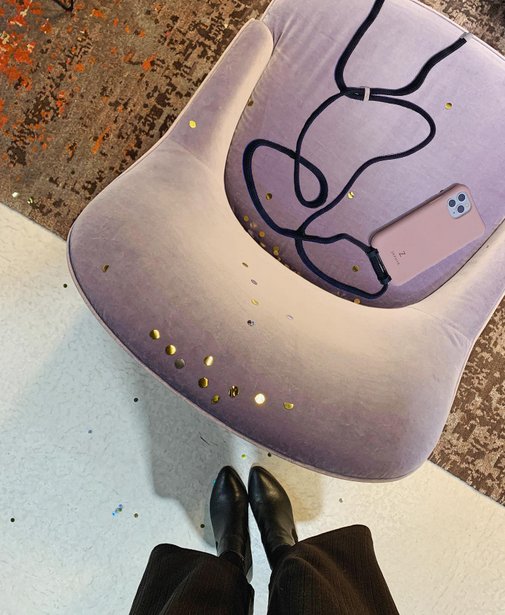 THE CORPORATE BREAKUP
The world's pandemic forced many to pivot and most left to mourn what was removed abruptly. In several cases, that was their corporate job! Here's a reminder: The Corporate Breakups need as much healing as Personal Breakups.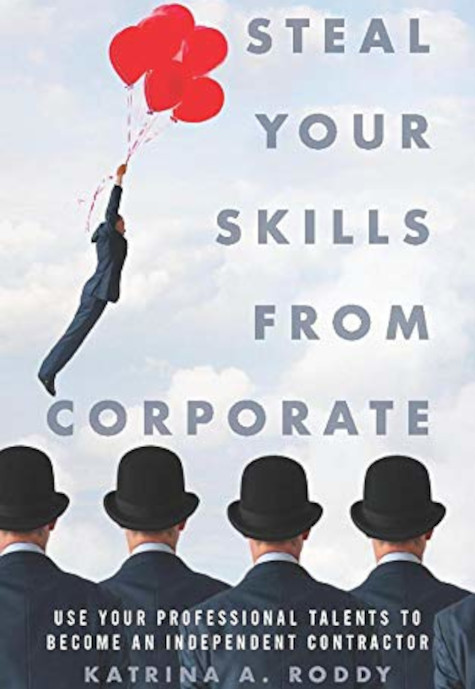 Corporations now and will forever go through rounds of layoffs. The Bureau of Labor Statistics released its 4thQ newsletter stating that the layoffs and discharges rate has increased to 1.2 percent.
WHAT IS "THE CORPORATE BREAKUP?"
While working for Corporations, you are often in a legally bound relationship with them. Whether they lay you off or you leave, it could be considered breakup. It's The Corporate Breakup and no one ever talks about the emotional impact of those who were laid off. What we tend to focus on is personal relationship healing not realizing that people also need to be healed from layoffs as well. The American Psychology Association has several studies around the emotional impact of leaving a job. In most cases they compare to personal breakups. It's interesting that the layoffs effect the personal leaving as well as the person staying. The person staying may experience some of the same symptoms as they are awaiting the next RIF (reduction in force)
WHAT ARE SOME SYMPTOMS EXPERIENCED?
Personal and Corporate Breakups:
Anxiety
Sleep disturbances
Shortness of breath
Irritability
Anger
Avoidance
WHAT ARE SOME HEALING TECHNIQUES TO COPE?
Katrina A Roddy, Author of "Steal Your Skills from Corporate", spent 30yrs in Corporate and had her fair share of downsizing and layoffs. This is before she created her own career as an Entrepreneur Coach. Her book outlines 8 steps to launching a more fulfilling career of your own; however, after you get over the shock of the breakup you have to Make M.O.V.E.S. to heal. Here are techniques to help:
Mindset Matter – Reset through Meditation, Exercise, Healthy eating choices.
Own your own title – Be CEO of your life
Value your relationships – Create a personal board of directors (book describes each mentor)
Evaluate your relationship with money – Why? It will change
Share your story – Be vulnerable. More people need to hear that there is life after leaving corporate.
For more detailed statistics visit: bls.gov/news.release/pdf/jolts.pdf
HOW DO WE GET IN CONTACT WITH THE AUTHOR?
For more about the Author go to www.katrinaroddy.me
COVID-19 saw a lot of business owners caught with their proverbial pants down in 2020 during non-essential lockdowns.
Don't let that be you in 2021.
Women's Sport Accelerator – BOOST your club with £20k of media/promo support


One of our partners in WomenSPORT – Performance Communications – has teamed up with jockey and GB Olympic Cycling Champion – Vicky Pendleton CBE – to help Semi-pro / Olympic hopefuls / Elite women athletes to improve their commercial/sporting profile. This competition offers a great opportunity to raise your profile, that of your sport or your team/club. A very simple, initial, application form is needed by midnight Sunday 10th – The winner will receive £20k worth of consultancy/sponsorship /promotional support including:
A kick-off session to explore your story and fine-tune your messaging
Proactive media relations outreach
The creation of a 60-second promotional video
Media training session
Mentoring session with Victoria Pendleton
Social media workshop
Sponsorship consultancy introduction and proposal development
More info and online application here – https://www.performancecomms.com/boost-womens-sport – crack on if you're interested!
Why not follow Vicky Pendleton and Performance Communications of Twitter – both great advocates for WomenSPORT
Alt="BOOST"
Background to The World's Sport, Health & Fitness Network
WSNet is a self-funded, cooperative network of groups and individuals working independently as associates and part-time volunteers. It is a not-for-profit community reaching more than one hundred thousand worldwide. Crystallising the issues & coordinating opportunities around WomenSport & Fitness by working in partnership with commercial/NGBs/educational/Charity organisations to raise the profile of WomenSport & SportsWomen. Advocating better access to Sport/FITNess, alleviating gender-bias and empowering women & girls through sport & fitness in their everyday lives.
WSNet relies on contributions/donations from a small group of parents and associates and yet has developed worldwide networks who contribute freely to, and benefit from the general shared IP – giving WSNet the momentum to really change the lives of women & girls in both western and 'third world' communities through sport fitness & health.
WSNet promotes Empowerment through sport for Women & Girls via:
MoJoManuals – an inspiring educational resource, voluntarily written as a collaboration between international sport scientists, leading coaches and educational tutors. They aim to empower girls and women as they engage in, or consider dropping out of competitive and recreational sport. The provide information on how to; be more robust, get active, understand their bodies (MoJo) and be the best player they can be. Moreover they also gently build confidence to tackle specific female challenges in sport and life – building EMPOWERMENT that girls can take into leadership. www.WSNet.co.uk/MoJoManuals
Perfect for those looking to kickstart their January with some exciting and sophisticated new dishes, José's recipes show the versatility of Spanish olives.

Olive and Salt Cod Buñuelos – meaty gordal olives combined with salt cod and soft potatoes, deep fried and served with a tart alioli sauce
Roast Spiced Cauliflower with Romesco and Olives – whole roasted cauliflower with a smokey hojiblanca Romesco crumb
Rioja Braised Beef with Olives and Chickpeas ­– tender beef with a rich rioja sauce and sweet manzanilla olives
Olive and Salt Cod Buñuelos
Makes about 20
500g salt cod
450g floury potatoes, cut into chunks
3 tbsp extra virgin olive oil
1 garlic clove, grated
25g plain flour
120g pitted gordal olive, roughly chopped
1 large free-range egg
1ltr vegetable or mild olive oil to deep fry
For the alioli
2 free range egg yolks
1 clove garlic, grated
2 tsp apple vinegar
Pinch saffron strands
1tbsp of hot water
250ml light olive oil
50ml extra virgin olive oil
Lemon juice to taste
Soak the salt cod for 36 hours in cold water, changing every so often. Drain and cut into 2cm chunks.
Put the potatoes in a pan of cold salted water, bring to the boil then simmer for 15 minutes until tender but not broken down. Drain well.
Meanwhile, cover the salt cod with cold water and bring to a rolling boil then drain, reserving 175ml of the cooking water. Remove the skin and bones and flake up the fish.
Heat the oil and garlic together over a low heat for a minute until aromatic then stir in the flour and cook for a minute more. Gradually add the cooking water, stirring till you have a smooth thick sauce. Fold in the olives and tip into a stand mixer with a paddle attachment. Add the cod and potatoes and beat until combined and most of the cod and potatoes have broken down but it's not yet smooth then beat in the egg. You can do this vigorously with a wooden spoon as well. Spoon into a bowl and cover and chill for at least three hours.
Make the alioli. Whisk the yolks with the vinegar and a good pinch of sea salt and ground white pepper. Steep the saffron in the water for a minute then add to the egg yolks with the garlic. Gradually whisk in the oils until you have. Thick glossy, vibrant yellow alioli. Add lemon juice to taste.
Heat the oil in a deep sided saucepan to 180c. Use two dessert spoons to scoop and shape spoonfuls of the bunuelos mixture together, making sure you press it together well, and drop them into the hot oil a few at a time and cook for 2-3 minutes until golden.
Drain on kitchen paper and repeat with the rest of mixture. Serve hot with the alioli to dunk them in.
Roast Spiced cauliflower with Romesco and Olives
Serves 6
1 large cauliflower, outermost leaves removed
1tsp each smoked hot and smoked sweet pimenton
6 sprigs fresh thyme, leaves stripped
4tbsp olive oil
2tbsp medium dry sherry
Juice of a lemon
25g roasted flaked almonds
2tbsp chopped flat leaf parsley
For the black olive romesco
50g blanched almonds
50g blanched hazelnut
350g roasted red peppers from a jar
100g black hojiblanca olives, pitted
1 clove garlic, grated
1tbsp sherry vinegar
1 tsp smoked sweet pimenton
30g fresh breadcrumbs
5tbsp extra virgin olive oils
Heat the oven to 200c. Fan 180c. Mix the pimentons with they thyme leaves and olive oil and rub all over the cauliflower. Sit into a small roasting tin and season well. Add a good splash of boiling water and roast for 40 minutes. Drizzle with the sherry and lemon juice and return to the oven for 10 minutes more.
Meanwhile, bash the almonds and hazelnuts in a pestle and mortar to rough crumbs. Whiz the peppers and olives together with the garlic, vinegar and pimenton. Season and stir in the roughly ground nuts and breadcrumbs. Add the oil.
Serve wedges of the cauliflower on a bed of romesco sauce and scatter with the flaked almonds and parsley.
Rioja Braised Beef with Olives and Chickpeas
Serves 6-8
4tbsp olive oil
2kg shin of beef, ox cheek or other braising cut, cut into large pieces
1 large onion, finely sliced
2 sticks celery, finely diced
5 whole cloves garlic, peeled
4-5 fresh oregano stalks, leaves picked
1tbsp tomato puree
400ml good rioja
300ml fresh beef stock
150g manzanilla olives
400g tin chickpeas, drained
Heat the oven to 150c fan 130c. Heat half of the oil in a large casserole. Season the meat and brown all over, in batches, adding a little more oil as you go. Set aside on a plate.
Add the onion and celery to the pan with any remaining oil and fry for 10 minutes until softened. Add the garlic, oregano and tomato puree and cook for a minute more.
Return the meat to the pan and splash in the rioja and stock. Season and bring to the boil the cover and transfer to the oven for 3 1⁄2 – 4 hours until the meat is really tender.
Add the olives and chickpeas and cook for a further 15 – 20 minutes then serve.
Credit Line: Recipe from Olives from Spain, more information and recipes can be found at http://www.olivesfromspain.uk/ Instagram: @olivesfromspainuk
IS THIS WEARABLE BLANKET THE SNUGGLY SAVIOUR TO A NEW YEAR WFH?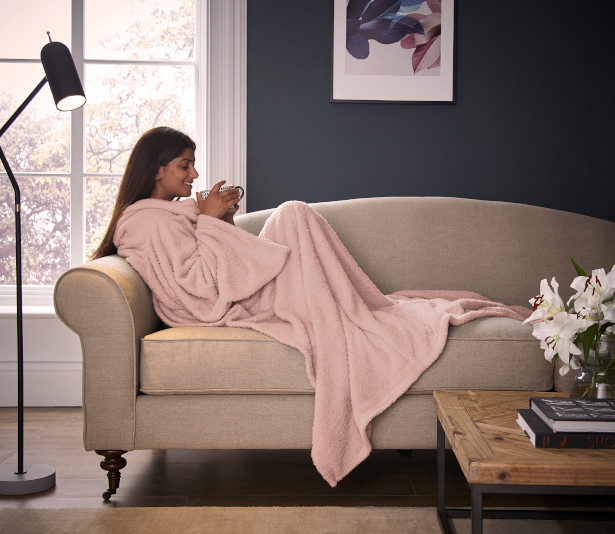 Silentnight launches its cosiest ever wearable blanket; so those looking to make a New Year WFH warm and cosy can do so without having to hike up their heating
Lockdown guidelines coupled with many Brits continuing to work from home means that the nation's energy bills could rise by up to 18 per cent this winter, totalling £1.9 billion I additional nationwide*.
If that statistic sends shivers up your spine – especially after the expense of Christmas – fear not, as the sleep experts at Silentnight have created Snugsie; a super soft teddy fleece wearable blanket, with accompanying foot pocket, that keeps those wearing it toasty from head to toe whether they're working from home, shopping or streaming from the sofa, or simply having a cheeky afternoon nap.
The warm and snug product means, that depending on the weather, the heating can be turned down or off entirely – reducing those energy bills. What's more, it's also easily stored – and readily accessible – as it folds in on itself to form a cushion that can be kept on hand for chilly moments.
According to Mintel, 28% of younger millennials prefer a night in than a night out
Mintel has reported that 51% of millennials say their financial situation is one of the top 3 things that stresses them
Hayley Chaytor, spokesperson for Silentnight, said: "We know that many of our customers will be worried about rising energy bills – particularly in January – as ongoing Covid restrictions mean they and their families spend more time at home, be it working or relaxing.
"That's why we developed Snugsie, our cosiest blanket yet that guarantees comfort from top to toe. The teddy fleece fabrics retains heat and ensures those wearing it remain toasty and content even while the outdoor temperatures take their inevitable January turn for the worst."
Snugsie is supersized, so one size fits all and completely covers those wearing it – ensuring that cute, toasty feeling, whatever the temperature. The blanket itself is machine washable at 40 degrees Celsius and is available in three shades; silver, charcoal and rose.
Snugsie by Silentnight has an RRP of £15 can be purchased from Amazon, Silentnight and Sleepy People.
For more information on Silentnight and Snugsie, please visit www.silentnight.co.uk.
Texas Party Bingo
Our family plays bingo at family celebrations. It is an easy game for people of all ages to play. But, truthfully it really is all about the prizes. As a way to get the high school, college and millennials in the family to play with us parents, my sisters and I buy gift cards as prizes. When you are a poor college kid a Starbucks, McDonalds, Walgreens, or Taco Bell gift card is very attractive. Cash always gets good participation.
While we were playing bingo via zoom throughout the summer, I thought there has to be a better more interesting game of bingo. The game is a fun way for my 30 Doyle family members, located around the state and in Australia, to stay connected with each other and connect with "Roro" the 90-year-old matriarch of the family. In this lively, informative game players of all ages can learn fascinating facts about the Lone Star State and learn a little Spanish. The 10 unique Texas cards features creative folk art symbols, where up to 10 people can play at a time with one caller.
Each family member suggested their favorite Texas symbol to be included in the game. There was a lively discussion and voting among the family on which symbol truly represents the state. Many of the symbols have been officially designated by the Texas Legislature. The 48 colorful symbols include a cowboy hat, a pair of boots, the grapefruit, which is the state fruit, the state flower, the bluebonnet, the horned frog, which is not only the mascot for T.C.U., but the state reptile, the monarch butterfly, the state's small mammal, the armadillo and many more Texas treasures.
The game is truly a family affair. I solicited help from my niece to illustrate the original, colorful cards and my daughter-in-law to design the game. The game is sold online at texaspartybingo.com for $13.99.
Kathy Doyle Thomas
Half Price Books
Chief Strategy Officer
5803 East Northwest Highway
Dallas, Texas 75231
Corporate Office 214.360-0833
Record number of patients spending 12 hours or more in A&E
The latest data published by NHS England shows that the number of patients waiting 12 hours or more before being admitted in December 2020 is the highest figure since records began. 3,745 patients were spending 12 hours or more in Emergency Departments. It marks an increase of 75% on last month, November 2020, and an increase of 60% on the same month last year, December 2019.
The contrast with May 2020 is stark where only 93 patients spent 12 hours or more waiting to be admitted, which is equal to a 4000% increase in December 2020.
Quarterly data published by NHS England present the same picture. Q3 of 2020 recorded 7,153 people waiting 12 hours or more to be admitted, marking a 70% increase on Q3 2019. Q1 2020 recorded only 505 patients waiting 12 hours or more to be admitted, equal to a 1300% increase in Q3 2020.
However, data from NHS England record 12-hour waits from decision to admit to admission, meaning there are many more patients waiting for 12 hours or longer than the data suggest, as reflected in the Royal College of Emergency Medicine's Winter Flow Project.
Dr Katherine Henderson, President of the Royal College of Emergency Medicine, said:
"These data are truly alarming. While attendances are still down the number of patients spending over 12 hours in the ED has skyrocketed – and these are just the tip of the iceberg. We are no longer in a crisis; this is a national emergency.
"Patients should never have to wait for 12 hours or more to be admitted, but there are just not enough beds to admit patients to. It is incredibly challenging for staff who have to deliver care in corridors, which is unsafe and unacceptable at the best of times, but now is has the added risk of further spreading covid.
"I cannot emphasise the gravity of this emergency. Hospitals are under intense pressures. Ambulance services across the country are struggling to keep up with the number of calls they are receiving; hospitals cannot cope with the number of patients. Despite attendances being down, 12-hour waits are higher than ever, partly due to the severity of patients' conditions.
"But these 12-hour waits are only measured from decision to admit to admission. Our annual Winter flow project shows, in part, the true extent of 12-hour waits; data from 32 trusts across the UK in December alone shows over 12,400 patients spent over 12 hours in an ED – measured from when they arrived.
"We cannot properly tackle this problem unless we confront it properly, so we welcome the new metric being introduced by NHS England with the consultation on the Clinical Review of standards, which will measure 12 hour waits from arrival to discharge. This will help us see where the problems in Emergency Departments lie and help us to resolve issues quicker, including putting a stop to unsafe crowding and corridor care.
"We entered the pandemic short of staff and short of beds and now we are truly feeling those shortages. It is devastating. Departments are already working beyond normal full capacity but are still trying to expand capacity further. We are finding beds and resources wherever we can.
"Healthcare staff have been doing this for eleven months, there's no clap for carers or support anymore, there are only more patients, more deaths, more hours and more shifts, and this time they are being stretched more thinly.
"The lives of those in the community are at serious risk and excess deaths could soar quickly. It is incredibly distressing that surgeries and some other urgent care are being put on hold. We are also concerned that attendances are down; our fear is that there are people in the community who need urgent and emergency care who are not seeking it.
"We do not have the virus under control. The situation is far worse than April 2019 and what is happening is not sustainable. Our NHS is now at a tipping point and if it tips, we will not be able to stop it.
"Healthcare workers are doing an exceptional job in an emergency like no other, for many it may be traumatic. We must support each other and work together and get through the coming weeks. We can still mitigate the impact and minimise the risk of further damage."
Tap into Pure Water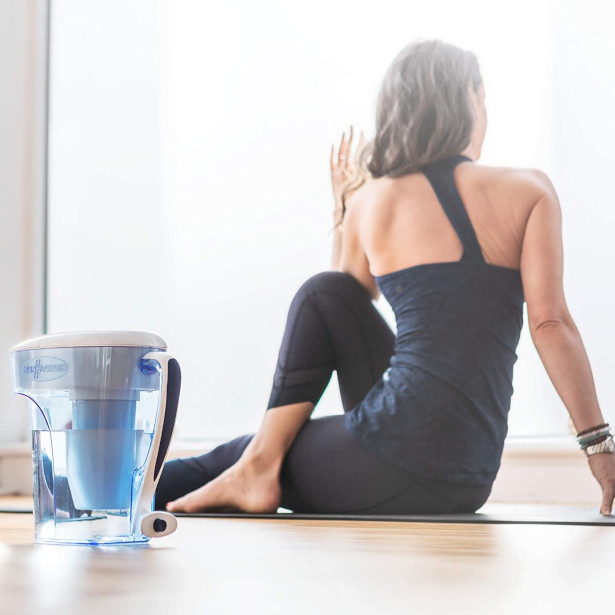 Zerowater reduces 99.6% of all total dissolved solids in your drinking water. It delivers the purest tasting water in minutes. Zerowater removes much more from tap water than other leading filter brands in the UK. Zerowater removes 97% of lead, 96% of mercury, 95% of chlorine and even 97% of asbestos which is often displaced from old and ageing water pipes.
Infact Zerowater is so powerful that on average it removes 95% of all metals compared to 68% from Brita. Zerowater even removes 68% of all inorganics, whilst 33% is removed from Brita. The full list can be found here.
Zerowater gets better results due to a 5-stage filter, most filters only have 2-stage. Zerowater patented technology ensures that you can save money on buying bottled water and ensure your tap water is pure. The 12-Cup Zerowater comes with a free TDS Reader (Total Dissolved Solids). Some areas of the UK have reading more than 300. When water is filtered through the Zerowater filter it will score 0, Meaning you can enjoy great tasting pure water at home.
The Zerowater 12-Cup Filter costs £39.99 from Zerowater.co.uk
Suffolk Hotel Folk launch January 2021 sale
Discounted voucher packages from £150 for two valid 12 months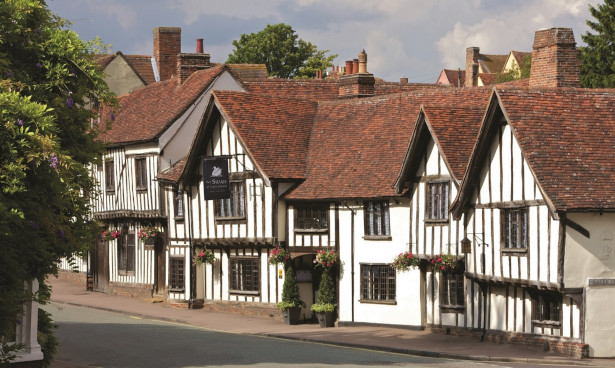 Buy a discounted voucher package by 31 January in the Suffolk Hotel Folk's New Year sale and enjoy a short dinner, B&B break for two within the next 12 months. Make your choice from the collection's five hotels, each offering a different package.
Hotels include the Swan at Lavenham Hotel and Spa; Brudenell and White Lion, which overlook the sea at Aldeburgh; Crown at Woodbridge and Crown and Castle restaurant with rooms in Orford. Whichever you choose, all the hotels offer fine dining focusing on Suffolk's fresh, local produce.
The Swan at Lavenham is offering a one night 'Lavenham Luxury' dinner B&B stay for two sharing plus either afternoon tea or a bottle of chilled champagne and a daily 30-minute session with use of either the outdoor vitality pool or sauna and steam room in Weavers' House Spa. Great value at just £200 for two.
A few steps from the beach in Aldeburgh with magnificent views out to sea, the Brudenell's 'Sea Escape' package begins with a tour and tasting in the new Fishers Gin distillery alongside the hotel. Later tuck into dinner in the sea-facing Seafood & Grill before retiring for the night in a deluxe seaview room and enjoy breakfast the following morning. This package is £280 for two sharing.
With views over Aldeburgh's fishermen's huts and the North Sea beyond, the one night 'Sea and Spice' package at the White Lion includes dinner in Sea Spice, which offers authentic Indian cuisine, plus a bottle of house wine. Buy this and you will stay in a sea view room wakening to the sounds of waves breaking on the seashore; all for just £150 for two sharing.
The 'Royalty' one night dinner, B&B break at the Crown at Woodbridge includes a bottle of sparkling Prosecco in your room on arrival and a pre-dinner cocktail of choice priced at £155 for two sharing. The contemporary inn with rooms is in the heart of the charming riverside town of Woodbridge.
Choose the 'January Sale' voucher from the Crown and Castle at Orford paying just £199 for two sharing dinner, B&B and you will be offered the best room available when you book. This could mean staying in a room that would normally cost up to £370, with a possible saving up to £171, so the quicker you book, the bigger and better your room could be.
To book visit www.thehotelfolk.co.uk and check out each hotel's individual sites or call 01728 451077. Packages exclude Saturday nights and Christmas and New Year 2021, individual T&Cs also apply.
Comedy Hypnotist & Mindhacks Speaker, Matt's book 'Mindhacking Happiness' book became a number 1 bestseller, and recently, UK bookmakers William Hill officially issued odds of 1000/1 of him replacing Daniel Craig as the next James Bond!…(as discussed in his TEDx talk about the "Power of Probably")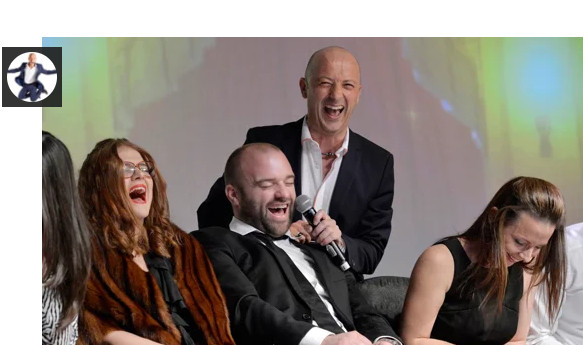 During Covid Matt has developed a range of free resources specifically targeting mindset and way to deal with the challenges of these times. These resources can be sampled at the following link and should give a taste of material Matt can provide:
matthale.com.au/covid19/
Covering topics such as reducing alcohol intake, managing uncertainty, stop smoking, weight loss etc.
More information about Matt:
Mindhacking Happiness demo reel:
vimeo.com/237382967
Random Acts of Mindness (Comedy Hypnosis show) promo reel:
vimeo.com/369749612
Matt Hale bio:
Let's just say that Matt Hale never was, nor ever will be, a poster-boy for doing things the conventional way…
…by the tender age of just 15 Matt was already establishing himself as a radio and club DJ in the UK where he gr ew up.
…at age 18 he turned down a place at uni to go club DJing in the Greek Islands (well, someone's gotta do it)!
…by his twenties he was rocking the airwaves as a presenter on a UK breakfast radio show.
Then the untamed spirit of adventure prompted him to up-sticks and move half way around the world to a new life on the sunny shores of Australia.
Within months he'd landed a spot as a comedy writer for Triple M radio, eventually moving on to establish himself as a highly popular producer and presenter for 96FM (winning 3 coveted national awards along the way)…
Somewhere in the middle of all this was a year of traveling the world as 'Crap Elvis'. I kid you not—ask him about it sometime.
Then a new/old interest of Matt's hit the spotlight and forever changed the playing field…
Quick backstory—at Matt's 21st birthday party ther e had been a hypnotist. Ever since then he'd been utterly fascinated by the idea of what the human mind could achieve if given the right environment and encouragement.
Naturally, being Matt, he thought, "I bet I could do that".
And so he did…
…He crafted, re-crafted and perfected the perfect stage presentation—earning rave review after rave review from audiences around the world, and becoming one of the most popular shows at
Australia's Fringe World Festival
Now along with his public and corporate stage shows, he shares his Mindhacking Happiness for Business & Personal Success keynote presentation at conferences far and wide
Last year his Mindhacking Happiness book became a number 1 bestseller, and recently, UK bookmakers William Hill officially issued odds of 1000/1 of him replacing Daniel Craig as the next James Bond!…
Matt also recently presented his Tedx talk, 'The Power of Probably' which you can check out here: www.youtube.com/watch?v=O0QVfNCljNE
Matt's favourite past -times are foil-surfing, surfing, snowboarding and travel with his wife/manager, Kathryn
Social media:
Facebook/Instagram @hypnohale
LinkedIn: https://www.linkedin.com/in/hypnohale/
www.MatthewHale.com.au – show website
www.MattHale.com.au – keynote presentations website
Lisa Cox

I represent a large portion of the community who rarely (if ever) get a mention in fitness media, unless it is related to the Paralympics.
Adaptive fitness is a big part of my life. I'm at the gym (either by mtself or with my trainer) 5 times a week – all in my wheelchair.
I use a mainstream gym, the same one I have been using for over a decade so everyone is used to seeing me there at 5am doing my version of fitness which really looks no different from others except that I don't use the treadmill.
LISA
New to working out this January?
5 motivating fitness tips for beginners by Ellie Hoad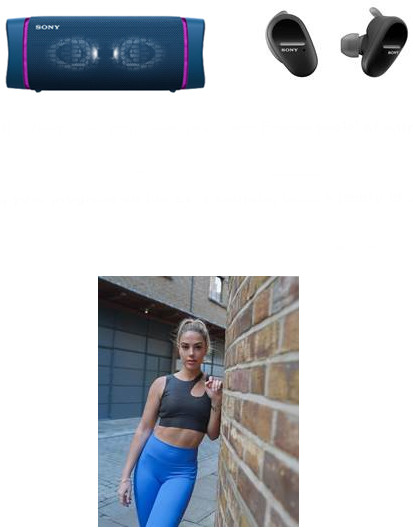 Find the perfect workout companion with
Sony's incredible range of products
After the festive period, some of us may enter the New Year with 'new year, new fitness goals' or some of us might brave it for the very first time!
To help you reach your New Year goals, Sony has compiled some of their best products to help you along that journey. Whether it's releasing endorphins dancing alongside the SRS-XB33 speaker, getting back into running accompanied by the WF-SP800N in-ear headphones, or vlogging your progress on the ZV-1 camera, there's plenty of ways to stay motivated this January.
In partnership with Sony, popular fitness influencer, Ellie Hoad has compiled her top five tips for beginners who might need a little extra motivation come 2021.
Fitness influencer and Women's Online Coach Ellie Hoad says –
1. Don't expect results overnight. Progress takes time and you need to be consistent with what you're doing. When you feel like giving up, that's when you need to keep going!
2. Do what you enjoy! Forcing yourself to do something every day is only going to lead to resentment and failure. Focus on the things which you look forward to. That way it won't feel like a chore.
3. Don't focus on the scales, the number is irrelevant. Instead, focus on how much stronger you are, how you look and most importantly how you feel.
4. Set mini goals and focus on small wins rather than the end goal.
5. Fitness is your own journey, don't compare yourself to others. There is no comparison between the sun and the moon.
In collaboration with Sony, Ellie Hoad has curated a 45-minute no-equipment necessary HIIT workout for you to try at home. Get your sweat on with this workout including warm up/cool down that can be modified for different abilities.
Warm Up:
2 rounds, minimal rest
30 seconds in and outs
x10 walk out to plank shoulder tap
x10 sumo squats with double pulse
Legs and Cardio:
2 rounds, rest for 20 seconds between exercises
60 seconds squat, lunge (left), lunge (right)
30 seconds down ups
60 seconds sumo squat pulses
30 seconds pop squats
Upper and Cardio:
3 rounds for each exercise, Tabata 20s on / 10s off
x4 Commandos and x4 Mountain Climbers
Press ups to rotation
Straight arm glute bridges
Plank jacks
Abs:
Circuit 1
2 rounds, 40 seconds on / 20 seconds off
Slow controlled crossbody mountain climbers
x1 sit up, x2 V sits, x2 Russian twists
Plank rotations
Circuit 2
1 round, 30 seconds on each, minimal rest
Straight arm plank
Plank to ankle taps
Side plank (right)
Side plank (left)
Plank knee drops
*1 minute any plank you wish finisher*
For a little extra inspiration, find the perfect workout companion with a selection of Sony's top products for exercising outside, in the gym or at home – there's something for everyone no matter whether you're a prolific runner, weight trainer or just starting out in your fitness journey.
WF-SP800N Wireless Noise Cancelling Headphones for Exercise
Get your sweat on
The WF-SP800N are perfect for the style and health conscious, designed to wear during high intensity cardio or in day-to-day life. Not only are the headphones truly wireless and noise cancelling, but they also have an IP55 rating for water, sweat and dust resistance[i], meaning you won't have to worry about working up a sweat while wearing them and can rinse them off after your session. They also boast a secure fit, up to 18 hours long battery life and feature Digital Noise Cancelling, meaning you'll be able to get completely in the zone. And with intuitive touch controls, you can play, stop, or skip through tracks and adjust the volume, all through your fingertips.
Truly wireless design with BLUETOOTH® technology
Features Digital Noise Cancelling and Ambient Sound mode
A soft-cushioned arc supporter and three-dimensional curved design to ensure a secure and comfortable fit
Up to 18 hours battery with Noise Cancelling on and up to 26 hours without
WF-XB700 Truly Wireless Headphones with EXTRA BASS™
Pump up the volume
With an IPX4 rating[ii], Sony's WF-XB700 headphones are protected against splashes and sweat, meaning you can keep moving to the music and embrace your workout! The BLUETOOTH® wireless technology removes the need for wired connections, along with Ergonomic Tri-hold structure creating a comfortable fit, making these headphones perfect for all types of workouts, whether you're looking to get into yoga, HIIT or running. Experience your workout playlists like never before with EXTRA BASS™ for deep, punchy sound to help keep you motivated.
EXTRA BASS™ for deep, punchy sound
Up to 18 hours of battery life
Truly wireless design
WI-SP510 Wireless In-Ear Headphones for Sports
Designed for staying active
The WI-SP510 has a soft, flexible and lightweight neckband design providing all-day comfort, and extra convenience when working out. Additionally, the headphones are IPX5 water resistant, meaning splashes nor sweat will stop these headphones. Also supporting EXTRA BASS™ for that deep punchy sound and a long battery life, the WI-SP510 in-ear sports headphones are the perfect training partner.
Up to 15 hours battery life
Soft-cushioned arc supporter and three-dimensional curved design to ensure a secure and comfortable fit.
BLUETOOTH® wireless technology
SRS-XB33 EXTRA BASS™ Portable BLUETOOTH® Speaker
Blare the tunes
Stay motivated with your favourite workout playlist played through Sony's EXTRA BASS™ SRS-XB33 speaker, offering superb sound quality, toughness and usability meaning you can enjoy superior sound wherever you may be working out! Really pump up the atmosphere and enjoy your workout like it's a party, with multi-colour line, tweeter and speaker lighting.
Portable design with BLUETOOTH® wireless technology
Up to 24 hours of battery life
X-Balanced Speaker Unit for clear, powerful sound
With an IP67 rating, this speaker is water-proof, dust-proof and rust-proof
ZV-1 vlogging camera
Snap that progress
This pocket-sized vlogging camera is ideal for those who are on the move, offering a lightweight, compact 'all-in-one' style camera for those who want to document their fitness journey. Developed with videographers in mind, the ZV-1 combines easy-to-use features with uncompromising imaging technology, making this the perfect tool for any sporty content creator at all skill levels.
4K movie recording and in-body stabilisation to capture entire workouts
Face Priority autoexposure function keeps your face at the centre of the action and adjusts exposure to ensure ideal brightness in any environment
Advanced colour science optimises skin tones and can also smooth out blemishes
Directional 3-capsule mic with windscreen for clear voice capture
Vari-angle LCD screen, body grip and recording lamp to check on your workout form
Xperia 5 II compact smartphone
The perfect workout companion, wherever you go
The latest flagship, Xperia 5 II packs a Qualcomm® Snapdragon™ 865 5G Mobile Platform for uncompromised connectivity, high-quality downloads and seamless streaming wherever you choose to work-out[iii]. Its compact, ergonomic and slim design fits perfectly in your hand or pocket while you train. With IP65/68 water resistance and dust protection to shield it from the elements, plus tough, durable Corning® Gorilla® Glass 6 on the front and back, Xperia 5 II can withstand it all.
High capacity 4,000mAh battery with fast charging
Audio tuned in collaboration with Sony Music Entertainment
Qualcomm® Snapdragon™ 865 5G Mobile Platform
MASTER Series A9 48" OLED BRAVIA Television
Enhance online exercises classes with super clear, best-in-class picture quality
The 48" A9 OLED television is perfect for kickstarting 2021s virtual fitness classes and workout regimes, all from the comfort of your own home. With best-in-class picture quality, being coached by Joe Wicks or Davina has never been brighter and clearer thanks to X-Motion Clarity, which makes fast action smooth and more fluid. The Picture Processor X1™ Ultimate will enrich workout viewings with extra detail and texture, whilst Ambient Optimization adjusts picture and sound quality for any environment to offer you the greatest viewing experience, so all you have to do is focus on the workout.
Revolutionary motion and contrast, delivering pure blacks, peak brightness and truly realistic picture
Incredible Acoustic Surface Audio turning the screen into the speaker for true immersion
Netflix Calibrated mode, specially developed to enjoy Netflix's originals and reproduce the same picture quality on the TV as on a studio evaluation master monitor
South African Rugby Union player
Siya Kolisi on
The High Performance Podcast
with Jake Humphrey & Prof Damian Hughes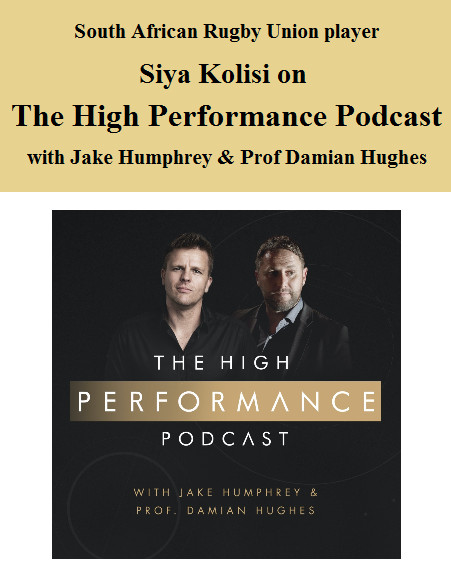 New episode, Monday 4th January
Hitting the UK Number 1 spot in Business, Sports and Lifestyle in the Apple Podcast Charts, with over two million downloads, listeners in more than 50 countries, The High Performance Podcast speaks to world-class performers from the worlds of sport, business, arts and fashion to understand how they've dealt with failure, why they took brave decisions, how to build a successful team and create a high-performing culture. Hosted by broadcaster and entrepreneur Jake Humphrey and leading organisational psychologist Professor Damian Hughes.
Siya Kolisi on playing respectfully, not violently…
SK: I grew up around a lot of violence and I really don't like violence anymore. My wife always tells me she wonders what would happen if someone had to break in the house. I told her, cause she's like, I'm too chill. I used to fight a lot when I was young… And I would see violence at home between my dad and my uncle and then someone hitting my aunt or my mum. And shouting and screaming like doesn't really work with me because it just brings back a lot of all those memories, all the stuff that I used to see and now I've become more chilled. So when I get on the field, I'm not playing to hurt someone else. I'm just playing. I'm giving my best. I want to hit you as hard as I can with the shoulder, in the right places, because I respect you, because I prepared for you and I want to give my best for you. And as soon as the whistle is blown and it's over then after that I'm done, you know, I'm smiling, I'm greeting the guys. You know, I kind of control it that way, but obviously I make it personal. I don't want the opposite number to dominate me in the game, you know, so I always prepare and give my best to the field. But I'm making sure that it's as clean as possible. I never go in and try and hit someone's knees so he doesn't play again. So I make sure like, when I'm thinking and I'm playing like that, whatever I do, I want to do something to someone that they would do to me. Like, I don't want someone to come and try and hurt me all day long so I don't play again.
Siya Kolisi on using vulnerability to combat gender violence…
SK: The way we help people during Covid, I think of myself like this: if I didn't make it in rugby, I would be one of those people that are receiving packages or whatever the donations were… I want people to always feel important when they see me. Sometimes I fail at it. Sometimes it gets a lot and I'm not perfect… I always try and make everybody feel special. My teammates know that when they come in, I'm hugging them when they walk in because I don't know what they've been through. I don't know whether they need the hug or not; sometimes I need that hug and I give it to a person. I want people to feel that they connect with you. It can't just end with work. We didn't speak about emotions when I was young. I never heard or saw my dad cry… Now I want to change the narrative. I don't want to be living in that world where men are just hardcore, all we do is get money, bring money home, buy food, and that's about it. We don't cry. We drink. And we do all those things. I'm trying to change the narrative that I grew up in because the world is different now. Women work nowadays, women bring money home and all that kind of stuff. And men must also be vulnerable. Men must cry. Men must hug each other and tell each other they love each other… especially with gender-based violence, I believe a whole lot of that starts with men not having a vulnerable place… My mother and my aunt were victims of gender-based violence. And my wife knows that, so she's been encouraging me to speak up because most men don't speak up about gender violence. Most men think it's a women's problem, but it's not. We are the perpetrators. We are the problems here and we have to stand up and call each other out, especially as men that are seen so much for playing rugby and everything like that. I started speaking now because my voice carries a lot of weight, especially for young people and people around the world. And I want to make sure that I don't waste it. I use it for those who don't have a voice or those who are not heard.
Siya Kolisi on the importance of rugby to South Africa as a country…
SK: Did you see how our coach knows us? That is what gets me going. When you speak to me, you don't speak to the Siya the rugby player. He speaks to me, to my soul, to what I stand for. What means so much to me is that he knows that I play for the kid and the township so that I didn't change and the stuff that was happening in our country with the gender based violence, there were people dying. Like it was crazy. And he's reminded us that this is the country that we come from, but all of these struggles and problems make us so much stronger. And we are not under pressure. We are actually privileged because we are playing. What we produce in that field can put a smile on someone's face. You can change the whole country's mood. If you think you're under pressure, think about where you come from, how you didn't have food. It's only 80 minutes. You can change the narrative for the next kid who is in the same situation as you, but by you winning this, you can get all this luck people working with you, and you can go back and change… For us as a team, we were playing for South Africa. It wasn't about us anymore. It was about the country itself, the whole mood of the country, what could this win do for us?
Siya Kolisi on lifting the trophy above his head at the 2019 Rugby World Cup and preparing for what came next…
SK: I never dreamed, I never thought in a million years I would ever be there. But what got to me the most is my wife told me this. She says, "A lot of people dream about this stuff. You never dreamed of it because you didn't have the privilege of being able to dream like that. A lot of people dream about it, but they don't prepare for it when it happens. What are you going to do?" Like she said, "what are we going to do when we win?" And I remember the night before we wrote down the stuff that we want to do, want to start a foundation, these are the challenges that we want to tackle in our country. There's only one challenge we haven't done. We said we wanted to build a school in the township with the boarding school. That's one thing that we haven't done, everything else we wrote in that piece of paper, because she believed that we were going to win. I also believed. And we're able to achieve all of those things by lifting that world cup. All this stuff that we do, without my teammates, there's no way I could have achieved this and anything that I do, I always say, like, I thank those guys, because this is part of their work… The amount of work we're able to do during COVID and we started the foundation, which wasn't even formed yet, we didn't even have a name yet. And we were already helping, buying PPE and food for people so we could help them stay at home because people lost jobs. That touched me. And then I could travel during the lockdown. I traveled 16,000 kilometers around the country. People ask me how was lockdown for me. For me, it was flipping amazing from my family point of view. It was tough not being able to play rugby, but when I saw how people lived people without water… People here were facing so much worse than I did. And I said to myself, I can never be satisfied with feeding one person or donating food somewhere. There's so much more.
Siya Kolisi on controlling what he can control…
SK: In South Africa, you get dropped if you don't perform to your standards, but you just motivate one another. I've been there. I know what it feels like not to get chosen. I know what it feels like to have a horrible season. It's all about like, making sure that you yourself do what you need to do. You always have to look at yourself, are you giving your best? That's the most important thing. I can't control what everybody else does, you know, but I know I can only lead when I'm doing my best on the field. I don't like talking about, you know, a lot of people think I like these inspirational speeches and stuff. I prefer playing as hard as I can, you know, and I can't control what my teammate does, but I can control what I say to him and how I treat him. Sometimes it's just having a horrible season, but there's nothing you can do about that. Everybody goes through that, but that's why like when you have good and strong coaches around, they'll realize that and they'll see what they can do with players, but you are right. I have been with coaches who don't see eye to eye with me… I try and be my best in what I do. And that's all I can do. I try and control what I can control is just be at my best. And sometimes, yeah, it doesn't work. I'll get dropped. And, and I sit on the touch line. I almost gave up the one time in the previous World Cup. I never got to play. It was tough for me. I never got chosen, I played like my first game. I got my first cap. I got Man of the Match and then I was on the bench for the rest.
Siya Kolisi on being a quiet leader and listening to his teammates…
SK: What I like about my leadership or pardon me, it's not actually my leadership. That's just who I am. I know what I don't know. And I know what others around me have and I make sure I make full use of the people around me. You can't be everything at all times. I don't speak half of the time and I'm quiet because we have different leaders in our group. And sometimes you don't appeal to everyone like a different group of people maybe respond more to this person, let them be that. And that's how I work because I'm secure in myself. I know who I am and what I stand for and what type of leader I am. And I know my strong points too. Some guys know the game far more than me… against England, it was my first time being captain for the Springbok team and how I imagined this, that we're going to come there and just destroy England. And then England came in and started destroying us in the first couple of minutes and I freaked out, man, I just stood there and I said, "Duane, you speak. I don't know what to say anymore." I didn't want to act all strong and bold. I'm like, no, I'm actually, I might have even spoiled this and my teammates will never respect me again. We had different players who were in charge of different things and that's what we used. And I wasn't scared of that… It's not about me. The most important thing is the team. And you must know what kind of leaders you have around you, make sure they work with you don't work against them at all.
Siya Kolisi on dealing with criticism…
SK: You must always remember, there's always been people criticizing and all that kind of stuff, but I know what's happening. I don't care what everybody else thinks from the outside. If my teammates know what's happening, my coach knows everything, who should I impress on the outside? I wanted to comment because I remember there was one time, we were playing Wales and Duane got the mic on the ear and that's why people started saying "This guy's a real captain." But they didn't see that, after that, Duane went off cause he couldn't go on anymore. That's what they were checking, could he go on? I do get irritated because some people use that to start dividing the team or dividing things. But luckily our coach is so on point that, they say, why should you listen to that? Focus here. And then we just focused on that and they always fell away. All the criticism, people that criticize, they just get tired and fall away anyway. And we kept on moving forward.
Siya Kolisi on learning not to listen to social media…
SK: I was one of those people that would know if I played well or not by reading the comments on Twitter and Instagram and all of that. And then, like the coaches will tell you, the only people you have to impress is me and your teammates, that's the only people's respect that you need to gain. And then you start fading away. I went off Twitter, you know, I went off social media and then I started just focusing on what my teammates were saying around me. And then you'll have someone tell you you played horrible. Then you think you play horrible, then I'll go watch the game. Actually, I played well. Look at all the things that I had to do. Cause sometimes your role is different. You know, I used to run a lot to the ball. Then my role changed, then I had to chase and to tackle, that kind of stuff. Other people don't see that part. My coach sees it. You know, that's one of the things that the coach told us, the biggest critics that you must listen to are right here. You are the best people in the country that are here to represent the country right now. Why should you listen to someone sitting at home?
Siya Kolisi on using his platform to create positive change…
SK: People gave me this platform. I know I worked as hard as I could, but without people supporting me. And I've got to be the voice for the people as well when they need me. I'm not just a sportsman. I'm far more than that rubbish. I can be more than a sportsman. You can't bottle me… That's not how life is, you know, and I think I've seen so many sportsmen who've been able to like do so much, like what Marcus Rashford is doing in England. Bro. That's what I respect him more than this, because there'll be better soccer players than you will be. But to me, you will remain in my heart. I will remain thinking about it. I'll never forget what it's done because he's spoken to my story. When I was a kid, I wished I had someone like that. And that's the person that I want to be. You can forget everything I achieved on the field because someone else will come and break all those records. Someone else will be there to lift the trophy. But the work that you do, the life that you touch will remain for the end of time, because the person that you touch will touch someone else… and that's how you change the world. And that's how you change what's happening around. Always speak a message of unity instead of division, because a lot of people are trying to divide. In our country, there's a lot of different social issues, you know, people make us fight against each other cause we fighting for different social issue, but we're not the enemy, the people in power, these things that we're challenging. And hopefully one day when all these issues have been fought that we can all, maybe one day fight for the same issue… Cause there's nothing stronger than that. When people from different walks of life, different backgrounds, different races are standing together for one thing, fighting for the same thing, nothing beats that. And the conversation is what's needed. You need to talk to someone.
Siya Kolisi on feeling at peace with less…
SK: When I was in the township and my grandma's still alive. I didn't imagine or think that I was gonna make it out of there. I was in my mind. I was living in the moment. I was happy. I struggled financially. I couldn't get food and all that stuff, but I was rich. I was happy. I had love for my grandmother. I had time. I had support and that is all I needed at the time. You know, when I got a meal, I got a meal. I just focused on whatever I had and I used it as much as I could, you know, and then when I started getting to what you need instead of dreaming a little bit, and that's what I realized in that period that I control my own happiness. All this that I have now, I was happier when I was poor. Obviously, I'm grateful for all of this, makes my life better, but I was more at peace. I didn't expect much. I'm not saying that's a good thing, but I actually want to change people's lives so that they don't live like that. I believe every kid should get a fair opportunity in life. A kid should get a fair opportunity from his own background, his own culture that they don't have to leave and go somewhere else and learn a whole new, different language, which was really hard, you know. Just have a dream, believe in it and work as hard as you can. Don't let family members or anybody who couldn't achieve their dreams or live the dreams, tell you that you can't make it.
Seven tips to help you smash your 2021 resolutions
Whether you have a short term goal in mind for the month of January, a change you want to make in 2021, or a complete lifestyle overhaul to make you a better person, it can be tough to stick to your goals.
Just 27% of people made a New Year's resolution in 2020, although that still equates to over seventeen million people. However, 28% of us fail to stick to these resolutions while 47% said they stick to just some of the goals they set themselves.
The most common areas of improvement include more exercise, losing weight, improving our diets, saving money, taking up a new hobby and cutting down on smoking or drinking.
Ezra, one of the leading global providers of digital coaching, has put together seven top tips to help you smash the January blues and stick to your New Year's resolution whether it be a short-term goal or a longer-term lifestyle change.
Make declarations not resolutions
The first place to start is the resolution itself. All too often we place too much emphasis on a certain goal. For example, 'I will run a marathon this year'. For many, this creates an immediate and seemingly impossible goal and one which we are bound to fail trying to achieve and so it quickly falls by the wayside.
Instead, make a declaration that you will improve your long distance running and once you have this as a general aim you can work on what success looks like.
Incremental goals
Once you have the overall goal sorted, work on incremental goals that you can achieve on a daily or weekly basis to keep the process realistic and to give yourself little wins you can be proud of. Rather than saying, 'I'm doing Dry January', start by not drinking for the first week of the year. Once you've achieved that, look to the second and before you know it, it's February.
Be better than yesterday
With incremental goals you can build slowly and a great way to do that is to be better than you were the day before. Cut another 10 calories, write or read two more pages of a book, run another half a mile. Whatever it is you're trying to achieve and whatever speed you do it at, a continuous improvement on a daily basis will soon turn into a notable improvement from your initial starting point.
Make it fun
Enjoy your journey and you'll find it a lot easier to stick to or achieve. Exercise for example, doesn't have to be trudging around a cold wet park every evening and you can incorporate weight loss into games or competitions with others.
That said, something worth doing will require some form of hard work and sometimes it's tricky to carve fun out of the job itself. If this is the case, make sure you bring some fun by rewarding yourself.
For example, if you eat a takeaway three or more times a week, aim to eat healthily throughout the week and treat yourself to a takeaway at the weekend. It will taste ten times better if you do and gives you some light at the end of the tunnel on a regular basis.
Don't repeat the past
You may have set a goal of losing weight before, for example. You may have failed each time and if so attempting to do so again may seem like a pointless task.
If this is the case, it's time to think differently and avoid making the previous mistakes, as well as remembering what worked well. Rather than setting a goal of 'I must lose weight', try something new. Set yourself a goal of completing one or two workout videos a week.
Once you start to succeed you can increase this to a work out video every day, or cutting down your calories. Try a new hobby, podcasts, painting, anything to keep your mind busy and yourself focussed can be a huge help when trying to stop drinking for example.
Get support and be accountable
No one can do it alone. No matter how headstrong they are. Talking to a friend or sharing your journey each day can bring huge positivity when undertaking a new task. Online support groups or digital coaching can also help you with the support you need.
At the end of each week, you need to be accountable. Have you tried hard enough? Did you succeed? Why did you fail? These are all questions that you might be scared to ask yourself but someone else won't be and they're vital if success is going to be your outcome.
Even writing a journal of your thoughts can help if you aren't ready to share with someone else, but whatever the case, you need to keep a record and make sure you can see the growth as well as any hiccups.
Avoid perfection
Finally, avoid perfection. No one is perfect, even if they might seem it. Aiming for perfection is an unrealistic goal that is sure to see you beat yourself up and pack it all in when you fail to reach it. Remember, if you do fail, it's a momentary failure.
There's nothing stopping you from getting back on the horse and this long-term lifestyle change will do you far more good. You may have the odd cigarette while trying to quit, or the odd pizza while trying to lose weight. Going back to 20 a day or eating poorly week in week out gets you nowhere.
Founder of Ezra, Nick Goldberg, commented:
"Many of us will be embarking on personal challenges throughout January, in particular, but so many of us do so without properly preparing for the task at hand. Even with our expert coaches, it can take our clients weeks to bring about a positive change in their personal or professional lives and so it's important that we remember implementing this change is a marathon, not a sprint.
The thing to remember is to take it one step at a time, aim for small achievable goals, make yourself accountable so you know what success and failure look like, build on your success and keep at it.
If you do these things, you will see a positive change and achieve the things you want to do whether it be something small like improving your day to day efficiency at work or something as big as running a marathon."
A new virtual fitness movement encouraging humans and hounds to change their lifestyle habits and strengthen their mindset super powers, one paw at a time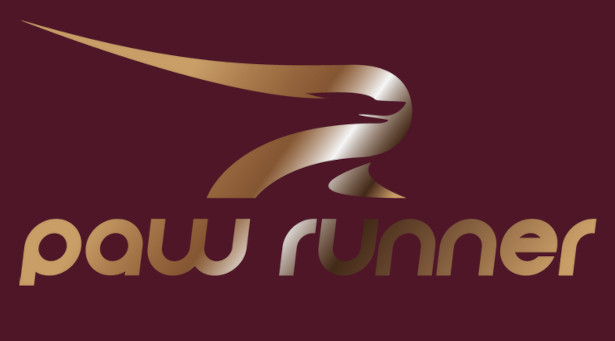 The Paw Runner is born out of a passion for running, an even bigger love for dogs and a compassion for the wellbeing of dogs and humans alike.
Paw Runner offers a selection of virtual walking and running challenges as a fun way to encourage you and your dog to venture out, get fit, healthier, and happier together, while strengthening your bond.
Whether you are a total beginner or a fitness super star, Paw Runner have created a selection of monthly challenges from 3 miles to 200 miles for you and your pooch to choose and conquer in your own time, whenever you like, wherever you like, working your way up from Bronze, Silver and Gold Challenges to reach your ultimate fitness goal. When you smash your chosen distance in the given time frame you will receive a unique medal and a doggy reward.
What's more you and your dog can enter a challenge to help raise money for a charity of your choice.
Lucie Mountain, the brains behind this innovative mission said "With obesity, certain health conditions and mental health issues on the rise in both humans and dogs, the Paw Runner is about creating a movement to prevent this from happening and encouraging people to change their lifestyle habits for the better, one paw at a time!!"
The  Kennel Club  recommends that the average adult dog should have at least 30 minutes of exercise a day to stay fit and healthy. Shockingly, research conducted by PDSA shows that this is not the case in the UK as 1.3 million dogs aren't getting walked on a daily basis.
This has a detrimental effect on the dogs causing depression, anxiety, weight gain and an increase in illness related conditions such as diabetes, cancer, heart disease, high blood pressure, stroke and liver disease, to name a few.
It is well documented that there are strong links between regular physical activity, and positive mental health as it keeps you stimulated, alert, reduces stress levels and equips you to positively deal with any demanding situation.
Lucie says "Increasing your daily and weekly exercise habits, whether it be walking or running can make a real difference to both you and your dog's life. Leading to a healthier, happier, longer and more fulfilled lifestyle."​
In the current covid-19 climate, The Paw Runner is also about creating a community so you don't feel isolated and know you are not in this alone. The Paw Runner Pack is about meeting new friends virtually and creating positivity, offering advice and tips and motivating each other to smash your fitness goals. It's a safe place where no one is judged.
The Paw Runner also prides itself on being eco-conscious. According to Lucie "Not only do we want to help humans and dogs improve their lifestyle, we want to try help charities, support local businesses and do our bit to help the planet".
"We have spent a lot of time carefully sourcing the right medals and doggy rewards for a unique and quality offering that is in line with our beliefs. We work with an independent family run business, who make our zero waste medals out of FSC certified wood. All our dog bandanas are made by hand by a small local independent business in Lincolnshire, 'Delchris Designs'.
We are all in this together for the greater good.
If you want to get involved and take that first step (or paw) to a healthier lifestyle visit www.thepawrunner.com to enter one of our monthly challenges
Join the Paw Runner movement to change your lifestyle for the better, and help charities, one paw at a time!
#jointhemovement
Kynd is Australia's first one-for-one supplements brand, where for every product purchased, an immunity sachet is donated to someone in need.
Kynd's Magnesium Bio product has been formulated based on scientific evidence and combines four forms of Magnesium plus electrolytes so that when dietary intake is inadequate, it helps to: reduce and relieve muscle cramps and spasms, and maintain muscle function. This is a positive for during, and recovery from, fitness workouts.
Knowing the product is kind to you, kind to others and kind to the planet is another way to make you feel good.
More information here: kynd.life
HACKS
How Chefs Make Dishes Go From Good to Great
Great British Chefs
£14.99| 14th January 2021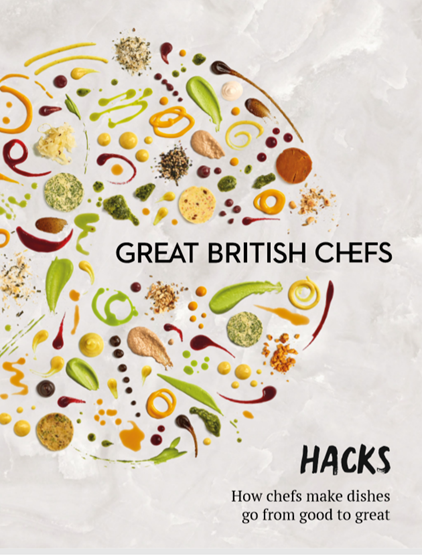 Have you ever wondered how chefs get so much flavour into what they cook, or how they make whatever's on a plate look so good? The answer lies in the likes of purées, oils, brines, cures, preserves and marinades – simple elements that you can easily recreate in your own kitchen.
Hacks is the definitive new cookbook for ambitious home cooks, giving them the tools they need to create restaurant standard food in their own kitchens.
Revealing the secret hacks used by the UK's finest chefs to elevate their dishes, Hacks is a step-by-step guide that shows how professional chefs make dishes go from good to great. Equipping home cooks with an understanding of the science of flavour and the processes of key cooking techniques such as curing and preserving, Hacks is designed to give readers the confidence to use their own creative flair to take their dishes to the next level.
With forty-eight micro-recipes for purées, oils, brines, cures, preserves, marinades and beyond, plus twenty-five full dish recipes from some of the most accomplished chefs in the UK, Hacks is packed with inspirational cooking tips designed to help ambitious home cooks become the very best chefs they can be.
Hacks features exclusive recipes and tips from twenty-five leading British chefs, including co-founder and Head Chef at Koya, Shuko Oda; one of the best classical chefs in the country, Galton Blackiston; Alfred Prasad, the youngest Indian chef to win a Michelin star; Café Deco's Anna Tobias; the Galvin brothers; National Chef of the Year, Kuba Winkowski; Great British Menu winner Richard Bainbridge; and 1251's James Cochran.
Published by Great British Chefs, the UK's leading premium food platform for serious home cooks, Hacks will bring a little bit of restaurant magic into home kitchens.
THE CHEFS:
· ALFRED PRASAD, international restaurant consultant: Credited with elevating the reputation of British Indian food before everyone else, Alfred was the youngest Indian chef to receive a Michelin star at just twenty-nine years old during his tenure at Tamarind. He's now a global restaurant consultant.
· ANDREW GRAVETT, The Langham, London: As the executive pastry chef of The Langham Hotel, what Andrew doesn't know about baking and pâtisserie isn't worth knowing. A master of the classics, he also loves making desserts which are lighter and less sweet than you'd expect.
· ANNA TOBIAS, Café Deco, London: Anna was a relative latecomer to the industry – she studied modern languages at Oxford University before becoming a chef – but in the end, the allure of the kitchen proved too much. Her simple, rustic cookery has won her a legion of fans across the UK.
· CHANTELLE NICHOLSON, Tredwells, London: From New Zealand law student to chef-owner of Tredwells in London, Chantelle's hard work has seen her rise to the top. A pioneer of high-end plant-based cooking, her ability to tease every last bit of flavour out of vegetables is unmatched.
· CHRIS AND JEFF GALVIN, Galvin At Windows, London: The Galvin brothers, as they're affectionately known, have been cooking incredible examples of French bistro-style dishes in the UK for decades, combining classical technique with British ingredients and more modern touches.
· DAYASHANKAR SHARMA, Grand Trunk Road, London: A master of balancing spice and flavour, Dayashankar worked his way through the ranks across India's most famous and respected hotel groups, before coming to the UK and becoming an integral part of its Indian fine dining scene.
· DOMINIC CHAPMAN, The Beehive, Berkshire: Dominic spent his formative years working for the likes of Heston Blumenthal and Rowley Leigh, but it's at his pub restaurant The Beehive that he really comes into his own, cooking simple, comforting, classic dishes to the very highest standard.
· GALTON BLACKISTON, Morston Hall, Norfolk: A firm favourite on our TV screens and one of the best classical chefs in the country, Galton's beautiful Michelin-starred restaurant Morston Hall in sleepy north Norfolk is one of the best culinary experiences you can have in the UK.
· JAMES COCHRAN, 1251, London: James exploded onto the food scene after setting out on his own, quickly gaining plaudits for his modern, fun, relaxed approach to fine dining. The small plates at his restaurant 1251 are always packed with flavour and creativity.
· JAMES MACKENZIE, The Pipe And Glass Inn, Yorkshire: Yorkshire's own James Mackenzie is all about celebrating the produce of his home county, transforming these incredible ingredients into hearty, seriously appealing plates of food at his Michelin-starred The Pipe and Glass Inn.
· KESHIA SAKARAH, Caribe', London: Keshia is on a mission to showcase the varied cuisine of the Caribbean, celebrating the nuances of the food culture and influence from communities across the globe. Her vibrant menu at Caribe' pays homage to the diverse culinary landscape of the islands.
· KUBA WINKOWSKI, Kubarn, Oxfordshire: From moving to England at twenty-four to being named National Chef of The Year 2019, Kuba has rocketed to the top in record time. His cooking is refined, peppered with Polish influences and – most importantly – absolutely delicious.
· MANDY YIN, Sambal Shiok Laksa Bar, London: Mandy is responsible for serving up some of the best Malaysian food in the UK, and her beloved resaurant Sambal Shiok serves up countless bowls of laksa, platters of chicken skewers and fresh noodle salads to queuing punters.
· MICHAEL BREMNER, 64 Degrees, Brighton: Few chefs cooking today are as exciting and innovative as Michael Bremner, who takes flavours from all over the world and distills them into beautiful, inventive plates of deliciousness at his small (but perfectly formed) restaurant in Brighton.
· NEIL CAMPBELL, ROVI, London: Armed with an arsenal of ferments and pickles along with a beast of a charcoal grill, Neil's magic touch turns humble vegetables into something very special indeed. His dishes manage to balance sweet, sour, smoke and salt in perfect harmony.
· NUD DUDHIA, Breddos Tacos, London: Nud's journey began in a makeshift taco shack in a car park in Hackney, where he set up Breddos Tacos with Chris Whitney. Today, the business operates multiple sites, all of which celebrate the flavours and ingredients of Mexico.
· PASCAL AUSSIGNAC, Club Gascon, London: The flavours of Gascony collide with a playful, avant-garde approach to fine dining in Pascal's wonderful menus, which have been delighting British diners for years. His dishes are a celebration of luxury ingredients and contemporary flair.
· PAUL FOSTER, Salt, Stratford-Upon-Avon: The Midlands' own Paul Foster has made a serious name for himself cooking well-executed food with a focus on flavour above all else. As the chefowner of Michelin-starred Salt, he has the freedom and ability to cook the dishes he loves.
· PAUL WELBURN, 215, Oxford: With years of Michelin-starred cooking already behind him, Yorkshireman Paul has now settled down in Oxford. Cooking playfully nostalgic British dishes with impressive modern twists, he's a master of flavour, technique and presentation.el Bremner, who takes flavours from all over the world and distills them into beautiful, inventive plates of deliciousness at his small (but perfectly formed) restaurant in Brighton.
· PETER JOSEPH, Kahani, London: By moving away from the stereotypical view of Indian cuisine and embracing modern plating styles, Peter has taken the food he grew up with to dizzying new heights. His light and delicate touch makes him one of the best Indian chefs in the UK.
· RICHARD BAINBRIDGE, Benedicts, Norwich: Richard's neighbourhood bistro Benedicts is a fantastic little spot in beautiful Norwich, where he cooks the food he (and everyone that dines there) simply loves to eat. His classically trained background makes him a seriously skilled chef.
· ROHIT GHAI, Kutir, London: Rohit was the man responsible for some of London's most beloved Michelin-starred Indian restaurants, before opening his own place in a beautiful little townhouse. His ability to combine British ingredients with Indian spices is unmatched.
· SCOTT GOSS, Verdigris, Kent: A champion of Kentish produce, Scott Goss cooks comforting dishes full of familiar, nostalgically British flavours at his restaurant Verdigris in Tonbridge. Using only the very best ingredients is at the heart of everything he does.
· SHUKO ODA, Koya Soho, London: Shuko has been dishing up bowls of perfectly made udon noodles for over a decade now, and her Japanese restaurant Koya is a cult classic. Bright, clean, fresh and pure flavours can be found in all her wonderful plates of food.
· SIMON HULSTONE, The Elephant, Devon: Having held a Michelin star at his Torquay restaurant since 2004, Simon is a tour de force in the kitchen and even has his own farm. Seasonal West Country flavours make up his menus, with a deep understanding of technique behind each dish.
TUCK IN TO A TAKEAWAY TREAT
SIT BACK AND RELAX WITH A BLUE MONDAY BANQUET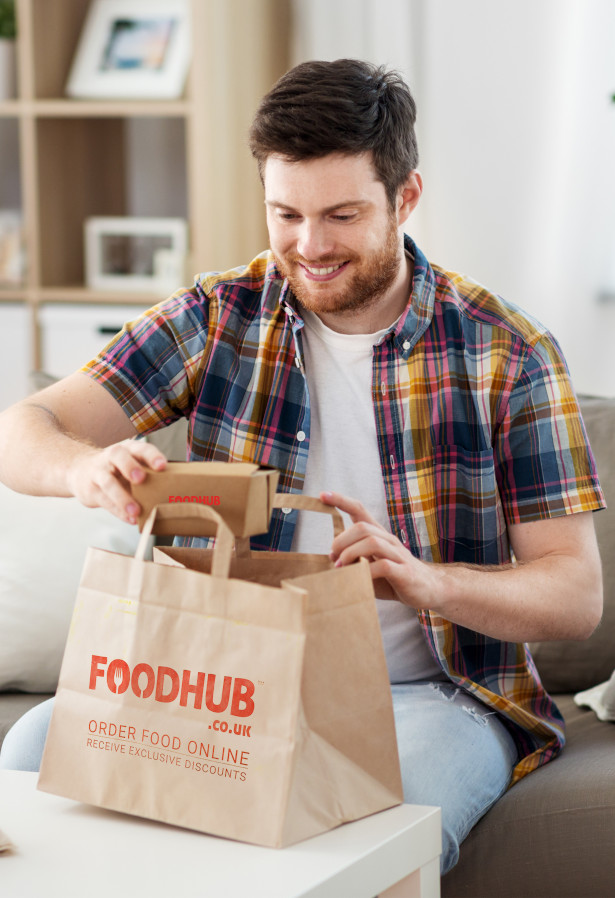 As we started 2021 with a new lockdown announcement, Blue Monday looks to be bluer than ever, as national restrictions are put in place and dark cold winter nights are becoming a daily occurance.
One of the UK's leading takeaway delivery apps, Foodhub are offering 21% off* on all orders placed by new customers via the app or website on Blue Monday (Monday 18th January).
Customers can choose from a huge range of international cuisines such as; Chinese, Indian or the classic Fish 'n Chips – Foodhub has the perfect receipe for all.
A discount of 21% will be provided to all orders on Foodhub, simply input code BLUE21 and enjoy a tasty treat at your feet!
*offer valid from Monday 18th January – 00:00 Tuesday 19th January
Terms & Conditions
· 21% off all orders placed via the Foodhub app/website
· New customers only
· Valid from Monday 18th January – 00:00 Tuesday 19th January
· No minimum order (restaurants may provide their own minimum order value)
· Takeaways may have their own individual discount codes
· One use per customer
· Full terms – foodhub.co.uk/termsandcond
ALDI SHAKES UP THE FITNESS MARKET WITH THE BEST VALUE PHD SMART PROTEIN POWDER RANGE, IN TIME FOR THE WELLBEING SEASON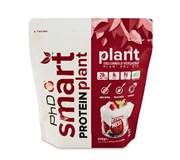 Just in time for a healthy kick start to the New Year, Aldi has today announced it will launch well-known PHD Smart Protein and PHD Smart Plant Protein in store on 31st December. What's more, it's up to 45% cheaper than other stockists, as the supermarket works to give Brits access to affordable health and wellbeing products which can be notoriously pricey.
The range encompasses the Insta-worthy protein powder trend for sweet bakery flavours, including the PHD Smart Protein (900g) available in both Lemon Drizzle Cake and Peanut Butter Cup at £14.99 – 45% cheaper than the same product sold at HealthPharm.co.uk.
Health conscious vegans need not miss out as the supermarket is also introducing the brand's plant based variant PHD Smart Plant Protein (500g) in Salted Caramel and Eton Mess for just £9.99 – a third cheaper than the same product sold at Holland & Barrett.
Deliciously versatile, protein powder can be used in many formats including baking, desserts such as a macro friendly mousse, or as a simple yet delicious drink. Not only does it surpass all taste expectations, but also packs up to 20g protein per serving and is exceptionally low in sugar, containing less than 1g per 25g serving.
Perfect for those looking to get more protein into their diet, the Smart Protein range not only helps support fitness goals and combat mid-meal cravings, but also provides the best possible value – meaning those tightening their belts can do so without compromising on their fitness goals.
The protein products will be available in store from 31st December until stocks last.
WELLBEING APP DEVELOPS A 'VACCINE' TO BLUE MONDAY
– A HYPNOTISING APPROACH TO MAKING RESOLUTIONS THAT STICK –

4 JANUARY 2020 – Research shows that New Year's Resolutions just don't work. In fact, less than 10% of New Year's resolutions are actually achieved*. That's why Kim Palmer, Founder of women's hypnotherapy app, Clementine, has launched an antidote to resolutions and a way to avoid Blue Monday (18th January), which claims to be the most depressing day of the year.
Instead, she has created a game-changing approach for people wishing to make meaningful and long-lasting changes to their lives. Reboot is a workbook, for anyone feeling bored, sucked of energy, feeling unhappy with aspects of their life, feeling stuck at home, at work or in relationships. But this isn't just an ordinary workbook, it's a self-guided course, in a book – a modern-day guide to making profound New Year's resolutions.
Kim Palmer said, "We've invested a lot of time creating a meaningful approach that will enable people to get to the core of what they really want, and the steps needed to achieve their dreams. The idea – to scrap traditional resolutions that just won't stick and bypass low points such as Blue Monday or reduce any potential obstacles to living your potential."
The approach combines life coaching, strategic branding consultancy, therapeutic writing techniques and self-hypnosis. After completing a series of linked explorative exercises, people will have a better understanding of their needs and desires, a stronger sense of self, and a workable plan of how they are going to make their life changes happen.
Kim Palmer said, "Now more than ever, people are looking for 'fresh start'. New Year's resolutions often start with an initial burst of motivation but are generally difficult to keep. That's partly because they're often framed in a negative way, such as giving up something. They can also include a lot of "shoulds" and lack a foundation of meaning or personal relevance."
She added, "The mind responds much better to positively-framed goals that tap into an individual's deepest needs and desires. But in order to get to that stage, there's often a bit of soul searching and exploration that's needed – the kind of support you might find from a life coach or mentor. The Reboot workbook does just that, it coaches people through the entire process and allows the individual to find true meaning and relevance to ensure they don't run out of steam with their life goals."
There are six chapters of creative and practical exercises that individuals can complete in their own time and pace. The process helps people understand their needs, so they will be able to make decisions about what to keep in their life and what to ditch. Instead, people will find focus and clarity, and formulate a workable plan.
The Reboot workbook covers all aspects of life – work, sex, relationships, health, career, finances – everything. Available to buy now for delivery in mid-January 2021. For purchase for £20 in the UK only (for now).
In addition to the workbook, Clementine app has also launched a virtual wellness festival to mirror Reboot's approach, which takes place online from 18th January until 28th January 2021.
Kim concluded: "The Reboot Festival is like the virtual version of the book and will help people to reboot their career, confidence, sleep, body image, love life, sex life, and more. We have 22 kick-ass female speakers, including model and activist Nyome Nicholas-Williams, sex educator Alix Fox, and entrepreneur Meg Matthews to talk about topics important to every woman. Just like its workbook counterpart, the festival will inspire people to get a pay rise, get to sleep faster, improve their sex life and ditch imposter syndrome, to mention just a few benefits."
Tickets for the event allows participants access to all eight days, enabling them to dip in and out of the topics that interest them most, or to watch every single minute. (For a full break-down of the day topics please see the end of this release.)
To find out more about Clementine app visit: clementineapp.com/ or download Clementine on the app store.
For more about Reboot Workbook: reboot.clementineapp.com/handbook
For more about Reboot Festival: www.eventbrite.co.uk/e/reboot-the-virtual-wellness-festival-tickets-133229253283
WELLBEING APP SHUNS NEW YEAR'S RESOLUTIONS FOR A HYPNOTISING APPROACH TO GOAL ACHIEVING
– LAUNCH OF NEW WELLBEING WORKBOOK AND VIRTUAL FESTIVAL –

31 JANUARY 2020 – Research shows that New Year's Resolutions just don't work. In fact, less than 10% of New Year's resolutions are actually achieved*. That's why Kim Palmer, Founder of women's hypnotherapy app, Clementine, has launched a game-changing approach for people wishing to make meaningful and long-lasting changes to their lives.
Reboot is a workbook for anyone feeling bored, sucked of energy, feeling unhappy with aspects of their life, feeling stuck at home, at work or in relationships. It isn't just an ordinary workbook, it's a self-guided course, in a book – a modern-day guide to making profound New Year's Resolutions.
The approach combines life coaching, strategic branding consultancy, therapeutic writing techniques and self-hypnosis. By the end, people will develop their own SMART goals, a stronger sense of self, a better understanding of their needs and desires, and a workable plan of how they are going to make their life changes happen.
Kim Palmer said, "Now more than ever a 'fresh start' is very important to people. New Year's resolutions often start with an initial burst of motivation but are generally difficult to keep. That's partly because they're often framed in a negative way, such as giving up something. They can also include a lot of "shoulds" and lack a foundation of meaning or personal relevance."
She added, "The mind responds much better to positively-framed goals that tap into an individual's deepest needs and desires. But in order to get to that stage, there's often a bit of soul searching and exploration that's needed – the kind of support you might find from a life coach or mentor. The Reboot workbook does just that, it coaches people through the entire process and allows the individual to find true meaning and relevance to ensure they don't run out of steam with their life goals."
There are six chapters of creative and practical exercises that individuals can complete in their own time and pace. The process helps people understand their needs, so they will be able to make decisions about what to keep in their life and what to ditch. Instead, people will find focus and clarity, and formulate a workable plan.
The Reboot workbook covers all aspects of life – work, sex, relationships, health, career, finances – everything. Available to buy now for delivery in mid-January 2021. For purchase for £20 in the UK only (for now).
In addition to the workbook, Clementine app has also launched a virtual wellness festival to mirror Reboot's approach, which takes place online from 18th January until 28th January 2021.
Kim concluded: "The Reboot Festival is like the virtual version of the book and will help people to reboot their career, confidence, sleep, body image, love life, sex life, and more. We have 22 kick-ass female speakers, including model and activist Nyome Nicholas-Williams, sex educator Alix Fox, and entrepreneur Meg Matthews to talk about topics important to every woman. Just like its workbook counterpart, the festival will inspire people to get a pay rise, get to sleep faster, improve their sex life and ditch imposter syndrome, to mention just a few benefits."
Tickets for the event allows participants access to all eight days, enabling them to dip in and out of the topics that interest them most, or to watch every single minute. (For a full break-down of the day topics please see the end of this release.)
To find out more about Clementine app visit: clementineapp.com/ or download Clementine on the app store.
For more about Reboot Workbook: reboot.clementineapp.com/handbook
For more about Reboot Festival: www.eventbrite.co.uk/e/reboot-the-virtual-wellness-festival-tickets-133229253283
Coldplay Bassist Launches Plant Based Protein Products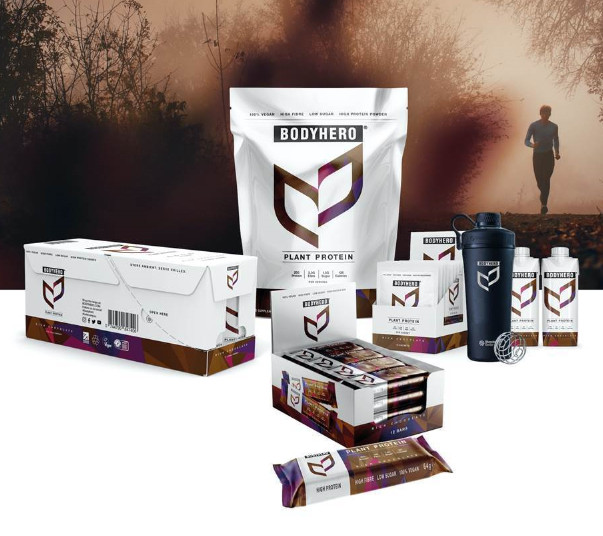 Plant-based products packed with protein that deliver everything you need,
with zero compromise on taste.
Bodyhero is on a mission to create the best plant protein products that taste so good.
London, UK (Date, 2020): Finally, the compromise between having something that's good for your tastebuds, health, and the planet is over. Because Bodyhero— the latest challenger brand in the functional nutrition & snacking markets— announced the launch of a range of premium, 100% natural, clean-label, plant-based, high protein, high fibre and low sugar products. Set to launch in January 2020, Bodyhero came just in time to help bring in a new, healthy year. These protein-packed, plant-based products will be a welcome addition alongside the 1 million+ people who have signed up for the Veganuary campaign, and everyone starting their new year resolutions with a health kick after the Christmas indulgence. Whether you're a vegan, flexitarian, gym junkie, or anything far and in between—Bodyhero is for everyone and believes in everyone.
Harnessing the power of nature and credibility of science, Bodyhero products were designed to fulfill a gap in the plant-based market: crafting plant-based protein goodness that is cleaner, simpler, tastier and easier to access. What separates Bodyhero from other plant-based protein products is not only its specialty-crafted attention to taste, but also its carefully curated blend of Bodyhero ingredients from some of the best growing regions in the world. The unique recipes are amongst the most advanced on the market today, yet are composed of simple, plant-based nutrition products. Every ingredient is meticulously and sustainably sourced from the most premium growing regions in the world, all while being grounded by safe and proven scientific rationale. Each serving is formulated with a consistent 20g of the highest quality plant-based protein from Golden and Yellow Split Peas, and high-quality fibre from chicory root, helping you stay fuller for longer, aiding in muscle recovery and much more. It's about time there's a guilt-free, convenient nutrition that has everyone feeling like their body's hero.
Simplifying it to Something Digestible
Despite the craving for healthy snacks that has disrupted the market, only 20% of consumers feel they deliver on taste (according to a survey of over 2000 consumers carried out by Harris Interactive in April 2020). Bodyhero products have solved this problem, by finding the optimal balance of maximum taste and functionality—something that most plant-based products have struggled with, as they add too many supplementary ingredients and "superfoods", that end up becoming anything but super because of their small quantities, and ultimately poorly impacting taste. That's why Bodyherowas designed with taste first, all while having no misleading ingredients or false health claims, so it tastes as good as it makes you feel.
Next to Bodyhero's commitment to quality taste is their promise of quality, health ingredients. With most people failing to consume the average recommended 30g of fibre per day, there's a growing awareness of gut health in the population as a whole (British Nutrition Foundation). Fibre is critical to a healthy gut, and a high fibre diet can help with weight management, improve skin health, reduce cholesterol, lower the risk for heart disease, stroke, diabetes, and may even help prevent colon cancer.
That's why Bodyhero has been purposefully designed to help make it easy and tasty to get this key health component, by delivering up to 44% of the daily recommended fibre content in just one serving (depending on product), through inclusion of natural chicory root fibre. Fibre isn't the only important nutrient helping put Bodyhero products at the top of the shelf for health. The products provide the full spectrum of all 9 essential amino acids and are rich in naturally occurring BCAA's, Glutamine and Leucine.
Bodyhero products have no misleading ingredients or health claims, just clean-label ingredients free from:
Dairy
Lactose
Soy
Gluten
Wheat
Carrageenans
Palm Oil
GMOs
Artificial Flavours & Colourings
Fillers
Binders
Anti-foaming Agents
In addition, they are Registered by the Vegan Society, are being tested by Informed Sport, and regularly tested for heavy metal, allergens and contaminants.
And to even further their commitment to an upmost quality plant-based experience, Bodyhero products have been designed to be as allergen free as possible so that anyone and everyone can enjoy delicious tasting plant-based nutrition.
Speaking of the company's recent announcement, Bodyhero Co-Founder—and band member of Coldplay— Guy Berryman said,
"Plant-based protein is a rapidly growing space and I'm excited for people to try our innovative products."
Bodyhero Managing Director, and former Product & Fitness Director of Virgin Active Health Clubs, Andy Birch shares the excitement and commented,
"We saw a gap in the market to make plant-based protein products cleaner, simpler, better tasting and more accessible. There is a joy in simplicity. Our products deliver everything you need, include nothing you don't, and with zero compromise on taste. They are unique in satisfying the 3 key nutritional requirements that people are looking for right now in being high in protein, low in sugar and high in fibre, as well as being plant-based, natural, free from, delivered straight to your door, and most importantly delicious!"
THE RANGE
The initial range will comprise of the following SKU's (with additional flavours to follow), and are available to purchase via fantastic value monthly subscriptions, a range of bundles, and one-time purchases at www.bodyhero.com
PLANT-BASED RICH CHOCOLATE PROTEIN BARS
12 x 64g Duo Bars – 2 x 32g pieces per bar with 10g protein, 6.5g fibre and less than 1g sugar
PLANT-BASED RICH CHOCOLATE PROTEIN POWDER
960g Pouch (30 servings),10 Pack of 32g Sachets or Single 32g Sachets
PLANT-BASED RICH CHOCOLATE PROTEIN SHAKES
12 x 330ml Cartons
Key Benefits of Bodyhero
SPECIFICALLY FORMULATED WITH 20G PROTEIN.
Bodyhero products are specifically formulated to provide the highest levels of protein whilst maintaining unbeatable taste and texture. Uniquely, each serving across the range delivers consistent 20g of high-quality plant protein. With the recommended daily intake of protein ranging from approximately 0.8–1.5g per kg bodyweight depending on activity levels, a 70kg sedentary person would need 56g and a 70kg active person would need 105g of protein per day. One Bodyhero serving delivers between 19-36% of your daily protein intake. The products include high quality pea protein isolate, providing a full spectrum of all 9 Essential Amino Acids and naturally occurring Branched Chain Amino Acids to aid with optimal muscle growth and recovery.
The proteins used in Bodyhero products are not just sourced from the very best growing regions in the world, but are also selected specifically for each product type, as different proteins perform differently in different types of product application.
BODYHERO PEA PROTEIN
The pea protein in Bodyhero bars is an Isolate made from the highest quality 100% Non-GMO Canadian Yellow Split Peas.
The pea protein in Bodyhero Ready-to-Drink shakes is a super smooth pea protein Isolate developed for optimal taste and texture. The pea protein is made from the highest quality 100% Non-GMO European Yellow Split Peas.
The pea protein in BodyHero protein powder is sourced from what is generally considered to be the very best growing region in the world – Europe. It contains almost 90% protein and is made from 100% non-GMO European grown Golden Peas. It is totally allergen free, ultra-smooth in texture, and extremely easy to digest with a digestibility rating of 98%.
Bodyhero Protein Powder uses the highest quality European Golden Peas grown under strict European regulations in the nutrient rich soils of Northern France. They are grown without chemicals in uncontaminated soil rich in nutrients and are processed in Belgium by one of the pioneers in pea protein isolation: a company that has been privately run by the same family since 1852.
As a result, the pea protein used is widely accepted to be the highest-quality pea protein isolate available worldwide. Growers are carefully selected, and quality checks are in place throughout the supply chain to ensure the strictest of growing standards are adhered to.
The protein isolation process uses a patented, water-based technology that produces a very fine powder that has minimal taste or smell of pea, which indicates a very high-quality pea protein isolate. Many other lower quality pea proteins have a strong pea smell or taste by comparison.
Therefore, Bodyhero powder is one of the only totally allergen free products available, and the pea protein used—is in fact, the only pea protein isolate that can claim a lectin-free status which contributes to its excellent digestive properties and makes it the most easily digestible and accessible protein powder on the market today.
The patented processing method produces a pea protein with the highest level of protein content in the world, at up to 90% protein (by dry matter). It also produces a very fine powder compared to other pea protein manufacturers, making Bodyhero powders super easy to mix and superior to taste.
THE HIGHEST LEVEL OF FIBRE
It's formulated to provide high levels of natural easy to digest, soluble plant-based fibre from chicory root, to help meet those all-important high fibre goals, and support gut health. With the recommended daily intake of fibre around 30g for most people, one scoop of powder provides 8% of your daily allowance, one ready to drink shake provides 17% of your daily allowance, and one bar 44%.
SWEET BY NATURE, LOW SUGAR AND LOW FAT
Sweetened with just a touch of 100% natural dates, Stevia Leaf or Finnish Birch Xylitol, Bodyhero products ensure a rich and indulgent taste without any artificial sweeteners or any of the aftertaste found in most other protein shakes and products. Bars and powders are low in sugar, and Ready-To-Drink shakes are low in both sugar and fat.
CONTAINS HEALTHY FATTY ACIDS AND NATURALLY OCCURING MCTs
Bodyhero bars use coconut oil as a binding ingredient, which contains a source of naturally occurring MCTs (Medium Chain Triglycerides). MCTS's have been shown to boost weight loss and energy production, and coconut oil is also considered to be great for improving cholesterol, and health of the skin, hair and teeth.
CALORIES THAT WILL FIT IN YOUR MAC
Generally, the recommended daily calorie intake is 2,000 calories a day for women and 2,500 for men. The number of calories per serving of Bodyheroproducts ranges from 126 calories per 32g powder serving, 133 calories per 32g protein bar bite (2 x 32g bites per bar), and 151 calories per 330ml Ready-To-Drink shake serving, meaning one serving of Bodyhero accounts for just 5-7% of your daily calorie allowance, and making Bodyheroproducts a healthy sweet treat that won't blow your macros in one go.
100% NATURAL AND 100% DELICIOUS
Bodyhero products are formulated with the cleanest ingredients possible, and nothing added that doesn't need to be included. No artificial colours, sweeteners, flavourings, preservatives, fillers or binders. Ever. Minimal ingredients and maximum flavour, with a promise to always use as few ingredients as possible is the motto.
The finest cocoa is used for products, derived from Theobroma cacao, cocoa beans of African origin (Cameroon, Ghana, Equatorial Guinea, Tanzania, Uganda, Congo, Nigeria, Ivory Coast, Togo, Guinea, Saint Tome, Sierra Leone, Liberia, Madagascar) and cocoa beans of South American origin (Colombia, Peru, Venezuela, Ecuador, Dominican Republic) under the strict Guidelines of the Cacao International Federation, and is processed in world leading Cocoa Innovation Centres in Europe.
ALKALINE FORMULAS
The Bodyhero Ready-To-Drink shakes and powders have a pH level above 7, making them naturally slightly alkaline. The golden pea protein used in powders is, in fact, the only alkaline pea protein in the world with a pH level of 7.8. Ideal if you are considering following an alkaline diet.
EVERYTHING YOU NEED AND NOTHING YOU DON'T
Unlike many of the products on the market, Bodyhero doesn't add unnecessary ingredients for the sake of trying to stand out or inflate prices. So called "Superfoods" and such like are often added in such low quantities that they serve no other purpose than to create false health claims which mislead the consumer, and impact taste. They believe that there is a joy in simplicity. If an ingredient doesn't serve a functional purpose, it has no place in Bodyheroproducts. Period.
PLANET FRIENDLY
Bodyhero products are not only good for your wellbeing, but also the wellbeing of the beautiful planet.
Biodiversity is taken seriously and Bodyhero works with Ecologi who along with The Eden Reforestation Projects are rewilding a forest in Madagascar — to plant a tree for every order placed on the website. Bodyhero is also committed to a reforestation project in the Scottish Highlands.
All of the packaging is 100% recyclable and made from sustainable materials across the range.
The workforce is also Climate Positive, meaning that through additional tree planting activity and financing of carbon reduction projects worldwide, they offset their entire carbon footprint, including emissions from their home, personal travel, holidays, food, hobbies and more.
VEGAN APPROVED
All products are Registered by The Vegan Society (the international standard for authentic vegan products), meaning you can have instant piece of mind that our products are free from animal ingredients and animal testing, without having to read the ingredients.
CERTIFIED ATHLETE APPROVED
Every product is certified with Informed Sport. The Informed Sport programme provides assurance that products have been tested for a wide range of substances prohibited in sport. Every batch of this product is tested for banned substances under the Informed Sport programme. Products undergo rigorous testing using ISO 17025 accredited methods to provide the highest level of assurance for athletes. For further information about the testing process, please visit informed-sport.com.
HEAVY METAL AND CONTAMINANT TESTED FOR ADDED PEACE OF MIND
All of ingredients are sustainably sourced, and production batches are regularly screened for heavy metals, contaminants, and allergenic substances to ensure the highest levels of safety and quality and avoid the heavy metals and other contaminants in worrying quantities that tend to be present in cheaper products that use inferior ingredients grown on mass scale using pesticides, fungicides and fertilisers.
Introduce Pantone Colour of the Year 2021 into your Home
The Pantone Colour Institute has revealed its colour of the year for 2021 and this year, there are two! 'PANTONE 13-0647 Illuminating' a bright and cheerful yellow and 'PANTONE 17- 5104 Ultimate Gray' emblematic of pebbles on the beach and natural elements.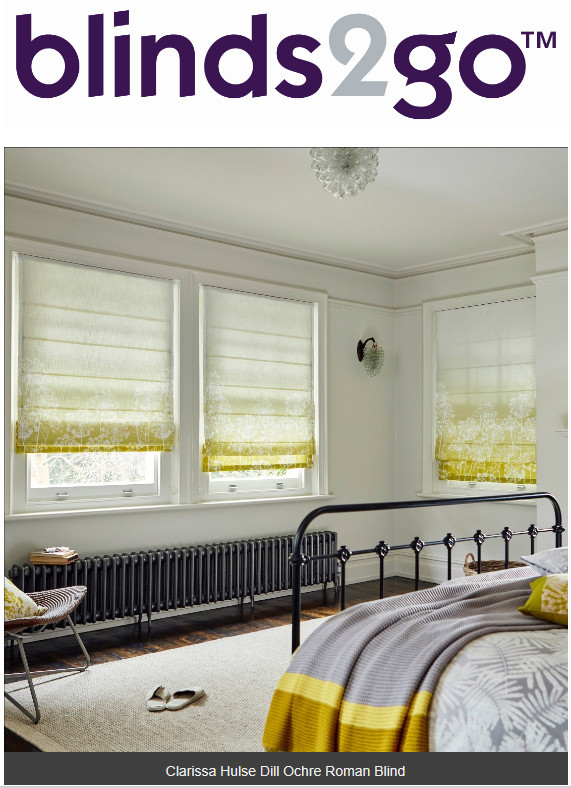 Watercolour Stripe Ochre Roman Blind
Pantone describes these as "The union of an enduring Ultimate Gray with the vibrant yellow Illuminating expresses a message of positivity supported by fortitude. Practical and rock solid but at the same time warming and optimistic, this is a colour combination that gives us resilience and hope. We need to feel encouraged and uplifted, this is essential to the human spirit."
These colours are reflected in a wide range of blinds and curtains from the UK's largest online made-to-measure window dressing retailer, Blinds 2go, who have put together a range of styles that beautifully express this upcoming trend.
Both Pantone colours are captured in the stunning Watercolour Stripe Ochre Roman Blind from the Clarissa Hulse range, pairing a mustard ochre tone with a sleek grey to fit this trend perfectly.
William Morris Willow Bough Gold Roman Blind
Also delivering both these stylish hues in one blind is the classic William Morris Willow Bough Gold design from Blinds 2go, in collaboration with the V&A. This superb mix of exquisite design and vibrant intertwining leaves really brings this design to life. Both styles are also available as roller blinds and curtains.
Scion Nuevo Dandelion Curtains
For a more modern take on this look there is the Nuevo Dandelion design from the Scion collection (shown as Curtains but also available as Roman and Roller Blinds).
The bold, interlocking shapes bring an air of cubism to this design as well as offering a great interpretation of the hottest new Pantone colours.
As well as designs which capture both these stunning colours in one, there are a wide range of blinds and curtains expressing the individual colours. Here is a selection of styles, each of which beautifully communicate Ultimate Gray or Illuminating and offer a simple and affordable way to introduce these Pantone colours into your home.
5) William Morris Acorn Dove Silver Roller 6) Cath Kidston Spot Yellow Roller
7) Clarissa Hulse Dill Ochre Curtains
8) Fretwork Silver Curtains 9) Chalfont Mustard Roller Blind
10) Cavendish Grey Wash Curtains
11) Orla Kiely Linear Stem Dandelion Roller Blind
All Blinds 2go window blinds and curtains are made to measure. For further information and inspiration visit Blinds 2go and Curtains 2go or tel 0800 862 0464.
Pantone's Colour of the Year has been going for more than 20 years, influencing products across fashion, home furnishings, and industrial design. Colour experts at the Pantone Colour Institute comb the world looking for new colour influences, from the entertainment industry to fashion, travel destinations and socio-economic conditions. Influences can also stem from new technologies, materials, textures and even social media. For further information visit https://www.pantone.com/color-of-the-year-2021
Product Information
1. Dill Ochre Roman Blind
Gorgeous sunshine tones make this Dill Ochre roman blind
a warming and vibrant addition to any home. Inspired by the British countryside, Clarissa Hulse's design features flowering dill on her signature ombre backdrop. The modern tones and delicate pattern are perfect for your modern space. We've also added a choice of linings as well as a Deluxe Raise system that offers both effortless raising and perfectly even fold.
2. Watercolour Stripe Ochre Roman Blind
Watercolour Stripe Ochre does everything it says on the tin and so much more. Inspired by designer Clarissa Hulse's extensive travels, each stripe travelling across the fabric creates its own landscape to produce a stunningly varied effect. The colours are both vibrant and intensely on trend, pairing a mustard ochre tone with whites and greys to deliver a fashionable blend.
3. William Morris Willow Bough Gold Roman Blind
This Willow Bough Gold Roman Blind from our collaborative V&A collection is a superb mix of exquisite design and vibrant colour. The bright gold tone intertwined with cool grey really brings this design to life, and we can see this striking colour combination being used in homes for many years to come.
4. Nuevo Dandelion Curtains
Nothing screams modernity more than the Scion brand and our Nuevo Dandelion Curtains sum up the energetic brand. The colourway of mustard yellow, grey and white is just fantastic as the achromatic colours in conjunction with the warm yellow makes for a welcoming change, the result of the blend is contemporary and sleek.
5. William Morris Acorn Dove Roller Blind
Timelessly stylish, the Acorn Dove Roller Blind from our William Morris range in collaboration with the V&A, is the perfect choice for both modern and more traditional homes. Featuring layers of luscious leaves and pretty flowers with cute little acorns hidden throughout, this Roller Blind is a great choice if you want to bring some pattern into your room, but want to keep the palette more muted.
6. Button Spot Yellow Roman Blind
Bring the sunshine into your home all year round with the joyful Button Spot Yellow Roman Blind by Cath Kidston. White spots
are contrasted against the wonderfully vibrant yellow to create a simply sophisticated design that will bring the very best out of your interior. We know this is a showstopper with its stylish design and practical benefits, but to make it pop further, pair with neutrals, greys or hints of navy.
7. Dill Ochre Curtains
This Clarissa Hulse design is a stunning example of her style
and will add some real energy into your home. The watercolour ombre starts out pale at the top then gradually gets more intense, creating a beautiful long border. The bright mustard tones aren't just fashionable, they'll also bring brightness to your life and we could all do with a little more colour in our days.
8. Fretwork Silver Curtains
Chic, versatile and striking, there are plenty of things we love about the Fretwork Silver Curtains from the Sanderson Collection. A truly special design, it features sleek geometric shapes in a cool grey tone against a neutral backdrop. The golden highlight colour adds an elegant finish, giving your interiors a soft touch of colour and taking it to a luxurious new level.
9. Choices Chalfont Mustard Roller Blind
Drift off to sunnier times with this elegant and sophisticated Choices Chalfont Mustard roller blind, and it's fantastic soft texture and woven finish. This luxury soft fabric roller blind is yearning to bring out the very best of your interior, whether it be bold and beautiful or gentle and serene. The golden ochre colourway makes it a winner all round.
10. Cavendish Grey Wash Curtains
Cool and pure, the Cavendish Grey Wash curtains live by their name, washing your interior with a beautiful grey window statement styled in curtains. Not only is this shade a sweet and gentle one, but it is also one that stands the test of time and lasts through the ever-changing trends, always on key and stylish.
11. Linear Stem Dandelion Roller Blind
This may well be the brightest and most uplifting blind in our
Orla Kiely House roller blind collection, a little ray of sunshine at your window all through the year. The sunburst yellow fabric will be complemented beautifully by touches of teal, blue or purple, creating a vibrant vibe that will cheer up you and your home instantly. The signature stem pattern is finished in minim
FREEZER-FRIENDLY SANDWICHES: BACK-TO-SCHOOL LUNCHES MADE EASY
_______________________________________________________________________________________________________

Back to school preparations are well under way in households across the country. Stationery is being purchased, books are being covered, uniforms are getting washed and belongings are being labelled. School lunches however are seldom included in back-to-school planning… until now!
According to Bianca Tromp, a FUTURELIFE® dietician, you can start 2021 smart by getting a head start on school lunches. How? By making and freezing your sandwiches before school even begins! "Sandwiches are a staple in the school lunchbox mostly because of their versatility and convenience. Freezing sandwiches, however, offers several additional benefits including saving time and money. In addition, if special attention is paid to the ingredients they can be super healthy too!" she says.
Bianca adds that sandwiches freeze surprisingly well provided you steer clear of tomato, boiled egg, fresh vegetables and most salad ingredients (like lettuce, cucumber, onion). "Ingredients like cheese, nut butters, cold meats and jams work best when making sandwiches that are going to live in the freezer!"
To get the best results, Bianca offers the following additional tips:
Use fresh bread
Ensure that you store the sandwich in an air-tight container or in zip-lock bags (remove as much air as possible) to keep it from drawing moisture from the freezer
Place the sandwiches on a flat surface in the freezer
Remove and thaw the morning before school
Remember to write what is in the sandwich on the bag/container
If you would like fresh elements on your sandwich like tomato or lettuce, add these the morning before putting the sandwich in the lunchbox.
She also offers 5 easy-to-make, healthy sandwich recipes to help parents and their children start 2021 smart:
Serves: 1 person for 5 days
INGREDIENTS
These ingredients make 5 different sandwiches that can be frozen and removed from the freezer the morning before school. By break time your child will have a delicious fresh thawed sandwich. You can make more if you want them to last for 2 weeks.
10 slices FUTURELIFE® High Protein Brown bread (your favourite variant)
Savoury spread like Marmite or Bovril
Margarine (not melted!)
4 slices low fat, white cheese
Unsalted, unsweetened peanut butter
Leftover chicken shredded
Leftover cooked minced meat
2 eggs
3 tablespoons milk
1. SAVOURY SPREAD AND CHEESE SANDWICH
Take 2 slices of FUTURELIFE® High Protein Brown bread, spread the one side with your favourite savoury spread and the other slice with margarine. Place the 2 slices of cheese on the buttered side. Close the sandwich, cut it in half and you are done. Serve with yoghurt and a fruit.
2. EGG AND CHICKEN SANDWICH
Break 1 large egg in a cup with 1 tablespoon milk. Wisk until combined. Pour the egg mixture into a hot pan as if you will be making an omelette/pancake. Flip when golden on the one side. Cook for 1 minute on the other side. Place on a chopping board and cut a square the size of a slice of bread. Spread margarine on both slices of bread. Place the egg square and shredded leftover chicken in between the slices of bread. Close the sandwich, cut it in half and you are done. Serve with a fruit.
3. PEANUT BUTTER SANDWICH
This one is quick and easy. Spread the peanut butter on one of the slices of bread. Close the sandwich, cut it in half and you are done. Serve with fresh fruit and a FUTURELIFE® HIGH PROTEIN Bar.
4. MINCED MEAT AND CHEESE SANDWICH
Spread margarine on both slices of bread and spread. Place the minced meat on the one slice of toast and top with a slice of white cheese. Close the sandwich, cut it in half and you are done. Serve with cut up tomato and cucumber.
5. FRENCH TOAST SANDWICH
Mix 1 large egg with 2 tablespoons of milk in a shallow bowl. Place the 1 slice of bread into the mixture to absorb some of the egg mixture. Flip it to soak the other side. Repeat with the other slice of bread. Heat a non-stick pan for frying the French toast. Pan-fry for approximately 2 minutes on each side or until golden brown. This can work as an even higher protein base for any of the above-mentioned fillings or just fill the sandwich with a slice of cheese and freeze. Serve with a banana and a FUTURELIFE® HIGH PROTEIN Bar.
Bianca concludes that you can start the year even smarter with FUTURELIFE® and Pick 'n Pay Smart Shopper! Stand a chance to win a years' worth of school fees in 2021 by entering the FUTURELIFE® Start Smart Campaign in partnership with Pick 'n Pay Smart Shopper!
How Start Smart works:
Buy any 2 FUTURELIFE® breads and/or FUTURELIFE® bars at any Pick 'n Pay across South Africa between 16 November 2020 – 10 January 2021 and swipe your Smart Shopper card.
You will then automatically be entered into a draw to stand a chance to win school fees for your child in 2021.
Winner will be drawn within four weeks of the competition closure date and will be contacted directly.
For the full list of participating products and for more information, go to: futurelife.co.za/back-to-school/
Over 3.4million regular earning Brits will be unfairly targeted to pay back Covid-19 debt
bambridgeaccountants.com


There is currently an excess of 9.9 million people who have been furloughed by over 1.2 million companies in the UK. An amount that includes 47% of the creative industries and 43% of accommodation and food industry workers. The furlough scheme, alongside the UK's necessary investment in healthcare, amounts to over £280billion in 2020. The Government has also recently committed the investment of a further £55billion to support public services in 2021-22. The UK Governments efforts to curb unemployment have led to the largest borrowing in 300 years, since peacetime.
This has left many asking…
How is the UK affording Covid-19?
The straightforward answer is that it is not. We will not know the final cost of Covid-19 until the crisis is over, which will include the societal and health repercussions that are predicted to follow.
So far, the Government has stayed a-float through it record-breaking borrowing. In recent years, the government has been able to borrow at very low-interest rates, which intern makes all the debt very affordable. This has allowed the government to pay an interest rate of 0.32% for 10 years.
However, this agreement has a limit. Where that limit is? No one knows. What we do know, is that interest rates will weigh on future generation until the debt is paid off and will undoubtedly result in less money spent on public services and tax rises.
What history tells us?
History suggests that there are many routes the government may take. By the end of the Napoleonic Wars, the UK's debt stood at around 200% of GDP. How was it paid off? Higher taxes and less government spending.
After the First World War, the UK's GDP once again stood at 200%. How was it paid off? Well, we did not pay it off until 9th March 2015. Britain favoured the method of austerity, which involves policies to reduce government spending or higher taxes. WW2 was dealt with very similarly, higher taxes.
How will the UK handle it this time?
If the government wants to get borrowing down, history says it will cut spending and raise taxes. Increasing taxes appears to be inevitable in the current economic climate. Increasing taxes will mean that people will have less money to spend and risks slowing the economy further.
Government spending in future years is also likely to in some way also be reduced. However, this is again very unattractive. Although it would indeed help reduce public service debt, a cut in government spending is likely to cause a further economic downturn, with limited financial improvements. Spending can drastically affect productive capacity, efficiency and equality.
Currently, we are noted as the era of substantial progression for equality. An era that has just begun, where progress is being made in terms of the gender pay gap, diversity in the workplace and anti-discrimination as a whole. The groups that are most likely to be negatively affected by the pandemic include young people, ethnic minorities and disabled people- some of the areas that are most commonly targeted for equality improvements. This suggests that future government policies may stunt the progressions of equality.
Wealth Tax
One of the most likely candidates for paying back the Covid-19 debt currently being discussed is targeting the wealthy. Rather than increasing taxes of the general population, income tax and VAT, the government could instead use methods to target wealthy.
Taxing millionaire households 1% above the £500,000 threshold could raise £260bn in five years, almost enough to cover the current amassed debt.
The alternative to raising the same money, without being so palatable to the general population, would be:
Raising basic rate income from 20p to 29p
Raising income tax rates by more than 6p
Increasing VAT rates from 20p to 26p
Increasing corporation tax by 5p and VAT by 4p
One of the issues that may arise with taxing the so-called "rich" is the unlucky regular earners that can fall into that group i.e., farmers and landlords.
The proposed tax will apply to all assets, including homes such as farms, pensions and business wealth. The long arm of this "wealth tax" could reach as much as 10million of the population, the majority of which would not fall much above the national average in terms of earnings.
For instance, struggling farmers, who are asset rich, cash poor are likely victims of the wealth tax. Farming in British culture is often passed through families. Therefore, many of the farmers are likely to have never been cash-rich. However, due to the asset worth of inherited farmland, regular earning farmers may face 1% rise in tax for 5 years, which for a regular earner can often be the make or break between ends meet.
Capital gains Tax
Landlords are also another set that is likely to fall within the "wealth" taxable. The current UK average property value being set at £253,243, a landlord would only need 2 homes to fall into the 'wealth taxable' threshold.
One of the other likely routes that are being suggested for targeting the wealthy and paying back Covid-19 borrowing is doubling Capital Gains Tax (CGT). Capital Gains Tax is a tax on the profit you sell something that has increased in value.
Capital Gains Tax is a particular area of interest to tax the wealthy due to its application to inherited properties, shares and investment funds- all areas that are very often associated with substantial wealth. However, CGT also applies to second homes, which directly impacts landlords.
Government legislation has been particularly hard on landlords in recent years. The abolition of tax-deductible mortgage interest, the tenant fee bans and the 3% Stamp duty to name but a few BC (Before-Covid) policies. A rise in capital gains could be the final straw for landlords, which would essentially mean that if a landlord chose to sell their second home they may face a staggering 40% charge in Capital Gains Tax.
We, at Bambridge Accountants, have found that many clients feel cornered by the current and proposed policies. We have experienced a 210% increase in consultation requests in relation to supporting landlords through the upcoming changes to tax policy. The policies before Covid-19 discouraged the entrepreneurship being a landlord, while a possible CGT rise will be a final blow to landlords if they do decide to exit.
SPAR reveals first Organic Wine in stores nationwide
Organic wines are on the rise with UK sales increasing 47% in 2019*, and SPAR are on the case with two brand new Organic wines being released under a new brand name, Orbis. The name originates from the latin word for 'World' and here SPAR are showing the quality of what our planet can organically produce and grow.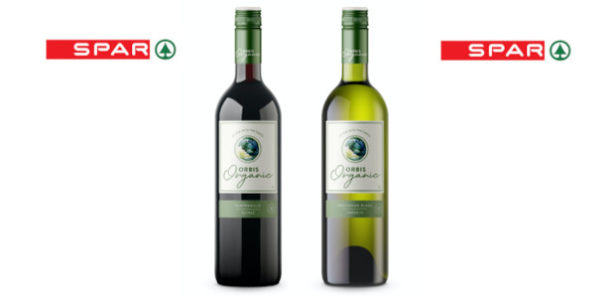 The new Orbis range is produced in Europe's leading region for organic vineyards, Castilla La Mancha, where there are more than 50,000 hectares under cultivation. Organic production is not simply concerned with the substitution of chemicles like pesticides and fertilizers, but encompasses a change in production systems with varieties adapted to local conditions, the improvement of soil fertility and maintaining environmental stability. The vineyard uses absolutely zero GMO materials, making this wine organic and ecological.
Both bottles are exclusive to SPAR with Philippa Carr Master of Wine at SPAR UK describing the range: "The Orbis Organic Tempranillo Shiraz blend is a deep cherry-red in colour with aromas of strawberries and fruits of the forest, making it smooth and well-balanced. Enjoy on its own or with hearty food like meats, cheese or mushroom dishes. The white wine is a Verdejo Sauvignon Blanc blend and is pale lemon in colour with aromas of ripe peaches and tropical fruit flavours, making it a crisp and well-balanced white wine. Great match with fresher, lighter cuisine especially vegetables and fish, green salads and seafoods. Serve chilled."
Happy New Year!
Greek and Mediterranean fine food producer, Odysea, has launched its new Houmous.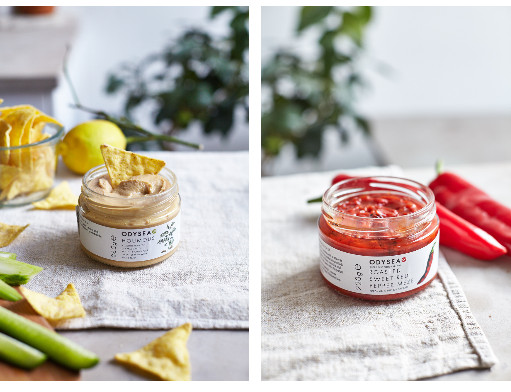 The new launch is the first ambient Houmous ever to hit supermarket shelves and is joined in selected Sainsbury's stores nationwide by Odysea's Sweet Red Pepper Meze, both RRP £2.50.
Both of the premium dips are vegan and packaged in glass jars, so perfect for those choosing Veganuary or adopting a plastic-free lifestyle this January, as well as being fantastic for creating meze lunches while we're working from home.
ODYSEA LAUNCHES THE UK'S FIRST AMBIENT HOUMOUS
Greek and Mediterranean fine food producer, Odysea, is extremely excited to share the launch of its new Houmous to its ever-growing range of premiums dips and meze. The new Houmous is the first ambient Houmous ever to hit supermarket shelves and is joined in selected Sainsbury's stores nationwide by Odysea's Sweet Red Pepper Meze, both RRP £2.50.
Both of the premium dips are packaged in glass jars, without any plastic and are perfect staples to have on hand in the pantry. The clean-label Houmous is naturally vegan and made with extra virgin olive oil for a rich, Mediterranean flavour and silky texture. The Houmous boasts a deeply savoury flavour, thanks to the blend of cumin, tahini, and chickpeas, and is balanced with citrus notes. Fantastic for dipping and spreading, the Houmous pairs perfectly with premium crisps, crunchy vegetables and is the ultimate addition to any meze.
Similar to the new Houmous, Odysea's Sweet Red Pepper Meze is ideal to have on hand for dipping and spreading. With no added nasties, the dips are ideal for enjoying as part of a lunchtime picnic, or at home when experimenting with new toppings like seeds, oils and pestos. It's made from a simple blend of sweet, smoky, flame-roasted red peppers, chopped and dressed in a light red wine vinegar marinade and brings a taste of the Mediterranean and a splash of colour to your meze dishes or appetisers!
Odysea's impeccable sourcing, building relationships with producers around the Mediterranean ensures that they have a reputation for supplying authentic, quality Greek and Mediterranean food and is continued with the launch of this ambient houmous.
Nursery or children's furniture – Can a highchair bring you and your baby closer?

Can a highchair really help you bond with your baby? The hero product of the Stokke® collection for over 45 years, the iconic Tripp Trapp® Chair is the chair that grows with your child. The Newborn Set, an additional attachment for the Tripp Trapp, is suitable from birth to around six months and lifts even the youngest baby right up to the height of the table. The cosy, comfortable and ergonomic design means your baby can participate in all family situations, from mealtimes to play time.
Not only is this a highchair with a bonding focused purpose, available in a variety of colours, it is also sustainable and has a grow-with-your child functionality that ensures the chair can hold up to an 110kg/242 lbs adult, meaning your family can use it for life.
Stokke® is the leading baby brand in Scandinavia whose ethos is to nurture family bonding, having your baby closer to you and the importance of eye contact. The iconic Tripp Trapp® highchair has sold more than 12 million worldwide. www.stokke.com
Mid week treat // recipe from Owen Morgan and Estrella Galicia
Root vegetable & wild mushroom pisto, crispy cacklebean egg, truffled manchego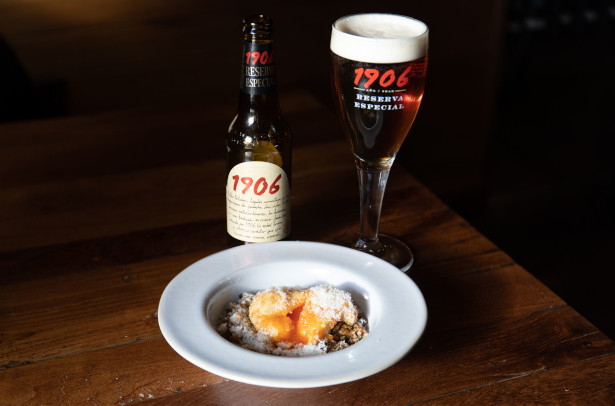 Pisto Manchego is a classic bar tapa. It is similar to a French ratatouille. This is our autumnal version, using just root vegetables instead of the normal summery Mediterranean vegetables. Topped with a deep fried rich Cacklebean egg and generous grating of truffle manchego, it's a treat any day of the week and pairs perfectly with Estrella Galicia lager.
Serves 6
For the pisto
50g dried wild mushrooms
500ml boiling water
1 butternut squash, brunoise
1 leek, brunoise
4 cloves garlic, minced
1 celeriac, brunoise
4 medium carrots, brunoise
2 tablespoons thyme leaves
25g ñora paste
100ml amontillado sherry (optional)
70g miso
Pour the boiling water over the dried mushrooms, stir and cover. Leave for 30 minutes.
After the 30 minutes strain the mushrooms, keeping all the mushroom liquor. Finely dice the rehydrated mushrooms, then sautée in olive oil and seasoning for 1-2 minutes. Set aside.
In the same pan sautée the leek and garlic together with olive oil and salt until soft and sweet ans set aside.
Then sautée the squash separately with olive oil and some salt, until the squash has softened. Set aside.
Finally, sautée the celeriac, carrots & thyme together with some olive oil and salt. Continue until softened but still with a little bite.
Put all the vegetables together in to one pot, on medium heat. Add the ñora paste and amontillado sherry. Evaporate and reduce.
Now add the miso paste and the mushroom liquor. Stir in and check for flavour and seasoning.
For the egg
6 Cacklebean Arlington eggs (or a rich free-range alternative)
Flour
2 extra free-range eggs
Panko breadcrumbs
Light olive oil
To poach the egg, heat a pan of water and bring to the boil. Crack 3 eggs at a time into the water, being careful to keep the separate. Simmer for 1 minute, then refresh in iced water to halt the cooking. Repeat with the other 3 eggs.
Lay out 3 dishes or containers, one each for flour, whisked egg (your remaining extra eggs) and panko breadcrumbs. Season your flour.
Take your poached chilled eggs from the water and blot dry, Coat in the seasoned flour, then the egg, then the breadcrumbs.
To fry, heat a saucepan 1/3rd full of light olive oil, and bring to a temperature of 180 degrees. Lower the breaded eggs in with a slotted spoon and fry for 1 minute or until golden brown and crispy.
To finish and serve
Serve on top of the pisto, with generous amounts of truffled manchego served on top.
Flahavan's Oats: The Naturally Good Choice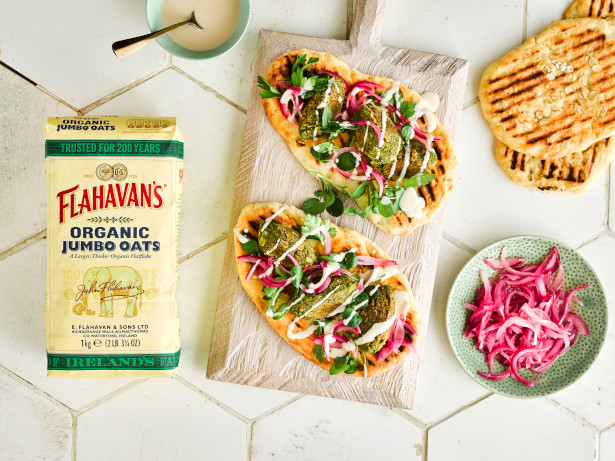 Whether you're working from home or back to the commute, fuel your day the naturally good way with Flahavan's – the UK's leading organic oat brand. Made from 100% wholegrain rolled oats, and no added nasties, Flahavan's makes enjoying wholesome oaty goodness easy – whether that's in a breakfast bowl, a delicious bake or as part of a healthy, balanced dinner.
For over 230 years, the Flahavan's family have been milling locally grown oats in Kilmacthomas, Ireland. Throughout this time, seven generations have perfected the process, resulting in the deliciously creamy oats that are the naturally good choice for breakfast and beyond.
Naturally low in salt and saturated fat too, these wholegrain oats are packed with fibre and protein to provide a slow-release energy that will keep Flahavan's fans powered up throughout the day.
Image of James 'Buddy' Flahavan and his Grandson Johnny (1987)
From portion-sized sachets for those on the move, to bigger bags that will feed the whole family, the full Flahavan's range has something for everyone.
With a natural creaminess and smooth texture, Flahavan's award-winning Organic Porridge Oats are proof that you really can buy great taste, while Flahavan's Jumbo Organic Oats are a delicious way to add a bit of bite to any breakfast.
Working from home? Take time to indulge in a leisurely breakfast and let them bubble away on the hob with milk or water (don't worry, even cooked with water Flahavan's oats are just as creamy!)
And Flahavan oats don't just make the perfect porridge… Add them to your weekend cheese & oat hash browns for a brunch full of flavour or whiz them in a seedy shake, best served cold. Fancy yourself a star baker? Flahavan's Organic Jumbo Oats make a mouth-watering raspberry oat bars or can be baked with dried fruit for a breakfast muffin worth getting out of bed for.
For those on-the-go, or just looking to enjoy a lie-in, the Flahavan's range of Porridge Oat Sachets contain no added sugar meaning they're the naturally good choice for a delicious, quick-fix breakfast. Go big on fibre with Flahavan's 3-Seed & Oat Bran, brighten busy mornings with Flahavan's Apricot, Raisin and Sunflower Seed or keep it classic with Flahavan's Original Sachets.
Looking for something a little different? Try Flahavan's Irish Multi Seed Porridge Oats, which include a blend of sunflower and hemp seeds, and enjoy a creamy, crunchy and omega-3 rich boost to the day.
For recipe inspiration, product information and more, visit www.flahavans.co.uk or head to the Flahavan's Instagram channel (@FlahavansUK).
The Flahavan's range includes:
• Flahavan's Organic Porridge Oats (1Kg) – Available from Tesco, Waitrose and Ocado. RRP £2.30
• Flahavan's Organic Jumbo Oats (1Kg) – Available from Waitrose, and Sainsbury's. RRP £2.30
• Irish Multi Seed Porridge Oats (600g) – Available from Waitrose. RRP £1.99
• Irish Original Porridge Oats (500g) – Available from Tesco, Waitrose and Ocado. RRP £1.20
• Irish Original Porridge Oats (1.5Kg) – Available from Asda. RRP £2.20
• Irish Quick Oats Drum (500g) – Available from Sainsbury's and Waitrose. RRP £1.75
• Irish Porridge Oats Original Sachets (10 x 35g) – Available from Waitrose. RRP £2.59
• Irish Porridge Oats 3 Seed & Oat Bran Sachets (10x40g) and Apricot, Raisin, and Sunflower Seed Sachets (10x40g) – Available from Waitrose. RRP £2.59
The Sunday Brunch Personalised Cookbook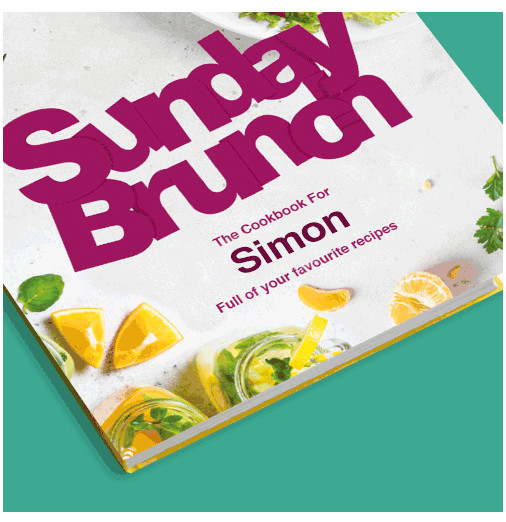 Sunday Brunch has been a massive success since it launched in 2012. Presented by Tim Lovejoy and Simon Rimmer, Sunday Brunch airs on Channel 4 every Sunday. It is jam-packed with celebrity guests, mouth-watering recipes, and amazing music. The show has a great fan-base and is a staple in many peoples Sunday morning routine. The show is relaxed, fun and easy viewing. It is this successful format which has made the show a firm favourite and inspires people to cook their recipes.
The new Sunday Brunch Personalised Cookbook is a book with a difference. Just choose the chapters and recipes that tickle your tastebuds. There are 6 different chapters, for each chapter you can choose your favourite 7 recipes out of 125 available.
The cookbook has a total of 42 recipes to choose making it completely bespoke. The book is even more special it be can personalised. Just put a recipient's name on the front cover, a personalised message inside the front cover and who is it from on the back cover. Finally, choose the front cover design and whether it is hardback or paperback to complete the amazing book.
Most cookbooks have recipes you do not like, but with the Sunday Brunch Personalised Cookbook you can ensure that every recipe is one that is loved, used, and enjoyed.
The Personalised Sunday Brunch Cookbook is available from SundayBrunch4U.com £18.99 for paperback and £19.99 for hardback.
Into the future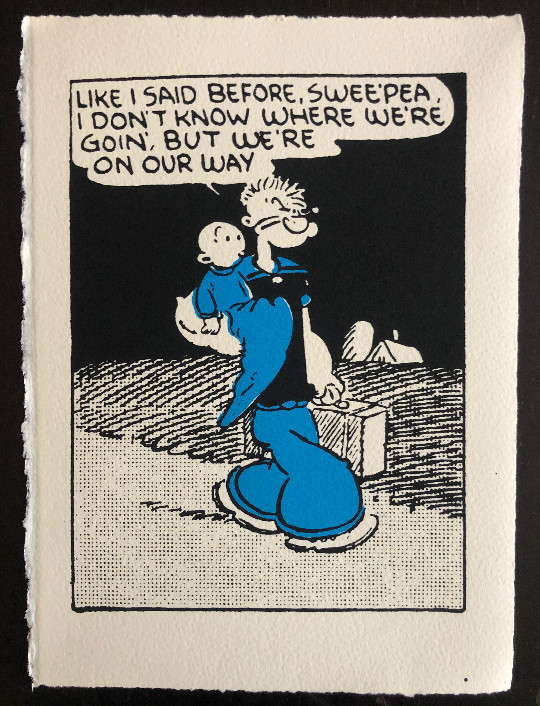 As Popeye tells Swee'Pea, we're on our way. With trepidation and a suitcase in our hands (in his case), a sly grin on our faces (like Dennis the Menace) or exhorting our friends to get a move on (as Asterix is doing).
The Popeye print is brand new, chosen for its summing up of the way we're wobbling into the future; the other two have been printed in my medium format for the first time and are now in stock and ready to go.
Buy at thecomicartwebsite.com
Hopes of a return to recreational sport crushed after announcement of a third lockdown
How a lack of accessible sport during lockdown is affecting Britain's mental health
Andre Lockhart of the London Lions discusses the importance of recreational sport and the impact it has on our lives
•30% of Brits believe the ability to play and watch sport has aided their mental health more than any other mental health aid. BAME: 36%
•Over a quarter of Brits (26%) feel most included within their community and peers when playing sports (8.1million). BAME: 37%
Last night's lockdown announcement has crushed any hopes of a return to recreational sport, with restrictions set to be in place until mid February, seeing the continued closure of gyms, leisure centres and outdoor facilities as well as a ban on team sports.
For millions across the UK, sport plays an integral role in their lives, having undisputed benefits for both physical and mental wellbeing as for many is not only a way to stay active and keep fit but a means to socialise, relieve stress and cope with the adversities of the pandemic.
To put it in perspective, a staggering 30% of Brits believe the ability to play and watch sport aids their mental health more than any other mental health aid, with these figures increasing to 37% in BAME. In addition to this, over a quarter of Brits feel most included within their community and peers when playing sport, again increased to 37% in BAME.
For many people the pandemic has caused heightened stress levels and for those living alone such restrictions have made them feel even more isolated. Now with restrictions in place until late next month these problems felt by many are only going to get worse. Physical activity is one of the best ways to improve your mental health as it has benefits on sleep, routine, concentration and mood. But, many do not have the facilities to undertake such activity with recreational sport being the only means to remain active.
Andre Lockhart, Point Guard of the London Lions is keen to discuss:
•The importance of recreational sports during lockdown
•The impact basketball has on the wider community
•What can be done to help cater for those who are unable to play sport
•Why grassroots sports needs additional support from above
Healthy Food with Love Yourself.
Love Yourself deliver nutritious and balanced food straight to your door. Using only the freshest, finest, and seasonal ingredients. Their menus constantly change to keep you excited, inspired and focus on your health targets. We've all tried to diet and ending up eating the the same thing for days on end, it's boring and destined to fail. Love Yourself believe in variety and the menus are never dull.
Love Yourself offer a range of menus from gluten free, dairy free, halal, balanced, performance, keto and many more. You'll never be stuck for choice. Their menu's all sync with the MyFitness App, meaning you can keep track of all the calories, maintaining your goals.
The meals are delivered daily, cooked fresh. Just reheat in the oven or microwave and experience the freshest and tastiest food around. All their food is locally sourced and seasonal.
Love Yourself offer a range of menus from as little as £15 each day. Visit LoveYourself.co.uk to find out more. Love Yourself works with MyFitnessPal to help track your diet, whilst LoveYourself also have their own App for IOS and Android which is full of health tips and advice.
Inward Breathwork
Inward Breathwork, is the world's first on-demand breathwork platform. The website features structured programs to reduce stress, improve sleep, boost performance, and improve mood. Breathwork makes mindfulness fun, creating a feeling of relaxation you can feel in a single session.
Professional athletes are becoming more interested in the performance advantages that breathwork can provide. From improved CO2 tolerance and increased HRV, to reduced stress response, breathwork has numerous benefits for health and wellbeing.
letsdisco.com
Disco Skincare for Men.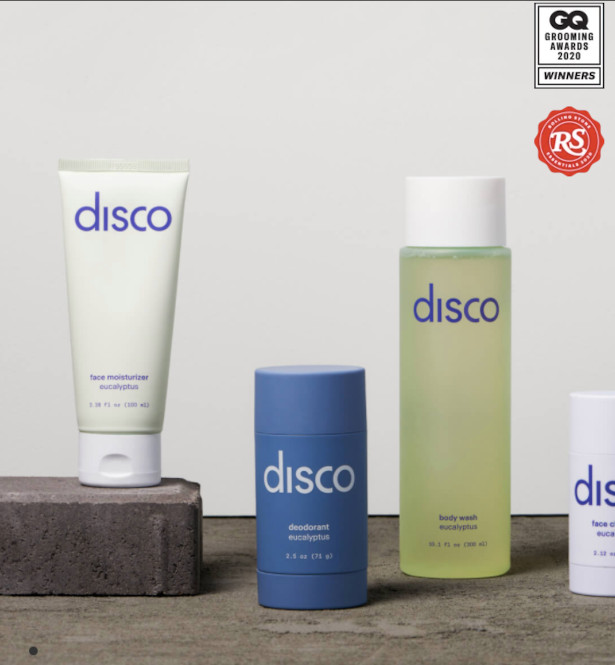 What better way to start out the year then with enhancing your body wellness products? Disco, a skin and body care brand specifically engineered for men, packages skincare and bodycare in the one-stop-shop kit. The "Basics Kit" offers a three month supply of a Face Cleanser Stick, Body Wash, and Deodorant so you get your basic care essentials in one bundle. This new year would be a great time to pamper yourself with fresh new self-care products.
rydoze.com
Rydoze

As we all know, year endings come with so many holidays and functions. While celebrating holidays, it is pretty obvious to indulge in rich food, alcohol, and so many health irregularities. And everyone wants to start their new year, leaving the toxic and harmful traits to begin a fresh new journey.
With the increasing activities and responsibilities in a busy life, people are increasingly concerned about their health. Physical activities and a proper diet can help you in the long run to stay fit and healthy. Proper diet won't help you much if you don't do enough physical activities to keep your body fit.
But to make extra time for physical activities or going to the gym regularly can be pretty hectic. It is not just going to the gym for exercises to remain in shape or lose weight. If you can lose weight, maintain your body, avoiding extra schedule, what else can be better than that!?
Cycling is the most natural and fun way to keep your muscle movements right while enjoying the view. Just because you have a busy schedule does not mean you burden yourself with activities. Think smartly to engage yourself in activities that keep your mind fresh and enhances physical activities as well.
Cycling can be a great way to lose all the extra weight you put on holidays. You will get rid of the excess weight while exploring different places on your own.
Moreover, it also saves you from spending money on fuel and vehicles. Cycles require a small amount of maintenance cost compared to the other means of vehicles. Rather than spending money on fuel and waiting in the traffic for long hours, you can spend the money elsewhere as well.
You can also tag along with people or enjoy alone visiting many outdoor places by cycling. It is not only beneficial to your physical and mental health but also for the environment.
Daniel Atlas
Founder of Rydoze
Website: www.rydoze.com
landofrugs.com
Land of Rugs Online LTD
"Some people will tell you that you can do a wide range of things whilst in lockdown, such as starting a brand new business or improving your physical and mental fitness. This is completely true! However, not everyone wants or needs to do this and that is completely okay too! One of the greatest things you could do whilst in lockdown and working from home (or on furlough) is to re-decorate or renovate your home. Many people complain about how much they want to do to improve their home but never have the time, thanks to family commitments and work etc. Now, with many people spending all their time at home and some people even on furlough, they now have a lot more free time! Re-decorating your home is a great way to make productive use of your time, and can improve your mental health at the same time thanks to the sense of achievement. So why not go for it?"
Name – Ryan Jones
Company – Land of Rugs
www.landofrugs.com/
Mouth Off – the first and only dissolving gum that actually eliminates bad breath vs temporarily masking like all other products on the market today. With everyone wearing masks constantly, everyone has become much more aware of their breath and we have a solution that truly works.
Working out and sports can give you dry mouth — which causes bad breath.
Mouth Off Dissolving Gum
Patent-pending formula is activated as you chew to remove the cause: bad breath molecules (aka sulfur compounds). Benefits last 4 hours. No other product is able to do this as other gums, mints and strips only trick you into thinking bad breath molecules are gone with a flavor that fades away..
Formula is all plant-based, sugar-free, no artificial sweeteners, flavors or colors, no plastic (yes, many gums on the market today actually have plastic in the gum base.
Product dissolves in under 60 sec as you chew. This is all the time Mouth Off needs to clean your breath of bad breath molecules. Plus, no need to find a place to spit it out, which is convenient. It won't create litter, won't be found under a bench or get stuck to your shoe.
We're taking pre-orders now and start shipping at the end of Jan.
Elements™ Fitness Studio: The best-in-class, barre fitness experience. Utilizing owner and founder, Andrea Fornarola's unique signature movement formula, Elements™ features results-driven, high-energy classes, and inspiring instructors with a 360 lifestyle focus. Elements™ has quickly gained popularity and amassed a loyal following throughout the US. With a central studio location in East Hamptons and a new studio opening up on the Upper East Side in NYC by the end of this year, Elements™ has become a celebrity favorite workout hot spot focused on transforming bodies, changing lives and creating community. They are currently offering packages for their virtual classes and virtual classes live from their East Hampton Studio that could be the perfect gift for your health and fitness conscious subscribers!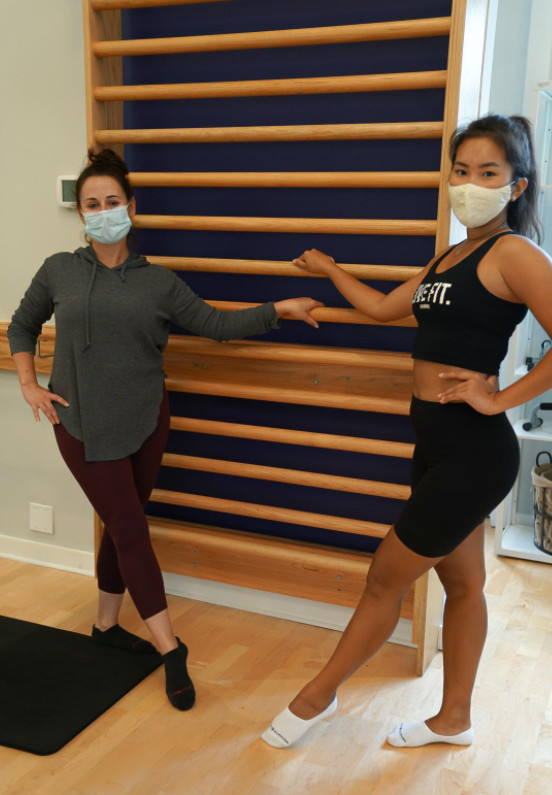 Link to buy class packages: www.elementsfitnessstudio.com/pricing/virtual/?_mt=%2Fbuy%2F48751
Link to Order the Elements Barre: www.elementsfitnessstudio.com/pricing/virtual/?_mt=%2Fbuy%2F48751
IG: @elementsbarrefit
Designer Sheds
Founder's Lockdown Ideas For 2021
One great self-improvement project for lockdown is to overcome shyness and improve your interpersonal confidence. It may seem like quarantine is an unideal time to do this, but the fact is that video calls are a great way to start out and make some real improvements.
So many clubs and businesses have shifted to an online-first presence, offering the chance for people to meet with others via their computer screens. If you've always dreaded public speaking, virtual meetings are a great way to improve in a low-pressure environment. Try maintaining eye contact with the other person on the screen—you'll find it easier to do so when face-to-face soon after. Clear, enunciated speech is also more essential than ever when speaking through headphones and computer speakers.
Clubs like Toastmasters and other social groups provide a great structure for these opportunities. Better yet, you have the chance to make new friends and acquaintances as well—a must-have in our era of social distancing.
Founder @ Designer Sheds – www.designersheds.com.au
Freeletics Fitness/Wellness App
Are you familiar with Freeletics They are a must-include! One of the biggest fitness + wellness apps globally (huge in Europe with 50M+ users and expanding into the U.S.), they offer personalized AI based workouts (more than 3T workouts), customized workouts from celebrities, equipment, mindfulness audio courses, nutrition (health tips) and more.
It's a mobile app that can be accessed on iOS and Android and has a Fremium model.
Protein2o, theindustry's first plant-based, vegan protein water.The protein-infused water is backed bypower players that come from GNC and Pepsi,as well as NFL '85 Chicago Bears Super Bowl great Matt Suhey and former Gatorade President Sue Wellington.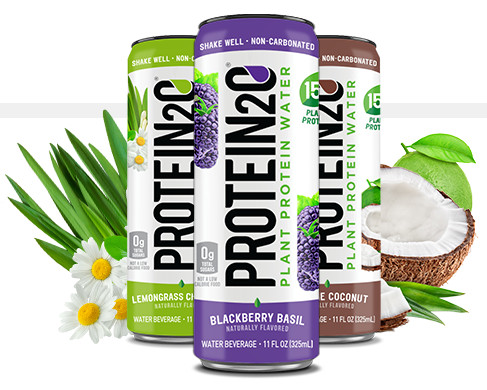 Each can contains 15g of non-GMO pea protein isolate and is under 80 calories – at least 40% fewer than the leading plant-based ready-to-drink options. Protein2o protein water also contains no artificial ingredients and is vegan, soy-free and gluten-free – perfect for throwing in the car for a beverage that will keep your hunger at bay, and more refreshing than protein shakes.
ivee, an at-home IV therapy app. We're on a mission to make health services accessible. Our customers love the app and are generally invested in wellness, fitness, and anti-aging; ivee works for all three!
Here's how it works: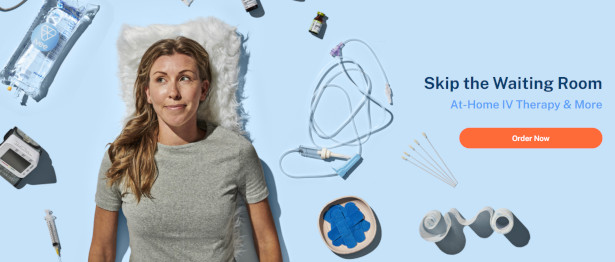 Step one: Select one of our services, with several available
Step two: Schedule your appointment. With our ASAP option, a nurse will be to you within as little as an hour.
Step three: Enter your location, wherever you may be. Your nurse will contact you when they're close
We believe the future of health is at home. Our platform empowers patients to order and receive health and wellness services from the comfort of their couch that helps them look and feel great.
The first in a new series of children's books – Grumbalina and The Day Everything Changed has been released, written by author Karina Fredericks.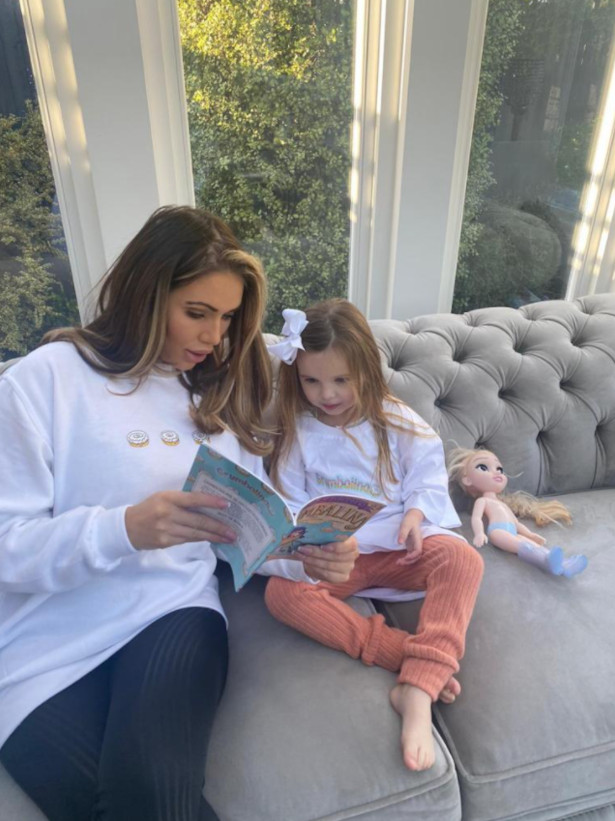 A delightful and colourful new set of books aimed at children aged 4 and upwards, with fun illustrations and imaginative and relatable storylines.
Grumbalina and her fairy friends live in the exciting world of Puff Town, where they learn about life, friendship and how to get along.
But it's not all fun and games as Grumbalina realises that summer is over and that has to go back to school where she struggles to learn her spells and doesn't have many friends. But everything is about to change very quickly…
RRP £8.99 but currently available with a special launch price of £5.99
Books and a range of new merchandise available from: grumbalina.com/ or follow @GrumbalinaOfficial on Instagram.
Generational Play
Plum Play was founded by Jonathan and Diane Schaffer in 1988, they balanced their time running a successful family business and enjoying their three young children. They knew by keeping their children active it would help their imaginations run wild. Their son Paul Schaffer did his ABC's sat on Jonathan's handlebars as he cycled him to school or his next football match. Today Paul is the Managing Director of Plum Play and successfully leads the brand's drive to create new fans across the world. From trampolines to sandpits, treehouses to scooters, Plum offers it all, in a fun, vibrant and active way.
Not all Managing Directors can say they've worked their way up through the business. Paul Schaffer grew up watching his parents build a little empire. From as a young age Paul was picking screws, lifting, folding leaflets and packing boxes for his family's successful company.
Paul wondered how they struggled to switch off after a hard day's work. Something Paul fully understands now. "Plum Play is my family, it's very personal, every little screw, every little thing we do matters." He quickly realised there is no off button. "When it is your business, work never really stops, it comes with you everywhere. I am always thinking on how to improve and innovate." Whilst this can be stressful, Paul, like his parents uses this energy to drive the business forward.
Paul's attitude is all about hard work and encouraging his staff to improve "You can lead, manage but ultimately it is what you and your staff have in them to succeed that matters. If you have pride it shows, you work hard and ultimately succeed, it can't and won't come by itself." It is this analytical approcah and attention to detail which has made Plum the success they are today.
After studying in Sydney, Australia Paul landed a job at Ernst Young where he put his analytical, accountancy and numeracy skills to the test. Paul was excelling but had always had ambitions to return to Plum as long as the right opportunity was there. In 2015 his returned as General Manager, then moved to Commercial Director and finally taking the helm as Managing Director in 2019. Paul is fascinated with how business works, fixated with analysing the fundamentals "If you look after the little bits in a business, they soon add up to be big bits."
Plum recently entered the US market. Something which could have been a risky move but for Paul it wasn't. "It is like chess, I knew we couldn't afford to enter the market and break even, we had to commit and make a success of it." Paul's confidence and strategic planning helped Plum achieve record growth.The company is estimated to turnover in excess of £50m in the next few years. "The most important thing is ensuring all of our products are of the highest safety and quality. If we keep our customers happy, they come back." Plum now trades in over 40 countries.
The first lockdown was a shock to the industry but under Paul's leadership Plum sold out of many lines in record time. "People were stuck at home, they knew they had to keep their children active and our trampolines, climbing frames and tree houses were the perfect fit".
Paul has worked in every area of the business and is always the first to roll up his sleeves to get things done. "I enjoy getting on the phones, packing boxes or building, it helps me see things that I can improve. It is this unique leadership style which helps Plum continue to thrive. "I like to get involved, I know how everything is built, everything is done and wouldn't have it any other way, I like to be involved from the ground floor to the boardroom."
Despite having successful sales in the first lockdown Paul was ever the perfectionist used it as an opportunity to improve. "We sold out so quickly and had a limited warehouse with the Covid guidelines, it slowed everything down and some customers were upset that some orders were slow getting out."
Paul realised his customer service team were under strain and jumped in to help to help them. "It was an emotionally draining time. One of the reasons I love Plum is that everyone jumps in to help, not just me. We have a great team mentality and will always look out for one another."
Paul recently joined the SME council. He is keen to support businesses when he can. Paul's commitment to creating high quality and innovative products will continue to help his family business stay at the top of their game for years to come.
Plum Play www.plumplay.co.uk/
With trepidation many of us are slowly and quietly stepping into 2021. By Dee Scown
While annus horribilis 2020 has passed over, it's repercussions will be felt for a while and just like grief the waves will get smaller and further apart as we move forward, and move forward we must. The terrain we work and train in is changing, moving more towards technology which, if we are honest with ourselves was going to happen one way or another.
If you already work digitally, then consider how you can increase and expand your businesses. Brainstorm with your crew, whoever they are and see what possibilities may lie ahead for you.
Got a "bricks and mortar" business that has struggled to keep it's head above water? Are there other skills you have overlooked that may offer new or different opportunities? Can you train in other areas? Or are there innovative ways you can continue to provide your current services in a different way? Once again brainstorm with someone to open up your imagination to possibilities.
To everyone, I ask, do you have more than one source of income? Eggs and baskets, you know the deal, now more than ever it is critical that you have choices and options so that you can ride out challenges more effectively.
How many income streams you ask? No more than 10, after that is gets a tad hectic and unruly. For some that may sound like a massive time commitment and huge load, but it doesn't have to be. We are not talking full time jobs here, they don't all need to be devouring our lives or creating a massive income (all though the money would be perfectly acceptable). What is needed is 1 or 2 mainstays, with a range of alternatives that can be scaled should they be needed.
We run a Seed Grading company, that is currently our first mainstay, the second being my coaching stream, others in the mix include a retail business for my husbands art work and other small options.
An example:
Online "shopping club" business (not retail)
Over a 7 year period
Savings on expenditure $18,600
Loyalty dollar value (taken in goods) $ 5,250
Cheques/cash straight to account $13,000
Total $36,850
$440 per month back in the pocket for shopping and recommending every day consumables, this is easy money, and halves my time in supermarket! Should an alternative stream slow, or is for some reason halted then this one can be scaled. It also helped me back from being bedridden but that is another story.
You can see from this that all we need to do to scale a basket is feed the specific advertising "chicken" so that more dollars can be laid.
New opportunities are opening up all over the world for anyone wanting to work online, consider the increasing need for education not just for children via their parents, but also adults wanting to retrain.
What expertise do you have that others could benefit from?
Can you collaborate with others to offer a service or product that you love?
This really is a time to look at what you LOVE to do and see if that offers income possibilities, there are people out there making a living doing hobbies and passions that one could never have imagined, start imagining now.
May 2021 open doors unseen, to a future you, previously unimagined!
Tested Tradition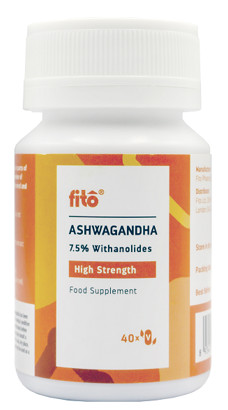 Ashawagandha may be hard to say (ash-wa-gan-da) and be little known in the UK, but it is one of the most important herbs of Ayurveda (a traditional system of medicine in India). A small shrub, extracts from the plant are associated with a host of health benefits, from helping with a range of age related health issues to improving athletic performance.
If you're prone to scepticism when it comes to 'traditional' medicines, which may be justified at times, you might be interested to know that there has been a large number of studies published on the possible benefits of ashawagandha; highlighting its huge potential…
Sleep
In a study1, published in August this year, 80 people were given either a placebo or ashawagandha for eight weeks and various sleep parameters were measured, as well as participants filling in sleep questionnaires. It was found that those taking ashawagandha slept significantly better than those in the placebo group, particularly if they previously suffered from insomnia.
Stress and anxiety
A study2 involving 58 men and women assessed the effectiveness of ashawagandha extract at reducing stress and anxiety. Participants were given either ashawagandha extract or a placebo for eight weeks. At the end of the study it was found that those in the ashawagandha group had significantly reduced their scores on a perceived stress scale, as well as reducing their cortisol levels (a hormone strongly linked to stress). Those in the ashawagandha group also found their sleep improved over the study period.
Waistlines
Perhaps linked to the above, research has also shown ashawagandha may help with our waistlines. Chronic stress is often associated with weight gain and in a study3 52 people under chronic stress received either a placebo or ashawagandha for eight weeks. Those participants taking ashawagandha were found to be less stressed, had less food cravings, were happier and their body weight had reduced, compared to those takin the placebo.
Exercise
An eight week study4, involving 57 men, saw participants consuming either an ashawagandha extract or a placebo whilst undergoing resistance training. The results showed, compared to those taking the placebo, those taking the ashwagandha extract had significantly greater increases in muscle strength, as measured when bench-pressing and doing leg-extensions, and significantly greater muscle size increase, in their arms and chest. Compared to the placebo subjects, the subjects receiving ashwagandha also had significantly greater reduction of exercise-induced muscle damage (as indicated by the stabilization of serum creatine kinase), significantly greater increase in testosterone level and a significantly greater decrease in body fat percentage.
Other research5 has shown that ashwagandha may be able to improve people's VO2max. VO2 max, also known as maximal oxygen uptake, is the measurement of the maximum amount of oxygen a person can utilize during intense exercise. It is a common measurement used to establish the aerobic endurance of an athlete prior to or during the course of training.
How to use ashwagandha
Fito is an expert producer of natural remedies, with over 20 years of experience, whose ashwagandha capsules offer an easy and convinient way to include the herb in your diet. Fito's vegan capsules offer a high strength and quality ashwagandha supplement – it is a standardised extract with a guaranteed content of withanolides (7.5%); an important active component of ashwagandha.
Now on offer in Grape Tree stores, and their website, for just £4.99 (normally £8.99) for a 40 capsule tub.
Please note: DO NOT take when pregnant (There is some evidence that ashwagandha might cause miscarriages) or breast feeding. Consult a doctor before use if suffering from any medical condition, on any medication, or about to undergo surgery. Consult your doctor before use if at all unsure whether ashwagandha is suitable for you and stop use immediately, and consult a doctor, if any adverse reactions occur. Use may cause drowsiness.
1. J Ethnopharmacol. 2020 Aug 17;264:113276. Clinical evaluation of the pharmacological impact of ashwagandha root extract on sleep in healthy volunteers and insomnia patients: A double-blind, randomized, parallel-group, placebo-controlled study. Deepak Langade 1, Vaishali Thakare 2, Subodh Kanchi 3, Sunil Kelgane 4
2. Cureus. 2019 Dec 25;11(12):e6466. Adaptogenic and Anxiolytic Effects of Ashwagandha Root Extract in Healthy Adults: A Double-blind, Randomized, Placebo-controlled Clinical Study. Jaysing Salve 1, Sucheta Pate 2, Khokan Debnath 3, Deepak Langade 4
3. J Evid Based Complementary Altern Med. 2017 Jan;22(1):96-106. Body Weight Management in Adults Under Chronic Stress Through Treatment With Ashwagandha Root Extract: A Double-Blind, Randomized, Placebo-Controlled Trial. Dnyanraj Choudhary 1, Sauvik Bhattacharyya 2, Kedar Joshi 3
4. J Int Soc Sports Nutr. 2015 Nov 25;12:43. Examining the effect of Withania somnifera supplementation on muscle strength and recovery: a randomized controlled trial. Sachin Wankhede 1, Deepak Langade 2, Kedar Joshi 3, Shymal R Sinha 4, Sauvik Bhattacharyya 5
5. Nutrients. 2020 Apr 17;12(4):1119. Effects of Ashwagandha ( Withania somnifera) on VO 2max: A Systematic Review and Meta-Analysis. Jorge Pérez-Gómez 1, Santos Villafaina 2, José Carmelo Adsuar 1, Eugenio Merellano-Navarro 3, Daniel Collado-Mateo 4
6. Phytother Res. 2008 Oct;22(10):1342-8. The relationship between chondroprotective and antiinflammatory effects of Withania somnifera root and glucosamine sulphate on human osteoarthritic cartilage in vitro. Venil N Sumantran 1, Rucha Chandwaskar, Asavari Kulkarni Joshi, Sanjay Boddul, Bhushan Patwardhan, Arvind Chopra, Ulhas V Wagh
7. J Ethnopharmacol. 2020 Jun 28;256:112769. Neurodegenerative diseases and Withania somnifera (L.): An update. Nawab John Dar 1, MuzamilAhmad 2
FROM MICROS TO MACROS, IDEALFIT HAS YOUR NUTRITIONAL NEEDS COVERED
Supplement Your Diet and Supercharge your Health…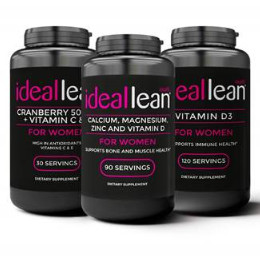 With 79% of adult women taking dietary supplements1, the nation's appetite for health supplements is growing.
Including Cranberry 500mg + Vitamin C & E, Vitamin D, and Calcium, Magnesium, Zinc and Vitamin D soft gels, IdealFit's Immune Support Bundle helps promote a healthy immune system, while supporting bone health and muscle function2.
Priced at $35.99, IdealFit's Immune Support Bundle is designed to ensure you feel as good as you look, so you can get the most out of your work out.
EXPERT INSIGHT INTO THE FITNESS TRENDS OF 2021
Steven Virtue, Fitness Development Manager at Total Fitness provides his insights into the top fitness and industry trends of 2021
AS WE prepare for 2021, Brits are looking for new ways to revive their workout routines with the latest industry trends, classes and techniques.
The start of a new year provides the perfect chance to get yourself feeling motivated, set yourself new, achievable goals and identify what you want to get out of your fitness journey.
To lend a helping hand, Steven Virtue, Fitness Development Manager at Total Fitness, the North's leading mid-market health club, shares his predictions for the fitness trends we're expecting to see in the new year.
Remote Coaching
In the wake of Covid-19 remote coaching is set to be a big trend for the new year. It's a great way to motivate you to train both at home or in the gym, as it allows you to work one to one with your coach or personal trainer on an online platform. You can receive regular workouts which provide you with fresh fitness content to train to and the remote model allows you to post your results from each session on the platform, so your trainer can review your progress and make recommendations for the next session.
Covid-19 restrictions have encouraged more and more gyms and trainers to expand their online presence to encourage more people to be able to train no matter where they are. This trend will help to keep people motivated and allows them to fit fitness around their lifestyle. Members of Total Fitness can access digital content via the members app, to keep their training on track at home.
Wearable Technology
Although not a new trend, wearable fitness technology has been an extremely popular, staple trend which is set to continue into 2021. Since its insurgence in 2015, this has been one of the most discussed subjects in fitness and is continuing to develop as the years go on.
Fitness tracking devices provide an in-depth look at your physical activity and the smart technology offers recommendations to improve your daily exercise routine. Providers such as Garmin, Polar, Fitbit and Apple watches are all great devices and will help to keep you on track with your fitness goals.
Wearable technology has been proven to help keep the wearer on track with their fitness goals and these pieces of tech can record data specific to the users' requirement and activity trends, which is what makes it so appealing to the wider demographic – it makes fitness more personalised and transparent. Marry this up with fitness technology being more and more accessible and this a great staple trend for those wanting to stay motivated in the new year.
Covid prescribed fitness training
For those who have contracted Covid-19 and are looking to continue with their normal fitness routine, it's important that they reintroduce exercise slowly with a gradual build-up. There is increasingly more being understood about the long and short term ramifications of the virus so it's vital that those who are recovering do so safely. We know the virus is a respiratory disease and so it's important not to try and do too much too soon following recovery, especially cardio-based exercises which can take a toll on the lungs.
There has been an increase in training providers offering Covid-specific fitness courses in recent months, with the main intent of introducing members back into the training environment whilst closely monitoring cardiac problems and long-standing lung issues.
There is still much to learn about the virus and the various ways it can affect your physical self, but it's likely that this fitness trend will become more important in 2021, as we learn more about Covid-19.
Virtual Fitness
Virtual fitness training is class based and can be completed online, in gyms on a main screen or on equipment. This type of training is on the rise as it provides a great solution for people who prefer to exercise in the comfort of their own home or on a relaxed schedule in their local health club.
The likes of Les Mills classes and Life Fitness on demand, which we offer in our Total Fitness clubs, also helps those who are classed as high-risk in the current pandemic to exercise safely as they have less exposure to others while doing so. Covid-19 has definitely impacted the popularity of this type of training, although more and more operators are leaning to this form of fitness delivery as a solution to timetabling programming – it's a trend we expect to see more of in 2021.
Outdoor Fitness Training
Lockdown has seen a rise in fitness bootcamps in parks and outdoor spaces around the country and is something which looks to continue even whilst gyms are open in the new year. Bootcamps and outdoor fitness, such as running and cycling have been keeping the nation fit and is still very much alive, as it provides people with an opportunity to mix up their fitness routine and get outside in the fresh air when they can't attend the gym.
Total Fitness is the leading mid-market health club in the North and provides more ways to get fit, stay in shape, and more support to keep members focused. With 17 health clubs across the North of England and Wales, Total Fitness provides a full-service fitness offering; guided by knowledgeable and supportive fitness teams, the brand works hard to meet the individual needs of its members.
For more information, please visit: www.totalfitness.co.uk
Dry(ish) January
Did you know that more than 6.5 million adults intend to participate in Dry January – up from 3.9 million last year (source: Alcohol Change UK)? That's the equivalent of one in five of people who drink alcohol.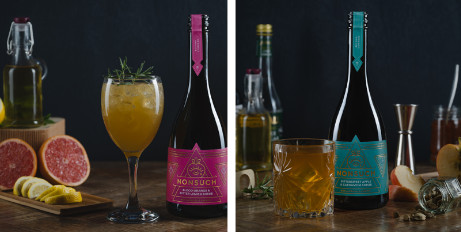 It got me wondering whether you're planning any content for Dry(ish) January? I'm not sure whether the nation will be going fully tee-total, given the year that we've had, but I do think the population might try to take a more mindful approach to their alcohol consumption to kick off the new year.
I've shared some of my clients who would fit the bill for a round-up like this below.
NONSUCH SHRUBS – for the trend hunters
Shrubs are fruit and vinegar based syrups that add depth and complexity to both alcoholic and non-alcoholic serves. More than a simple cordial, due to the mouthfeel attained by the vinegar element of the shrub, the syrups can either be added to non-alcoholic cocktail recipes or simply be mixed with tonic or soda to create an impressively delicious non-alcoholic serve. For those looking to participate in mindful drinking come January, Nonsuch has four flavoured shrub syrups available: Caramelised Pineapple & Ginger, Wild Hedgerow & Rose, Bittersweet Apple & Cardamom and Blood Orange & Bitter Lemon, as well as an array of pre-mixed shrub sodas.
Nonsuch products are available to purchase from the Nonsuch online shop, prices as follows:
Syrups (1 x 500ml bottle RRP £22)
Sodas (3 x 250ml bottles RRP £9.99 / 6 x 250ml bottles RRP £18)
HAYMAN'S SMALL GIN – for the mindful drinkers
For those who don't want to forego alcohol entirely but are looking for a more mindful approach, Hayman's Small Gin offers all the joy of the gin & tonic moment with 80% less alcohol and 80% less calories than a regular serve. The brainchild of London's family gin distiller, Hayman's, Small Gin packs all the flavour of a regular gin and tonic in a guilt-free format for those after a lower alcohol yet full-flavoured serve. Due to an increased intensity of botanicals used in the distilling process, each thimble sized serving offers the same delicious drinking experience of a regular gin and tonic but with reduced alcohol and only 40 calories when served with light tonic.
Hayman's Small Gin is available to purchase from the Hayman's online shop RRP £26.
ESTRELLA GALICIA 0,0% – for the comfort seekers
Estrella Galicia Alcohol Free Beer 0 ABV
Estrella Galicia is renowned for being a beer that pairs effortlessly with great food due to its light body and fine texture. The aromas provided by the hops and the light flavour of malt make it easy to drink and the perfect refreshing beer to enjoy. Estrella Galicia 0,0% offers all the great taste of enjoying a regular Estrella Galicia beer, without needing to worry about the after-effects or health implications of alcohol consumption. Perfect for pairing with winter warmers this January, such as pies and stews.
Available to purchase through the Greene King online shop, £9/6x330ml
Leading sleep expert, Silentnight, is running some dreamy January deals across Sleepy People's website this month, so you can start the new year off with some bedroom and bathroom bargains!

Please see the dreamy discounts below:
PILLOWS
Silentnight Pure Cotton Pillow Pair = WAS: £21.99 NOW: £16.49 (25% off)
Silentnight Soft as Silk Pillow Pair = WAS: £26.99 NOW: £17.54 (35% off)
DUVETS
Silentnight Pure Cotton 4.5 tog Duvet (sizes single, double and king) = WAS: from £26.95 NOW: from £20.21 (25% off)
Silentnight Pure Cotton 13.5 tog Duvet (sizes single, double, king and super king) = WAS: from £29.99 NOW: from £22.49 (25% off)
BEDDING
Silentnight Classic Check Duvet Set (sizes single, double, king and super king) = WAS: from £22.99 NOW: from £17.24 (25% off)
Silentnight Waffle Fleece Duvet Set (sizes single, double, king and super king) = WAS: from £27.99 NOW: from £22.39 (20% off) – available in blush, charcoal, champagne and platinum
Silentnight Pure Cotton Duvet Set (sizes single, double, king and super king) = WAS: from £54.99 NOW: from £32.99 (40% off) – available in cream, duck egg, silver and white
THROWS
Silentnight Luxury Matalasse Bed Throw = WAS: £95.99 NOW: £57.59 (40% off) – available in charcoal, ochre and white
Silentnight Waffle Fleece Pom Pom Throw = WAS: £19.99 NOW: £15.99 (20% off) – available in petrol, ochre and platinum
TOWELS
Silentnight 100% Cotton 2 Piece Bath Towel = WAS: £20.99 NOW: £17.84 (15% off) – available in natural and white
Silentnight 100% Cotton 4 Piece Bath Towel = WAS: £29.99 NOW: £23.99 (20% off) – available in grey stripe
Silentnight Plain Towels (available in bath sheets, bath towels and hand towels) = WAS: from £24.99 NOW: £14.99 (40% off) – available in silver, white and charcoal
Offers run from January 1st – January 14th across the Sleepy People website.
The Dominic Effect is an app that you can download directly on your phone or tablet.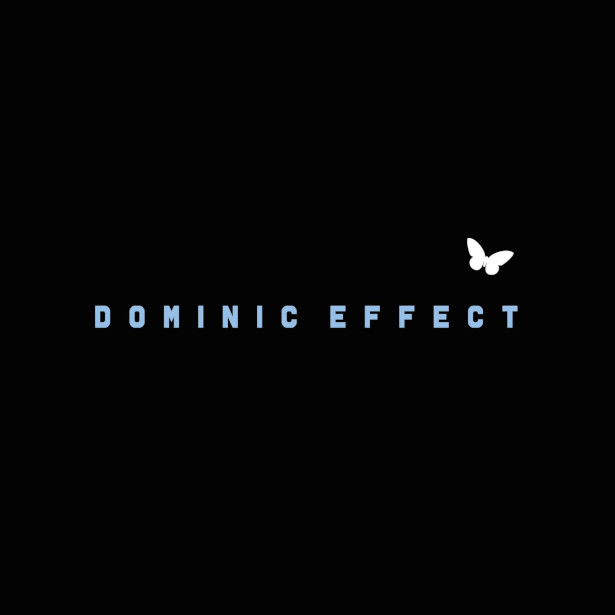 The Dominic Effect app aims to make users feel their best both inside and out, with a focus on doing the internal work needed to meet your goals. The app includes customized workout and meal plans, grocery lists, hundreds of recipes, cooking tips, meditations, mindfulness coaching and even live streamed workouts all curated directly by celebrity trainer Dominic Anthony.
Socials
App
Landing Page:www.dominiceffect.com
Instagram: www.instagram.com/dominiceffectapp/
Facebook:www.facebook.com/DominicEffectApp/
Twitter: twitter.com/DominicEffect20
Fitness
Instagram : www.instagram.com/Dominicanthonyfitness/
Facebook:
www.facebook.com/Dominic-Anthony-Fitness-Wellness-706511466191898
ivee, the at-home IV therapy app.
iveeapp.com

They're on a mission to make health services accessible. Customers love the app and are generally invested in wellness, fitness, and anti-aging; ivee works for all three!
Here's how it works:
• Step one: Select one of our services, with several available
• Step two: Schedule your appointment. With our ASAP option, a nurse will be to you within as little as an hour.
• Step three: Enter your location, wherever you may be. Your nurse will contact you when they're close
They believe the future of health is at home. Their platform empowers patients to order and receive health and wellness services from the comfort of their couch that helps them look and feel great.
The Alfred Hitchcock London Walk with Sandra Shevey.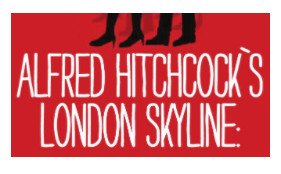 Sandra interviewed the director in 1972 and began the homage tour in 1999. Tours highlight the director`s love of monuments and landmarks from 3 classic Hitchcock films: `Frenzy`, `The Man Who Knew Too Much` (1956)and `The Paradine Case`. Tours, virtual and live, include sound bites from the rare exclusive 3 hr 1972 interview. Tours run daily 11am for 3 hrs. Information at sandra_shevey@yahoo.com www.alfredhitchcockwalk.wordpress.com
Sandra, a celebrity interviwer, also offers `The Other Side of Lennon`London Walk based on the eponymous biography by Sandra `The Other Side of Lennon: John Lennon vs. Sandra Shevey`. www.sandrasheveybooks.wordpress.com Tours include sound bites from Sandra`s marathon 12 hr interview with Beatle John in NYC in 1972.
Check out sound bites at sandrasheveyinterviews YouTube
Discover The Great Outdoors
The Plum® Discovery Woodland Treehouse is for natures little ambassadors. It encourages children to embrace nature as they explore the world around them. As they climb and slide children can enjoy the great outdoors and get a little messy.
With a built-in mini garden little one can create their very own eco centre. Plant, water and tend to the sprouting buds and flowers with the pail and pulling rope. It comes with garden tools to help children become keen gardeners.
The Plum® Woodland Treehouse combines active and educational play all year round. Children will interact with nature as they discover wildlife hiding in the garden, engaging in active play as the seasons change. The Treehouse is great for learning all about mini-beasts, plants and nature. The treehouse has a see-through, easy-clean screen for painting, complete with paint brushes and mixing pots.
The Discovery Woodland Treehouse encourages physical development as children climb and slide. Ideal for exploring the great outdoors and loving nature in your own garden.
The Discovery Woodland Playhouse costs £479.99 from PlumPlay.co.uk

BULK POWDERS REBRANDS TO BULK™ IN MAJOR SHAKEUP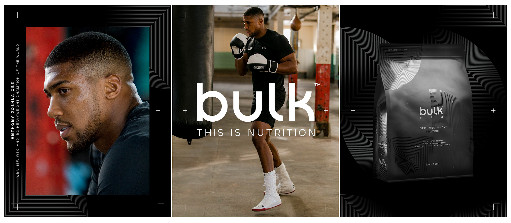 The UK's leading sports and active nutrition brand unveils major rebrand to broaden consumer appeal as more people switch on to the benefits of active nutrition
Bulk Powders rebrands to bulkTM as it looks to create a more inclusive customer experience, consolidating its extensive range of products to appeal to a wider lifestyle audience
bulkTM announces its commitment to sustainability, entering 2021 with over 95% of its capsule and tablet packaging now recyclable and 93% of pouches now home compostable and plastic-free
Heavyweight Boxer Anthony Joshua and Olympian Katarina Johnson-Thompson spearhead the launch as lead brand ambassadors
cidimage002.png@01D6D86F.BE88E3A0
Bulk Powders has rebranded to bulkTM in a major move which sees the brand reimagine its entire look and feel and consolidate its extensive range of products – making them easier to shop and demonstrating that it understands the changing needs of consumers in an evolving fitness and nutrition landscape.
Ushering in a new era, the rebrand aims to create a more inclusive experience and broaden engagement beyond the brand's current heartland of avid gym-goers and professional and semi professional athletes; making the leap from a perceived functional range of products, to an aspirational lifestyle and nutrition brand.
bulkTM can count world heavyweight boxing champion Anthony Joshua and world champion heptathlete Katarina Johnson-Thompson as brand advocates, both starring in the brand's new-look imagery and video content to support the relaunch and new brand positioning.
With a new name, new logo, new outlook and new ambition, bulkTM is focusing its efforts beyond its award-winning products – showcasing its wealth of knowledge and expertise to support its customers goals and to ensure that everyday active nutrition is accessible to all consumers.
bulkTM was formed in 2006 by Elliot Dawes and Adam Rossiter who met at Essex University, turning a £3,000 loan from their parents into a brand that expects revenues in excess of £100m in 2021. bulkTM now boasts an impressive portfolio of nearly 1500 products and employs 300 people.
An integral part of the rebrand sees a renewed focus on sustainability. Entering 2021, bulkTM has switched 95% of its capsule and tablet packing from plastic to aluminium, which is one of the most widely recycled materials in the world. And 93% of its pouches are now made from compostable, plastic-free materials – resulting in over 12 million pieces of single-use plastic being eliminated from their supply chain in 2021. This innovation in the sector is a real signal of the brand's commitment to sustainability, driven by a total overhaul of its packaging infrastructure.
Product is still at the heart of the business, and bulkTM prides itself on producing the highest-quality supplements from premium, sustainably sourced ingredients – to create the very best formulas with delicious flavours. The company has an extensive range of training and lifestyle products which encompass all facets of nutrition: protein, performance, vitamins, superfoods, meal replacements, vegan supplements and foods. The complete product range can be shopped exclusively at bulk.com
Speaking about the rebrand, Elliot Dawes Co-Founder and Chief Growth Officer of bulk™ said: "At bulkTM we constantly push ourselves to be the best and have done since day one. We want to be the sports and active nutrition brand for everyone; inspiring every person to create their own life-changing journey with the right nutrition and expertise. This has meant producing the highest-quality supplements and offering the best brand experience to create a community our customers return to again and again.
As we look ahead to 2021 and beyond, now feels like the right time to introduce the rebrand to the world. With a change in look, comes a renewed energy and focus on creating a more inclusive experience for our customers and their ever changing needs. Health is more than protein shakes and vitamins, so we needed to take a more holistic approach – enabling our customers feel good and live well. We are incredibly excited to usher in the new bulkTM era and look forward to switching even more people on to the benefits of sports and active nutrition."
Adam Rossiter Co-Founder and CEO of bulk™ added: "We are dedicated to creating world-class nutrition to support every athlete and every person, no matter their goal. To do that, we needed to establish our place in the lifestyles and daily routines of our customers, adapting to their changing wants and needs. We've consolidated our extensive range of products to make them easier to shop and easier to understand – developing a simple and consistent brand look and feel to make our customers proud to have a bulk product on their shelf.
Further to this, we are giving immense focus to sustainability and the carbon footprint of our business, completely overhauling our packaging and manufacturing infrastructure resulting in a new approach to how we produce our products. We're thrilled to say that entering 2021, over 95% of our capsule and tablet packaging is recyclable and 93% of our pouches are completely plastic-free and home compostable."
bulkTM is on track to break the £100m revenue mark in 2021, continuing to build on the emerging trends in the industry, namely the growth of veganism, health foods, and a growing consumer focus on health and wellbeing.
bulk™ recruited Leeds-based strategic branding consultancy, Robot Food, to support with the rebrand, creating the brand's new-look visual identity, logo and wordmark.
British basketball: fighting for survival through Covid
Covid's impact on UK sport
Vince Macaulay, Head Coach of the London Lions discusses Covid's impacts on the sport and what needs to be done to survive the pandemic
2020 was the most unprecedented year for sport in memory, with the Covid pandemic affecting nearly every aspect of the industry from huge losses in revenue from the absence of fans to the continued disruptions in league play throughout the year. But as we venture into the new year under yet another lockdown, the problems felt the past year are only going to be perpetuated with many wondering if sport will ever be the same again.
The absence of fans has had major impacts on the entire sporting world, with teams being hit with significant losses in revenue as a result of nationwide restrictions banning fans access to stadiums and live games. To cater to the fans unable to attend the games, leagues such as the British Basketball League have created online viewing platforms in order to showcase the league's games for free, but this of course comes at a cost for the teams who are still unable to capitalise on weekly ticket sales.
For sports such as basketball, these implications caused by Covid are threatening the future of the game. With little media coverage, poor government support and a lack of sponsorship the sport already fights for a seat at the table in the UK, and with ticket sales being the sports main revenue stream, such losses are detrimental.
As a sport, basketball has always been a staple for diversity and inclusion, and a platform that fans look towards for mentorship and opportunity that transcends borders. Basketball draws in people who are all too frequently under represented on the field of play or in the stands at rugby, cricket, tennis, and football matches, most notably from Britain's African-Caribbean communities, with 41% of the BAME community hesitant to attend other live sports due to the risk of racial and verbal abuse by fans.
Basketball has proven to play an important role in the lives of many, with clubs being right at the hearts of communities across the country, many already suffering hardship. It is now proving more vital than ever that the sport receives the support it needs to survive and grow through the pandemic in order to remain a platform for inclusion, diversity and opportunity.
Vince Macaulay, who recently coached his 500th professional basketball game, is keen to discuss:
•Covid's impact on basketball
•What the London Lions and the BBL are doing to cater to the fans unable to attend games
•The important role basketball plays here in the UK
•What the London Lions are doing to get fans back in the stands
BEDTIME BOFFINS FIND THE SCIENTIFIC FORMULA FOR 'HAPPY SLEEP'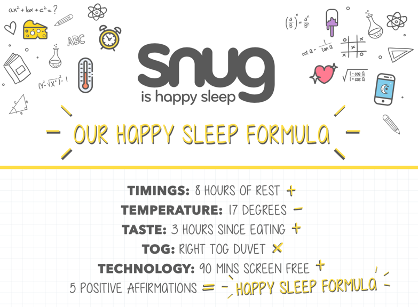 Sleep scientists at new eco-friendly bedding brand, Snug, have trawled through decades of research to compile the ultimate formula for the perfect night's sleep – the 'five t's'
Formula revealed as new range launches with simple bedding options; allowing Brits to easily tailor their bedding choice to their sleep style
Sleep scientists at new eco-friendly bedding brand, Snug, have analysed decades of research to find the definitive formula for satisfying sleep; a mathematical formula of 'five t's' which can be applied to everyone's bedtime routine in order to create their own unique, ultimate night's rest.
The formula comprises:
Timings; eight hours of rest each evening is the optimum amount needed to reset the body after a day's activity
Temperature; the bedroom should be 17 degrees Celsius in order to keep the body at a tepid temperature that stimulates satisfying sleep
Taste-buds; these need a break ahead of bedtime too. Eat the final meal of the day at least three hours before bed and have that last cup of coffee 10 hours before hitting the hay
Tog; for a night full of sweet dreams, change the duvet tog with the seasons – 4.5 tog for warmer nights, 10.5 for the in-between and 13.5 when it's chillier
Technology; switch off and chill out – remember to give screen time a break 90 minutes before bed
Thank-you; turn out the light, say goodnight and remember to say thanks for something you are grateful for today. While this may sound corny, science shows expressing gratitude for things big and small satisfies us and helps us rest
Therefore, for someone who needs to get up at 7am for work would need to eat their last meal by 8pm, drink their last coffee by 1pm, check their tech one last time at 9.30pm, make sure they have the right tog on their bedroom, which is at the right temperature ahead of saying thank you and drifting off to sleep at 11pm for their night's slumber.
New eco friendly bedding brand Snug is based around 'happy sleep' – and it's this focus which drove its in-house scientists to find the formula for sleep satisfaction. Snug itself is a brand-new collection of duvets and pillows that offers an easy-to-understand menu of bedding options; what's more, they're super affordable and eco-friendly.
The collection is filled using materials created from recycled plastic bottles and has revolutionary new sustainable, carbon negative packaging – manufactured using sugar cane – so Brits can also sleep happy knowing they've been kinder to the planet. The options within Snug, which each cater to a different sleep preference, and can be incorporated into the formula for happy sleep are:
Just Right: a simple solution that makes it easier for those who sleep well to kick back and relax
Chill Out: lighter weight bedding options for those who like to be cool as a cucumber as they snooze
Fantastically Firm; for those who like a supportive sleep solution while resting
Snuggle Up; for those who need a cosy cocoon when it comes to sleeping well
Hayley Chaytor, Senior Brand Manager for Snug, said: "Snug is all about 'happy sleep' – and while that varies for each of us we wanted to use our scientists' expertise to find a formula which could be applied to any Brit's bedtime routine in order for them to have a satisfying night's sleep.
"Just as our formula makes it easy to snuggle up and slumber, likewise our product range also makes it super simple for shoppers to pick a pillow and duvet that's perfectly suited to them, and sleep happy knowing they've done their bit for the planet."
Snug's Pillow Pairs range come from £12.00 and its duvets start at £14.99. The entire range is now available online via www.snug-bedding.co.uk, along with Sleepy People and Amazon. For updates on everything Snug-related, including how to achieve happy sleep, please visit @snug_bedding on Instagram.
Injured or Older? You Can Still Stay Fit!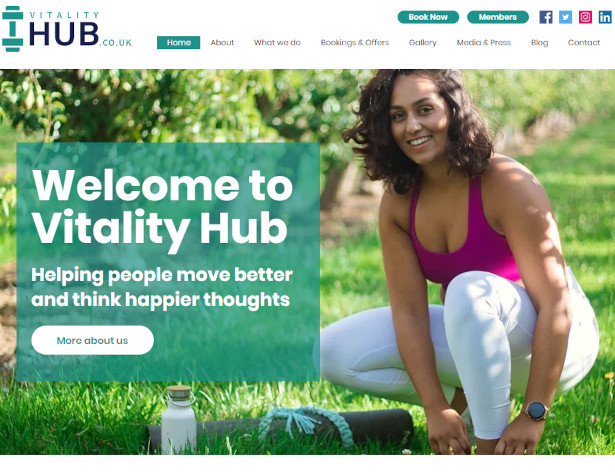 So, you are probably reading this because you 1. Have an injury or 2. Are feeling the impact
age has upon the body. This might have resulted intaking time out from playing or training.
Often in these cases it is very difficult to get back into being active because motivation
becomes sparse. Do not let it stop you from staying active and healthy!
So, you have probably heard of 'RICE' Rest, Ice, Compression, Elevation…well let's talk
about the R in Rice. We used to think that resting meant that you could kickback for a few
days and chill whilst you recover, but not anymore. Complete rest can be detrimental to
recovery and health in most cases and in fact, the new acronym we should learn is the
METH method.
Movement
Elevation
Traction
Heat
We need to stay moving, throughout life.
Have you ever heard the phrase 'I'm too old for this'? I hear it on a regular basis and have
made it my mission to change this mindset. No one or NO BODY is too old for anything,
especially when it comes to movement. Okay granted, you might not be able to cope with
full-on rugby tackles like you used too, but you can definitely keep fit and healthy in other
ways.
TOP 5 WAYS TO KEEP FIT AFTER RETIRING
1. Non-contact rugby drills
Still love passing a ball around? Do you remember those classic rugby drills you did as a
youngster? Drop and gather, rugby 4-square even speed passing. Grab a buddy and Go Go
Go! These are great ways of maintaining coordination, agility, balance, and fitness.
2. Fitness with a ball
Change your average fitness session up with a ball with:
• Squat and launch a ball up in the air and catch
• Lunge and hold the ball above your head or extend your arm to the side and balance
it
• Rugby-ball deadlifts, a great one for back strengthening if you have a hip or spine
arthritis.
These are a few of many, the options are limitless.
3. Strength and conditioning
In the past 8 years S&C has become a huge part of athlete development and can be done at
any age. All you have to do now is tailor it to your abilities. Maybe high impact exercises are
out of the question because of the pressure it puts on your joints, why not try and break up
the movement e.g., calf raises into squats.
4. Touch Rugby
We all love team involvement so why not gather up some of your old team-mates and set up
a weekly touch rugby game? You could even include 'walking rugby' and get a whole range
of ages involved. Intergenerational sport and exercise is growing. It offers an opportunity for
socialisation, generally supporting those who are lonely and isolated, sharing of wisdom and
networking, in which all generations can benefit by learning from each other, and finally
expanding experiences and encountering different cultures and ways of life.
5. Strength Training
A common effect of ageing is sarcopenia (muscle wastage) and affects 20% of people over
65. Strength training can not only prevent the onset and development of sarcopenia but:
• Improve posture
• Speed up injury recovery time
• Maintain healthy bone density
• Body fat management
• Better body mechanics
I could go on.
Don't let old age or injury stop you from moving.
Written by Rosaria Barreto (Clinical Exercise Trainer)
www.vitalityhub.co.uk
@the_vitalitycoach
Buona Befana
& Happy Epiphany

La Befana
Italians woke up today celebrating! My father always said, "In Italy you never need a reason to celebrate." He was right. His family is from Pico, a small town in the region of Lazio, one hour south of Rome, and like all good Italians, they too celebrate this special holiday!!!
Today is La Befana and the Epiphany. La Befana is the good Italian witch or strega who shares the same feast day as the Epiphany – both feast days fall on 6 January. It is a very big holiday for all Italians young and old alike. Everyone has the day off, and families dine on festive lunches with and dinners with wine to celebrate the occasion.
The Epiphany is a religious feast day when the Three Wise Men arrived in Bethlehem with precious gifts for Baby Jesus on the 12th day of Christmas. The legend of La Befana is about a good witch who brings candy, nuts, fruits and toys to children.
The legend says that the Three Wise Men invited the Befana to join them on their journey to visit the new born baby Jesus, but she refused. Her excuse: she had too much housework. But when she changed her mind and decided to follow, she could not find them and instead gave the toys to other children.
The legend continues today, and Italian children continue to adore La Befana and her gift-giving tradition. Children hang their stockings anxiously waiting for her to fill them with gifts or coal.
And, although there are so many different recipes to celebrate this holiday, this recipe for ricciarelli will keep your childish heart smiling.
The ricciarella are an almond biscotti from Siena and were once reserved only for the noble lords, kings and queens, because they were made with almond flour, sugar and vanilla – expensive ingredients at the time. Today, they continue to be a holiday tradition and enjoyed by all. Hope you enjoy the recipe.
Ricciarelli
Almond Cookies from Siena
Ingredients
2 egg whites
1 drop of fresh lemon juice
200 g -1 2/3 cups – unsifted Confectioners' sugar, plus more for dusting once the cookie is baked
200 g – 2 cups + 1 tablespoon – almond flour
1 teaspoon of vanilla extract or a vanilla bean, cleaned
1 orange, organic and non-waxed, grated
Method
The night before. Whisk the egg whites with a drop of lemon juice, then mix in the Confectioners' sugar and the ground almond flour together. Next, add the almond extract, grated orange zest and the vanilla extract or inside of the bean. Cover with plastic wrap and place in the fridge until tomorrow.
On the next day, preheat the oven to 160°C – 320°F. Dust a wooden working surface with Confectioner's sugar. Roll the dough into a log and cut it into small pieces . Using your hands, shape the dough into ovals about 1 cm thick. Arrange the dough on a tray lined with parchment paper. Wet your hands with water and pat each ricciarello, then sprinkle extra Confectioners' sugar on top.
Bake the ricciarelli for about 15 to 20 minutes minutes, keeping an eye on them and rotating your pans accordingly. Remove from the oven, let cool, sprinkle with Confectioners' sugar and enjoy with a Vin Santo.
Online Cooking
Tuscany Cooking
Sunday, January 17 at 3 pm
And, since we cannot be with you in the kitchen, we will continue to host our online cooking classes. Our full schedule will be published later this week.
Our next cooking class is Tuscany Cooking
www.cooking-vacations.com/online-italian-cooking-class/
We hope to see you in the kitchen –
From our family to yours!
Tuscan Menu
Pasta
Ravioli Nudi & Salve Burro – Naked Ravioli & Sage Butter
Main Course
Rotoloni di Carne & Spinaci – Stuff Ground Beef Spinach Roll
Cavoletti di Bruxelles – Brussels Sprouts & Roasted Garlic
Dessert
Cantucci – Traditional Tuscan Biscotti
Keep cooking and keep your heart alive!
Lauren
Cooking Vacations | 1.617.247.4112 – Boston MA USA, Boston, MA 02116
All Aboard The Boathouse
Make outdoor play fun with this adorable Boathouse from Plum. The Plum® Boathouse Wooden Playhouse allows little ones to jump onboard and sail away to whatever island their imagination takes them. It allows them to enjoy the great outdoors and embrace the weather rain or shine.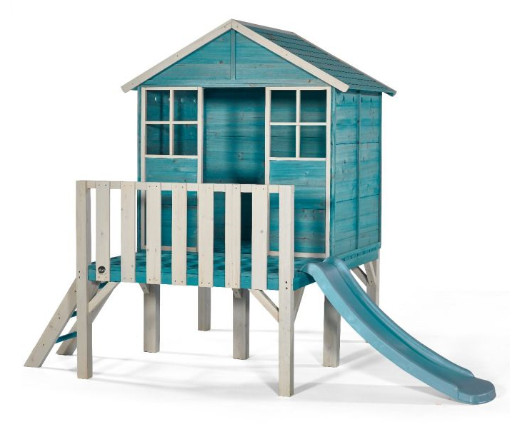 The Boathouse playhouse is crafted to perfection and comes in a lush teal colour, meaning it will look ship-shape in any garden. The boathouse platform allows children to climb the three-step ladder to start their adventure on deck. To go overboard they can use the 1.2m slide to return to land.
An apex roof adds a beautiful and traditional feel to the Boathouse, encouraging your child's imagination to run wild. Whether it is sailing the seven seas or relaxing or in their own hideaway, it is a stunning boathouse that provides years of fun.
The Plum Wooden Boathouse – Teal costs £649.99 from PlumPlay.co.uk
THIS IS JUST THE VEGANNING:
ALDI LAUNCHES ITS FIRST VEGAN PROSECCO READY FOR VEGANUARY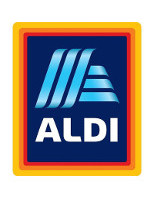 Veganuary is getting bigger and better every year. With 60% more of us taking part in 2020 and 2021 set to be just as popular, Aldi is launching its hotly anticipated Collezione Oro Vegan Prosecco (£6.99), landing in stores and online on January 3rd.
With its elegant and well-balanced finish, Collezione Oro Vegan Prosecco is a delicious addition to Aldi's growing vegan range. Fizz fans can quench their thirst, safe in the knowledge that it is free from any animal products that may be used in traditional wine making.
Sam Caporn, Mistress of Wine, comments: "Fabulously frothy vegan Prosecco with attractive aromas of honeydew melon, lemon sherbets and pear drops. The taste is dry (this is a Brut) with a juicy red apple finish. Elegant and well-balanced!"
Whether celebrating with others or simply rewarding yourself with a treat for getting through the year, vegan prosecco means you can still enjoy the lentil things in life. Priced at just £6.99, there is no need to dig deep in those pockets to hit the spot.
To find out more about these or any of Aldi's award-winning drinks head to www.aldi.co.uk/c/wines.
ALDI KICKS OFF DRY JAN WITH A NEW RANGE OF AFFORDABLE BOOZE-FREE TIPPLES INCLUDING A HAYSMITH'S NON-ALCOHOLIC GIN THAT'S 50% CHEAPER THAN SEEDLIP[1]
According to Aldi, almost half the nation's drinkers are considering dabbling in dry January 2021[2], which is why the supermarket is bolstering its 'nolo' offering, including a Haysmith's Rhubarb & Ginger non-alcohol gin that's over 50% cheaper than Seedlip. Available in store and online now.
With sales of low and no alcoholic drinks up 30% in 2020[3] and 'Dry Jan' now a firm calendar event, the supermarket expects its 'nolo' variant of Haysmith's Rhubarb & Ginger Gin at just £9.99 to be a huge hit. What's more, in a bid to provide something for everyone, the retailer is also launching 'nolo' craft beers to rival that of top artisan breweries and cider.
Aldi's new 'nolo' offering joins the supermarket's beers, wines and spirits range which saw over 100 prestigious international drinks awards in 2020, judged by some of the world's most highly regarded industry experts.
Aldi's 'Nolo' Drinks Range 2021
0% Sainte Etienne, £0.89, 500ML
This no-alcohol lager is slightly bitter and refreshing, with a light fruity pear flavour.
0% Rheinbacher, 6 x 330ml £2.49
A Golden yellow pilsner with a slightly bitter and predominant grain taste.
0.5% The Low Down Craft IPA, £0.99, 330ML
This IPA has a base of pale malt and cascade hops for a malty/citrus flavour. It is then dry hopped with Cascade hops for a bold citrus aroma and Chinook hops for spicy and piney notes.
0.5% Low Profile Craft IPL, £0.99, 330ML
This IPA has a base of lager malt with a combination of Goldings and Willamette hops for floral/earthy and woody flavours.
0.5% Alska, £0.85, 500ML
This low alcohol cider is sweet, juicy and refreshing. It's the classic combination of strawberry & lime.
Haysmith's Non-Alcoholic Rhubarb & Ginger Gin, £9.99, 70CL
A fruity, zesty alcohol-free spirit combining the great taste of rhubarb and blended perfectly with the delicate warmth and spicy finish of ginger.
Head to Aldi stores or online at www.aldi.co.uk now to bag yourself one of these delicious 'nolo' tipples.
A new culture of shopping for 2021
How has the supermarket and food shopping experience evolved to provide a backbone for society?
Will Broome, CEO of Ubamarket, discusses how the last 6 months of the year recalibrated how supermarkets function, and how they remain at the helm of society
The last year has undoubtedly been challenging for the supermarket industry, with Coronavirus-induced lockdowns and restrictions forcing the sector to quickly adapt to the ever-changing environment in order to remain afloat. As an essential service, it cannot be denied that the supermarket sector has progressed and evolved in order to become far more efficient and future-facing during these concerning times; by engaging with their local communities, they have provided a lifeline to their customers and have helped to keep the public reassured during a time of panic buying and stockpiling.
In light of this, our society has recalibrated and embraced a brand new culture of shopping. Food shopping, in particular, is providing a backbone for the economy and society, with many other retail bodies collapsing at the hands of the pandemic. Now, as we embark into a new year, food retail and shopping patterns are sure to pave the way for when other retail bodies are able to reopen.
Retail technology has had to become ubiquitous during the last six months, with leading pioneers Ubamarket coming to the fore with new partnerships announced and extended with Central England Co-op and SPAR. Standing out from the rest of the field, features pioneered by Ubamarket that are set to become the norm in 2021 include:
Aisle Sat-Nav
Ubamarket guides customers around the store to products they have saved on their personal shopping list. This allows customers to reduce their spending, while also hugely reducing their shopping time; which may be necessary in order to follow social distancing measures.
Totally Till-less
Customers can scan products on shelves as they shop and then check-out and make payments in-app, completely bypassing any queues and remaining contact-free.
Facial recognition
The app can now approve the customer for products which would typically require an age check with no need for assistance by store managers or cashiers (subject to the customer having uploaded a valid form of ID), again helping customers to remain contact-free.
Automatic loyalty points
Ubamarket's app offers exclusive access to deals and offers reserved for app users, and customers automatically collect loyalty points at their local stores.
Dietary and allergen sensitive shopping
Customers receive dietary and allergen alerts for every product and can shop according to dietary or allergen requirements, reducing the need to approach members of staff, and helping to stay contact-free.
Environmentally conscious shopping
In order to help customers and retailers shop more sustainably, the app provides information on which packaging can and can't be recycled in a customer's shop, and will summarise the environmental footprint of the overall shop at the point of checkout with the Plastic Alerts feature.
Will Broome, Founder and CEO of Ubamarket, has commented on the evolution of technology in the retail arena, and the different trends we can expect to see in a future designed by Coronavirus:
"It cannot be denied that Covid has had adverse impacts on the retail sector, completely transforming the shopping experience. As we move into 2021 and this new era of shopping, it cannot be denied that technology is absolutely paramount to help us adapt, and it is important that we are able to confidently rise to the challenge.
These trends are bound to become more prevalent moving forwards, as it cannot be denied that the implementation of technology holds the key to building a future of retail that supports our new shopping habits whilst also helping retailers to safeguard themselves against future cases of irregular consumer behaviour. Retail tech offers an all-encompassing solution; in Ubamarket's case in the form of a simple app; which can put consumers in control, doing away with the need for time-consuming queues, unhygienic checkouts, and confusion about where products are and whether they are in stock. By building lists off-site and checking stock before entering the store, retail technology can help reduce necessary queues before consumers travel to the outlet. It remains to be seen how the sector will fare beyond Coronavirus, but retail technology is sure to play a significant role."
2021 – A FRESH CLEAN START
DR. BECKMANN REVEALS THE EFFECTS OF CLEANING ON THE MIND, BODY AND SOUL – PLUS A 12 MONTH CLEANING CALENDAR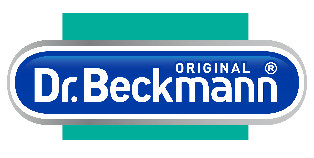 This past year has been a challenging one, with more people spending times in their homes than ever before due to national and regional restrictions.
During lockdown in 2020, sales of cleaning products surged, as people spent their spare time channeling their inner Mrs Hinch and with a new lockdown announcement 2021 is set to look the same, with people deep cleaning their homes ready for a new beginning.
Cleaning and laundry expert, Dr. Beckmann reveals the mental and physical benefits of keeping your home the best it can be, plus a month-by-month cleaning calendar to maintain a sparkling home throughout the year.
Cleaning on the mind
In this new year, mental well-being has never been more important, and a clean home has been shown to help improve happiness.
Research* from the cleaning and laundry specialist has revealed that nine out of 10 Brits agree having an untidy or dirty home has a bearing on their mood, while a quarter say having an unkempt home is detrimental to their productivity.
And co-habitants say the split of domestic chores is one of the most common causes of consternation at home – a quarter of Brits argue with their housemates over housework at least once a week.
Cleaning on the body
Given mopping can burn up to 240 calories per hour, it's no surprise that 90% of Brits work up a sweat while cleaning. Deep cleaning one's bathroom can burn up to 170 calories per hour, while ironing does 157 calories per hour – the effects of exercise are well documented, so get to work!
Your new 12 month cleaning calendar
January- Plan and declutter
New Year, New You? January is the perfect time to declutter. It will give you a new focus and it's good for your mind, happiness and well-being. Preparing a checklist and rota for tasks is a good way of keeping track on what needs to be done.
February- Fab-loo-ous toilet treatment
Kick start February, by tackling the toilet with Dr. Beckmann's Power-Foaming Toilet Cleaner. Watch as the foam fizzes up to a mountain of fresh cleaning fun!
March- Aim high
Reach for the stars in March and take time to move anything hiding on top of kitchen cupboards, wardrobes or bathroom cabinets. Not only does it look unsightly, but an enormous amount of dust gathers quickly.
April- Neglected areas
Use April as an opportunity to visit neglected areas, such as lampshades, blinds, curtains, shelves, frames, bannisters and skirting boards. Some areas such as blinds and curtains are particularly important as dust mites can form, and research has shown they can pose health risks as bacteria and mould attaches to dust.
May- Windows
With brighter mornings and lighter evenings, May is a great time to tackle the windows, as sunlight will show up even the tiniest of smudges on the glass. Save money and time by not leaving the glass left unwiped, the longer it's left the harder it'll be to clean.
June- Invisible areas
As the summer draws in, June is the time to rearrange the furniture to update your home ready for the potential hosting of barbeques. Target invisible areas such as space under the bed, sofas, wardrobes and cabinets. Getting behind, under and around will ensure every area of your home is spick and span.
July- Summer spruce
Take advantage of long summer nights and the warmer weather and spruce up your outdoor space, tidying the garage, clearing gutters and drains, or adding flowers to the garden can all make a big difference especially if you're planning to host outdoor socials.
August- And breathe
In the prime summer month, use this time to take it easy and relax. Get the kids to do a bedroom blitz ahead of going back to school. Organise their bedrooms and sort through clothes which no longer fit, as well as sort through unwanted toys.
September- Detox
Time for an autumn clean, now the mayhem of summer activities is over its time to get your house prepped and ready as winter fast approaches. Do a deep clean of the bathroom and kitchen. Also, if you have a porch area for coats and shoes, make sure this is organised and smelling fresh. Don't forget to give your garden some TLC before it goes into hibernation until next year.
October- Floors
This is the best time for a deep clean of the carpet especially if you have pets, as hair and dirt will often be trodden deeper into the fibres of the carpet. If you're one to decorate the house for Halloween, starting the clean early ensures that you are organised and feel more in control when the messiness arrives. It is also a good idea to keep Dr. Beckmann's award-winning Carpet Stain Remover with integrated brush to hand for any scary accidents and spills that may happen on the 31st.
November- Storage
Take the time to clear out the attic, basement, or 'messy' room if you have one ready for the festive holiday. When it comes to decorate the house for Christmas, starting the process in early November will help you feel organised and in control of your home so you know what decorations you already have and how much space there is for new purchases (and of course presents!).
December- Appliances
Before the madness of Christmas hits, remember that as well as cleaning kitchen surfaces, the fridge and freezer need a deep clean, along with the washing machine, dishwasher and oven, ready for hosting duties and tasty treats. Dr. Beckmann recommends you use the Service-it range to ensure your appliances are well maintained and protected from limescale and bacteria build up.

Empreinte is a French lingerie brand, earlier this year they launched a fitness range called IN-PULSE.
Empreinte specialise in lingerie for women with fuller busts and their activewear range is no different.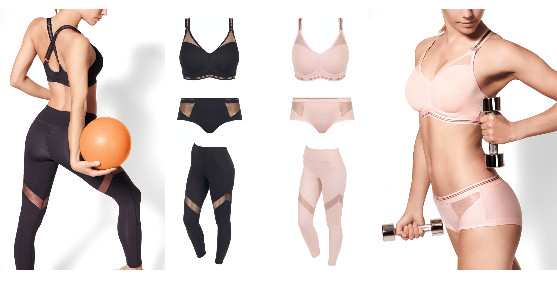 The Initiale Spacer Sports Bra by Empreinte, is a full cup underwired bra made from a highly breathable, lightweight spacer fabric which provides a high level of support, reduces bounce and retains the wearers feminine figure. Thanks to the innovative technology the wire is invisible and feels barely there to provide maximum of comfort in all sport activities. The straps are fully adjustable with cross back function. Available up to H cup.
The Initiale Sports Shorty from Empreinte are made from breathable, easy to wash and quick drying fabric perfect for sport activities. Decorated with modern metallic effect inserts to the front and wider waistband for a fresh look.
The Initiale Sports Leggings by Empreinte are a super supportive and lightweight womens legging made from breathable, quick drying and stretchy fabric. Finished with wide belted waistband making it suitable for all sports activities. The design also features geometric cut-outs detailing on the legs for a distinct and feminine look.
Product links:
www.amplebosom.com/product/empreinte-initiale-underwired-spacer-sports-bra-3588/
www.amplebosom.com/product/empreinte-initiale-sports-shorty-3587/
www.amplebosom.com/product/empreinte-initiale-sports-leggings-3586/
SPN Is a group of studios outside London (Tunbridge Wells + Sevenoaks) bringing big city fitness and wellness to the suburbs. SPN stands for Soul, Power, Nutrition and we focus heavily on bringing the three elements together for a more wholesome and holistic approach to life. We work on educating our local communities with events and workshops but also function fully as a studio with over 41 classes per week per studio in Barre, Cardio Boxing, Strength and Resistance training, Spin, Yoga and Pilates.
We have several elements to the business including selling boutique activewear brands in and out of the studio, wellness products and fitness equipment. We also run retreats focussed on 360 wellness and have mirrored our full offering online with SPN+ our virtual fitness and wellness platform available on iOS, Android, Roku and Apple TV.
We are working on huge expansion plans currently, looking to roll out a number of new brick and mortar studios and expanding our digital presence with the aim to become number one in our field of combined fitness, wellness and nutrition.
TCL Brings Next Gen Mini-LED and Future Display Technologies to CES 2021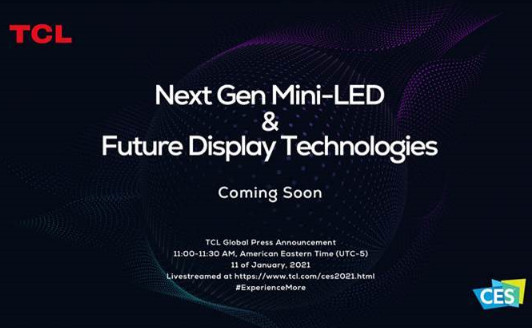 Under the Theme #ExperienceMore, TCL Showcases AI x IoT lifestyle with its newest display advancements and impressive multi-category offerings
Hong Kong, January 4, 2021 – TCL Electronics (1070.HK), one of the dominant players in the global TV industry and a leading consumer electronics company, will start the year more determined than ever at CES 2021 with exciting announcements to fulfil its mission to make life intelligent through innovative, next generation Mini-LED technology.
"TCL is proud to be at CES 2021 and a member of this vibrant industry. As one of the leading consumer electronics brands in the world, and second largest TV brand in America, it is our mission to make life intelligent with innovative technology through our AIxIoT strategy. Moving forward we are committed to providing the best smart products and services to global users," said Kevin Wang, CEO of TCL Industrial Holdings and TCL Electronics.
This year's event will be the first-ever 'digital CES', which demonstrates the resilience and global unity that is keeping us all moving forward, despite the challenges that 2020 brought to the world.
TCL will join multiple sessions at CES 2021, including the Global Press Announcement, and share its very newest technologies for displays as well as presenting a full range of smart home appliances to users to Experience More.
Best known for Mini-LED and QLED TVs, award-winning soundbars, smart home appliances and popular mobile devices driven by the on-going AIxIoT strategy, TCL continues to improve and push the boundaries of possibilities for display and audio technology.
On January 11 at the CES 2021 Global Press Announcement, TCL will showcase its much-anticipated innovations in Mini-LED and future display technologies, which is expected to draw attention and interest from both media and the consumer electronics industry.
The details of our participation at CES 2021 are as follows:
*All sessions will be posted at www.tcl.com/ces2021.html
# Time and date of American Eastern Time (UTC-5)
Global Press Announcement
Time: 11:00-11:30 AM
Date: January 11th, 2021
North American Product Spotlight
Time: 1:00-1:30 PM
Date: January 12th, 2021
Global Product Spotlight
Time: 7:30-8:00 AM
Date: January 13th, 2021
About TCL Electronics
TCL Electronics (1070.HK) is a fast-growing consumer electronics company and leading player in the global TV industry. Founded in 1981, it now operates in over 160 markets globally. According to OMDIA, TCL ranked global No.2 in TCL brand TV market share in Q2 2020. TCL specializes in the research, development and manufacturing of consumer electronics products ranging from TVs, audio and smart home appliances.
Food behaviour in Ireland, Britain and beyond altered significantly during Covid19
How we shop for food, cook and eat has changed significantly during the Covid19 pandemic, an international survey led by Queen's University Belfast and National University of Ireland (Galway) reveals.
Positive changes such as an increase in home-cooking and cooking from scratch with fresh ingredients were recorded. However, there were also negative trends, such as a reported increase in saturated-fat intake.
A spike in bulk buying – which causes pressure on already-stressed food systems and can lead to shortages, triggering further panic-buying – was also observed during the study.
The survey was conducted in May-Jun 2020 when many countries were under some form of lockdown and used a sample of 2,360 adults across four regions – the island of Ireland; Great Britain; USA; and New Zealand.
The research was led by the Institute for Global Food Security (IGFS) at Queen's in partnership with St Angela's College, Sligo, part of National University of Ireland (Galway). The main findings have been published in the Nutrients journal and are believed to be the first published research across multiple continents on changing food practices due to Covid-19.
Overall, there were fewer changes in food behaviours in the USA compared to the other three regions and the most marked differences between regions occurred between the USA and elsewhere.
For example, an increase in vegetable intake was evidenced across all regions except the USA. There was also an upturn in home-cooking and home-baking frequency in all regions except the USA.
Parents cooking (and baking) with children was also found to increase in all samples except the USA (interestingly, parents who included their children in the preparation of family meals more frequently had a higher diet quality).
Conversely, though, an increase in saturated-fat intake was seen everywhere except the USA.
Overall, there was a decrease in the consumption of takeaway food and a rise in 'organisational food practices' (planning ahead, shopping with a grocery list, etc). When it came to 'management food practices' (preparing in advance, batch cooking, etc), however, there were no changes apparent for Ireland or New Zealand. This may be connected to the fact that Irish and NZ restrictions were stricter than in other areas, so there may have been less of a need to prepare food in advance.
Lead researcher on the project, Dr Fiona Lavelle from IGFS said: "These findings not only provide crucial data for how our food behaviours and systems have adapted to the pandemic but they have important implications for public health as we continue to try to manage Covid19 with ongoing lockdowns and restrictions.
"We wanted to find out what impact the pandemic and lockdowns were having on people's health but we also wanted to try to find a way of measuring the effect on global food systems.
"Thankfully, there is some good news in our findings and many people have benefited from cooking more at home and eating a better variety of fresh food. But there are some red flags in there too, such as the rise in saturated fat consumption, which may be down to 'comfort eating' during lockdown. It's very important – especially during a pandemic, for obvious reasons – to maintain a nutritious, balanced diet.
"One of the survey results that interested me most was that cooking with children has increased, which is good for the children – but our study highlighted potential positive benefits for parents' diet quality too when children were involved."
"With continued lockdowns and perhaps more people working from home in the future, I believe that including children in cooking activities should be a key public-health message going forward."
INDEPENDENT VENUE WEEK 2021
ANNOUNCES JORDEN ADETUNJI AS THEIR
NATIONAL AMBASSADOR FOR NORTHERN IRELAND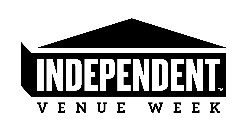 MONDAY 25 JANUARY – SUNDAY 31 JANUARY 2021
OVER 75 INDEPENDENT UK VENUES
IN PARTNERSHIP WITH – ARTS COUNCIL ENGLAND, CREATIVE SCOTLAND, SEE TICKETS, YAMAHA, FRED PERRY, PPL, THE MUSICIANS UNION, THE F LIST, LOADIN.COM
Independentvenueweek.com #IVW21
Launch Announcement Event Film here
Independent Venue Week announces the young and incredibly talented, Jordan Adetunji, to represent Northern Ireland in the 2021 edition taking place from Monday 25 January to Sunday 31 January 2021. Independent Venue Week will this year be represented by four ambassadors – one for each of the Home Nations – who will lead the way in championing independent venues, and their communities, across their respective countries in the build-up to IVW 2021. Jordan Adetunji is the third ambassador to be announced following Arlo Parks and Gruff Rhys. For more information, visit Independentvenueweek.com.
Representing Northern Ireland is Belfast's alternative hip-hop artist and songwriter, Jordan Adetunji, who is at the forefront of the country's burgeoning scene; in 2019, Adetunji became the first-ever hip-hop act to play at the prestigious Northern Ireland Music Prize and has been included across BBC's "Stendhal Live" and the BBC Art Show "Ones to Watch".
Commenting on his appointment as ambassador of N.Ireland, Jordan Adetunji says:
"I am delighted to have been chosen as the ambassador for Northern Ireland during Independent Venue Week 2021. Independent venues play a vital role in creating economic opportunities, while at the same time showcasing and promoting the works of many local artists like myself. This is a fantastic opportunity to bring together venues, artists, events operators, and the public – especially in these challenging times – to highlight the importance of independent venues."
Historically, IVW see's hundreds of venues across the UK take part in Independent Venue Week, inviting a huge host of exciting artists to play exclusive shows up and down the country in celebration of independent venues and their communities. The initiative provides a huge spotlight on the grassroots ecosystem within the live music sector – an ecosystem which includes not only the venues and the people that own, run and work in them, but also promoters, artists, managers, crew as well as labels, kit, merch, ticketing and tour transport companies and the all-important music fans and gig-goers.
As we step into 2021, it is clear we are a long way from any kind of opportunity to safely enjoy live music in grassroots music venues and the health and well-being of our whole community is our priority. IVW is responding by adapting the way shows are available across the week with a range of digital events. From "In Conversations" with artists, labels, promoters, gig goers and other industry organisations to album listening parties, pre-recorded live streams, comedy and quizzes.
There will be fewer venues and artists taking part than in previous years, but there are still stories to be told and experiences to be shared and they are as important now as they've ever been – many of these will be with people who are usually behind the scenes, giving a new opportunity to find out more about how the industry works. IVW is committed to putting venues and their communities at the heart of what they do by continuing to shine a spotlight on them, all around the UK, as it has done for the last eight years.
So far this year, 79 venues from 53 different villages, towns and cities have signed up to take part, 82% of which are outside of London.
Independent Venue Week, is gratefully funded by a longstanding partnership with Arts Council England along with support from DCMS as part of their £1.57 billion Culture Recovery Fund program, Creative Scotland, See Tickets, Yamaha, Fred Perry and PPL. The F List and loadin.com are also partners in kind this year. It is the first time See Tickets has been the official ticketing partner but they have long championed independent venues across the UK.
A further representative from Scotland to be announced on Friday 8 January 2021.
Independent Venue Week Live 2020, the third live vinyl-only record, was released on 11th December 2020. Whilst Independent Venue Week will be very different this year, the activity that is able to take place for 2021 itinerary will be announced in the coming days and weeks .
CBI NI TELLS OF THE IMPORTANCE OF CLICK & COLLECT SERVICES TO MANY NORTHERN IRISH BUSINESSES
Angela McGowan, CBI NI Director, said:
"Firms have worked relentlessly to keep their shops, offices and factories Covid secure.
"Click and collect has been a lifeline to many businesses, particularly smaller firms, as one of their few remaining revenue lines. When well organised, click and collect services instinctively feel like a safe way for firms to keep trading.
"Of course, firms can choose to suspend click and collect if that makes sense for them, but for many others it could mean the difference between business survival or not.
"If there are to be any changes, then it's really important that government sets out compelling evidence that these services are a source of transmission and provides additional, urgent support to compensate for what would be a further loss of revenue."
13 January 2021