Nothing says Christmas quite like the giving or receiving of a candle, and there is no candleware gift quite like CONCRETE&WAX.
CONCRETE&WAX is a forward-thinking, hand crafted collection of concrete holders and natural wax pillar candles created to let you design the light in your homes. The innovation of Mr Concrete and Mrs Wax – otherwise known as Alex Sommer and Laura Keller – a design duo with over two decades experience working in the fashion industry.
Personalising light.
In 2018 we decided to combine our creativity with a new focus, and after many months of development, launched CONCRETE&WAX. Our inspiration was very personal, teaming Alex's fascination with intelligent and adaptable design with Laura's love for natural light and, importantly, the need to find interesting and bespoke ways to invite light into our low-ceilinged 16th century Suffolk cottage.

The result is a hand poured collection of modular, interchangeable holders and candles that offer versatility from day-to-night. The holders, available in several colour options including three distinctive camouflage designs, can be stacked on top of one another and easily manipulated by mood and adapted to personal style. For a sleek city penthouse or a quaint country cottage; a bathroom, a bedroom, a lounge, or kitchen; stacked dramatically high or kept on the down low. The collection offers flexibility to bring light – and style – into any home in many ways and offers a calming digital detox from harsh blue light streaming from a screen.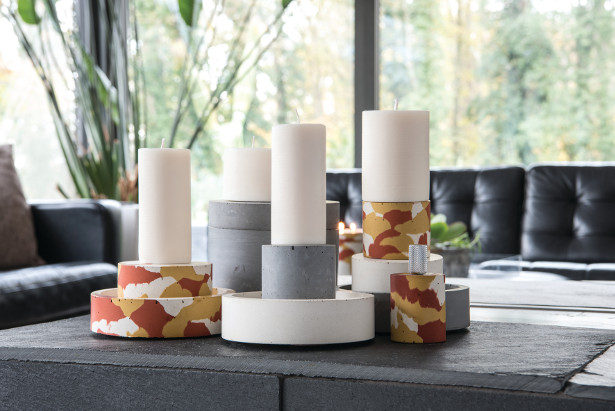 Designing product with a life.
"We fully embrace the fact that the concrete will always outlast the candle, so each CONCRETE&WAX holder is designed to fit any standard tealight and the pot lid can hold up to three". Mrs Wax

Local and sustainable.
At every point of the CONCRETE&WAX brand development we looked to our local markets to source. We hand pour each product in our Suffolk workshop in small batches to ensure true craftsmanship and full traceability of all ingredients back to the source.
"We are passionate that our product remains manufactured locally and that we keep our footprint as small as possible." Mr Concrete
Reinventing humble materials.
The general perception of concrete is a rough, heavy industrial material: ruggedly masculine, but never truly luxurious. Historically, soy wax has no discernable personality (other than when joined by a fragrance) and is almost always to be found used to make container candles. CONCRETE&WAX spins these material preconceptions on their head. Our recipes were developed over many months to add luxury to the concrete surface and strength to the wax.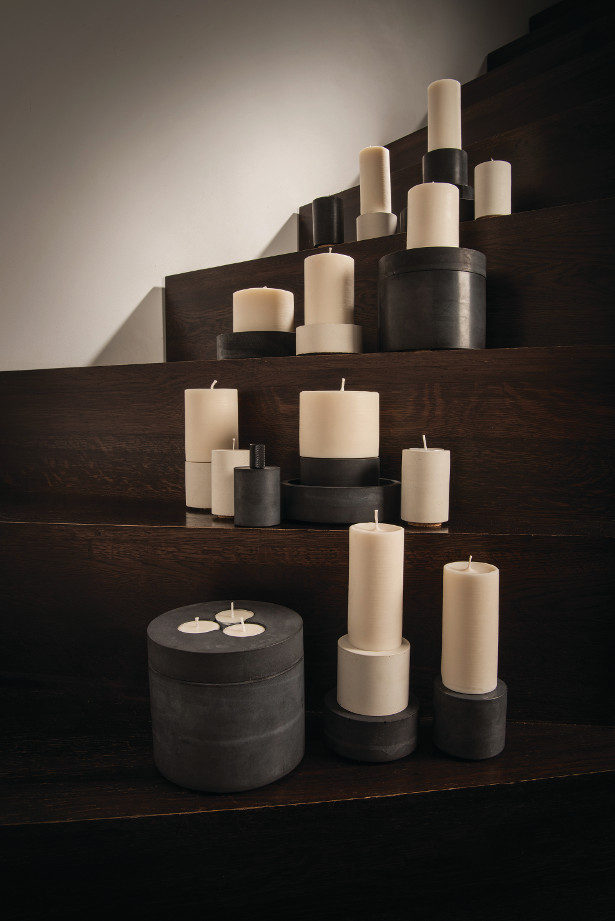 The facts:
Every item can be purchased individually. Prices begin at £18 for a slim 53mm-wide pillar candle to £30 for a large 118mm-wide three-wick candle (burning time up to 45 hours). The holders begin at £22 for a slim 53mm-wide holder to £55 for a 148mm-wide pot with lid. Customers can also purchase perfect partner holder and candle sets. Prices for the solid coloured concrete sets start at £35 for the 53mm-wide slim set to £75 for the 118mm-wide three-wick candle and its 148mm-wide lidded pot.
A trio of slim 53mm-wide holders delivered with tealights, make the perfect gift at £35 and are an easy starter set, stacking on all other concrete pieces as well as partnering perfectly with the slim candles.
The candles are available in four fragranced soy wax combinations: Lime, Basil & Mandarin; Tobacco & Oak; Sandalwood & Black Pepper; and Amber Noir, as well as in a natural unscented yellow beeswax.