SHAKE YOUR WAY PAST 5 A-DAY WITH FOGA'S PLANTSHAKES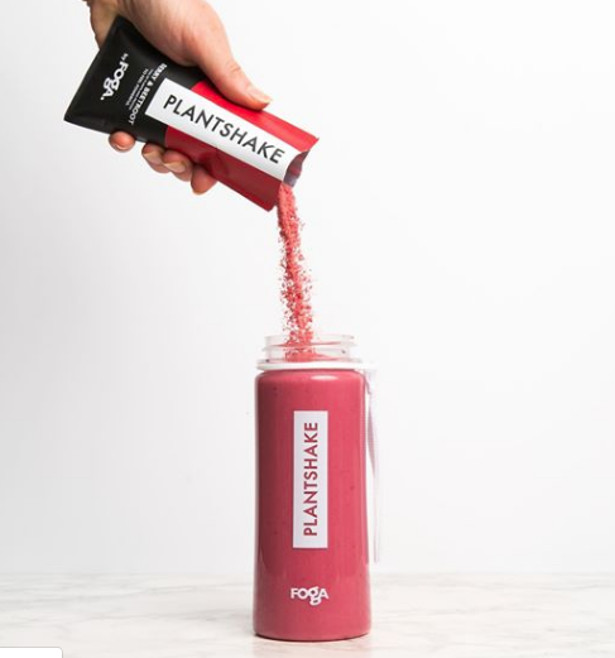 FACEBOOK | INSTAGRAM
It's time to discover the easiest way to soar past your 5-a-day, with the launch of FOGA Plantshakes, a delicious range of instant whole plant smoothies made from freeze-dried fruits and vegetables.
Created to help busy people ensure their diets are rich in a diverse range of whole plants, FOGA Plantshakes are a convenient and delicious way to up your plant intake, which is scientifically proven to help you feel better.*
Fed up with ready-made smoothies which are really just sugary juices, FOGA use whole (mainly organic) freeze dried produce that preserves all the gut boosting fibre and energising vitamins of fresh fruit and vegetables. FOGA's blends focus as much on flavour as nutrition, creating delicious and nutritious smoothies for people looking to boost their diet and improve health and energy levels. Shake a pouch with water or your favourite milk for a smoothie you'd think you made in a blender.
FOGA believe that the food we eat should grow, and as such have created a range which includes no juices, sweeteners, or anything artificial. Each of the 13 mouth-watering blends, which include Peach & Cayenne, Beetroot & Ginger and Kiwi & Greens will enhance your fruit and vegetable intake in a matter of minutes.
Whether you want to enjoy them as a mid-morning snack, or to energise pre or post workout, FOGA Plantshakes contain just 100 calories* per 250ml serving, and are conveniently portioned into 30g pouches, perfect for keeping in your bag or at your desk.
Packed full of essential vitamins, minerals, and antioxidants to optimise your health and wellbeing, a box of 10 Plantshakes boasts as many as 24 different fruit and vegetables. Each pouch contains about two portions of whole fruit and vegetables, as well as seeds, spices, superfoods and adaptogens. Build your own box and select your favourite flavours, and either opt for a one-off box, or subscribe for a regular supply which the whole family can enjoy.
Brimming with health benefits, FOGA uses the same freeze-drying process as NASA to preserve the full nutritional content of each ingredient, including the important micronutrients, phytochemicals and polyphenols, from the moment the fruit and vegetables are flash frozen at harvest. This innovative process ensures that each pouch is more nutritious than a regular shop bought smoothie, or even the fruit and vegetables you buy from the supermarket and avoids any unnecessary wastage, helping to reduce the 7 million tonnes of food wasted in UK homes each year.
Believing that businesses should be a force for good, FOGA includes a pre-paid envelope in every box so that used pouches can be sent back and recycled, ensuring nothing goes to landfill. Additionally, when you sign up to FOGA's mailing list you will have a tree planted on your behalf in an area affected by deforestation, making that all important step towards offsetting the impact of their deliveries.
*Imperial, 2017 "Fruit and vegetable intake and the risk of cardiovascular disease, total cancer and all-cause mortality—a systematic review and dose-response meta-analysis of prospective studies" www.academic.oup.com/ije/article/46/3/1029/3039477