THE BIC® KIDS YOUNG ARTIST AWARD IS BACK
www.bickids.com/uk/youngartist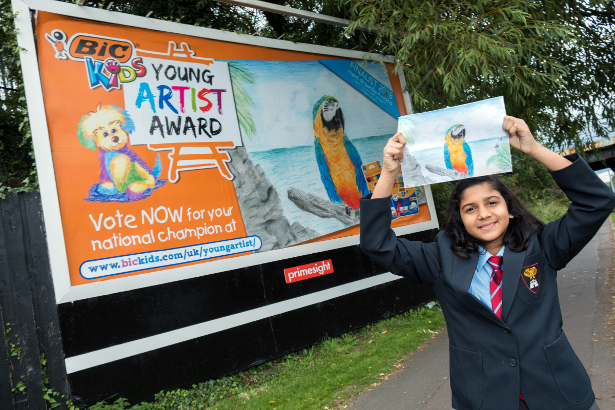 TWITTER | INSTAGRAM | LINKEDIN | YOUTUBE
Irelands young artists encouraged to represent their region
Is your child's imagination constantly running away with them? Are they always drawing on any scrap of paper they can find? After receiving 1,000+ amazing entries and over 20,000 votes last year, the competition that gives budding young artists a chance to let their creativity shine is now open for 2019. This summer, the BIC® KIDS Young Artist Award is giving proud parents across the UK and Republic of Ireland the opportunity to see their child's drawings graduate from the fridge door to billboards!
The BIC® KIDS Young Artist Award celebrates the creativity of 5 to 11-year old children from across the country, with an expert judging panel selecting 13 finalists to represent their region, including Ireland. The lucky finalists will have their work displayed on their very own, local billboards from late August.
Finalists will be selected from:
East of England
East Midlands
London
North East England
North West England
South East England
South West England
West Midlands
Yorkshire and the Humber
Northern Ireland
Scotland
Wales
Ireland
Once regional finalists have been chosen, a public vote will then decide the ultimate winner, whose drawing will go nationwide in late September. Entries are open from Monday, July 1 to Sunday, August 4.
Entrants are encouraged to exercise their artistic flair, let their imaginations run wild and draw with complete freedom. Entrants should draw a landscape piece on plain A4 paper, use pencils, pens and/or crayons and not draw any famous characters or logos to be eligible to win. Judges will award points for everything from creativity and use of colour, to composition and subject matter. Once kids have created their showstoppers, parents can enter by simply visiting www.bickids.co.uk/youngartist and uploading the artwork before the deadline on Sunday, August 4.
Henri Nicolau, at BIC UK and Ireland, said: "The BIC® KIDS Young Artist Award has been growing year-on-year and we can't wait to see more incredible entries this year. We saw some outstanding quality last year, which proved an exciting challenge when it came to the judging stage."
"It's always so heartwarming to be reminded of just how creative kids are and it's a real pleasure to be able to reward this talent, giving these artworks the recognition, they deserve and enabling children to further their creativity. We'd encourage all parents to enter their children's drawings – the more imaginative the better!".
As well as the priceless opportunity to have their drawings published, the 13 finalists will win a bundle of BIC® KIDS goodies. Specifically designed to help children hone their artistic talent, these goodies will include an array of exciting stationery products including the BIC® KIDS Evolution Ecolutions® Colouring Pencils and BIC® KIDS Kid Couleur Felt Tip Colouring Pens.