Organix spark imaginations with New Limited Edition
Organix has announced the launch of its new flavour packed limited edition Choco Orange Soft Oaty Bars.
Joining the Organix range of awardwinning Soft Oaty Bar flavours, this new zesty orange & cocoa blend will be sure to spark little one's imagination and taste buds! Packed full of delicious juicy raisins, wholegrain oats and fruit juice, it's no wonder Organix Oaty Bars are the UK's number one toddler oaty bar*.
As with all Organix foods, New Choco Orange Soft Oaty Bars come with the reassurance of the Organix No Junk Promise, a pledge to parents that they contain the best organic ingredients, with nothing unnecessary added and no artificial colours or flavour. Parents can feel confident knowing that they are keeping their little ones topped up, whether playing at home or creating their own little adventure, with this new limited edition flavour.
Emily Day, Head of Food Development said: Parents are always on the lookout for new and exciting snacks to keep their little one's going throughout the day, so we wanted to create a tasty and exciting flavour that ticked all the boxes.
Chocolate Orange is a classic combination that consumers know and love, and we wanted to put our Organix spin on the flavour making it suitable for little tummies, so they too can enjoy the flavour sensation of this much-loved duo!
All Organix foods come with their own 'Organimal' character on the front of packs, and with the new Choco Orange flavour comes the unveiling of a brand new mystical Organimal. Not only that, but the packaging has been designed with a fun fairy tale theme, capturing little one's imaginations.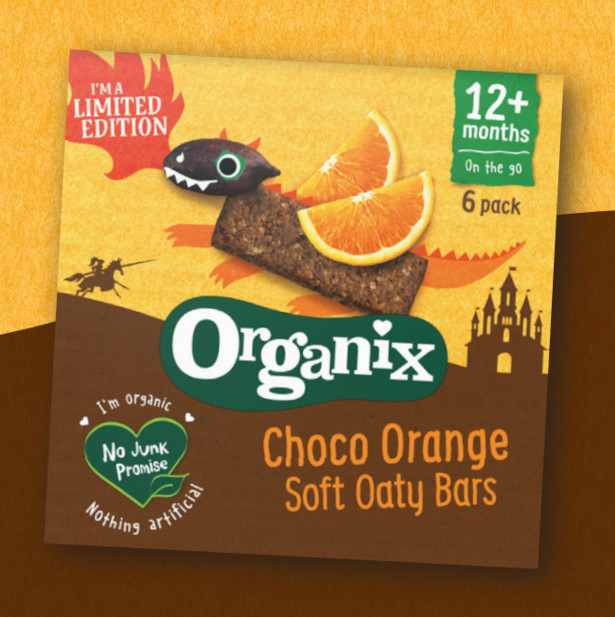 • Made with a blend of wholegrain oats, raisins, sunflower oil, apple juice, cocoa powder, orange oil and vanilla extract
• Organic and vegetarian friendly
• They come with the No Junk Promise: I'm Organic. Nothing artificial
• Suitable from 12+ months
• MRRP: £2.76 for pack of 6 bars
• Stockists: Available exclusively from Organix's Online Shop in March before launching in Tesco, Sainsburys, Waitrose and Morrisons
Be sure to post a picture with your limited edition Oaty Bars and tag @organixfood Also visit us at www.organix.com