SAUCYBITCH HOT SAUCE ARE THE PERFECT CHRISTMAS STOCKING FILLER OR SECRET SANTA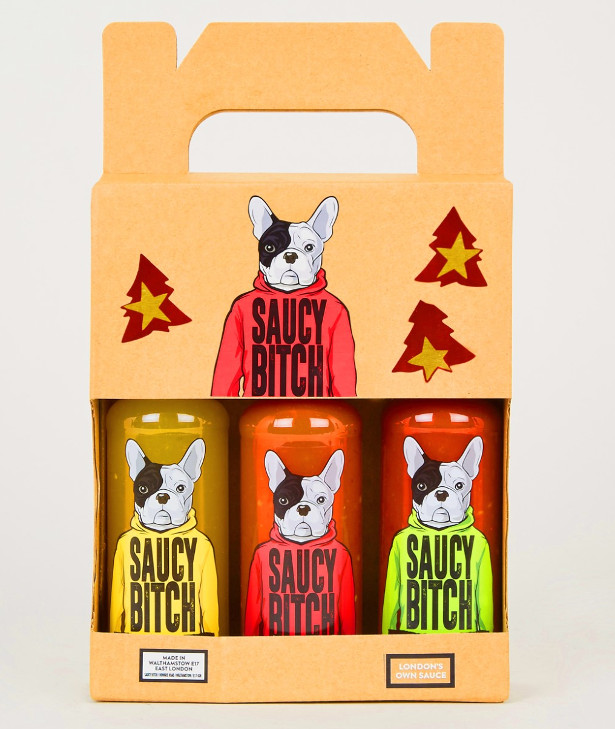 FACEBOOK | TWITTER | INSTAGRAM
SaucyBitch Hot Sauces are the perfect way to spice up this Christmas. Make Christmas extra SAUCY this year by giving someone a festive gift of Hot Sauce. At only £5.99 per bottle and £17 for a Festive Selection Pack this is the perfect Christmas gift for anyone who likes to spice up their turkey. These Artisan Vegan Sauces are stocked in the Luxury Brand LVMH store Le Graden Epicerie de Paris, making them the ultimate Hot Sauce treat for any discerning Christmas Condiment Connoisseur. The eye catching French Bulldog labels are the coolest addition to any kitchen cabinet and come in an array of collectible colours.
Available in Five Flavours:
Hot Stuff – Hot Stuff is a ballsy take on a classic hot sauce. This saucy little number is packed with premium red jalapenos, habaneros, birds eye and romano chillies, then rounded off with a generous hit of garlic. We have given it a medium spicy heat so it appeals to all lovers of hot sauce. It is perfect to splash in home cooking or to use as a saucy hot dip.
Smokin' Hot – Smokin Hot is a rich, lavish London take on one of the UK's favourite sauce flavours – chipotle. This rich and intense saucy little number blends chipotle with molasses and liquid smoke imported straight from Tennessee's finest barbecues to give it that authentic smoky taste. This is the ultimate sauce for any chipotle lover and is perfect for all occasions.
Sweet Heat – Sweet Heat is a luxurious version of the classic Thai Hot Sauce – Sriracha. Our fiery version is packed with garlic and an intense chilli sweetness to give it a sizzling kick. We use fermented chillies and it is suitable for vegans. This is the perfect Hot Sauce for noodles, kebabs or using as a dipping sauce.
Triple XXX – Triple XXX is a seriously Hot Sauce for those who think that hotter equals better. There is a higher concentration of fermented Hot Habanero and Scotch Bonnet chillis to give this more bang for your buck. This extra hot Hot Sauce was created for our customers who like their sauces HOT but still want to be able to use it on their favourite foods rather than use it to remove paint. Perfect with Pizza, stir fries and meat dishes.
Mellow Yellow – Mellow Yellow is a fruity yellow Hot Sauce that is perfect for lovers of a sweet chilli sauce who prefer it mild. The heat comes from the renowned Fatalii Chilli while the sweet comes from a mix of succulent pineapple and sweet juicy mango all finished off with a citrusy twist of lemon. This sweet and fruity Hot Sauce gives a milder lingering warmth and is perfect with fish dishes, stir fries, chicken and everything else. A must have for any kitchen.
Hot Sauces are really growing in popularity in the UK, emulating the success of American Hot Sauce brands. In the UK Chilli and tabasco sauces outstripped every other sauce and condiment in value (29.5%) and volume growth (24.8%). While Tabasco (up 4%) has been heavily promoting its 150th anniversary.
Saucybitch hot sauces are all vegan which are proving very popular with customers at the Saucybitch stall at London's iconic market – Old Spitalfields Market. Customers are also raving about the fact that the hot sauce use fermented ingredients which experts predict will be the one of the main food trends in 2019.
The Saucybitch brand tries to keep the production process as local, sustainable and carbon neutral as possible by using community sourced chillies to help produce their sauces. They established The Walthamstow Chilli Collective whereby chilli growers in Walthamstow donate their chillies to use in the production process. This initiative has proved very popular with the environmentally minded customer.
The labelling and brand imagery is modern and features a design inspired by the owner's dog – Captain, a French Bulldog. The French Bulldog is the celebrity dog of choice with Lady Gaga, Madonna, David Beckham and Leonardo DiCaprio all owning French Bulldogs. The branding is designed with a cool aesthetic in mind, paying a tongue in cheek homage to Andy Warhol's Campbell soup cans and designed to be displayed in pride of place within the customer's fridge.
Saucybitch sauces have already been snapped up by some trendy retailers before they have even been officially launched. Saucybitch sauces are the only hot sauce to be stocked at Le Bon Marche – Le Grande Epicerie in Paris (owned by the LVMH group and widely regarded as THE BEST FOODHALL IN THE WORLD) Some of the current UK suppliers include: Eat17 Spar in Walthamstow, Eat17 Spar in Hackney, Kitchen Provisions in Stoke Newington, The newly opened Kitchen Provisions in the exclusive Coal's Yard King's Cross and the newly opened GourmetDeli in Leigh on Sea along with online retailers.
Dean Smith of Saucybitch says, "The response to our sauces has been overwhelming. People love them and we sell out the minute we make a new batch. Our Instagram has a large following and has even led to a diner in Philadelphia buying the whole range. The cool opinion former delis that have approached us via our Instagram to start stocking them are hopefully a sign of the things to come. Customers seem to love the vegan, fermented and community sourced angle."
Saucybitch is available to buy via the website www.saucybitch.co.uk and wholesale enquiries are to be made via the website in the first instance. The bottles retail for £5.95 each and come in 150ml bottles.