Sneak Peak at Showstopping New Designs from MY Furniture
There's nothing like creating an interior sensation in your own living room and with these great new, on-trend designs from MY Furniture, you can now do so without breaking the bank!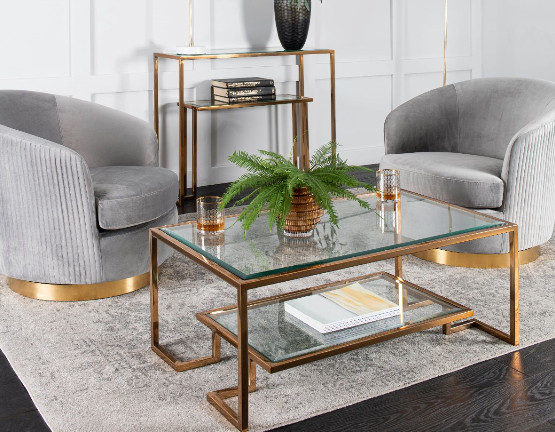 With a whole host of exciting new styles, it's never been easier to make a design statement in your home. MY Furniture pride themselves in bringing customers original products made with exceptional quality at remarkable prices, and the new Melville Swivel chairs are certainly no exception!
Priced at just £314.99 the metal swivel base with mirror polished finish creates a real focal point when teamed with the distinctive, micro-fluted velvet upholstery. Available in 5 colours and a choice of silver or brass coloured base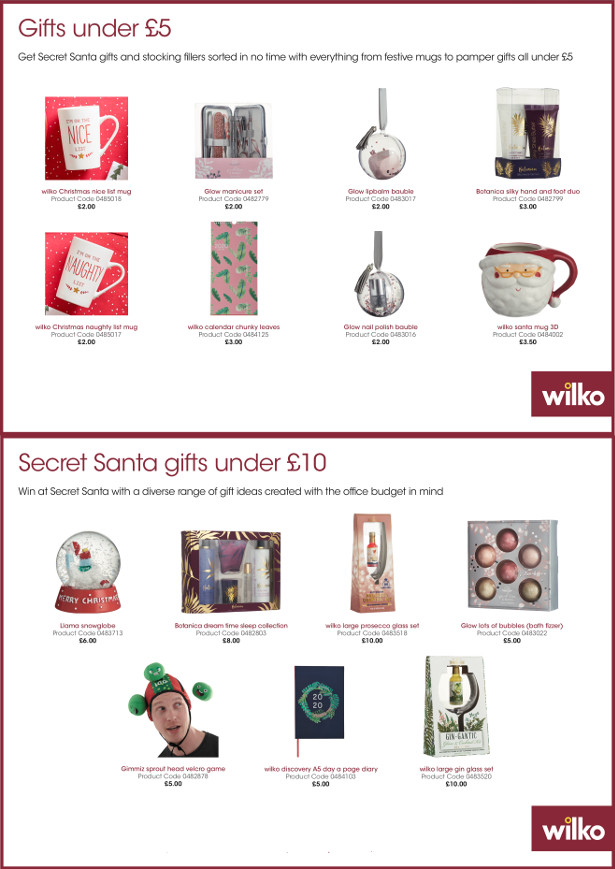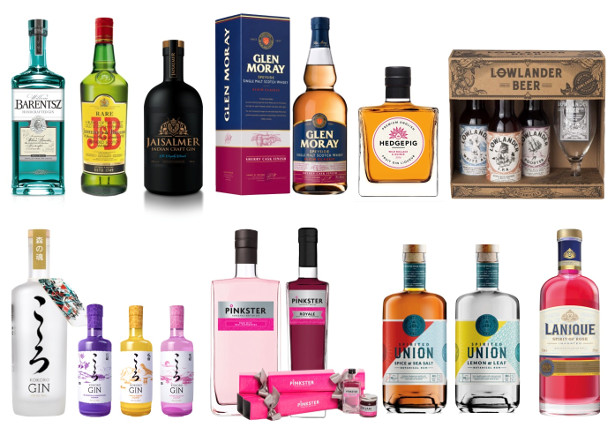 Barentsz Gin
Barentsz Handcrafted Gin is a premium distilled Gin, infused with Jasmine flowers from China, as well as eight other botanicals for an elegant, dry and well-balanced finish. Made from the marriage of two different grain spirits – Winter Wheat and Golden Rye, this unique combination gives the gin a soft and smooth, pure flavour – smooth enough to sip neat.
Available from: Harvey Nichols, Amazon, 31Dover, Master of Malt, Whisky Exchange and Drinksupermarket.com.
RRP: £32.95 for 70cl
J&B Rare Whisky
Steeped in history, J&B Rare is a blended Scotch whisky combining forty-two malt and grain whiskies in one smooth yet subtle blend. The heart of J&B Rare is formed from the finest Speyside malts, blended together before being returned to cask for a further three years' maturation. A unique process of blending mastery, bringing together the bold flavours of single malts with lighter grain whiskies, adding fullness and depth to the blend. This is a whisky whose blends and behaviours have transformed tastes and defined the category, earning loyal clientele from the Princes of England to the Kings of Swing.
Available from: Waitrose, masterofmalt.com, thewhiskyexchange.com, drinksupermarket.com, 31dover.com and Justerini & Brooks
RRP: £22.50 for 70cl
Jaisalmer Indian Craft Gin
Jaisalmer Indian Craft Gin is a triple-distilled spirit, handcrafted in a traditional copper pot still in small batches at one of India's oldest distilleries, located in the foothills of the Himalayas. The use of botanicals is a time-honoured tradition in India. Jaisalmer has 11 botanicals, 7 of which are sourced from the four corners of India.
Available from: The Whisky Exchange, Master of Malt and DrinksSupermarket.com
RRP: £35.45 for 70cl
Glen Moray Whisky
Glen Moray have a range of single malt whiskies to suit everyone's palate and everyone's budget. From the whisky novice to the whisky aficionado. From the Classic range which starts at just £20.00 and includes Classic, Peated, Port Cask Finish and Sherry Cask Finish.
Available from: Sainsbury's, Master of Malt, The Whisky Exchange, Majestic and Whisky Specialist Retailers
RRP: from £20.00 for 70cl
Hedgepig Fruity Gin Liqueurs
Fend off the frost this winter with Hedgepig's warming pudding gins. Perfect for cosy tipples by the fire or last minute Christmas gifts. Made using fruit grown in local orchards or foraged from the East Anglian hedgerows, the liqueurs accompany cheese and desserts especially well and are the perfect alternative to port or sweet wine at the end of an evening.
Available in four delicious flavours including Cambridge Gage, a member of the plum family, Glorious Gooseberry, Wild Bullace & Quince, and Zesty Elderflower.
Available from: www.fruityhedgepig.com
RRP 50cl: £32.00 or 20cl: £16.00
Lowlander Botanical Beer
Botanically Brewed Beers
Whilst traditionally beer is brewed with hops, water and yeast, at Lowlander brewing starts with peeling dozens of oranges, cooking spices, extracting bags full of herbs and making teas and tinctures, using the same principles as gin distillation. By using a variety of brewing processes and natural, botanical ingredients, Lowlander is able to get the best amount of both flavour and aroma into their beers. Lowlander's four botanically brewed beers are White Ale, Pale Ale, I.P.A and Poorter.
Botanical Infusion Beers (2.5% abv)
They have also recently introduced their low abv (2.5%) Botanical Infusion beers. Inspired by the aromatics of a beautifully garnished G&T, their Ginger & Kaffir Lime and Yuzu & Pink Grapefruit Infusions are best served differently, as a long drink garnished with fresh mint or pink grapefruit.
Zero Alcohol Wit (White) Beer (0.00% abv)
Whether you're designated driver, pregnant or just dialling down your alcohol intake, Lowlander also have their first no-alcohol beer. Brewed with reclaimed citrus peel, from bars and restaurants who use the fruit to squeeze fresh orange and lemon juice, Lowlander 0.00% Wit (White) Beer, unlike other non-alcoholic beer options, is bursting with fruity, citrus flavours.
Lowlander also has a fantastic Gift Pack made up of three bottles of their new botanically brewed beers from Amsterdam (made using the same principle as gin distillation, with lovely botanicals) and a beer glass.
Available from: 31Dover, Harvey Nichols, the Lowlander website, Amazon, beerwulf.com, LightDrinks.co.uk
Lowlander Gift Pack: available from Amazon for £19.95
Kokoro Gin – A British Gin with a Japanese Heart
Kokoro London Dry Gin is small batch, distilled in London in a copper pot still with nine botanicals including its core ingredient, Japanese Sansho berries. The berries are hand-picked and imported from the Afan Woodland, a sustainable forest in the Nagano prefecture region of Japan.
Available from: kokorogin.com, Morrisons, Master of Malt, 31Dover, Amazon and other good retailers RRP: £29 for 70cl
Also in the Kokoro Gin range are their delicious Japanese-inspired liqueurs, including Blueberry & Lemongrass, Yuzu and Ginger and Cherry Blossom.
Available from kokorogin.com as a 20cl gift set for £37.50 or as individual bottles from £12.50 for 20cl
Pinkster Gin
Hand-steeped in fresh raspberries, the original Pinkster Gin makes for a deliciously dry gin, with a hint of fruit and an exceptionally smooth finish. Be sure to garnish with some fresh raspberries and a sprig of mint!
Available from: Marks & Spencer, Fenwick, Harvey Nichols, Selfridges, and Majestic Wine, Ocado, 31Dover.com, Master of Malt and Pinkster Gin.com
RRP: £36.00 for 70cl
Add some fun to your Christmas lunch with Pinkster's elegant Gin Crackers, holding both a dinkster 5cl bottle and a mini jar of Gin Jam.
Available from: Pinkster Gin.com
RRP: £10.00
Pinkster Royale
This rich raspberry spirit makes for a fabulous Christmas cocktail – a member of the Pinkster family it is made from up-cycled gin soaked raspberries and contains no added sugar. Best enjoyed added to a glass of your favourite fizz or neat over ice.
Available from: www.pinkstergin.com
RRP: £25.00 for 35cl
Union Rum
Union Lemon & Leaf Rum
Union Lemon & Leaf Rum, the world's first botanical white rum, is an Agricole-style rum from Mauritius made with lemons grown along the Amalfi Coast. Spirited Union distills the finest blue eucalyptus leaves to create a balance of refreshing lemon and herbal flavours. When combined with Sri Lankan Highland black tea, the Mauritian rum's distinctive grassy citrus notes produce a light & minty union. The flavours have been united with the delicate, earthy tone of kina bark together with sarawak pepper & sarsaparilla root for a complex spicy finish.
RRP: £29.95 for 70cl bottle
Union Spice & Sea Salt Rum
Union Spice & Sea Salt is a smooth cask-aged Barbados rum infused with five delicate spices, including Guatemalan cardamom, Madagascan cloves and vanilla for a sweet spice aroma. Peruvian cacao adds a deep richness and moreish honey-nut finish. To enhance both the taste and flavour, the rum is infused with a pinch of Añana sea salt. Its great purity and high mineral content ensure it perfectly complements the rich flavours of the rum.
RRP: £34.95 for 70cl bottle
Available from: Master of Malt and The Whisky Exchange and Spirited Union.com
Lanique Spirit of Rose
Lanique Rose Spirit is a distinctive spirit liqueur, made to an original recipe that uses thousands of hand-picked rose petals, giving Lanique its natural rose taste and aroma. The rose petals provide the vibrant and bold pink colour and it is best enjoyed with tonic water as an alternative to a Gin and Tonic. Lanique is distilled from Attar of Rose; a liquid as valuable as gold. This exotic ingredient is created by steam distilling thousands of hand-picked rose petals that are sourced from the East. The Attar of Rose is then added in a slow, multi-part process with carefully selected sugars and a neutral fine grain spirit.
Lanique can be added to favourite mixers, lends a splash of sophistication to sparkling wine and champagne or adds a rosy twist to a classic cocktail.
RRP: £22.50 for 50 cl or £29.50 for 70cl
Available from: Amazon and Master of Malt
The New Men's Ford Mustang Officially Launches with Signature Design Authentic to the iconic Car.
The official Ford Licensee and one of the leading manufacturers and fragrance distributors on the global market – Palm Beach Beaute Inc. announces the launch of the new Men's Ford Mustang Fragrance. The new cologne is a vehicle of dreams and aspirations – it conveys bold, unique and fearless emotions, with an authentic design connection to iconic Ford Mustang car. The fragrance packaging incorporates signature design cues in regard to shape, color, texture and motion. The glossy, red saturation of the bottle glass hearkens to the Mustang's most popular color. The overall silhouette of the bottle emulates the curves and symmetry of the front grill. As with the grill, the cap features the honeycomb execution which is associated with power and performance, at the same time is the exterior facing for the engine, and in the case of the package design, is the facing for the pump and actuator…the engine of the bottle. Tactile elements, further enhance the package, resulting in a presentation that is modern, sleek, masculine, approachable and recognizably Mustang. Executed in a combination of clear acetate and black paper board, this unique carton presents the bottle as the main focal point.
 as a car is presented in the showroom… creating emotional connection by attracting the consumer and allowing the appreciation of it's design. FRAGRANCE NOTES: Top: Grapefruit, Tarragon, Lemon Zest. Middle: Mint, Galbanum, Lavender Bottom: Sandalwood, Patchouli, Musks Size: The Fragrance is available in 100ml EDT size, and retails at $25. Available online at: www.palmbeachbeaute.com/product/mustang-3-4oz-edt-spray/
The Ford Mustang Fragrances has entered the ever-evolving market with the social media angle, and is gaining traction connecting directly with the consumers around the world on instagram @fordmustangFragrances #fordmustangfragrances reaching the core audiences and having the ability to tell its compelling story to the Ford Mustang Fans, Lifestyle and fashion community on a day basis. ###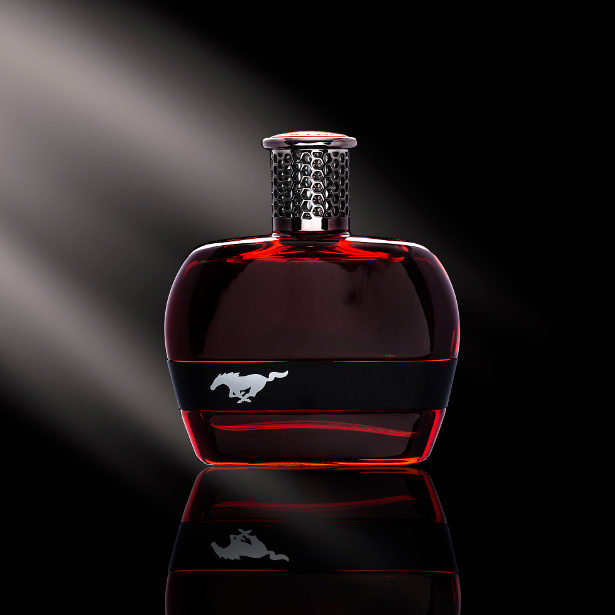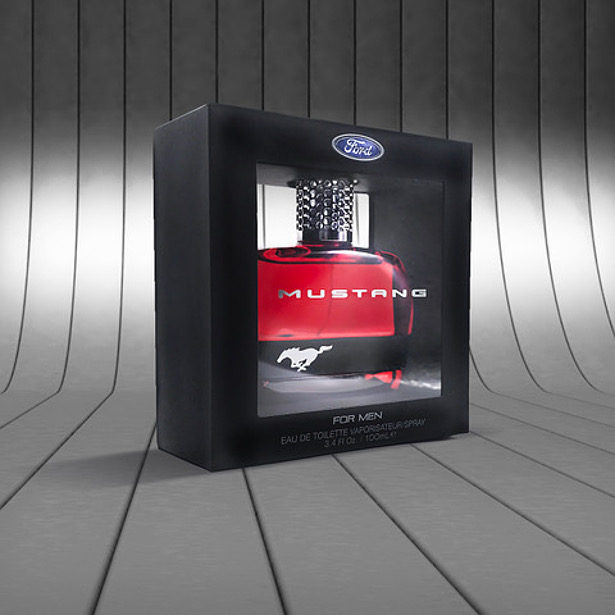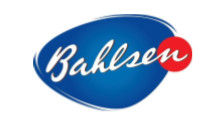 Introducing…. Bahlsen Collection
Your favourite luxury biscuits in one box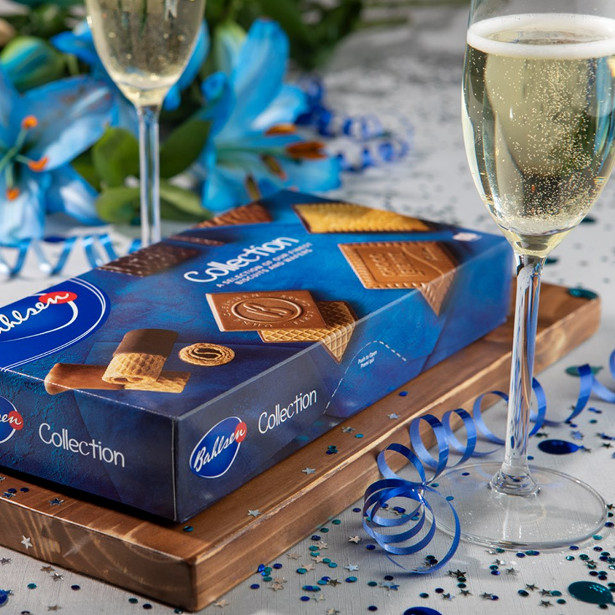 INSTAGRAM | FACEBOOK | TWITTER
Bahlsen, the family-run biscuit company, are here to make our biscuit breaks extra luxurious with the launch of new Bahlsen Collection: an indulgent selection of their finest chocolate biscuits and wafers, all together in one luxury box.
For the very first time, the all-new Bahlsen Collection brings together some of Bahlsen's most-loved, a-little-bit-fancy, biscuits: Choco Leibniz, Praline Squares, Choco Wafers and Waffelettens, in a selection that's ideal for sharing.
Choco Leibniz are crisp butter biscuits coated in a layer of sumptuous, creamy chocolate in the satisfying ration of "more chocolate than biscuit."
Praline Squares are a delicate layer of crisp wafer and smooth praline, made with only the finest Levant hazelnuts, which have an intoxicating aroma and intensity. The combination with thick indulgent chocolate creates this delightful wafer classic.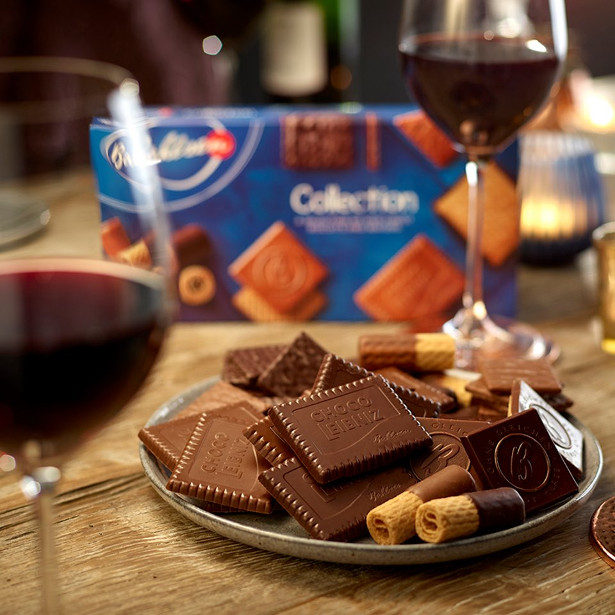 Choco Wafers are delicate wafers covered with chocolate.
Waffelettens are luxury fine crisp wafer rolls dipped into rich chocolate for moreish bites.
Make celebrations even more special with an assortment – because why only choose one?! Perfect for sharing with friends, the Bahlsen Collection biscuit box is the ultimate must-have for picnic hampers, or to enjoy more variety with your afternoon cup of tea.
Bahlsen Collection assortment boxes is available from June in Waitrose and Ocado at the RRP of £2.99.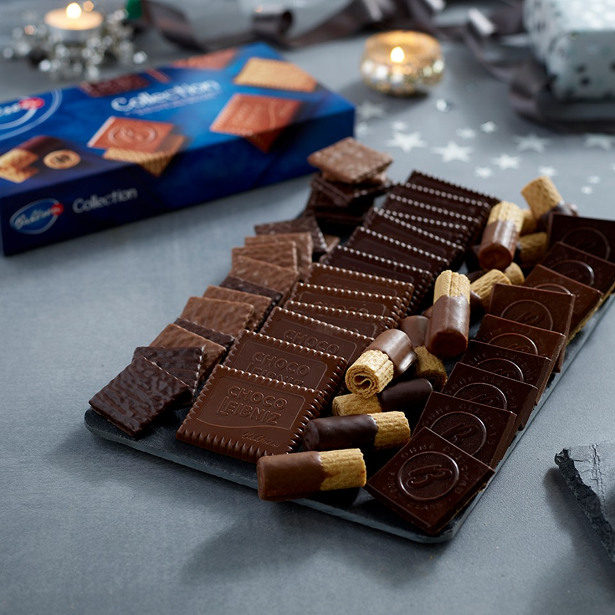 WORLD-RENOWNED FREEST­YLE MOTOCROSS ATHLETES LAND FIRST EVER THREE-RIDER DOUBLE BACKFLIP TRAIN OUTSIDE CAERPHILLY CASTLE


High-Flying Achievement Celebrates the Top-Flight Competition Coming to Cardiff's Principality Stadium Next May for Nitro World Games-Wales 2020
With the majestic turrets of the iconic Caerphilly Castle rising in the background, decorated freestyle motocross (FMX) athletes Josh Sheehan, Jackson Strong and Luc Ackermann achieved a major action sports milestone, landing a record-breaking three-rider double backflip train.
The historic Welsh landmark has seen more than its share of notable moments, but is not likely to have experienced anything as gravity-defying. Go here to dowload VIDEO of this groundbreaking world's first.
This accomplishment previews the Nitro World Games – Wales 2020 action sports competition, now expanding outside of the U.S. for the first time.
Over Bank Holiday Weekend on the 23rd and 24th of May, more than 100 of the best athletes in FMX, BMX, skate and freestyle scooter will face off at Cardiff's Principality Stadium to battle for a coveted podium spot.
During the Caerphilly Castle stunt, however, the spirit of camaraderie prevailed. "To land that with two of my good friends is absolutely amazing," Jackson Strong explained afterwards. "Normally freestyle motocross isn't a team sport. You are usually going out there competing against each other. But, to have the opportunity to do something like this with two of my friends is something I will never forget."
He added, "What we did here at Caerphilly Castle just screams Nitro World Games. It's about doing world's firsts. It's about doing something new and exciting. It's just a taste of what's to come in Cardiff in May 2020."
Josh Sheehan said, "This was really cool; it was only a few years ago that there were only one or two guys doing double backflips. But today we had three people doing them. It shows that the sport is moving forward."
Sheehan added, "I'm really excited for Wales 2020. Because not only is this an awesome location; there are a lot of people here that are into action sports and it's a beautiful outside. We also have a state-of-the-art stadium where we can have a perfect setup, focus solely on our tricks and put on an awesome show."
Luc Ackermann said, "It feels amazing. I'm very happy. It definitely feels like another step [in FMX] to land the triple double flip."
Ackermann also is excited to see Nitro World Games come to Wales. "Nitro World Games 2020 is going to be another level because so many good riders want to compete. It's going to be an amazing event in a huge stadium."
With a standard double backflip still among the most difficult and dangerous tricks in FMX, attempting to land three of them, all in one run, raised the stakes tremendously. To be successful and ride away safely there was simply no margin for error.
First, Sheehan, Strong and Ackermann had to launch their 220-pound motorbikes into the air in quick succession, one immediately after the other. Then, they needed to complete two full rotations in tight formation only seconds before touching down on the landing ramp.
While each of these top-tier athletes have experience pushing the envelope – Sheehan with the first triple backflip on a motorbike, Strong with the first frontflip to dirt and Ackermann as the youngest rider to land both a single and a double backflip – achieving this puts them at the very forefront of the sport.
Afterwards, Josh Sheehan described the attempt: "In practice we all felt pretty good about each of our doubles, but it still didn't prepare us for the train. First the noise – I could hear the bikes screaming through the air – then trying to be so close to the person in front of and behind you. We had to really focus on what we were doing. But to land it was exhilarating."
Super-Fast, Sidekick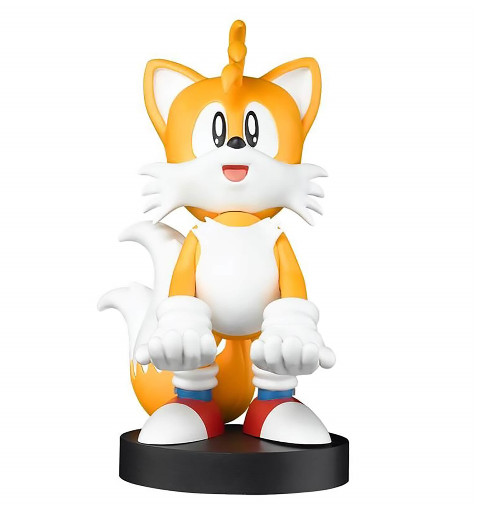 Meet Tails, Sonic the Hedgehog's super-furry, super-fast sidekick. He is designed by the wonderful team at Cable Guys who have an awesome job of bringing amazing characters to life-like creations. Fresh on the 'tails' of Sonic, Crash Bandicoot, Iron Man, Spiderman and even Buzz Lightyear, Cable Guys have done it again, producing a master-piece.
This adorable and colourful collectable is certain to look the part in any games room. Not only does Tails hold smart phones and gaming controllers, he also charges them in super-fast speed. Tails comes with a 3m charging cable which is the optimum lead to get the best charge and power to all of your devices.
The Cable Guys Tails costs £19.99 from Zavvi
NATURALLY FESTIVE
GAIA LAUNCH NEW WELLNESS GIFT RANGE FOR CHRISTMAS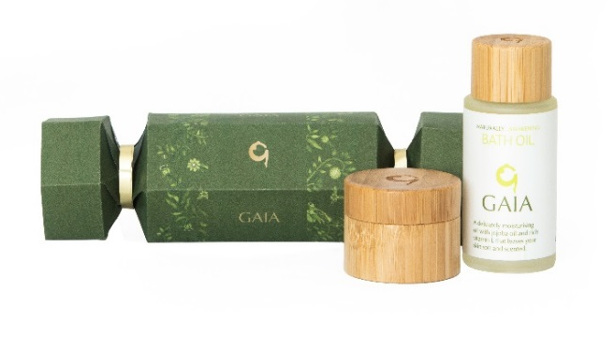 Gaia, the leading artisan and natural skincare range, has launched an exclusive new selection of gift products just in time for Christmas. Handmade in Britain using the finest organic ingredients, essential oils and natural bamboo packaging that's 100% recyclable; the new gift range is ideal for any spa seeker or wellness expert. From luxury gift packs to stocking fillers, there's a little slice of pampering magic for everyone.
Indulgent stocking filler
Gaia Christmas cracker, £10.00
Includes lip balm 15ml or bath oil 30ml
Add a touch of modern luxury to the tradition with a Gaia beauty Christmas cracker. The perfect introduction to Gaia, each cracker is filled with either an awakening bath oil or lip balm, for an indulgent little treat.
Wellness treats
Gaia sleep Set, £40.00
Includes sleep body butter 50g, sleep spray 50ml and sleep balm 50ml
A great night sleep is the perfect gift over the festive season. The new Gaia sleep set includes a trio of treats including a sleep balm, body butter and sleep spray; all infused with lavender, chamomile and orange blossom to calm the senses and quieten the mind.
Gaia awakening oil collection, £45.00
Includes awakening bath oil 100ml, awakening body oil 100ml
The signature awakening blend includes a mix of tangerine, grapefruit and peppermint which will uplift the senses; resulting in a sense of renewal and optimism. Each collection includes a bath oil and a body oil.
Gaia eye and face serum set, £60.00
Includes eye serum 15ml and face serum 15ml
Protect and nourish your skin with this ideal duo. The eye serum smooths and hydrates containing natural actives of retinol and vitamin C, plumping out fine lines and the skin. The vitamin-rich-oil-based face serum deeply moisturises with an essential mix of rosemary, palmarosa, lemon, echinacea and rosehip.
Gaia facial range trio, £85.00
Includes face exfoliator 60g, cleaning balm 50g, facial moisturiser 50g
The award-winning trio is the perfect introduction to natural skincare. The face exfoliator includes a combination of calendula oil and sugars to remove dead skin. A rich and nourishing cleansing balm with jojoba and shea butter helps to replenish the skin and the light moisturiser leaves skin hydrated, radiated and protected.
For the Home
Gaia awakening candle, £25.00 and Gaia diffuser £25.00
Carefully handcrafted to release the awakening aroma of pure essential oils, the awakening candle is made with natural soya wax and free from all harmful pollutants and fragrances. The perfect addition to help lift your mood throughout the home. The reed diffuser uses Gaia's signature blend of essential oils including geranium, petitgrain and lemongrass to create a deliciously uplifting scent throughout the home.
Gaia's skincare range is stocked at award winning spas including Boringdon Hall, Plymouth, The Fistral Beach Hotel & Spa, Cornwall and Whatley Manor Hotel & Spa, The Cotswolds
www.gaiaskincare.co.uk/
www.instagram.com/naturallygaia/
CALLING ALL SUPERHEROES!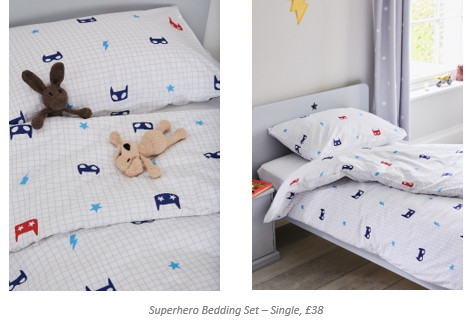 The search for stylish & tasteful Superhero room accessories to delight both kids and parents is over. Hang up your cape, take a seat, and check out Great Little Trading Company's new range today
Every child can be a superhero if they put their mind to it! Superpowers come in all shapes and forms – kindness, bravery, determination… It's not all about travelling at the speed of light and having superhuman strength.
Great Little Trading Company's (GLTC) smart, new Superhero range has all you need to create a haven for your little adventurers to relax in after a long day of being super!
A SUPER POWERED BEDTIME
GLTC's new Superhero Bedding is legendary; such is its power that your children might even start to look forward to bedtime! Made from 100% cotton, this contemporary bedding will keep kids cool and comfy all night long.
RESERVED FOR SUPERHEROES
Save the best seat in the house for your little star. Like all GLTC's kids' bean bags, their new Superhero design has a practical, machine washable cover – because even superheroes spill things sometimes!
A STORAGE SUPERHERO
GLTC's storage cubes come in an array of different designs to suit any colour scheme, even superhero themed ones! The new Superhero Canvas Storage Cube is the perfect partner to GLTC's Navy and Red Stardust Cubes.
THE ULTIMATE DEN
Every superhero needs a base. The newest addition to GLTC's Teepee range makes the perfect hide-out for little explorers. Use it for snack time, adventures in the garden, or as a reading nook for devouring comics.
EPIC SLEEPOVERS
Make sleepovers fun and hassle free with a roll up sleeping bag. GLTC's Superhero Sleeping Bag is made from cool, natural, breathable cotton to make night's away from home, or camping in the garden, as comfy as possible. It's long enough for teenagers and grown-ups to use too.
Encourage your child to feel awesome with GLTC's fantastic new Superhero range now available at www.gltc.co.uk. Follow GLTC on social media to find out more about their new Autumn Winter collection:
Instagram: @great_little_trading_co
Facebook: @Greatlittletradingco
Introducing the Stunning New Navajo Collection
ILIV have recently launched four beautiful new fabric collections for AW19; Botanist, Navajo, Astoria and Teatro. Today we will be introducing the striking Navajo collection, a mix of fun conversational prints, textured stripes and stunning embroideries.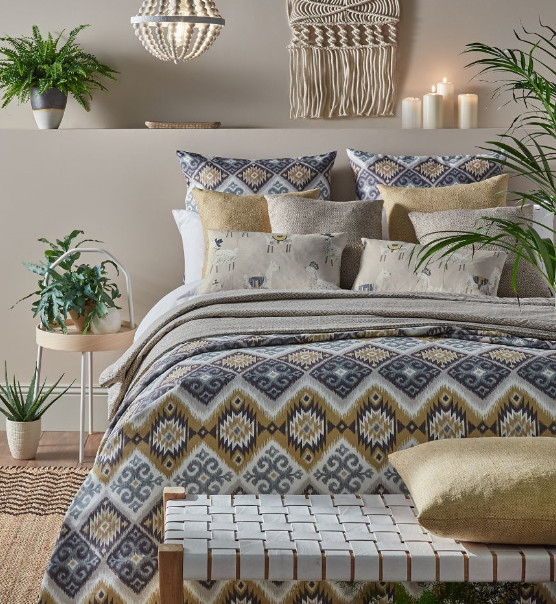 Pictured above: Navajo Collection fabrics in Tamarind, from £22.00 per metre
ILIV's new Navajo Collection takes inspiration from indigenous and tribal roots. Bold patterns, full of eye-catching colours, and on-trend alpaca and aztec prints can be spotted within the collection; a great way to introduce some fun and adventure into any interior.
Scuf Gaming teams up with Internet superstar Syndicate for exclusive gaming controller – A partnership 9 years in the making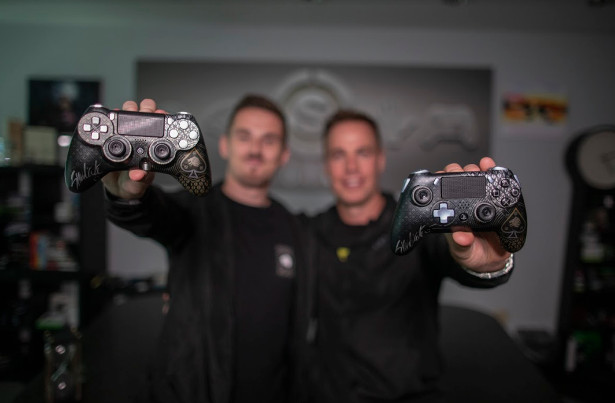 ATLANTA, September 13th, 2019 — Scuf Gaming, innovator and creator of high-performance gaming controllers, has partnered with the British influencer and streamer Tom Cassell, better known by his creative name Syndicate, to design a series of SCUF controllers.
Syndicate, a long-term user and admirer of SCUF controllers, has played a key part in the creation process of the new controllers, adding his own personal touch. Each controller spotlights Syndicate's trademark lion logo, accented with gold and silver tones, and is crafted to improve any player's gameplay performance and boasts numerous customizable features to fit any playstyle.
"This is a relationship many years in the making. I've used SCUF controllers since I started playing Call of Duty and uploading my games back in 2011," Tom Cassell said. "I'm excited to bring my fans a controller that is not only sleek and stylish but can improve their play just like it enhances mine."
This partnership is a celebration of a joint anniversary: Syndicate launched his first YouTube channel nine years ago, the same year Scuf Gaming invented the SCUF controller. Since then, Syndicate has grown to become one of the most famous internet personalities worldwide, with millions of fans across YouTube, Twitch, and other platforms.
"I've known Tom for nine years and throughout this time he has been an avid user of SCUF controllers. We talked about a partnership many times, so to finally create a SCUF Syndicate controller was a memorable milestone for both of us," said Duncan Ironmonger, CEO of Scuf Gaming. "He understands what SCUF stands for because he is a user first and a partner second. These new controllers represent that unique, organic relationship, over nine years in the making."
The SCUF Vantage Syndicate (starting at $199.95, exclusive to North America) and the SCUF Impact Syndicate (starting at 169.95€/$169.95/£134.99) are now available on Scuf Gaming's official website. A special edition SCUF Prestige Syndicate for Xbox One and PC will become available later this year.
About Syndicate
Tom Cassell, better known as Syndicate, is one of the most famous Internet personalities worldwide. He is the creator and owner of TheSyndicateProject, a YouTube channel with over 9.9 million subscribers, and the Syndicate Twitch channel, which has over 2.7 million followers.
An energetic and uplifting content creator, Syndicate started uploading his videos to YouTube in 2010. His first clips revolved mostly around Halo and Call of Duty: Modern Warfare 2, but he rose to prominence with the release of the zombies' mode in Call of Duty: Black Ops. Cassell left school and quit his job at McDonald's after taking his A-levels to concentrate on his YouTube channel.
Well known thanks to the positive and open style of his videos, Syndicate also owns Life of Tom, another YouTube channel with daily vlogs about travel, hobbies and quotidian funny situations.
For more information about Syndicate, follow him on his channels:
TheSyndicateProject Youtube: www.youtube.com/user/TheSyndicateProject
Life of Tom YouTube: www.youtube.com/user/SyndicateCentral
Twitch: www.twitch.tv/syndicate/videos
Twitter: www.twitter.com/ProSyndicate
Facebook: www.facebook.com/TheSyndicateProject/
Instagram: www.instagram.com/syndicate/
About Scuf Gaming
Scuf Gaming®, innovator and creator of high-performance gaming controllers, provides superior accessories and customized gaming controllers for console and PC that are used by top professional gamers as well as casual gamers. Built to specification, SCUF controllers offer a number of functional and design features custom built to increase hand use and improve gameplay. SCUF controller features are covered by 91 granted patents, and another 55 pending applications, focusing on four key areas of a controller: the back-control functions and handles, the trigger control mechanisms, the thumbstick control area and the side-mounted configurable SaxTM button placements.
For additional information about Scuf Gaming, please visit scufgaming.com or follow us on Twitter, Facebook, Instagram, YouTube, Twitch, or Snapchat.
The World's First Independent Esports Data Marketplace for In-Game Data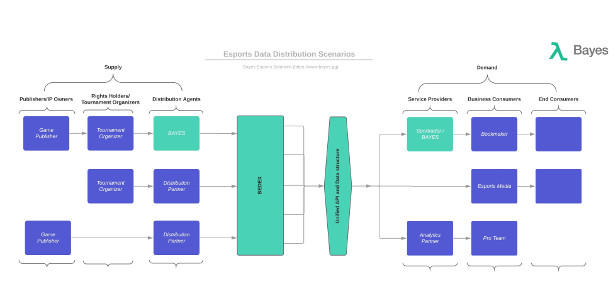 One of the greatest challenges facing the fast-growing esports industry is the availability of reliable realtime in-game data. Exclusive contracts, manual data collection, and the lack of a central interface complicate broad distribution and the development of industry standards. For example, betting and media companies often only have access to the data of individual organizers or tournaments which severely limits coverage. This is where Bayes comes in. The tech start-up has developed BEDEX— The World's First Independent Esports Data Marketplace to provide data consumers with reliable live data through a single interface. From the start fast live-data for ESL and Dreamhack (CS:GO) and for Riots LEC, LCS and international Lol tournaments will be available. Further expansion to include other gaming titles and organizers is already in development.
Data is a valuable asset in esports. Correctness and accuracy are unfortunately not a given, of course, as Martin Dachselt, Managing Director of Bayes, stresses. For data consumers this is a big problem—"especially in esports, which is much more agile and fast-paced than traditional sports." Bookmakers and media want data with a high level of detail for all events and games "preferably from a single source," continues Dachselt. In addition, exclusive contracts between service providers and right holders make broad distribution and standardization difficult.
It is at this precise intersection of complexity where Bayes picks up the reins and takes a central stage in the industry with its marketplace, BEDEX. The Berlin-based start-up which has grown to over 20 employees in just six months since launching is in the process of finalizing distribution agreements for esports data and video streams with tournament providers. Following the agreement, Bayes will carry out the technical integration. This includes data collection and processing as well as the creation of complex products such as real-time visualizations and probabilistic models.