Double Your Indulgence!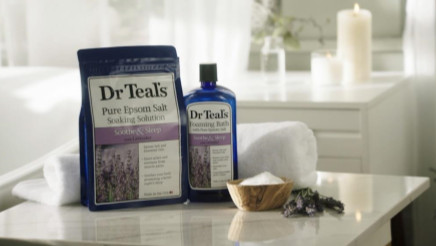 Heighten your bathing experience by cocktailing your favourite Dr Teal's products in the same soak. By pouring in both our Bath Salts and Foaming Bath at the same time, you're not just doubling the indulgence you're doubling the effectiveness of your Epsom Salt Soak.
Our Epsom Salt range detoxifies skin and restores muscle function, whilst added luxurious essential oils provide soothing, energizing, relaxing and stimulating benefits. Our Foaming Bath will also transform your tub into a luxurious at-home spa, due to the creation of long-lasting bubbles which leave your skin silky soft and restored. Bath time has never been so decadent!
The benefits of bathing with Epsom Salt include: • Reduced stress levels • Increased energy and stamina levels • Relief from pain and inflammation • Sore, aching muscles are soothed post workout • Promotion of a restful night's sleep • Senses are soothes, the mind is relaxed; leaving you revived and refreshed • The body is flushed of toxins and harmful substances
For further details please contact Norresa Perucho nperucho@pdcbeauty.com / 02087563457 or Rosie Bennett rbennett@pdcbeauty.com/ 02087563459 Dr Teal's Pure Epsom Salts and Foaming Bath £7.99-£10.99, available in Boots and Amazon.co.uk
The Dr Teal's range includes:
Soothe & Sleep With Lavender Our Epsom Salt is infused with calming and soothing Lavender to help your body and mind destress & unwind naturally, promoting a better night's sleep.
Relax & Relief with Eucalyptus & Spearmint Eucalyptus & Spearmint make a powerful combination: eucalyptus stimulates the senses while spearmint restores the body.
Pre & Post Workout with Menthol & Citrus Allow your muscles to recover faster with our specially formulated power soak, infused with menthol, nature's relaxant.
Detoxify & Energize with Ginger & Clay Ginger's intense warming action promotes healthy circulation & flushes the body of toxins, supported by the inclusion of clay. Perfect for a quick detox!
Dr Teal's Pure Epsom Salts and Foaming Bath £7.99-£10.99, available in Boots and Amazon.co.uk
SARACENS RUGBY STARS GIVE BACK TO THE COMMUNITY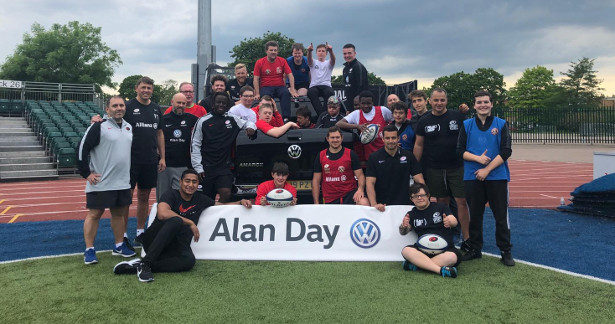 A trio of England International rugby stars took part in a special end of season training session at Allianz Park for children with learning difficulties.
The players – Alex Goode, Jackson Wray, Alex Lozowski -who all play at club level for Saracens RFC, put the kids through their paces in a series of technical and physical challenges.
The session, organised in association with the Sarries Sport Foundation, gave the young lads a chance to show their skills and impress the England Internationals along the way.
England Full Back, Alex Goode, said: "Having been down here a few times and seeing all the kids involved in the programme and the smiles on their faces it's just brilliant. I've been at Saracens my whole life and this is a small way where I can give back and help these kids have a great day. Just to be apart of it is amazing. I think on a skill level, their understanding of the game and their technique has improved dramatically. The level they've gone up to is incredible!
But I think the interaction with each other – how they communicate so well now, is brilliant. Certainly from the start, some of the new guys weren't as good as that, and now you can just see how much they've blossomed, how confident they are with everyone else in the group and how much they want to get involved, I think its incredible!"
The session was sponsored by Alan Day who run weekly training sessions with the kids every Monday at Allianz Park that focus on improving the health and mental well-being of the participants.
Paul Tanner, Managing Director of Alan Day said: "I've been involved with Saracens RFC for four years now and as I say each time its amazing to see the growth in the boys week in week out."
Hard-hitting academy graduate, Jackson Wray, added: "I've been here for a long time now and all the lads are so pleased that Paul's (Tanner) committed to doing this. It's not easy to run the programme, so it's great to see Paul take the time to do it and give a little back to the community. The kids love coming down here on a Monday and we try and get down as much as possible to make it even more special for them."
Wray and Goode were joined by Sarries' Flanker, and former Chelsea academy footballer, Alex Lozowski, who added: " Having heard about what goes on, I had to come down for myself to spend a bit of time with kids and chuck the ball around. I'm glad they're enjoying it. Seeing some of the passing skills and some of them putting it the big hits on the bag, it really is great to see.
Recipe for Success in Playtacular's Refreshing New
​​​​​​​Root Beer Float Challenge Game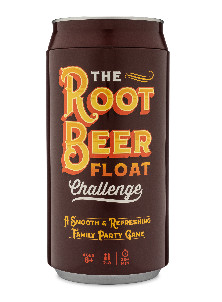 Chicago, IL – (June 14, 2019) – Get the game fun flowing this summer as Playtacular, LLC. today announced the nationwide availability of its new family party game, The Root Beer Float Challenge.
The tasty new game, which arrives in Target Stores and online everywhere this month, uses a unique game play strategy as players look to win the game by completing a series of solo, head-to-head and cooperative challenges using the ingredients of a Root Beer Float.
Created by the team of best-selling game designers, Brady Peterson and Tim Swindle, The Root Beer Float Challenge is intended to get people moving and active while playing a family fun, interactive game. "The RBFC is partially inspired by popular social media challenges that have gone viral. The theme of the Root Beer Float gives us the elements for obscure challenges with silly staged components that make the game 'laugh-out-loud' fun," Swindle said.
To play The Root Beer Float Challenge (MSRP $19.99), 2-8 players ages 8 and up take turns competing in various Solo, Cooperative, and Head-to-Head challenges. If you complete the challenge successfully, you earn an Ingredient card. But if you fail the challenge, your float will be sunk until your next challenge is achieved. The object of the game is to be the first player to build a complete Root Beer Float (root beer, ice cream, cherry and straw) and be named The Root Beer Float Challenge Champion!
The game arrives in an oversized tin root beer can package and contains 120 Challenge Cards, 80 Ingredient Cards, 1 Ice Cream Ball, 2 replica Cherries, 4 Straws, and 1 Challenge Die.
About Playtacular, LLC:Playtacular, headquartered in Chicago, IL, was founded in 2017 by Brady Peterson and Tim Swindle, two guys who like to have fun and bring fun to those around them. Peterson is a prolific inventor and the creator of Otrio, Groovy Blocks, Newton, among other games, and Swindle is an entrepreneur and creator of the hit party game, Utter Nonsense. For more information, visit www.playtacular.com and interact with the company on Facebook, Instagram, Twitter and YouTube.
London Transport Museum Shop brings London's finest tennis championships to life with these vintage prints. The perfect adornment to your home and office, you can admire them whilst enjoying the tennis and strawberries! Let's hope the rain stays away!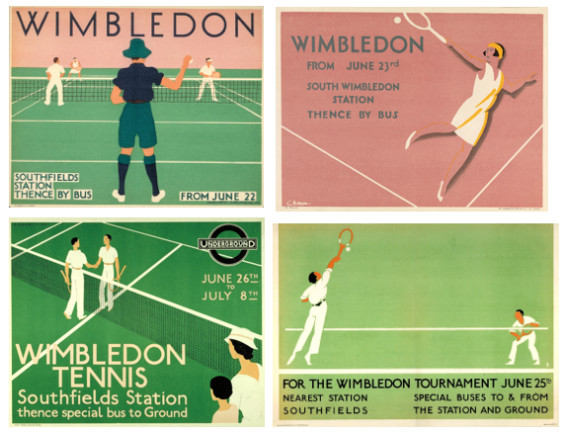 Wimbledon posters available from www.ltmuseumshop.co.uk, prices start at £15
Musical Must Have.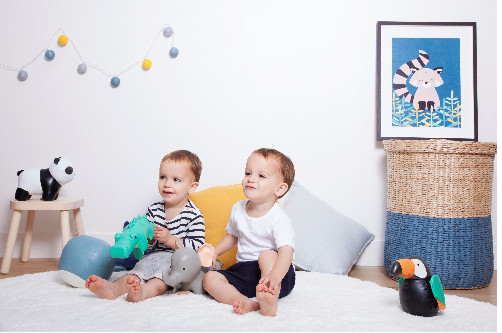 Say hello to Madeleine, Luca, Achille, Vincent and Jean, the adorable, loveable and stunning collection of musical animals from French designers; Baby To Love. Each character has a music box which is easy to handle thanks to its super soft texture. Showcasing a life like exterior straight from the animal kingdom, with an easy to clean exterior, it will last the test of time.
The musical animal is available in a wide selection of calming and soothing pastel tones that are sure to take centre stage in your little ones room and around your house. With their cutes eyes these toys say pick me up and they give an amazing cuddle.
Each animal plays a different and unique soothing melody. Just pull the cordh underneath the animal and subtle musical notes will begin to play. Madeleine the Whale plays Swan Lake, Jean the Toucan plays over the rainbow and Achille the Crocodile a romantic reptile who plays for Elise.
There is something for every child to suit their style. These stunning animals help stimulate curiosity and a baby's sensory development of vision, hearing and tactility.
Beautifully crafted from start to finish each of the Musical Animal would make a wonderful gift idea, for an upcoming baby shower or first birthday party, or at anytime of the year as it isn't often you see such amazing toys.
The Musical Animals (Madeleine, Jean, Achille, Luca and Vincent) are available online for £29.95 From BabyToLove.co.uk
PRESENTING MUDDY PUDDLES AUTUMN WINTER '19
'Wild and Free' Collection For Little Explorers From Muddy Puddles
Kitting out young adventurers for over 20 years, award-winning British children's outerwear brand Muddy Puddles showcases their AW19/20 collection – Wild and Free.
Taking inspiration from the illustrious (and possibly the greatest) fossil hunter that ever lived, Mary Anning, the new collection captures the essence of the prehistoric kingdom with bold and striking prints, combined with more delicate patterns to encapsulate the AW19 theme.
Making its Muddy Puddles debut this season is the all new and protective Hard Shell Jacket, robust and packed with technical features this striking colour block design in red or green can be combined with the practical and chic new Navy Padded Gilet, to provide extra warmth on those more serious expeditions.
Back for its second season, the best-selling super-waterproof Explorer Parka now comes in three fabulous colours – red, blue and a gorgeous new green – a versatile jacket for all occasions.
Turning plastic bottles into kid's clothing, the planet friendly EcoSplash range made exclusively from recycled plastic is back and embracing the 2019 theme – with ichthyosaurus and raindrop prints.
Increasing their commitment to sustainable sourcing and practices, the much-loved Puddleflex collection has been updated and is now also made from recycled fabrics.
New for '19 is the super waterproof unlined PU Rain Jacket, alongside the fabulous Technical Socks, offering additional padding and support in all the right places of the foot on those long treks.
The range also includes the ever-popular blizzard jackets and salopettes insulated up to -20C, with-it wellies, stylish snowdrift snowboots, bright & bold base layers and coordinating hats, gloves and balaclavas.
Deafblind musician to play Elton John's donated piano at St Pancras station in Deafblind Awareness Week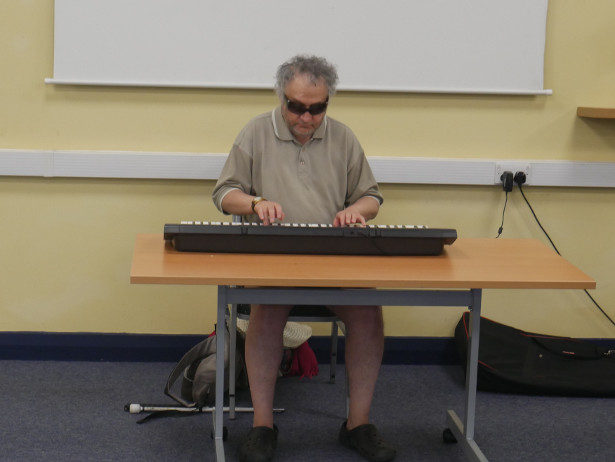 A musician who is deafblind will entertain commuters by playing the Elton John piano at St Pancras station on Tuesday 25th June between 4pm and 6pm.

Mark Pampel from London has Usher Syndrome which has left him with no sight and very little hearing. But this hasn't stopped him becoming a hugely successful pianist and composer. As lead pianist of the LSO Create Orchestra, Mark has played at the Barbican Centre as well as performing solo piano works at other local concerts.

To have the opportunity to play Elton John's piano to crowds of commuters at St Pancras station during Deafblind Awareness Week really is a dream come true. He said: "I'm so excited to be able to show people that although deafblindness is extremely difficult to live with, it doesn't have to stop you doing the things you love. I am fortunate enough to have some very good hearing aids which make the piano sound natural. Thanks to these, I use composing and improvising techniques to learn new music. I hear a piece of music and re-play it by working out which notes I hear. I can then improvise various parts to change the music and make arrangements of well known classical and popular music, as well as composing my own piano music."

Living with a severe dual sensory loss is difficult but Mark has found music is a great therapy to help him cope. "It gives me the most amazing sense of wellbeing, I appreciate the discipline, love the creativity and the emotion of producing live piano music. Playing is so exhilarating – it's a natural high for me!" he said.

Mark is supported by national charity, Deafblind UK. CEO Steve Conway said: "Mark is extremely talented and I'm astounded at what he has achieved with no sight and very little hearing. Deafblindness can rob you of so much, but to have the determination to follow your dreams and the confidence to perform in public like this is truly inspirational."

Deafblind Awareness Week runs from 24th to 30th June. During the week, Deafblind UK and other charities will be hosting events and activities to raise awareness of combined sight and hearing loss. For more information visit www.deafblind.org.uk/deafblindawarenessweek.

Alex Oxlade-Chamberlain boosts performance with Supreme's Protein and Pre-Workout nutrition
Supreme Nutrition launches range high in performance, taste and quality
London, UK | 17 June 2019 – Supreme Nutrition, a lifestyle nutrition brand, today announces the launch of its new product range in the UK. Supreme has created seven different products to help anyone reach their specific fitness and lifestyle goals from weight loss and muscle gain and recovery, through to energy and getting lean. The range is refined and targeted, only offering products that will truly help.
With a focus on performance, taste, quality and lifestyle, Supreme's range works in harmony with a balanced diet, and the advanced formulas meet the exacting requirements of Informed Sport and BRCGS, with double AA certification for Food Safety. The products have been developed with consultation from athletes, nutritionists and independent regulators over a five-year period. They are now being used by professional athletes, including Liverpool FC and England International's Alex Oxlade-Chamberlain, as well as those at many other Premiership clubs, and PTs and nutritionists, to boost their performance, energise intense workouts and enhance recovery. All products in the range can be purchased online at https://supremenutrition.com/.
The ideal protein and pre-workout products for those that require optimum nutritional value and peace of mind, the Supreme range uses only legal substances and incorporates ingredients such as Whey Protein from locally-sourced grass-fed organic sources that contain all nine essential amino acids. Every batch is rigorously batch tested.
Oxlade Chamberlain commented, "Supreme Nutrition brings out the most from my training: I feel that I have found something that truly improves my performance, energises my workouts and enhances my recovery. A healthy, balanced diet and training plan has been instrumental in my recovery and Supreme Nutrition's products have played a key part in supporting this."
The Diet Whey product supports weight loss with natural fat-burning ingredients like Green Tea Extract, Flaxseeds, CLA and Acetyl L-Carnitine, while muscle building and recovery is supported by the Recovery and Whey Protein projects, with over 30g of whey isolate or whey concentrate protein per serving. For an energy boost there's Pre-Workout, Supreme BCAAs or Supreme Creatine, and to get lean, go for the Whey Protein Isolate (exceptionally low in fat) or the Diet Whey.
Available in flavours such as Strawberries & Cream, Vanilla, Chocolate, Banana, Salted Caramel, Watermelon and Blue Raspberry, all the products in the range have been vigorously taste tested so they're good to consume by themselves or alternatively, mix them smoothly into porridge, pancake or energy bar recipes.
Supreme Nutrition product range:
Supreme Recovery Blend
With over 30g of Whey Isolate Protein, 17g of Lean Complex-Carbs and 5g of L-Glutamine per serving, this is a good shake for anyone wanting to recover efficiently without the excess fat you typically get from normal carbs. Use after an intense training session to aid recovery and give the body the energy to process protein. One of the leanest recovery shakes on the market, this blend is available in chocolate, banana and strawberries & cream.
RRP: £35
Supreme Whey Isolate
Triple filtered to leave minimal fat and close to 0% lactose, this is the purest whey protein formula in our range. The perfect option for people that bloat easily or want to keep/maintain a lean physique, this blend is unrivalled in terms of quality and performance. With three flavours available to choose from (chocolate, banana and strawberries & cream), the Whey Isolate contains over 30g of Isolate Protein, less than 1% fat and 140 calories per serving.
RRP: £40
Supreme Whey Concentrate
Increase your protein intake with this affordable blend that is perfect for those trying shakes for the first time. Available in four mouth-watering flavours such as salted caramel, vanilla, chocolate and strawberries & cream, it's a healthy and diet-friendly way to satisfy a sweet tooth.
RRP: £26
Supreme Diet Whey Blend
An option for anyone looking to lose weight and lean out ahead of their summer holiday, this blend contains natural fat burning ingredients such as green tea extract and flaxseeds. With only 140 calories per serving, Diet Whey is a guilt free snack that can be consumed throughout the day. Containing Whey Protein Concentrate, green tea extract and flaxseed oil, this shake is available in chocolate, strawberries & cream and vanilla.
RRP: £34
Supreme Pre-Workout
Available in Blue Raspberry and Watermelon, this blend is designed for use prior to heavy lifting or an intense workout. Ideal for those that use explosive bouts of energy at least four times a week, its core ingredients (300mg Caffeine, 5g Creatine, 5g BCAAs) provide energy and support muscle growth. Other ingredients include Branch Chain Amino Acids, Creatine Monohydrate, Magnesium Citrate, Pine Bark Extract, Colouring (Blue FCF), AAKG (Arginine alpha-ketoglutarate, Taurine, Beta Alanine, L-Citrulline Malate.
RRP: £30
Supreme BCAAs
Available in Zesty Apple, the Supreme BCAAs are designed to support muscle growth and energy during workouts.
RRP: £25
Supreme Creatine
Supreme's purified Creatine Monohydrate gives you the energy to perform beyond your best. Proven to provide explosive energy and muscle growth support.
RRP: £20
Hitting the road this holiday? Don't forget to check your tyres!

The mid-year school holidays are upon us and with that comes the excitement of road trips, whether for a holiday away, day trips to the beach or an off-road adventure. Being prepared to take the road should also involve vehicle preparation, with a safety check of your vehicle's tyres of critical importance.
"Planning a vacation, or even a stay-cation with day trips, is such an exciting part of any holiday," says Riaz Haffejee, CEO of Sumitomo Rubber South Africa (SRSA). "Part of that planning should be to check out every aspect of your vehicle's safe running. As your tyres are the only part of the vehicle that touch the road, it is essential to check these thoroughly and make sure they are ready for whatever terrain you will encounter on your journey."
As the manufacturer of the iconic Dunlop brand which was voted the #1 Tyre Brand yet again by consumers for 2017/2018, as well as the Sumitomo and Falken Tyre brands, Sumitomo Rubber South Africa offers road users a few tips to help ensure a safe and comfortable road experience this holiday season.
Check your tyres for wear and tear.
As well as checking the tyre tread depth, it is important to inspect the sidewall and tread of your tyres for damage, punctures or foreign bodies that may have become embedded in the tyre. All Dunlop tyres have a built-in tread wear indicator at 1.6mm to warn you of the need to replace your worn tyre. In fact, all well-known tyre brands have ensured that tread wear indicators and visual indicators of 1.6mm can be easily identified by motorists.
"Worn or smooth tyres represent a risk to the safety of your vehicle on the road," Haffejee says. "Reduced tread depth prevents effective grip on the road surface, especially in wet conditions when this is of utmost importance. This will lead to reduced traction and could result in aquaplaning, increasing the risk of loss of control of your vehicle."
Avoid replacing a worn tyre with an unsafe & unregulated second-hand tyre.
While second-hand passenger car tyres can seem like a more cost-effective alternative to purchasing brand new tyres, these are unregulated and expose road users to a major hazard. Haffejee says that there is a dangerous and illegal practice called 're-grooving' where unscrupulous operators buy worn, used tyres and carve out the rubber of the tyre to make the tread depth appear deeper than it is. "The cost of buying second-hand or part-worn tyres runs deeper than the cost of a new tyre, with the potential loss of vehicle control, and it's devastating consequences – injury or loss of life – being a very real concern."
Follow vehicle manufacturer recommendations with regard to tyre fitment and size.
Consult your vehicle owner's manual to check that it is fitted with the correct type and size of tyre. Incorrect tyre sizing affects vehicle performance. A reputable tyre fitment centre, such as a Dunlop Zone, Dunlop Express will be able to advise you on this vital safety aspect.
Check that your tyres are inflated to the correct pressure.
"This is often something that road users neglect to check, but is incredibly important," says Haffejee. "Under-inflated tyres have a higher risk of blow-outs and will increase fuel consumption. Over-inflation will result in uneven wear that impacts road grip."
Your vehicle should have a sticker showing what tyre pressure is recommended. Many filling stations are fitted with electronic pressure gauges that you can use – or have the attendant use – to accurately check and inflate your tyres.
Make sure you have an inflated spare and wheel changing equipment
Make sure to add the following to your pre-trip checklist: always check that you have a correctly inflated spare tyre, a working jack, a wheel spanner and safety triangle in your vehicle in the unfortunate event of a puncture.
"Safety is part of our DNA – and our passion – at SRSA," Haffejee says. "We highly recommend stopping in at an accredited Dunlop tyre fitment centre to have your tyres inspected before hitting the road."
For more tyre safety tips, watch the Dunlop Safety Tips videos or visit: www.srigroup.co.za.
Being prepared to take the road should also involve vehicle preparation, with a safety check of your vehicle's tyres of critical importance advises SRSA CEO Riaz Haffejee.
Styku and it's the world's most advanced 3D body scanner which can be used to guide and support people on their health and wellness journeys.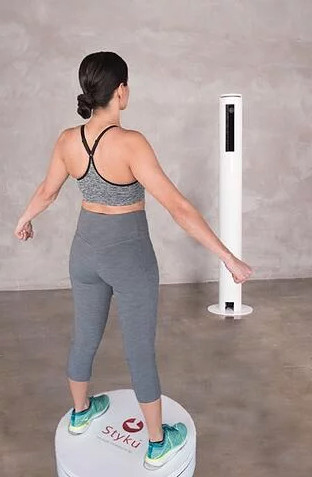 With just a 35-second scan, using the world's most powerful and precise 3D camera and non-harmful, high-resolution infrared images, Styku re-creates a person's body in 3D, capturing millions of data points to precisely extract and identify measurements (e.g. body circumferences), shape, body composition and other insights.
Health and fitness professionals can use the 3D model to highlight changes in shape and/or to set goals – tracking progress and charting key measurements over time to keep clients and members motivated as they continue on their path to improved health and wellness.
Styku is now the only 3D body scanner of its kind to precisely and consistently predict three major components of body composition (lean mass, fat mass and bone mass) using only measurements on the surface of the body. What's more, its pioneering technology is accurately aligned with DEXA – a type of X-ray that is widely considered the gold standard for measuring body composition.
Styku can even predict the exact type and location of body fat and provides insight on how fitness and nutrition programmes are impacting overall health. As the health and fitness industry becomes increasingly "wellness-based" with Millennials and Gen Z, in particular, placing a greater emphasis on their overall wellness, Styku is the fit-tech professionals need to deliver a personalised and motivational experience for their clients and members, while supporting the NHS's preventative agenda.
What's more, Styku is light-weight and portable meaning health and fitness professionals can take it with them wherever they go, for example, summer boot camps.
We have lots of great case studies from gym owners/personal trainers and their members/clients which you could use for this piece.
For more information, please visit: www.styku.com
Travel insurance not a one-size-fits-all solution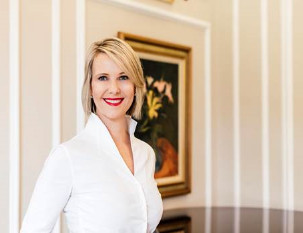 18 June 2019: Last year saw around 515 398 South Africans travelling to destinations abroad, and according to StatsSA's estimates, this year will see even more people venturing outside of our country's borders on holiday and with the mid-year school holidays upon us, many South African's are taking time out to travel abroad.
With this in mind, Christelle Colman, Managing Director of Elite Risk Acceptances says that it is vital for South Africans who are planning a trip this holiday season to ensure that they are sufficiently covered. "Most people don't give too much thought to their travel insurance requirements and simply assume that the standard cover provided by their credit card provider when purchasing their ticket will cover them when things go wrong."
Colman warns that many things can go wrong while traveling, from minor events to major events such as natural disasters, terror attacks or political instability. "However, some of the most common occurrences that are most likely to ruin your holiday include flights being cancelled, missing your flight, lost or stolen passports, lost luggage, illness or injury and mix ups with accommodation. Any one of these events can leave a vacationing family stranded in a foreign country and could cost them tens of thousands of rands."
She adds that every holiday has its own unique risks, depending on the destination and planned activities, so making sure all bases are covered by your policy is essential. "One of the most devastating things that can happen to a family on holiday after an unforeseen event is finding out that their travel policy does not cover their emergency."
Colman shares her travel insurance cover checklist, highlighting some important considerations that should be included in a comprehensive travel insurance policy.
Would year-round uninterrupted cover suit you and your family better?
For families who travel frequently, finding a provider that covers the entire family with uninterrupted cover under one policy and that does not require you to alert them to activate the policy before every trip is a huge benefit.
Cover for the elderly
With the number of senior tourists increasing each year, it's important to know whether your age is being taken into account. Where many travel policies have an age limit of 65, there are specialised policies that provide cover for travelers who are well into their seventies and beyond.
Trip cancellation or curtailment
If you are stranded in a foreign country because your flights are cancelled, it is important to know that your insurance policy will cover the cost of a new ticket, and possibly accommodation during the unexpected extended stay. It is also possible that you have to cut your trip short due to an emergency back home or a holiday-ending injury.
High-risk activities
If you plan to do sporty adrenalin fueled activities such as skiing, bungee jumping or paragliding, it's crucial that you first find out whether your policy covers you in the event of injury. If not, find out whether there is an add-on that you can purchase to cover the extra risk and whether your insurer will assist you with your emergency evacuation and repatriate you back home if necessary.
Business and leisure travel
It often happens that travelers combine business with pleasure tagging a holiday on to the end of business trip. In cases such as these, there are travel insurers that offer both business and leisure travel cover under one policy ensuring seamless uninterrupted cover.
Value-added services
Added services can make a huge difference following an unforeseen event. An insurance package that offers value-adds such as telephonic medical advice, foreign translation services in a medical emergency and delivery of essential medicine if your luggage is lost, should be at the top of your list.
What to do in an emergency
Lastly, and most importantly, you need to know what your travel insurer expects from you in an emergency. While thinking about calling a contact centre is often the furthest thing from your mind when you find yourself in the midst of an emergency, knowing what is expected from you is crucial, or you may find your insurer refusing to reimburse you for emergency expenses paid.
Colman explains that Elite Risk Acceptances recognises how any of the above events can impact travelers, both financially and emotionally, which is why Elite offers a competitive, fully automated, digital travel insurance solution.
"Understanding your potential risks, making sure your cover matches your needs, and familiarising yourself with the steps to follow in an emergency, are all vital to ensure peace of mind while on holiday," Colman concludes.
-ENDS-
About Elite Risk Acceptances
Elite Risk Acceptances (Elite) is a specialist providing bespoke wealth asset insurance and personal risk management solutions for the specific needs of high-net-worth individuals. Elite launched to market on 1 August 2018 and, with its focus on developing and launching innovative, first-to-market product features, aims to become the leading specialist within the South African high-net-worth personal lines insurance market. The Elite policy, underwritten by Old Mutual Insure, provides comprehensive insurance cover for, among others, home, jewellery, fine art and collectibles, motor, vintage vehicles, watercraft, travel (business & leisure), personal liability and identify theft. Elite is a juristic representative and wholly owned subsidiary of Old Mutual Insure, an authorized Financial Service Provider. For more information please visit: www.eliterisk.co.za
About Old Mutual Insure
Old Mutual Insure is the oldest short-term insurer in South Africa with a history that dates back more than 180 years. We partner with brokers to offer an extensive range of insurance products and solutions to fulfil personal, commercial and corporate needs. We also provide insurance products for the agriculture, engineering and marine sectors. As a brand, we promise to do great things as we protect what's important to our customers and put them first in everything that we do.
IS ALTRUIST SUNSCREEN BRITAIN'S BEST KEPT SPF SKINCARE SECRET?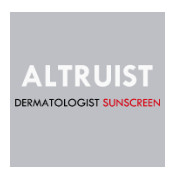 5-star broad spectrum SPF sunscreen at under £5 per tube
Light enough to wear as a daily moisturiser
Ethical, dermatological and every tube benefits charity
Did you know that in 2018, Altruist Dermatologist Sunscreen was Britain's biggest selling online only sunscreen through Amazon? A not-for-profit, 5-star SPF30 and SPF50 quality sunscreen range developed by a leading British dermatologist and skin surgeon and retailed exclusively through Amazon at THE lowest possible price – so that everyone can afford to be UV safe and to help reduce the incidence of skin cancer.
Truly Altruistic. A world-class formula loved by skin, beauty and parenting bloggers across the world that donates 10p from every tube to charity. No heavy advertising or marketing and no high-street presence. Just a great life-changing product with an inspiring, true story behind it.
Since its launch in 2015, the brand has built a cult following amongst dermatologists and beauty experts, who have helped build an army of Altruist fans. Here's what some of them have to say:
"These are phenomenal sunscreens, created by a British Dermatologist, that offer superior broad-spectrum protection. They are lightweight oil free, zero cast, and great for sensitive and acne prone skin. They are very affordable, and a portion of the proceeds go to a wonderful charity, Under the Same Sun." Dr Dray, dermatologist and skin care enthusiast
"Best Sun Cream for Outdoorsy Families: Altruist is a non-profit dedicated to reducing rates of skin cancer by making good-quality sun cream affordable. The cream is absorbed quickly, non-sticky, fragrance-free and hypoallergenic, making it suitable for daily use. Perhaps best of all, Altruist supports the charity Under the Same Sun, and will donate 10p for every purchase to help children with albinism in Africa." Coach Magazine
"We are on holiday now and the Altruist cream is amazing! The kids have used it, as have we, and it's not only a very good protection from the sun but also hasn't stained all the swimsuits yellow like other creams do! We are converts!" Issy Von Simson, Conde Nast Traveller
WHAT'S THE ALTRUIST STORY?
Developed by leading British dermatologist and skin surgeon, Dr Andrew Birnie, and Dutch economist David Westerbeek van Eerten, the two altruists created Altruist, with the help of a leading formulation scientist, in their spare time. Costs are kept low thanks to their own personal connections who help produce the product – as a result, these savings are passed on to the consumer with a very low price point.
Altruist SPF50 and SPF30 are both Amazon's Choice for sun protection and have a 4.5-star rating on Amazon UK. The Altruist Dermatologist Sunscreen range, which includes SPF30 and SPF50, costs from RRP £4 for the SPF 30 (200ml) and RRP £3,75 for the SPF 50 (100ml), and there is even a 1litre SPF 30, so everyone can afford to be more sun-smart in 2019.
WHY WE WANT TO SHARE THE SECRET?
Low cost quality sunscreen saves lives. So does a sunscreen that people love wearing everyday – UV protection to suit everybody, every age, every lifestyle
Altruist hopes to change skincare and SPF habits to help protect against avoidable melanomas
In 2018 Altruist donated £40,000 of product to help protect children with Albinism in Africa. Altruist is aiming to meet or beat that target in 2019
Proceeds from the sale of every bottle of Altruist are donated to Under the Same Sun and other charities, who work to protect children in Africa suffering from albinism.
Keep healthy and hydrated this summer with… bananas!

With Summer just around the corner, banana-lovers can stay healthy and hydrated during the warmer months with Chiquita's tropical mocktail recipes.
Created using a variety of millennial-friendly ingredients including avocado, kombucha and turmeric, these on-trend summer drinks have been crafted to include the nutrients and minerals needed to maintain a healthy lifestyle.
So grab a fellow fruit fanatic and raise a glass (or two) to Chiquita's selection of spirit-free drinks, perfect for summer sipping!
Recipes
Chiquita Banana Ginger Tea Mocktail
2 cups of green tea (or kombucha)
Thumb-sized piece of raw ginger
One Chiquita banana
Juice of two limes
Half a teaspoon of turmeric
Teaspoon vanilla essence
Two teaspoons honey
Ice
Method
For this spicy treat filled with Vitamin C, pour two cups of boiling water over two bags of green tea and a grated, thumb-sized piece of fresh ginger. Allow to cool before straining and then add the green tea mixture, vanilla, turmeric, a tasty Chiquita banana, honey and the lime juice. Blend together and add crushed ice before serving.
Pink Sunrise Mocktail
Chiquita bananas
One grapefruit
Three slices of watermelon
Two cups of sparkling water
One lemon
Mint to garnish
Method
Blend two Chiquita bananas with half a grapefruit, three quarters of a cup of sparkling water and one squeezed lemon. Set this mixture aside and in another bowl blend one and half cups of sparkling water with the three slices of watermelon and the second half of the grapefruit. To serve, fill half of the glass with the red juice and top up with the second juice and then garnish with a piece of watermelon and mint.
Frozen Smoothie
One and half Chiquita bananas
Two peaches
Two and a half cups water
One lemon (zest + juice)
Two tblsp of pistachio nuts
Half a pomegranate
Method
Grate the lemonzest in a separate bowl. Cut up one banana and grind the pieces together with the peaches, the lemon juice and the water to a smooth mixture.Pour the mixture into a low metal baking tray and put it on the freezer for an hour.When the mix freezes, stir with a fork to create ice crystals.Put the mixture in glasses and garnish with half of the banana, the pomgranade, lemonzest and pistachio nuts.
Banana Colada Smoothie
Two Chiquita bananas
Two cups of coconut water
Two cups of mango juice
Three sprigs of mint
Two limes
Method
Chop the Chiquita bananas in pieces and blend them with the coconut water, mango juice and a lime. Pour the juice into the glasses and garnish with the second lime and sprigs of mint according to taste preferences.
Chiquita Banana Avocado Smoothie
One Chiquita banana, cut into chunks and frozen
One cup of mango chunks, frozen
One avocado, cut into chunks
One cup of Swiss chard
Two teaspoons of chia seeds
One cup of almond or soy milk (according to preference)
Two teaspoons of honey
Method
For a creamy, super-healthy green smoothie, blend all the ingredients together and serve in tall glasses.
Chiquita Banana Orange Frostie
One cup orange juice
Dash of fresh lime juice
One cup almond or soy milk (or skimmed dairy milk according to preference)
One Chiquita banana
One cup lemonade
Method
For a tingly treat to boost your vitamin C intake, blend all ingredients except the lemonade until smooth. Add lemonade and enjoy with curls of orange or lime peel placed on top.
Get involved in the conversation online by using #Chiquitabanana or visit the website to find more banana mocktail, smoothie and juice recipes:
www.chiquita.com/recipes
The elho collection is made with sustainable materials using 100% wind power. Perfect for indoor and outdoor use, every pot in the Pure and Allure collections is finished by hand. Available from good garden centres, retailers and online. www.elho.com
Pure Edge: RRP £94.50-£148
This unique garden pot from the elho collection has a strong and modern look. The pure edge is a true eye-catcher that can be combined with many plants.
BEL-FAST FASHION! NORTHERN IRISH ARE UK'S GREATEST HOARDERS OF UNWANTED CLOTHES

Northern Irish people hoard the most unwanted clothing at home
Average cost of unwanted clothes in Northern Ireland is 10% more than London
Fashion Retail Academy has revealed Brits sit on £4.1bn of unused clothes
London 19 June 2019 – The Northern Irish have amassed the priciest piles of unwanted clothing in Britain, according to research by the Fashion Retail Academy.[1]
A poll has revealed that the average Northern Irish wardrobe holds £97.12 worth of superfluous dresses, trousers, shoes and other clothing items — 10.1% more than in London, where the average value is £88.24.
Not only are the Northern Irish the biggest hoarders of unwanted clothes but they are also the least thrifty, with only 38% saying they either buy or sell used clothes.
The main reasons given for clinging onto unwanted garments were "I don't like to throw things away" (34.7%), "I can't be bothered to sort through them" (26.8%) and "I don't think I would get a lot of money selling them" (26.7%).
When it comes to selling clothes, those aged 18-24 are the most active at selling their unwanted garments with 22.8% selling their clothes via resale apps like Depop, 13.2% selling at car boot sales and 11.9% selling to their friends.
These figures have changed dramatically compared to five years ago when only 14.2% of 18-24 year olds sold their clothes via resale apps and 18.3% sold their unwanted garments at car boot sales, which is a reflection of the digital revolution and how everything is moving online.
Northern Ireland is closely followed in the hoarding stakes by the North East of England, where collections of unused clothes carry an average value of £89.76. Yorkshire and the Humber ranked third with a value of £89.72.
Region
Average value of unwanted clothing
Northern Ireland
£97.12
North East England
£89.76
Yorkshire and the Humber
£89.72
Scotland
£88.31
London
£88.24
Wales
£87.54
South East England
£82.93
North West England
£82.87
East Midlands
£76.07
West Midlands
£74.53
South West England
£72.17
East Anglia
£67.89
The findings come after the Fashion Retail Academy revealed Brits are sitting on a £4.1bn goldmine of unwanted clothes they 'can't be bothered' to sell or donate.
Lee Lucas, Principal at the Fashion Retail Academy, commented:
"This study turns the notion that London-centric fashionistas are the most clothes-obsessed completely on its head.
"Although London is considered to be one of the 'Big Four' fashion capitals of Europe, Londoners aren't the worst offenders when it comes to hoarding clothes.
"It's shocking to think that almost three in 10 people think they won't get any money for selling their unwanted clothes. There is always a buyer for clothes in decent condition, you just have to put time aside to first clear out your wardrobe and then find a means of selling the items.
"With so many resale apps and online sites making it easier for people to sell their unwanted garments there isn't really any excuse. And if it's the selling process people can't be bothered with, their local charity shop would be very appreciative on any unwanted items they might have."